Last Updated on April 22, 2023 by Ewen Finser
2022 marks a milestone for eCommerce. In the US, eCommerce sales are predicted to cross $1 trillion for the first time. The success of online shopping has accelerated with the pandemic, and now thousands of entrepreneurs want a slice of this profitable cake.
If that sounds like you, there's a good chance you're considering different eCommerce solutions for building an online store, selling your products, managing your inventory, etc. As you probably already know, tons of options are available… some of which stand out more than others. So, on that note, I'm going to explore one of the less-known eCommerce platforms: Ultracart.
As someone who's reviewed eCommerce and digital marketing software for over four years, I'm intrigued by the fact that Ultracart promises to provide all the features entrepreneurs need in one toolkit. In contrast, most popular solutions like WooCommerce rely heavily on plugins and apps. So, for me, this begs the question, is Ultracart as robust and convenient as it sounds?
Let's find out…
Bottom Line Upfront
I think Ultracart is an immensely feature-rich eCommerce solution that suits merchants with an existing website. Its buy buttons and flexible checkout functionalities allow you to integrate a wealth of sales and marketing features into your blog or website.
Alternatively, you can also create your own online storefront. However, Utlracart doesn't offer intuitive design features; compared to its competitors; it's difficult to use overall. I also think its steep pricing makes it less attractive to merchants starting from scratch and working with extremely tight budgets.
About Ultracart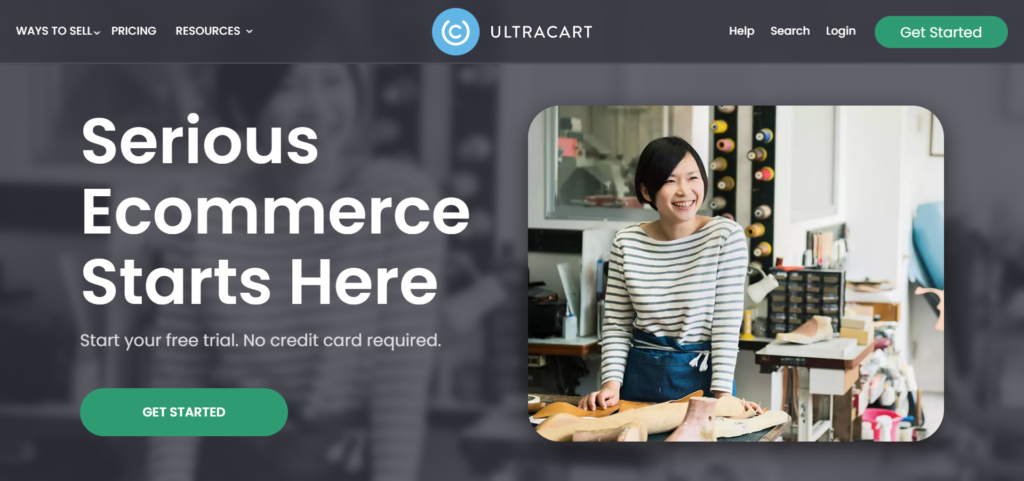 Before I delve into the nitty-gritty of what Ultracart has to offer, let's review the basics:
Ultracart is a comprehensive eCommerce platform founded in 1996 that seeks to eradicate the need for countless plugins and integrations. As such, it offers an impressive range of features from the start to enable you to grow your multicurrency, multi-channel store.
There are four ways you can sell with Ultracart:
Via your own storefront

Via buy buttons

Adding a checkout to an existing website

Via eBay
Thanks to this array of options, you can flexibly involve Ultracart to facilitate your preferred way of selling.
That said, I believe the platform is best suited for growing eCommerce businesses looking for a scaleable solution to ramp up their efforts. As such, if you're entirely green to the world of online selling, you might find that Ultracart doesn't best meet your needs.
Ultracart's Key Features
Okay, now that I've explained the basics, let's dive into the many features Ultracart offers. Of course, as I've already said, there's a lot to cover. So rather than digging incredibly deep into each element, I'll aim to provide an overview…otherwise, we'll be here all day!
Create An Online Storefront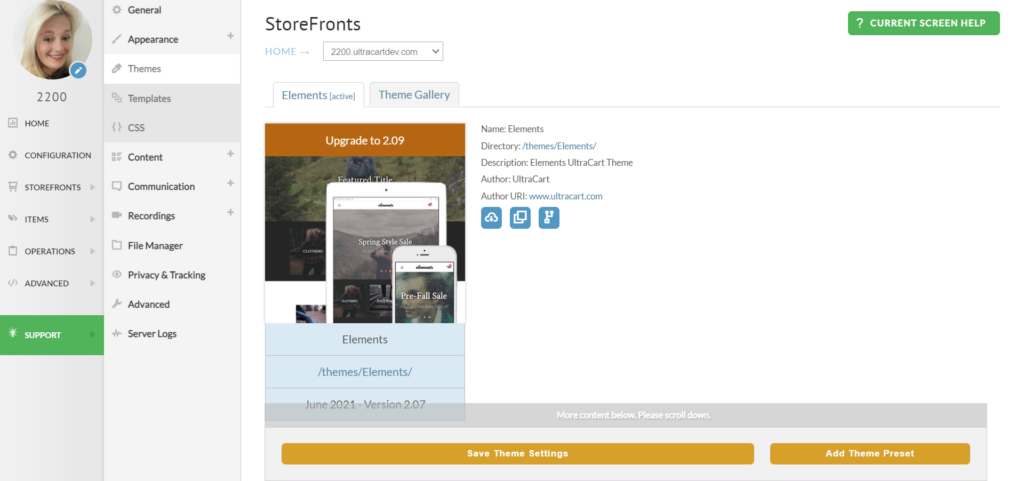 You can create your own online storefront with Ultracart, with complete control over your website's functionality, look, content, and web domain. In addition, its editor doesn't require any coding skills.
More specifically, you can:
Customize rich product pages with images, videos, descriptions, customer reviews, and inventory levels. You can also display prices in multiple currencies and present product variations.

Showcase product images in a responsive gallery format

Choose your storefront theme – each theme is responsive and can be completely customized.

Edit the HTML and CSS for complete control over your web design

Publish blog posts on your integrated blog, or import blog posts from WordPress

Add your own custom domain name.

Gain a free SSL certificate

Enable the automatic translation of your site into over 50 languages
Headless eCommerce
While Ultracart allows you to build your own storefront, you don't have to start a whole new website to benefit from its features. Ultracart is best-known for its headless eCommerce. This means you can install its product pages, checkout, buy buttons, and sales features onto your existing site. All you have to do is add a few lines of code to your website's backend.
Checkout Creation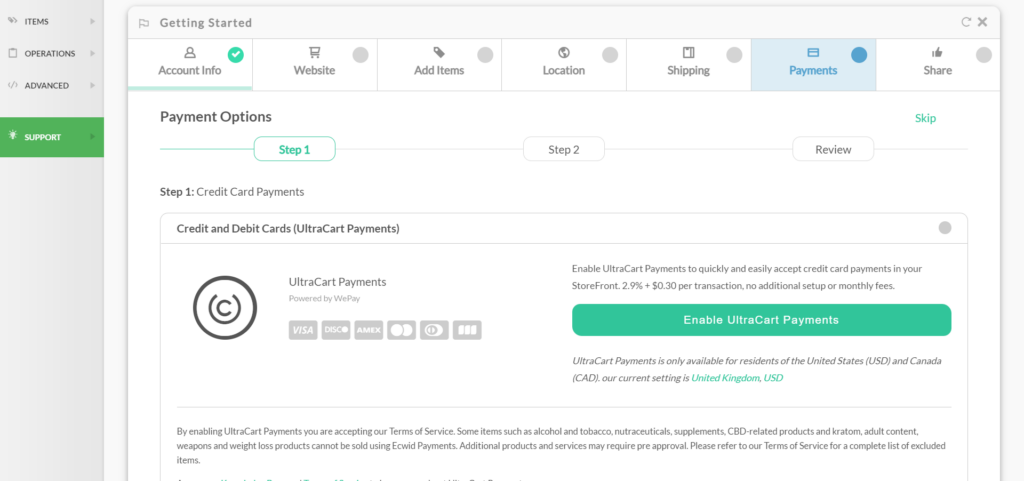 Customers can check out on any device in their native language using payment methods like a credit card, PayPal, Amazon, etc. You can also encourage customers to use alternate payment methods, like Bitcoin, and offer as many as 57 payment gateways. Shipping rates and sales tax are also automatically calculated at checkout.
You can also let customers create their own accounts to simplify repeat orders. Plus, you can increase your average revenue with one-click upsells by presenting additional offers at the end of the checkout process.
Store Management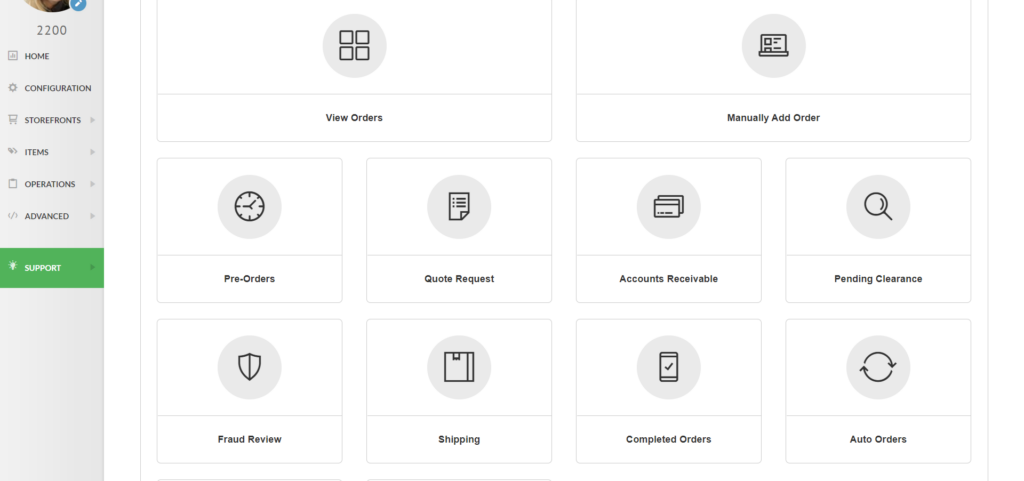 You can segment customers into groups to provide different pricing for wholesale, retail, and other unique segments. You can also manage one (or more) distribution centers to fulfill your products, use an integrated 3PL, or manage shipping yourself. You can also integrate with QuickBooks to download sales information automatically.
Lastly, you can manage simple refunds across all payment providers via the order management section in your dashboard. Here you'll find options for full and partial refunds. You can also configure a list of reasons customers can choose to express why they're requesting a refund.
Marketing and SEO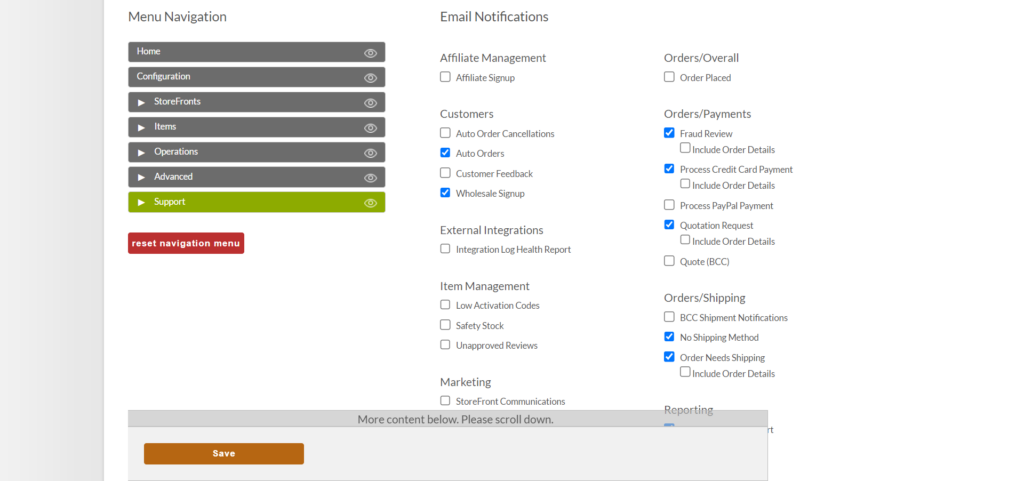 You can optimize your site for search engines using meta keywords, canonical links, and automatically generating sitemaps.
Alternatively, when it comes to providing social proof, you can allow customers to write product reviews. Furthermore, to encourage sales, you can offer customers freebies and discounts with coupon codes. On top of that, you can sell gift cards and enable customers to redeem said gift cards.
You can also allow customers to send your products as gifts, create affiliate links for your own affiliate marketing program, and send abandoned cart emails if someone doesn't complete a purchase on your site.
I also like that you can use in-built email marketing to stay in touch with your customers. You can build email marketing campaigns with Ultracart's campaign wizard. This allows you to send simple text or HTML emails to specific audience groups.
You decide how many messages to send per email series and when the campaign should start and end. However, personalization is limited, as you can only include dynamic tags that automatically insert the customer's name and a coupon code.
It's also important to note that your marketing campaigns are limited based on your chosen payment plan. Each tier allows you to send a set number of emails to a set number of customers for free, after which you'll pay for each email. Also, once your marketing campaigns generate revenue (because a customer uses a coupon), Ultracart takes a small percentage of the profits (3% on the Small plan.)
For more advanced marketing campaigns, you can integrate with one of many third-party email marketing solutions, like Mailchimp, Aweber, and Constant Contact – to name a few!
Inventory Management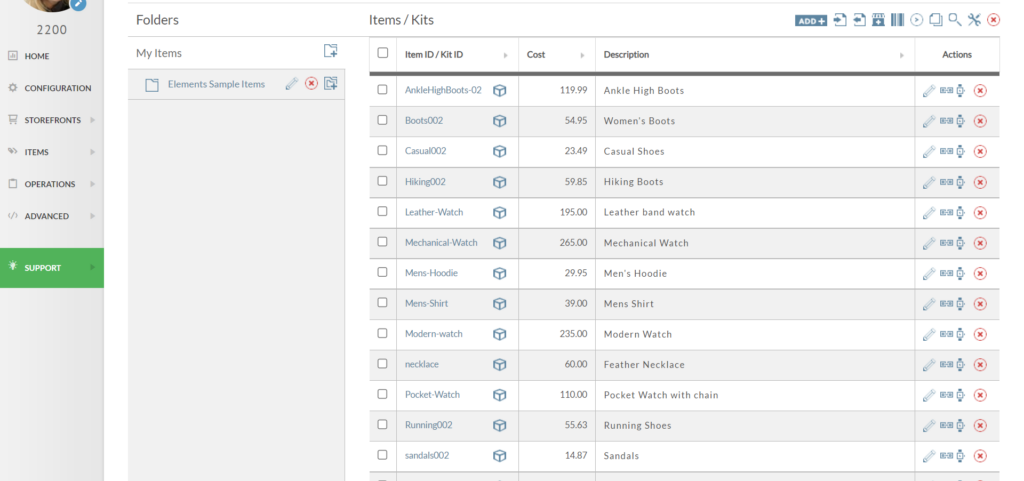 Ultracart easily tracks your inventory across distribution centers, receives low-stock notices, provides ETAs on out-of-stock products, and more.
You can also present product variations and options with unique SKUs for every product. It's also worth noting that you can sell both physical and digital products. With the latter, you can facilitate secure downloads from Ultracart's CDN. You can also sell recurring products on a subscription basis with free trial promotions.
Lastly, you can also create sales where you offer specific products at lower prices for a defined amount of time.
Analytics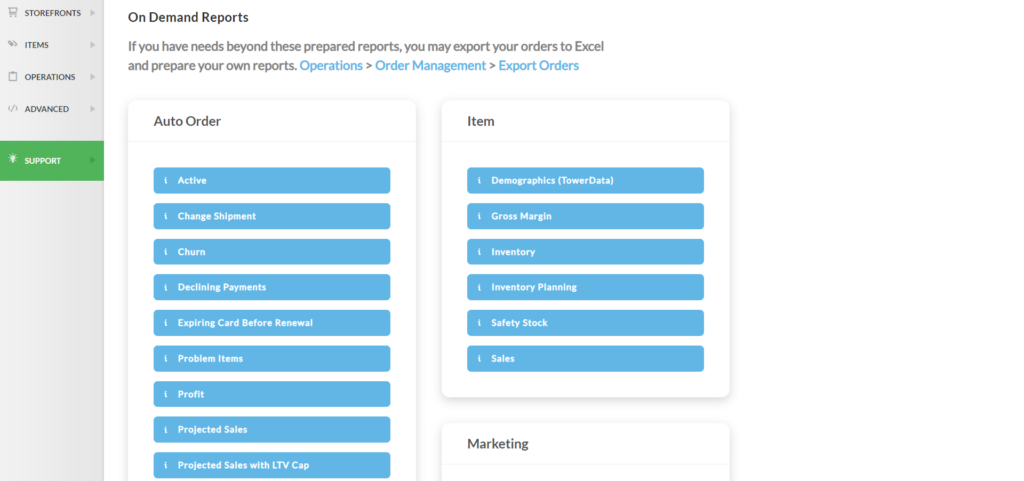 Users gain access to advanced analytics. You can review these metrics across a set date range or per sales channel within your account. You can also generate a comprehensive breakdown of your expenses, review sales attributed to your marketing efforts, and profits produced by each campaign.
You can also get a total sales breakdown, plus a holistic review of your profits (revenue, shipping, marketing, etc.)
I also like that you can review visitor information, including traffic source, location, top products sold, average order volume, etc. You can also record user sessions to see where visitors click and remain. You can implement this on your Ultracart storefront. Or you on your own website using a copy-and-paste code snippet. On top of that, you can integrate with Google Analytics to retrieve more insights into your traffic.
Ultracart Pricing
Ultracart offers four pricing plans, including one enterprise plan. There's a revenue cap on each tier. You're automatically upgraded to the next plan if you exceed this threshold. So with that said, let's take a closer look at each pricing package:
The "Small" Plan
This will set you back $49.95 per month and is viable for companies generating up to $50k in monthly revenue.
This includes:
Your own storefront with your chosen Ultracart theme

Single page checkout – this contains all checkout elements on one page, such as cart contents, payment details, billing and shipping addresses, and shipping options.

Credit card processing fees of 2.9%+30 cents when using UltraCart Payments

You can sell via Google Products.

Limited Integrations (aMember Pro, Quickbooks, WishList Member, WordPress)

You can list up to 250 products

Up to five users can sign onto your account

A free SSL certificate

One distribution center – i.e., you can integrate with a fulfillment service that stores and ships your products. Or you can handle shipping yourself. Either way, on the Small plan, you can only manage one distribution center associated with your storefront.

You can generate basic reports.

Access abandoned cart recovery functionality

Sales tax is automatically calculated.

Customers can leave reviews.

Integrate with third-party email marketing platforms like Mailchimp, Aweber, Constant Contact, etc.

Shared Generated Revenue of 3% on marketing campaigns, 250 free customers, and 2500 free emails

Access to email and phone support
The features in this first plan are extensive, so we recommend checking Ultracart's pricing page for exact details.
The Medium Plan
For $79.95 per month, the monthly revenue threshold goes up to $100k. It includes everything in the Small plan, plus the following:
You can run five storefronts/screen branding themes.

UltraCart payments at 2.85% + 30 cents

You can sell via eBay.

More integrations, including InfusionSoft, Ontraport, UltraShip, and WickedReports

List up to 1,000 products.

You can register up to ten users.

Run your own affiliate marketing program

Manage up to five distribution centers

Generate advanced reports, such as sales attributed to marketing campaigns and site visitor breakdown (traffic source, location, etc.).

Customers can pre-order items.

You'll give UltraCart 2% of your shared generated revenue on marketing campaigns – of which you can send 5,000 emails to 500 customers.
The Large Plan
This costs $229.95 per month and facilitates up to $250k per month in revenue. On top of everything listed above, it adds:
You can create up to ten storefronts/screen branding themes

UltraCart Payments at 2.80% + 30 cents

A Salesforce integration

You can list up to 10,000 products.

You can register up to 100 users.

Manage up to 15 distribution centers

EDI (Electronic data interchange) This is a way for B2B businesses to exchange electronic documents like purchase orders and invoices in a standardized and secure fashion.)

You'll give UltraCart 1% of your shared generated revenue on marketing campaigns – of which you can send 25,000 emails to 2,500 customers.

Priority customer support
The Enterprise Plan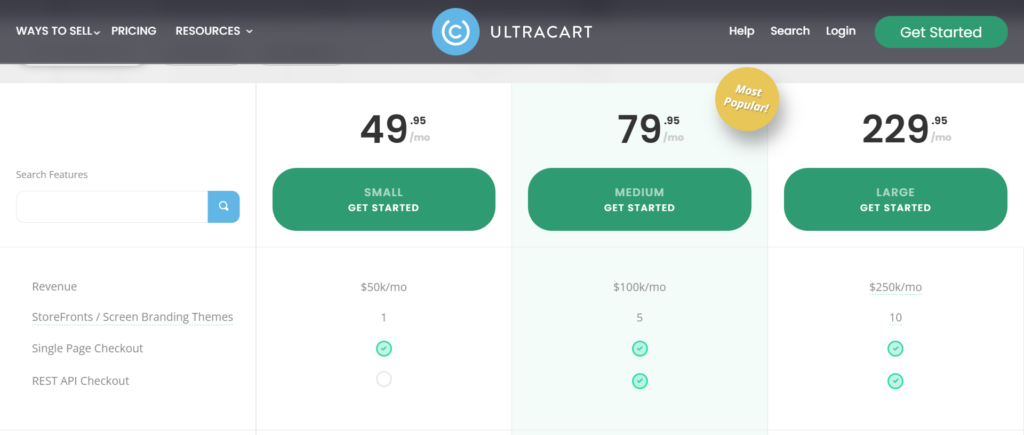 Lastly, for $499.95 per month, this facilitates companies generating $500k revenue per month and includes everything above, plus:
You can create 25 storefronts/screen branding themes

Ultracart Payments at 2.70% + 30 cents

You can list 250,000 products

You can register up to 1,000 users

1000 distribution centers and gateways

You don't share revenue on your marketing campaigns – of which you can send 250,000 emails to 25,000 customers.
Bandwidth and Storage
At this point, I also think it's important to note that Ultracart limits your monthly bandwidth and storage.
Each plan only includes 100MB of free storage. So for every MB you go over, you'll pay an additional price:
Small: $

0.020 per MB

Medium: $

0.019 per MB

Large: $

0.018 per MB

Enterprise: $

0.017 per MB
Bandwidth is also limited to the following:
Small:

1 GB a month. You'll pay $0.30 per GB overage

Medium:

3 GB a month. Pay $0.25 per GB overage

Large:

10 GB per month. Pay $0.20 per GB overage

Enterprise:

1000 GB per month. Pay $0.20 per GB overage.
If you're using Ultracart's email marketing features, note that emails are priced at $0.0025 per email once you surpass your free email allowance in each plan.
Ultracart's Ease of Use
Reviewers agree that Ultracart isn't the most accessible platform to use. The sheer amount of features makes it incredibly complex, especially for beginners. This is even further complicated if you choose to integrate Ultracart with your existing storefront, as you'll have two suites of features to contend with.
While Ultracart has a WYSIWYG editor to customize your site's theme, this only allows you to update some colors and content. To fully customize anything, you will, in fact, need to learn how to edit the templating language using HTML and CSS.
Inserting an image, for example, requires you to type a text IMG tax and link into a box and preview the results. So while the editor is vaguely visual, it's not entirely code-free. I'm also not a fan of some of their bothersome usability issues. Prompts like session expiration and other UX decisions feel outdated and inefficient and will undoubtedly be frustrating for users conducting long editing sessions.
But, while Ultracart isn't exactly easy to use, it's not impossible. I like that there are lots of informative video guides and tutorials to help you understand the interface better. Just be prepared to bring some tenacity to get to grips with this software fully.
Ultracart's Customer Support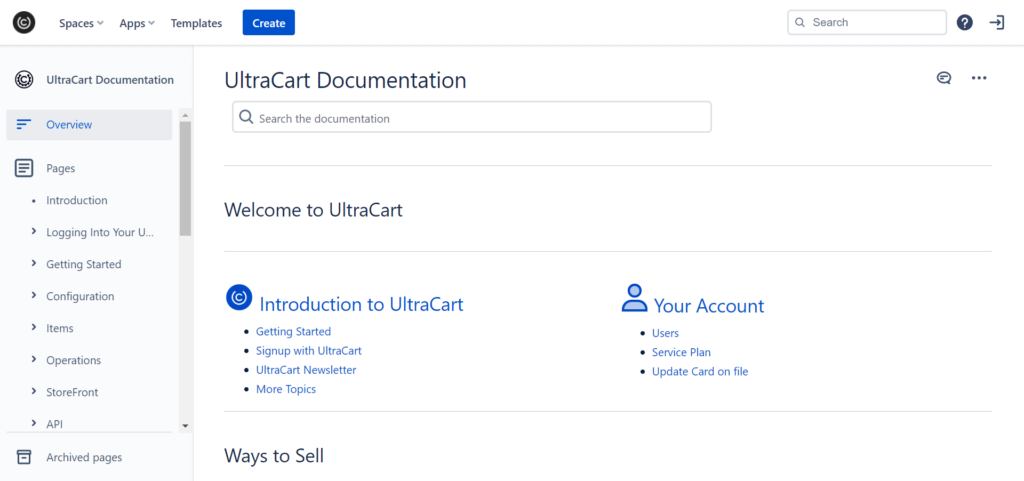 UltraCart offers support via phone and email on all of its plans. You can also opt to contact Ultracart via Skype. All help is available via regular business hours of 8:30 AM to 5:00 PM EST.
With the Large and Enterprise Plan, you get priority support, which means Ultracart will get to your ticket sooner.
On top of this, a wide range of self-help resources is available on the Ultracart website. For example, there's a complete user guide and a list of FAQs. This covers how to configure Ultracart for your use. In addition, there are various tutorials in text and video formats, walking you through Ultracart's powerful backend step by step. This includes information on how to configure UltraCart's API and SSL.
Finally, Ultracart offers Pro Support Services to help you get up and running quickly. This additional support assists you with picking an account level, configuring your payment processing, setting up your storefront, and much more. To get a quote for this add-on service, you'll have to get in touch with Ultracart.
How Do You Get Started with Ultracart?
To hit the ground running with Ultracart, you'll have to create an account and choose your store ID. Remember these details, as you'll need them again to move to a premium plan after your 30-day free trial expires.
After that, you'll have to decide how you want to use Ultracart:
Build a New Ultracart Website or Add Headless Ecommerce to an Existing One?
With Ultracart, you can build a whole storefront from scratch using one of their customizable themes and host everything 100% on Ultracart. Alternatively, you can integrate Ultracart's features into your site by embedding their shopping cart into your existing store.
You can do this via 'Buy Buttons' and 'Add to Cart Buttons.' In these instances, you're responsible for your website's hosting, while your cart is hosted entirely on UltraCart's servers. With Ultracart's storefront editor, you can customize the checkout to match the look and feel of your existing website.
Integrating Ultracart into your website is easy. While configuring your store items in UltraCart, the platform generates simple links that you can copy and paste into your website code wherever they suit you. This creates buy or add-to-cart buttons, which customers can click to add their chosen product to their cart. An alternative code snippet enables you to create a cart button that lets visitors review their cart and proceed to checkout.
You can style these buttons via your site's code.
Migrating to UltraCart
I like that Ultracart lets you bulk-upload products by importing a CSV or XLS spreadsheet. In addition, you can define which columns in your spreadsheet correspond to which product attributes to make the import process more efficient.
Alternatively, if you're moving over from an existing eCommerce solution, get in touch with Ultracart to learn how to move your data across.
Ultracart's Pros and Cons
No software review is complete without a quick pro-cons list. So with that said, below, I've highlighted some of the key advantages and disadvantages worth noting about Ultracart:
Ultracart Pros
Email and phone-based customer support are available on all plans.

The platform is immensely feature-rich, including a wide range of advanced sales and management features even on its cheapest plan. For example, multicurrency support, abandoned cart recovery, customer reviews, customer accounts, upsells, and more.

Marketing features are built-in. You can run

email campaigns and create an affiliate program.

There's a generous 30-day free trial.

You can integrate Ultracart with your existing website using buy buttons and add-to-cart links.

Ultracart suits international businesses that need multi-language and multicurrency checkouts.

You can fully customize themes with HTML and CSS, giving you complete customization freedom (providing you have the necessary coding smarts)
Ultracart Cons
Pricing is more expensive than many comparable alternatives. Shopify, for example, charges $29 per month on its cheapest plan.

Each pricing tier has a cap on how much revenue you can make each month.

Storage is minimal, and you have to pay extra if you want to upload more. As a result, growing stores will quickly ramp up their costs for already costly software.

Many users have found Ultracart clunky and complex to use.

Ultracart's editor is pretty unintuitive and outdated – you can't customize much without manually coding customizations.

Headless eCommerce often provides the benefit of being an omnichannel solution. However, Ultracart only integrates with two marketplaces: eBay and Amazon. Compared to other platforms, these options are pretty limiting.

The marketing campaigns come at an additional price after you've met UltraCart's thresholds imposed on each pricing tier. Ultracart also takes a small share of your campaign revenue, which varies depending on your plan.

24/7 support isn't offered
UltraCart Alternatives
Ultracart has been around for a long time, but it hasn't succeeded in winning a colossal online presence. Other solutions have quickly gained popularity over it, providing better ease of use and more affordable pricing. Even as a headless eCommerce solution, it's far from the only option.
So, if you're still on the fence after reviewing the pros and cons of this software, you might like to check out some of these viable alternatives that I've listed below:
For ease of use: Shopify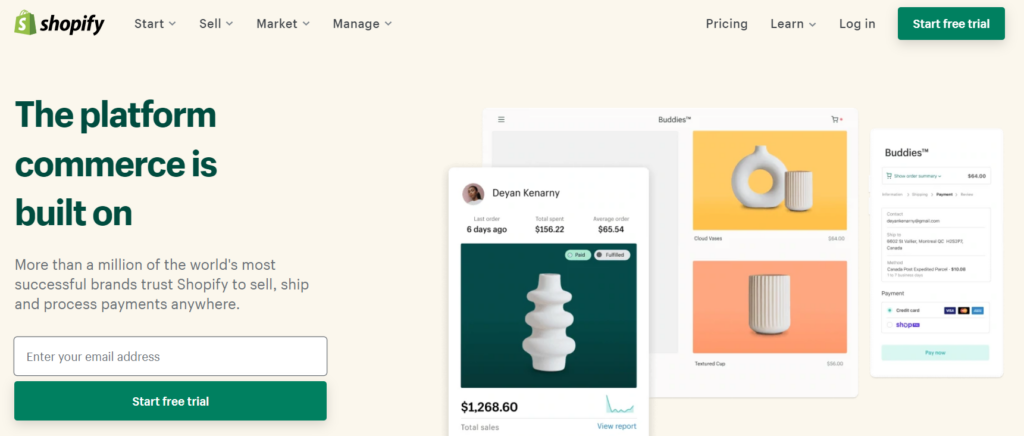 Shopify strikes a good compromise between offering a wealth of sales and marketing features, ease of use, and value for money. Plans start at $29 per month, but you can also just opt to add a buy button to your website for $9 per month. In addition, Shopify's features can be extended with a range of plugins from a well-reviewed app store.
For WordPress: WooCommerce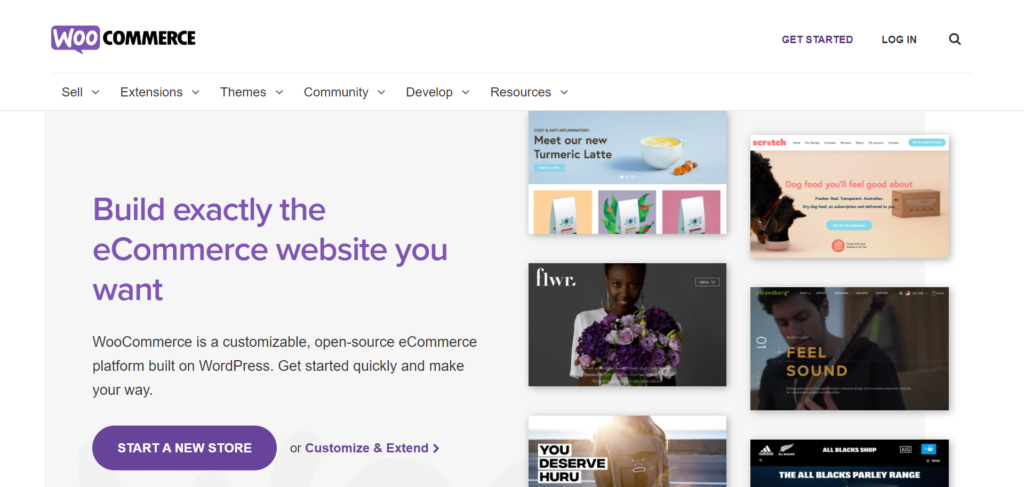 Suppose you're interested in Ultracart because it integrates well with WordPress. In that case, you might first like to look at WordPress's very own eCommerce solution. WooCommerce is a free WordPress plugin and comes with extensive sales features. It can also be endlessly extended with WordPress's gigantic plugin directory.
For Headless eCommerce: Magento Commerce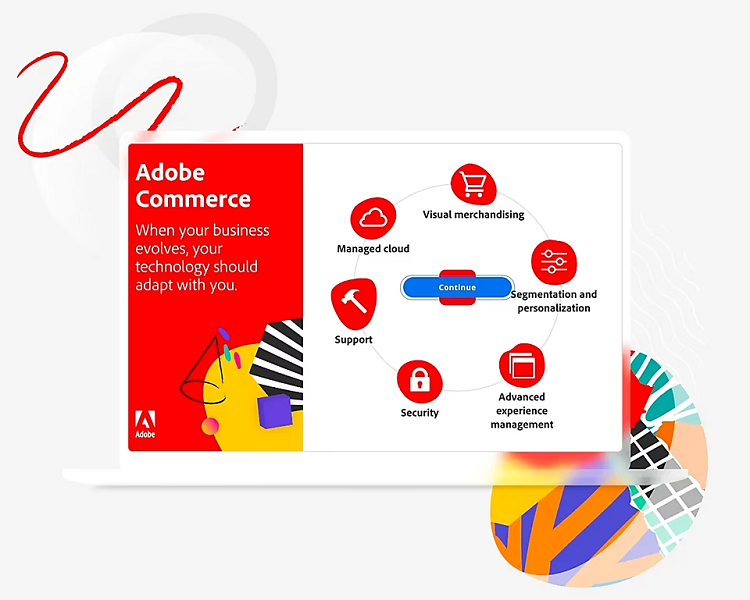 Magento Commerce is a powerful headless eCommerce solution that's also open source. Alternatively, enterprises can opt for Magento's managed solution that Adobe now runs. You can easily create an omnichannel solution with Magento and access each channel's advanced analytics.
FAQs
Question: Which Integrations does Ultracart provide?
Answer: Ultracart prides itself in requiring no plugins to provide a full-fledged eCommerce solution. However, it offers various integrations across accounting, marketing, marketplaces, memberships, and more.
UltraCart integrates with major email marketing providers, including MailChimp, Klaviyp, Active Campaign, AWeber, ConstantContact, Silverpop, etc. It also integrates with accounting platforms like Netsuite and Intuit QuickBooks.
If you need a CRM, you can integrate with Hubspot and SalesForce, amongst others. You can also integrate and sell via two marketplaces: Amazon.com and eBay. In addition, there's a long list of fulfillment and shipping services that Ultracart integrates.
Finally, you can access the API, EDI, and webhooks to create more functionality and integrations as needed (providing you have the necessary coding smarts to do so).
Question: What's Ultracart Payments?
Answer: Ultracart offers its own native payment processing solution: Ultracart Payments. This is the quickest way to start accepting credit card payments if you haven't yet configured your account.
By enrolling in Ultracart Payments, each transaction is subject to a fee of roughly 2.9% + 30 cents, depending on your chosen payment plan. UltraCart payments are Level 1 PCI DSS compliant to ensure security.
Question: Can I Use Ultracart with WordPress?
Answer: Ultracart is designed to work with WordPress in several ways. Your first option is to integrate Ultracart's features into WordPress via a simple plugin.
This will turn your WordPress blog into a storefront in just a few clicks, allowing you to feature your products and product categories to sell. Alternatively, you can simply add the Ultracart buy button to your existing blog. Ultracart also allows you to import WordPress blog posts into your new Ultracart website to present all your content in one place.
My Final Thoughts: Who Is Ultracart Best For?
We've reached the end of our Ultracart review and guide, and one question remains: who's Ultracart best for, and who should best stay away?
The platform, developed over several decades now, undeniably offers features even in its cheapest plans that would be considered advanced on many other platforms. For example, it's rare to see abandoned cart recovery, customer reviews, gift cards, email marketing, and more in the lowest pricing tier.
However, this tier is already considerably more expensive than many alternatives. So, suppose you're using Ultracart's storefront feature to create your website from scratch. In that case, you'll have very limited design options if you don't have coding smarts. Plus, you'll have to pay for extra storage above 100MB. Alternatively, if you integrate Ultracart with your existing website, the nearly $50 starting cost is on top of your current hosting costs – which, frankly, I don't think offers excellent value for money.
The biggest reason you might opt into Ultracart is its flexibility and the wide range of features already included, but a clunky interface often makes it difficult to unlock the platform's full potential.
If you're looking for headless eCommerce or starting an online store from scratch, I recommend shopping around the market. Other options might better suit your needs and surpass Ultracart in price, usability, customizability, and more.
What do you think? If you've used Ultracart in the past or still swear by it now, I'd love to hear about your experiences in the comments below. Speak soon!