Last Updated on April 24, 2023 by Ewen Finser
Gone are the days when you needed a whole department to manage HR activities.
Many platforms offer HR automation, and TriNet vs ADP are among them. Both these platforms serve businesses of all sizes. If you are interested in HR services, you probably want to know which platform is worth your money. I explored each, so read on to find out which one I recommend.
My Bottom Line Up Front: I think both TriNet vs ADP are great platforms with a satisfied customer base. ADP is best for rapidly growing small or midsized businesses, particularly with a global presence. Trinet is better suited to smaller businesses, including those with less than 10 employees.
ADP has a wider customer base and is better suited to medium-sized and large businesses with hundreds or even thousands of employees.
Main Differences Between TriNet vs ADP
The main differences between TriNet vs ADP are:
TriNet is designed to serve small and medium-sized businesses, whereas ADP can also serve large businesses.
TriNet's services are curated according to the type and size of a business, whereas ADP has prearranged plans for businesses based on their size.
TriNet offers legal services to businesses with lawsuits, whereas ADP does not have this service.
Best Starter Solution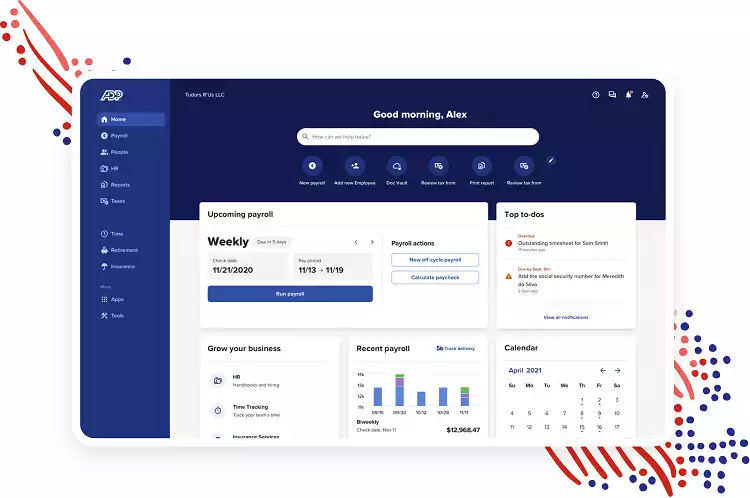 Why Go with ADP?
Put Simply, ADP is incredibly user-friendly, with a scalable pricing model for small (but growing) businesses. No getting "priced out" at certain growth tiers. For most businesses, a standard ADP implementation provides more value.
Find Your Plan
We earn a commission if you click this link and make a purchase at no additional cost to you.
What is TriNet?
TriNet is a comprehensive HR, payroll, and outsourcing platform that makes it easy for businesses of all sizes to manage their administrative and people-related tasks. With TriNet, your company gets access to a wide range of features and services, from talent acquisition, risk assessment, talent management, and payroll.
The platform was established in 1988 and serves over 16,000 small and medium-sized businesses. In addition, over 360,000 experts are distributed to companies all over the U.S. to help them stay on top of their HR needs.
What is ADP?
ADP is a platform that offers small, medium, and large enterprises payroll and HR services. The company has been named the World's Most Admired Companies by Fortune for the past 15 years. ADP serves over 900,000 businesses across the globe, offering customized solutions for organizations from every industry.
TriNet Main Features
Ease of Use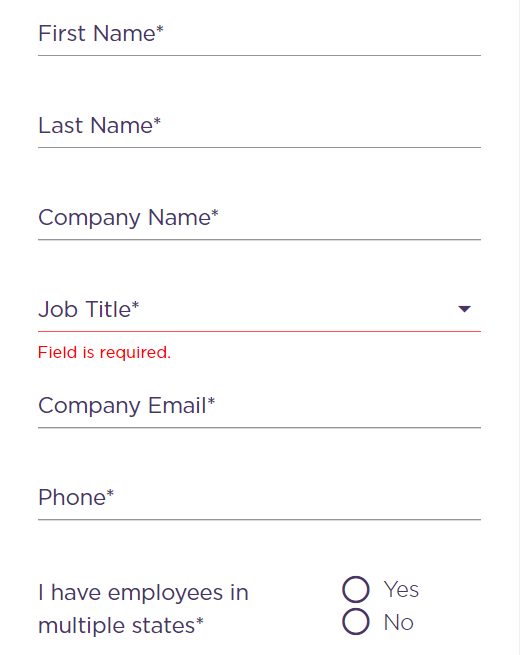 TriNet offers personalized HR plans for businesses, with a keen focus on small and medium-sized enterprises. To use the platform, you will have to talk to a representative about your business and the services you want to use.
I filled out this form, and an agent got back to me so we could talk about my e-commerce business. If you don't want to talk to someone, you can ask to receive a live demo in your email.
HR Management
TriNet makes the process of hiring the right people and keeping them that much easier. The platform connects your company to industry experts who will help with all your HR functions. TriNet has a robust talent acquisition process.
The platform connects your business to expert consultants who will help outline the kind of talents, skills, and personalities the people you hire need to have to ensure business growth.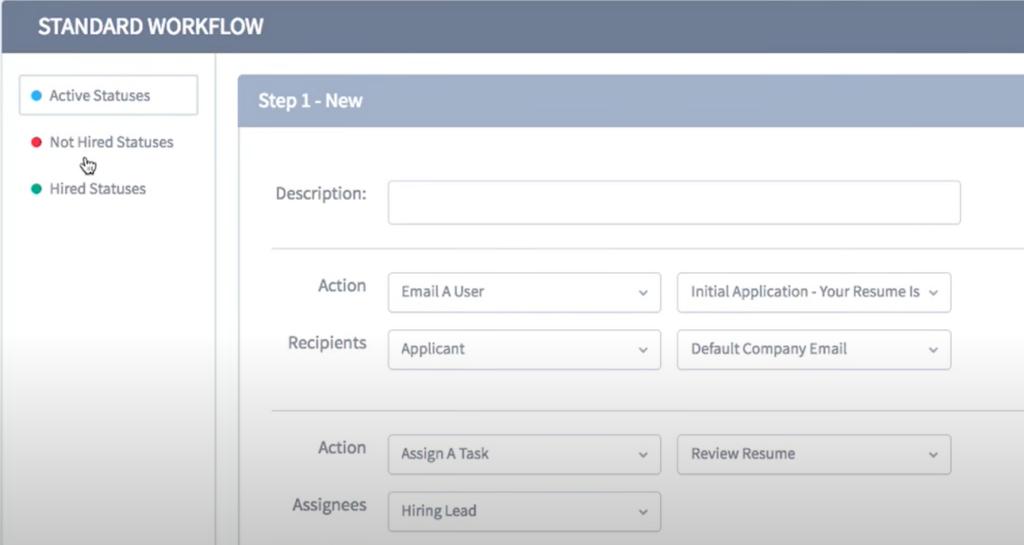 Once your team is in place, TriNet helps you retain it. The HR team develops performance goals that maximize each employee's capabilities, measuring performance and providing helpful feedback so employees can develop their expertise.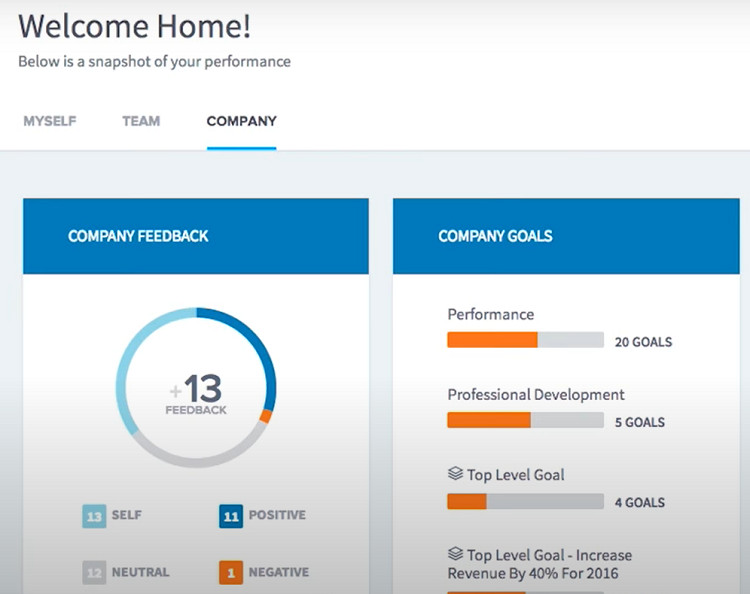 Learning opportunities are also provided. Online lessons that can be accessed anywhere, any time, help employees keep their skills sharp without the pressure of a deadline. Employees who show leadership capabilities are also provided with leadership training through interactive workshops that connect them with suitable coaches and mentors who will help them enhance their leadership traits.
TriNet also ensures your organization remains compliant with all employment laws. This process includes rigorous training for all employees following the latest discrimination, harassment, and workplace regulations. The consulting team can also write and update your policy document to ensure the workplace is healthy and accommodating.
An organization with good HR practices supports employees who want to leave. TriNet creates an exit strategy for your business that apprises employees of opportunities in the industry and helps them update their resumes and sharpen their interview skills.
With TriNet, you are assured of effective employee offboarding, building your company's reputation as a good employer. This makes it easier to attract more talent whenever needed.
Employee Benefits Management
TriNet helps small businesses access the same insurance benefits as bigger enterprises. You can leverageTTriNet's professional relationships to secure top health insurance for your employees, spouses, and pets at very affordable rates.
TriNet makes other insurance options available to you, including accident, illness, automobile, and home policies. These options help make your company more attractive to top talent. TriNet will also set up and manage employee 401(K). The platform connects your company to industry experts who will quickly set up plans for interested employees and simplify the management of 401(K) administration fees.
Payroll Management
TriNet provides a simple solution to complicated payroll and tax processes. This solution is geared towards small and medium-sized businesses.
Payroll administrators can access all payroll services online so they can plan for the payment of salaries (direct deposit or checks), benefits, and invoices. Any payments and changes made on the payroll system are automatically recorded to enhance information integrity.

The payroll processing service is designed to scale with the needs of your growing business. It tracks each employee's payroll requirements throughout the onboarding period, all through the employment duration, up to the offboarding time.
Any changes to pay and benefits are quickly noted and applied so that there is never a disruption.
Your employees will enjoy the TriNet platform. They can access their schedules online, punch in and track their attendance, and calculate their wages through a friendly dashboard. They can also print W-2 forms and keep track of their PTO.
The platform also handles multiple aspects of business taxes. Payroll taxes are automatically calculated, withheld, and paid electronically. You can offload this part of payroll management to TriNet. Rest assured that your business will always be compliant with local, state, and federal taxes.
TriNet Risk Management
TriNet has extensive risk management capabilities designed to help your company avoid employment liabilities. TriNet experts will help your company stay ahead of employment regulations so you can professionally deal with employee issues like harassment cases, performance issues, and pay disputes.
They will also help your company stay ahead of benefits regulations, including the Affordable Care Act, so your employees are always taken care of, and your company avoids non-compliance penalties.
Part of TriNet's risk provisions includes protecting your company from employment claims. Personalized mitigation plans are provided for each case so you can navigate tricky situations while avoiding the possibility of expensive, time-consuming lawsuits.
In the case of a lawsuit, TriNet has experienced lawyers who will help your company build an effective defense. They will also negotiate settlements at rates that are beneficial to your organization.
TriNet Clock In Feature
TriNet also offers a fairly robust "clocking in" feature for companies with hourly employees. Just like the old time clocks, but digital!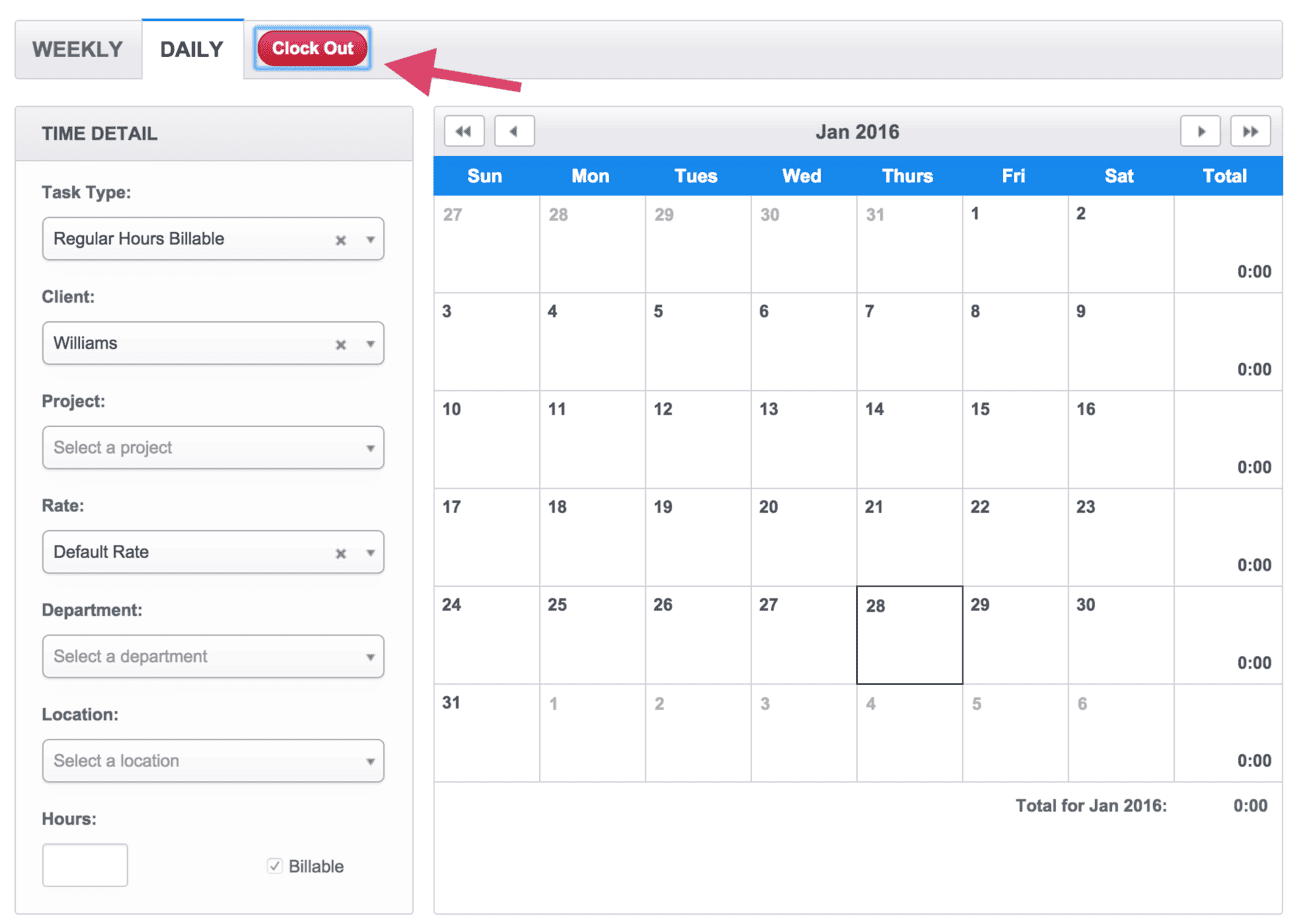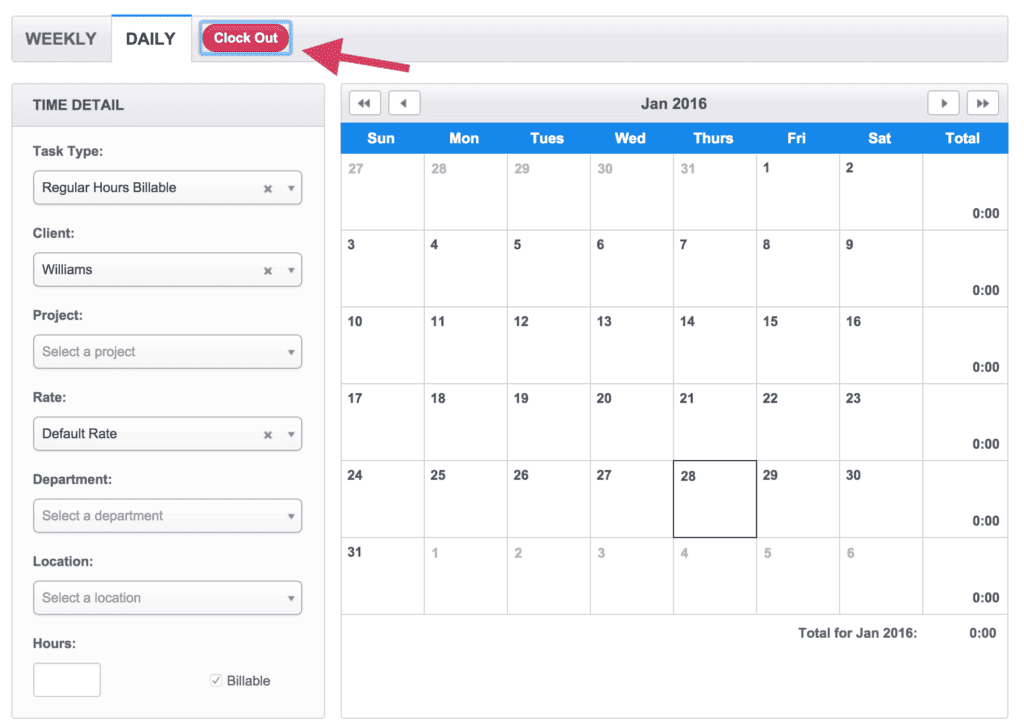 ADP Main Features
Ease of Use
To enroll in ADP and explore its offerings, you will have to fill out a few forms with some details about your business. The first form I filled out detailed the type of services I wanted from the platform.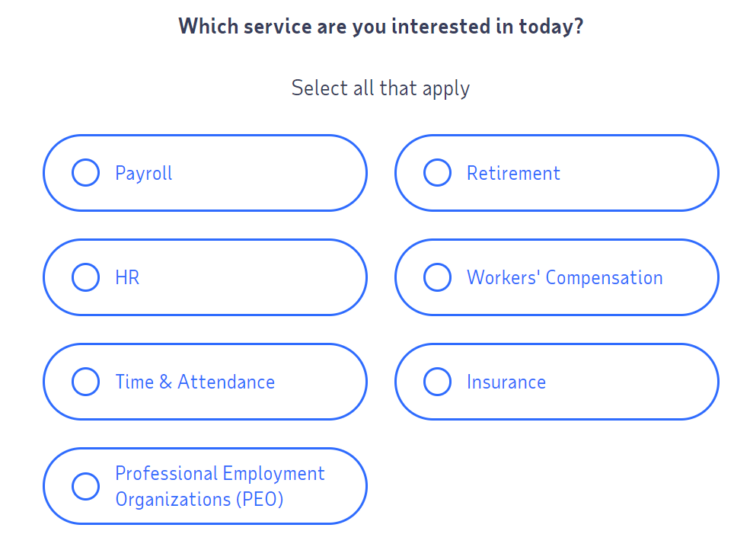 I was then asked for some details about my business and my contact information. Once that was done, I had to wait for an email from a sales agent for the services I selected.
I do wish that it was easier to sign up for the platform and that talking to a sales agent wasn't a required step. However, the functionality of the ADP dashboard almost made up for all the fuss.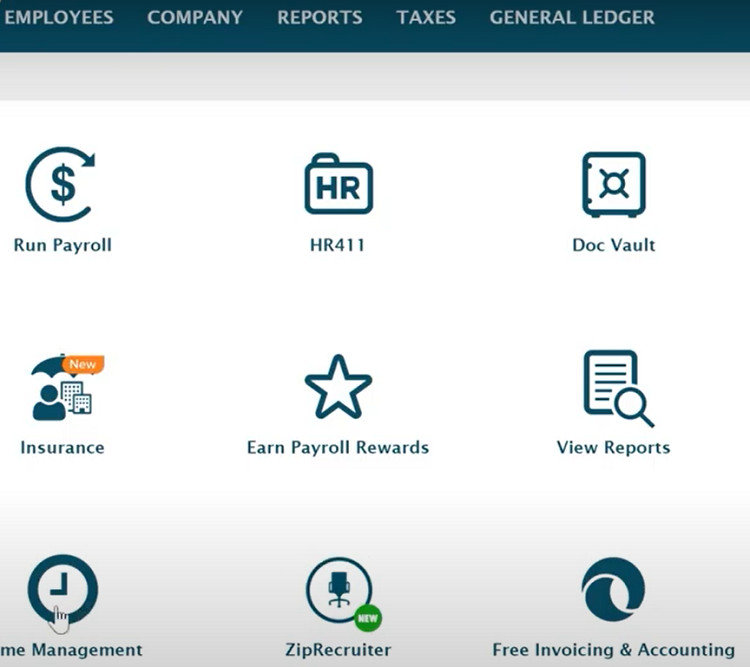 Talent Management
ADP helps to make your recruiting and team management tasks simpler and more effective. A team of experts will help you create a skill profile based on your company's needs so you can create good job descriptions that attract top talent.
The platform also helps you handle hiring technology that make candidate selection, interviewing, and onboarding more efficient.
ADP experts will also help you create adequate compensation and benefit plans for each employee. You can eliminate pay gaps, craft effective benefits packages, and ensure your employees are properly remunerated for their time, efforts, skills, and loyalty.
Another important factor in talent retention is providing opportunities for career advancement. ADP will help you curate performance metrics for each employee and support them through skills learning.
ADP creates an offboarding plan that makes the process painless whenever employees need to move on to other jobs. This way, your former employees will have nothing but good things to say about your company, which helps you get great talent easily.
Time Management
ADP offers extensive time and attendance management tools so you can easily manage your team. Employees can easily clock in, whether they work at the office or remotely. The software also tracks task performance and integrates with payroll software to ensure that employees are paid for exactly what they do.
Supervisors and managers will love this software. A team dashboard provides those with access an overview of employee attendance and real-time information as employees work.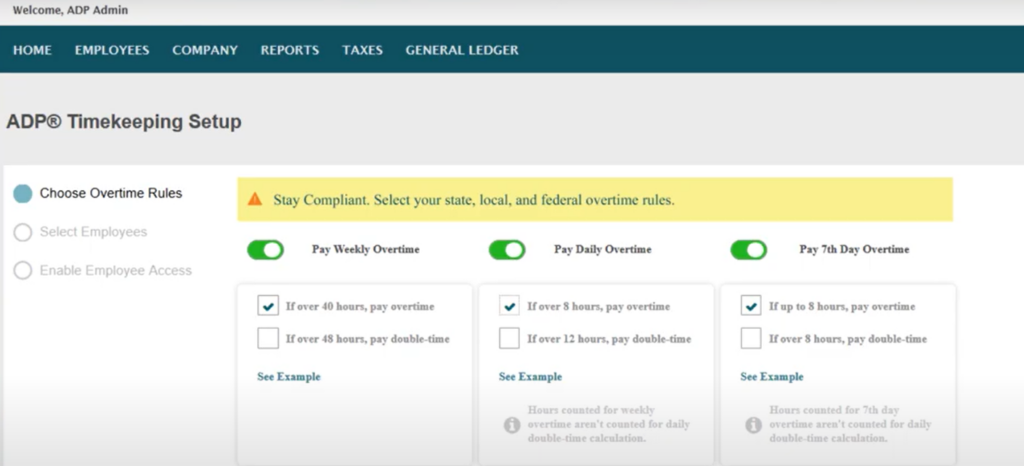 You can also use the detailed reports provided to create schedules that maximize performance and work efficiency.
Benefits Management
ADP helps you create the best compensation plans, so you don't lose your employees to competitors. The platform enables you to connect with the best insurance providers for group health and retirement. ADPIA is an ADP affiliate that connects your company to the top insurance carriers. They can help you get property insurance, liability, and workers' compensation packages at affordable rates.
Other benefits ADP helps you provide your employees with include 401(K), Simple IRA, and SEP IRA. Experts will talk your employees through each option and manage the accounts of those who enroll.
HR Management
ADP can offer your company HR support according to what you need. You can choose to get either simple HR services or get ongoing support from expert consultants. You can ask for HR templates that you can use to build your company's HR policies. This feature is vital for small businesses, including sole proprietors, who finally expand their workforce by hiring their first few employees.
Companies that need more extensive HR will be offered ongoing support and customer service. A team of experts will help to prepare your company for incorporation, merging, and expansion.
If you don't want to ever build an HR department, ADP can connect you to Professional Employee Organizations. You will get permanent access to experienced employees and HR professionals at affordable rates so your company can focus on what it does best.
An HR feature that I enjoyed was the HR Help Desk. You can get quick answers to your HR questions from HR professionals who are well-versed in employment laws and regulations. You can also troubleshoot problems through the ADP HR online database.
TriNet vs ADP – Analytics
TriNet
Each service offered by TriNet provides regular, detailed reports so you can keep up with what is going on with your company. Workforce dashboards give you real-time data on your team's performance.
Insights are displayed visually using graphs and charts so you can quickly see all the important metrics. Regular HR reports show you performance levels on KPIs, payroll reports, and compensation benchmarking reports.
I liked the fact that you can customize your reporting dashboards and decide the kind of reports you want to receive. These personalized reports help to show you the information that you need to grow your business.
ADP
Reports are availed for each service you are subscribed to on the ADP platform. The time and attendance software gives you access to time tracking reports so you can find ways to improve work efficiency.
Talent management reports show you key performance metrics for each employee and let you see how well your team is enabling your company's growth. Payroll reports provide you with insights so you can adequately manage your costs.
TriNet vs ADP – Integrations
TriNet Integration Options
TriNet is designed to become part of your existing software ecosystem rather than forcing you to replace it all. You can easily integrate the platform with your existing e-commerce, payroll, and tax platforms and sync the data for easy access.
The platform has native integrations with NetSuite, Google Cloud, Xero, and QuickBooks. Developers can use TriNet APIs to create integrations for other platforms that are not on the integrated platforms list.
ADP Integration Options
ADP has a lot of integration capabilities that onboard your current payroll, finance, and ERP systems onto the platform. The platform has native integrations with ERPs like SAP and Workday, time and attendance software like ClockShark, and recruiting platforms like GoodHire.
The ADP marketplace contains a host of apps that you can integrate with ADP to automate a lot of your administrative features. And if you're happy with a platform that is not on the list, the ADP API can help you customize the integration.
TriNet vs ADP – Customer Support
TriNet
TriNet offers an impressive number of options for customer support. You can chat anytime online with a customer agent once you're logged into your account. You can also call and be directed to a relevant agent from 6 AM to midnight Eastern Time during the workweek.
The third customer service option is email. There is a different email address support for company administrators and managers and a separate one for employees with questions about their access.
ADP
There are different types of customer support that ADP offers. You can access customer service if you're a company administrator or manager.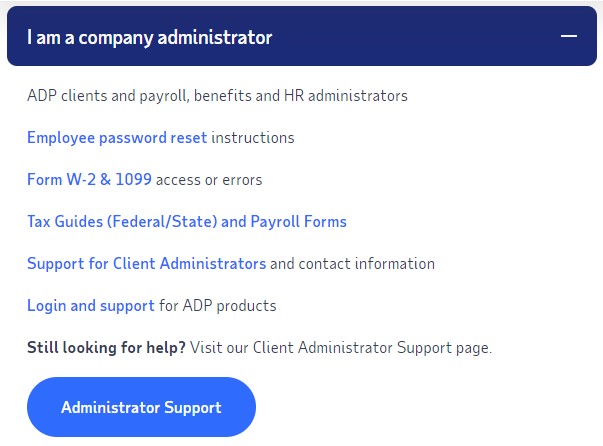 There are also support options for employees whose company uses ADP.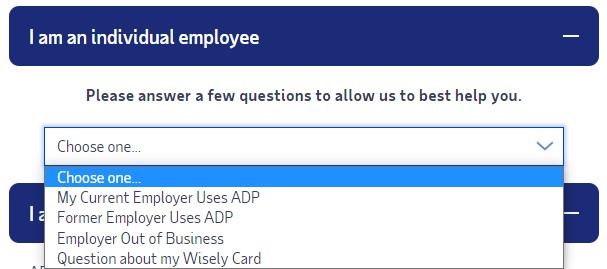 Phone support is available through a toll-free number. You can carry out basic troubleshooting using automated prompts or connect to support agents when they are available.
You can log into your account for more specialized support. Chat and email support options are also available if you are logged out of your account.
TriNet vs ADP – Pricing
TriNet's pricing model is dependent on the type and size of business you run and the services you require from the platform. You will have to speak to a sales agent who will curate a personalized pricing package to access pricing information.
TriNet boasts a transparent pricing plan that is better than that of its competitors, especially if you use it for PEO services.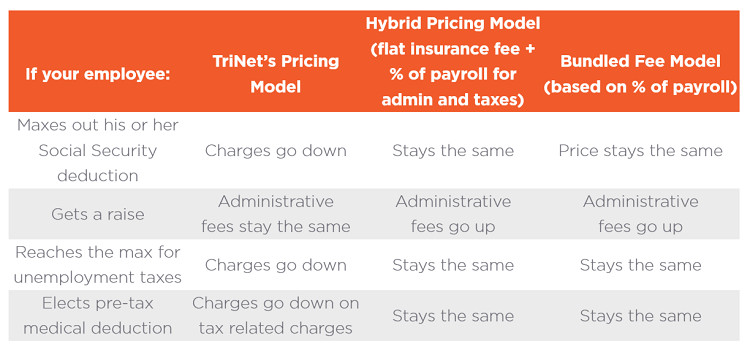 ADP
Just like TriNet, AADP's pricing depends on the size of your business. However, ADP is a bit more transparent about what services you get depending on your business type. You can choose which services you want and be charged accordingly.
ADP Small Business Plans: These plants are created for businesses with less than 50 employees. Each package in this plan has a 3-month free trial. You can select one or more of these services:
Essential Payroll, which includes:
Multi-device payroll access
Advanced reporting
General ledger accounting
Employee access
Onboarding tools
Tax filing
Enhanced Payroll, which has all the benefits of Essential Payroll, and:
Online check signing
SUI
Labor law compliance help
ZipRecruiter access
Candidate background checks
Complete Payroll & HR Plus, which adds these benefits to those of the previous plans:
HR HelpDesk
Employee handbook support
HR tracking
HR training
HR Pro Payroll & HR, which adds these benefits to the previous plan'':
Enhanced HR HelpDesk
Enhanced employee handbook support
Workplace training
Sexual harassment training
Marketing tools
Live advice
ADP Workforce Now Plans: These plans are designed for businesses with more than 50 but less than 1,000 employees. You can choose one of the following packages:
Payroll Essentials, which includes:
Payroll and tax basics
Workforce management basics
HR assistance
Talent acquisition assistance
HR Plus, which includes:
Payroll and tax
Enhanced HR
Onboarding tools
Digitized records
Hiring Advantage, which includes:
Payroll and tax
Enhanced HR
Onboarding tools
Digitized records
Talent acquisition tools
Performance Plus, which includes:
Payroll and tax
Enhanced HR
Onboarding tools
Digitized records
Talent acquisition tools
Performance management tools
Compensation management tools
TriNet vs ADP Alternatives
Workday
Workday is a cloud-based platform designed to automate HR activities. The platform is designed for medium and large businesses, similar to ADP. See this ADP vs Workday comparison to see which platform is best for your business.
Zenefits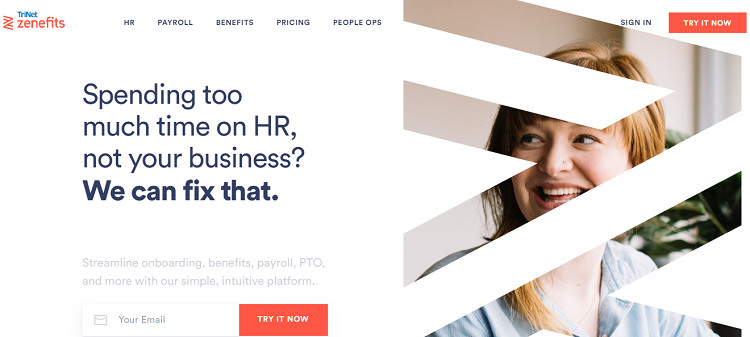 Zenefits is a user-friendly platform that offers a range of HR, payroll, and risk management services. Its services are quite similar to TriNet's, so it has recently been acquired by TriNet. You can see this TriNet vs Zenefits to get an overview of the services provided.
Small Business Benefits Admin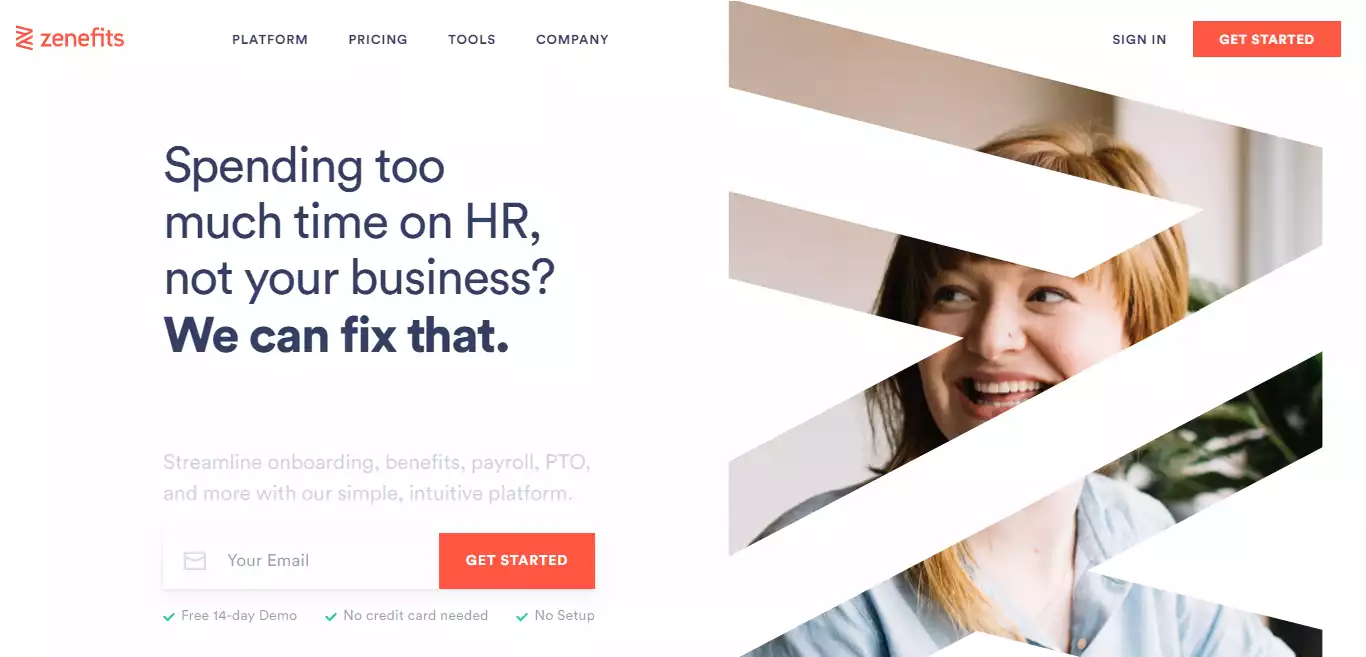 Why Go With Zenefits?
If you are a small to mid sized business that needs more than "just a payroll" service provider, Zenefits is a great "next step". We love it because it works well with complex integrated teams of W-2's, freelancers, and contractors!
Find Your Perfect Plan
We earn a commission if you click this link and make a purchase at no additional cost to you.
Justworks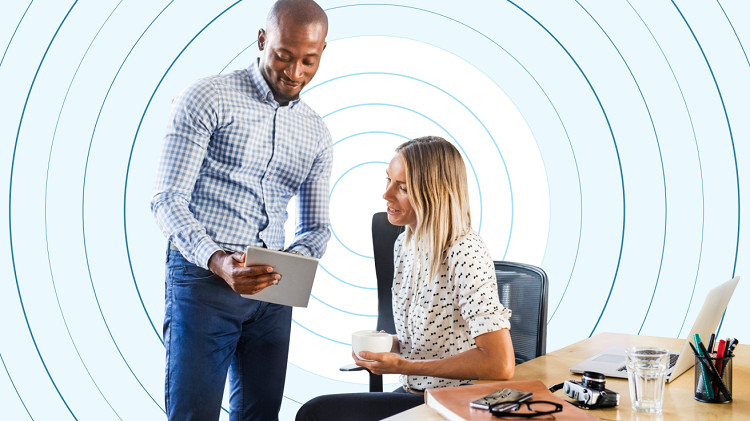 Justworks is another HR and payroll platform that provides a full range of administrative services for people management. This Justworks vs Zenefits comparison will help you decide if the platform is suitable for your business.
FAQs
Question: Do TriNet and ADP have Mobile Apps?
Answer: TriNet has an iOS and Android app that gives you, administrators, and employees access to relevant dashboards. Both employees and administrators can access software sections relevant to them while on the go.
ADP also has an iOS and Android app geared toward employees. The app lets your employees clock into work from anywhere, log hours worked, and access payroll information.
Question: Is TriNet or ADP a PEO?
Answer: Yes, both platforms are professional employer organizations. You can offload part or all of your HR needs to their dedicated team of experts. The PEO services help you save thousands of dollars on administrative and employee costs.
Question: How do I Cancel my TriNet or ADP Account?
Answer: Only the account registered as a company owner can cancel a TriNet plan. You can access this feature from the settings tab on your dashboard. Once you cancel, you will have access to your TriNet data until the date for the next billing, beyond which you'll lose all of it.
To cancel your ADP service, talk to a support agent to find out your options, including how to export your company's data.
My Verdict: TriNet vs ADP
TriNet and ADP offer very similar services but are suited to different customer bases.
Sub 10 Employees? If you run a small or medium-sized business, choose TriNet for your HR and payroll services.
Everyone Else? ADP is ideal for large enterprises, but I think expanding companies of all sizes can benefit from picking a few packages from the platform since they are priced separately.
Best Starter Solution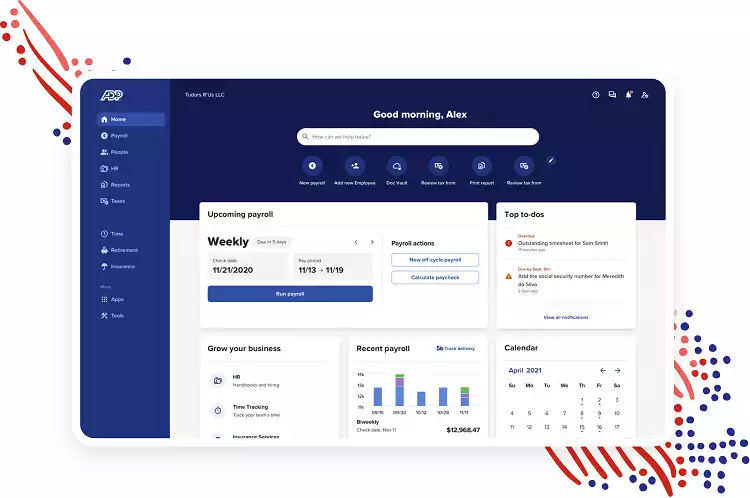 Why Go with ADP?
Put Simply, ADP is incredibly user-friendly, with a scalable pricing model for small (but growing) businesses. No getting "priced out" at certain growth tiers. For most businesses, a standard ADP implementation provides more value.
Find Your Plan
We earn a commission if you click this link and make a purchase at no additional cost to you.
Further Reading on Human Capital Management & PEO Service Provider Options: