Last Updated on April 24, 2023 by Ewen Finser
HR and payroll activities can be taxing, whether you run a small business or a large one. Companies don't always want to establish whole departments for these activities, and that's where PEOs come in.
A Professional Employer Organization is an agency that provides experts to handle a company's recruitment, HR management, and payroll activities. You get into a contract with the PEO, and it compensates the team assigned to your business.
Justworks vs TriNet are companies that offer PEO services, so your HR, payroll, risk management, and compliance tasks are fully handled. I took a closer look at each company, so read on to see which one you should pick for your business.
My Bottom Line Up Front
I think both Justworks vs TriNet are great platforms with a range of options for small and medium-sized businesses. Picking one over the other is quite tricky because they both provide similar services.
TriNet has been operating for years, and with its recent acquisition, it offers services fit for both businesses looking for a PEO and those looking to self-manage their HR and payroll. Justworks is a much smaller company, and its staff is wholly dedicated to making each client happy. If you're interested in a transparent payment plan and individualized attention from your HR team, then go with Justworks.
Main Differences Between Justworks vs TriNet
The main differences between Justworks vs TriNet are:
Justworks is a platform that offers PEO services, whereas TriNet is a PEO company that provides HR and payroll staff.
TriNet has a legal team that offers help with lawsuits, whereas Justworks does not.
Justworks has a transparent and affordable pricing plan, whereas TriNet lacks transparency in its pricing.
Justworks' relative newness to the market limits its bargaining power, whereas TriNet has wider access to health insurance options.
What is Justworks?
Justworks is a payroll platform that also handles payroll tax and employee benefits deductions. The platform also provides HR management and tax compliance services.
The company started as a nonprofit co-working space in 2012. It has grown into a Professional Employer Organization that can provide your company with a team of experts to handle most of your administrative tasks.
What is TriNet?
TriNet is a PEO company that was founded in 1988. The organization offers small and medium-sized businesses access to professionals who offer help with HR, payroll, benefits, and compliance tasks. The company has an intuitive platform that you can use to manage your business. You can use the professionals provided together with your team or fully rely on them to handle the pesky administrative tasks.
TriNet has recently acquired Zenefits, a platform that gives you complete control over your HR and payroll. So instead of relying on TriNet's teams to handle these tasks, you can do it yourself or connect your HR team to the platform to handle them.
Justworks – Main Features
Ease of Use
To use Justworks' system, you will need to sign up with some details about your business. I found this process straightforward.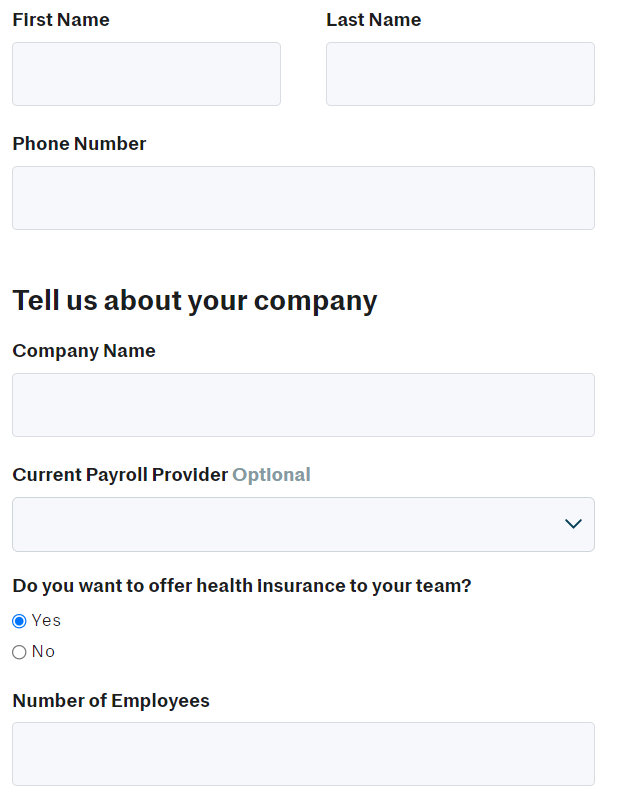 After signing up, Justworks will send you an email so you can set up a call with one of their agents. This allows an expert to learn more about your business and curate the platform, so it properly serves your company.
Hiring and Onboarding
Remote teams are becoming popular, with many organizations looking to hire individuals from any spot on earth. If your company is looking to build talented remote teams, then you will appreciate Justworks' remote hiring services. The platform has a team of experts who will help you create a skill profile for each remote spot you need to fill. The team will create job posts, interview applicants, and make the right hiring decisions.
Justworks also helps with the onboarding process. You will be able to quickly enroll each new hire onto your systems and register them for taxes and benefits. The platform also stores important documents like Form 1099 and form W -2. It also allows for collaboration so each new hire can read and sign the necessary contracts without ever needing to come to the office.
Hiring remotely is a process that can be taxing for both you and your new employees. Justworks helps to ensure you operate within the relevant employment laws, regardless of the state your remote hires work in. Customer support is always available for this service, ensuring your distributed teams can work round the clock to grow your organization.
Payroll Management
Payroll activities are numerous and taxing, even if you're managing a small team. Justworks takes over all payroll activities, so your company can focus on what it does best. Justworks can be integrated with the most popular accounting systems so you can easily track all your expenses. The platform also allows you to give your accountant third-party access so they can keep your books in the best shape.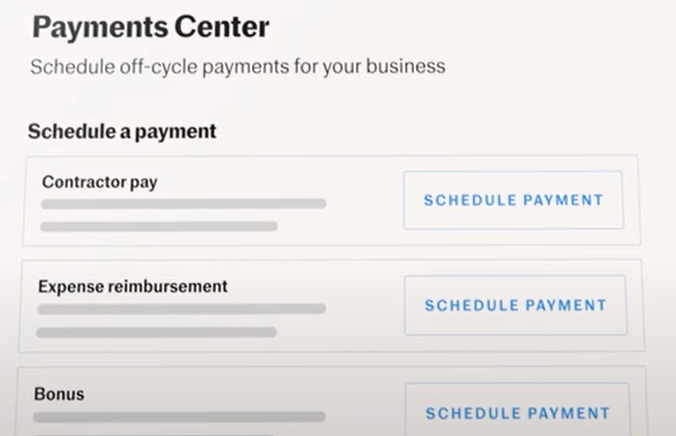 The Justworks payroll system ensures all your employees are paid on time. It automatically handles benefits deductions for each employee and records all changes, ensuring that you can easily track all transactions. Justworks' payroll system also automates payroll tax filing and remittance. The platform also maintains an updated database of tax and labor laws, ensuring all transactions reflect changes from the latest regulations.
Time Tracking
Keeping track of time worked is essential for payroll and invoice management. Justworks provides a time tracking feature that you can use to measure performance and efficiently manage labor. You can use the time tracking system to oversee how your staff works. The system can be used in the office and can also measure the hours worked by your remote staff and contractors.
The time tracking software has geofencing capabilities that ensure only your staff has access to your internal operations. It can also be accessed through a mobile app, with alerts ensuring staff keeps to the schedule. I liked the fact that Justworks' time tracker submits timecards that can be used by the payroll system. This makes it easier to pay staff who work by the hour.
Benefits Management
Good employee benefits make your company a very attractive place to work. Justworks helps you curate the best, cost-effective plans for each employee.
You can connect your employees to leading health insurance providers, regardless of the size of your workforce.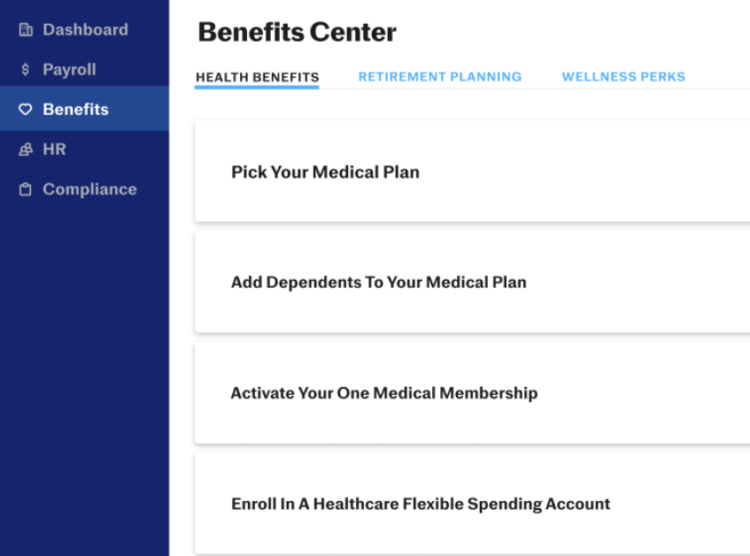 You can choose the insurance packages for employees and their beneficiaries. Employees can self-enroll on the platform, reducing the admin work that goes with benefits management. Justworks also helps you secure other benefits for your staff. The platform connects you to insurance companies that offer workers' compensation, wellness, and mental health benefits.
The platform's team can also help you enroll all your workers into the state unemployment insurance, including remote workers. In addition, the system integrates with payroll, so any deductions are automatically handled. I think Justworks' benefits management system is great for small and medium-sized businesses, which often get the short end of the stick when it comes to benefits. You can get a lot more benefits while paying a lot less.
PEO Services
Justworks is a professional Employer organization, which means the platform can provide you with staff to handle payroll and HR management.
With a team in place, you get experts who take up a lot of the admin work. PEO services are a good option for companies that do not have a dedicated HR department. It makes it easier to focus on activities like fundraising and R&D.
TriNet – Main Features
Talent Management
TriNet offers a full suite of talent management services that give your company access to highly-qualified HR professionals. I found TriNet's HR offerings quite impressive. The PEO team assigned to your organization will handle recruiting, onboarding, and performance management. This includes creating job descriptions that accurately describe the skills your company needs.
TriNet will help you keep track of applications. Each candidate is assigned a profile where you can see their resume and portfolio. The candidate profile shows you feedback and ratings for each candidate so you can decide if they're a good fit.
You can create custom workflows for steps candidates need to accomplish and track their progress and capabilities even before hiring.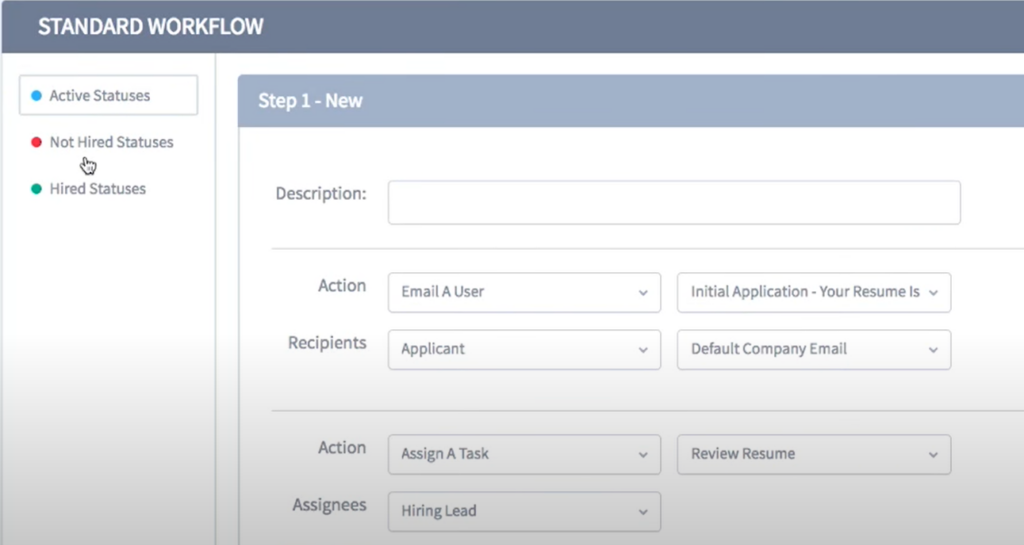 The platform uses Goodtime to run background checks, financial liability checks, and drug testing. The checks are FCRA-compliant, so they will not break any privacy or discrimination laws that can make your company incur liabilities.
Once the hiring decisions are made, TriNet's HR team will help you with the onboarding process. This includes getting all the contracts signed, enrolling employees in the payroll system, and handling initial training for your new staff.
Performance Management
30 days after onboarding, the performance of new hires is evaluated to ensure they are setting in and adapting. This process also helps to determine it the right hiring decisions were made.
Performance management is a year-round process with TriNet. Achievable KPIs are collaboratively established to ensure employee buy-in. Feedback is captured in real-time, so corrective measures are undertaken whenever needed.
TriNet also offers learning opportunities to each employee. You can create online courses that provide skills that are relevant to your company's growth. Including certifications for each course will motivate employees to complete the courses.
Employees are also offered leadership training, so they are ready to take up supervisory and managerial positions. With transition support, your staff will be able to climb the career ladder, whether it's within your company or elsewhere.
HR Management
Aside from talent recruitment and onboarding, TriNet offers comprehensive HR services that ensure your company provides a conducive work environment. One of the things the platform helps with is compensation consulting. Experts will analyze your current compensation offers to see how they compete in the market.
They will also repackage your plans to ensure you offer attractive and motivating packages to your staff without overextending your expense budget. TriNet's HR experts will also engage your employees, getting their views on the workplace, management, and colleagues. This makes it possible for you to spot problems and solve them before they escalate.
TriNet has a Team Accelerator tool that uses psychometric assessments to create dynamic teams within your staff. Creating high-performing teams is key to ensuring your company reaches all its strategic goals.

The platform's strategic HR management ensures you build a highly functional and efficient company that has a receptive workplace that draws the best from each employee.
Time and Attendance Services
TriNet provides comprehensive payroll services that help you save time and money. The first step is by automating timecards. TriNet Time is a time and attendance software that helps you track working hours. The platform keeps logs of employee, contractor, and project hours. You can use its intuitive dashboard to create work schedules and assign tasks based on employee capabilities and availability.
Employees can access the time and attendance software to see their online schedules, log their working hours, and request time off. With just a glance at the dashboard, you can tell if your work metrics are being achieved. You can keep tabs on absenteeism and ensure work policy compliance even for remote workers.
Payroll Management
TriNet also features comprehensive payroll services. The platform automates payroll processing, so your employees are paid on time.

Aside from direct deposit and debiting, the service gives employees electronic pay stubs, W-2 forms, and PTO. In addition, online processing for payroll makes it possible to manage remote employees. Payroll services provided by TriNet ensure your business remains tax compliant. The platform automatically calculates and withholds taxes you owe to local, state, and government agencies.
These taxes are paid on time, protecting you from costly fines. You can also turn over the handling of unemployment claims to professionals from the platform. TriNet's payroll management system can help you keep an eye on expenses. Your staff can submit expense reports online for transport, dining, and other work expenses so they can be reimbursed.

The information is recorded, giving you the ability to control spending so you can keep in line with your budget. I liked the fact that the payroll system scales up with your business, so you don't have to change platforms as your business grows.
Benefits Management
TriNet offers small and medium-sized businesses access to benefit packages that are normally only accessible to bigger companies. The platform leverages its relationships, so your employees, their partners, and even pets get the best health insurance. You can also enroll your employees in dental, vision, home, and commuter insurance at affordable prices.
TriNet can also set up and manage retirement plans. Benefit experts will teach your staff about lifetime planning options like 401(K) and manage their accounts and fees as needed.
The expert team can also file for disability claims on their behalf, so your business is always compliant.
Risk Mitigation
TriNet's risk management services help you spot and mitigate many HR and payroll risks before they occur. A team of experts will train all members of your staff on employment and workplace best practices.
These training modules can be accessed online through handbooks and can be added to your company's written policies to ensure that your company does not incur any lawsuits for breaching employment, harassment, or discrimination laws.
TriNet experts keep track of changing ACA regulations to see how they affect your organization. They will also identify employees eligible for ACA benefits, keep track of remuneration, and handle ACA reporting automatically. A company cannot always avoid lawsuits and claims. However, whenever such issues occur, you can get expert help through a legal hotline where you'll be apprised of the latest laws and regulations.
TriNet's legal team will also represent you in cases so you can make savings in payouts.
Justworks vs TriNet – Analytics
Justworks
Justworks makes it easy for you to keep track of performance metrics for all aspects of your business. The platform generates automatic reports for payroll, HR, and compliance activities. You can view the reports right from the platform and download them for offline access. You can also filter and customize the reports, so you only see the metrics relevant to you at the moment.
TriNet
TriNet has a robust analytics dashboard that lets you see all your HR and payroll data in one place. In addition, information is updated constantly so you can make fast strategic decisions. The Workforce Analytics Dashboard presents information in visual graphs and charts. You can also create your own rules so you can easily see information like headcount, turnover, and terminations.
The platform also provides compensation reports that show you where your company stands in terms of salaries and benefits. Payroll and job costing reports that can be filtered by department help you keep an eye on your expenses.
Justworks vs TriNet – Integrations
Justworks
Justworks can be integrated with various accounting and timekeeping platforms. Some of the more popular accounting integrations are with QuickBooks and Xero. In addition, TSheets and Justworks Hours have native integrations for time management.
TriNet
TriNet is designed to ensure you don't have to abandon systems that already work for you for the platform. The TriNet system can be integrated with some of the most popular ERPs, payment, and CRM systems.
Some of the native integration TriNet has is with platforms like Xero, QuickBooks, NetSuite, and OneLogin. You can also use TriNet APIs to create custom integrations with platforms that don't have native integrations.
Justworks vs TriNet – Customer Support
Justworks
Justworks offers full-time customer support by phone, email, chat, SMS, and Slacks. You can reach the team from anywhere in the world regardless of the time and expect instant expert feedback.
I liked the fact that full-time customer support is available to everyone, even on the Basic Plan. Justworks also has a Resource Center and a Help Center with guides that can help you set up your account and get answers to frequently asked questions.
TriNet
TriNet offers multiple customer support options, ensuring any issues you have with the platform don't go unresolved for long. The most immediate response is provided via the chat option, where a customer agent will be assigned to you immediately you seek help. You can also email support or call them with your questions during working hours.
Justworks vs TriNet – Pricing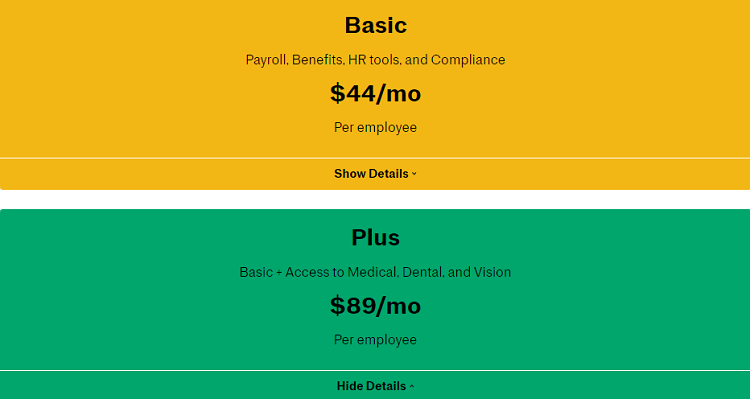 Justworks
Justworks has two pricing plans, with the cost for each being reliant on the number of employees in your company. The total monthly price you owe is determined by the plans' cost for each employee.
Basic Plan
The price for this plan is as follows:
$49/month per employee for less than 25 employees
$44/month for each employee for less than 100 employees
$39/month for each employee for less than 174 employees
Custom pricing for more than 175 employees
The Basic Plan offers these benefits:
Remote employee onboarding
Payroll for employees, vendors & contractors
W-2 and 1000 form filings
Filing for unemployment insurance
Employment liability insurance
HR consulting
Harassment prevention training
Inclusion training
E-signing
Fulltime customer support
Reporting
Plus Plan
The Plus Plan costs:
$99/month per employee for less than 25 employees
$89/month per employee for less than 100 employees
$79/month per employee for less than 175 employees
Custom pricing for more than 175 employees
The plan offers these benefits:
All Basic Plan benefits
Health advocacy
One Medical access
Dental insurance
Vision insurance
HSA or FSA account
TriNet
TriNet's services are geared towards small and medium-sized businesses. Since the scale of each differs, the platform does not provide set payment plans. You can email or call sales agents using the contact information provided on the platform to know how much you will be charged for the services you want.
Justworks vs TriNet – Alternatives
ADP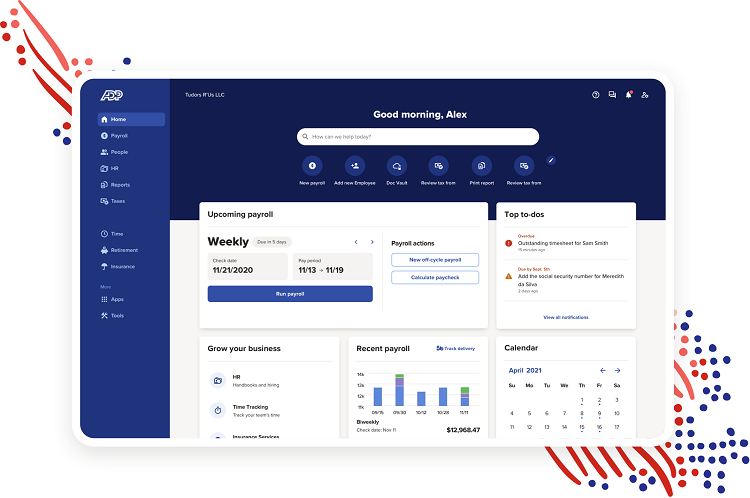 ADP is one of the largest PEO, HR, and payroll platforms in the market. The company offers these services to businesses of all sizes, including large enterprises. You can see more of its services in this ADP vs. Workday comparison.
Insperity

Insperity is a platform that provides administrative services to small and medium-sized businesses. Its capabilities are pitted against TriNet's in this TriNet vs. Insperity comparison.
Gusto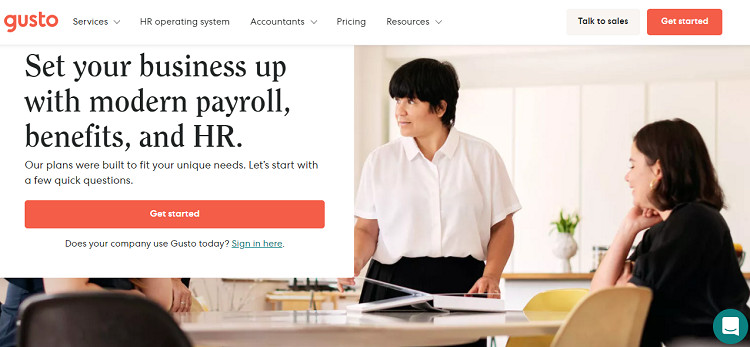 Gusto is a payroll platform that also offers payroll and benefits management services. Its services are geared towards small and medium-sized businesses, as you can see from this Gusto vs Justworks comparison.
FAQs
Question: Do Justworks and TriNet have mobile apps?
Answer: Yes, both platforms have iOS and Android mobile apps.
TriNet's HR app lets you onboard employees, manage schedules, control expenses, and set benefits from your phone.
Justworks has Justworks Hours, an app that tracks time worked by employees, contractors, and project teams. It also has communication features that allow for collaboration throughout the workday.
Question: How do Justworks and TriNet PEO Services Work?
Answer: Both platforms assign a dedicated team of experts to handle the services you require for your company. Justworks and TriNet do not offer an all-or-none solution, which provides you with the freedom to decide which services you want to outsource.
You can maintain your staff and act as a co-employer for the PEO staff, which means you don't have to provide a full suite of benefits like you would your own employees.
PEO services have been proved to reduce turnover and increase efficiency. To know about the extent of Justworks and TriNet PEO services, you can contact sales agents to see what each platform offers.
Question: Is my Company's Data Protected on Justworks or TriNet?
Answer: Yes, both Justworks and TriNet use intensive data protection protocols to ensure your company's information remains confidential. Some of the security used by Justworks include bank-level encryptions, firewalls, SSL, and TLS.
TriNet has a comprehensive privacy policy that explains the different data collected and how its safeguarded.
Justworks vs Trinet: Verdict
Justworks and TriNet have services geared towards small and medium-sized businesses. This makes either platform suitable to use as you grow your company. TriNet's recent acquisition of Zenefits makes its offerings more well-rounded. Its mobile app is also advanced and enables team management even while you're on the go.
I find that Justworks has a more hands-on approach to HR management and payroll services. The fact that the customer service team operates 24/7 makes up for any shortcomings the platform might have.