Last Updated on June 1, 2023 by Ewen Finser
If you've run your business for any length of time, then you know payroll and HR require a lot of continuous attention that can take a lot of resources. Automating these tasks is necessary, which is what Paycom vs Paylocity promise to do.
I run a small business and put these platforms to the test to see if their services are worth trying. Read on to see my views on each.
My Bottom Line Up Front
Paycom and Paylocity are pretty much the same if the names are anything to go by. However, I found that subtle differences make the platforms real competitors.
Paycom has a lot of different systems that make managing a large workforce easier. The platform has multiple software under one service, which gives you a lot of choices so you can use services that perfectly fulfill your business needs.
Paylocity has a lot more customer service options when compared to Paycom, and I found its add-on and app Marketplace easy to navigate so you can create faster integrations with your business systems.
Main Differences Between Paycom vs Paylocity
The main differences between Paycom vs Paylocity are:
Paycom has an 'Ask Here' feature for employees to get instant answers to their queries, whereas Paylocity does not.
Paycom's integration options are a lot less straightforward, whereas Paylocity has a lot of native integrations and APIs.
Paycom's pricing and capabilities are better suited to mid-sized and large businesses. In contrast, Paylocity's pricing is more affordable to small businesses.
Paylocity offers an employee community that drives engagement, whereas Paycom lacks this feature.
What is Paycom?
Paycom is a cloud-based platform designed to provide employees with access to their HR information. The company was started in 1998 as a payroll platform and now encompasses the full range of HR activities. When enrolled on the Paycom system, employees can access and make changes to their personnel files. This takes a lot of the mundane HR activities away from busy HR professionals and gives employees more control over their data.
What is Paylocity?
Paylocity is an HR collaboration platform that offers HR and payroll services. Since its establishment in 1997, the company's services have been used by thousands of businesses, from small to large enterprise businesses. Paylocity offers an employee-first experience, ensuring your company provides the best workplace environment by keeping up-to-date with employment laws and regulations.
Paycom – Main Features
Talent Acquisition

Paycom has a full suite of talent management tools designed to help your company get and retain highly-skilled individuals. The first step is to help you reach valuable people wherever they are. Then, a team of experts will help you create good job descriptions and post them on all the relevant job boards.
The platform will also help you keep track of applications. Active filtering tools make it so you only ever interact with highly qualified individuals. Even after selecting your candidates, information on talented individuals who are not currently a good fit will be retained, so you have a ready list of people to reach out to whenever there's an opening.
Paycom makes onboarding new hires a breeze. You can use the tools provided to conduct extensive background checks that remain within the bounds of the FCRA. The platform provides new employees with checklists so they can handle part of onboarding by themselves. It also handles all the tax credit eligibility-checking and administration.
Talent Management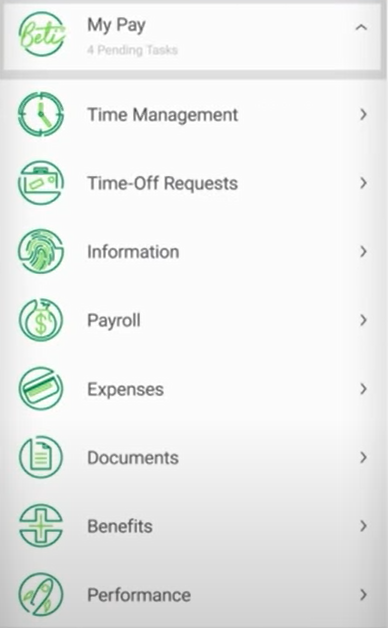 Paycom makes it easy to keep your employees mentally stimulated. You can create challenging but achievable performance goals, providing incentives to motivate your staff to meet them. You can engage employees in the process by asking them to review their performance and outline areas for improvement.
Managing compensation, performance, and position is made easier on Paycom. You get access to an interactive dashboard that provides you with information about each employee so you can track job progress, compensation budgets, and employee position mobility.
The platform also offers employees control over their careers. They can manage payroll and some HR tasks on their own, which is perfect for those who work remotely. Employees can also take advantage of curated learning opportunities via online courses to expand their skill sets. These courses are self-paced, so each person can take full control of their growth.
Time Management
Time management is a critical HR function that Paycom helps to simplify. The feature helps to keep track of employees' performance and control compensation. Paycom has time and labor management software that ensures you use these limited resources efficiently. The software can be used even with a physical clock in terminals, capturing and recording all the information online.
The software takes shift scheduling, clocking in, and tracking of hours worked online. It also enhances collaboration with employees being given the ability to edit and submit timecards. This way, your HR staff is not bogged down with repeated manual data entry tasks.
You don't need to worry about paying for hours not worked. The online schedules ensure only the shifts you set are accessed by employees. The system also uses geofencing and IP filtering to ensure only authorized employees can check into work.
Paycom's time and labor management software is optimized to ensure you pay exactly for what you receive. The fact that it allows employee input so they can choose shifts ensures that your staff can always put their best foot forward.
Payroll Management
Paycom has a slew of payroll services that your organization can benefit from. These include the expense management tools that help you keep track of company coats from the comfort of your desk.
Employees can upload pictures of receipts for activities done on behalf of the company, so they are quickly reimbursed. If you are catering for travel expenses, the platform offers a mobile app that can track each mile traveled so your expense costs do not get out of hand.
The Employee Self-Service mobile app lets employees manage their work expenses. The app keeps track of time cards, paid time off, and other employment benefits. This dramatically reduces any manual data entry that your HR team has to do.
The platform's Betis software ensures your payroll activities are compliant with the latest regulations. The software improves data accuracy by taking note of and repairing any inaccuracies. The software is also employee-driven, ensuring your payroll needs are fully met with no extra burden added to your accounting staff.
A feature that I found interesting is Paycom Pay. Once your company is enrolled, paper checks are generated from Paycom's bank account rather than your company's. This helps ensure your staff is paid on time while reducing your bank fees.
Paycom's payroll services include tracking and ensuring you're compliant with payroll taxes. The platform will calculate your past and current taxes and help you to settle them fully, and apprise you of any future liabilities handled so you can avoid penalties.
HR Management
Whether your HR department is made up of just one person oR a full HR team, your company will get a lot of use from Paycom's HR management tools. Both managers and regular employees can have access to the platform. Managers can keep an eye on employee performance and approve requests using the Manage on-the-Go software.
Employees can take full control of their employment benefits. They can make informed decisions on health insurance, 401(k), and IRA plans by seeing how the deductions will affect their pay. They can also update their information as needed, reducing the chances of COBRA or HIPAA violations.
Part of the HR management functions of the platform includes document management. Online compliance forms make it easy to track changes and ensure compliance. They are backed up and stored, so you never lose any data.
Paylocity – Main Features
Talent Management

Paylocity helps you through every stage of talent management, from selecting the right people to keeping them long-term. The platform's recruiting services help you reach the right people whose skills align with your company's future. Background checks are conducted so you have all the necessary information about your candidates.
The platform makes it easy to communicate with your potential new hires to gauge their capabilities, whether you're hiring for a physical or remote role. Interviewing is a breeze with Paylocity.
Even after hiring the right people, onboarding them is never easy. Paylocity helps you with the process, ultimately streamlining it. In addition, information about each recruit is easily captured and stored, so manual data entry isn't necessary. This includes tax information, personal details, and company position and duties.
Employees will be engaged from the minute they start working at your company. Paylocity helps you create a welcome and open environment. Employees will appreciate the opportunity to learn and improve in a judgment-free atmosphere.
You can use Paylocity's services to create performance goals for each employee, even the seasoned ones who know what they're doing. The platform has performance management software that makes performance reviews easier for all involved.
Paylocity ensures you provide each employee with the ability to feel secure and honored. You can create a compensation strategy on the software, and the platform will help you fairly reward all employees. You can also develop courses relevant to each employee, so they can improve their skills and track their progress over time.
Workforce Management

Automating the day-to-day workforce management activities goes a long way in saving your company essential resources. Paylocity's workforce management system makes this possible and helps you maintain a seamless workplace.
The system eliminates manual timesheets, letting employees clock in and out online. Staff can also submit timecards online, where the details are recorded and shared with the payroll system, eliminating the need for manual data entry.
Paylocity's workforce management system can help you reduce compliance risks. The online scheduling feature allows you to change the rules required for each task. This means you can decide the skills and capabilities needed for each job while complying with discrimination laws.
Human Resources Management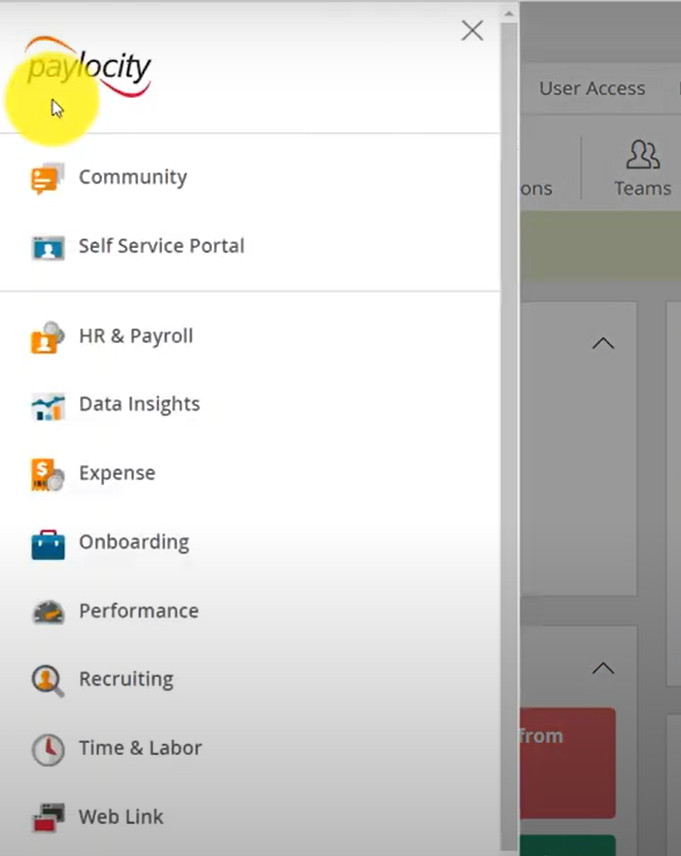 HR activities can be mundane but time-consuming. Paylocity provides a mobile-enabled platform called Human Resources Information System (HRIS) that is great for simplifying HR tasks. These include changing personnel file details, safety tracking, and reporting.
The system gives you total control over HR activities. You get access to templates that you can edit to include information about company demographics, earnings, and deductions for all employees. You get complete control over position management, with a visual view of all occupied positions. You can change employee status, anticipate vacancies, and track compensation to ensure it is within the bounds of your expenses.
HRIS allows employee input, so HR personnel don't have to do all the work. Instead, they can use the self-service portal to clock in and out of work, update personal information, and interact with their colleagues. The system offers regular, detailed reports. The reports can be sent to managers and supervisors to make informed personnel decisions.
I liked the various dashboards offered by the HRIS. I also liked how the system provides updates on HR laws and regulations, so your HR practices are always compliant.
Payroll Management
Paylocity offers a range of payroll features that simplify managing expenses for both payroll personnel and other employees.
One of the valuable features is on-demand payment. A portion of wages is availed to employees each month so they can access it whenever needed. This reduces the paperwork or approving and providing pay advances and gives employees control over their finances.
The payroll software eliminates both physical and manual calculators and the slew of spreadsheets generated throughout the payroll process. All pre-approved expenses are automatically recorded, and relevant signatures are included in all payment checks.
I liked the fact that Paylocity provides wage garnishment services. These are some of the more discreet but everyday payroll activities, and Paylocity will ensure they are handled properly, so you don't become embroiled in costly lawsuits.
Paylocity is an IRS Registered Reporting Agent who can help you prepare quarterly, unemployment, and tax returns for federal and state taxes. The platform offers fast and efficient tax filing services. You are assured of timely tax submission, with the platform paying any penalties charged for delays.
Paylocity handles any tax issues that crop up. A team of experts will contact tax authorities on your behalf and ensure things are back on track within record time.
Benefits Management
Paylocity can automate up to 80% of Benefits Management tasks. With the system in place, you can say goodbye to the tediously repetitive tasks of enrolling employees and making updates to plans based on employees' change of status.
The Benefits Management system is the same one used for payroll, which means information sharing is made all the easier. Administrators can quickly see how benefits deductions will affect employees' paychecks so they can make better decisions.
Just like payroll, the benefits management system allows employee access. Administrators can also access the system from mobile, making edits and adding third-party benefit services with ease even while on the go.
Paycom vs Paylocity – Analytics
Paycom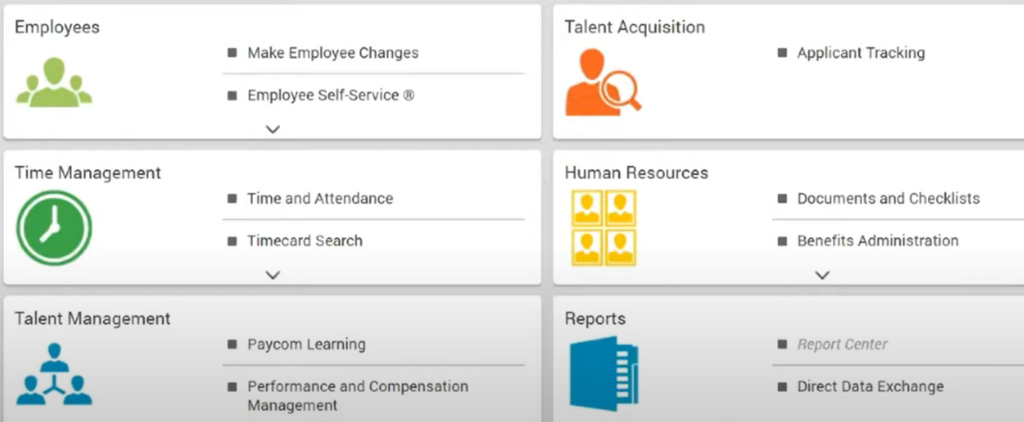 Paycom has an interactive reporting dashboard designed to provide you with the data needed to make strategic workforce decisions. You can use the predefined templates provided or create custom rules that provide the information you need.
You can get a report for each of the services offered by the platform. For example, talent Analytics lets you know about your workforce needs, Time and Labor Analytics help you manage your teams better, and Payroll Analytics lets you keep track of expenses.
The platform lets you generate Push Reports, automatic reports that will be sent out after an interval that you set, whether daily, weekly, monthly, or annually. This feature helps improve decision-making by providing the right information when needed.
Paylocity
Paylocity provides a workforce analytics dashboard that provides you with easy access to all your company's workforce details. Information is arranged visually using graphs and charts so that it's easy to analyze and interpret. Some employee insights you can gain from Paylocity include demographics, turnover and retention rates, labor costs, and utilization. You can filter data on Paylocity to get analytics that matter at the moment.
Paycom vs Paylocity – Integrations
Paycom
Paycom integrates with other platforms so that you don't have to change all your systems to use the payroll and HR solutions it offers. It works with different ERPs, onboarding platforms, and time and attendance systems.
The platform also has an API, but I couldn't find a direct link to the documentation.
Paylocity
Paylocity provides 180- and 360-degree integrations that create a seamless experience for all your systems. The platform can be connected to over 300 other systems, including ERPs, insurance, stock management, and retirement platforms.
You can access the full Marketplace with Paylocity's native integrations here. You can also use the API Library to get the documentation necessary for customizing your integration with the Paylocity platform.
Paycom vs Paylocity – Customer Support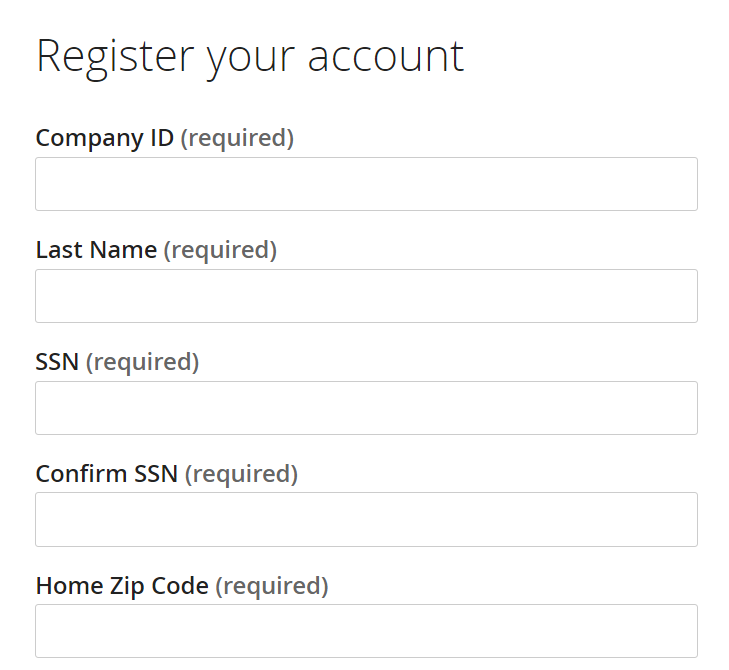 Paycom
Paycom has multiple customer support options. Once I submitted a help request on the platform, I was assigned an agent who reached out to me via email. If you need urgent help, then you'll appreciate the multiple contact options provided. You can use Zoom or Teams to talk to your customer agent or use the direct phone line provided.
The follow-up by Paycom's agents is impressive in its persistence, ensuring your problem is entirely resolved. The platform also has blogs, webinars, and podcasts that can offer guidance on new changes in the systems.
Paylocity
Paylocity has a chatbot on each page that you can use to find guidance on an issue you have. Responses are instant but don't expect any substantial support from the chat feature as it will direct you to a phone number or email.
I emailed Paylocity four days from the time of this writing, and aside from acknowledging receipt of my email, I didn't receive further communication. I hope long-term customers have a better experience with the customer support team.
If you want faster solutions, take a look at the Resources Library to see if there are blogs, webinars, podcasts, and even ebooks that deal with your issue.
Paycom vs. Paylocity – Pricing
Paycom
Paycom offers a la carte pricing, so an agent will have to evaluate your business and your needs before offering you a pricing package. You can arrange a phone or video call with a sales agent so you can get pricing information for your business.
Paylocity
Just like Paycom, Paylocity's pricing depends on the services you're using and the size of your business. You can email the sales team to find out more about their pricing options.
Paycom vs Paylocity – Alternatives
ADP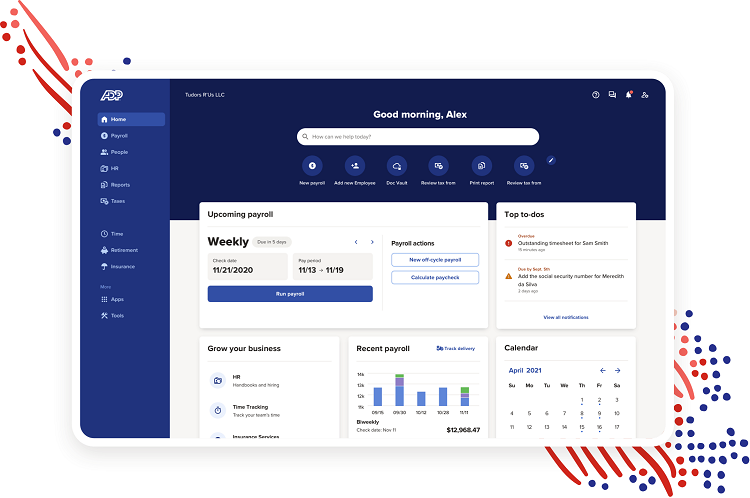 ADP is an HR and payroll software that is among Fortune's World's Most Admired Companies. The platform is designed for small and medium-sized businesses. You can see if it's a good fit for you in this Paycom vs. ADP Compared article.
Paychex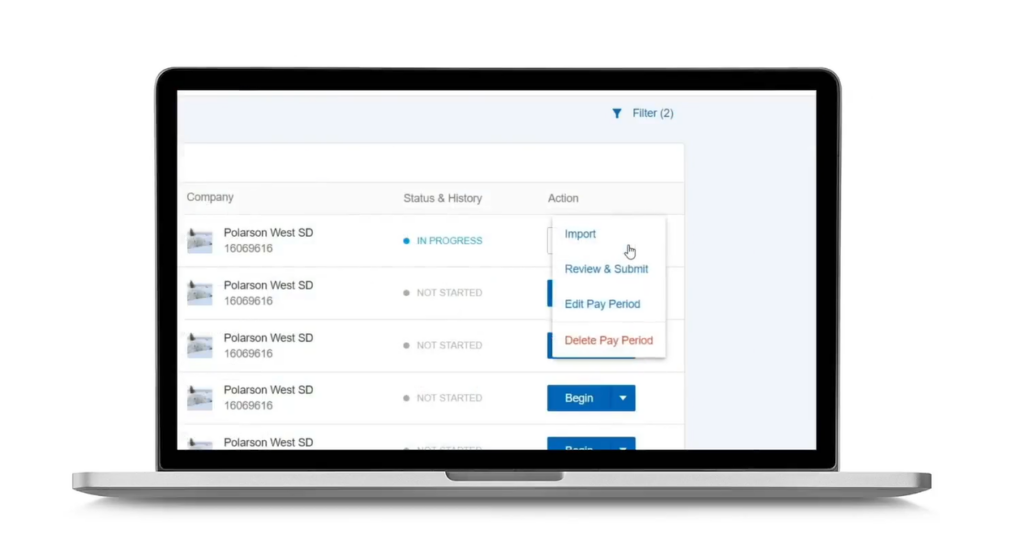 Paychex is one of the oldest HR and software platforms, offering these solutions to small and medium-sized businesses. This Paycom vs Paychex piece compares the functionality of these platforms.
Surepayroll

Surepayroll is a SaaS payroll processing platform. It also carries out time and attendance, accounting, and benefits management activities for businesses. This Surepayroll Review explores the platform's capabilities in detail.
FAQs
Question: Do Paycom and Paylocity Have Mobile Apps?
Answer: Yes, both platforms have Android and iOS apps. However, the apps differ in functionality.
Paycom has a self-service app for employees so they can exercise a lot of control over their HR and payroll data. Paylocity's mobile app is designed for both administrators and employees, allowing different access and data management levels depending on the type of user.
Question: Do I have to Purchase All Services on Paycom or Paylocity?
Answer: No, you don't. Both Paycom and Paylocity have service packages, so you can choose the ones your business needs. However, you can also decide to purchase the all-inclusive plan for full HR and payroll management tools.
Question: Is There a Learning Curve for Paycom and Paylocity?
Answer: Yes, it will take some time to fully master the use of both platforms.
Paycom has a wide range of features. Its interface is not very user-friendly, so the time needed to learn how to use the different software can be quite extensive. Paylocity's features can also take effort to fully learn. Their customer support team isn't always available may make the time used to learn the platform a bit longer.
My Verdict: Paycom vs Paylocity
I found both Paycom and Paylocity to be great platforms that offer so many features you'll be spoiled for choice. You can't go wrong with either platform. Paycom has excellent customer service, but Paylocity has an intuitive mobile app and features suitable for small businesses.
The only disqualifying factor may be in the pricing, so make sure you speak to the sales agents for each company before making your final decision.