Last Updated on April 24, 2023 by Ewen Finser
The HR software industry has a market value of $15.8 billion, with a CAGR of 10.4% projected to grow to $25.9 billion by 2023. As a relatively new entrant in the HR software market, Bambee doesn't feature anywhere in the list of key players. However, that doesn't mean that Bambee is less effective at HR management.
As we all know, human resource management is a complex and time-consuming task. It requires keeping track of employee data, managing payroll, and benefits, and ensuring compliance with employment laws. Bambee is an HR software whose main aim is to simplify human resource management by automating and streamlining HR processes.
Bambee's features go beyond basic HR management and payroll processing. It provides avenues where businesses can identify gaps in HR compliance and take corrective measures. Businesses can also receive expert guidance from a dedicated HR manager and take their HR processes on autopilot.
As you read on, we'll provide an in-depth Bambee HR review, discussing its features, pricing, and pros & cons. We'll also give you a walkthrough of the software to help you decide if Bambee is the right HR tool for your business.
Bottom Line Up Front
Bambee is a top-of-the-line HR software that's quickly becoming a favorite among small businesses.
Its ability to automate HR processes and provide expert compliance guidance makes it an attractive choice for businesses looking for a comprehensive HR solution. For as low as $4 per employee, small businesses have access to powerful HR features that would otherwise be out of reach.
Bambee Overview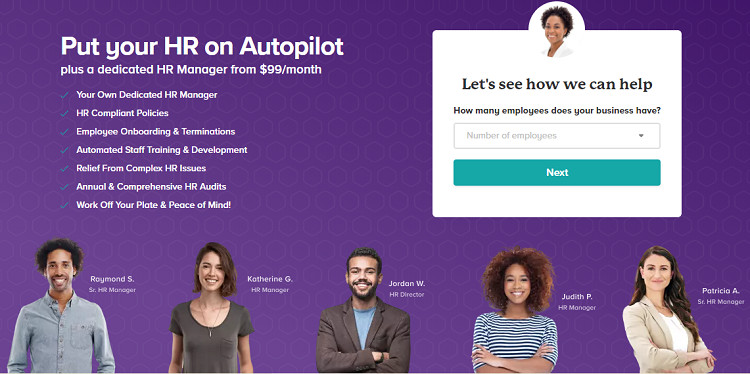 Bambee is a human resource management software designed for small to mid-sized businesses. Founded in 2016, it has its headquarters in Los Angeles, California. The company's mission is to make human resource management easy for businesses to allow them to focus on their core functions.
Bambee's primary focus is meeting the needs of employers and those of employees. It distances itself from other platforms such as Zenefits by billing its emphasis on the softer and humanly aspect of HR management.
Many tools focus on talent management, payroll, and compliance but lack the emotional intelligence to help employees feel comfortable in the workplace. Combining the power of a dedicated HR manager alongside powerful software, Bambee aims to empower businesses of any size to take their HR processes on autopilot.
The motivating factor behind Bambee was to make sure compliance with government regulations while promoting transparency and communication between employers and employees. It also offers a unique Guided Payroll setup that makes it easier for businesses to get started with the software.
Advantages of Using Bambee
Ease of use

: The software is designed for businesses of any size. It's easy to set up and use, with a user-friendly interface.

Compliance with employment laws

: Bambee helps businesses stay compliant with employment laws.

Automation of HR processes

: The software automates and streamlines HR processes, saving businesses time and effort.

Dedicated HR manager:

businesses have access to a dedicated HR manager who provides expert guidance and support.

Multistate compliance

: Bambee's multistate compliance feature helps businesses stay compliant with state and federal employment laws.
Disadvantages of Using Bambee
Limited features

: The software doesn't have as many features as some of its competitors.

No mobile app

: There's no Bambee mobile app, so users have to access the software via a web browser.

Expensive and non-refundable setup fee

: The software is relatively expensive, with a non-refundable setup fee of up to $1000

Delays

: Users reported delays in getting responses from Bambee's direct support team.
How Does Bambee Work?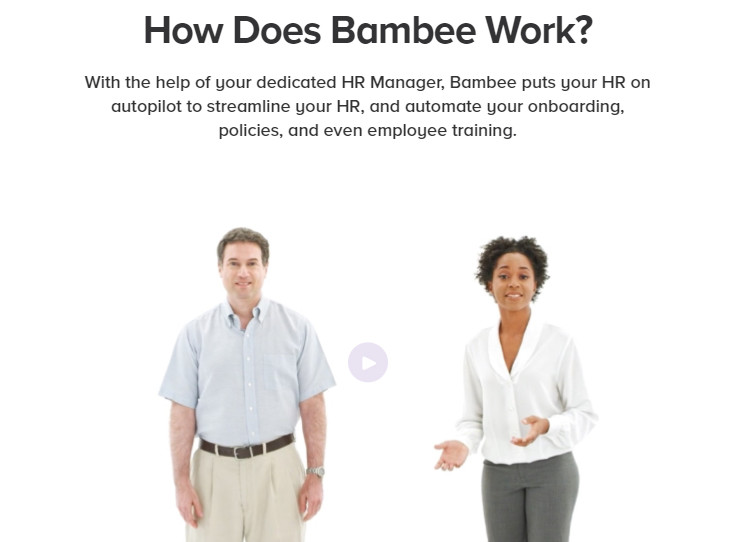 While most HR tools focus on automating HR processes, Bambee's primary focus is compliance. It prides itself as the first outsourced HR compliance solution in the market. The idea is to take the compliance burden off businesses so that they can focus on their core operations.
Bambee's intuitive interface makes it easy to use. The software can offer solutions to businesses of all sizes, but its focus on small and midsized enterprises sets it apart. Once you join the Bambee family, you'll give an overview of your business, after which you'll be assigned a personal HR manager.
Your Bambee HR manager will help you assess your business compliance risks and needs. If any problems arise, they'll give what the website describes as the Bambee Prescription; a plan of action to take your business from where it is to where it needs to be. The sales team will contact you with a customized plan and pricing depending on your business' needs.
Once you are part of the team, you can ask any questions that you may have about HR compliance. The advice you receive is tailored to your business and helps you make data-driven decisions. For instance, Bambee will help you understand the possible risks and compliance issues if you need to terminate an employee.
Bambee Pricing Overview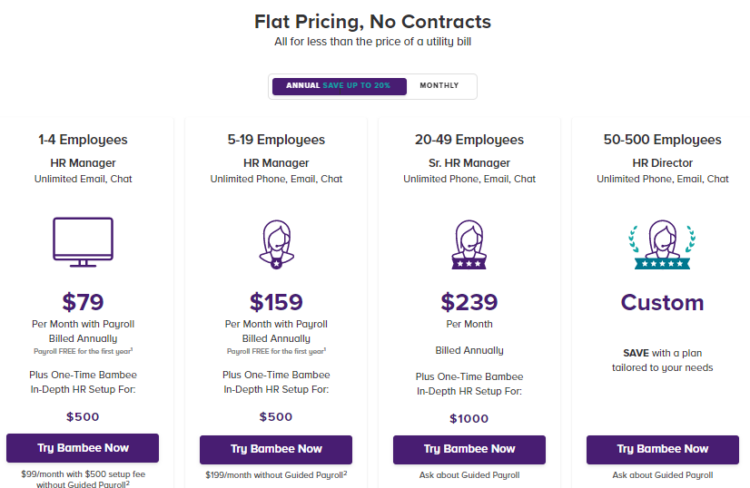 Bambee has four pricing plans. The plans vary depending on the number of employees the business has.
Below are the four Bambee pricing plans:
1–4 Employees

: $79/month

5–19 Employees

: $159/month

20–49 Employees

: $239/month

50–500 Employees:

Custom pricing
There's also an additional $500 for the first two plans and $1,000 for the 20–49 employee plan. The additional charge is a one-time fee for an in-depth HR setup. Another notable thing about Bambee is that the Guided Payroll feature is free for companies with less than 20 employees.
Note that about four million US small businesses have less than 20 employees. This means that businesses employing more than 30 million individuals, can get the Guided Payroll feature. By enrolling in this free feature, small businesses can lower their operational costs by hundreds of dollars every month.
Bambee HR Key Product Offerings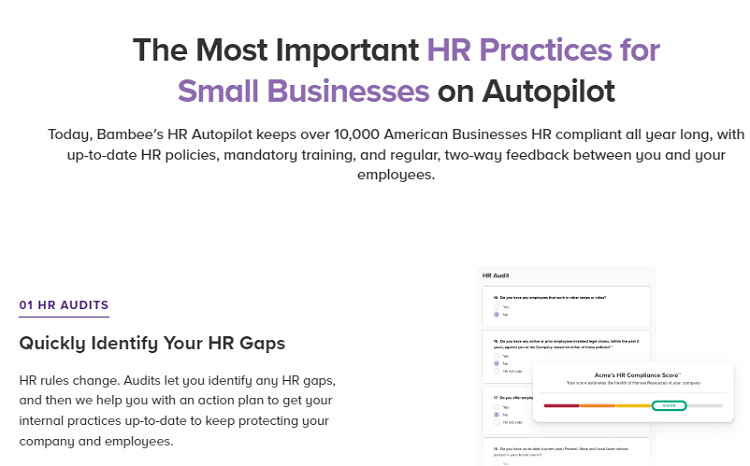 Bamboo separates its product offerings into three distinct areas—
HR Autopilot

HR Manager

Payroll
These areas work together to provide a complete HR management solution.
HR Autopilot
While reviewing HR Autopilot, we found that it offers robust automation of HR processes. All the features under this umbrella are designed to make your life easier and take some weight off your shoulders. Notable is the HR Audits feature that allows business owners to identify HR gaps and compliance risks.
Through this HR feature, Bambee can help you automate onboarding, performance reviews, employee communications, and even terminations. It takes care of all mandatory training and certifications such as sexual harassment training and ensures that nothing falls through the cracks.
Performance tracking is another excellent feature of Bambee's HR Autopilot. It allows you to track employee performance and identify any issues early on. The goal is to improve communication and understand employee morale so that you can address any potential problems.
HR Manager
The HR manager is Bambee's solution to the age-old problem of having a dedicated HR manager. It's a service that provides a dedicated HR expert who will care for all your HR needs.
This solution is perfect for businesses that don't have the resources to hire an in-house HR manager. It's also an excellent way to outsource the compliance burden to Bambee. The HR manager will help you with your HR needs, including compliance, onboarding, employee communications, and performance tracking.
Besides, the manager will help you craft an HR policy and procedures manual that's tailored to your business. Bambee HR manager will also make sure everything is clear regarding terminations, onboarding, and labor regulations. The manager is accessible the email, phone, and chat whenever you need them.
Payroll
Payroll processing is one of the most critical yet time-consuming HR processes. The Payroll feature in Bambee is the most recent addition to its product line. It's designed to automate payroll processing and make your life easier. Bambee offers a guided setup through its dedicated HR manager, unlike other payroll processing software.
The Bambee payroll solution is designed to comply with all the latest regulations. It'll also help you file and pay taxes on time. You can be confident that your employee data is secure as Bambee uses the latest security protocols.
Bambee guarantees a 2-Day Direct Deposit for all its customers. Besides, it'll handle all the state, local, and federal taxes for you.
Bambee Standout Features

Apart from the overall comprehensive nature of Bambee's solutions, there are several other notable features.
1. Company Policy Management
Company policy management is a critical function of HR. Bambee's HR autopilot has a policy management feature that allows you to create and manage policies easily. The platform makes sure business owners can develop and enforce policies aligned with their goals.
2. Smart Cabinet
Bambee's smart cabinet is a secure online repository for all your employee documents. It's a safe and convenient way to store and share employee information.
The cabinet is accessible from any device, making it easy for you to manage your employee data. Note that state and federal laws mandate how long you must keep certain employee documents. The smart cabinet ensures you're always compliant.
3. Staff Folders for Internal Compliance
Bambee staff folders are an excellent way to keep track of employee performance and compliance. The feature allows you to create folders for each employee. You can then add documents, notes, and comments to the folder.
Accessing the files is easy, and you can share them with other managers if needed. The platform also makes it possible for staff to sign documents electronically.
4. E-Signatures
Some of the most critical HR documents require a signature. The e-signature feature in Bambee makes it possible to sign documents electronically. This feature is a convenient way to get signatures, especially if you have employees who work remotely.
Employees can join the Bambee network from anywhere globally and sign documents securely. They can also see memos, set up folders, and add their documents.
5. Direct Chat with HR Manager
The direct chat with HR manager feature is an excellent way to get answers to your questions quickly. The platform has a team of highly-skilled and experienced HR managers who are always available to help.
You can also schedule a call with the manager if you need more than just a quick chat. We understand that a rich conversation is sometimes necessary to provide the best possible solution. The feature is beneficial as it allows you to get answers to your questions in real-time.
Bambee Interface and Ease of Use
The user interface is intuitive, making it easy to navigate the various features. When we tested the platform, we didn't encounter any issues. However, we noticed that some of the features, such as Payroll processing, are still in development.
The lack of certain features doesn't really affect the ability to use the platform effectively. Perhaps its focus on compliance lessens the need for a fully-fledged HR management solution.
Overall, we were pretty impressed with how easy it is to use Bambee. We're confident that Bambee will continue developing and adding more features in the future.
Setup and Implementation
Bambee's setup and implementation are pretty straightforward. By joining the Bambee network, you're automatically enrolled in the service. However, you have to first consult with the Bambee team to set up the tool.
The team will look at your specific needs and recommend the best way to set up the tool. We think this is a great way to make sure you're getting the most out of the platform. Once you've consulted with the team, setting up the tool is a breeze.
You can use the conversations feature to keep track of all your communications with the team. This feature is beneficial as it allows you to go back and review the conversations if needed.
Bambee Customer Support
Customer support is an essential part of any HR management solution. Even though Bambee is a pretty intuitive platform, there will be times when you'll need help from customer support. Fortunately, Bambee has excellent customer support.
Apart from the direct chat with HR manager feature, you can reach the Bambee support other through phone or the Contact Us page on the website. The team is responsive and always available to help.
Top Bambee HR Alternatives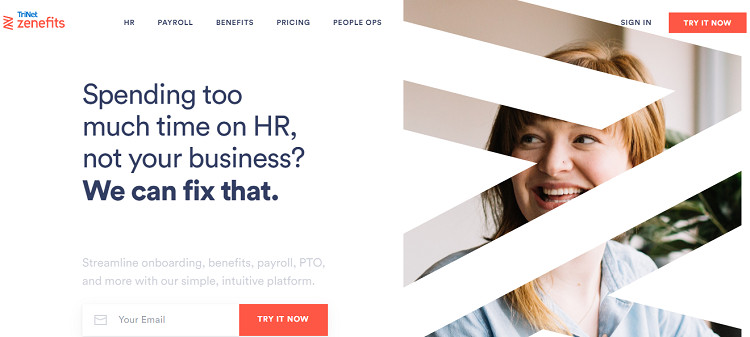 Below are three Bambee HR alternatives that you should consider:
G and A partners
FAQs
Question: Is Bambee Legit?
Answer: Bambee is a legit human resource management solution. It is an excellent tool for small businesses that want to automate HR processes and comply with government regulations. The platform is easy to use and has excellent customer support.
Question: How do I Cancel Bambee?
Answer: To cancel Bambee, you need to contact the customer support team through their email address. Users must cancel the subscription before the end of the billing period to avoid being charged for the next month.
Question: How Much does Bambee Cost?
Answer: Bambee's cheapest plan goes for $79/month plus $500 for 1 to 4 employees, $159/month plus $500 for 5 to 19, and $239/month plus $1000 for 20 to 49 employees. You can contact the sales team for a custom price if the number of employees is more than 50.
Bambee HR Review: Final Thoughts
Bambee is an excellent human resource management solution for small businesses. It focuses mainly on compliance, making it an excellent tool for businesses to stay up-to-date with government regulations.
The platform is easy to use and has excellent customer support. It's also one of the more affordable HR management solutions. If you are looking for an HR solution for your small business, I recommend Bambee.