Last Updated on April 22, 2023 by Ewen Finser
The world of eCommerce is growing – and growing fast. Around 76% of US customers shop online, with global eCommerce sales predicted to reach $5.7 trillion in 2022.
So if you want a slice of that pie, the pressure is on to up your online selling game. Part of this is ensuring you're using the best shipping software available. A decent shipping platform should reduce your workload – which is why I'm reviewing ShipEngine to see how it can help you expand your eCommerce business.
I've been working and writing within the eCommerce space for over four years, so I'm intrigued to learn more about what ShipEngine does. More specifically, its key features, pros and cons, how it works, and integration options. So join me as I explore all this below…
But first:
My Bottom Line Up Front
All in all, I think ShipEngine is a simple-to-use shipping platform. It offers a good choice of integrations, four price plans (enabling you to upgrade your subscription plan as you grow), and live chat support. In addition, I love that ShipEngine supports over 70 top US, Canadian, Australian, and UK carriers. Plus, you can easily access real-time tracking information for your shipments.
I also appreciate that, unlike some other shipping APIs, ShipEngine bills you individually for each service you use. However, this is why you don't see prices on its pricing page (but more about that further down this review…).
Lastly, ShipEngine offers customers APIs to connect with all the software platforms they currently use to run their eCommerce business. Therefore, anyone using ShipEngine needs to feel confident using an API, which I think is a huge drawback for those without coding smarts.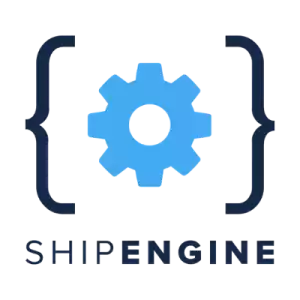 Simplify Your Shipping | ShipEngine
ShipEngine is the platform of choice for world-class shipping and logistics. Global commerce leaders trust the #1 shipping API to unlock significant time and cost savings.
Sign Up
We earn a commission if you click this link and make a purchase at no additional cost to you.
That's enough preamble; let's now turn our attention to the nitty-gritty of what ShipEngine is: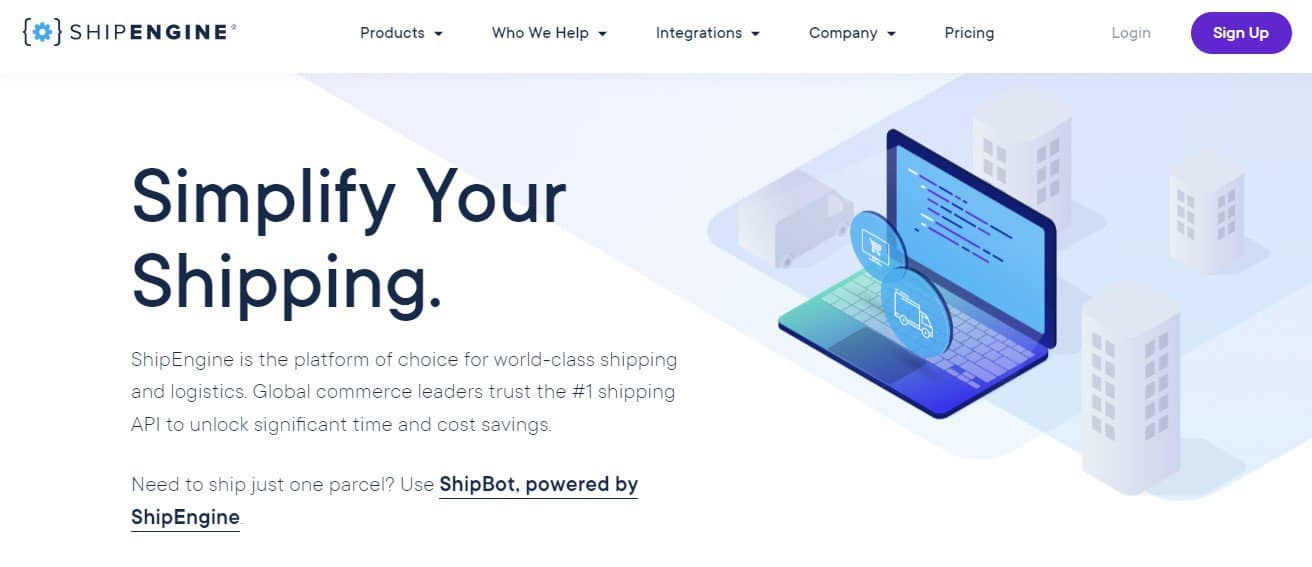 ShipEngine describes itself as the '#1 Shipping Platform.' It aims to help eCommerce businesses with order fulfillment by providing software that allows them to manage their entire shipping process from one place. It's quick, easy, and free to sign up.
ShipEngine's API allows customers to access over 70 selling channels and international carriers via one integration. Its APIs also help businesses calculate shipping rates among leading carriers, authenticate delivery addresses, process and track shipments, and manage returns.
With so much talk about APIs, you've probably already guessed that ShipEngine is aimed at developers, eCommerce platforms, third-party logistics companies, and more prominent retail brands looking for shipping solutions.
ShipEngine is based in Austin, Texas, and owned by Auctane, a leading shipping, and fulfillment software company. The company launched in the UK in 2022 and aims to expand into Germany, France, and other European markets in 2023. Auctane also owns ShipStation and Packlink.
ShipEngine's Features and Integrations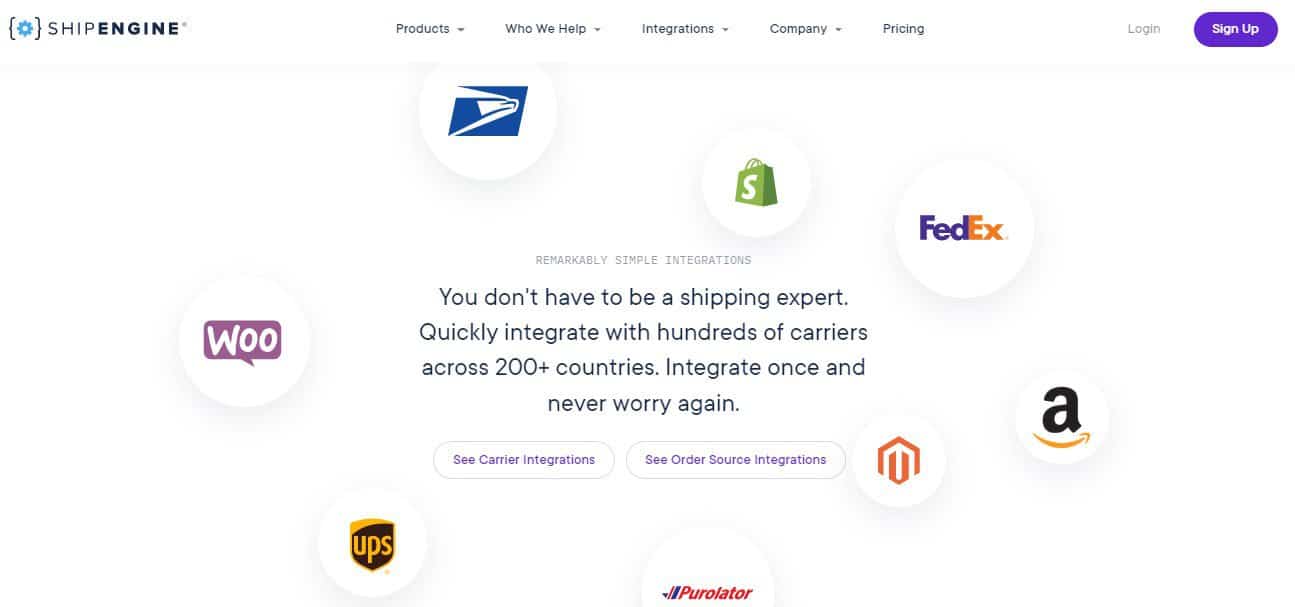 Let's see which features and integrations ShipEngine offers:
Shipping and Shipping API
ShipEngine allows you to find the best shipping rates from multiple carriers, print shipping labels, validate delivery addresses, and track the entire shipping process.
The list of available carriers is long and includes the following:
FedEx

Yodel

USPS

DHL

UPS

APC

DPD Local

Canada Post

Amazon

Royal Mail

Australia Post

GlobalPost

90minutos.com

Hermes

Parcelforce

A.DuiePyle

ABF Freight

Access Worldwide

Aramex

Asendia

Swyft

Evri

TNT

Stamps.com

Standard Forwarding

StarTrack

Uber
…and many more.
You can find out more about each carrier by heading to your ShipEngine dashboard and clicking "Carriers." This populates a complete list of shipping options.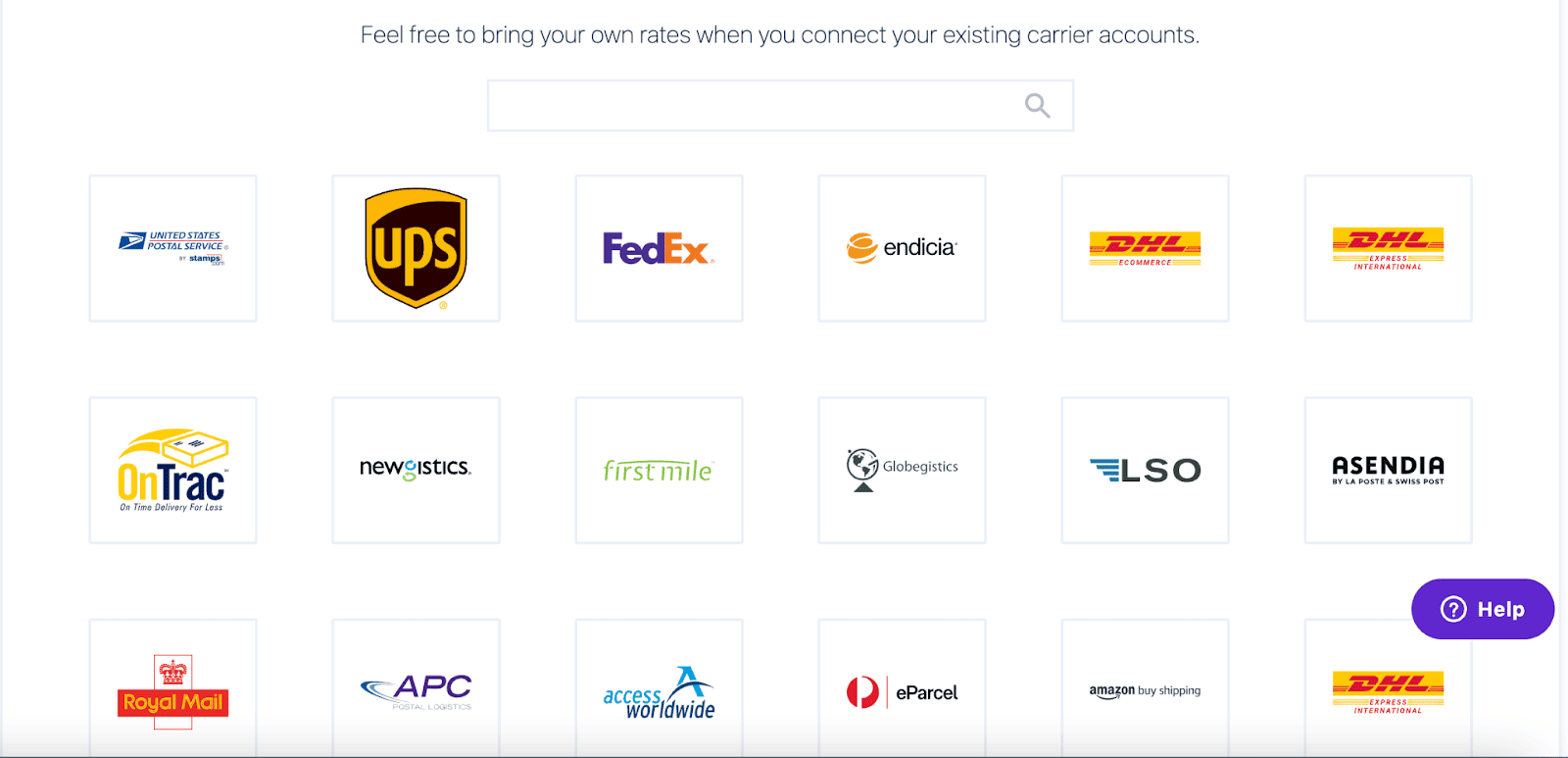 Click on the carrier icon you're interested in. Then, ShipEngine will redirect you to a web page that provides the lowdown on all you need to know about that carrier.
For example, here's TNT: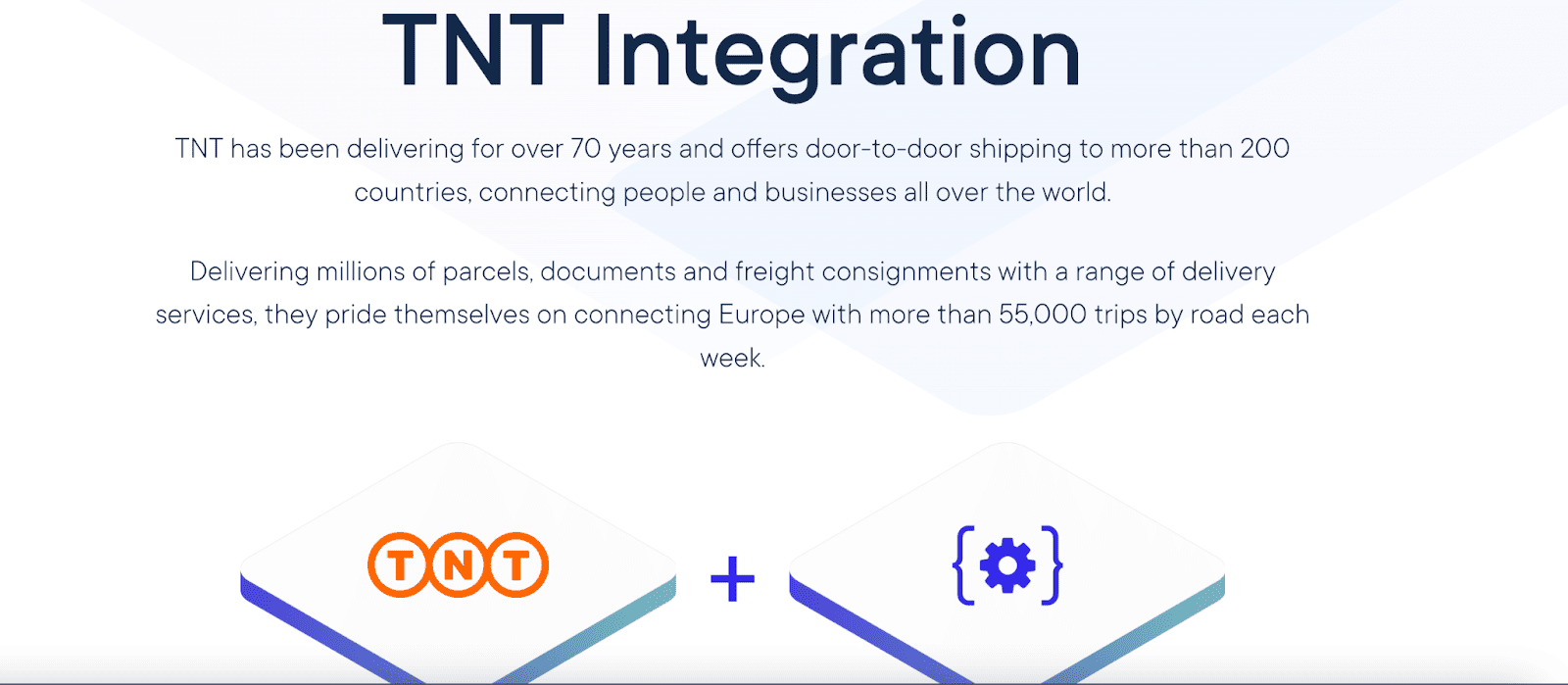 ShipEngine uses shipping APIs to integrate with your chosen shipping carrier. You can then follow ShipEngine's instructions in its self-help documentation to print shipping labels and arrange postage for all your orders. You can even ship from multiple warehouse locations if you choose to help ensure the quickest shipping times possible for your customers.
Once connected with your chosen carriers, you can automatically send all the order and shipping information they need to get the ball rolling. Similarly, the shipping carrier will send you real-time tracking, so you can monitor the location of your package, delivery notifications, and order status updates. Likewise, your customers will receive automated updates on when to expect their delivery.
One added bonus is that ShipEngine also offers Shipsurance, which is accessible via your dashboard. I think this is definitely worth considering if you're sending valuable items and are in the market for shipping insurance.
Shipping Labels and Printing
As I've already said, you can print shipping labels using ShipEngine. However, it's worth noting that they suggest using a thermal printer for multiple-label printing. Nevertheless, an inkjet or laser printer is okay to use too.
It's also possible to add your branding (via your dashboard) to your shipping labels (providing that your chosen carrier supports that option).
ShipEngine enables you to create labels in the following formats:
They're all printed in the following dimensions: 4" x 6" – unless you specify a different size. For instance, you might want to create US letter-sized labels, which are 8.5" x 11".
Alternatively, if you want paperless labels and QR codes, that's possible. However, this is only available with USPS.
You can find more information about shipping labels via your ShipEngine dashboard.
Address Validation
You can validate addresses before you ship orders using ShipEngine's API. ShipEngine cross-references multiple databases to validate addresses. It identifies potential deliverability issues for 160 countries – including the US, Canada, the UK, Australia, European countries, Israel, and many more.
Impressively, you can make up to 250 address validation requests per request. You'll then receive address validation information. i.e., whether an address is validated, unverified, or if an address needs double-checking with a customer.
Cross-Border Shipping
ShipEngine offers cross-border shipping options so that you can grow your business even further. However, if you're concerned about navigating cross-border shipping, ShipEngine can help you with postage, taxes, surcharges, international customs regulations, and more.
Its cross-border shipping APIs enable you to compare real-time cross-border shopping rates and generates harmonized tariff schedule (HTS) codes for your products. For the uninitiated, an HTS code is used in the US to determine customs duties that need to be paid on imports.
You can then proceed to print your labels and ship your order! You'll have to contact their customer service team for more information on how this works.
Branding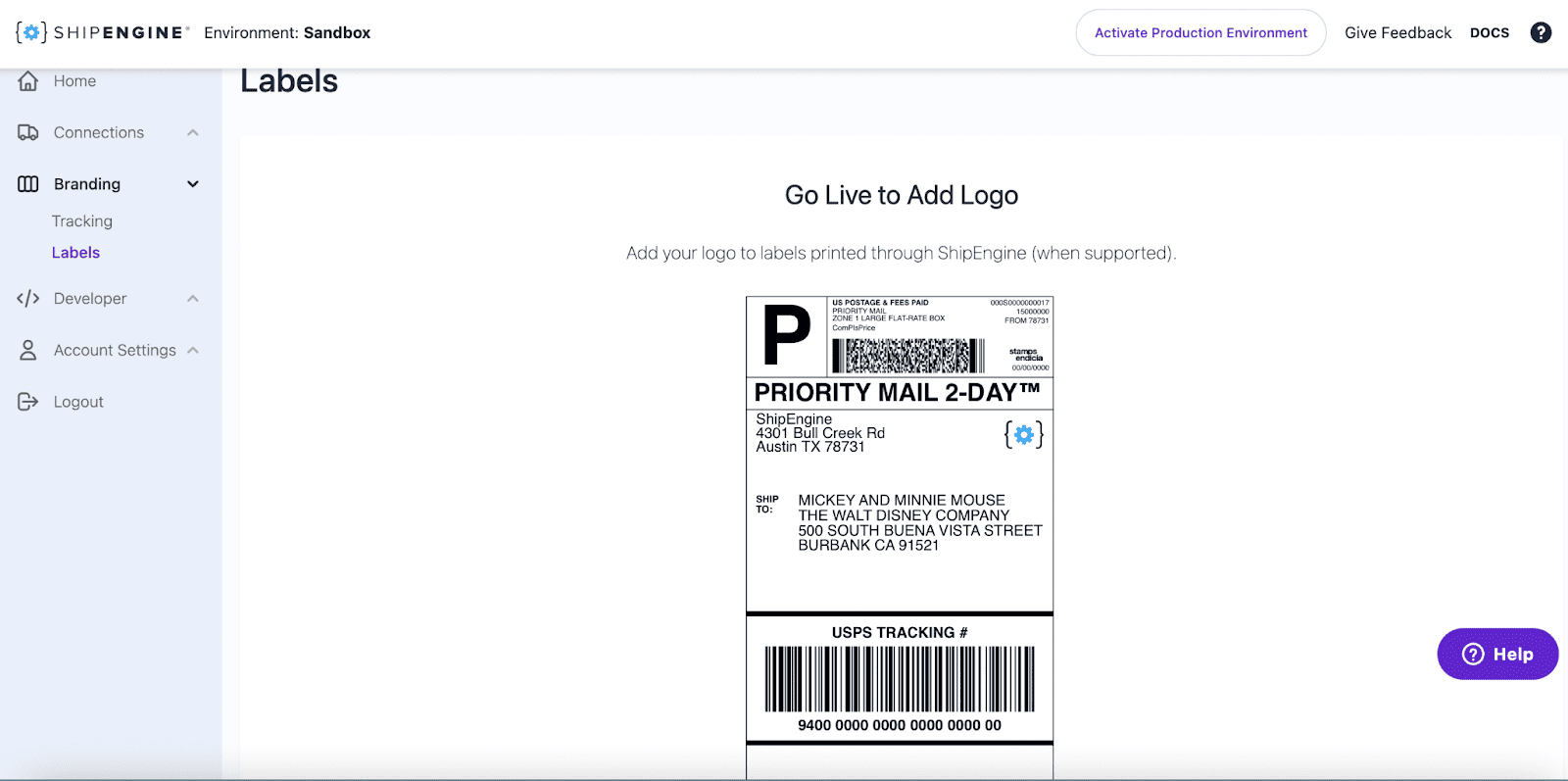 Branding is essential in raising your profile with customers and fostering engagement. ShipEngine allows you to add your logo, brand colors, contact information, social media contact details, and other information on your shipping labels.
eCommerce Integrations
ShipEngine integrates with all of the leading eCommerce platforms and online marketplaces, including:
Amazon

Etsy

eBay

Shopify

Squarespace

WooCommerce
Signing Up with ShipEngine
This part is free and quick; you don't need to enter payment details to get started. Click the Signup button on ShipEngine's homepage. This will then take you to a page where you can input your name, email address, and company name and specify your location from a drop-down menu.
Once you've created a secure password, ShipEngine sends an email asking you to verify your account. Just click the "Verify Your Account" button within the email they send you, and that's it. Next, you're taken to the ShipEngine website to log into your account.
ShipEngine will also email you a separate message with your login URL: https://app10.shipengine.com/, as well as a link you'll need to click to generate your free API key.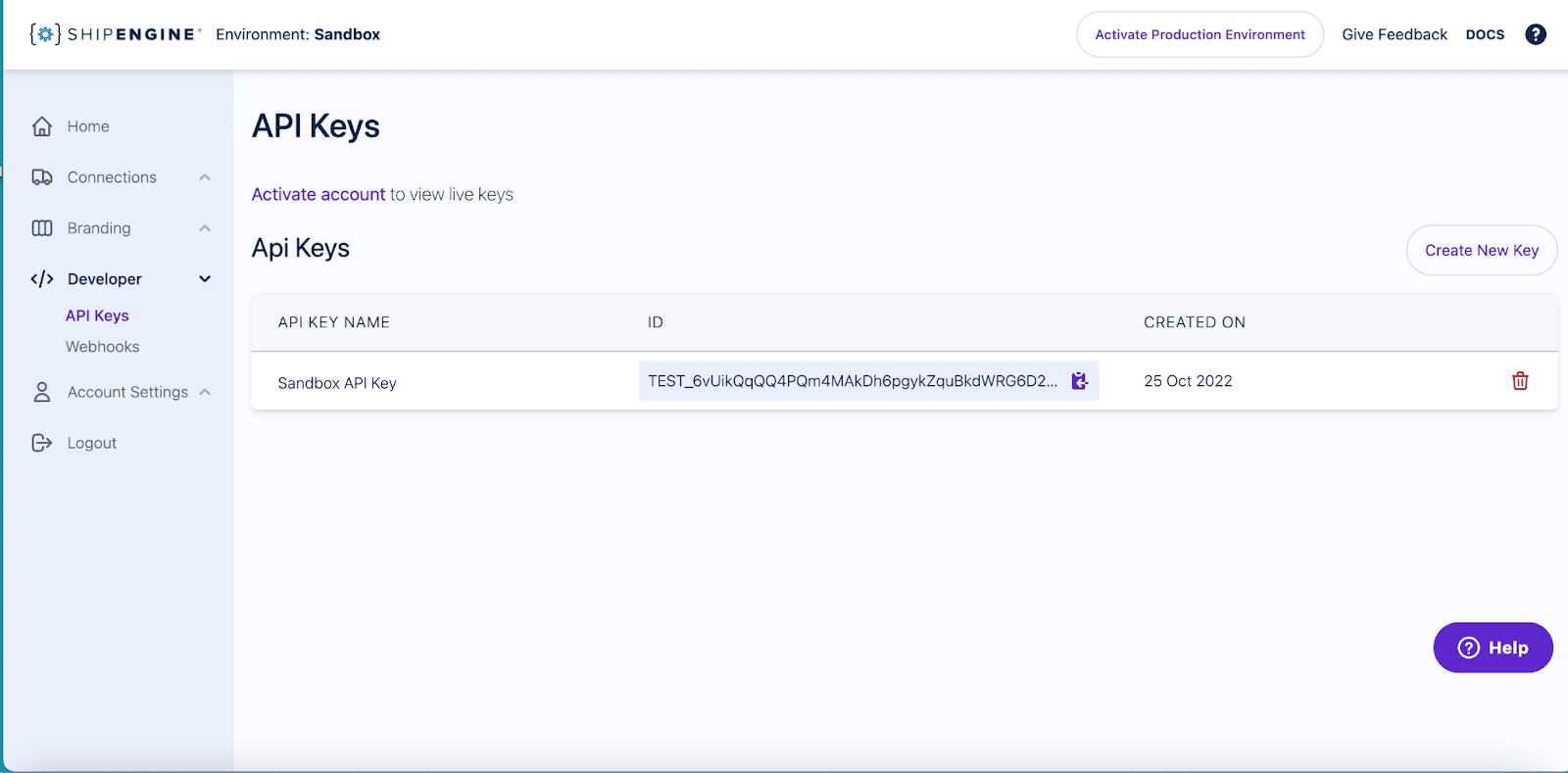 Overall, the signup process is fast and easy. ShipEngine's interface is simple to view and has a clean design that's easy to navigate.
ShipEngine Reviews: Pricing
ShipEngine has four price tiers:
Startup

for up to 1,000 orders per month

Growth

for between 1,001-3,000 orders per month

Scale

for between 3,001 and 5,000 orders per month

Enterprise

for 5,000+ monthly orders
All users are offered a free trial with access to a free API key. You're not locked into any pricing, and there are no recurring charges. There are no setup fees either, and no set prices for any of the plans. Instead, ShipEngine bills you separately for each service you use. So, for example, if you only want to use a single service such as tracking, you can sign up and pay for that.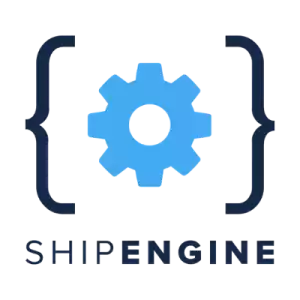 Simplify Your Shipping | ShipEngine
ShipEngine is the platform of choice for world-class shipping and logistics. Global commerce leaders trust the #1 shipping API to unlock significant time and cost savings.
Sign Up
We earn a commission if you click this link and make a purchase at no additional cost to you.
It's clear from the ShipEngine website that the more you ship, the cheaper it is.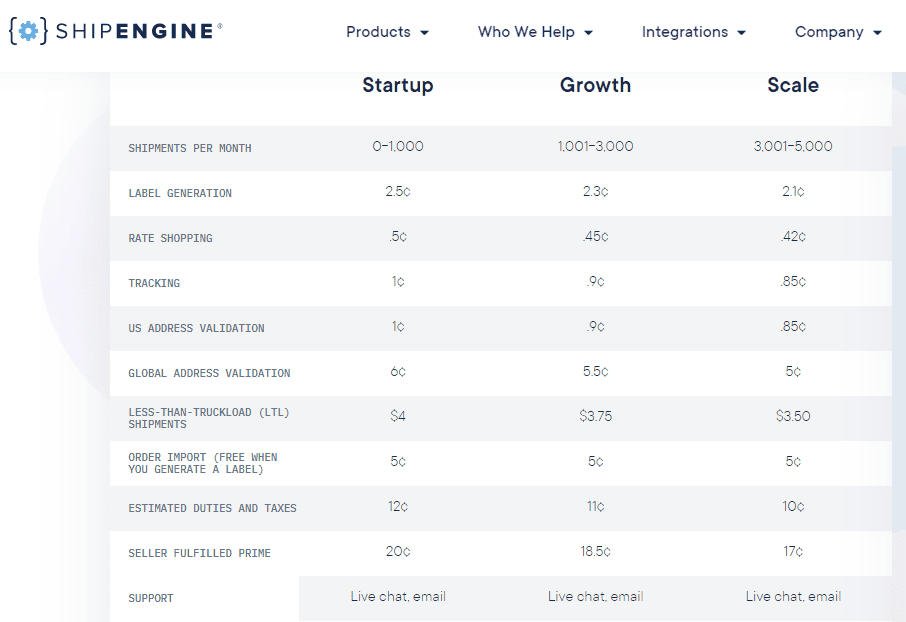 So let's take a deeper look at that:
Startup
This is what you can expect with the Startup plan:
Shipments per month: 0-1000

Label generation: 2.5¢

Rate shopping. .5¢

Tracking: 1¢

US address validation: 1¢

Global address validation: 6¢

Less-than-truckload shipments: $4

Order import: 5¢

Estimated duties and taxes: 12¢

Seller fulfilled prime: 20¢
Growth
This is what you can expect with the Growth plan:
Shipments per month: 1001-3000

Label generation: 2.3¢

Rate shopping. .45¢

Tracking: .9¢

US address validation: .9¢

Global address validation: 5.5¢

Less-than-truckload shipments: $3.75

Order import: 5¢

Estimated duties and taxes: 11¢

Seller fulfilled prime: 18.5¢
Scale
This is what you can expect with the Scale plan:
Shipments per month: 3001-5000

Label generation: 2.1¢

Rate shopping. .42¢

Tracking: .85¢

US address validation: .85¢

Global address validation: 5¢

Less-than-truckload shipments: $3.50

Order import: 5¢

Estimated duties and taxes: 10¢

Seller fulfilled prime: 17¢
Enterprise
This is for 5,000+ orders per month. In addition, to live chat and email, you can access a dedicated account manager and scheduled phone calls from ShipEngine support. For more info on Enterprise pricing, you'll have to contact ShipEngine directly.
ShipEngine's Customer Support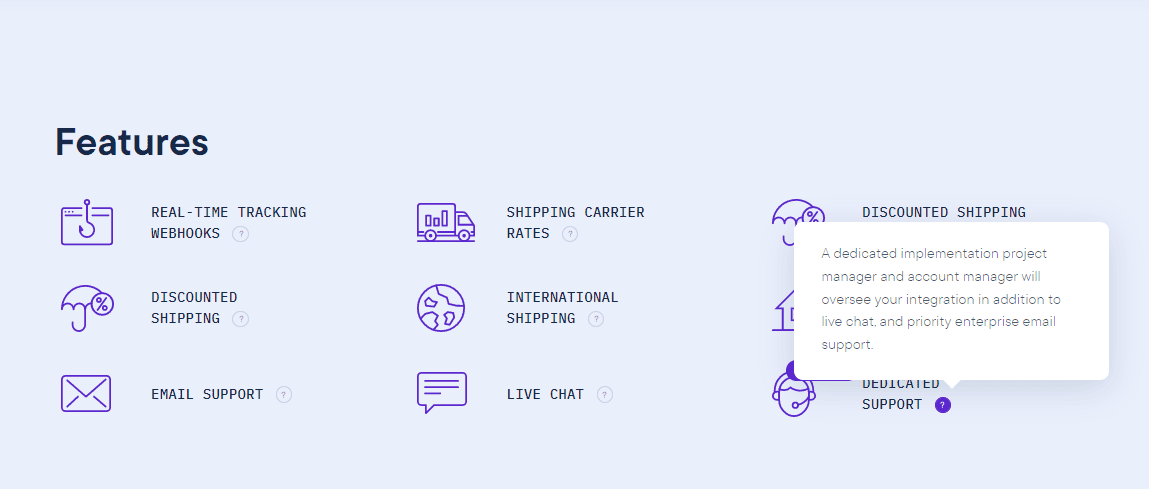 As I've just said, all customers receive access to live chat and email support. In addition, enterprise customers also have a dedicated account manager. On top of that, you can access tutorials from your dashboard once you're signed up. These cover several topics, including:
Getting started

Validating addresses

Calculating costs

Creating labels

Tracking shipments
The dashboard is also where developers can access ShipEngine's SDKs (software development kits) for the following coding languages:
In the image above, you can see a help button in the bottom right-hand corner. If you need more support, click that, and a help box pops up. Just complete your details and outline your problem, then someone from customer service will respond.
Here's an example of some of the information the Create a Label tutorial offers:
There are also a couple of tutorial videos aimed at developers:
How to Test a Tracking Webhook

Test and Visualize ShipEngine APIs with Postman
That said, on the Support page, we tried to access support via ShipEngine's "Useful Articles," but all of the links were broken.
ShipEngine Review: Pros and Cons
We've covered lots of ground here, so let's try and condense some of the above into a quick pro-sons list:
Pros
It's free to sign up

The dashboard is simple to navigate

There are plenty of shipping carriers to choose from

It supports a good number of eCommerce platforms and online marketplaces

The pricing structure is pretty clear

All the plans offer live chat and email support
Cons
It's aimed at developers and those who understand API, so newbies may struggle.

I'd like to see more tutorial videos for non-developers
ShipEngine Alternatives
If you're not 100% sure that ShipEngine is the right choice for you, you may be interested to learn more about its competitors. With that said, below, I've listed a few ShipEngine alternatives you could look at:
ShipStation

ShipWorks

Shippo
Here I'll provide a brief overview of each: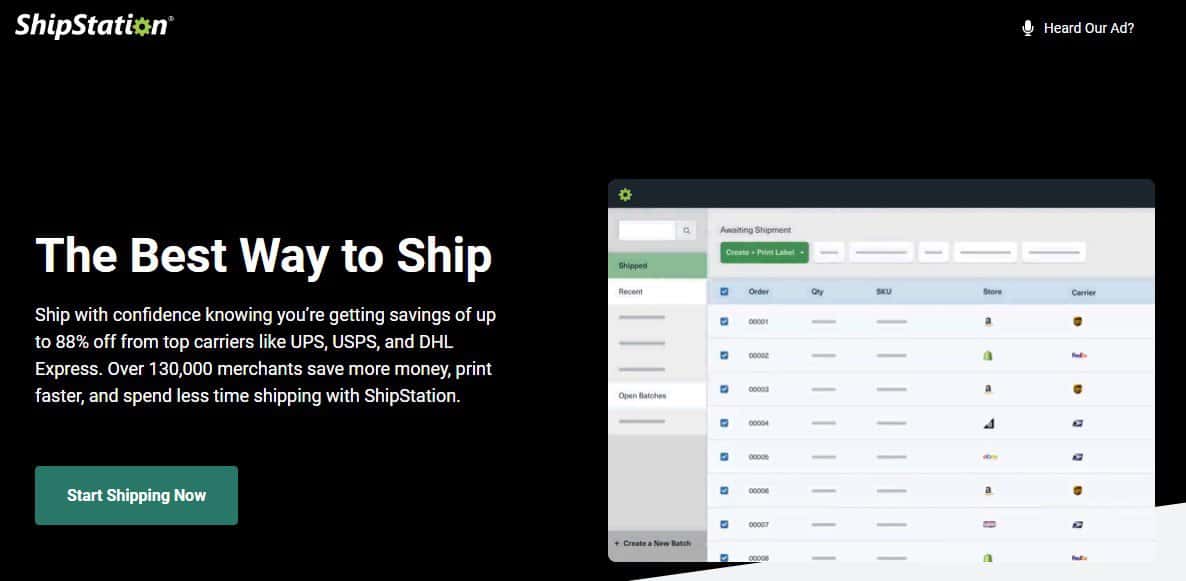 ShipStation is a popular order and shipping management platform that offers a range of perks, including:
100+ integrations with top carriers, online marketplaces, and eCommerce platforms – including eBay, Amazon, and Shopify.

A free 30-day trial

Real-time inventory management, tracking, and returns.

Shipping label creation
There are five price plans charged monthly, starting at around $9 a month for a maximum of 50 shipments. The Enterprise package costing $159 a month for 10,000 shipments per month, is the most expensive plan.
Like ShipEngine, customers receive discounted shipping rates.
ShipWorks

ShipWorks has to be downloaded onto your computer. It's aimed at high-volume eCommerce sellers and warehouses. ShipWorks integrates with all major online marketplaces, eCommerce platforms, and popular carriers. These include eBay, Amazon, Shopify, FedEx, UPS, and USPS.
As it's aimed at higher volume customers, ShipWork's three plans are way pricier. Costs start at $349 monthly for the Warehouse Essential plan for 12,000 monthly shipments, rising to a whopping $799 monthly for 50,000 monthly shipments.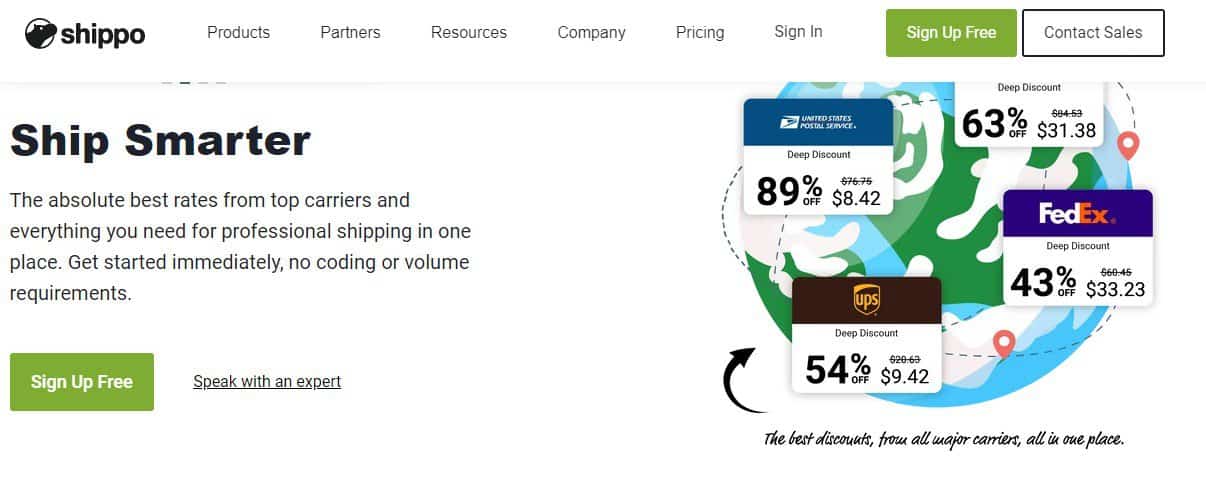 Shippo is a cloud-based software best suited for customers who don't send out large packages each month. Again, you can access it anywhere (because it's cloud-based) and connect with popular carriers. Integrations include Shopify, Wix, WooCommerce, and Square, plus like ShipEngine. There's a free Starter plan, followed by the Professional program costing $10 a month, or, lastly, there's a bespoke Premier plan.
On the Free plan, Shippo doesn't charge you for labels with Shippo's default carriers (USPS, DHL, and UPS). Alternatively, if you opt for a paid plan, there's no label fee for any carrier.
FAQs
Question: Does ShipEngine have a mobile app?
Answer: No, it doesn't. Unfortunately, there's no iOS or Android app at the time of writing. However, the same applies to the ShipEngine alternatives we mentioned above.
Question: How are shipping rates determined?
Answer: ShipEngine doesn't determine these costs. Instead, they're calculated by your chosen shipping carrier. One reason you must provide accurate shipment details is that if you don't, the carrier may adjust your cost or charge an address adjustment fee.
Some of the following factors influence shipping rates:
• If an address is commercial or residential
• If you enter the incorrect parcel weight
• Incomplete address information
This also highlights the importance of using the address verification feature before creating labels.
Question: Which carriers offer discounted rates?
Answer: As for discounted shipping rates, these are offered for USPS and UPS shipping services.
ShipEngine Review: My Final Thoughts
Overall, I think that if you're confident in using and understanding API, then ShipEngine is a great all-in-one solution. The number of carriers it works with is impressive, and its pricing structure, while different from other platforms, is simple enough to navigate.
If you're looking for a shipping API that you can grow with, I'd say ShipEngine is a good choice. It's easy to sign up for, its dashboard isn't overwhelming, and finding information isn't too tricky. Hopefully, my review has helped you to decide whether ShipEngine is a good choice for your business. Don't forget to tell me how you get on in the comments box below!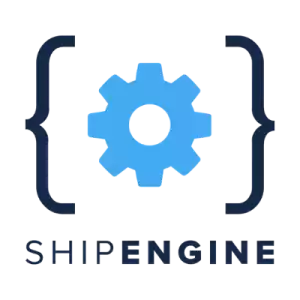 Simplify Your Shipping | ShipEngine
ShipEngine is the platform of choice for world-class shipping and logistics. Global commerce leaders trust the #1 shipping API to unlock significant time and cost savings.
Sign Up
We earn a commission if you click this link and make a purchase at no additional cost to you.