Last Updated on April 22, 2023 by Ewen Finser
Most people have purchased something from Amazon, but far fewer have tried to actually sell on the platform. Both big companies and small businesses turn to Amazon to help boost sales.
However, despite Amazon's popularity and the many benefits of being a seller on the platform, there are drawbacks, too. In this article, we'll cover both the pros and cons of selling on Amazon. We'll also go over some of the other questions you're sure to have.
Pros of Selling on Amazon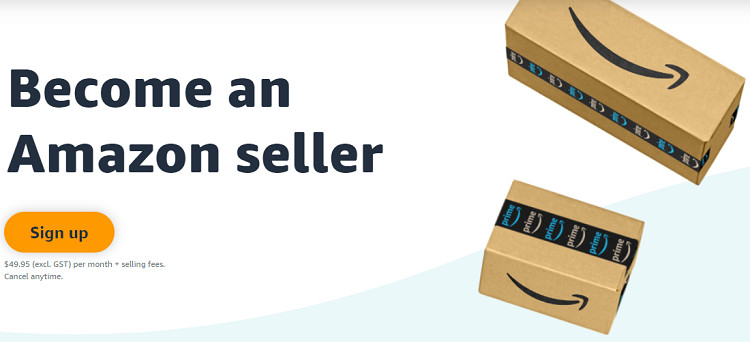 There's definitely a lot to love about being an Amazon seller. And while it can take some time to see a profit, there are tons of pros to be thankful for. Let's go over them.
Amazon's Brand Recognition
Amazon is the leading online selling platform out there, even more popular than eBay – Amazon has more customers and products than the competitor. That recognition means there's a built-in user base to tap into from day one, and they're devoted to the platform.
Those buyers trust Amazon, and they know they'll receive a product on time after placing an order. Customers also love how easy it is to make a return if there's a problem with a product. All of this has a hugely positive effect on buying intent.
Easy Startup
Getting started with selling on Amazon is a lot faster and easier than building an online shop from the ground up. You don't have to worry about website design, and even a good amount of marketing is handled for you – after all, Amazon already has a huge and dedicated customer base.
Once you have your inventory – whether you're managing it yourself or depending on a Fulfillment by Amazon service (plenty more on that in a bit) – getting started is as simple as creating an account and product listings.
Fulfillment by Amazon (FBA) Services
FBA services are hugely convenient for sellers. The way it works is that you ship your inventory to a FBA center and they store it for you – so you don't need to clear a room in your house or pay to rent storage space. When you get an order, the FBA service packs and ships it for you.
Lower Competition for Unique Items
There's a lot of competition for products in popular niches (more on that later in our "Cons" section), but if you have unique products that fill a gap in the market, you could do very well on Amazon.
If the product doesn't have a wholesaler, even better – that means that another seller won't be able to make a bulk purchase and sell alongside you.
When it comes to unique products, you get to be in charge of the pricing, and you'll sort of corner the market with your listings – at least in the beginning. Even after paying the Amazon commission and the listing fee, you could walk away with a hefty profit.
However, keep this in mind: If you sell a unique product that becomes popular, chances are that other sellers are going to wise up and try to sell that product or a similar one soon, too. That's why you always have to be thinking about what's coming next so you can stay ahead of the curve.
Online Advertising Options
Amazon has a number of advertising options to take advantage of, including:
Amazon DSP (demand-side platform) for off-site advertising
Audio and video ads
Sponsored brands, display and products
You don't have to worry about an off-platform ad service since Amazon has everything you need built right in. And eventually, you can always promote your products in other ways, too – but this will get you started quickly and conveniently.
Passive Income
Selling on Amazon – once you get the wheels turning – is an excellent way to make passive income. That makes it ideal for people who already have a full- or part-time job and only need to make money on the side.
Or, you can rake in passive income while getting out there and living your life! This is made even more possible if you use the FBA program because you don't have to physically package or ship your items when an order's placed.
Working From Home
Today, many people are working from home, either by choice or by force. Selling on Amazon means you can work from home every day rather than having to head to a brick-and-mortar store several times a week.
The benefit of this ranges from mere convenience to taking care of your health, but whatever your reasons, working from home may be the best option for you.
Cons of Selling on Amazon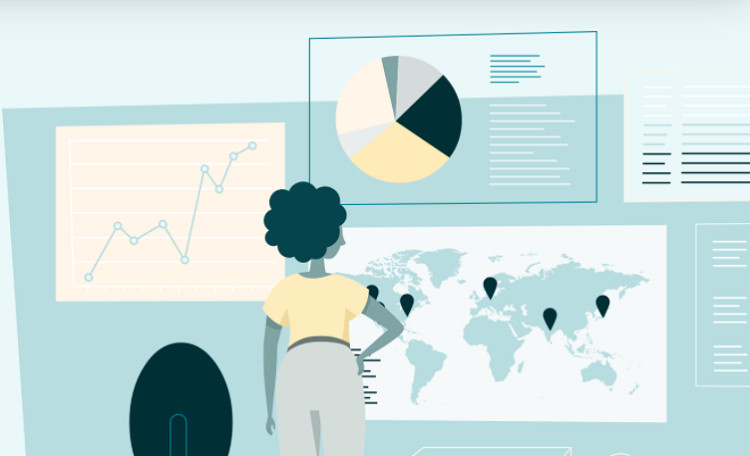 There are two sides to every coin, and it wouldn't be responsible to mention the upsides of selling on Amazon without also clarifying the downsides. Plus, knowing exactly what you're getting into is the best way to make an educated decision. Let's go.
Heavy Competition in Popular Niches
Amazon has a ton of competitors, and if you're selling in a popular niche, it can be hard to stand out and make a profit.
When several sellers are trying to move the same product or type of product, you have to lower your price to be the chosen brand. But if your product already has a low mark-up, you'll make practically no profit, especially once the commission and listing fees are figured in.
Competition from Amazon
It's no secret that Amazon is known to compete with sellers. Have you ever seen the Amazon Basics items? These tend to be duplicates of top-selling products.
And since buyers tend to trust Amazon above even a reputable third-party, it's possible that the platform you're selling on could become your biggest competitor.
High Commissions
Amazon is known for charging high commissions, which will cut into the profit you can make from selling your products. This is a big problem for newbie sellers, since paying a commission on every product when only a small number are being sold overall can be a real strain.
Listings Theft
It's not unheard of for other sellers to steal listings and post counterfeit products. Often, the products will be priced much lower than the original listing to encourage buyers to purchase from them instead of the competition.
Not only does this take sales from the seller, but it can lead to poor customer reviews of a product – which can further impact your sales.
Pros and Cons of the FBA Service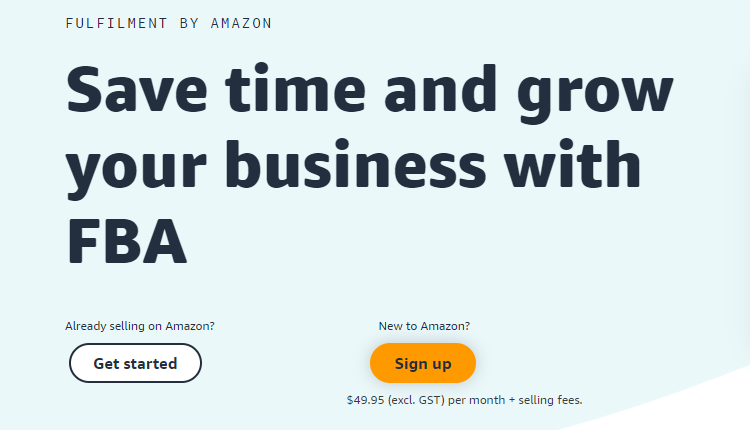 We can't effectively cover the pros and cons of selling on Amazon without also diving into the ups and downs of using FBA.
To recap, FBA (which stands for Fulfillment by Amazon) is a service that sellers can opt-in to if they want an Amazon warehouse to stock their inventory. FBA will also ship orders and handle a number of other admin and customer service tasks.
How FBA Works
Here's how the FBA service works:
You'll transport your products to an Amazon warehouse.
Amazon will stock your products in the warehouse.
When a customer makes a purchase, Amazon handles billing, inventory updates, packaging and shipping.
If returns or refunds are needed, Amazon handles that, too.
Your revenue earnings will be transferred into your bank account after two weeks.
Here's what Amazon doesn't take care of for you:
Products: You still have to figure out and source what you want to sell.
Inventory: You'll be alerted when your inventory is low, and it's up to you to replenish it.
Listings: You still have to create your product listings and learn how to optimize them.
Pros of FBA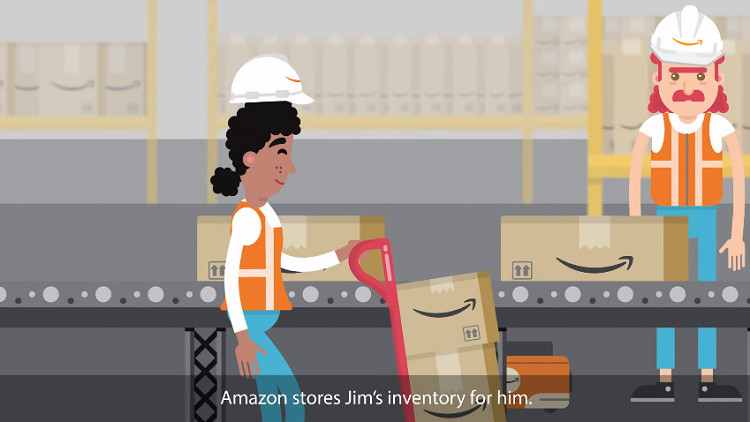 Here are the best parts of using FBA:
A Major Responsibility Will Be Alleviated
Fulfillment is one of the most difficult parts of being an Amazon seller. Even if you have the space to hold all of your inventory – which you may not, especially as you become a more popular seller – there's so much to do and remember when it comes to storing, packaging, shipping and processing refunds.
Being inefficient, like delivering to the wrong address or forgetting to process a return, can be costly – and time-consuming.
Part of Customer Service Will Be Delegated
While you can't get away with providing no customer service, FBA will take a lot of it off your hands, specifically when it comes to order issues. If someone is having an issue with their order or wants a refund or to process a return, they'll call Amazon's customer service department.
Your Customers Will Love How Quick Delivery Is
FBA packs, loads and delivers products lightning-fast. Your customers will get what they ordered before they know it – and probably way before you would've been able to get it out to them. For a platform that emphasizes two-day (and even sometimes one- and same-day shipping), quick delivery is a must.
Your Products Will Be Ranked Higher
Items that are part of the FBA program are usually ranked higher in search results than non-FBA items. That means that potential customers will find your products before others – and if your listings are optimized, you may be able to encourage them to buy from you.
Operating Costs Will Be Lower
When you use FBA, you don't have to pay for your own storage, staff members or order management. You can focus on sourcing more products, enhancing your listings, promoting your items and, most importantly, earning more.
Cons of FBA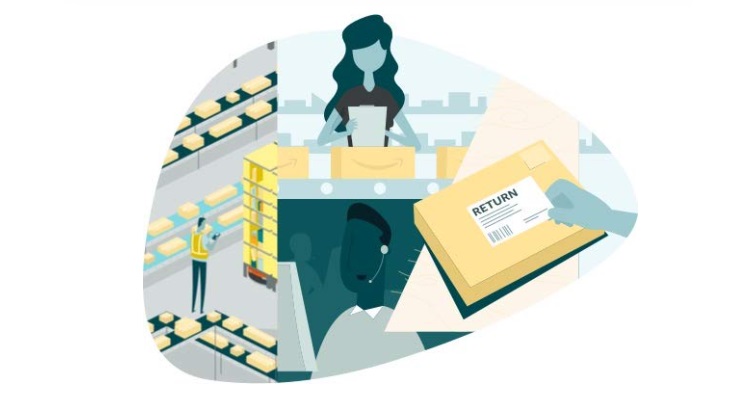 FBA has a lot of perks, but it's not without its negatives, too:
FBA Can Be Too Expensive for Newbies or Low-Cost Items
For sellers who are just getting started on the platform and have yet to see a profit, FBA may be out of their budget. It's also not a great choice if you sell low-cost items, as paying for FBA will cut into your profit margin even more.
There Are Product-Prep Requirements
You can't just drop off your products at a warehouse, no matter their condition. Amazon has guidelines for how goods have to enter their warehouse. So while you don't have to ship items to customers, you do have to properly pack and label items you send to a FBA warehouse.
FBA Automatically Collects Payment
You can't wait to pay FBA. Amazon will subtract what's owed to them before paying you. And if your sales aren't enough to cover their fees, they'll charge the credit card that you have to keep on file.
FAQs
Question: How do you sell with Amazon Prime?
Answer: There are three ways that you can become a prime seller:
Sign up for the FBA program. Products included in FBA are automatically included in Prime.
Apply for membership in the Seller Fulfilled Prime (SFP) program – and make sure you can keep up with the requirements.
Be invited to Vendor Central. If you're asked to be part of the platform, you'll sell in bulk at wholesale prices to Amazon.
Question: What are the Challenges of Amazon Sellers?
Answer: Amazon sellers, even successful ones, can face many of the same challenges. These include:
Competition: It can be difficult for sellers to find a space in the market or to keep that space for the long-term.
Delayed Cashflow: It can take up to two weeks to receive a payment from Amazon, during which time you may need to restock your inventory. Make sure that you'll be able to invest before you receive your payment, and that you can keep that up cyclically.
Getting Reviews: Sellers aren't allowed to ask customers for reviews or exchange reviews for freebies or other incentives, which can make it difficult to encourage feedback.
Price Wars: Sellers often war when it comes to prices, continually lowering prices to try to score sales and make it into the Amazon Buy Box.
Strict Guidelines: There are a lot of restrictions when it comes to what can and cannot be sold on Amazon.
Question: Do Amazon Sellers Make Money?
Answer: According to a Jungle Scout survey of thousands of Amazon sellers, most make a minimum of $1,000 per month, and the most successful sellers make $250,000 or more per month in sales. Almost half (44%) of Amazon sellers earn between $1,000 and $25,000 per month. 19% of Amazon sellers earn between $25,000 and $250,000 per month. And 6% of sellers make over $250,000 per month.
Question: How Much do Amazon Sellers Profit?
Answer: Sellers with a high profit margin have the best chance of making more of a profit overall. For sellers with a smaller profit margin, the first few years may be a struggle. But in general, Amazon sellers tend to have high profit margins. Over 68% of Amazon sellers have profit margins of over 10%. As much as 36% of Amazon sellers have profit margins over 20%. Only 8% of the sellers surveyed said they hadn't yet made a profit.
Here are some more stats to help you understand profitability for Amazon sellers: 64% of respondents said they were profitable within their first year. 20% of sellers saw profits within three months; 17% of sellers were profitable within three to six months; 23% of sellers were profitable within their first six to 12 months; 16% didn't see profits for their first year or two; and only 4% had to wait two or more years to be profitable.
Question: Do you Have to Pay for Advertising on Amazon?
Answer: Yes, you have to provide your own budget if you'd like to advertise with Amazon. When getting started, you'll get a complementary $50 in free clicks. Otherwise, you'll choose how much you want to spend on ads and set a maximum daily budget. Learn more about advertising with Amazon here.
Question: Is there an Amazon seller fee?
Answer: Yup – there are a few. Here's what you can expect to pay for:
• Depending on the plan you choose, you may pay 99 cents per unit sold or $39.99 per month with no limit to how many units you can sell.
• Amazon charges a referral fee per each item sold, which usually ranges from 8% to 15% of the product cost.
• Fulfillment fees depend on the type of product you're selling, and they range from a little under $3 to upwards of $150.
You may pay additional fees, like inventory, high-volume listing and refund fees.
Learn more about Amazon's fees here.
Question: Do You Have to Pay a Storage Fee?
Answer: Yes. Amazon will charge you a storage fee monthly, based on how much space your inventory takes up in the fulfillment center. Fees will also vary based on the time of year. Also, products that are considered Dangerous Goods may have higher storage fees. Learn more about Amazon's storage fees here.
Question: How does Sales Tax Work on Amazon?
Answer: Amazon calculates and applies sales tax to items depending on location, complying with the tax rules in the specific jurisdiction.
Final Thoughts About Selling on Amazon
We feel that, while there are plenty of drawbacks to consider, the pros of selling on Amazon outweigh the cons – for most sellers, that is. Traditional business models, like creating your own e-commerce website, can be time-consuming and more expensive than listing your items on Amazon, and you'll miss out on a vast customer base.
That said, luxury items, as well as low-priced items with a tiny profit margin, aren't good options for Amazon. In those cases, a different e-commerce platform or website is best.
But if you don't fall into either of those categories and you feel you can comply with Amazon's guidelines, be competitive about products and prices, put effort into marketing and happily share some of your profit with Amazon, it's certainly worth it, at least to try for a while.
And if Amazon ends up not being for you? There are plenty of other places to try, like Etsy or Shopify.