Last Updated on December 1, 2022 by Ewen Finser
If you are specifically in the market for a great LLC formation service, this article is for you.
There are many general purpose incorporation and registered agent services that also offer LLC formation. It can get quite confusing.
After looking to setup my next company, I felt overwhelmed by the options. I didn't need an EIN or lots of legal documents. Just an LLC. I didn't need all the LegalZoom upsells and recurring charges.
I ALSO didn't want to do it myself with my local state bureaucracy. Turns out, some of the online formation services are much better than others at LLCs, in particular.
With all this in mind, I created the following list based on my research. These are the top LLC formation companies I found:
Summary: Incfile is definitely the first place to consider. It's the service that I currently use. The core services are all around setting up and managing your business entity, specifically LLC formation service.
Incfile Advantages
Very easy to use with a modern dashboard and email alerts & reminders (much easier to navigate than LegalZoom)
Core focus on LLC business formation (LegalZoom does much more, somewhat convoluted)
Affordable with formation fees starting at $49 + state fees.
No annual contract or hidden fees
Plenty of supplemental educational information (Learning Center section)
Research packages available for specific state license requirements
Easy to switch from another registered agent provider (they can often waive any fees or penalties associated)
Great for simple LLC service as the top LegalZoom competitor
Incfile Disadvantages
Primarily focused on business entity management (can be advantage or disadvantage depending on your needs)
They do push upsells to higher packages + affiliates with other institutions (e.g. banking referrals – all optional), so don't just click "next" on everything
Primarily web based (there is a sales support number, but it's buried in the site).
Incfile Prices: Pricing for silver package is $0 . Additional higher packages for legal advice and tax IDs (Gold- $149), additional website and domain name (Platinum – $299).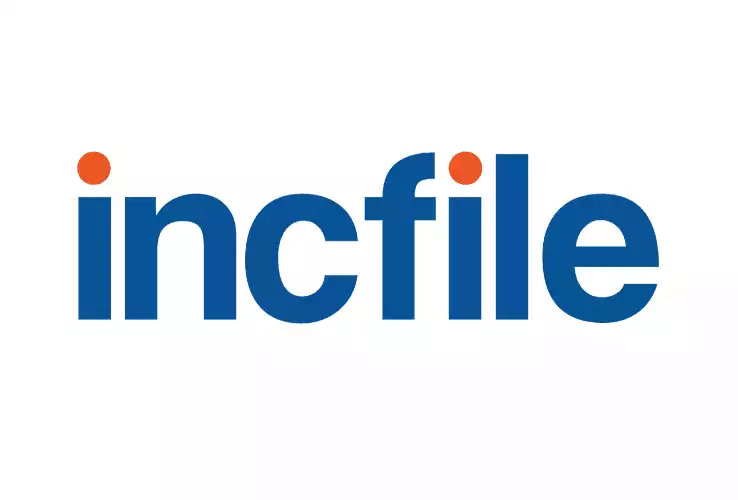 Why I Start with Incfile
I've tried a LOT of registered agent services over the years… BUT I've found Incfile to the the Fastest, Cheapest, and most user-friendly.
Business Formation for as little as $0 + State Fee when you incorporate with Incfile.com.
Start with Incfile
We earn a commission if you click this link and make a purchase at no additional cost to you.
Further Reading:
Summary: Filenow is even more recent legal assistance company and they are attempting to one-up the market leaders like Incfile with faster LLC service and more complimentary services included.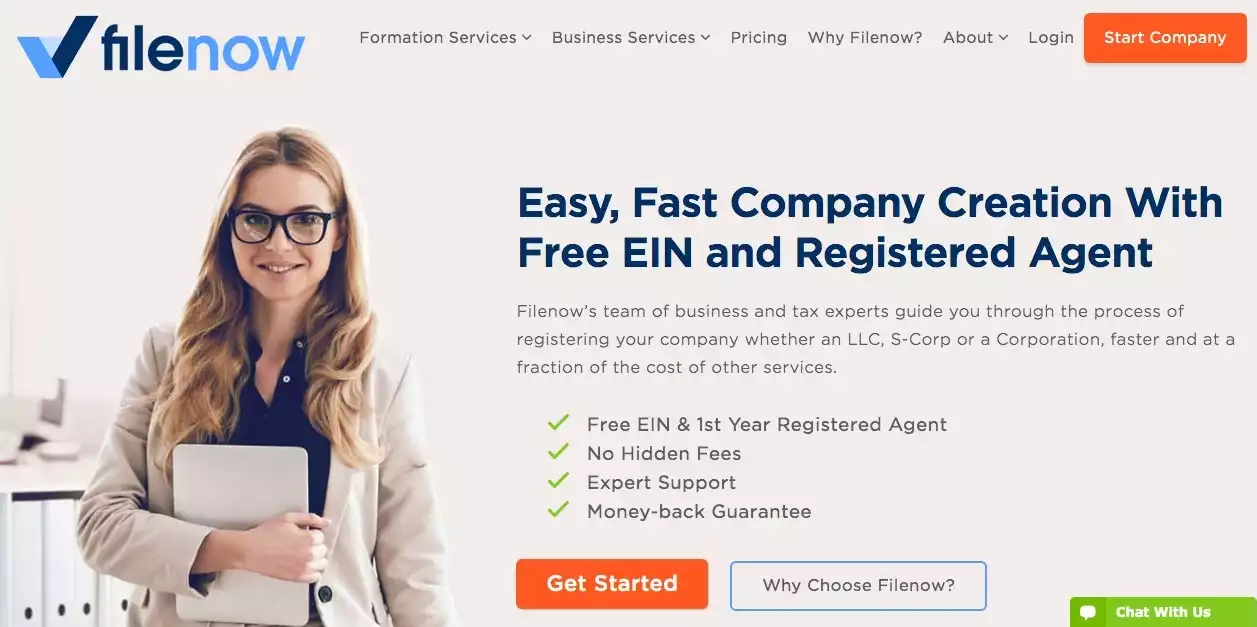 Why Choose Filenow?
The short answer? Filenow is affordable and offers a money-back guarantee. It's one of the quickest and easiest setups around, with a simple four-step process. If time is of the essence, Filenow is a great choice for you!
See Current Promotional Offer
We earn a commission if you click this link and make a purchase at no additional cost to you.
Filenow Advantages
Comparable or cheaper than most other online filing services (e.g. Incfile)
Specifically built for LLC formation filings and maintenance
100% money back guarantee, no questions asked
24-hour order processing (email, phone, chat support)
Only takes about 15 minutes to complete the application
Free Express Shipping
Customer support available by phone, chat, email.
Offers a $0 Starter Plan here (just entity formation).
Filenow Disadvantages
Short time in business, will they stick around?
Filenow Prices: The Starter Package begins at $0 and then a Premium Package for $199. Want to learn more about Filenow? Read more in our Filenow review.
Further Reading: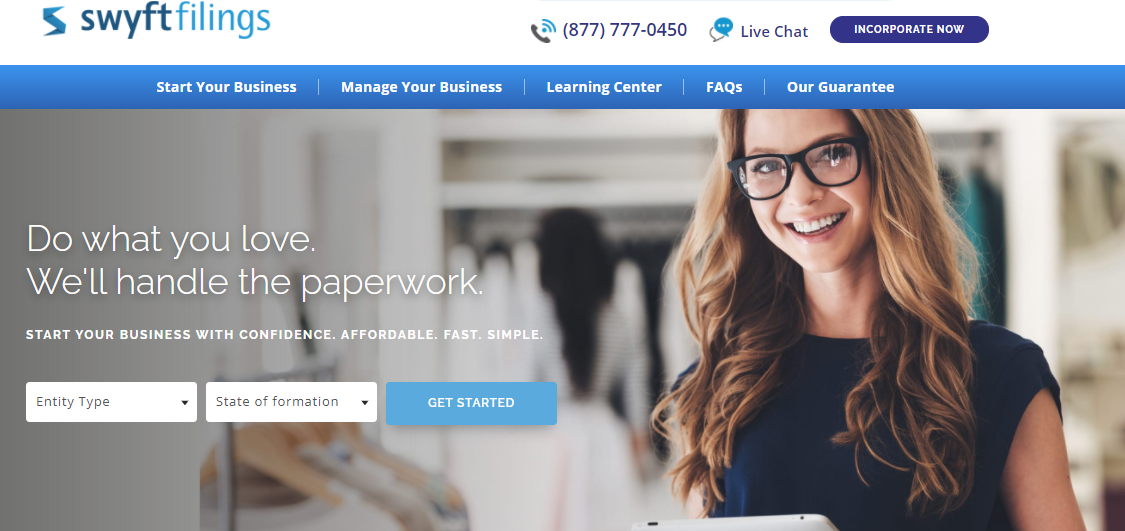 Summary: Offering standard registration services for C Corps, S Corps, LLCs, Non Profits, and DBAs, Swyft (like the name suggests) is all about getting your business set up quickly, with a laser focus on registered agent services.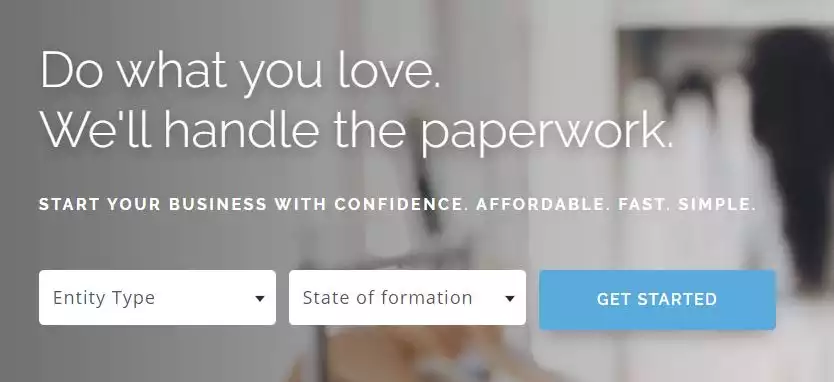 Why Choose Swyft Filings?
LegalZoom is being disrupted. One of those competitors is Swyfy Filings and they do a brilliant job and streamlining the process at a fraction of the cost. No gimmicks or clunky interface to deal with. Literally takes 7 minutes.
View Swyft Filings Promos
We earn a commission if you click this link and make a purchase at no additional cost to you.
Swyft Filings Advantages
Emphasis on direct phone sales consults with an easy to find number (compared with Incfile, ZenBusiness)
Also offers DBA services (relatively unique, but more obscure business formation service)
Optimized for speed (as the name suggests)
Fewer spammy service upsells
Basic business incorporation starts at $49
Swyft Filings Disadvantages
Minimal add-on services
Relatively opaque pricing tiers (you have to get further down the funnel, beyond the $49 basic service to figure out the upsells)
Swyft Filings Prices: $49 basic incorporation service, variable pricing beyond (buffet menu of options).
Further Reading:
Summary: ZenBusiness offers a much more automated and streamlined barebones LLC registration service, with less hand holding and sales tactics but perhaps the fastest process from start to finish.

Why Go with ZenBusiness?
ZenBusiness does NOT offer every imaginable legal service. That's a good thing! If you need an LLC or Corporation formed QUICKLY, it's hard to beat the easy registration wizard, rock bottom prices, and high ratings from happy customers.
See Latest Promotional Price
We earn a commission if you click this link and make a purchase at no additional cost to you.
ZenBusiness Advantages
Simple and straightforward self service
Competive starting price point (ties Incfile)
Minimal upsells and sales tactics
Unique "worry free guarantee" service $110 per year (will handle catchup compliance if you miss a deadline, report filing, amendments, etc…)
Knowledgeable live chat support
ZenBusiness Disadvantages
No live phone support (only live chat interface)
No extra servicese outside business setup and reporting compliance
Minimal value to higher tier plans (basically just expedited or rushed filing + worry free guaranttes, EINs, and domain names)
ZenBusiness Prices: Starts at $39 + state fees per year (basic), then $149 (includes EIN number), and finally up to $249 for the premium suite.
Further Reading:
Summary: Northwest is another service similar to Incfile, focusing specifically on the role of Registered Agent and initial business filings. LLC formation is a core service offering. Northwest also offers some additional perks like mail forwarding and virtual office setup.
Northwest Agent Advantages
Offers Registered Agent as a stand-alone service if that's all you need
Also offers mail forwarding and virtual office services
More available for phone support than LegalZoom or Incfile
Plenty of free legal forms
No high pressure sales tactics, limited pushy upsells
Simple flat registered agent fee
Multi-state registration plans
Northwest Agent Disadvantages
No formal legal advice beyond agent and incorporation services
Base registered agent price is more expensive than base Incfile and others ($49 vs $125)
Northwest Prices: Northwest charges a standard Registered Agent fee of $125 + state fees for the core offering.
Further Reading:
Summary: Inc Authority is a brand new service (started end of 2019) offering a similar level of service to LegalZoom, but offering a better overall incorporation and formation experience and service.
Inc Authority Advantages
Prominently featured phone support
Advanced packages offer tax consultations
Advanced packages offer business funding and credit accelerators
Easy 4-Step process to register
Inc Authority Disadvantages
Very new to the scene in 2019, will they stick around?
Only does LLC formations and Corporations
Lots of upsells (make sure you uncheck boxes during checkout to take advantage of the "Free" service)
Some negative reviews, hard to tell if legit or not
Inc Authority Prices: Inc Authority offers 100% FREE barebones entity formation (not including state fees). YES, we actually checked by registering an entity… They do offer premium packages if you need additional services like EIN registration, Operating Agreements, Tax Consultation, etc…
Further Reading:
How to Choose the Right LLC Service
So how did I evaluate these services? I took at close look at the follow attributes:
Filing Speed
Online LLCs that excel in this area pride themselves on much more than the quality of their services. People who are looking to get their business up and running quickly will appreciate the speed of turnaround. It's not always something that is dependent on the LLC company (some states are slower than others), but even a few hours saved on the service side is an important benchmark.
My Own Experience
I'm a business owner with multiple LLCs to manage. The best data I can collect is from first hand experience. It may be somewhat subjective, but I – and our team – test out the services we discuss in this article, first.
Reputation and Independent Reviews
It's essential to thoroughly research your options before you make a decision. The market for LLC services is getting more competitive every day. Online LLC services that are the best are highly regarded across multiple review platforms, forums, and social media communities.
Reputation is a tricky thing. It can be difficult to maintain but easy to ruin. Online customer reviews can speak volumes about the company's image, but they can also be misleading because of practices such as review bombing.
I also looked at the company's Better Business Bureau rating, if any, to get a better picture of its reputation. The BBB takes into account not only customer complaints but also the company's longevity and transparency in their business practices.
Price and Value
While the best things in life are often free, top LLC services are usually not. There are many state filing fees that you should consider. However, registered filing agents will charge for the services they provide. Most business formation services offer tiered pricing because a single product may not be suitable for every customer.
Every company worth their salt will clearly explain their plans to customers and let them know what they get for their money. You shouldn't expect much from some companies that offer basic services at no cost. It's all about how the company compares to other companies.
Added Services and Freebies
LLC filing services can help you manage your company's legal documents and set up your LLC.
Top LLC companies may offer additional features like annual report filing, amendments and LLC publication services. EIN, trademark registration, foreign qualifications, business licenses. Seller's permits, office supplies. legal service. Business advisory plans.
While it might not be your first priority when looking for a company that will help you create LLCs, you should still read the bonus services included with the offer. Even though you have taken care of the basics of LLC formation, there may be more complex legal issues that you will need to address.
Final Word: So Which LLC Service is Best?
Well, it's not a perfect case of a clear winner, but I have my favorites.
Best All Around LLC Service? Most business operators will find

Incfile's service here

to be the easiest to use and a good value for the money. Just watch the upsells.
Least Expensive LLC Service? For the first year of basic service, it's really hard to beat Filenow's $0 starter offer here. That said, even Filenow's paid services are quite reasonable (even compared to the other "free" starter packages).
In A Hurry? As the name suggests, if you need an LLC setup – like yesterday – go with the speedy Swyft Filings here. It clocked in as the fastest end-to-end registration process for me.
Further Reading: