Lawyers cost money. Period.
Everyone knows that legal matters can result in astronomically high bills and nasty financial surprises, and none more so than in the world of business. 
Anyone who's either started or is considering setting up a new business knows that it can be a stressful time. While the excitement of launching something new can take you a long way, it's essential to kick things off on the right footing. In particular, ensuring all the administrative aspects of your business meet legal requirements.
Tedious though this is, it's imperative for ensuring you don't face legal-related headaches later down the line. However, this begs the question: How can you receive high-quality legal advice without having to shell out exorbitant fees?
Fortunately, there's a solution: An online legal service that offers advice and support without you having to hire an in-house lawyer who charges by the hour. 
This review compares two such providers: Filenow and LegalZoom. Both are popular online sources of legal support for businesses, start-ups, entrepreneurs, and private individuals looking for personal legal services. 
There's lots to get through so let's make a start.
Filenow vs. LegalZoom: Their Key Similarities and Differences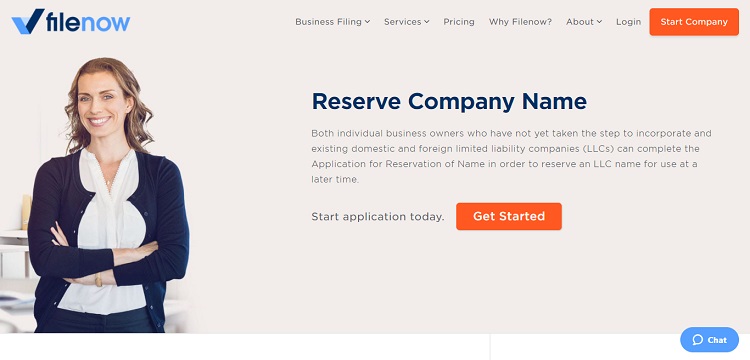 If you want a quick rundown of how these services compare, we've got you covered. Here are the key similarities and differences between Filenow and LegalZoom at a glance. 
The Core Similarities Between Filenow vs LegalZoom:
Both offer a registered agent services.

Both provide an online document delivery service.

Both provide a comprehensive service to help you set up a company.

Filenow and LegalZoom both help you comply with taxes and regulations after your company's formation. They'll send you alerts and offer compliance-related advice.

Both offer customer support over the phone and email within business hours.
The Critical Differences Between Filenow vs LegalZoom:
Filenow offers 24-hour processing, whereby your application is submitted to the DOS in your chosen state within one day. LegalZoom doesn't provide this service.

Filenow provides express shipping with FedEx is included in its basic plan, whereas Legalzoom doesn't provide express shipping other than on its most expensive plan.

Filenow's sole focus is on business setup, whereas LegalZoom also offers personal legal services too, such as help with divorces, wills, and real estate

Filenow has recently started offering its basic formation services with no service fees, whereas LegalZoom's prices are much higher

Filenow doesn't offer lifetime support for it's customers, whereas LegalZoom does

Filenow's agency service is free for the first year, whereas LegalZoom's isn't
What's Filenow?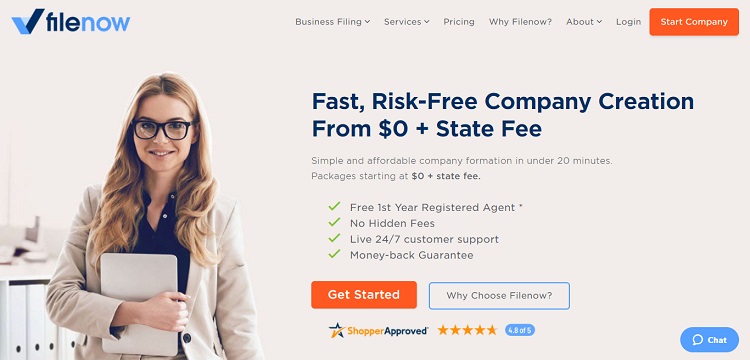 New York-based, Filenow is the new kid on the block. They've been around since 2018. Since then, they've become a popular choice for start-ups or anyone wanting to get their legal ducks in a row. 
Filenow describes itself as a team of experts who are a mix of experienced entrepreneurs, lawyers, and tax specialists. So rest assured, they know what they're talking about. Their main area of specialty is company formation, but we'll look closer at what they have to offer further down in this review.
Overall, Filenow aims to make company formation as painless and straightforward as possible so that it's a "seamless experience for our customers." 
While Filenow can't boast exorbitantly high customer numbers yet, many reviewers consider Filenow to be the fastest LLC Information Service on the market!
What's LegalZoom?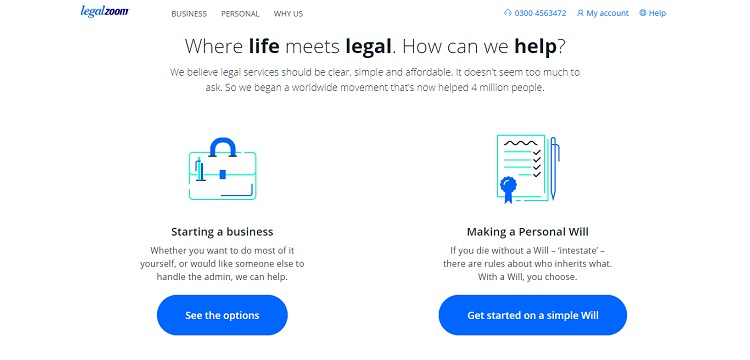 LegalZoom, on the other hand, has been around for a lot longer. Founded in 2001, their focus is also on company formation. They also specialize in creating many different legal documents that either a business person or a private individual may need.
They have more than 4 million customers worldwide and split their services into Business and Personal categories. 
We'll go into greater depth about the services LegalZoom offers further down. But, suffice to say, Legalzoom provides a slightly broader array of services than Filenow and boasts greater brand recognition. LegalZoom's mission is to make legal services "clear, simple, and affordable." By the end of this review, we'll see if that claim holds true or not. 
Filenow's Services and Pricing
As we've already hinted at, although Filenow's prime focus is on business filing, there are other services on offer too. That said, they all pretty much fall under the general umbrella of starting a business.
Let's take a look at each in turn:
Filenow can help you set up your business as an:
LLC: A Limited Liability Company

C Corporation 

S Corporation
Just choose the state you're operating from, and Filenow does the rest. If you need it, there's a 'help me choose business entity' tool. This asks a series of questions about your number of employees, shareholders, funding, and so on. With this info to hand, Filenow then advises you on the best company type for your operation.
Below we've listed the other services Filenow offers:
Federal Tax ID/EIN:

This service comes in handy if you need to file tax with the IRS

Application for Authority:

  You'll need this to operate in a different state to the one your company was initially registered in. ($149 + state fee)

Registered Agent Service

: If you operate in a different state to the one you initially incorporated in, you'll need a registered agent ($119 per year)

Certificate of Good Standing

: This is sometimes known as a "Certificate of Authorization" or "Certificate of Existence." It shows you've met the legal standards set for businesses in the state you registered your company in. ($49 + state fee)

Doing Business As:

When you don't use your own name as your company name. So John Smith's company is doing business as "Total Gardening," for example. ($75 + state fee)

Reservation of Name:

Reserve your business's name before registering your company so that no one else can use it. ($50 + state fee)
Now that we've covered the services Filenow offers and how much they cost independently, let's see how much it costs to get your company formed with one of Filenow's plans. These packages are explicitly designed to register your company and get you started. After you've done this, you might want to enlist some of the services listed above.
Basically, there are two packages: 
Starter:

There's currently no service fee for this plan; you just pay for the state fees and your EIN! ($75)

Premium:

Prices start from $199 + state fees
The following features are included in the Starter package:
24-hour order processing

An error-free guarantee

Free registered agency for one year (which equates to a saving of $119)

Company alerts to remind you of important dates and deadlines, like tax filing due dates or submission dates for the annual report, etc.

Phone and email support (Monday to Friday, 9:00 AM – 7:00 PM Eastern Time.)

Online order status tracking so that you can keep tabs on your document delivery.

You receive all documents via one centralized and secure dashboard. From here, you can download your docs onto your device. 
If you go for the Premium package, you'll also benefit from the following services:
Tax ID/EIN – (which costs $75 with the Basic plan)

Company Kit – (which costs $99 on the Basic plan). This is an organized, sealed binder with all your company information and ownership documents.

Over 15 business contract templates, including NDA and employment agreements – (which cost $99 on the Basic plan)

Banking Resolution to open an account for your business – (which costs $30 if you're on the Basic plan). This is the official document needed to authorize an individual to bank on behalf of a business.
Both Basic and Premium customers have to pay an extra $75-150 to receive Filenow's same-day expedited service if you're in a hurry to get things moving.
LegalZoom's Services and Prices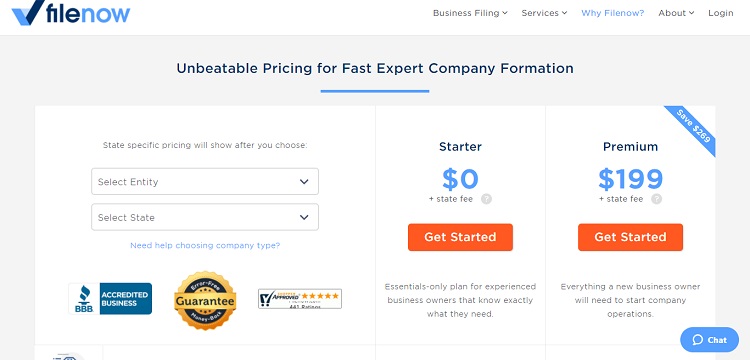 Here, we're focusing mainly on LegalZoom's business services. However, we'll still provide a quick sense of the personal legal services on offer too. 
Like Filenow, LegalZoom also provides all the essentials for setting up a business. However, in comparison to Filenow, there's way more on offer:
Registering a limited liability company costs from $79 + state fees

Registering a C Corp costs $149 + state fees

Doing Business As (DBA) costing $99 + state fees

Registering a nonprofit costs $99 + state fees

Registering a

sole proprietorship. You have various options here, depending on how much liability you're willing to face yourself. 

Entity name reservation. This checks the availability of your desired business name in the state of your choice and reserves it for when you're ready to file your company. This service starts from $49 + state filing fees.

State Tax ID. This identification number is required to hire employees or sell goods and services. (For more info about pricing, call LegalZoom for a quote and more information).

Seller's Permit. This document allows your business to sell or lease at the wholesale or retail level. Again, you'll need to call LegalZoom for more information.

501(c)(3) Application. This is a non-profit document that exempts your organization from federal income taxes and lets others make tax-deductible donations. Packages start from $595.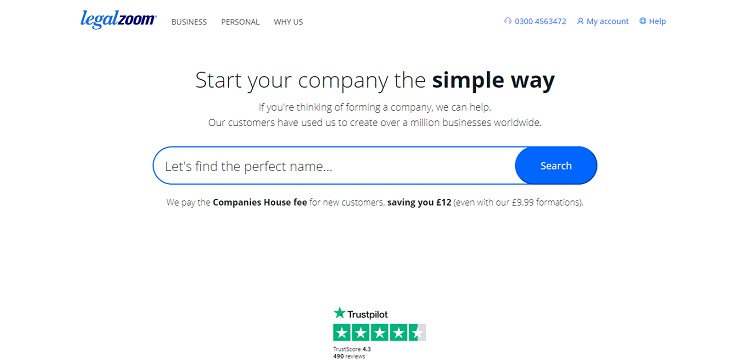 In addition to the above, there are several other business services available, including:
   Services to help you stay compliant, like:
Annual reports, filed for you ($55 + filing fees)

A registered agent service ($299 a year) ensures an official entity receives your legal notices and critical mail on your behalf.

A compliance calendar ($69 a year) This is loaded with information and deadlines for filing requirements relevant to your business type.

Minutes Manager  ($99 a year for unlimited usage) This software tool creates minutes, notices, waivers, and written consents for your business, making it easier to keep company records complete, compliant, and maintain your LLC protection
   Services to help you grow your business, like:
Trademark search and registration. LegalZoom will find out if your desired trademark is available (Starting from $199) and register it for you ($599 + federal fees)

The business advisory plan.

This provides ongoing access to a business attorney for under $40 a month.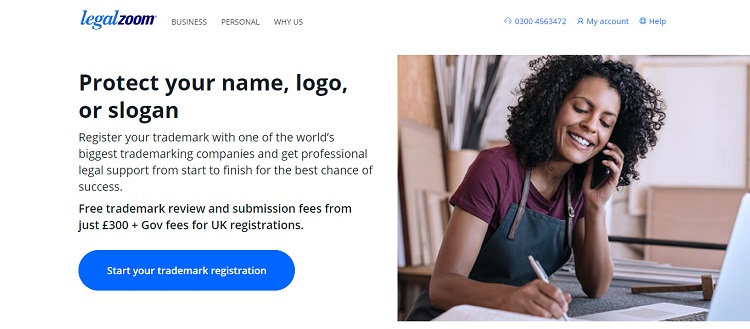 You can also access several legal forms and agreement templates on their website. If you create a LegalZoom account, you can download and print these after filling out a questionnaire to customize the forms. Example documents include letters of resignation, mutual NDAs, letters of intent, business plans, and more. This service starts at $39.99 a month after a 10-day free trial.
LegalZoom offers several plans for company formation with select services included. LegalZoom's website is slightly less accessible than Filenow in this regard, and prices are, without question, higher.
Above, we've already mentioned the starting prices for forming various companies, but here we'll look in detail at what's included. We'll use an LLC for our example.
There are three company formation plans:
Economy

: $79 + state fees, taking an estimated 30 days for set up.

Standard:

$329 + state fees, taking an estimated 15 days for setting up

Express Gold:

$349 + state fees, taking an estimated ten days for set up.
Whichever package you opt for, you get:
Name check and business filing

Articles of organization. These documents form a legal LLC at the state level and include rights, powers, duties, liabilities, and more.

LLC Next Steps Guide.

These are step-by-step instructions to help you review your LLC documents and start your business.

Peace of Mind Review ™ – a personal review of your order before your business is formed

Lifetime customer support, seven days a week. Their operating hours are Monday to Thursday, 9:00 AM to 5:30 PM. On Fridays, they are open from 9:00 AM to 5:00 PM Pacific Time.

Financial account authorization letter. This authorizes an individual to bank on behalf of your business and open a business account.
Standard and Express Gold customers also get:
An embossed organizer file for your documents

20 personalized company membership certificates and a company seal to record business ownership and acknowledge your partners and members.

LegalZoom VIP processing, ensures your order is prioritized internally and handled quicker
Express Gold customers additionally benefit from quicker shipping and rush order processing within 7-10 days.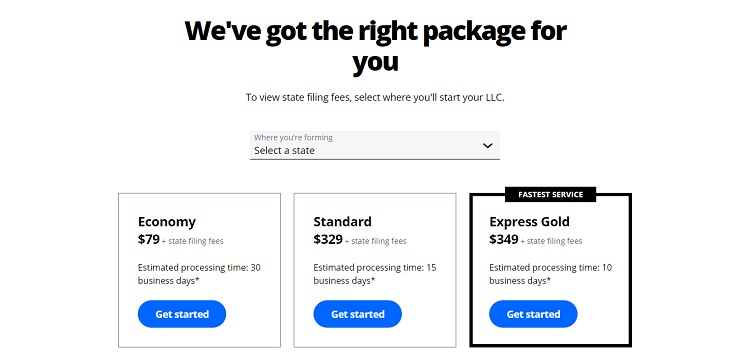 LegalZoom also comes with a 100% satisfaction guarantee for its support and services. Your money is refundable for a generous 60 days after payment. However, the guarantee doesn't cover any government/state filings or third-party services. 
Lastly, at this point, it's worth mentioning, that for some services after your initial sign-up, LegalZoom offers a free trial. For example, you can test services like access to an attorney for tax and compliance consultations or access to a library of legal forms.
After a ten-day trial, these services start at $39.00 per month, so make sure you're 100% certain of all the costs involved before signing up.
LegalZoom's Personal Services
There are three main aspects to LegalZoom's personal services:
Wills and Trusts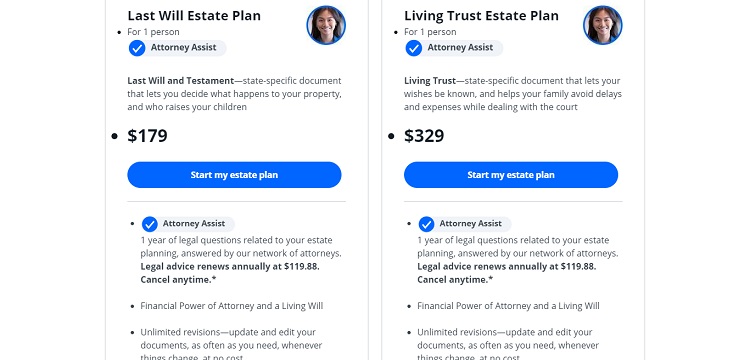 Here, you'll find the following: 
Last will from $89

A living will from $39

Living trust from $279

Power of attorney from $35 

Or, there's the 'Planning Your Estate' bundle from $179. You can get this plan for one or two people. It includes assistance from an attorney for one year and covers one will, one Power of Attorney document, and one living will. You'll be able to make unlimited revisions at no extra cost.
All these services help you formally define what happens to your property or who might be guardians to your children after your death.
Family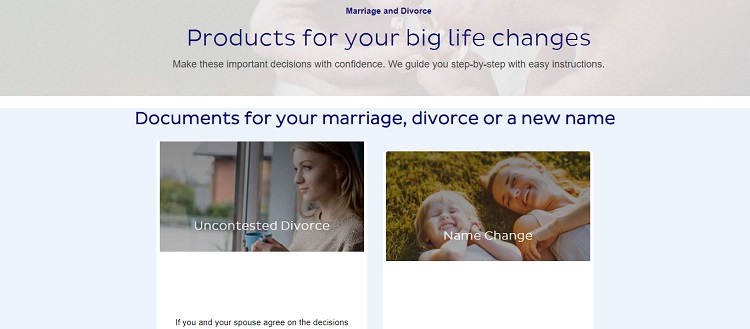 Here, you'll find the following: 
Divorce – no prices available, and prices differ from state to state

Name change from $139
Real Estate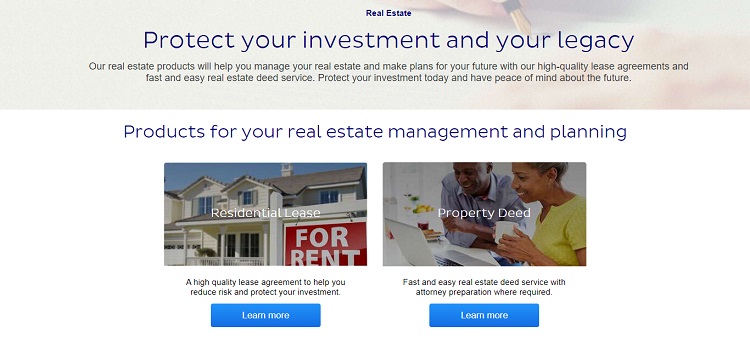 Here, you'll find the following: 
Residential lease from $29

Property deed transfer from $249 + fees
FAQs
To round-off this review, we thought we'd answer some of the most frequently asked questions we hear about Filenow and LegalZoom:
Question: What happens if my company name isn't available?
Answer: This can, unfortunately, happen, especially if you're providing a service that isn't unique. Your best bet is always to offer your chosen legal provider three or even four alternatives if your preferred choice isn't an option
Question: What are Filenow and LegalZoom's online reviews like?
Answer: Filenow enjoys raving reviews on Shopperapproved.com and other sites, and most people recommend their service wholeheartedly. They point to its ease of use and lower pricing than similar services (LegalZoom included!)

LegalZoom also enjoys positive reviews but has a slightly worse rating (closer to 4 or even 3.6 on various sites. For example, ConsumerAffairs.com and TrustPilot). That said, many reviews criticize LegalZoom's original conveyance services more than their current business set-up features.

Still, some customers grumble about slow responses. So, for the amount of money you could potentially spend with LegalZoom, we think it's worth digging into these testimonials a little deeper before making any final decisions.
Question: What about their customer service?
Answer: Filenow provides live, personalized help via phone and email when you need it between  Monday to Friday, 9:00 AM – 7:00 PM Eastern Time. 

You can also contact LegalZoom on the phone. Their operating hours are Monday to Thursday, 9:00 AM to 5:30 PM Pacific Time. On Fridays, they are open 9:00 AM to 5:00 PM.
Question: Why do I need a registered agent?
Answer: When you register a business with the state, you're required to submit your business's registered agent's name and address. You can use your own name and address for this purpose if you wish. If your business is registered in more than one state, you're legally required to have a registered agent in each one. 

However, hiring a registered agent can be a good idea for your business, namely, because they'll receive your legal documents in an official capacity and can provide a physical business address if your business doesn't have one. 
Filenow vs. LegalZoom: Final Thoughts
We've now reached the end of our Filenow vs. Legalzoom review, which leaves us with one final question: Which is better?
Ultimately, Filenow offers faster and much cheaper services, including a no-service fee standard plan. This is partially possible because they don't offer as many different services. Instead, they focus the majority of their efforts on business formation services. Their reviews, overall, are also more favorable than LegalZoom's.
While LegalZoom brings more industry experience to the table, they're considerably more expensive. They're a great option if you have needs outside of business formation and you're looking for more of a one-stop-shop online legal services provider.
Ultimately, finding the right legal partner is a difficult decision that only you can make. We hope this review has helped, but we'd always encourage you to dive deeper, shop around, and take your time coming to the right decision for you.
If you've made up your mind, let us know in the comments below! Filenow vs. LegalZoom, which do you prefer?