Last Updated on April 22, 2023 by Ewen Finser
For independent editorial writers interested in getting their work published and growing a loyal following, online newsletters are the way to go…providing you do them well.
We're not referring to sales business newsletters pushing products and services. Instead, we're talking about independent writers who want a platform they can use to share their work and generate an income via subscriptions.
With that in mind, we're examining two such online platforms: Substack vs Revue. We'll give you the low down on:
Their key similarities

Their key differences

Who they are

Their main features and prices

Their integrations
Then, we'll round this off by answering some FAQs in case we've missed anything along the way.
That's a lot to power through, so let's get going.
[mv_video doNotAutoplayNorOptimizePlacement="false" doNotOptimizePlacement="false" jsonLd="true" key="r1mcena9ehg8w22ehntx" ratio="16:9″ thumbnail="https://mediavine-res.cloudinary.com/v1633717773/gen8gpdu0hpnntuz3hss.jpg" title="Substack vs Revue" volume="70″]
Substack vs Revue: The Main Differences and Similarities
If you're just here for a quickfire comparison, never fear; we've got you covered. Below we've summarized the core similarities and differences between Substack vs Revue:
Substack vs Revue: Their Key Similarities
You can leave either platform at any time and take your subscribers with you.

Both are online publishing platforms aimed at independent editorial writers.

Both boast substantial funding.

Substack and Revue are both easy to use and support video and picture content.

Neither allows you to export analytics data for offline analysis.
Substack vs Revue: Their Key Differences
Substack takes 10% of your earnings. Whereas, Revue takes just 5% of your earnings.

Revue offers a paid-for plan for organizations and writers with bigger audiences. Whereas, Substack makes it clear that it only provides a free service.

Substack has fewer integrations than Revue.

Substack charges a one-time $50 fee to set up your custom domain. Whereas, Revue doesn't seem to demand a comparable expense.

Substack users have to utilize an email address with a substack domain. For example, yournewsletter

@substack.com

. In contrast, Revue can either use a Revue subdomain, such as

[email protected]

, or their own custom domain, i.e.,

[email protected]
Who's Substack?
Founded in 2017, San-Francisco-based Substack describes itself as an online platform that makes it easier for writers and marketers to create newsletters that generate income via subscriptions. Its tagline tells us that it's "a place for independent writing" where users can subscribe to the writers they trust.
Featured in Vanity Fair, Buzzfeed News, and the New York Times, Substack has a solid investor base with $82.4 million raised! The platform has grown steadily since its launch, with recent reports stating it has over 500,000 subscribers.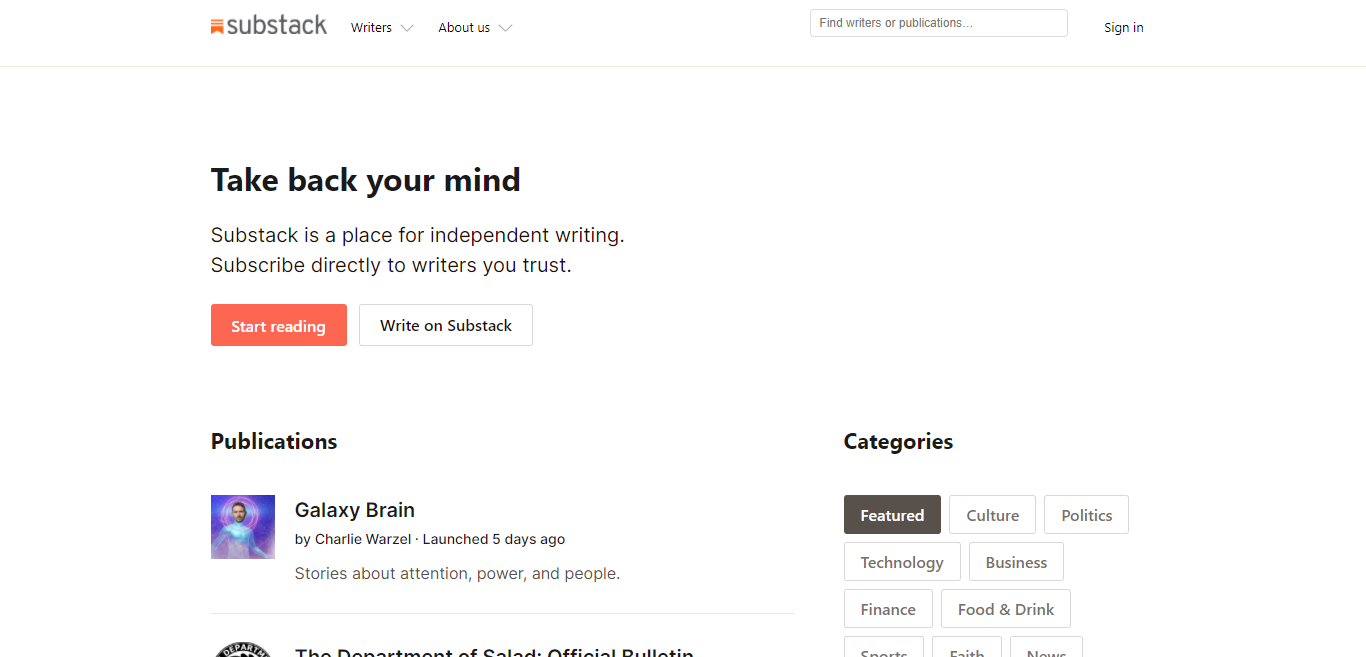 Who's Revue?
Like Substack, Revue is also an online publishing platform aimed at writers and publishers. Similarly, they also simplify the online newsletter process to help you generate an income from your writing.
Based in Amsterdam, the Netherlands, its founder Martijn de Kuijper set Substack up as a journalism tech start-up. It's used by some big names, including The Chicago Sun-Times, Vox Media, and VentureBeat. Revue offers individuals, small and larger companies the opportunity to create, send and make money via editorial email.
In January 2021, Revue announced that Twitter had acquired it, thereby broadening its reach and making it easier for writers to reach a larger audience with their written work.
However, just to clarify, the two platforms are still separate at the time of writing. In other words, Twitter account holders still have to set up a Revue account to access Revue's features.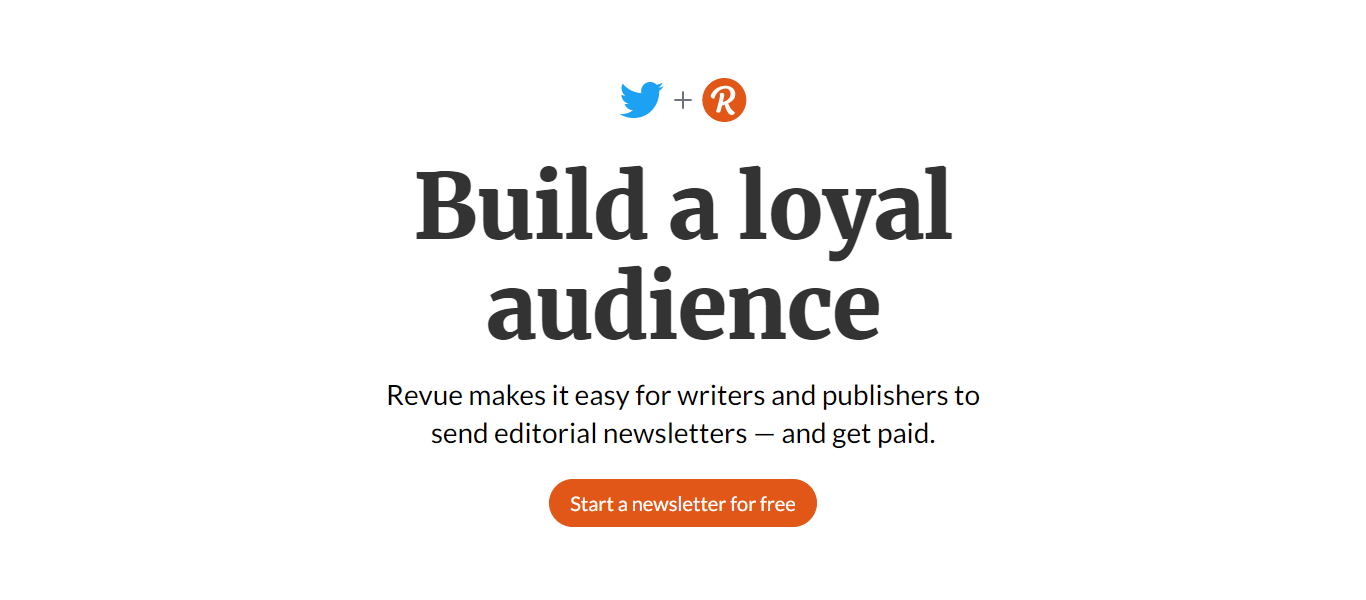 Substack's Features
Here are just some of the features writers have access to when they sign up with Substack:
A Website
Your Substack website includes a welcome page, an about page, and a home page. The welcome page is where potential subscribers can enter their email addresses to receive updates about your work.
The home page is where your audience sees your most recent and top posts. For your paid posts, subscribers see the entire article, whereas non-fee payers can only view the article stubs.
Lastly, your about page is where you sell or pitch your writing to your potential audience. It's your chance to explain why someone should pay to read your writing, what makes your content stand out, and so on.
An Email Newsletter
On Substack, newsletters are called "Publications." When you launch your account, you can import your email list from other platforms or migrate contacts manually.
Then, simply head to your dashboard, click on "posts" followed by "new post," and start writing your newsletter. Simple!
A Place to Host Your Podcast
You can upload MP3 files or use the Substack editor function to record directly onto the platform. Substack will distribute your podcast to your email newsletter, podcast players, and onto your website.
Community Features
Substack's community features enable readers to "like" your posts and for paid subscribers to comment. The more "likes" you get on particular articles, the higher up they go on the leaderboard, which leads us nicely onto our next feature…
The Leaderboard
Here, you and your readers can see which posts have the most "likes" and have generated the most revenue. It's an excellent tool for helping readers find interesting topics, but also for writers to see what's trending.
Analytics
Custom analytics enable you to see where your subscribers come from, who your most active audience members are, and so on.
Subscription Options
This includes being able to offer monthly, annual, group, gift, and complimentary subscriptions.
An Archive
Here, you can list all your work by date and top posts. You can also categorize posts according to whether they're fee-paying or free.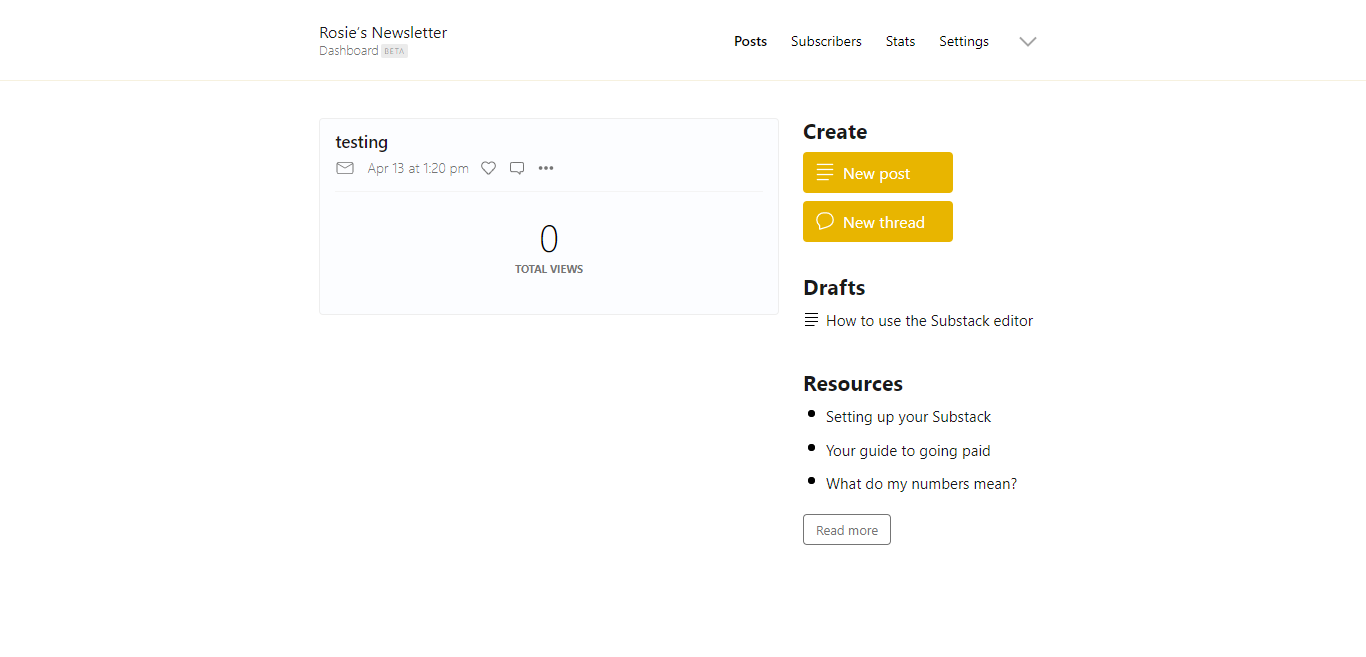 Substack's Pricing
First off, Substack is clear to emphasize on its website that it's free. This means it's free to get going and to publish, and you only have to pay when you start earning some money from your writing. Once that happens, they take a 10% cut of your revenue. They also accept credit card fees which their payment providers set.
Substack says that if you're successful in converting 5-10% of your email list into paying readers, you're likely to start earning. They have a handy income calculator based on subscriber numbers and how much you charge per month for your content, so it's easy to see what you could aim for.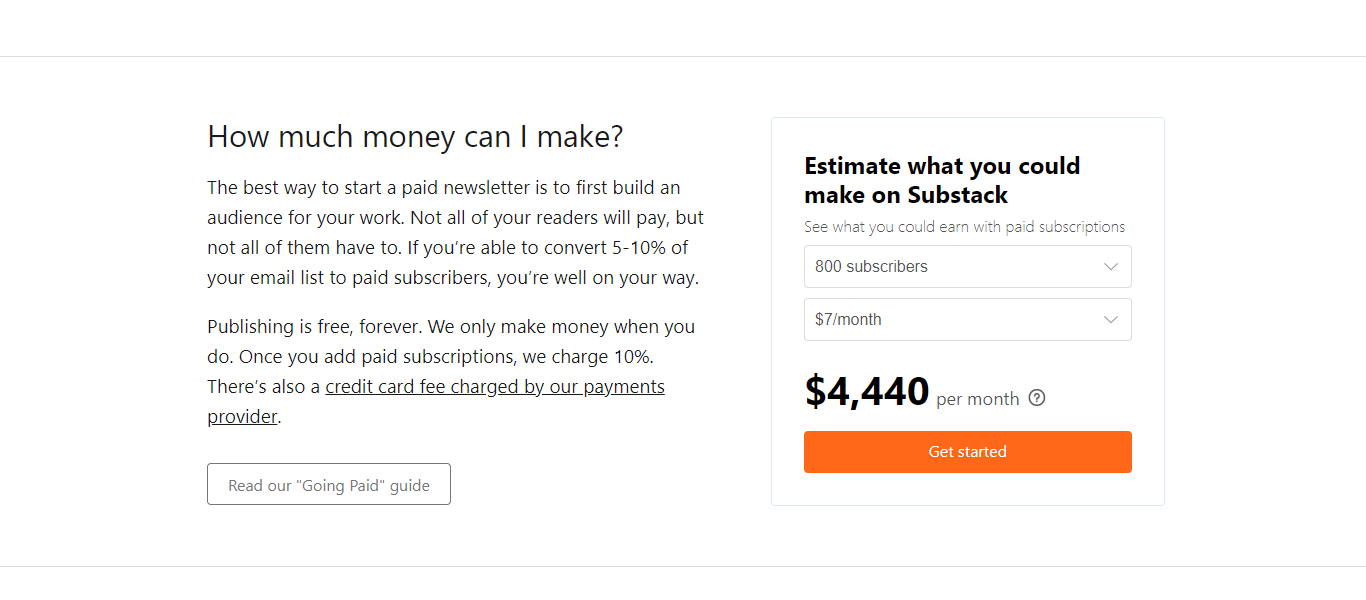 Revue's Features
Like Substack, Revue also offers a great set of features, including:
A Profile Page
Here, you can add your headshot and describe who you are and what you write about. It's the perfect opportunity to sell your content to potential subscribers.
Subscriber Management
You can import your subscriber list from another platform, embed a sign-up form to attract subscribers, and manually add subscribers. All subscribers can manage their online subscription to your newsletter, including updating their information, canceling their membership, or becoming a paying subscriber.
Analytics
You get access to data, including how many people opened your newsletters, how many clicked through, which links were most popular, and so on. It gives you a better insight into what content works best with your audience.
Scheduling
You can schedule your newsletters to go out at a specific time and day of the week.
Browser Extensions
This is how you add content to your newsletter, either using the Revue Chrome, Firefox, or Edge extension.
Cross Publishing
To reach a wider audience, you can post and schedule your newsletters to other platforms, including WordPress, Medium, and social media networks, including Facebook, Twitter, Instagram, and Pocket.
While we're talking about Twitter, it's worth noting that since Twitter acquired Revue, it has, according to several reports, undergone changes to make it more attractive to content creators. Most notably, Revue now enables you to profit from sponsored content and paid ads.
It's also said that Twitter is considering integrating Revue more tightly with the social media platform itself. In the near future, there's talk of Twitter users being able to sign up to newsletters created by Revue subscribers without having to leave Twitter's platform. So, keep an eye out for that exciting development!
Custom Domains
Although your newsletter is hosted on a Revue subdomain by default, the platform also supports custom domains, which is a huge plus if you're looking to boost brand recognition and credibility.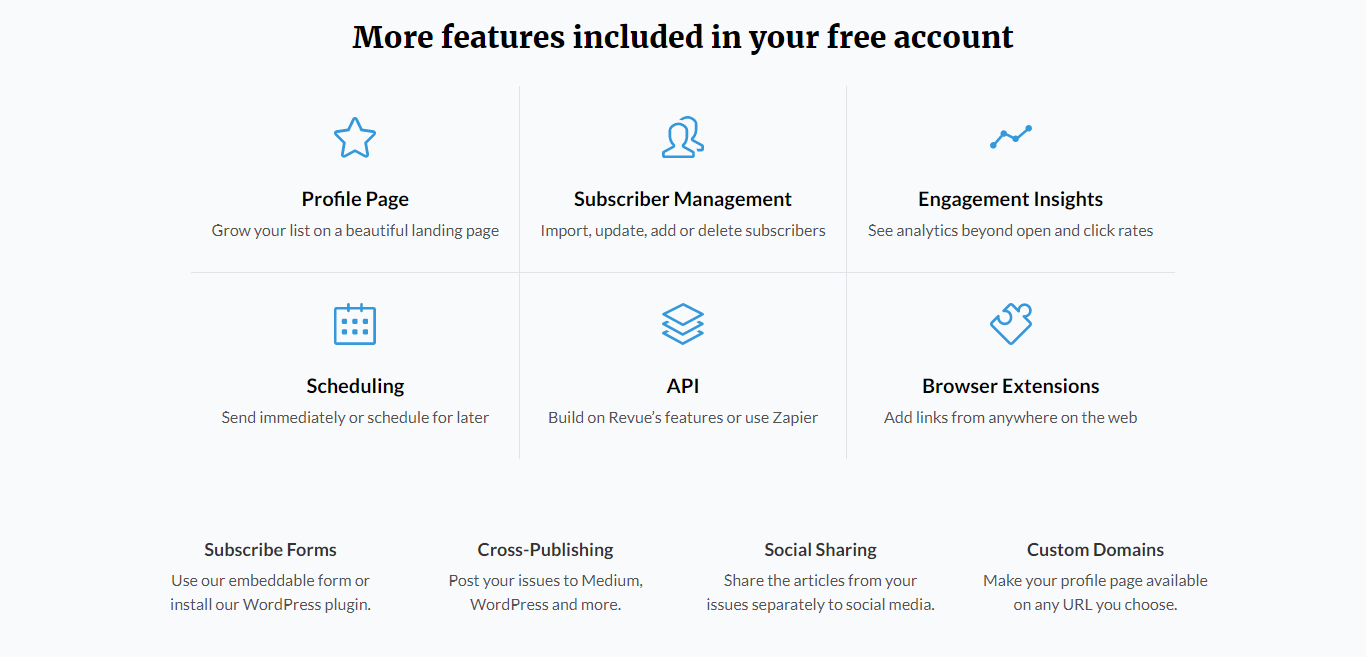 Revue's Pricing
Like Substack, Revue's free to begin with too. The model is the same, you earn, and then Revue takes a cut of your income. In this case, they only take 5%, saying they want to keep costs as low as possible, and they also pass on payment provider fees to subscribers. Revue uses Stripe, which charges a 2.9% + $0.30 transaction fee to your readers.
On top of Revue's free plan, it also has a paid package, Revue Publisher, which is aimed at more established content creators like big news sites and publications. Unsurprisingly, paid subscribers to get access to all Revue's free features, plus:
A custom newsletter theme

More money-making options with ads, sponsorships, and sponsored content

You can publish unlimited newsletters

Writers can collaborate by inviting unlimited team members to their account

You can acquire an unlimited number of subscribers

Newsletter quality check

.

All subscribers have to do is enable the "Approval workflow." This is found in the Newsletters tab, then click on "Edit profile" and 'approval workflow." This permits a real-life human Revue reviewer to quality check your newsletter.

A multi-newsletter sign-up page where subscribers can sign up to any/all your newsletters
For more information about Revue Publisher's costing, you'll have to contact the platform directly and join their waiting list.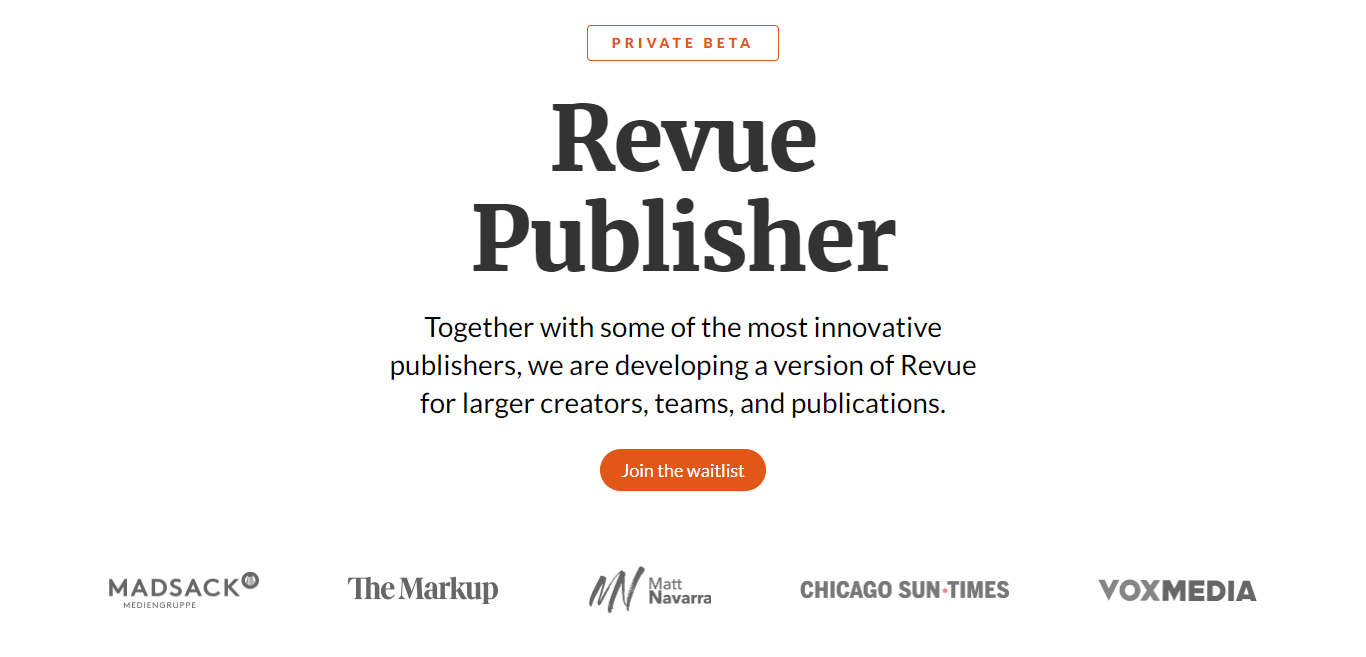 Substack vs Revue: Their Integrations
Substack doesn't offer any integrations apart from Stripe at the time of writing, which, like Revue, Substack uses to accept payments. In contrast, Revue offers plenty of integrations, including Twitter, Zapier, Facebook, Pocket, Instagram, Medium, RSS Feed, and WordPress.
Substack vs Revue: Frequently Asked Questions
Last but not least, we've rounded up a few questions you may still have about these two publishing platforms and provided the answers; let's take a look:
Question: What email ID do I have with Substack and Revue?
Answer: When sending newsletters to your audience, you'll want an email address that tallies with your domain name, but of course, for that to happen, the platform needs to support it.
If you publish via Substack, your email address uses a Substack domain – for example, [your publication's name]@substack.com. However, with Revue, you get to choose whether you connect your own custom domain or stick with Revue's subdomain.
Question: What kind of self-help resources does Substack offer?
Answer: There's a 'Resource' section on the Substack website, where you go to learn more about launching your publication. There are video tutorials on creating a video, publishing a post, and 'A guide to your Substack metrics.
There are also topics including 'Getting your first 100 sign-ups' and 'Setting up your Substack.' Substack also links individual writer testimonials about how they started with Substack and grew their audience.
The Help section divides support topics depending on whether you're a writer, a reader, or your query is more general.
Lastly, there are specific writer programs and events worth checking out. These include 'Bridge,' a writer's two-month mentorship program that's entirely free.
You can also apply for Substack's Fellowship for Independent Writers. This is a newly announced initiative aimed at helping independent writers launch their newsletter careers. The top applicant is awarded a whopping $100,000, and four other applicants will receive $25,000 advances!
Finally, Substack also has a legal support program offering free legal advice and support to writers "who face legal uncertainty or pressure because of their work." Examples of legal support include pre-publication legal reviews of individual stories and help with cease and desist letters.
Question: Does Revue offer any self-help resources?
Answer: There are two main strands to Revue's self-help resources. There's a blog on topics such as rules for great newsletters and tales of success stories. Elsewhere, there's a Help Center.
Here you'll find articles organized into categories such as General, Account, Paid Newsletters, Integrations, and Building and sending a newsletter. You can then find tons of articles under each of those sub-sections. There's also a search bar where you can type in your topic.
That said, overall, we felt that Substack's support offer was much more substantial than Revue's.
Our Final Thoughts
Now you know more about Substack and Revue, you're hopefully ready to make a decision about which one to use or to keep on researching until you find the right platform for your needs. Both offer an abundance of free tools that enable you to set up and send out newsletters about your chosen niche or niches.
Apart from one being cheaper than the other, the main difference is that Revue, at first glance, seems to offer more. You can grow into their paid platform if you're super successful and join the big guns.
That aside, if you're more interested in a forum solely for independent writers with tons of free resources, then Substack is the way to go. This is especially true if your writing business is a side hustle or hobby.
Although Substack takes a bigger cut of your earnings, their support and self-help documentation is of a much higher standard than Revue's – which may come in handy if you're unsure where to start!
In contrast, Revue is the better option if you're a more established content creator, team, or publication who's happy to pay for your newsletter platform.
So, which will you opt for? Revue or Substack? Or, are you considering an alternative service? Either way, let us know how you get on in the comments box below. Good luck!