Your business is starting to hit its stride and you are exhausted spending another late night manually entering payroll.
Fortunately, there are full-service payroll software options that can take this burden off your plate. You might even save money after you account for all the time you will save researching compliance, benefits, and adding new team members.
Gusto and ADP are both full-service payroll solutions (payroll service) that offer additional bells and whistles. While Gusto is built for small businesses, ADP can grow with your business serving 1,000+ employees.
Which one should you choose? Check out our in-depth comparison to see which payroll solution is right for your business.
Main Differences Between Gusto vs ADP
The main differences between Gusto vs ADP are:
Gusto offers employee payroll advances, whereas ADP does not.
Gusto provides transparent pricing, whereas ADP requires a consultation for custom pricing.
ADP offers HR outsourcing, whereas ADP does not.
ADP provides a mobile app, Gusto is only available on desktop (mobile-friendly website).
Gusto vs ADP: The Similarities
Employee self-onboarding
New hire reporting
Direct deposit
Contractors and freelancers payroll support
Online pay stubs
Tax compliant
Access to HR experts
Time-tracking
Health benefits
Retirement investment options
Management tools
Seamless third-party integration
Gusto vs ADP: What is Gusto?
Gusto is a comprehensive payroll solution that combines online payroll with employee onboarding and benefits, pay advances, and investment opportunities.
Users appreciate its transparent pricing, intuitive user interface, and unique features like Gusto Cashout™ which helps employees access money early directly from their next paycheck.
Gusto vs ADP: What is ADP?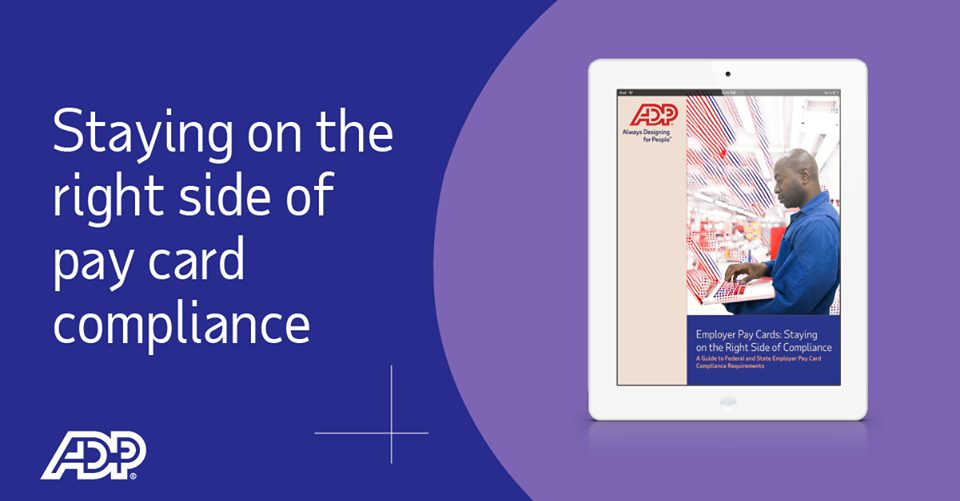 ADP provides payroll provider and HR services for any size business. Its professional software helps companies automate day to day tasks, meet compliance, tax regulations, and employee records.
ADP's HRIS solutions seamlessly connect with your existing HR, payroll, and financial applications and apps in the ADP Marketplace. The recommended software is divided into three categories Under 49 Employees, 50-999 Employees, and 1,000+ Employees.
Under 49 Employees
RUN Powered by ADP® (ZipRecruiter integration)
ADP TotalSource® (Fortune 500®-caliber employee benefits)
ADP® Comprehensive Services (HR team support)
ADP Streamline® (global payroll)
WorkMarket® an ADP® company (freelancers/contractors management)
Compass® Powered by ADP® (customized coaching)
ADP® Mobile Solutions (mobile payroll app)
Wisely® by ADP (employee pay card program)
50-999 Employees
Above, plus,
ADP Workforce Now® ( ADP Workforce comes with analytics)
ADP SmartCompliance® (human capital management (HCM) integration)
ADP® Celergo (global payroll)
StandOut® Powered by ADP® (employee engagement)
ADP® DataCloud (HR reporting)
1,000+ Employees
Above, plus,
ADP® Comprehensive Outsourcing Services (outsourcing for payroll, HR, talent, etc.)
ADP Vantage HCM® (U.S.-based multinational businesses)
ADP Enterprise HR® (comprehensive HCM)
ADP® Global Payroll
ADP GlobalView® Payroll
Gusto vs ADP: The Main Features of Gusto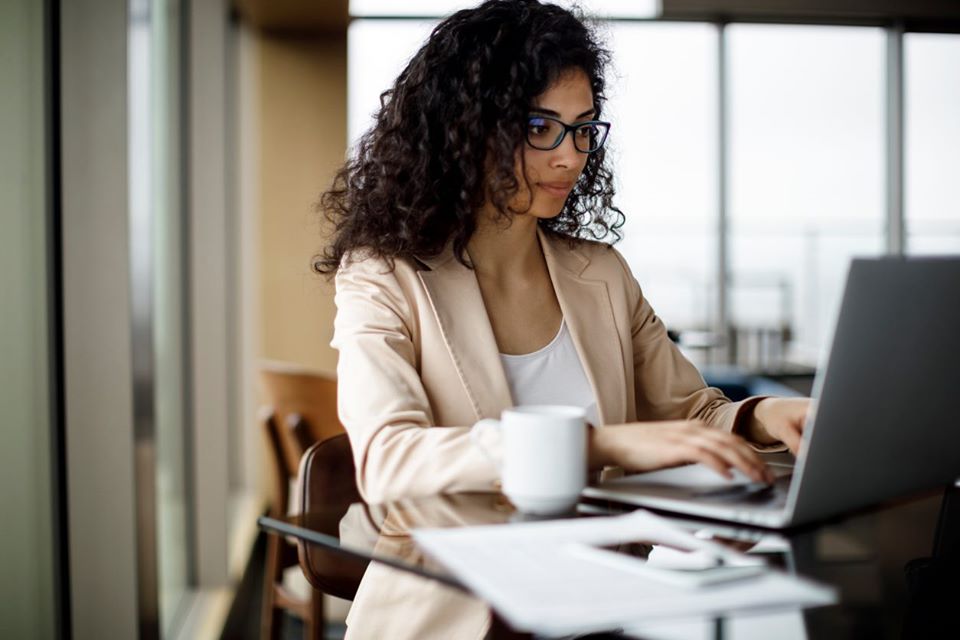 Full-service Payroll Service
Deciphering payroll can eat up a lot of time. Gusto runs payroll in just a few clicks and even has an automatic option. Easily pay employees and contractors either hourly or salary. Gusto takes care of payroll tax forms and filings. It even supports paying workers in different states.
Gusto integrates with popular accounting software including Xero, QuickBooks, QuickBooks Online, Clover, TSheets accouting software, and many more.
If you want to learn more about Gusto, and similar services, check our detailed review on Zenefits vs Gusto, SurePayroll vs Gusto, Gusto vs Justworks, Gusto vs Square Payroll, or even Gusto vs Paychex just to compare other payroll service options…
Employee Benefits
Gusto is more than just payroll software. It also integrates health insurance, life insurances, and financial investments. Have you switched to Gusto for payroll but have other benefits somewhere else? Gusto can help you transfer services so you can take advantage of multiple services all in one place.
Gusto does not charge any fees to be an administrator for your health insurance needs. You only pay toward the premiums, which is a standard cost across the board.
Medical, dental, and vision insurance
Health savings accounts
Flexible savings accounts
401(k) retirement plans
Commuter benefits
529 college savings plans
Life and disability insurance
Time Tracking
Have hourly workers? Gusto helps you stay in compliance by tracking employees' lunches, breaks, and overtime.
Compliance Help
All employee tax forms (payroll tax) are stored online for easy access. Gusto takes care of local tax laws so you don't have to worry about tax law changes. However, users warn that some tax changes can be delayed in taking effect in Gusto, so be aware that Gusto isn't full-proof.
Gusto helps you with compliance regulations for the following agencies ACA, ERISA, Dept. of Labor, IRS, HIPAA, COBRA.
Employee Onboarding
Trying to add the best talent to your team? Use Gusto to send personalized offer letters that your prospects can't refuse.
Gusto allows your employees to onboard themselves to the online payroll service. Employees can enter personal and banking information to minimize errors. Plus, no onboarding paperwork for you.
Employees can also access pay stubs, benefits packages, and request paid time off (PTO). Each employee file houses key employee records all in one place so you don't have to go searching for important documents.
Gusto Cashout™
Gusto Cashout is a benefit that all of your employees will appreciate. It allows the employee to borrow money in between paydays for an unexpected expense.
With a few clicks, the employee can choose a custom amount and money is in their account in as little as one business day. Once the next payday rolls around, the amount is automatically deducted from their current paycheck. There are no fees or interest charges for the service.
Best of all, this service is also free for employers. Limits on borrowing based on the employees' estimated earnings, protect the employee from incurring too much debt.
Gusto Cashout doesn't affect your books or payroll.
To be eligible for Gusto Cashout, the W2 employee must be 18+ and currently paid through direct deposit. Currently, Gusto Cashout is available in all states except AZ, MA, ME, WV, IL, NV, NH, NJ, ND, OR, PA, VT. Other requirements may apply.
Gusto is currently working on a savings option that would funnel money from your paycheck directly into a personal savings account.
Employee Surveys
Gusto can collect anonymous surveys from your employees so you are in the know when an issue arises or improvements can be made.
The Main Features of ADP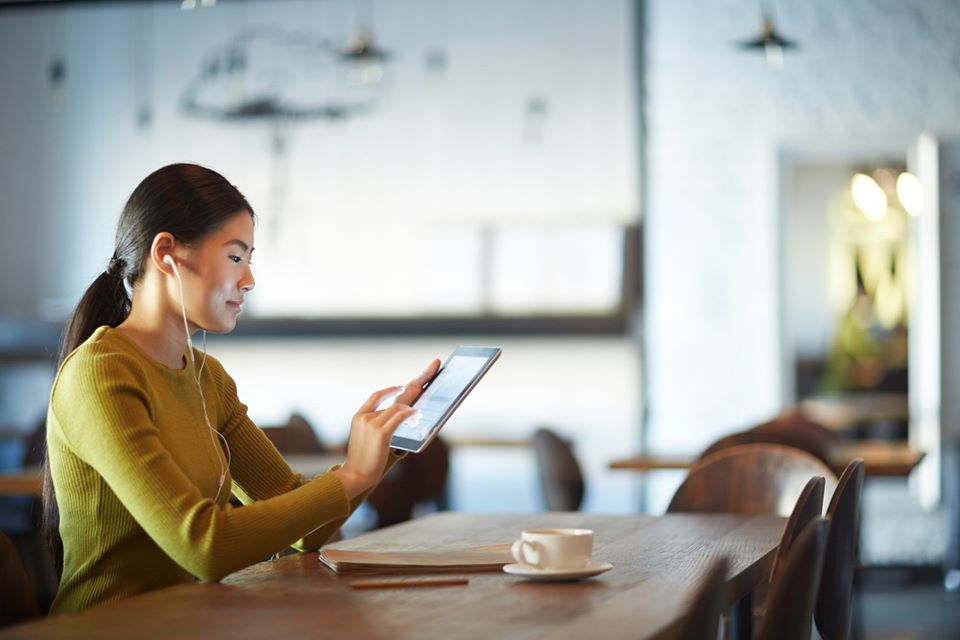 Full-service Payroll Processing
Whether you have 1 or 1,000+ employees, ADP can provide full-service payroll in just a few clicks. When you sign up for midsized to enterprise payroll (50-1,000+ employees), you will benefit from employee data syncing, integration with ADP's HR, talent, time tracking, and benefits.
ADP also offers direct deposit and mobile payroll options. This gives employees quick access to regular pay stubs, benefits, attendance, and time-off requests on the go.
Employee Benefits
Even small business owners have the option of providing retirement and group health insurance to their employees. ADP retirement plans include 401(k), Simple IRA, or SEP-IRA plans to help your employees invest in their future.
Health benefits from Automatic Data Processing Insurance Agency, Inc.'s (ADPIA®), an affiliate of ADP, LLC, will walk you through payroll integration and deductions. Great for businesses with up to 150 employees seeking enrollment.
Business insurance is also available for workers' comp and general liability. Easily integrate your premium payments through ADP's Pay-by-Pay® Premium Payment Program. It is important to note to use ADP's Pay-by-Pay® Premium Payment Program you must participate in workers' compensation insurance through ADPIA with carriers who use ADP RUN payroll services.
Time Tracking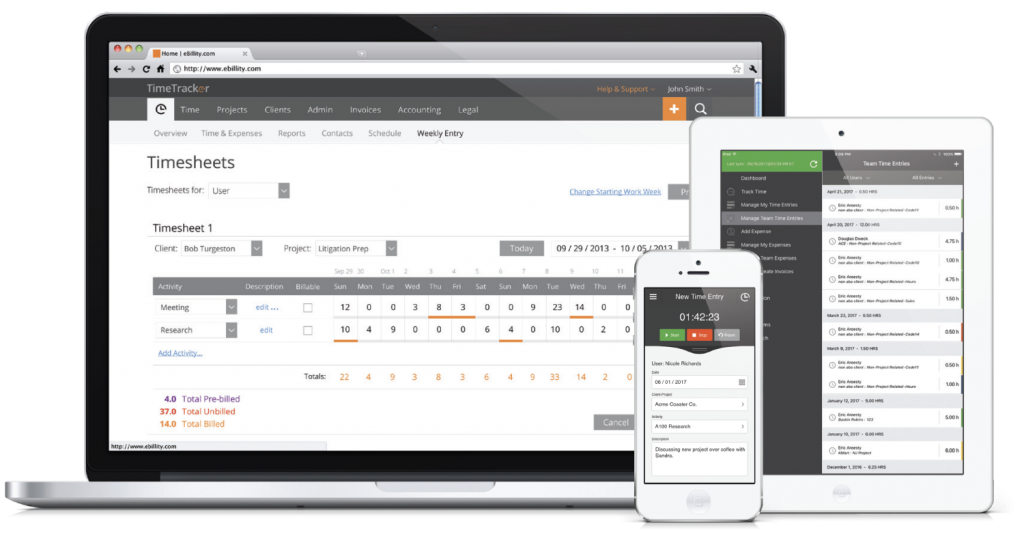 Tired of manually time tracking your employees? ADP's automated solution tracks your employees' attendance and hours worked by having your workers clock in and out using a computer, mobile device, or time clock.
You can even create and edit your employees' schedules online. Easily track when your workers need a day off so you can integrate with your online schedule. Plus, this data auto flows into your ADP payroll software so the adjusted payment is processed correctly.
Manager Dashboard
Use the manager dashboard to see who is currently working, if anyone was late, and if any decisions need to be made regarding efficient staffing. See hours worked and stay on top of any overtime costs.
Plus, you can run reports for supervisors and approve timecard changes to prevent delays in payroll.
Compliance Help
ADP offers compliance help for federal, state, and local regulations. Taxes are automatically calculated for you.
Employee Onboarding
Need to onboard a new employee or update an employee's position within the company? ADP makes this process as simple as filling out an online form.
Talent Management
Finding the best candidates for the position can take a lot of time out of your schedule. Let ADP work for you by helping create attention-grabbing job posts that will generate top-level candidates, hiring tools, and self-service onboarding that will make adding to your team a breeze.
Leader tools include personalized employee career development including identifying employee strengths and getting them up to speed on company culture. Plus, custom training, and competitive compensation for new hires and promotions.
Gusto vs ADP – Pricing
Gusto Pricing
Gusto is very transparent with its pricing compared to ADP. You can see all the features it provides with clear monthly costs per employee. There are four main monthly subscriptions, Contractor, Core, Complete, and Concierge.
Haven't hired W-2 employees yet? We can help you pay your 1099 contractors.
$0/mo base price plus $6/mo per person
Unlimited Contractor Payments
Contractor Self-service
Form 1099 Creation and Filings
Refreshingly easy payroll so you can get back to what matters most.
$19/mo base price, plus $6/mo per person
Full-Service Payroll
Employee Self Service and Profiles
Health Benefits Administration
Workers' Comp Administration
Best-in-class Support
Paid-time-off Policies
Employee access to Gusto Cashout™
Better HR tools so you can create a great place to work.
$39/mo base price, plus $12/mo per person
Full-Service Payroll
Employee Self Service and Profiles
Health Benefits Administration
Workers' Comp Administration
Best-in-class Support
Permissions
Employee Offers and Onboarding
Simple time tracking
PTO policies and Time-off requests
Employee Directory and Surveys
Employee access to Gusto Cashout™
Certified HR pros and resources so you don't have to go it alone.
$149/mo base price, plus $12/mo per person
Full-Service Payroll
Employee Self Service and Profiles
Health Benefits Administration
Workers' Comp Administration
Dedicated Best-in-class Support
Admin permissions
Employee Offers and Onboarding
Simple time tracking
PTO policies and Time-off requests
Employee Directory and Surveys
Certified HR Pros
HR Resource Center
Employee access to Gusto Cashout™
Gusto doesn't require a long-term contract.
ADP
ADP pricing is based on what services you need and how many employees you want to add. Pricing is not published and quoted based on your needs. Basic plans start at $10 per employee, per month, featured plans can cost over $20 per employee, per month (or whatever pay period you use).
A typical small business of 10-15 employees would cost around the $160 mark, with possible start-up fees ($25), and a yearly fee for processing any payroll taxes.
Since ADP pricing can vary greatly, its best to speak with an ADP rep to see what they can offer for your current budget.
Gusto vs ADP – Support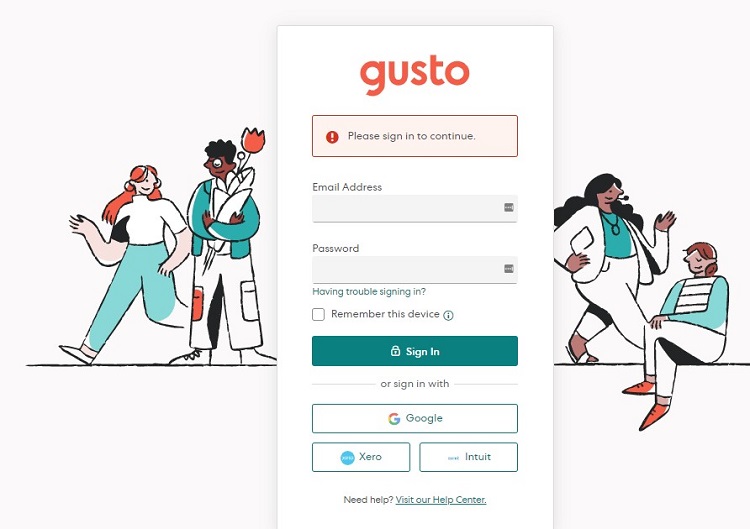 Gusto
Gusto has an extensive FAQ help section for common questions.
If you would like to contact them, you must log-in to your account. Once logged in, you can choose from the following two main categories, "my account" (forms) and "other" (personal account details and health insurance).
Gusto's team includes certified payroll professionals, licensed insurance brokers, and certified HR specialists. They are available via email, phone, and chat.
ADP
ADP has a toll-free automated customer support line (1-844-227-5237) that is available 24/7. You can also access support services through an individual employee or a company administrator portal on the website. Need chat support? ADP offers that too.
If you are looking for superior customer service, ADP wins in this category.
Gusto vs ADP – Pros and Cons
Gusto
Pros
Time tracking
Easy to use even for tech-challenged
Online access to paystubs
Can be set up by the average business owner
Removes the need for an outside accounting firm (or accounting software)
Employee feedback service
401K capability
Ability to schedule vacation time, PTO, raises, bonuses
Tax compliant, integration with Turbo Tax
Automatic reminders for scheduled tasks (i.e. payroll, benefits, etc.)
Multiple subscription plans
Employee self-onboarding
Can handle contractors and freelancers
Supports off-cycle payroll
Workers' compensation
Accessible from a mobile device
Supports payroll in all 50 states
Cons
Support issues with 941 misfilings
Generic customer support
Confusing insurance process
Import mapping for complex payroll
Does not support employees working in two states
Payday lending
Employee withholdings are better entered by an experienced bookkeeper
No direct integration with Quickbooks
401K option is clunky
More expensive for smaller companies
Benefit features only available in 26 states
Not for large businesses
ADP
Pros
Customizable pricing, choose only the features you need
Comprehensive feature set for payroll, HR, benefits
Can scale as your business grows
Video tutorials and online training for advanced use
Mobile-friendly
Online pay stubs
Finger punch system for employee hours
Compliant for payroll and filing taxes
Cons
Customer service is lacking when an issue comes up
Data reports lack detail
Accessing previous years' data is difficult
Lower package tiers lack access to features like performance management and recruiting manager
Pricing is different with each customer (not transparent)
A fee every time you process payroll
Most HR features are additional
Some integrations are not optimized
Frequently Asked Questions
How is Gusto different?
Gusto builds payroll and benefits in-house so everything stays in sync. Generally is tailored to larger businesses, and features such as payroll and benefits are add-ons—not core to their platform. They also charge extra fees per employee for these additional services.
How much is ADP per month?
More advanced plans cost around $23 per employee, per month. On average, you can expect to pay around $160 per month for 10 to 15 employees. You may also have start-up fees (typically around $25, though these are often waived) and yearly fees for processing taxes.
What is Gusto cashout?
Gusto Cashout lets employees get money between paydays based on estimated wages. It's a simple way for employees to cover expenses when savings aren't enough, and funds are automatically paid back from the employee's paycheck.
Gusto vs ADP – Which One is Best?
If you run a small business, Gusto is the clear winner compared to ADP. Gusto is easier to learn, offers complex features without an extra cost (like employee tax processing and unlimited payrolls that ADP charges extra for), and provides quick, comprehensive reporting.
ADP is more suited for larger businesses that need a customized payroll and HR solution. ADP provides users with a broader range of payroll software solutions which may be better suited for advanced users. ADP also offers a 24-hour toll-free support line so you won't have to wait to solve any issues.
For transparent pricing, employee-focused features, and turn-key usability, Gusto is our top pick.
Further Reading on Payment & HR Software: