Last Updated on August 17, 2022 by DMEditor
Customers don't tend to just stumble over your products. To be found on the web amongst thousands upon thousands of other stores and entrepreneurs, brands have to jump multiple hoops to get noticed. You can tweak your SEO, create blog content, and give shoutouts on social media. But without a consistent strategy and relevant data at your fingertips, it can be hard to please the algorithms and get the attention of your buyers.
This is where tools like Hootsuite and Hubspot come in. Both platforms help with your inbound marketing strategy, but they do so in significantly different ways. Hubspot is an inbound marketing suite that improves your visibility of the customer journey. Hootsuite, on the other hand, helps you master social media marketing and management.
While their features overlap in places, one tool might suit your brand more than the other. Comparing Hootsuite to Hubspot in its entirety would be like comparing a hammer with a toolbox. So in this review, we'll primarily look at how these platforms compare for social media marketing and managing.
We'll see how they compare in a head-to-head comparison!
Let's dive in.
Main Differences Between Hootsuite vs Hubspot
The main differences between Hootsuite vs Hubspot are:
Hootsuite solely focuses on social media management and marketing, whereas Hubspot's features extend beyond that to include things like CRM and sales functionality.

Hootsuite's more affordable if you're looking for a social media marketing and management platform, whereas HubSpot's social media features are locked behind its more expensive plans.

Hootsuite displays your social streams in independent tabs for each channel, whereas Hubspot doesn't separate its channels as visibly. Hubspot empowers you to integrate your social media strategy into the broader customer journey to create comprehensive buyer personas. In contrast, Hootsuite focuses solely on social media engagement and has fewer analytic capabilities.
Hootsuite vs Hubspot: Their Main Similarities
Both Hootsuite and Hubspot enable you to optimize and schedule social posts to publish at the best possible time for audience engagement.

Both offer browser extensions that let you preview content from the web to publish on social media without specifically logging into the tools.

Hubspot and Hootsuite both provide streamlined inboxes where you can manage messages from separate social channels and messenger apps from one centralized place.

Both Hootsuite and Hubspot offer free plans.
About Hootsuite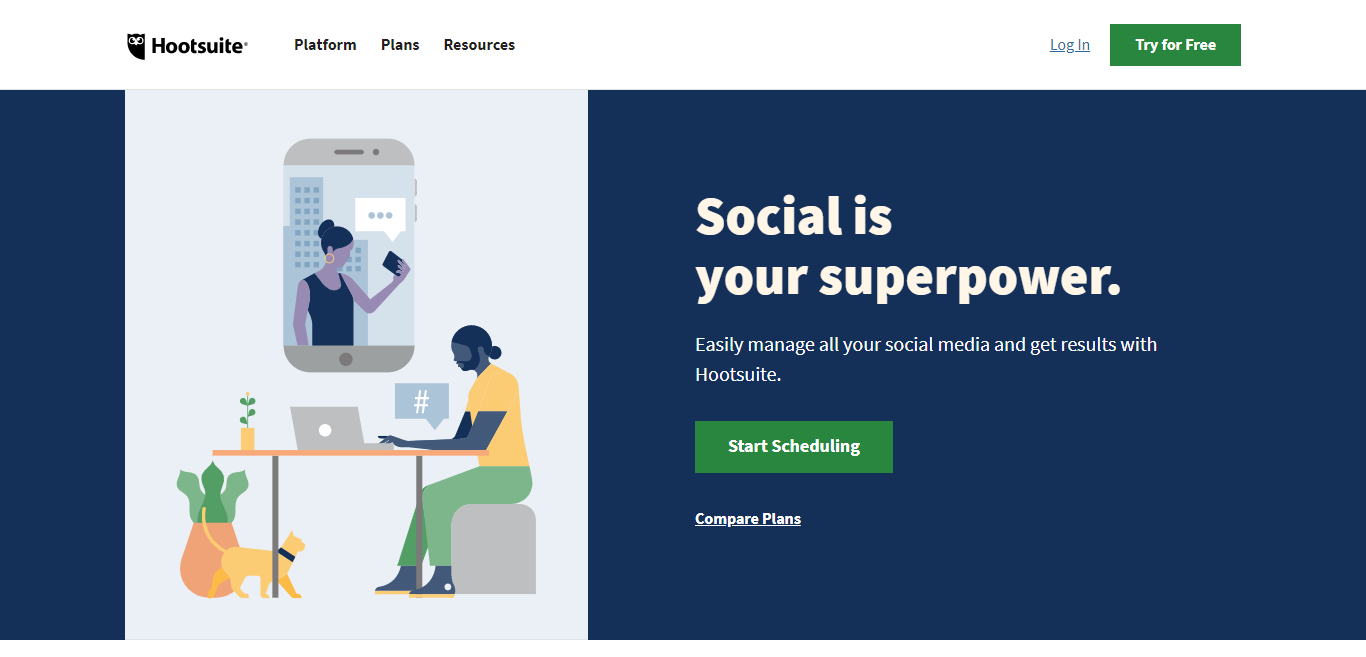 Founded back in 2008, today, it's one of the leading social media management platforms on the market with more than 18 million customers!
Hootsuite is explicitly designed to help businesses connect with prospects on social media. If you've ever tried getting a social account off the ground, you know how difficult that can be.
Thanks to Hootsuite, scheduling posts, observing the effectiveness of your content, and improving your social strategy are made easy.
About Hubspot
Founded in 2004, Hubspot has 11 offices worldwide and over 100,000 customers in more than 120 countries.
Like Hootsuite, Hubspot also offers social media management features. However, unlike its competitor, Hubspot's a fully-fledged online marketing solution. It provides a complete inbound marketing suite to scale your business, including a CRM, marketing, and sales hub. You'll also find plenty of tools to help boost productivity, manage deals, measure ROI, provide customer service, and publish self-help documentation. To name a few!
Thanks to Hubspot's vast array of features and scalability, it's a suitable solution for larger businesses and enterprises.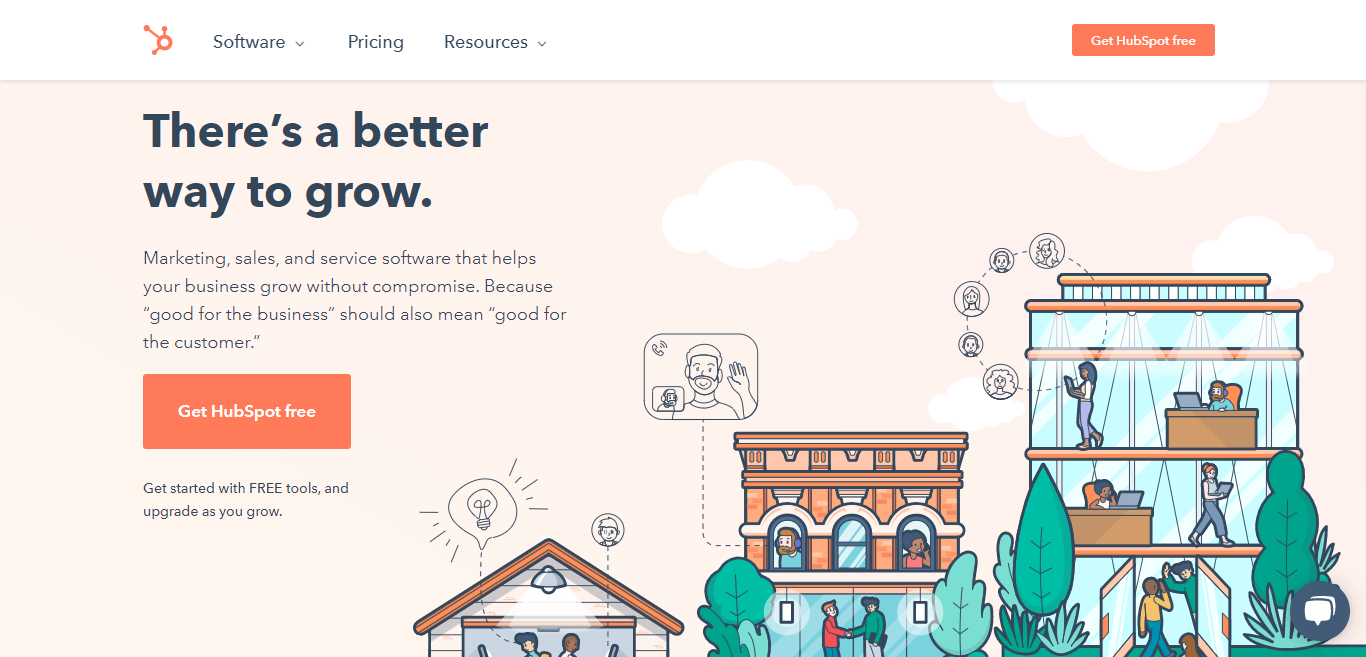 Hootsuite vs. Hubspot: Their Core Features
Hubspot offers so many extensive toolkits for different aspects of your business that it would be impossible to list them all here. As social media management is where these two tools overlap, we're zoning-in on these features.
First up, Hootsuite:
Hootsuite's Core Features
Hootsuite enables you to manage all your social media platforms from the convenience of one centralized place. If you're offering omnichannel customer service, this is integral to the efficiency of your strategy. That said, let's explore Hootsuite's specific features in more detail:
Customer Service
All social messages are redirected to one inbox. This doesn't only include DMs. Each interaction with your brand, like a comment on one of your posts, for example, gets its own item in the inbox. That way, you won't miss out on any audience engagement.
From one centralized place, you can reply and manage conversations across all your social media platforms. Needless to say, this makes providing efficient customer service via your customer's preferred channels much more straightforward.
With Hootsuite's Team plan, you can also register coworkers to your account and assign conversations directly to different agents. You can even tag messages to feature in your analytics.
If you opt for Hootsuite's most expensive plan, you'll also unlock automatic conversation routing and tagging.
Where Hootsuite really shines is its social media planner. Here, you can create and schedule posts from within Hootsuite and simply choose which social profiles to upload content to. Hootsuite's intuitive editor allows you to drag-and-drop content onto your calendar and easily edit when a post's scheduled for and what it entails.
Hootsuite currently supports Instagram, Facebook, Twitter, YouTube, LinkedIn, and Pinterest. You can crop and edit images from within this editor to ensure the correct resolution for different channels, like square images for Instagram or wide-screen posts for Facebook.
Hootsuite also enables you to monitor all of your social profiles from your main dashboard. From here, you get an overview of all your social feeds and can see your scheduled content and what it will look like in your feed).
Should you ever need to, it's also easy to suspend posts. On top of that, Hootsuite's auto-scheduling tools make optimizing the timing of your posts for audience engagement a breeze.
If you're working alongside a team, you can enable an approval process so that posts are run by you before they're published. That way, you can ensure that inappropriate content or posts that aren't entirely on-brand don't slip through the net.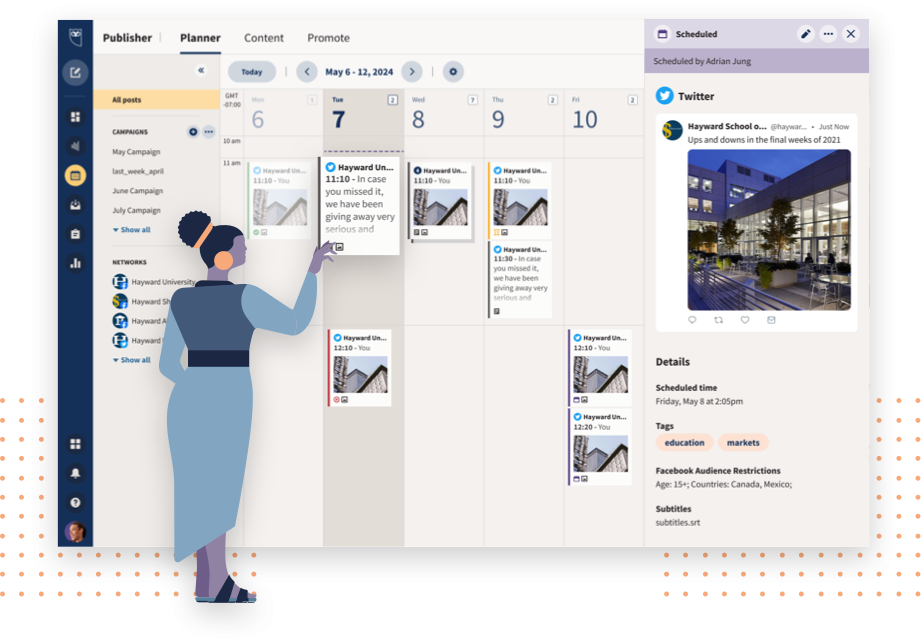 Hootsuite also provides access to asset libraries. However, if you have your own images, icons, graphics, etc., it's easy to maintain your own content library. This enables you to re-use brand imagery to create fresh content effortlessly.
On top of that, you can source content from across your networks by creating dashboard streams that search by location, hashtag, or a specific keyword. This comes in handy if you ever want to re-post older content or search through your existing content for cross-linking opportunities!
You can also post content from other websites without logging into your social accounts using the Hootlet extension. This is a social sharing tool that allows you to share content to your social channels without leaving the website you're on. You can use this to cross-promote content from your different channels or share content that's relevant to your brand.
Boost your Facebook or LinkedIn posts with ad spendings. You can automatically (or manually) boost organic Facebook content within Hootsuite's post composer. This works wonders for targetting specific audience segments and niches. It's just as easy to create sponsored content on LinkedIn.
Hootsuite Ads is an add-on product that allows you to budget your ad spending and simplify your advertising workflow. You'll also get an overview of all your search and social campaigns, and their results. Plus, you can utilize A/B testing to establish the components of your most successful marketing campaigns, including:
Post length

Post style: quote vs key statistic, for example

Uses of emojis

Use of punctuation

Tone of voice
Finally, Hootsuite's also packed with valuable insights to help you better understand your customers and their journey. You can create custom streams to hone in on specific topics like a particular hashtag or keyword, for example, to only pull up content relevant to that filter. You can also enable social listening to easily see what customers say about you. (Or use this tool to monitor the competition!)
You'll also get a complete overview of your social media performance. You can set performance benchmarks and monitor your improvements. Reports are fully customizable, making it easy to distribute facts into bite-sized reviews.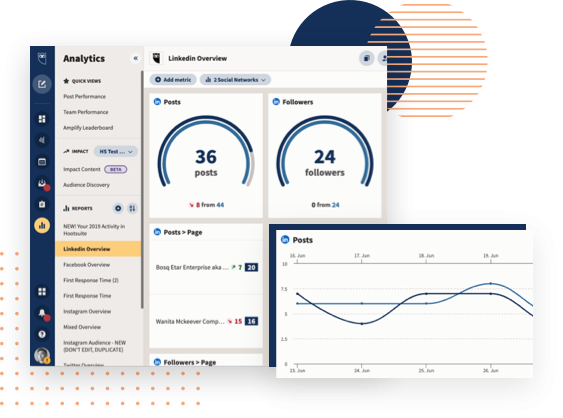 Hubspot's Social Features
Hubspot's social media features are included in its Marketing Hub. This means that outside of social media, you can also utilize different marketing channels. That said, let's take a closer look at what Hubspot offers:
Interaction Management
First things first, like Hootsuite, Hubspot provides one centralized inbox for all your channels. From here, you can see, manage, and reply to conversations. Tied in with Hubspot's other management features, you can delegate mentions, responses, and follow-ups to team members, making it easy to collaborate with your marketing team, all from one inbox.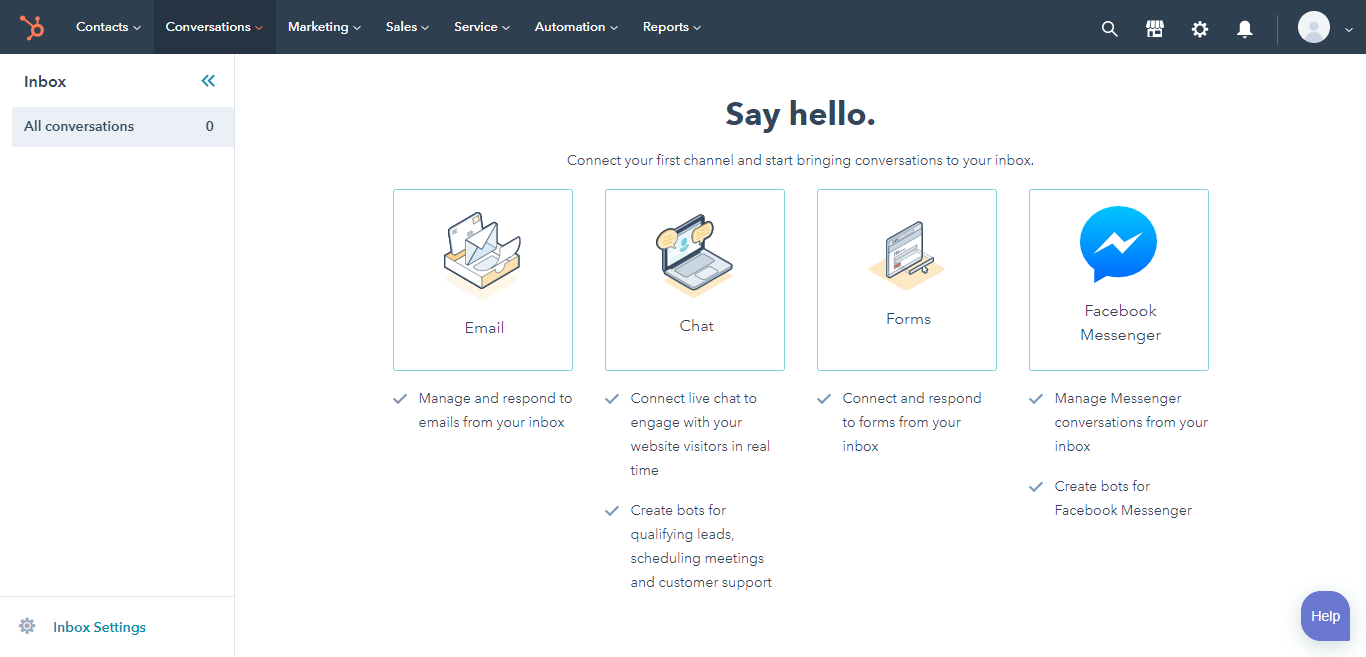 Hubspot supports Twitter, Facebook, WordPress, Instagram, Google+, LinkedIn, and YouTube. Like Hootsuite, you can also schedule posts and optimize them to publish at the best possible time.
You can also publish to social media from the same place you build marketing campaigns. For example, if you created your blog with Hubspot, you can automatically publish blog posts to social media.
Also, similar to Hootsuite, you can use Hubspot's Chrome extension to schedule posts using content from outside the platform.
Superior Analytics
Hubspot's analytics dig deeper than Hootsuite's. These comprehensive reports provide an overview of all your marketing efforts, including the social platforms having the most impact. You can also monitor how individual posts performed, how many visitors clicked a URL, went to a landing page, etc. All this info creates a clearer picture of your buyer's personas.
Hubspot also allows you to track the entire customer lifespan from when they first engaged with your social media through to when they make a purchase. Hubspot's free CRM features allow you to collect and store information on your most valuable customers, and the marketing hub allows you to track and manage these leads from one database.
However, Hubspot's social media monitoring falls a little short when compared to Hootsuite. Hubspot comes with a social stream, but this isn't as organized as Hootsuite's independent social tabs.
Hubspot lets you review all activity inside your inbox stream. So this includes engagement from all of your connected social media accounts. While you can filter this information, you can't permanently organize your streams into separate feeds like Hootsuite allows you to do.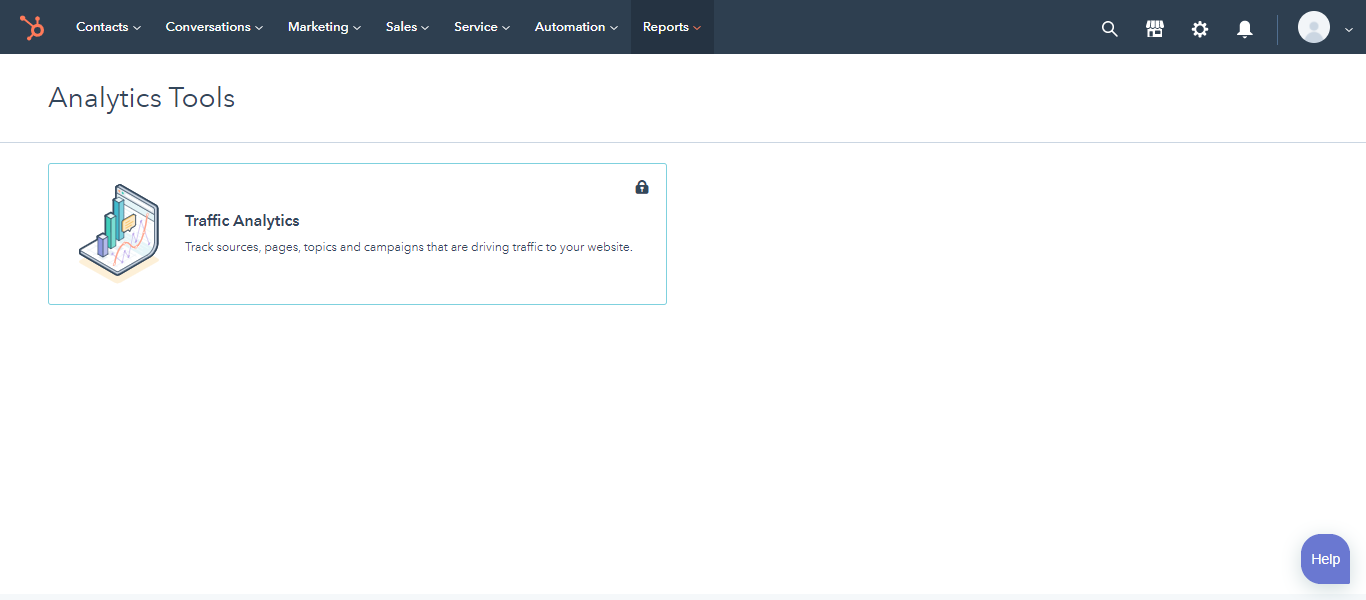 Hubspot's Other Features
Although we're focusing predominantly on social media, it wouldn't be fair to bypass Hubspot's vast range of other features. Aside from the aforementioned social features, Hubspot comes with CRM, marketing, sales, service, and operations solutions.
These are all separate products with a vast range of features. But you can bundle these products together, or simply make use of the free versions of each of these tools.
Not to mention, Hubspot's social features are just one part of its broader marketing suite. If you opt for its marketing hub, you also get access to:
Email marketing capabilities

Sales email automation

An online form builder

Landing page creation

Email tracking

Ad campaign management
Hubspot's free CRM enables you to keep detailed records of your customers to better understand the entire customer journey. You also get a live chat for your website and conversational bots to help keep customers engaged.
Hubspot's free customer service features provide all the capabilities of a help desk. I.e., you can:
Create and publish self-help documentation

Direct live-chat queries to appropriate support agents

Manage all support tickets and communications from one dashboard
Hubspot is capable of a lot. So, we recommend visiting its website to get an idea of just how much it can achieve with its different products and plans (or just its free suite.)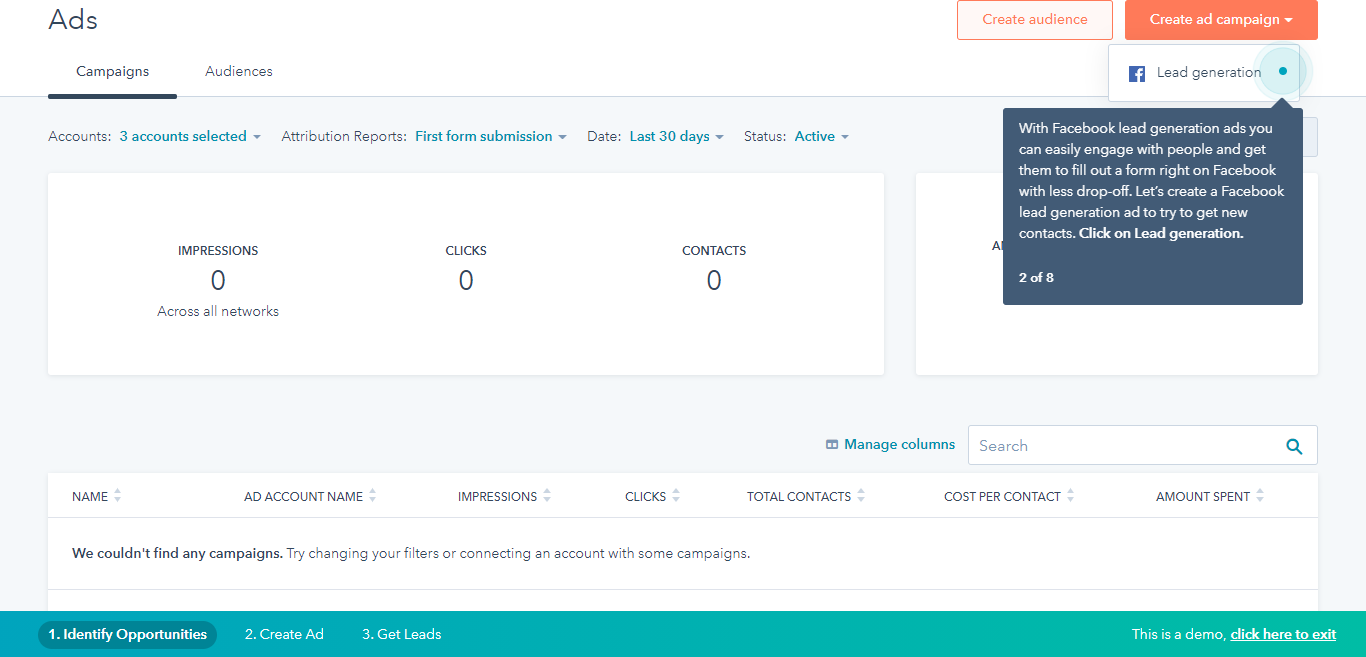 Features: The Winner- Both!
When it comes to social media functionality, the victory goes to Hootsuite. It provides everything you need to run a successful social media strategy and robust analytics. We love the separate social streams. These make it easy to keep track of everything. Plus, the calendar planner makes scheduling social media content effortless.
But Hubspot shouldn't be ignored. Suppose your business is more established, and you want your social media strategy to tie in with your other marketing methods. In that case, Hubspot might be the better solution for you. Hubspot boasts similar social features while providing visibility over the whole customer journey. More specifically, it supports email marketing and paid ads to create a more holistic marketing platform.
Hootsuite vs Hubspot: Pricing
Inbound marketing tools don't come cheap, and Hootsuite and Hubspot are no exception. This makes it all the more important to look at precisely what they charge and consider whether it's worth it.
Hootsuite's Pricing
Hootsuite brings good tidings for small businesses and solopreneurs wanting a little help with their social media. It offers a limited free plan that allows you to connect two social accounts and schedule five posts, so you can plan a working week ahead and take some of the pressure off.
However, suppose social media scheduling is primarily what you're looking for. In that case, you can find similar tools with less limiting free plans. For example, Later offers 30 scheduled posts for a single social account on its free program.
But we digress.. let's take a look at Hootsuite's more expansive premium tiers. You can try the first two plans free for 30 days. Please note, the pricing below is based on annual billing.
Professional ($49 per month)
Hootsuite's cheapest plan allows you to:
Connect ten social accounts

Schedule unlimited posts

Access social messages from a centralized inbox.

Simple but powerful reporting on social media performance

In-dash live chat support

Automatically schedule posts

Access to the interactive planner where you can review and edit scheduled content.

You can also bulk-schedule posts so that multiple posts go out at once
However, the Professional plan limits you to spending £500 on boosts each month and one user. (Boosts are available for Facebook Ads and Linkedin Sponsored posts)
Team ($129 per month)
As the name suggests, this plan ups the one user limit. With the Team package, you can register up to three users to your account. You can also connect up to 20 social accounts and spend up to $2000 per month on boosts.
You also benefit from the following added features:
You can suspend scheduled posts.

You can generate customized analytics reports.

The automatic optimization of post-publication for maximum audience engagement

You can assign incoming messages to specific team members

You have control over user permissions
Business ($599 per month)
For this hefty hike in cost, you can connect up to 35 social accounts and register up to ten users. The restriction on boost spending is lifted to $5,000 a month. You can also tag messages in your inbox to classify them for analysis.
You can also pay extra to add:
Up to 15 additional users on top of your user allowance.

Enable paid and organic ROI reports

Social listening powered by Brandwatch
But unfortunately, we couldn't find information on how much these additions cost.
This plan enables you to:
Collaborate with your team

Streamline workflows and manage permissions

You can approve posts before they go live

You can authorize post templates and images, which you can store in your content library.

Campaign planning, tagging, and reporting features – Here, you can plan and measure ad campaigns with predefined tags to provide more granular insights.

60 minutes of 1:1 training

24/7 priority support.

Up to five of your members get platform certifications. The training for these qualifications is available via the Hootsuite Academy and normally costs $99.
Enterprise
Finally, there's the Enterprise plan. For more info about this package, you'll have to get in touch with Hootsuite's sales team for a quotation. However, we know that this plan allows you to connect with over 50 social accounts. You can also expand your user team and spend money boosting posts without limits.
Message tagging for analytics is automated, as are team assignments for support queries. A quarterly business review is also thrown into the mix, as are social selling features, employee advocacy tools, and single sign-on (SSO).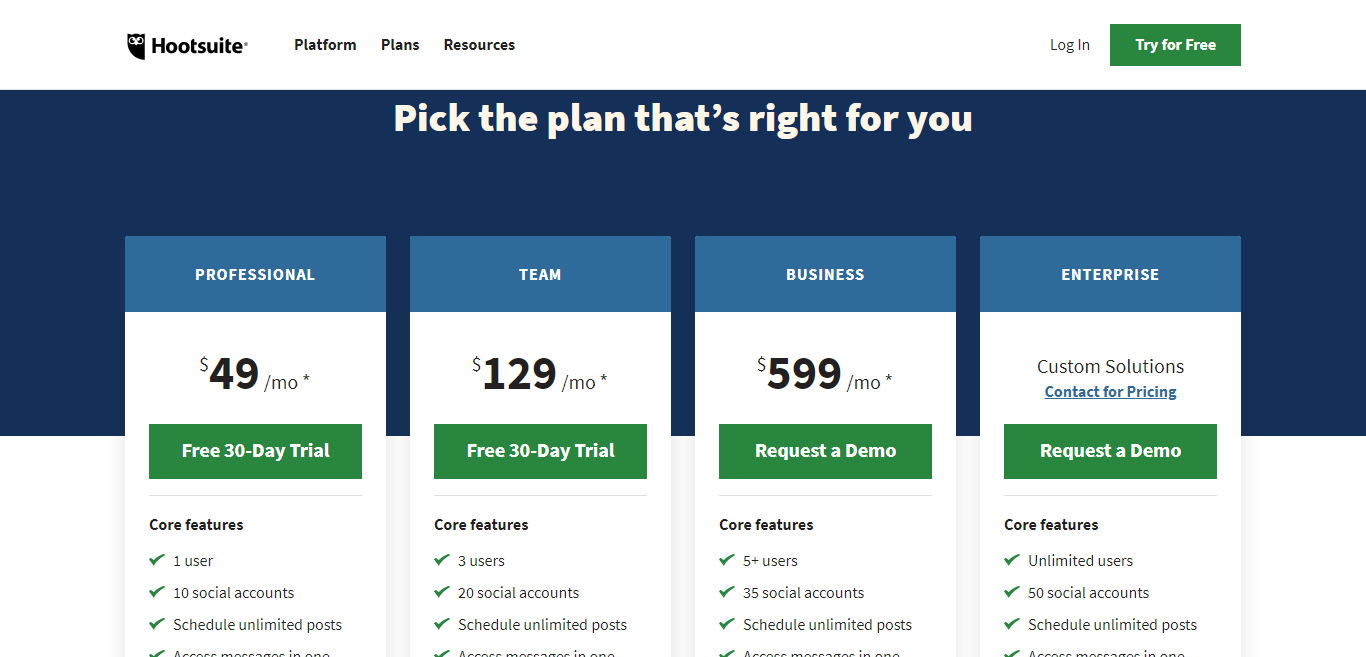 Hubspot's Pricing
As we've already hinted at, Hubspot offers several different products that handle various aspects of your business. As such, its pricing is understandably complicated. Rather than opting into one solution that does everything, you can choose the 'hubs' you're interested in and find different pricing options for each.
In light of that, we'll only highlight the plans that overlap with Hootsuite's features, i.e., the Marketing Hub. If you're interested in a full feature and pricing comparison, we recommend visiting Hubspot's website!
Each hub (marketing, sales, customer service, CMS, operations) offers a Starter, Professional, and Enterprise tier. You can also bundle Hubspot products to combine all starter packs, all professional packs, etc.
Additionally, you can pay monthly or annually. If you opt for the latter, you'll save 10%, which we've based our prices on below. As a whole, all Starter plans cost $45 a month.
The Free Plan
First off, the free inbound marketing suite offers "lite" versions of the paid products. Still, it allows you to add as many as 1,000,000 contacts and unlimited free users.
You'll benefit from these features in the free plan:
Marketing tools: Forms, email marketing, ad management, landing pages, and a conversations inbox
Sales tools: Live chat, conversational bots, team email, quotes, calling
Service Tools: Ticketing and email scheduling
Operational Tools: Contact management, app marketplace integrations, data sync
CRM tools: Contact website activity, companies, deals, tasks, and activities, contact
The Marketing Starter Pack
This will set you back $45 per month, and lets you:
Create landing pages

Manage ads

Offer live chat on your website

Enable conversational bots to redirect visitors to the right rep

You can create and publish lead capture forms on your site

Engage leads with email marketing and ad retargeting

Launch follow-up emails

Get insights into your contact's activity on your website and email health

Segment your list using properties in your HubSpot database to facilitate more personalized email content
Note: This plan only supports 1,000 contacts. If you need more, you can calculate the cost on Hubspot's website.
Another point worth highlighting: This package doesn't offer any social media features!
The Professional Plan ($800 per month)
This plan includes:
Marketing automation

Multi-language content

Smart content and reporting (you can use rules to show different content to different audiences and personalize the reports you generate about your website)

Blog creation

Recieve SEO recommendations and optimization steps

You can schedule posts, publish updates, monitor terms, and analyze performance on social media platforms, including Facebook, Instagram, Linkedin, and Twitter.

Use A/B testing to optimize your content

Host and manage video files within Hubspot's content library. You can even add CTAs and forms to your videos and track their performance

Build custom reports (website traffic analytics, campaign reporting, calculated properties, custom reporting).

Integrate with Salesforce.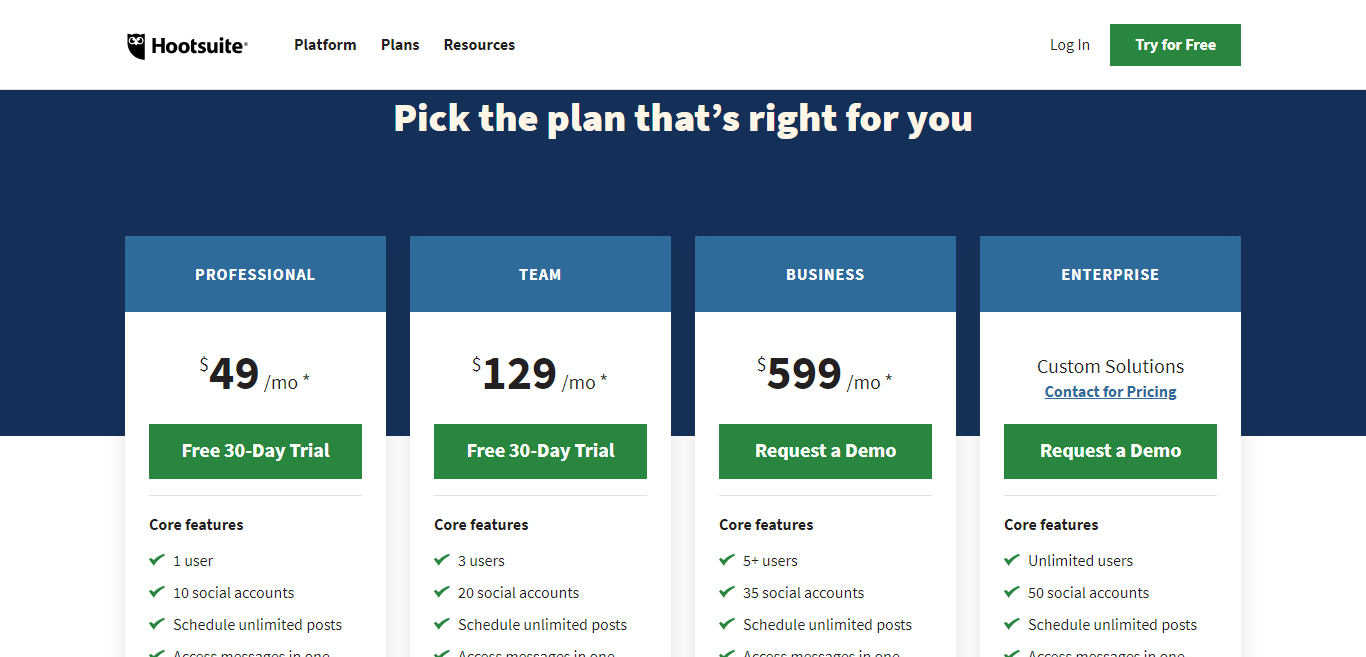 Hubspot vs. Hootsuite Pricing: The Winner is…Hootsuite!
This is a tough one! Hubspot undoubtedly offers immensely advanced capabilities, a wide range of free features, and incredible scalability. Accordingly, its pricing is complex and also quite expensive.
However, when we compare prices based on social media management and marketing features alone, it's clear that Hootsuite offers more transparent, straightforward, and affordable pricing. It comes with social media features from the get-go, whereas these are locked behind a considerable $800 fee with Hubspot.
Hootsuite vs Hubspot: Customer Support
With any new software, questions will likely crop up along the way. That's why clear documentation and helpful customer support are a must-have, especially with prices like these. That said, let's see what Hootsuite and Hubspot both have to offer in this department:
Hootsuite's Customer Support
Hootsuite offers 24/7 support via its own social channels – Facebook and Twitter. If you're on the Business plan, you can count on priority support.
Additionally, Hootsuite provides a detailed online help center where you'll find guides and articles on how to:
Manage accounts

Discover trends

Manage your settings

Use the mobile app

Manage ad campaigns
…and more.
There's also a resource library full of articles on how to achieve social media success. You'll also find webinars from industry experts and a link to the Hootsuite academy. The academy's brimming with free online courses. It also offers premium certification courses if you fancy training in social media management.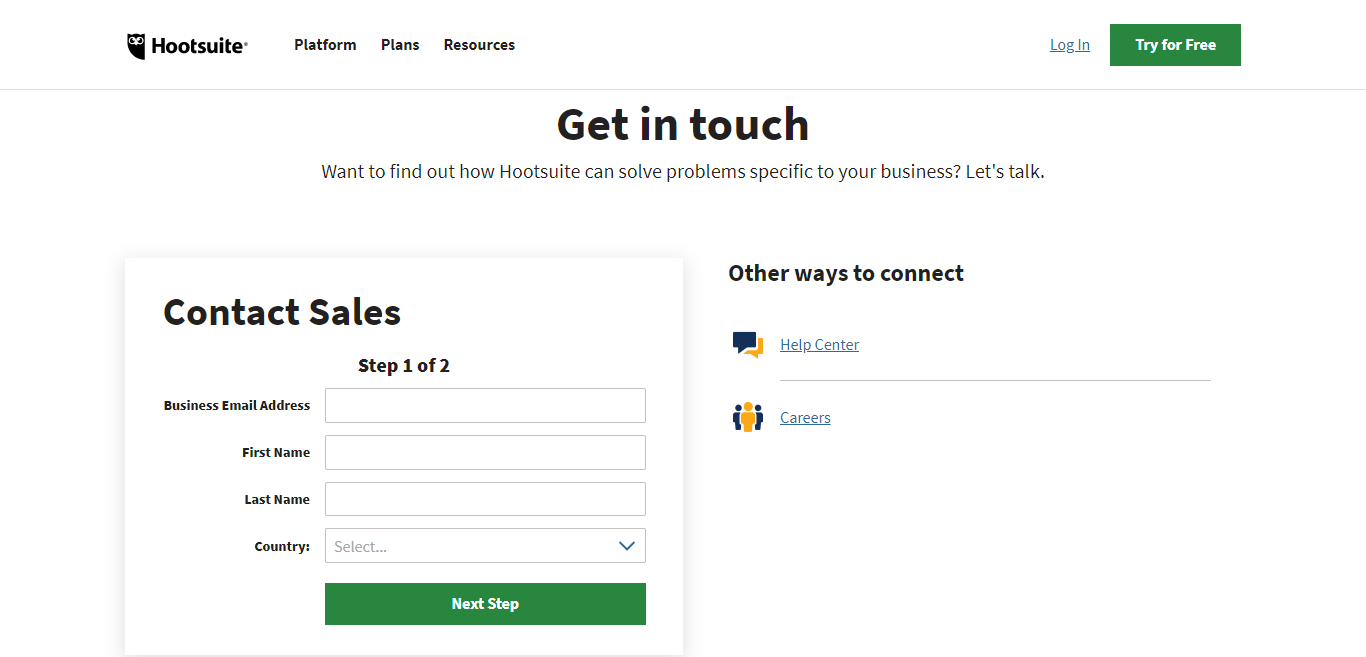 Hubspot's Customer Support
Depending on your chosen pricing plan, Hubspot offers customer support via various channels.
On the free program, your only support option is Hubspot's community. There are even local Hubspot groups you can join, which just goes to show how widely recognized the tool is. No doubt you'll find help easily amongst your peers.
You can also access Hubspot's self-help resources, including its extensive online knowledge base and the Academy. Like Hootsuite, you can obtain certifications by taking premium courses in the Hubspot Academy.
On top of that, you can also browse Hubspot's free business and marketing resources, including ebooks, workbooks, guides, and templates. You also have access to their customer blog, developer documentation, and solution partners. The latter refers to certified experts you can hire if you want a professional to complete a Hubspot-related project.
Starter plan users unlock email and live chat support. Then, with the Professional and Enterprise plans, you also benefit from phone support. A full staff of US reps is available from 7:00 AM to 8:00 PM EST. You can call 24/7 outside of these hours, but you might face longer waiting times.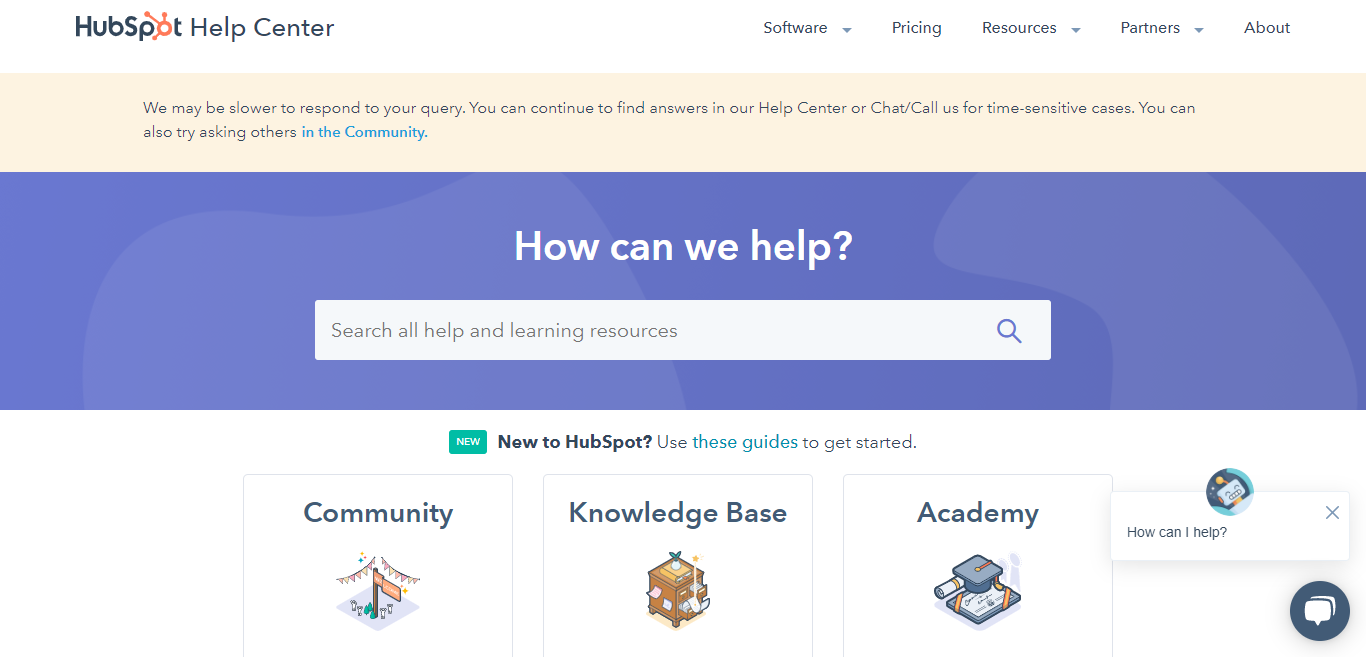 Customer Support: The Winner – Hubspot
Hubspot provides phone support on its more expensive plans, whereas Hootsuite doesn't. Hootsuite also mainly operates its support via social channels, which might not be everyone's preferred contact method. Although both platforms provide a wide range of self-help resources, Hubspot just goes a little bit further with each of them.
Hootsuite vs Hubspot: Their Pros and Cons
To help consolidate everything we've discussed, here's a quick comparison of Hootsuite and Hubspot's main advantages and disadvantages:
Hootsuite's Pros:
Hootsuite comes with independent tabs for each social platform, which easily lets you overview a wealth of information on each channel.

Hootsuite focuses on social media and isn't too overwhelming. You can easily use its calendar planner to map out complex social campaigns.

You can collaborate with team members starting from the Team plan, enabling Hootsuite to act a little more like a help desk. You can handle all social messages within one dashboard and assign the right team member to deal with them.
Hootsuite's Cons:
Hootsuite isn't the most flexible option on the market for free social media management tools.

To access premium app integrations (including Basecamp, Zendesk, and Slack), you need to sign up for the Business Plan ($599 a month)

Support is only available via self-service and social media. Hootsuite doesn't offer phone support at all.
Hubspot's Pros:
Hubspot includes helpful scheduling, publishing, and social media management features.

You can integrate your social media marketing strategy to run alongside email marketing automation, landing pages, and other ad campaigns.

Hubspot's various hubs come together to create a full-fledged business solution that's ideal for large businesses and enterprises. It works wonders for handling marketing en masse.
Hubspot's Cons:
With so many features in one tool, Hubspot comes with a much steeper learning curve and requires a greater awareness of your general business practices.

Hubspot is very pricey, making it more suitable for larger companies. To unlock social media functionality, you need to have a budget of $800 a month! If you primarily want to manage your social media, you'll most likely end up paying for features you don't need.

Hubspot's social streams aren't as easy to review as Hootsuite's independent social tabs.
Hootsuite vs Hubspot: FAQ
Last but not least, we'll round off this review by answering some of the most frequently asked questions we hear about both platforms:
Question: What are HubSpot and Hootsuite Certifications?
Answer: Both Hubspot and Hootsuite enable you to obtain a certification in certain marketing features and processes via their online academies.

You can earn Hubspot's certification for free! The process takes between one and three hours. Whereas Hootsuite certifications come at a premium, starting from $99.

These certifications can help you secure work in the marketing and social media industry. It's concrete proof of your competency using these tools.
Question: Do Hootsuite and Hubspot offer non-profit discounts?
Answer: Hootsuite offers discounts to non-profits via "Hootgiving." Successful applications can achieve up to 50% off their social media solutions. These discounts also apply to Hootsuite's training and education programs.

Conversely, Hubspot doesn't offer discounts for non-profits. Still, you may find that the features your non-profit needs are included with Hubspot's free plan. For example, a CRM that can hold up to a million contacts.

Other than that, Hubspot offers 90% off for eligible start-ups with its start-up program. After the first year, start-ups still get 50% off and then 25% from their third year.
Question: Is Hootsuite a CRM?
Answer: Hootsuite technically offers its users basic CRM functionality. You can track your response time and respond to social messages from one centralized dashboard.

However, Hubspot provides a much more comprehensive CRM that lets you build detailed customer profiles and track the entire customer journey. Hubspot's basic CRM is also free to use!
Question: What's Hubspot used for?
Answer: Hubspot is an inbound marketing platform that can unite sales, marketing, and PR teams to manage all their activities in one place. It's best suited to large companies with several team members and departments that need to operate at scale.
Hootsuite vs Hubspot: Our Final Verdict
So, there you have it, we've reached the end of our Hootsuite vs. Hubspot review, and there's only one question is left to answer: Which tool best suits your needs?
Looking at both platforms through the lens of social media management alone, Hootsuite is an effective and more affordable tool. Suppose your sole focus is social media? In that case, you can brush Hubspot off entirely because its social features are locked behind an $800 a month plan!
If, on the other hand, you want a comprehensive platform that can manage multiple business operations and streamline your entire inbound marketing strategy, Hubspot's an attractive contender. Hubspot's free tools provide a wide range of features Hootsuite doesn't cover.
Also, if you're a budding start-up, Hubspot might be a good option for you as well. Start-ups get the Marketing Hub's Professional plan for only $89 a month. This unlocks access to full email and marketing automation, landing pages, digital ads, live chat, and social media tools.
Let us know in the comments below what your preferred solution would be. Do you think these tools can supplement each other effectively? We'd like to hear what you think!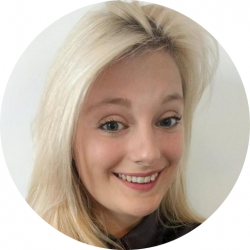 Latest posts by Rosie Greaves
(see all)
Get 40% OFF for 3 Months