Last Updated
Omnisend and Klaviyo are both are highly-rated email marketing tools for e-commerce businesses. These cloud-based marketing tools are designed for different audiences, though.
Omnisend is better for beginners or almost-beginners, while Klaviyo is suited to more advanced marketers or companies with higher budgets to devote to marketing. While both tools share many of the same features, one is noticeably more robust than the other – though that doesn't necessarily mean it's the better choice for your purposes.
Let's go through Omnisend and Klaviyo to explore their features, pros and cons, and use cases.
Main Differences Between Omnisend vs Klaviyo
The main differences between Omnisend vs Klaviyo are:
Omnisend is lacking when it comes to email list segmentation, whereas Klaviyo has tons of segmentation options, allowing you to reach practically any customer or segment you want.
Omnisend has simple email templates, whereas Klaviyo has a wider selection of richer templates.
Omnisend is a simpler email marketing tool that's geared toward the beginner, whereas Klaviyo's broad feature set and higher price tag are better for more experienced users.
Omnisend vs Klaviyo: Omnisend Overview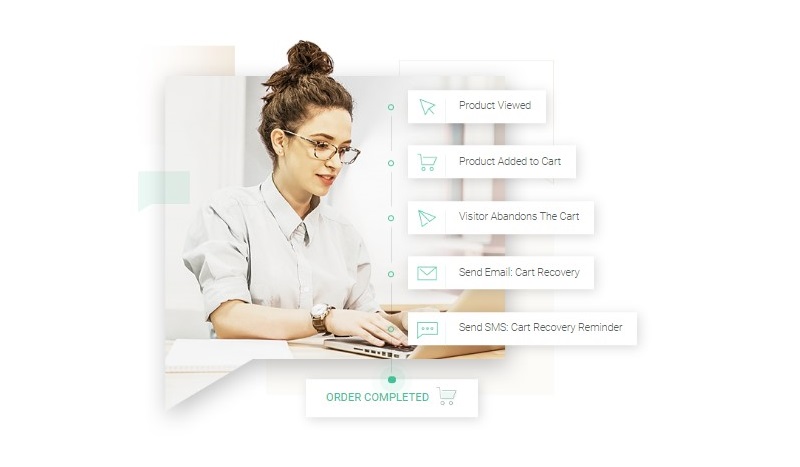 Omnisend is a cloud-based marketing automation tool for more advanced users who may have outgrown their beginner-friendly email marketing platform. (Note, though, that it's not as advanced as Klaviyo – we'll talk about that more later on.)
It's designed for sales-driven e-commerce businesses, and one of its top features is that you can see who purchased items from specific emails. Omnisend is ideal to use if your main concern is automation, even over list segmentation.
Omnisend Features
A/B testing
Abandoned cart follow-up
Analytics and reporting
Auto-responders
Customizable templates
Drip email campaigns
Event-triggered emails
Integration with e-commerce platforms
Integration with messaging platforms
Landing pages
List management
Regulation compliance
SMS marketing
Web forms
Check out Omnisend vs Mailchimp to learn more about how Omnisend measures up.
Omnisend vs Klaviyo: Pros and Cons of Omnisend
Omnisend has a couple of unique features that make it a standout tool, but it also has some drawbacks that users may consider deal-breakers. Let's go over Omnisend's pros and cons.
Omnisend Pros
Product Picker for newsletter campaigns. Select a product from your store and it'll be automatically inserted into your newsletter. You won't have to manually add images or descriptions.
Pre-filled popups. You can adapt the wording if you'd like, and it's all done. Set them to appear at a certain time interval and/or on a specific product page.
Clean backend design.
User-friendly; very easy to get started and send your first newsletter.
Automations are easy to learn, use, and implement. Overall, they'll save you time.
Great customer service.
Omnisend Cons
With Omnisend, there aren't as many email design options as you'll get with other providers.
When Omnisend rolls out updates, they may be lacking when it comes to communication with their customers. If something seems to look or work differently than you're used to, reach out to customer service to find out if there was a recent update.
Omnisend Pricing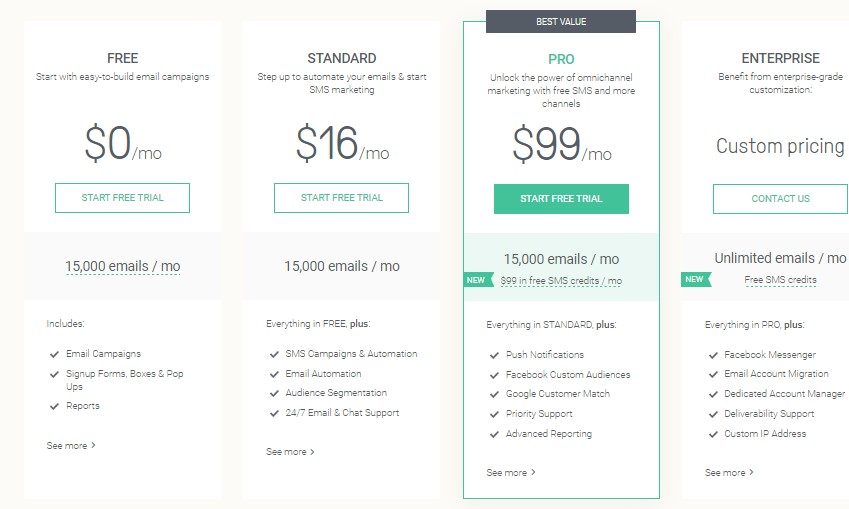 Like many email marketing platforms, Omnisend has flexible pricing based on your number of contacts.
The free plan lets you create email campaigns and send 15,000 emails per month. The Standard plan is $16 per month for up to 500 subscribers. Send 15,000 emails per month, automate emails, and get access to SMS marketing. The Pro plan is $99 per month for up to 500 subscribers. Send 15,000 emails per month, use omnichannel marketing, and get $99 in SMS credits per month.
The Standard and Pro plans go up in price as you add more subscribers. For example, Standard is $25 for 1,500 subscribers, while Pro stays the same. If you double that to 3,000 subscribers, the Standard plan is $60 per month and the Pro plan goes up to $120 per month.
You can go to the pricing page and enter your number of subscribers to see how much you'll pay as your list grows. You can pay annually for a discount, too.
Omnisend offers a 14-day free trial, and you won't be charged once the trial period ends (you don't have to enter your credit card info). You can opt to upgrade, but until you do, you'll be automatically placed on the free plan. There's also the Enterprise plan, which has custom pricing. You'll get unlimited emails per month and SMS credits.
Note that if you don't want an email marketing plan, you can also pay for SMS marketing only, starting at $20 per month.
Why Choose Omnisend?
Choose Omnisend if you're more focused on lead capture (thanks, pop-ups!) and automation than list segmentation and creating highly-styled emails. If on the other side, you are more into well-designed emails, check how Omnisend vs Mailchimp compare.
Omnisend vs Klaviyo: Klaviyo Overview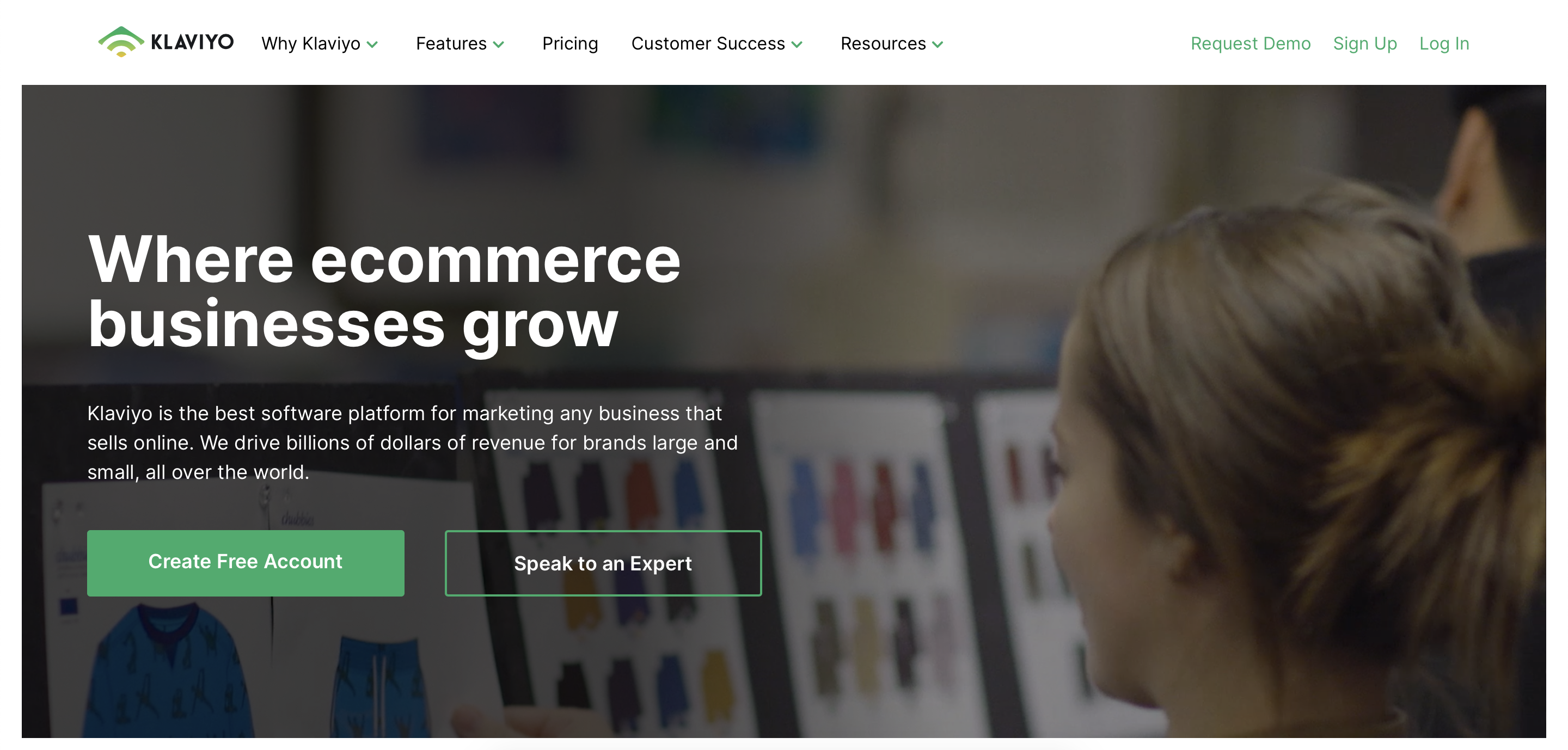 Klaviyo is a cloud-based email management and marketing tool that's perfect for advanced users but easy enough for even beginners to learn.
It's designed for e-commerce stores, and it seamlessly integrates with popular e-commerce platforms, including Magento, Shopify, and WooCommerce. It's also useful for B2B and B2C companies that have a custom website instead of an e-commerce platform.
Once integrated with your e-commerce store, Klaviyo will import customer information so that you can start segmenting customers to target them with specific emails, campaigns, and flows.
For example, you can send specific promotional campaigns to predefined subscribers, then send abandoned cart reminders to those who didn't complete a purchase. You can also send targeted emails to repeat customers.
Klaviyo Features
A/B testing
Analytics
Auto-responders
Customer data
Drip email automation
Event-triggered emails
Integration with e-commerce platforms
Integration with Facebook audiences
Landing pages
List segmentation and management
Regulation compliance
Templates
Web forms
Workflow creation
Omnisend vs Klaviyo: Pros and Cons of Klaviyo
Klaviyo is an altogether intuitive tool, and even though it's packed with features, it's also designed to be easy to learn and use. There are a few drawbacks, though, namely unreliable customer service experiences and a higher-than-expected price tag.
Klaviyo Pros
It's easy to use and offers an intuitive user experience (UX). The visual platform is a breeze to learn and navigate when setting up email automation and flows.
You can create a visual map of the different emails you want to send, then, decide when they'll be sent and who they'll go to.
There's individual user tracking as well, allowing you to see details about each customer's journey. By looking at individual profiles, you can see when someone has visited your website, opened an email, or made a purchase. You can get details about their purchases, too.
There are tons of segmentation options to create groups and manage leads and potential customers.
Built-in templates and workflows to get started fast.
Split-testing to see if one format works better than another.
Analytics to see which campaigns have the best click-through, conversion, and open rates.
The map that shows where your active subscribers are in the world.
Klaviyo Cons
Designed specifically for e-commerce businesses. Service providers may not be able to use Klaviyo to its full potential.
Tons of features to choose from, which can give it a steep learning curve for beginners.
Klaviyo is expensive, but if you're going to use most of its features, it may be worth the cost.
Some users report negative customer service experiences, but others say customer service is reliable.
Klaviyo Pricing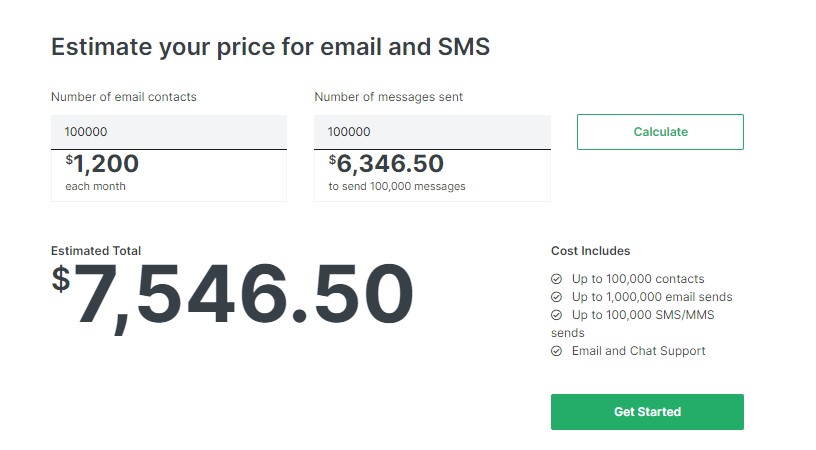 You can pay for just email marketing, just SMS marketing or email and SMS bundled. There's a price estimator on their website to get an accurate idea of how much you'll pay.
The email-only cost is $20 per month for up to 500 contacts. You'll get unlimited email sends, plus email and chat support. For 1,500 contacts, it's $45 per month, and for 3,000 contacts, it's $70 per month. There's a free option, too, but you can only add 250 contacts and send 500 emails max.
Once you've chosen your email marketing package, you can add SMS. For example, if you wanted to add 100 SMS messages to your 500 contacts package, it would cost you $3.50. That cost is the same whether you bundle or not.
Why Choose Klaviyo?
If you've been marketing your e-commerce shop for a while and are ready to upgrade – or if you're a tech-savvy beginner who will take the time to learn your way around a bunch of features – consider Klaviyo. The tool is especially useful when it comes to listing segmentation and advanced targeting, so you'll want to ensure you're gathering a lot of customers and lead information.
If you are a bit skeptical to go with the first choice, and you want to check a few more alternatives here follow the Best Klaviyo Alternatives for 2020, and SendinBlue vs Klaviyo.
Omnisend vs Klaviyo FAQs
What is an email marketing tool?

Email marketing tools help businesses and entrepreneurs promote their business via email. Many tools include a host of features, from lead capture elements (like subscribing forms and pop-ups) to templates, list segmentation, and automation. Ultimately, email marketing tools offer beginning-to-end support so that companies can collect subscribers, create and send emails, and go over analytics to assess what is (and is not) working.
What is email automation?

Email automation is when you create emails and then put them on a schedule or flow so they're sent automatically without you having to manually schedule or send them. You can use email automation to send blog updates, newsletters, drip campaigns (which occur when a subscriber or customer triggers the campaign, such as by signing up for a mailing list or buying a product) and transactional emails (like order or shipping confirmations).
What is the best email marketing software?

There are many different email marketing software options to choose from, and they all come with their own prices, features, and integrations. The best email marketing software for you will be cost-effective, have the ability to grow as your business and customer base grows, and seamlessly integrate with the business and marketing tools you already use.
How can I send bulk emails for free?

Most email marketing software includes a free tier and/or a free trial. The free tier typically has a subscriber and email send limit, and it probably won't include all of the features as the paid plans.
The free trial, however, should include everything your chosen plan will offer once you start paying for it, which will give you a good idea of how it'll perform in the long term. Be wary of tools that offer unlimited subscribers, sending and features at no cost – this is a premium service, and the most reliable and safe tools will charge accordingly.
Omnisend vs Klaviyo: Which One is Better?
Klaviyo has lots of segmentation options, giving you pretty much endless ways to connect with subscribers and customers no matter what stage of the customer journey they're in – or what type of action you want them to take. Klaviyo also has a wider selection of email templates to customize to your liking, too. And overall, Klaviyo has a broader feature set.
While Klaviyo is more expensive than Omnisend, we feel that the price is well worth it and that you're likely to grow into the features even if you don't use every single one from the start. That's not to say that Omnisend is a bad tool, just that we feel you'll get more bang for your buck with Klaviyo.
Further reading: