Last Updated on September 16, 2022 by DMEditor
In our post we will be comparing Learndash vs LifterLMS, comparing features, pricing, pros, and cons. Find out which one is a better fit for you.
Bottom Line Up Front Summary: If you want the objectively better LMS system, definitely try LifterLMS here first. Otherwise, if you want the cheapest initial option, Learndash is a good place to start.
Main Differences Between Learndash vs LifterLMS
The main differences between Learndash vs LifterLMS are:
Learndash is cheaper and offers a cleaner explanation when it comes to the price, whereas LifterLMS is more expensive but it offers a free plan.
Learndash has a more intuitive interface, whereas LifterLMS has a better and more advanced support centre.
Learndash can only be paid with PayPal, whereas LifterLMS has WooCommerce Integration.
Online learning has grown significantly in recent years, giving knowledge-seekers a massive opportunity to learn flexibly from the comfort of their homes or while they're on the go.
Likewise, creating and launching an online course is an excellent way for experts, teachers, and entrepreneurs to make money either as a sideline or as a full-on business.
So, everyone involved – both students and teachers (course crator), benefit.
Interestingly, e-learning is predicted to be worth more than $325bn by 2025! It's also worth noting that in 2017, around 77% of US companies used online learning. By 2020, almost all of them planned to use these digital resources as part of their staff development programs.
Given this is such a booming business, we thought we'd take a look at two of the most highly regarded learning management systems (LMS) on the market; Learndash and LifterLMS. Both are WordPress plugins (WordPress hosted platform) that allow you to create online courses to market and sell.
In light of that, we're going to dive into the following:
Who's Learndash and Lifter LMS?
What are Learndash's key features?
What are LifterLMS' key features?
The prices of each
The pros and cons of each
Customer support
Online reviews
Our thoughts
Does that sound good to you? Fab. Let's delve in!
Learndash vs LifterLMS: Who's Learndash?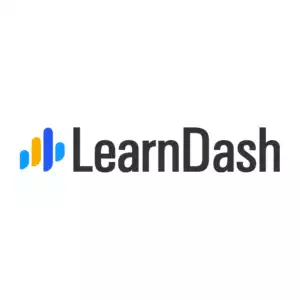 WordPress LMS Plugin by LearnDash
The most trusted WordPress LMS plugin, created by learning industry professionals with Fortune 500 experience. Transform your site in less than 5 minutes.
Get LearnDash
We earn a commission if you click this link and make a purchase at no additional cost to you.
Learndash calls itself the: "The #1 choice of Fortune 500 companies, major universities, training organizations, and entrepreneurs worldwide for creating (and selling) their online courses."
Its core audience is clients in higher education, professional training, and WordPress space. More specifically, designers and developers commissioned to create online learning materials for these kinds of clients.
The Learndash plugin allows users to create online courses and sell them via its drag and drop course builder platform. You can also insert quizzes, create certificates for students, make downloads that can be sold, and drip-feed content. All of these features work wonders for helping you engage with your audience.
It's used by a multitude of big (and biggish) names, including the University of Florida, University of Washington, ProBlogger, University of Michigan, and Digital Marketer.
Co-founded by e-learning consultant Justin Ferriman and customer service, development, and design specialist Kloé Ferriman. The company has been positively featured in loads of publications. Including Forbes.com, MSN Money, EdTech magazine, among many. So, it's safe to say this company has a good rep!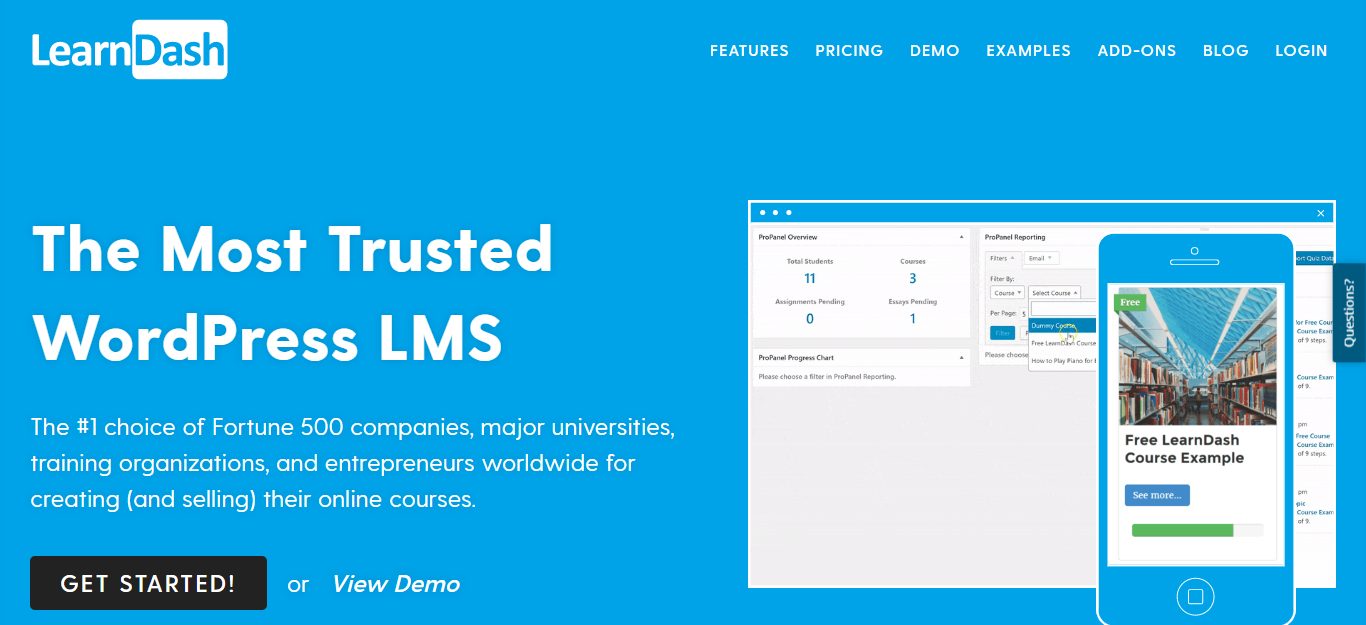 Learndash vs LifterLMS: Who's LifterLMS?
Aimed at entrepreneurs, experts, and coaches, LifterLMS calls itself "the most flexible, powerful WordPress LMS software." Similarly to Learndash, LifterLMS is also a WordPress plugin that allows you to create courses you can then sell.
Lifter believes that "there's a course inside all of us." However, their website appears to target WordPress designers, developers, and IT specialists over the course creation builders.
More specifically the LifterLMS plugin is ideal for:
Those wanting to build training portals for clients
Solopreneurs creating, marketing, and selling online multiple courses
Those already using a different course platform they've outgrown
It's used by multiple types of businesses, including Aspen Studios, Holistic Wellness Academy, and Netzstrategen and functions as a WordPress LMS plugin.
Founded in 2014 by entrepreneur Chris Badgett and programmer and poet Thomas Levy, it has customers in 131 countries, with 6,570,000 courses completed on this platform.
Chris Badgett says Lifter's mission is; "to democratize education in the digital classroom. Our vision is to empower 1 Million education entrepreneurs, teachers, and experts worldwide to build engaging learning experiences that help learners get incredible real-world results."
Lifter further says its vision is to "empower 1 billion experts, teachers, mentors, leaders, and entrepreneurs to create results-based learning programs that positively serve the learning wants and needs of all people."
Lofty ambitions for a WordPress LMS plugin!
Now we've delved a little bit into who these brands are, let's look at their features in more detail…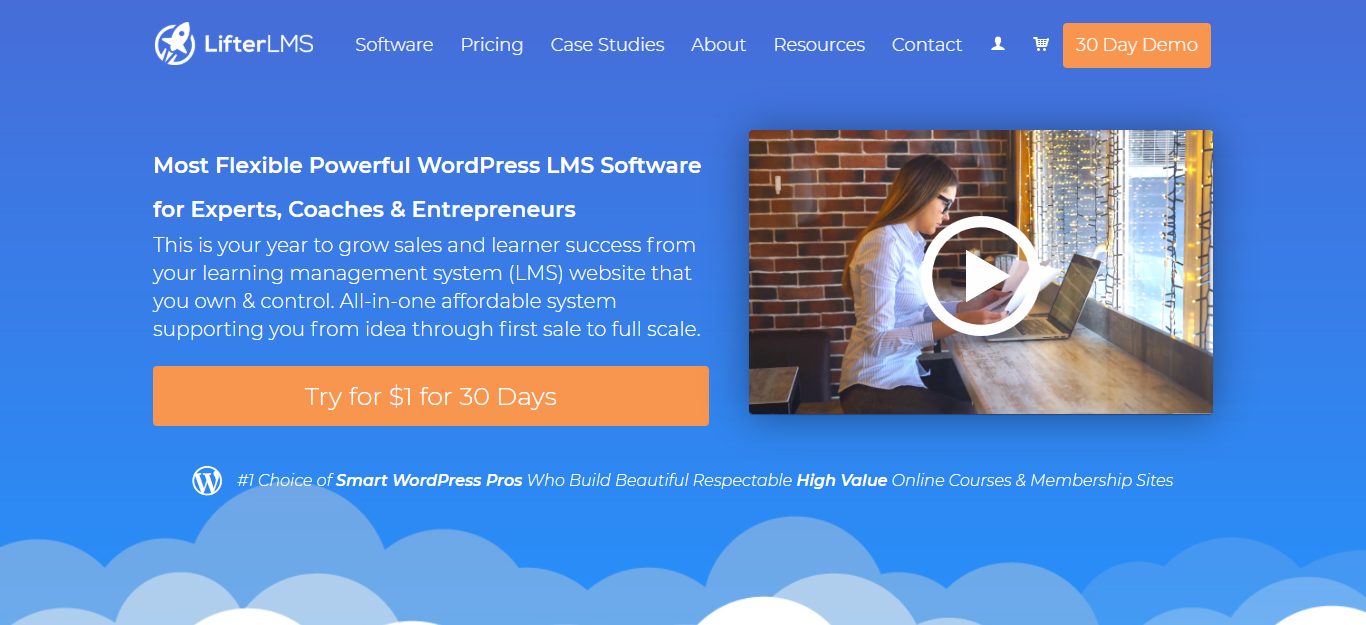 Learndash vs LifterLMS: Learndash's Critical Features
Learndash splits its critical features into four categories:
Courses
Monetization
Administration
Tech
We're going to look at each of these in turn and summarize what they offer.
Courses
Learndash says it offers the e-learning industry's best online course builder. It's a powerful solution that enables you to create a digital product with your branding.
Once your course is created, you can:
Drip feed content to customers
Create quizzes using eight of the available options (including simple Q and As, multiple-choice tests, free text, surveys, essay questions, and fill-in-the-answer formats).
You can add timers for quizzes and questions and display customized messages depending on the student's performance.
When you're creating your course, you can set lesson plans, award students point for completing modules, and issue certificates.
You can also use LearnDash's Gradebook. You can buy this add-on to sync LearnDash's quiz and assignment grades automatically.
*You can modify these grades, should you need to.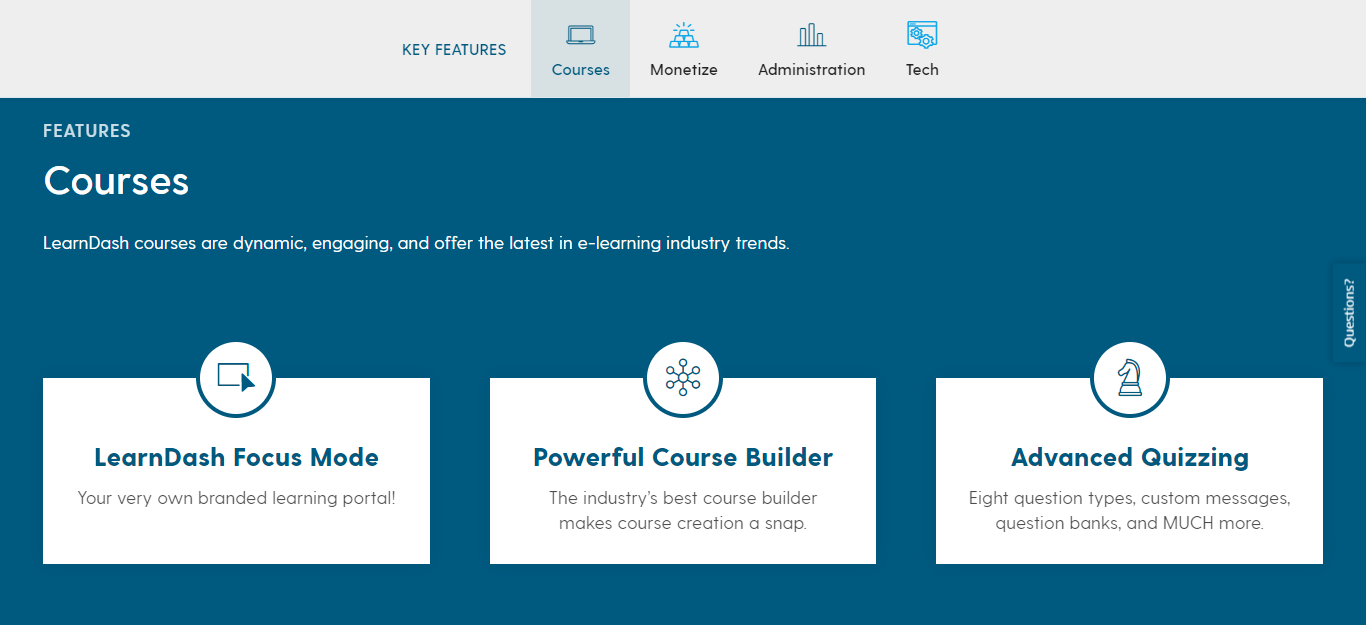 eLearning Monetization
Learndash says that selling online courses has never "been easier." Once you've created your e-course, Learndash's monetization features allow you to set its price and specify if it's a one-off cost or a subscription-based product. If you want to sell your courses in bundles (course bundle functionality), that's possible too.
If you're creating a subscription-based course, Learndash automates a shopping cart that takes payments from subscribers via their payment gateway (per week, month, quarter, or whatever you've agreed with customers).
You may also want to create a learning community for subscribers, which using the monetize features, is entirely possible.
Customers can purchase your course via Stripe, PayPal, or 2Checkout. There's also an option to send potential customers free samples via the 'try before you buy' tool. Here you can limit access to your content after a specific period.
Lastly, you can buy an add-on that allows you to offer course licenses. Basically, this means organizations can purchase your course in bulk to give their staff access to your content.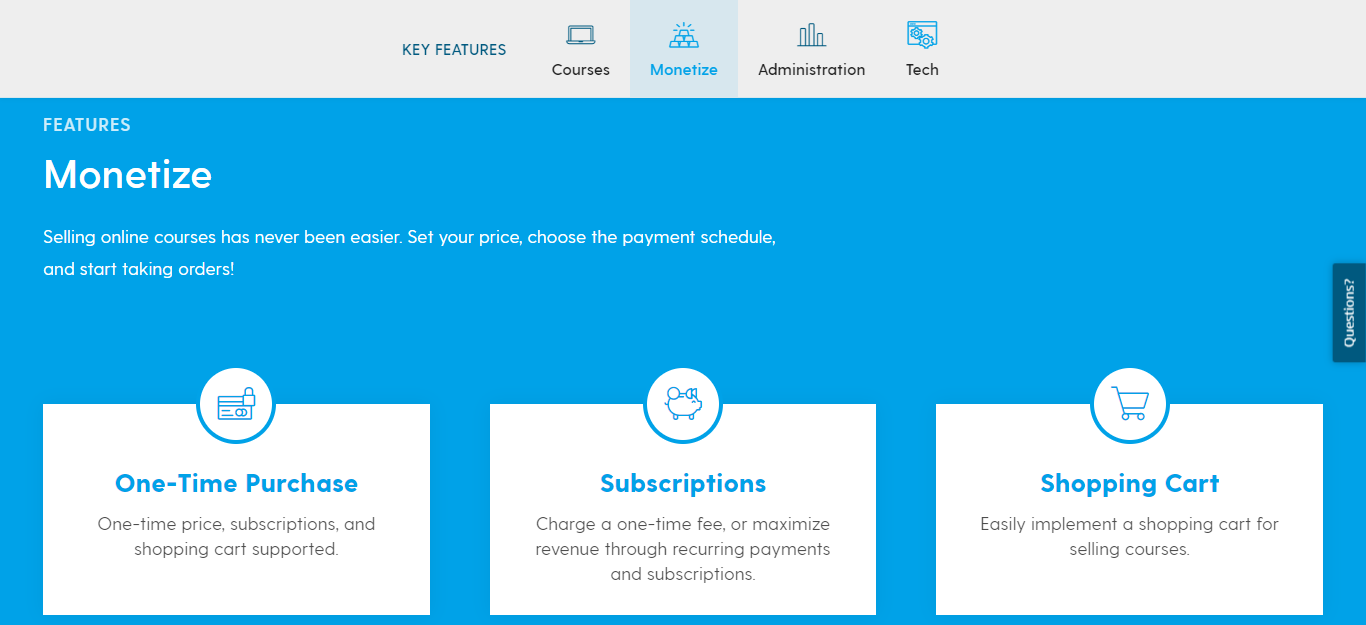 LMS Platform Administration
No business can survive without some kind of admin, and that's what these features are for.
It's imperative you keep track of who your customers/learners are. Not only is this necessary on an administrative level, but this info also helps you to refine your course and marketing materials to meet the needs of your students (including marketing automation).
You'll also find features here that allow learners to monitor their progress as they work through your lessons.
There's even a facility for course creators to set up automated email notifications to their students. This works wonders for increasing their engagement as they go through your course, and for building a better relationship with customers.
There's also a 'Group Management' feature, which is worth mentioning. This enables you to categorize users into groups. For example, if you have several people learning the same course, you could put them all in the same category. Then, you can drip-feed the content to a set schedule, which is incredible for keeping both you and your students organized.
Once you've launched a group, you can assign a 'Group Leader' to monitor the learners' progress.
Once you've launched your course, you might be wondering whether your content hits the spot. If so, never fear, there's a reporting feature that permits you to generate reports on learner progress and track the amount of time spent on modules, quizzes, and courses. There's also a live stream option where you can see how learners are interacting with your courses in real-time.
If you want to be extra organized, there's an add-on called ProPanel. This consolidates your reports, displays more learner data in the form of graphs and charts, and speeds up your ability to manage assignments and essays.
You can also run graphs on how your learners are doing and see the assignments and essays that need your attention. That way, you'll never get behind with your marking (or at least, you won't have any excuses)!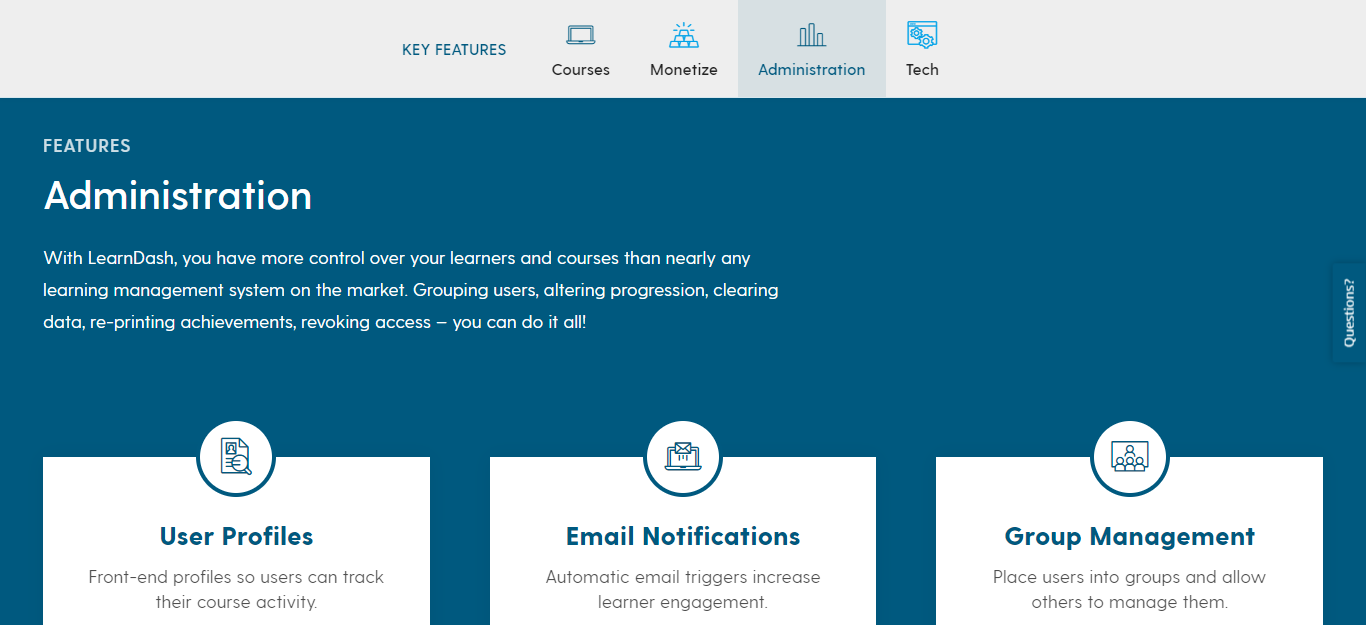 eLearning Tech
No online course builder works successfully without the right tech behind it. Under the 'Tech' category, you'll see how Learndash supports your courses with all the latest technology.
Here's what you get:
Access to plenty of Learndash add-ons that enable you to use programs such as Adobe Captivate, H5P, iSpring, and Articulate Storyline.
You can also insert content using any of the above without needing Tin Can API or SCORM.
If you do want to use SCORM, you have to pay extra, whereas the other APIs are supported by WordPress.
Learndash is multisite enabled. By this, we mean, if you're running a WordPress multisite installation, you can use ProPanel and Learndash to handle all your websites.
Learndash integrates seamlessly with WordPress themes, which makes keeping your branding consistent much more manageable if you already have a WordPress site.
Also, as WordPress is the most popular CMS on the market, and Learndash is built on WordPress, you can use any kind of media content you want. For example, images, HTML5, audio files, videos, and SWF files – which is great.
All Learndash's courses are supported on multiple devices, including mobiles and tablets, so your subscribers can learn on the go.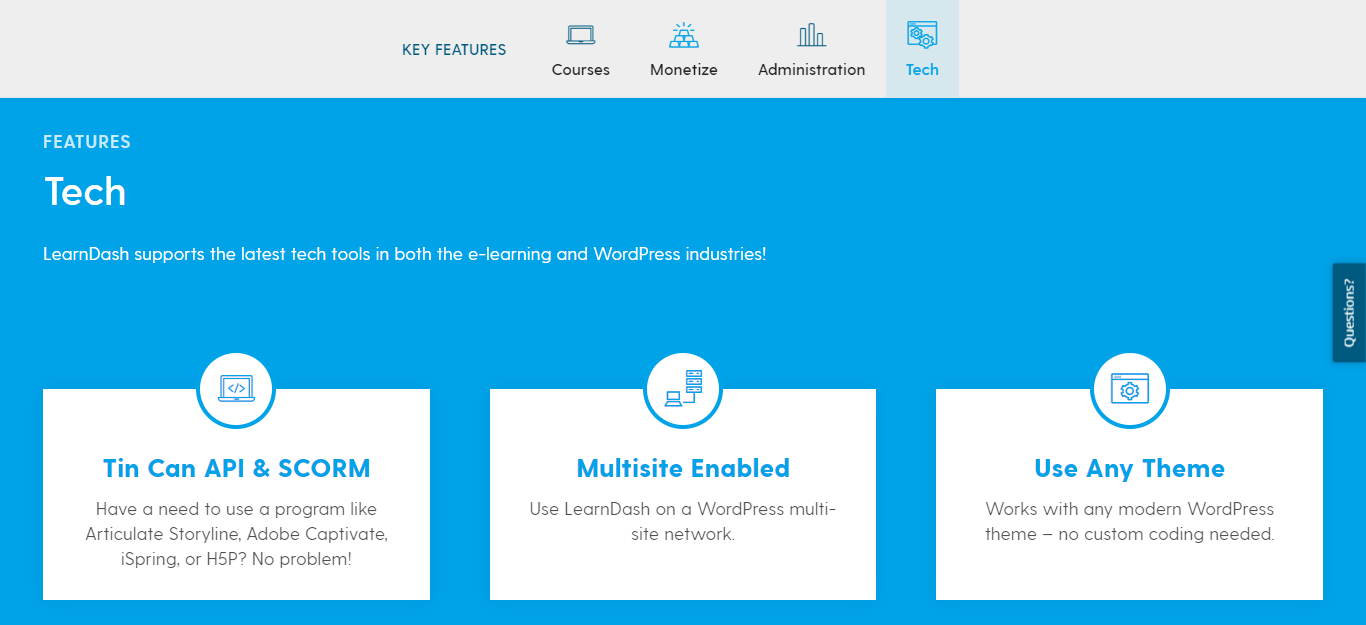 Learndash vs LifterLMS: LifterLMS' Critical Features
LifterLMS features are split into seven categories, each with multiple options.
Below we're going to go into more detail about the following categories:
Create courses
Make money
Engage your students
Offer memberships
Integrate the tools you need
Protect your content
Manage your platform
Create Courses
Building online courses is simplified with LifterLMS' drag and drop course builder (a sort of feature rich WordPress LMS plugin). There are options to add quizzes and assignments, multimedia lessons, drip-feed content, and you can add prerequisites.
For example, students have to complete a module before they can move onto the next one.
You can also track student progress, and offer downloadable study sheets, ebooks, and learning packs. You can even award course participants certificates and create an online forum where students can review your courses and network with one another. This comes in handy for creating a sense of community with your course at the core.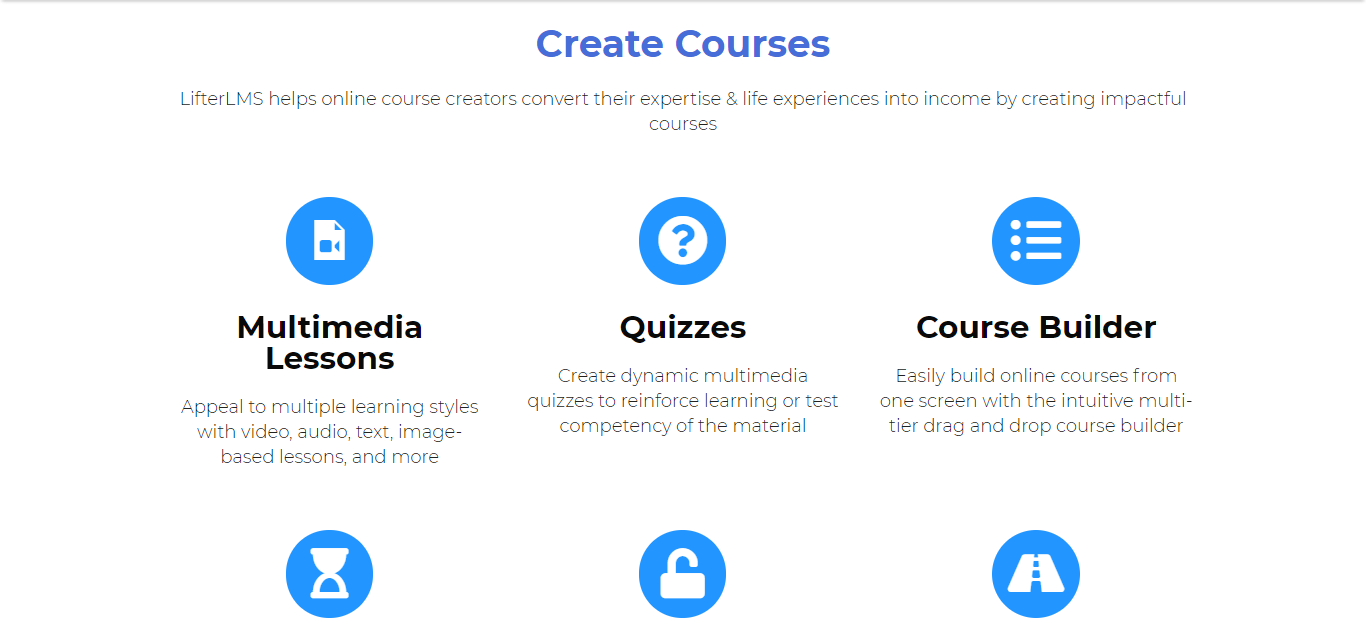 Make Money
Whether you want to sell one-off courses or set up a membership site, there's the option to do either (or both) to generate an income. To expand your reach, you can market your courses in any country and in any currency you like.
The 'Make Money' features permit you to accept credit card payments either on regular intervals or as one-offs. You can also set flexible payment plans for subscribers and sell courses via PayPal.
You can even attract subscribers by offering free courses as tasters, pique interest with money off coupons, and sell courses in bulk.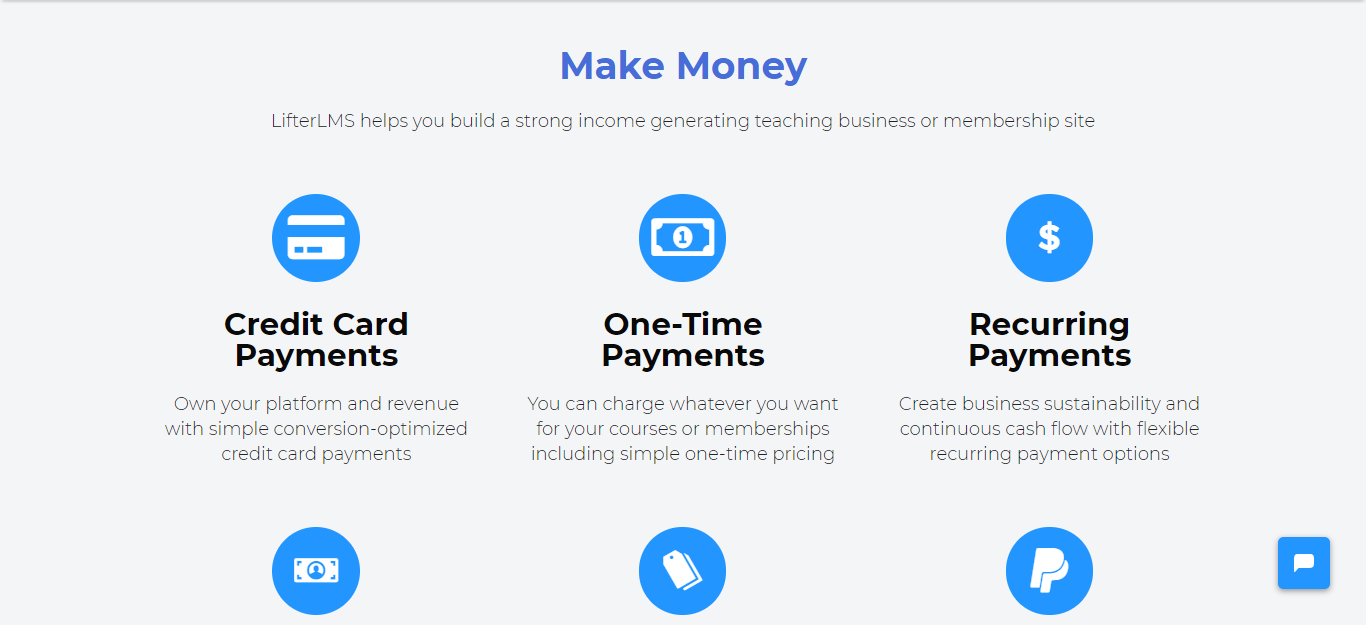 Engage Your Students with eLearning
LifterLMS says its "keen focus [is] on engagement and helping you create courses that students enjoy and actually complete."
So, unsurprisingly, the 'Engage Your Students' features do precisely that. These tools provide you with the following:
Certificate creation options
Personalized emails
Achievement badges
You can launch text messaging campaigns
You can offer private coaching
You can provide social learning via your online community
All of these features help to ensure you keep students on your online course, rather than shifting them all over the web. In essence, this helps to ensure customers stay focused on your content rather than getting distracted with other things on the internet.
Offer Memberships
These features allow you to create and sell more than just a course. Instead, you can launch a fully-fledged membership site or community.
You can also sell course bundles by creating memberships. This is a fabulous option if you want to build a VIP product or something your die-hard fans will love! You can also add members-only forums which again, works wonders for creating a sense of community (with your brand at the centre!).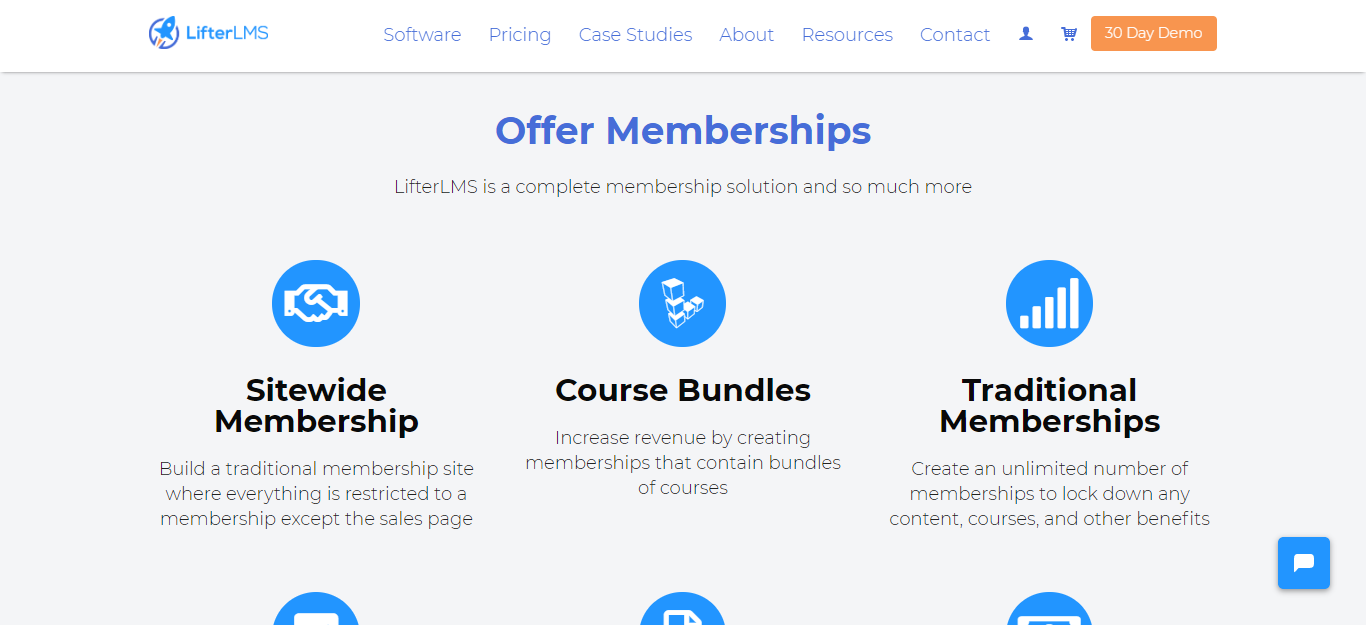 Integrate with The Tools You Need
You can use third-party tools and plugin options to make your site as user-friendly as possible. Third-party plugins include popular payment gateways, email marketing software, CRM tools, and Tin Can API. That's as well as integrating with all WordPress themes.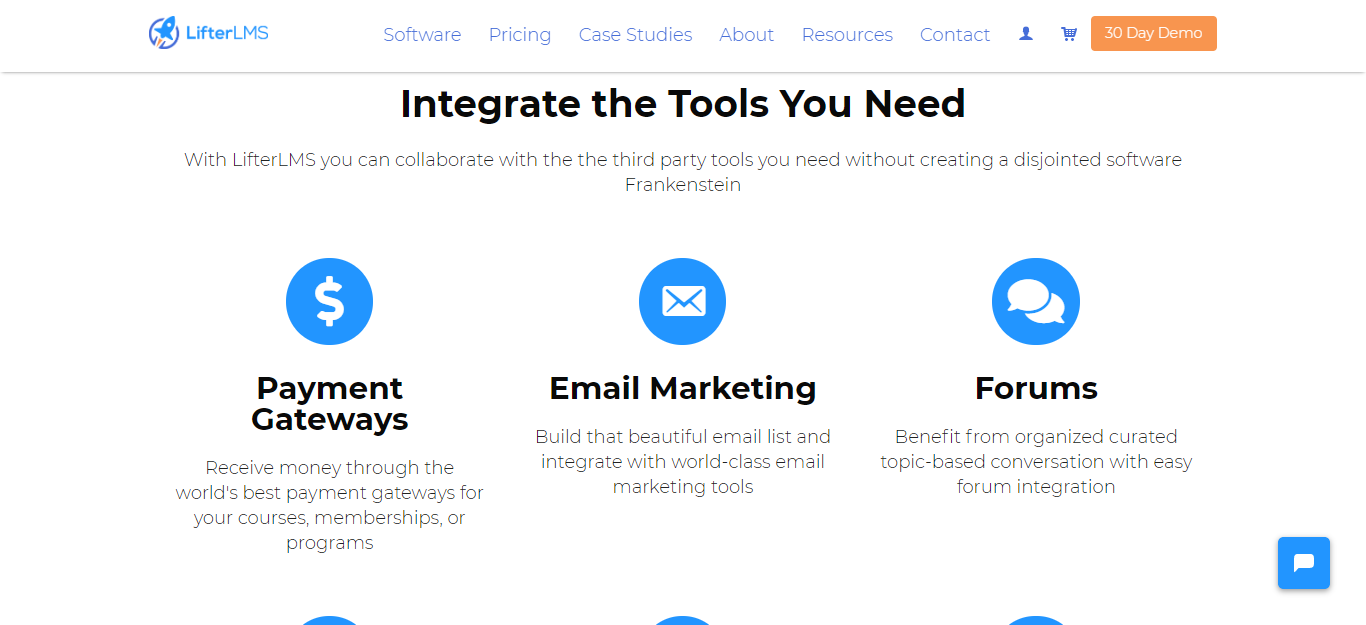 Protect Your Feature Content
By this, we mean, your content is only visible to those who pay for it (unless you're providing a freebie to entice new buyers). Students get their own login where they can set their personal password.
You can also restrict access to specific sections of your site to try and entice students to upgrade to a membership subscription (or whatever other upsell you're offering).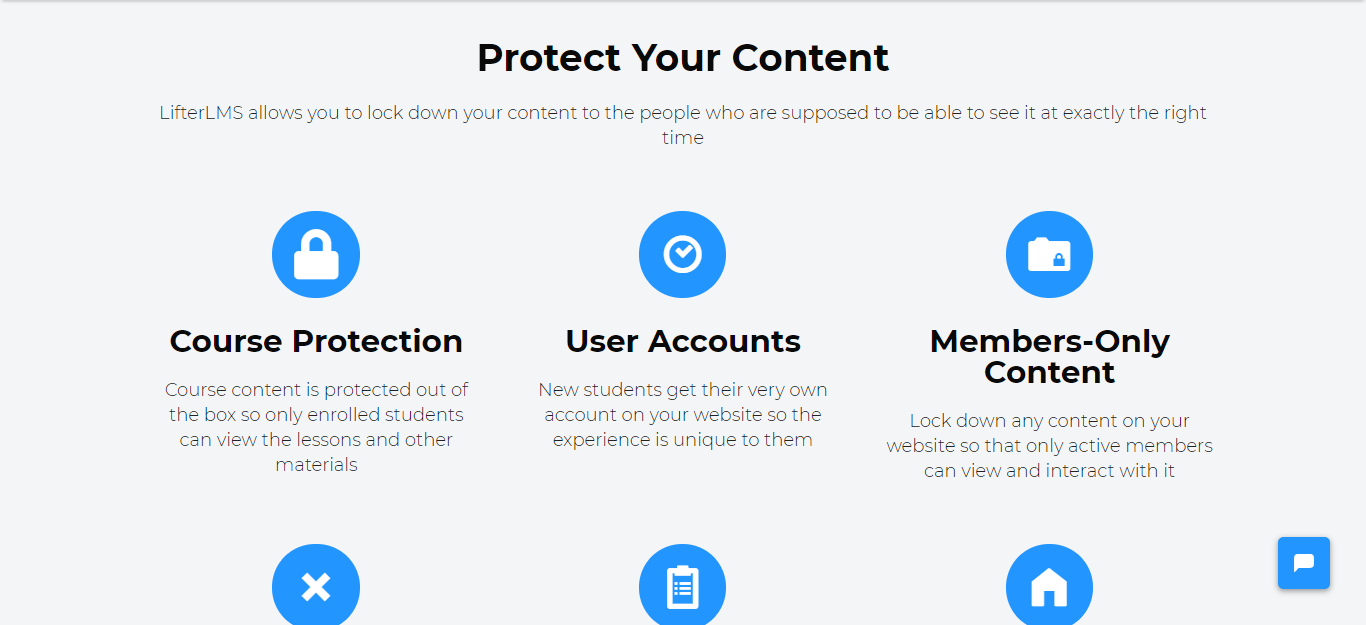 Manage Your Platform
The features here are a bit like Learndash's administrative hallmarks in that they allow you to manage and organize your online school.
You can:
Run detailed reports on how students are performing and engaging with your content
Send personalized automated emails
Manage bulk enrollments
Choose your course branding and typography
It's also possible to customize the layout of your website's footers, headers, sidebars, and so on, so your course materials fully reflect your brand's aesthetic.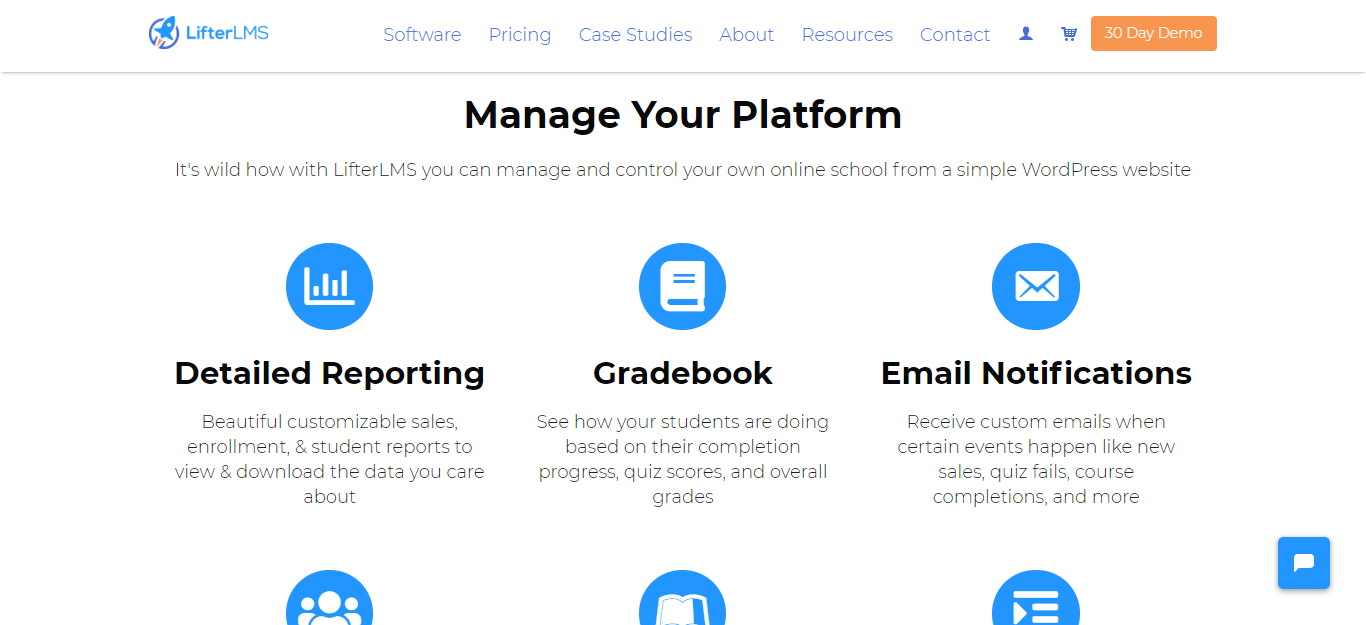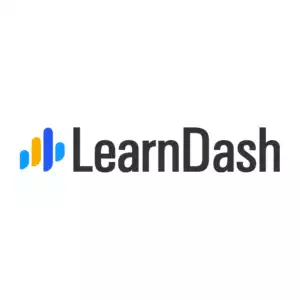 WordPress LMS Plugin by LearnDash
The most trusted WordPress LMS plugin, created by learning industry professionals with Fortune 500 experience. Transform your site in less than 5 minutes.
Get LearnDash
We earn a commission if you click this link and make a purchase at no additional cost to you.
There are three pricing plans, and at the time of writing, the site was offering discounts on each. In light of that, we're going to mention both sets of prices and what you get with each:
Basic: $199 or discounted $159 a year
Plus: $229 or discounted $189 a year
Pro: $369 or discounted $329 a year
Everyone gets the following feature sets:
You can build an unlimited courses
You can register an unlimited number of users
Course content protection
You can drip-feed lessons
Access to advanced quizzing tools, certificates & badges, course forums, and email notifications
Free integrations
One year of support and updates
BONUS: Access to a demo site template
Only Plus and Pro plan users get access to ProPanel, and the number of site licenses varies according to the package you buy. The Basic bundle gives you one license, the Plus, 10, and the Pro, 25.
There's also a 30-day money-back guarantee available on each plan, but there are no free trials.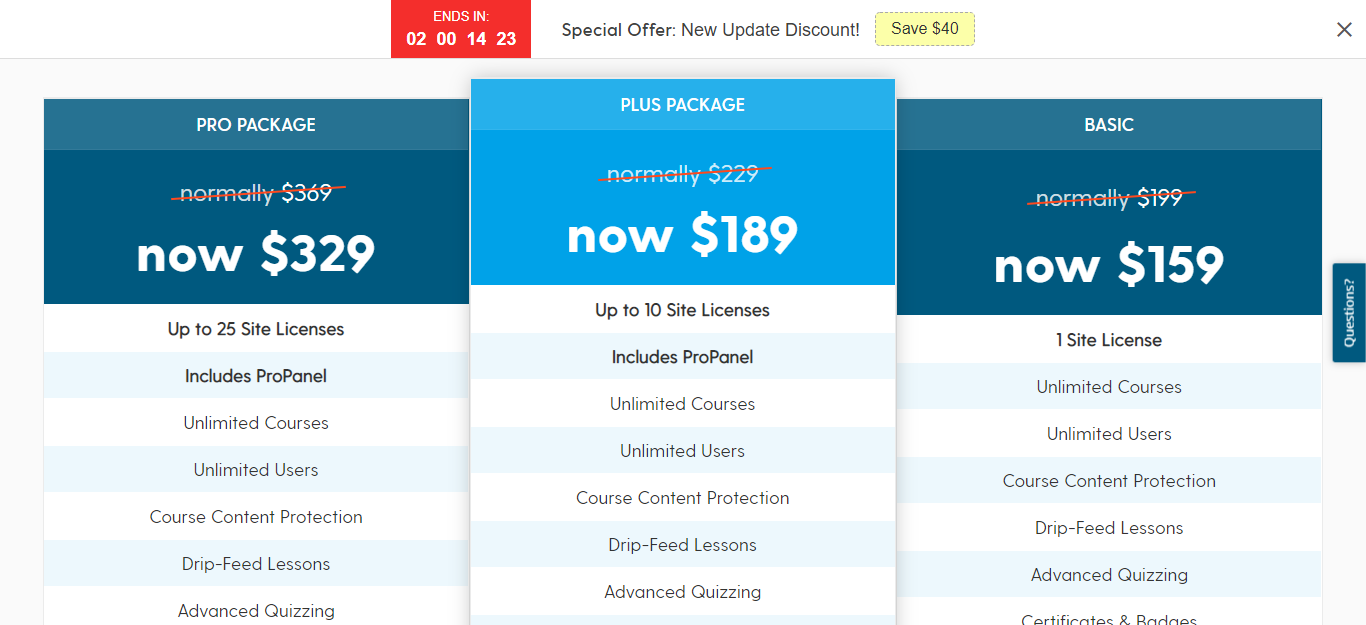 LifterLMS Pricing
At the time of writing, potential customers can try LiferLMS for $1 for 30 days, and the website was also offering a 10% discount. The core LMS plugin is free, and after that, you pay for anything past merely creating and uploading a course.
At first glance, the pricing structure seems confusing. Mainly because there are so many add-ons you have to pay for on top of the prices listed below. LifterLMS, however, does have a useful pricing explainer on its website.
Put simply, there are three separate elements to LifterLMS's offer and each of these overlap:
Online Courses
Community
Coaching
The video tells us, in brief, that if you're designing a course and you want to add, for example, email marketing, design tools, and other add-ons, you pay more.
If you then want to expand your offer beyond just offering a static online course, that's where the Community aspect of the LifterLMS offer comes in. It's what LifterLMS calls a "social learning add-on" and costs another $199. Similarly, if you want to get into e-coaching, that's where the Coaching element comes in, and you have to buy another $199 add-on to enable that.
If you want access to all three elements, you'll have to pay quite a lot and choose LifterLMS's most expensive option (see below).
After that, the prices are as follows:
You're buying what LifterLMS calls "bundles," and there are three options:
You can create one site on the Individual plan, and five with the Universe plan, and unlimited websites on the Infinity plan.
The LMS plugin is included in all the plans. After that, what you get changes depending on the package you go for.
The Individual plan offers:
Standard support
One active site
One tech support account
The capacity to buy add-ons as individual purchases
The Universe plan offers:
Priority support
Five active sites
Two tech support accounts
Design add-ons
Ecommerce add-ons
Marketing and CRM add-ons
Form add-ons
The Infinity plan offers:
Priority support and live office hours
Unlimited active sites
Three tech support accounts
The same add-ons as the Universe plan
Advanced quizzes and assignments
Private coaching features
Social learning features
Advanced video features
Custom field features
Group learning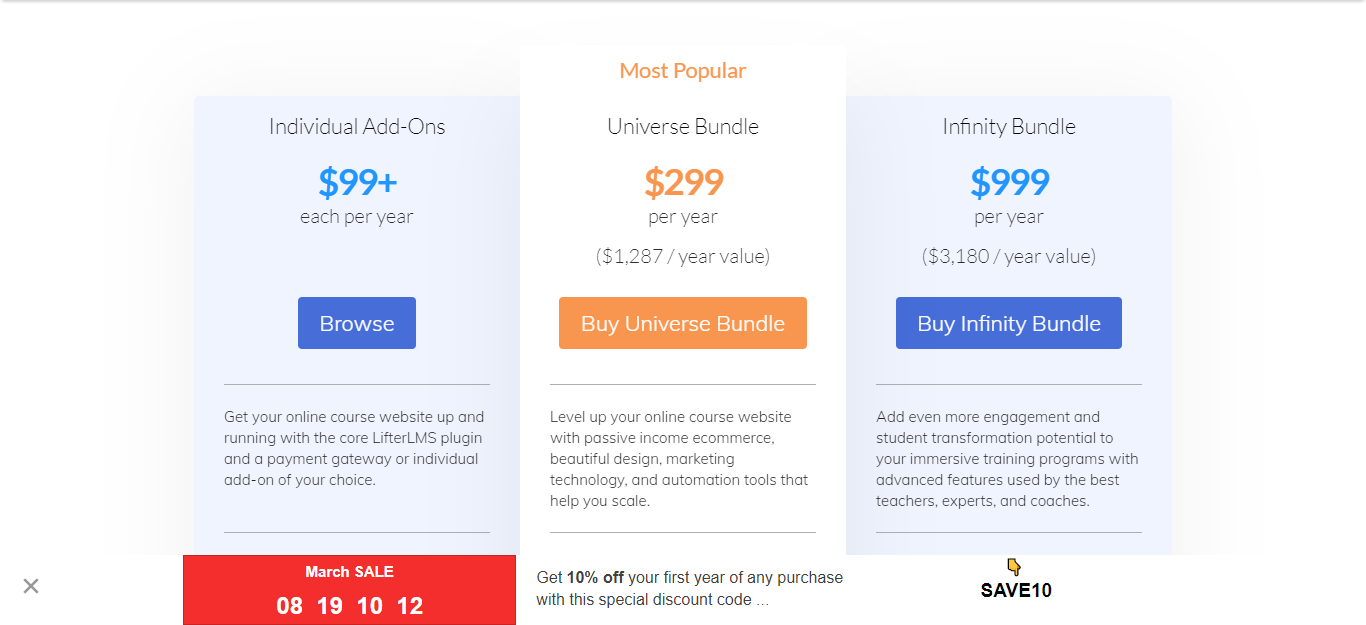 Learndash vs LifterLMS: Learndash's Pros and Cons
Let's start with the perks…
The Pros:
Compatible with any WordPress theme
Good value for money
Their drag and drop course builder is straightforward to use
The Cons:
No free trial (but there is a free demo)
Limited support
Its free plugin doesn't allow you to market or sell your online course
Learndash vs LifterLMS: LifterLMS' Pros and Cons
Again, let's start with the advantages…
Pros:
It's easy to install and use
Strong user support
A decent suite of robust features
Access to WordPress themes
The core LMS plugin is free
$1 30-day trial
Access to an easy-to-use drag and drop course builder
Cons:
It's expensive
It's challenging to understand their pricing structure (despite their explainer video)
Learndash vs LifterLMS: Learndash Support
All course creators and sellers get access to community forums, start-up guides, documents, and the website's FAQ section. There's also a free demo accessible via the Learndash site.
The Learndash blog is attractive looking and has some interesting posts, including 'Using Learndash with Live Webinars: A Guide, Learndash 3.0, 6 Tips to Upsell Your Newest Online Course, and 7 Benefits of E-Learning Videos.'
You can also receive support via Learndash's help desk, between 7 am to 4 pm, Monday to Friday Eastern Time. However, what you don't get is access to is telephone help, online chat, or any kind of in-person or video conferencing support.
Learndash's co-founders say they offer expert support, stating that: "We have deep knowledge in the e-learning industry with experiencing (sic) consulting some of the world's largest brands, as well as the US government. Not only can we answer your technical questions, we can give you recommendations on optimum course configuration based on your desired goals."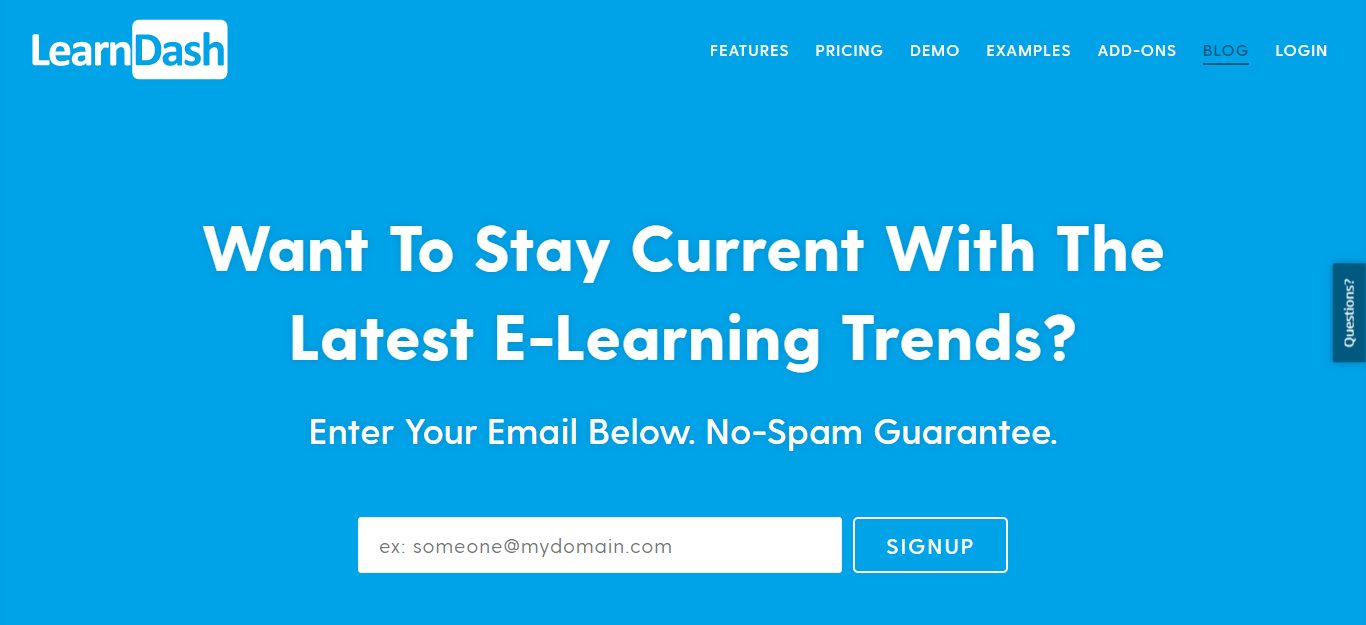 Learndash vs LifterLMS: LifterLMS Support
At first glance, LifterLMS's support is way above what you get with Learndash. There are free training courses, live office hours, technical support, video tutorials, a blog, webinar training, a Lifter podcast, and a user community.
You can also test out the platform with their no-risk 30-day trial.
You even get access to expert consultation (at an extra price!) that can help you with design, marketing, and coding if you need it.
LifterLMS has a Lifter Academy with courses for new subscribers on how to make the most of Lifter life. Courses include Beginner's Guide to Building Successful Online Courses, Complete WordPress Beginner Essentials Masterclass and E-commerce, and Membership Essentials for Course Creators.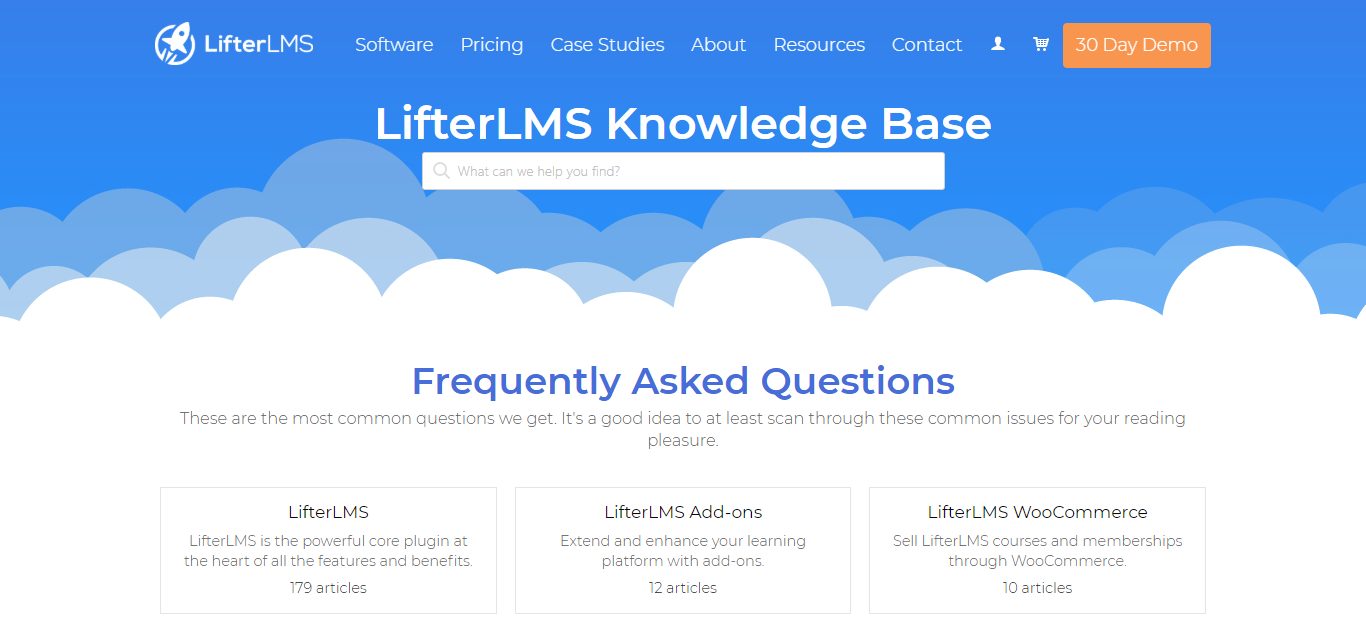 What Are People Saying About Learndash and Lifter?
Overall, Learndash comes out really well in online reviews. Users say they find it easy to use and set up.
But, some users don't like that the features "are a bit restricting" and that the "user interface is plain and not very intuitive." Although many of the negatives were written before the launch of Learndash 3.0, which has updated some of the visuals. So, take these complaints with a pinch of salt.
Lifter comes out well in online reviews too, and like Learndash, we see a lot of 4 and 5-star reviews. Users like its ease of use and customer service and say it's "incredibly easy to manage" and comment on how "well integrated it is."
Interestingly, some users complain about the wealth of options to choose from. This can make it confusing for absolute beginners, and one reviewer wrote that "email templates could not be customized as much as we would have liked."
What's clear overall is that both platforms are really well-reviewed. The Lifter site has customer reviews peppered throughout from teachers from a variety of areas, including copywriting, health specialists, business, marketing and leadership professionals, technologists and coders, artists, and musicians. All reviewers are enthusiastic about Lifter's benefits.
Learndash does something similar but in the form of case studies from its customers, including the universities mentioned above, Fit Father Project, and WP Elevation. Again, all reviewers are enthusiastic about coming on board with Learndash.
Frequently Asked Questions
Although there's nothing free about Learndash, there are basic options with one-time payments and free, easy-to-integrate add-ons included in the price plans.
Bottom Line Summary: If you want the objectively better LMS system and functionality, definitely try LifterLMS here first. Otherwise, if you want the cheapest initial option, Learndash is a good place to start.
Our best advice is to be clear from the outset about what you want to achieve with your courses. Think ahead; get a feel for all the features you need from the start. Do your research and planning. Not only will you save money you may not have, but you'll also take a more strategic and business-like approach to your course building and marketing.
Let us know how you get on in the comments box below, which did you go for? Or, are you considering a different course builder? Good luck!
Further Reading on Learning Management Systems:
How do I download the free core LifterLMS?
If you need to download the free core LifterLMS just look for the FREE LifterLMS download page and click the "Yes!" button. Insert your information into the form and confirm your email.
Can I change my Learndash plan later?
Yes! If you want to try Learndash´s services with a simple plan for a few months and upgrade it later you can do it anytime you want. By doing this, your annual renewal date equal will be updated to the date of the upgrading.
Learndash vs LifterLMS: Who Wins?
Ultimately, it's your choice which LMS you go with, and you may well be entirely led by your budget.
Both of these plugins give you an easy to use interface to create and market your courses, as well as the functionality to develop them beyond just a static course website. If the sky's the limit where your teaching ambitions are concerned, then both platforms can help support you through that.
However, we felt that the LifterLMS support centre is way more advanced when compared with what Learndash offers. Also, Learndash's default payment option is PayPal. In contrast, LifterLMS allows you to choose, but you have to buy an add on to accept payments (payment gateway). Hence, it's swings and roundabouts.
If we're just talking about prices, then Lifter is clearly more expensive because of all the add-ons you need to buy. There are so many that your budget could be blown way out of the water if you're not careful.
Buying for Price? Learndash is the clear winner where the price is concerned and provides a way more transparent explanation of its pricing structure too. If you need a pricing explainer video on top of the copy, then maybe it's time to rethink!
If, after reading our review, you're unsure, then head towards the core LifterLMS plugin and give it a trial for a dollar. If you don't like it, you can migrate across to Learndash, which doesn't offer a free trial (just a free demo). The downside is that there's a price tag attached to this that will cancel any savings you made in your almost-free Lifter free trial.
If you're on a strict budget and your initial ambitions don't extend beyond selling a static course, then Lifter isn't a bad option. You get the free plugin and just have to buy a payment integration (payment gateway) at $99. But if you need more functionality, it's going to cost you.
Although there's nothing free about Learndash, there are basic options with one-time payments and free, easy-to-integrate add-ons included in the price plans.
Bottom Line Summary: If you want the objectively better LMS system and functionality, definitely try LifterLMS here first. Otherwise, if you want the cheapest initial option, Learndash is a good place to start.
Our best advice is to be clear from the outset about what you want to achieve with your courses. Think ahead; get a feel for all the features you need from the start. Do your research and planning. Not only will you save money you may not have, but you'll also take a more strategic and business-like approach to your course building and marketing.
Let us know how you get on in the comments box below, which did you go for? Or, are you considering a different course builder? Good luck!
Further Reading on Learning Management Systems: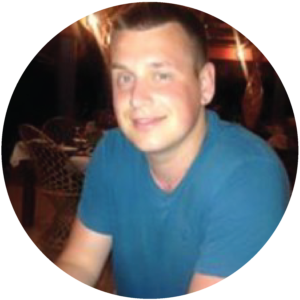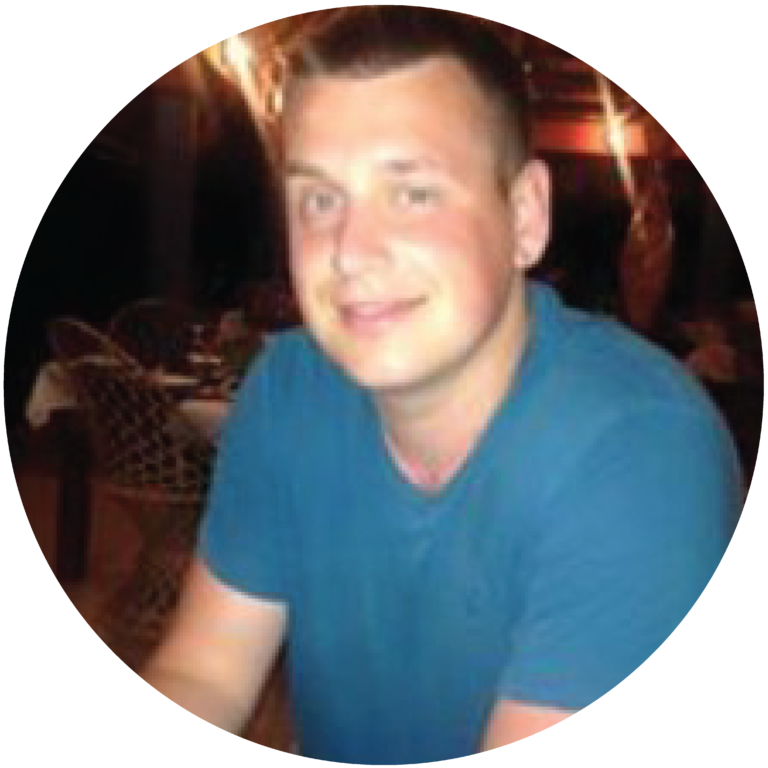 Latest posts by Ewen Finser
(see all)
Get 40% OFF for 3 Months