Last Updated on April 22, 2023 by Ewen Finser
In our post, we will be comparing two of the top accounting software out there Aplos vs Quickbooks. Find out their main differences, pros and cons and factors to consider before making your decision.
Bottom Line Up Front: For most businesses I strongly lean towards the more current and digital-friendly Quickbooks offering here. Put simply, more accountants, financial services, and technologies integrate and sync with Quickbooks vs Aplos. That said, if you really need the non-profit / church-first setup, Aplos is a great option.
Main Differences Between Aplos vs Quickbooks
The main difference between Aplos vs Quickbooks are:
Quickbooks is aimed at small to medium-sized businesses, whereas Aplos is designed for churches and non-profits
Aplos offers accountancy features to help non-profit organizations with their funds and donations, whereas Quickbooks can be used with non-profits, but only through additional workarounds and extra steps and set-up
Aplos includes a website builder and hosting, whereas QuickBooks does not
Quickbooks has cheaper plans designed explicitly for the more straightforward accountancy needs of sole-traders and smaller businesses, whereas Aplos is still quite affordable

Why go with Quickbooks?

More integrations with service providors and software solutions make Quickbooks an easy pick as our preffered accounting tool here. Put simply, more CPAs use Quickbooks. It's highly customizable and has the most market share (and thought share).

Buy Now

We earn a commission if you click this link and make a purchase at no additional cost to you.

Accounting software is an invaluable tool for any enterprise. It doesn't matter whether you're an accountant advising clients or responsible for managing the finances of your own business, well-kept records are essential. They allow you to forecast your profits, plan your budgets, and ensure you stay in the green.
But, businesses often have a diverse array of financial needs, and therefore, will require different tools to stay on top of them.
So, with that in mind, we'll take a look at two of the leading accounting programs; Aplos and Quickbooks. In this review, we'll highlight everything you need to know about both brands, so you can decide on the solution that best suits you.
Let's dive in!
Aplos vs Quickbooks: Similarities
Both tools offer basic accounting and financial management tools to smaller businesses (namely, those without enterprise-level income and staffing)
Both provide online products demos and training webinars
Aplos and Quickbooks both offer free trials (Aplos' is 15-days long, whereas Quickbooks offers double the time, 30-days).
What's QuickBooks About?
QuickBooks is one of the best-known accountancy tools on the market. Even those who don't need this kind of software (or have any interest in it) know the brand!
It's used by thousands of industry professionals, and many companies require employees in their finance departments to know how to work QuickBooks.
The software is developed and marketed by Intuit and is geared towards small and medium-sized businesses. QuickBooks has been around for ages. In fact, it was founded back in 1983. But, it wasn't until 2002 that they released their first version of their now well-known accounting solution. Over the last decade, the software has continued to evolve.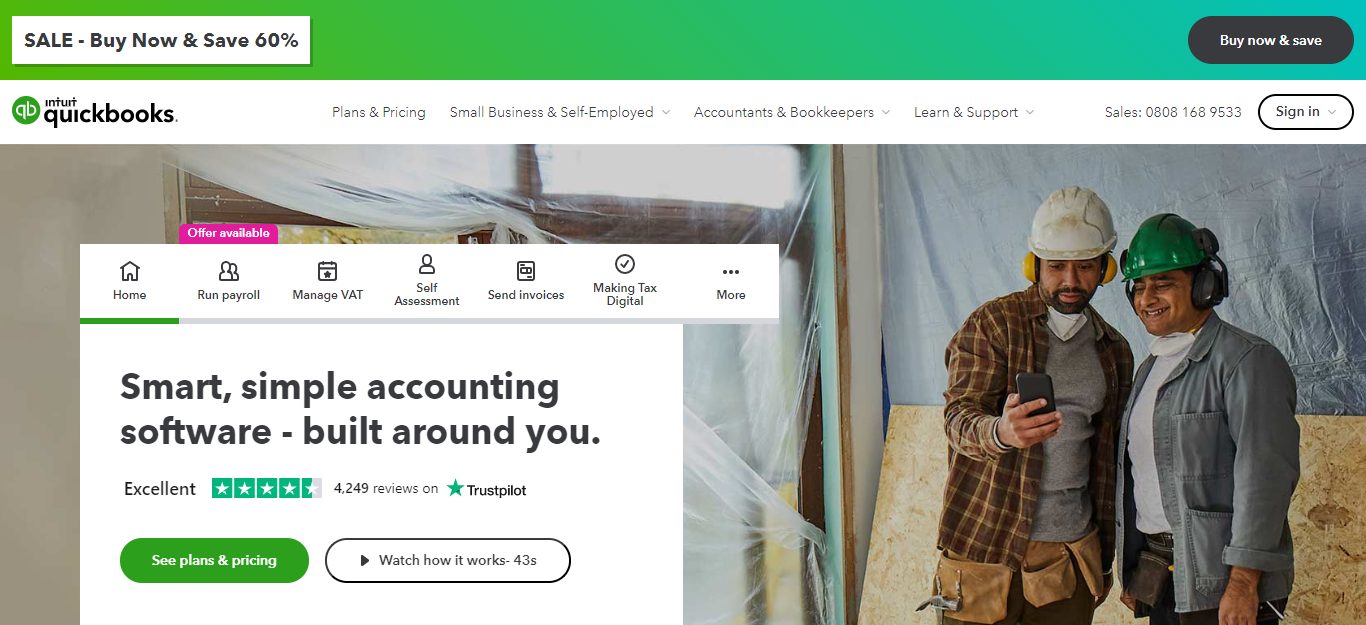 Aplos is a piece of accounting software that's primarily designed for churches and non-profit organizations as dedicated nonprofit accounting software. Their aim is to make it easier for community-minded people to focus on their mission.
The software was born when founder, Tim Goetz, couldn't find a simple nonprofit accounting software to help him manage the funds for the non-profit he was working for.
The company was founded back in 2009, and the web-based Aplos software was released in 2011. Since then, Aplos has helped over 40,000 organizations in more than 50 countries!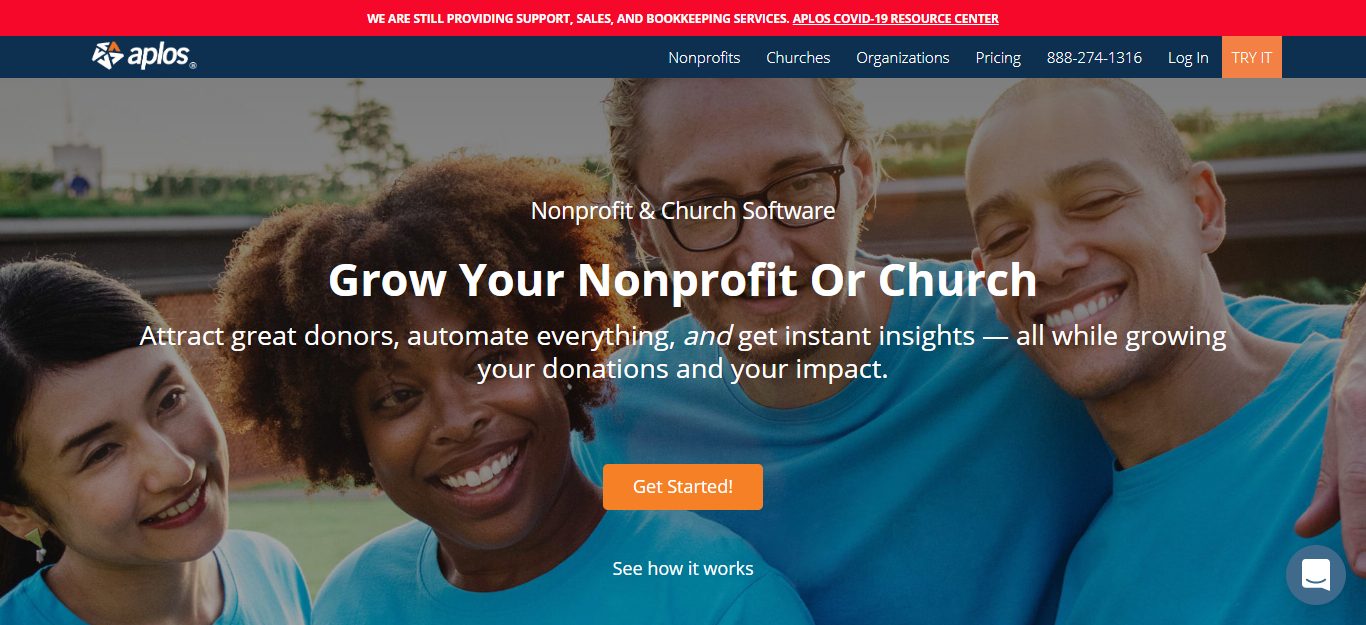 Aplos vs Quickbooks: Features
First off, let's look at what Aplos has to offer in its suite of features…
Aplos
Aplos' services are separated into solutions for Non-profits, Churches, and Organisations.
Aplos Nonprofit
One of Aplos' most distinguishing features is its CRM, where managing contacts becomes an effortless task. This allows you to collect and store all the relevant info for potential volunteers and/or donors in one place. This is especially handy for getting a quick overview of your contacts, creating lists of people for projects, and segmenting subscribers into categories to better refine your marketing campaigns.
This CRM is also kitted with donor management tools to improve your retention rates. For instance, you'll get a notification when you acquire a new donor, which makes it easy to welcome them to your community!
Most importantly, this Non-profit CRM comes with fund nonprofit accounting software features. By this, we mean you can track funds such as grants and special programs, as well as all the info you need to meet your financial requirements and hand in reports. You can even create custom charts to display your accounts and generate non-profit financial statements based on your financial position – how neat is that?
That's as well as being able to:
Accept online donation offerings
Grow recurring giving by providing a secure portal for weekly or monthly recurring donations.
Make unlimited donation forms
Set up text-to-give, so donors can simply send a text message to donate.
Add a donation widget to your site that allows visitors to donate with just a few simple clicks
Mail-merge campaign letters and emails
Launch online event registration to quickly grow engagement for your fundraisers and events
Build a website for your non-profit
Allow donors to use their preferred payment method and match donor giving preferences.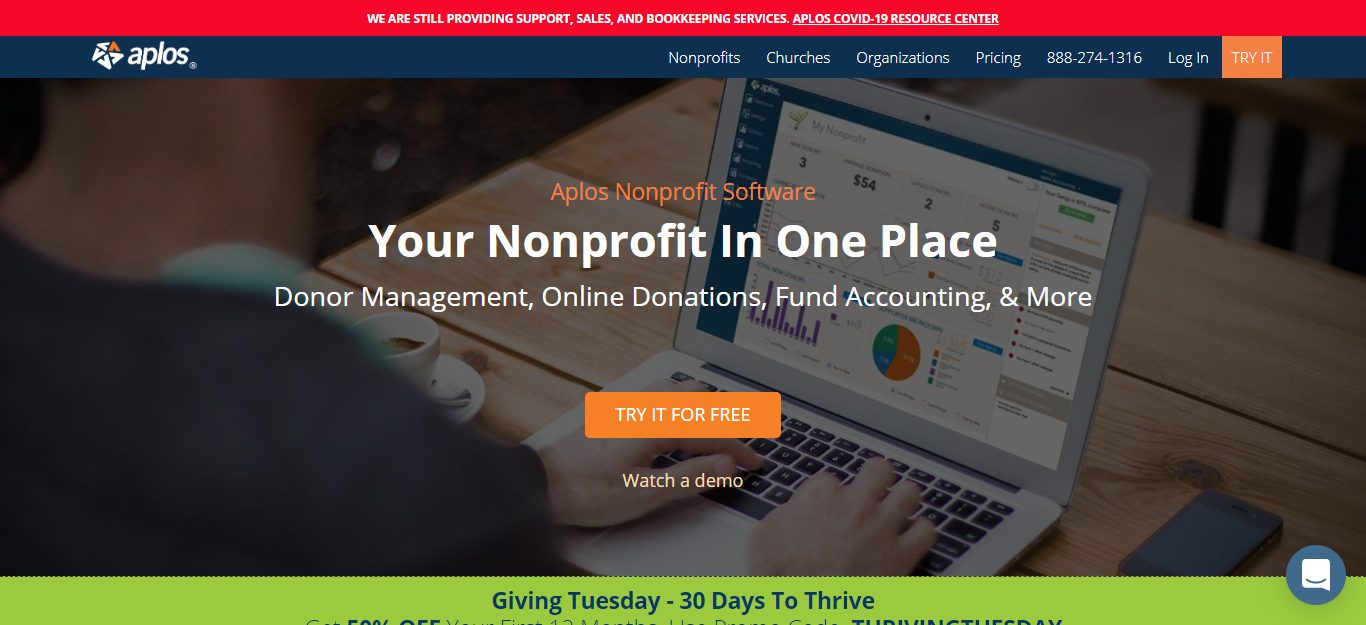 Aplos Accounting Software
Having the right tools to manage your church finances can make a massive difference in the running and success of your church. Many churches struggle with organizing their finances, which, if left to get out of control, can hinder both their overall mission and everyday activities.
Aplos accounting software was built by an executive pastor and a CPA who understood that churches have unique nonprofit accounting software needs. Aplos is specifically designed to streamline the management of your church's finances and aims to make accounting simple and stress-free.
The software tool has many features to help your accounting experience go smoothly and increase your church's potential.
These features include:
'Complete church bookkeeping,' which enables you to:
Import transactions from your bank
Create invoices and receive payments online
Print checks
Track 1099s
Journal entry for fund transfers and payroll imports
Track and pay bills
Bank reconciliation
True Fund Accounting: This feature is designed to help you track designated funds, such as maintenance or missions, with ease.
Integrated Payroll: Our integrated payroll, Gusto, will help you process pastoral salaries, tax payments, and housing allowances, quickly and effortlessly.
Financial Reports
Church financial reports no longer need to give you and your accounting team a headache. With Aplos, you can see the exact data you need across your church.
Here are some of Aplos's unique features that will help you achieve this:
Generate financial statements: This allows you to easily create income statements and balance sheets by fund, which you can then email or print to give to church leaders. You can also use tag filters and account segments for more granular reporting.
Budgeting reports: Keep track of your financial health by comparing your budget to your accounts.
Donation reports: Get a clearer insight into the contributions and pledges made to your church.
Custom chart accounts: Create a flexible chart of accounts that's unique to your church's structure. Track your funds and use tags to trace your ministries and/or departments.
Tithe Tracking and Online Giving
Grow donations by offering members a faster and more modern solution to tithe and online giving. This quick and effortless feature will particularly appeal to younger generations.
It also offers:
Unlimited donation forms: Custom-create mobile-friendly donation forms or donation widgets for your special events, capital campaigns, or mission trips.
Your donors can use their preferred method of payment, offer to pay transaction fees, and identify the purpose of their gift. *It's essential to be aware that you must have a U.S bank to accept online payments using Aplos.
Automated recurring giving: If your members give regularly, offer them the chance to set up automatic recurring giving. Plus, the size of the donation is often increased when members use a recurring system, and tithe won't drop if members miss a service. Gifts can be managed from a secure donor portal.
Faster donation tracking: You can track donations either by the giving statements or your nonprofit accounting metrics. All online endowments automatically note the donor and purpose of the contribution.
Giving statements: Create giving statements that allow you to quickly prepare monthly, quarterly, or annual reports to print or send to others via email.
Starting off in the Ministry?
If you're just starting off in ministry, you may be concerned that you don't have the funds to afford software that make nonprofit accounting easy. However, Aplos offers specific deals to those who are starting out. So, your mission can enjoy the best financial organization from the get-go…and save a few dollars at the same time. Win-win!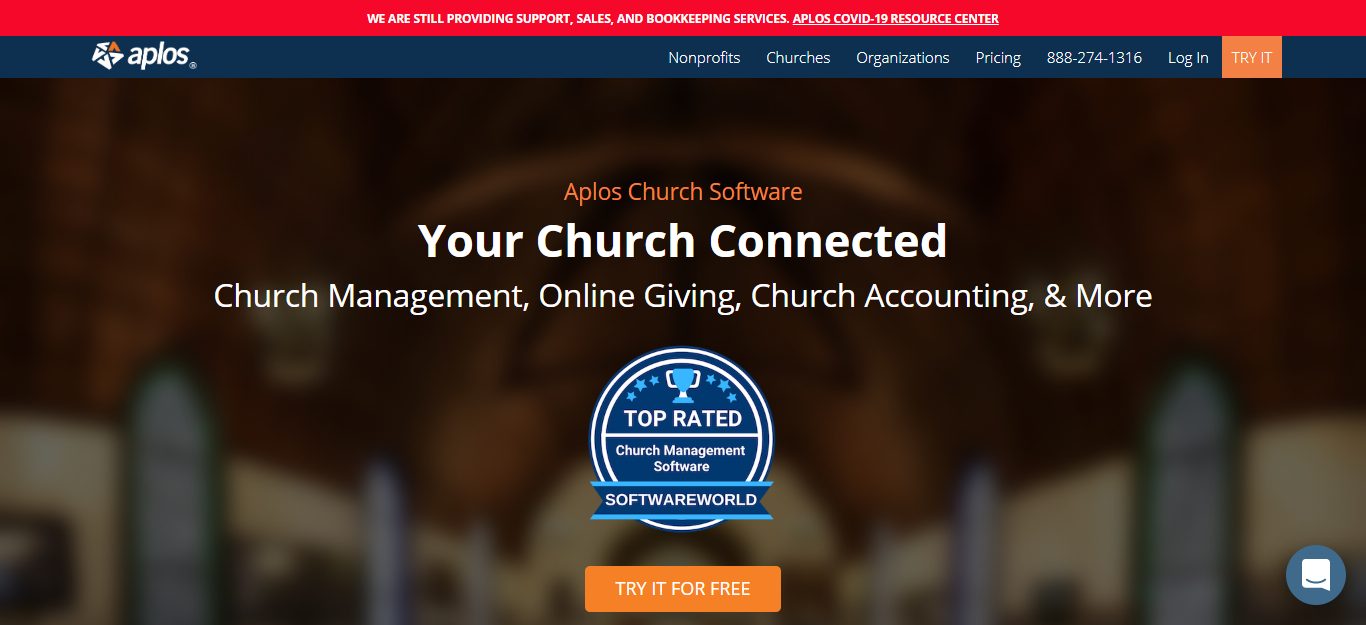 Accountants and Organisations
For professional Accountants, Bookkeepers, and organizations, the core features of the Aplos software include:
Fund accounting
Status of monthly tasks
Cloud Management
Real-time access to organizations you audit
Time tracking
Unlimited users
Custom account charts
Free support
These features are designed to help professionals work with their teams and clients and make believing, advice, and time tracking easy.
Aplos also promotes its software explicitly to the Homeowner Association (HoA), educational institutions, sports organizations, and parent-teacher associations (PTA).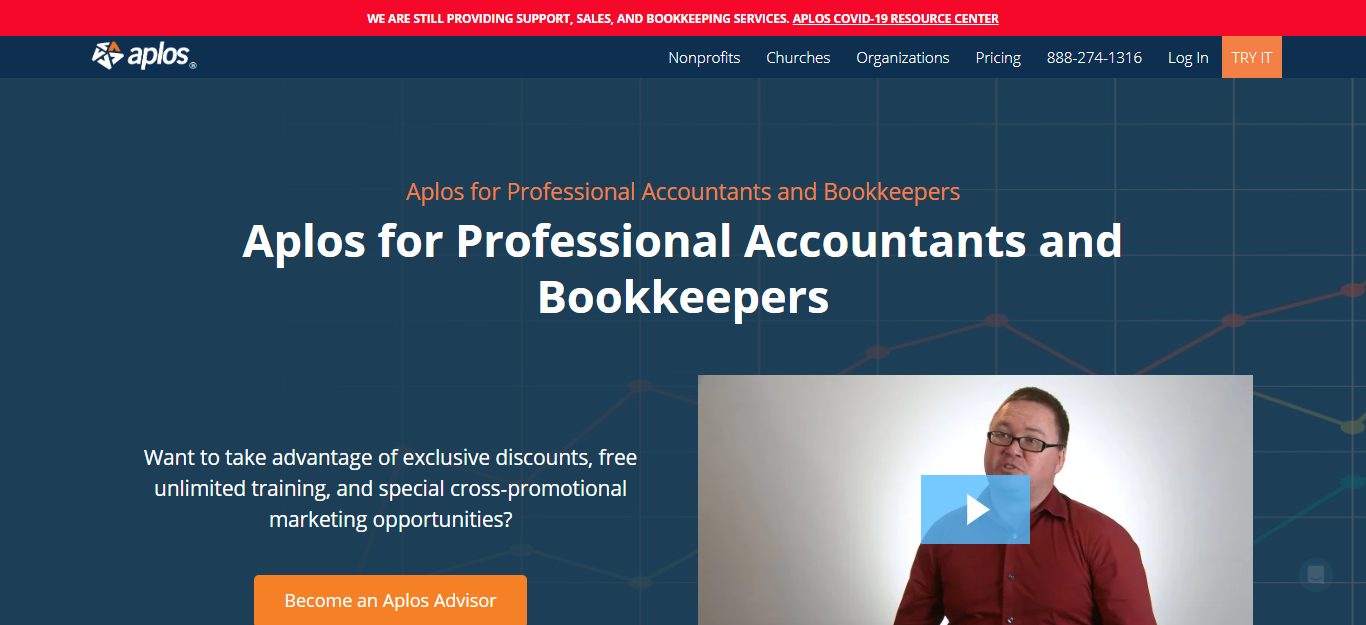 Quickbooks
Quickbooks features are designed with small to medium businesses in mind, as well as giving individual, self-employed workers a tool to handle their accounting and make their income, expenses, and taxes more visible and manageable.
The core features of the software include:
Tracking Project Profitability
Managing Bills / Invoicing
Tracking Miles
Tracking Income and Expenses (expense tracking), categorizing and registering receipts
Managing invoices and payments
Managing contractors
Paying workers (at additional cost)
Managing and forecasting cash flow
QuickBooks also offers specialized solutions for other types of organizations, including non-profits and enterprises.
The features most relevant to non-profits include:
Program and fund accounting automation (nonprofit accounting software)
Tools to help you plan for future growth with donation management, church management, and financial statements
Integrations with apps like DonorPath, Kindful, and NeonCRM
However, the majority of the features you get with the non-profit plan overlaps with QuickBooks' standard accounting software. In comparison to Aplos, they don't provide as many services that cater specifically to non-profits.
Quickbooks also doesn't seem to take the importance of people management into account. For instance, there aren't features that make getting in touch with donors easy, or that encourage engagement with your cause.
QuickBooks also recommends its Plus or Advanced plans for nonprofits. This, of course, requires a steeper investment but with fewer features that cater to their business model (when compared with Aplos).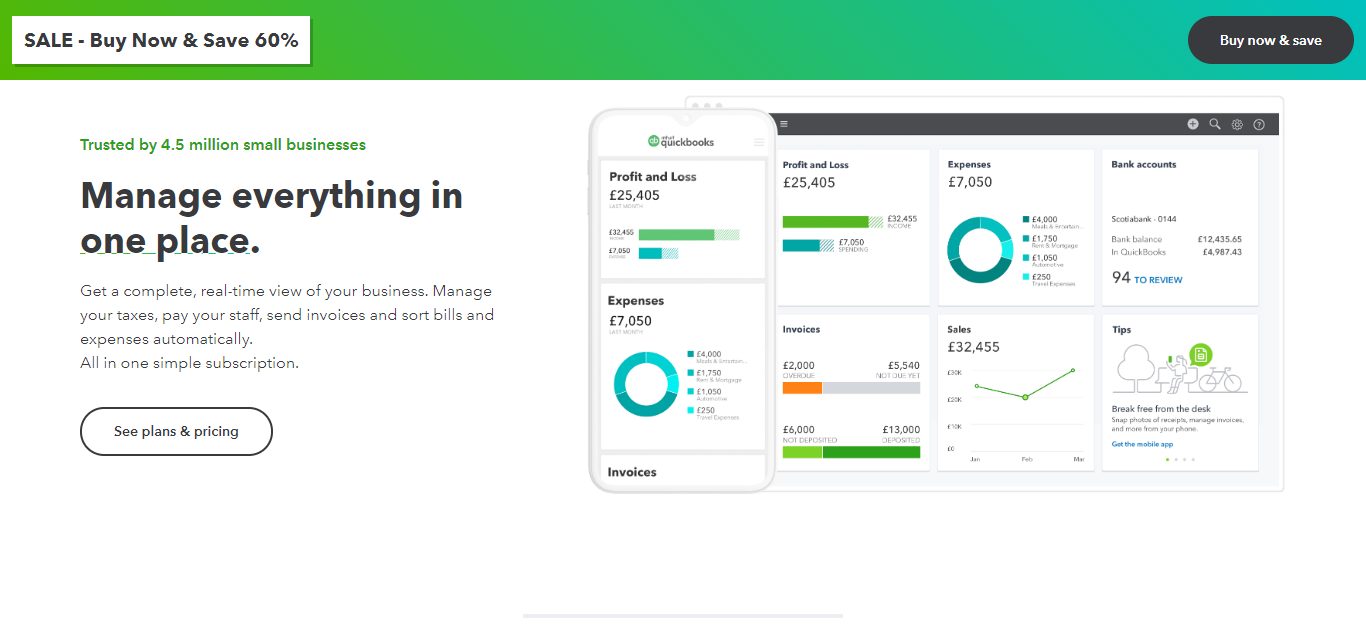 Aplos vs QuickBooks: Integrations
Quickbooks integrates with Square for POS, Paypal, and Shopify. In turn, many software tools have created integrations to work with QuickBooks as one of the most utilized accounting tools on the market.
Aplos' leading integration partner is Gusto for managing payroll and onboarding new employees. But, they also integrate with Sage Payroll, Boomerang, as well as non-profit-specific services like- Continue to Give, Kindful, DonorELF, and the Church Community Builder.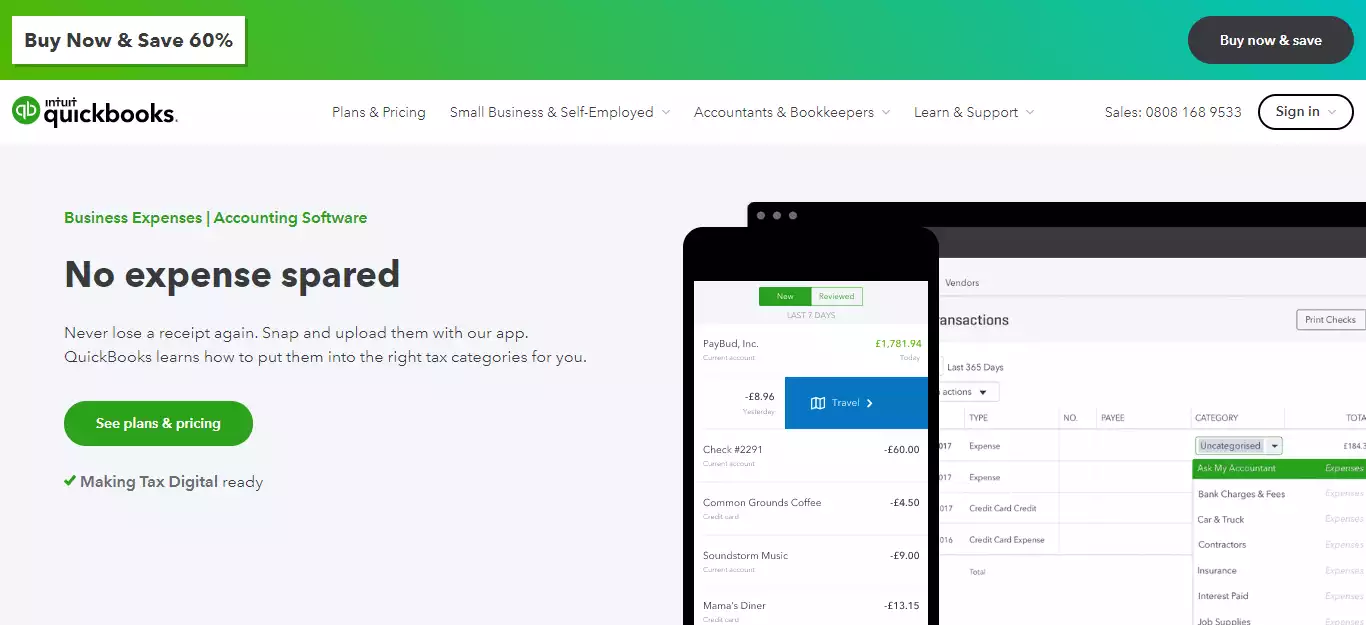 Why go with Quickbooks?
More integrations with service providors and software solutions make Quickbooks an easy pick as our preffered accounting tool here. Put simply, more CPAs use Quickbooks. It's highly customizable and has the most market share (and thought share).
Buy Now
We earn a commission if you click this link and make a purchase at no additional cost to you.
Aplos vs QuickBooks: Customer Support
QuickBooks has an extensive library of support documentation online. Once a member, you can get in touch with them directly or be matched to a specialist advisor in a similar field. There are also tutorials, demos, and webinars available online.
Aplos can be contacted from 6 am – 6 pm (PST) Monday to Friday or via email. Their support center covers the most important topics, and demos are also available. However, the community of customers is overall smaller, and finding information and advice from fellow users is more complicated.
Aplos vs QuickBooks: How Much Will These Programs Set You Back?
You're probably wondering how much Aplos and QuickBooks will burn a hole in your pocket, so let's look at the pricing plans for both pieces of software…
If you're a church or a non-profit organization, you might not have a massive budget to invest in software solutions, and Aplos has kept that in mind:
This is Aplos' cheapest plan, available for $59 a month (10% off with an annual subscription).
This package entitles you to all their core non-profit and accounting tools – such as:
Fund accounting
Non-profit financial statements
Budgeting reports
Donor management
Online donations and giving
Giving statements
People database
Fundraising tools
A groups and team portal
Marketing and communication tools
Event registration
A website builder
One great bonus of an Aplos subscription is that website hosting is included in the plan!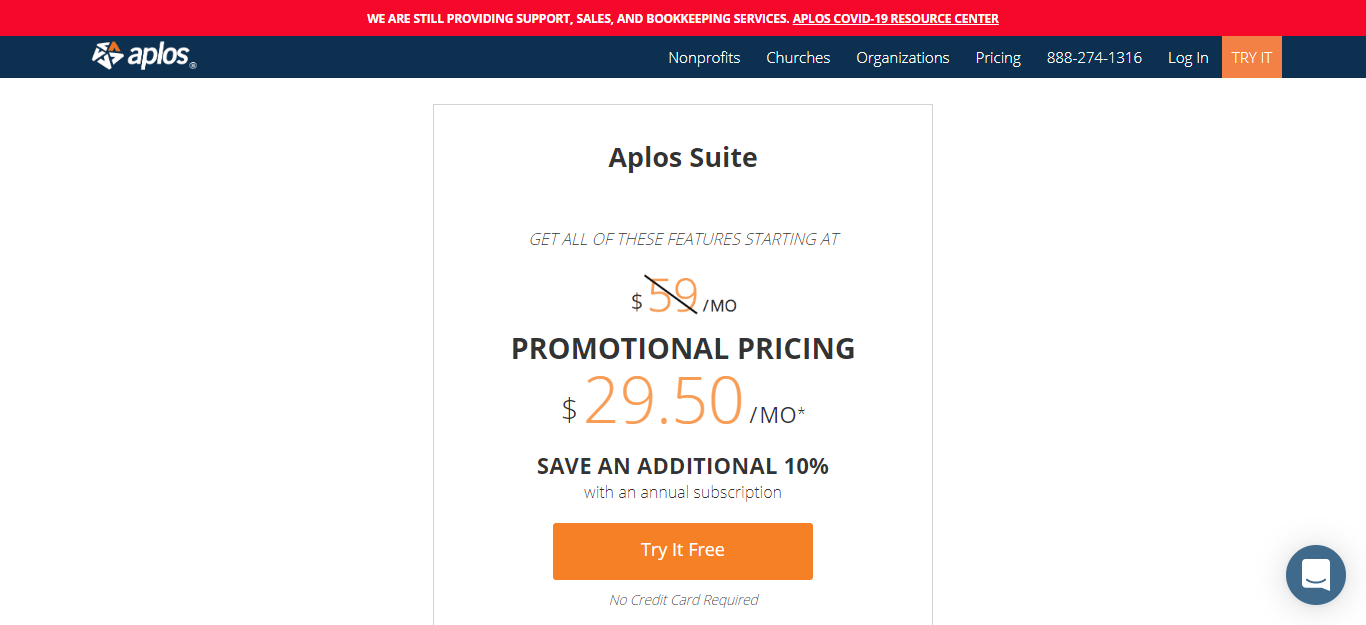 The Advanced Accounting Upgrade
This is available at $159 a month and unlocks, (on top of all the core features), the following:
Custom role permissions
Automatic recurring transactions
Fixed asset tracking
Income and expense allocations
Multiple entity management
Budgeting by fund or tag
Project, Campaign or Department Reporting
Additionally, you can upgrade your Aplos subscription with optional features such as Gusto's payroll integration and monthly bookkeeping and implementation services.
Aplos can be tested as a free trial for 15 days, and a demo of the advanced accounting features can be requested. Aplos also offers special discounts for non-profits founded within the last six months or with annual revenue less than $50k.
Top Tip: The company occasionally hosts promotional sales, so keep an eye out for those, and strike while the iron's hot!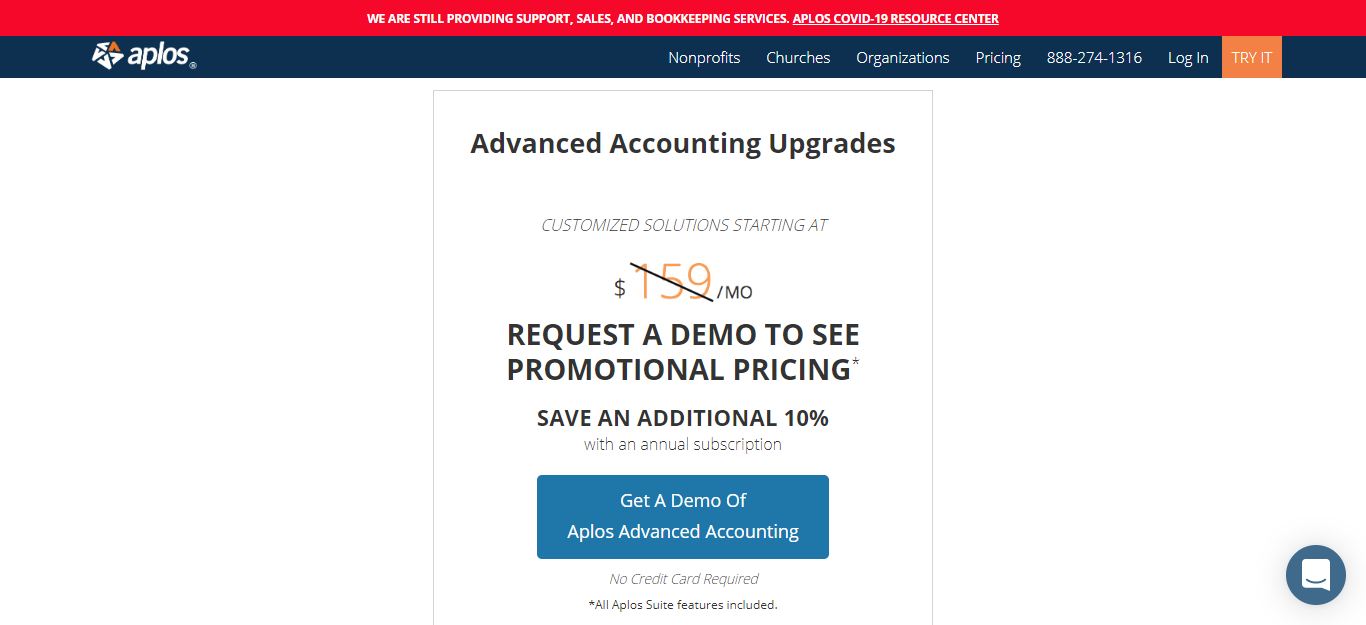 Quickbooks has three pricing plans available (at the time of writing, there was a sale on – however, the pricings below are the typical costs):
The Simple Start plan is $25 a month. This enables you to track income and expenses, capture and organize receipts, maximize tax deductions, invoice, accept payments, and track miles. It also allows you to run comprehensive reports, send estimates, track sales, and sales tax, and manage 1099 contractors.
The Essentials plan for $40 a month builds upon the Simple Start plan (invoice, expense, etc…) by providing bill and time management features and access for up to three users.
The Plus Plan at $70 a month, unlocks features for tracking inventory and project profitability.
The Advanced Plan costing $150 a month, enables business analytics and insights, batch invoiceing and expense entries, a dedicated account manager, and on-demand digital training. You can also customize access levels based on their job role. Recently added, this plan now includes online back-up and restoration as well as features to automate workflow.
Freelancers that don't have a VAT number can still benefit from QuickBooks with their Self-Employment Plan. This costs $15 a month and allows sole traders to handle basic accountancy.
Note on QuickBooks Desktop vs QuickBooks Online: Quickbooks also features traditional installed software options with QuickBooks Pro, QuickBooks Premier, QuickBooks for Mac and QuickBooks Enterprise. We generally recommend sticking to Quickbooks Online for the latest updates vs shelling out $500 for QuickBooks Premier, for example.
For example:
Tracking income and expenses
Capturing and organizing receipts
Estimating quarterly taxes
Invoicing and accepting payments
Tracking miles
Running basic reports
Like Aplos, QuickBooks also runs occasional sales. These can make their plans cheaper by as much as 50%. So, it's undoubtedly worth regularly checking the pricing section on their website to try and catch a good starting offer!
The two software providers also offer payroll services that you can add to your subscription. QuickBooks charges an extra $4 per month per employee to access its core payroll features. Aplos, on the other hand, integrates with Gusto, so you can access Gusto's payroll features.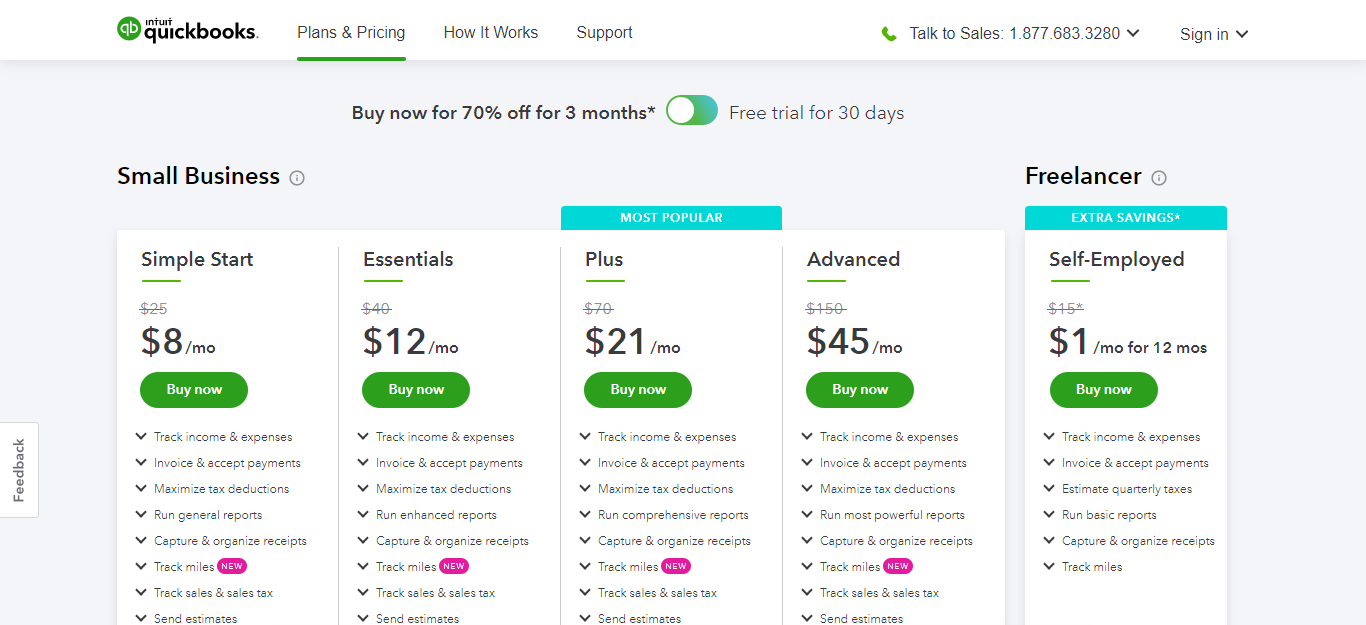 Who Should Use QuickBooks?
QuickBooks is the tool for you if you're a small (small church) or medium-sized business working on your own to manage your finances (or with the help of an accountant).
The software includes all the features you need to handle every aspect of your finances, as well as affordable payroll integrations you can add to the package.
QuickBooks also has a standard and essential version for freelancers. This is explicitly designed to help them track income and expenses and invoice clients. There's no excess of unneeded features, their plans scale appropriately as your business grows.
Who Should Use Aplos?
Aplos and QuickBooks differ in one significant aspect.
In essence, Aplos is intended for non-profits and churches (church accounting software). In fact, it markets its entire software towards these community-oriented organizations. QuickBooks, on the other hand, is way more business-focused.
As a result, there are many features included in Aplos that wouldn't make sense for typical businesses. For instance, fund and donor management, event sign-ups, and donor forms.
Most companies already have a website or use another, more established website builder or even a designer to create their online presence. So this aspect of Aplos's service (usually) isn't needed by your standard business.
In summary, Aplos is an excellent tool for the audiences it addresses. So, if you're a non-profit or church, this software helps with a few things – not just with tracking your funds and finances. Aplos has a whole suite of features for boosting donor engagement, managing your teams, contacts, and activities, and establishing an online presence.
But, Aplos isn't available as cheaply as QuickBooks. So, if you're a smaller non-profit organization, get in touch with Aplos to see if they can offer a discount to make this a more affordable tool for you.
Frequently Asked Questions:
Is QuickBooks good for churches?
QuickBooks is a great software for small businesses. But when it comes to churches, it lacks basic features such as fund accounting or contribution tracking.
How much does Aplos cost?
Aplos pricing starts at $59.00 per month. There is not a free version of Aplos. But Aplos does offer a free trial.
Does Aplos do payroll?
Yes, your payroll entries can be seamlessly entered as Aplos journal entries for faster bookkeeping. Also Aplos users can try Gusto free for 90 days.
Is there a monthly fee for QuickBooks?
QuickBooks Online has a monthly SaaS pricing structure.
There are four pricing plans available ranging from $20-$150/month (with an additional $35/mo+ for payroll).
Aplos vs Quickbooks: Which Accounting Tool Suits Your Organization Best?
Now you know the core differences between Aplos and Quickbooks and how their pricing and features compare. Remember, these tools cater to very different types of organizations.
So, once you've identified what you need from your accounting software, it should be easy to pick one over the other.
If you're a freelancer or anyone with more basic accounting needs, QuickBooks' cheapest plans will work well for you. Plus, they integrate with many other tools that businesses commonly find useful.
Whereas, if you're a non-profit organization, Aplos might be the best all-inclusive toolkit for managing your finances and community.
Bottom Line Summary: For most businesses I strongly lean towards the more current and digital-friendly Quickbooks offering here. Put simply, more accountants, financial services, and technologies integrate and sync with Quickbooks vs Aplos. That said, if you really need the non-profit / church-first setup, Aplos is a great option. Specifically, if you need church management software, the CRM + accounting tools are hard to beat, even for the venerable Quickbooks solution.
Have you ever used Aplos or Quickbooks before? If so, what did you like about these programs? Would you recommend them to a friend? Let us know in the comments box below!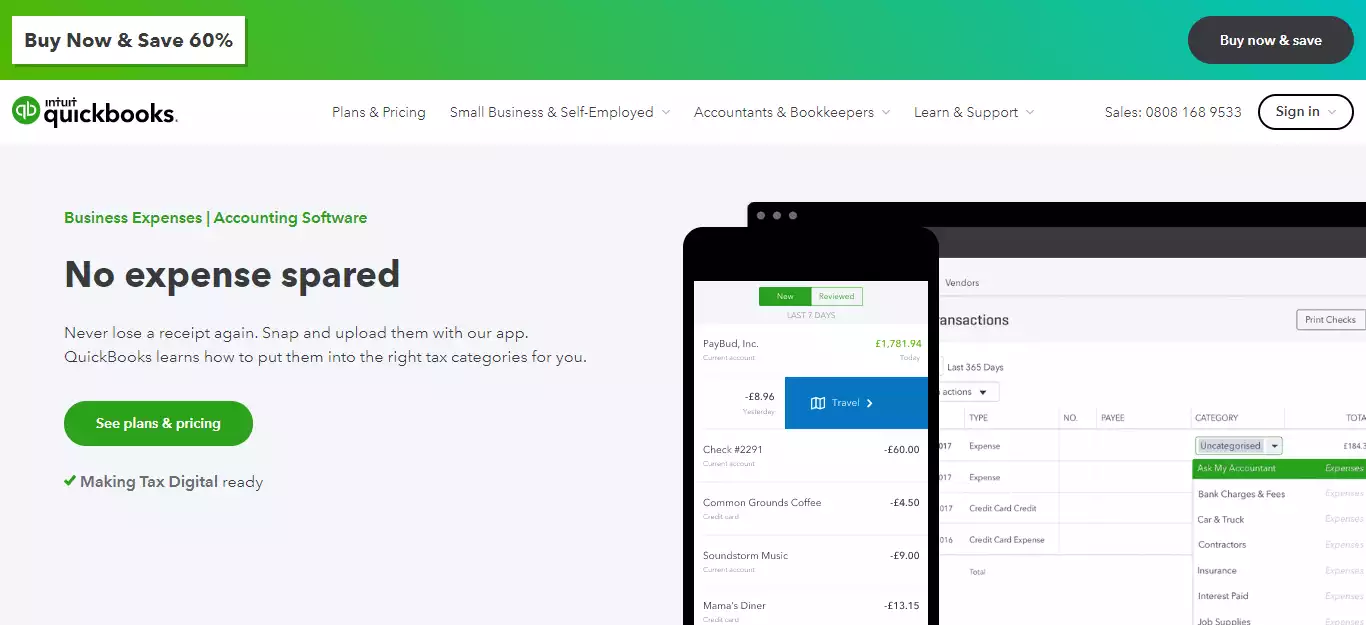 Why go with Quickbooks?
More integrations with service providors and software solutions make Quickbooks an easy pick as our preffered accounting tool here. Put simply, more CPAs use Quickbooks. It's highly customizable and has the most market share (and thought share).
Buy Now
We earn a commission if you click this link and make a purchase at no additional cost to you.
Further Reading on Accounting Software and Bookkeeping Tools: