Last Updated on September 15, 2021 by DMEditor
There are many reasons you might want to send money abroad. However, if your contractors and business partners are dotted around the world, global payments are likely a recurring task for you.
If you can relate, you've likely noticed that foreign transactions can be expensive and, often, take a long time. Neither is ideal for recurring business payments.
Veem and Transferwise are two money transfer services that aim to improve that situation. They both promise to send money abroad fast and with the cheapest rates.
This review will look at how both these services work, what they provide, and how they compare.
Veem vs Transferwise – how should you send your money? Let's find out…
Veem vs. Transferwise: Their Core Differences
Here's where Veem and Transferwise showcase their most significant differences…
Veem's exchange rates are declared only once you're signed up and aren't transparent whereas Transferwise calculates its cost based on the mid-market-rate and displays their rates live.

Overall, Veem features more functions than Transferwise, like invoicing tools.

Veem integrates with more software, including several accounting tools and Shopify. It also integrates with Zapier, whereas Transferwise only integrates with Xero.

Veem is aimed at businesses, whereas Transferwise markets itself to everyone, including individuals and sole traders.
Veem vs. Transferwise: Their Core Similarities
Now, let's take a look at their similarities…
Both Veem and Transferwise enable you to send money quickly (within 2-4 business days) – sometimes, even within a day.

Both options offer transparent pricing and low foreign exchange rates.

Veem and Transferwise both enable the sender and recipient to view their selected country's exchange rate and what the recipient will receive.

It's free to set up an account with both Veem and Transferwise.

Both platforms provide intuitive interfaces.

Veem and Transferwise both offer bank-level security.
What is Veem?
Veem is a global payment network designed for businesses. Launched in 2014, Veem wanted to make international money transfers as simple as possible. Since then, it's evolved to help business owners, accountants, and financial professionals pay and get paid worldwide.
To get going with Veem, you have to sign up for a free account and connect your bank account. Veem will also ask you to confirm your identity. Your business partners will likewise have to set up an account to receive payments. Once you've started a transaction, you and the recipient are kept updated about the transaction's status from start to finish.
Once your account's up and running, Veem makes it easy for you to pay and get paid either on a one-off or recurring basis.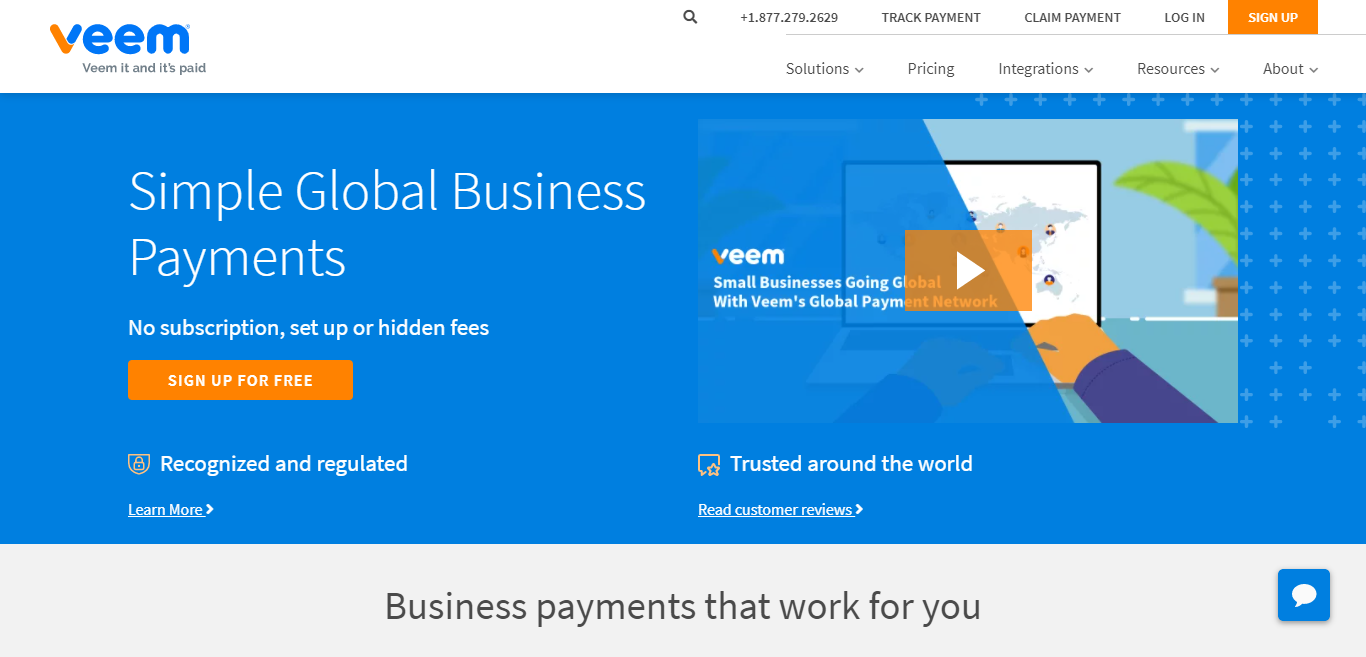 What is Transferwise?
Transferwise was born out of the frustration that comes with facing hidden charges when sending money abroad. The service aims to eradicate that falsehood by allowing users to send money abroad at the lowest possible cost.
Transferwise comprises its costs using accurate exchange rates as well as a small, transparent transfer fee.
After the two founders found a workaround to get paid and pay their own expenses without facing hidden bank fees, they expanded this idea to form Transferwise.
Transferwise is available both for individuals sending money to friends and family, as well as businesses (freelancers, sole traders, small businesses, and even enterprises). You can open an international business account within minutes.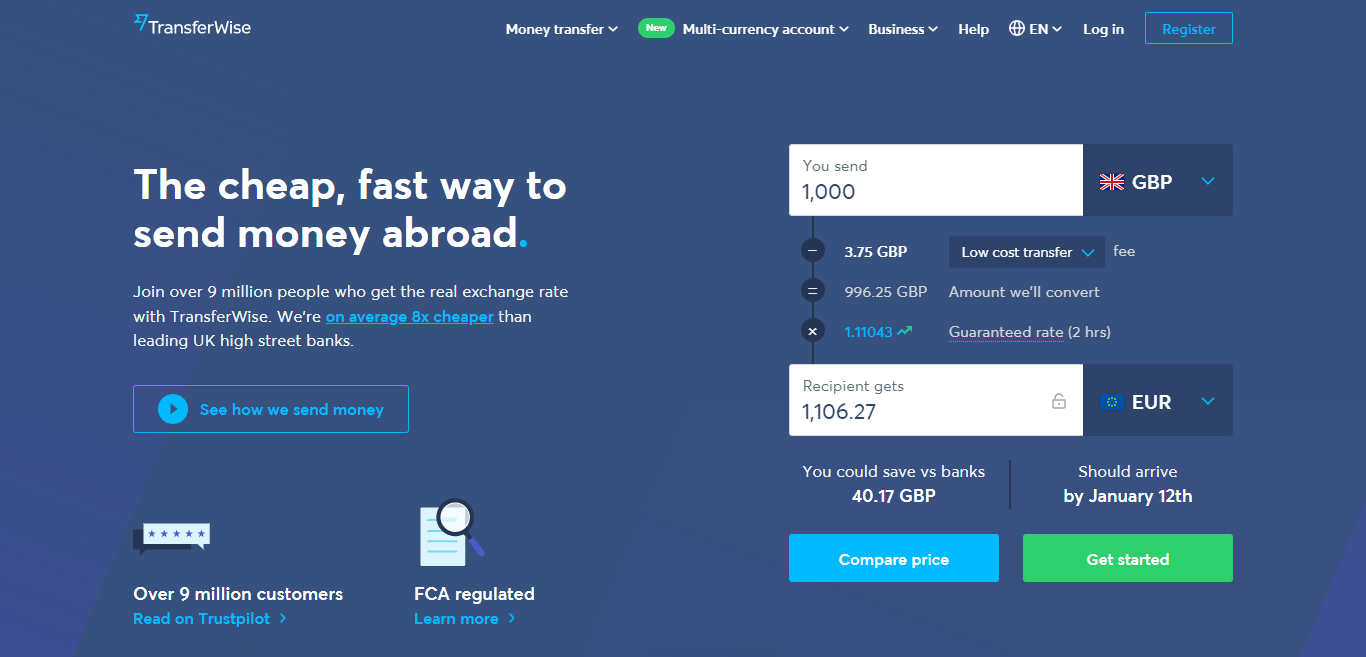 Veem vs. Transferwise: Their Core features
Veem and Transferwise's core features are similar. At heart, the service is quite simple. You just create an account through which you can send or receive payments. But aside from money transfer, both tools offer several features and integrations into the mix.
With that said, let's take a look at how Veem and Transferwise's features compare…
Transfer Speed
Veem
Veem's transfer speed stands at between one and three business days. One standout feature Veem includes is its real-time payments. You can get paid immediately with instant deposits, which cuts the standard bank-processing delay from three days to under an hour. This means you can smoothly control your cash flow and spend money near-on right away. However, you'll be charged 1% of the deposit (a minimum of $1.50 and a maximum of $20).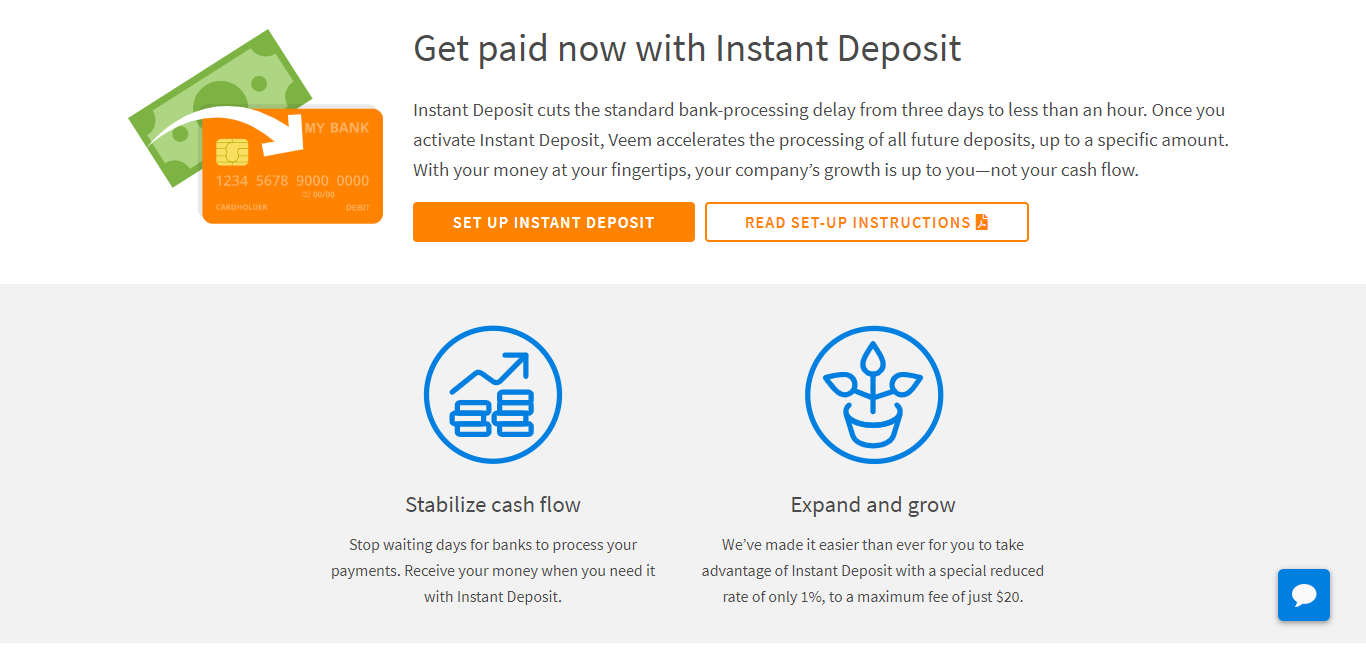 Transferwise
Transferwise sometimes sends money within minutes. However, more often than not, the transfer takes more than a day, depending on the currency.
The Winner: A Tie
There's no way to foresee how long a transfer will take. However, both Veem and Transferwise ensure faster-than-a-bank transfer rates. If you're willing to pay a little extra, Veem's instant payouts guarantee immediate access to funds. However, this feature doesn't apply to sending money in the same way.
Currencies
As a truly global business, you might find yourself working with large numbers of currencies. Even if you don't have many international partners, that one company that requires a specific currency can be a hassle. So, below, we've listed the currencies Veem and Transferwise support. That said, these platforms offer different currencies both for sending and receiving money. Let's take a look…
Veem
Veem allows you to send and receive money from over 100 countries. That said, you can receive money from way more countries than you can send funds to. That said, focus on European countries, the US, and Australia.
Here are the currencies you can receive:
ALL

USD

DZD

ARS

AMD

AUD

EUR

BSD

BDT

BBD

BRL

BND

CAD

CLP

HRK

CZK

DKK

EGP

FJD

HKD

CNY

INR

ISK

HUF

IDR

ILS

JMD

DPY

JOD

KZT

KWD

MOP

MWK

MYR

MUR

MZN

NZD

NOK

OMR

PKR

PEN

PHP

PLN

QAR

RON

RUB

SAR

RSD

SGD

ZAR

LKR

CHF

SEK

SZL

TWD

TTD

THB

TND

TRY

UGX

ZMW

VND
…and the currencies you can send:
New currencies are being added, so keep an eye on that!
Transferwise
Transferwise's sending list is more impressive, including Zambia, Uruguay, Vietnam, Togo, Senegal, and many others. You might even be able to send money to countries not on the list if the recipient's account predominantly handles USD, EUR, or GBP!
You can send and receive money in the following currencies:
AED

AUD

BGN

BRL

CAD

CHF

CZK

DKK

EUR

GBP

HKD

HRK

HUF

INR

JPY

MYR

NOK

NZD

PLN

RON

TRY

SEK

SGD

USD
You can also send money in these currencies (via local transfer):
ARS

BDT

BWP

CLP

CNY

COP

CRC

EGP

GEL

GHS

IDR

ILS

KES

KRW

LKR

MAD

MXN

NGN

NPR

PEN

PHP

PKR

RUB

THB

UAH

UYU

VND

XOF

ZAR

ZMW
Transferwise is also adding more currencies as time goes on – you can even vote for the currency you're interested in!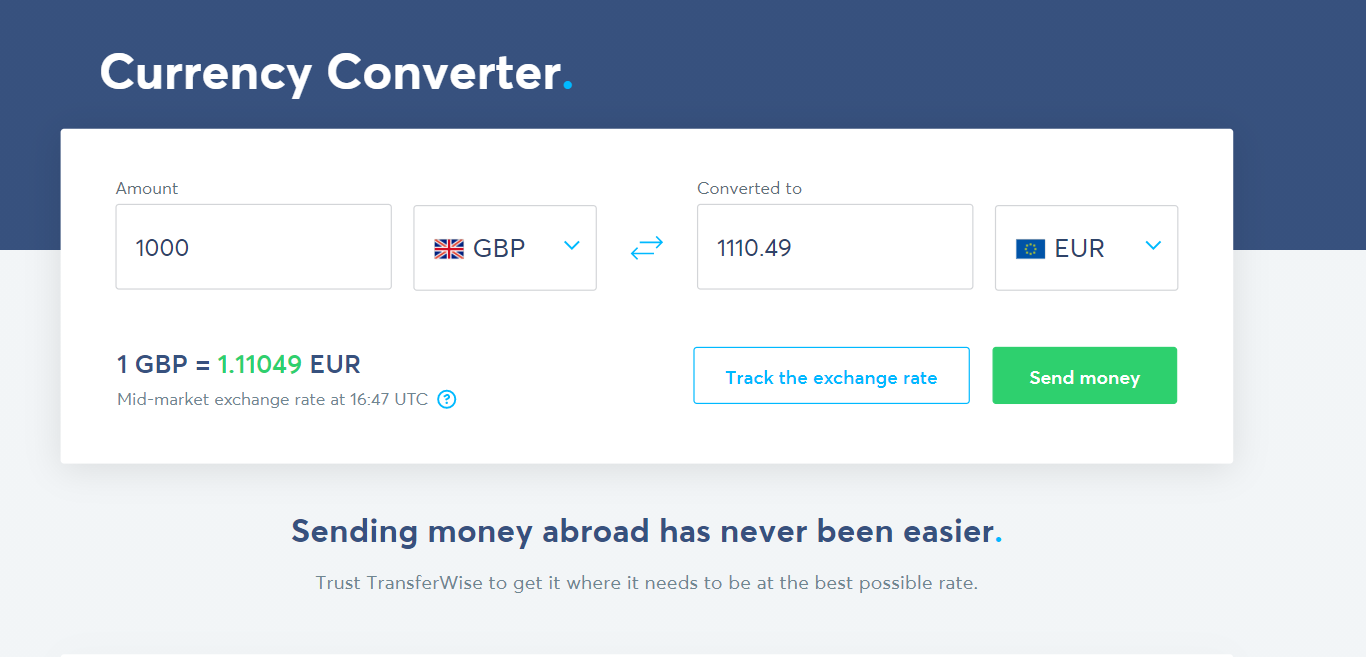 The Winner: TransferWise
Both services support a vast number of currencies, empowering you to partner with businesses around the globe. However, when it comes to sending money, Transferwise knocks Veem out of the park. Namely, because with Veem, if you're based in a country with a local currency not based in one of the major English speaking nations, you'll have to work in a currency that isn't your own.
Invoices
There's a good chance you're interested in Veem and Transferwise because you handle lots of invoices that require careful record keeping and the creation of numerous monthly invoices. So, what assistance can Veem and Transferwise offer in this area?
Veem
Veem makes invoice creation easy with its intuitive invoice builder and templates. Once an invoice is sent, you can track invoices from your account in real-time. On top of that, you can also integrate accounting software like Xero or Quickbooks to help ensure you never miss a payment!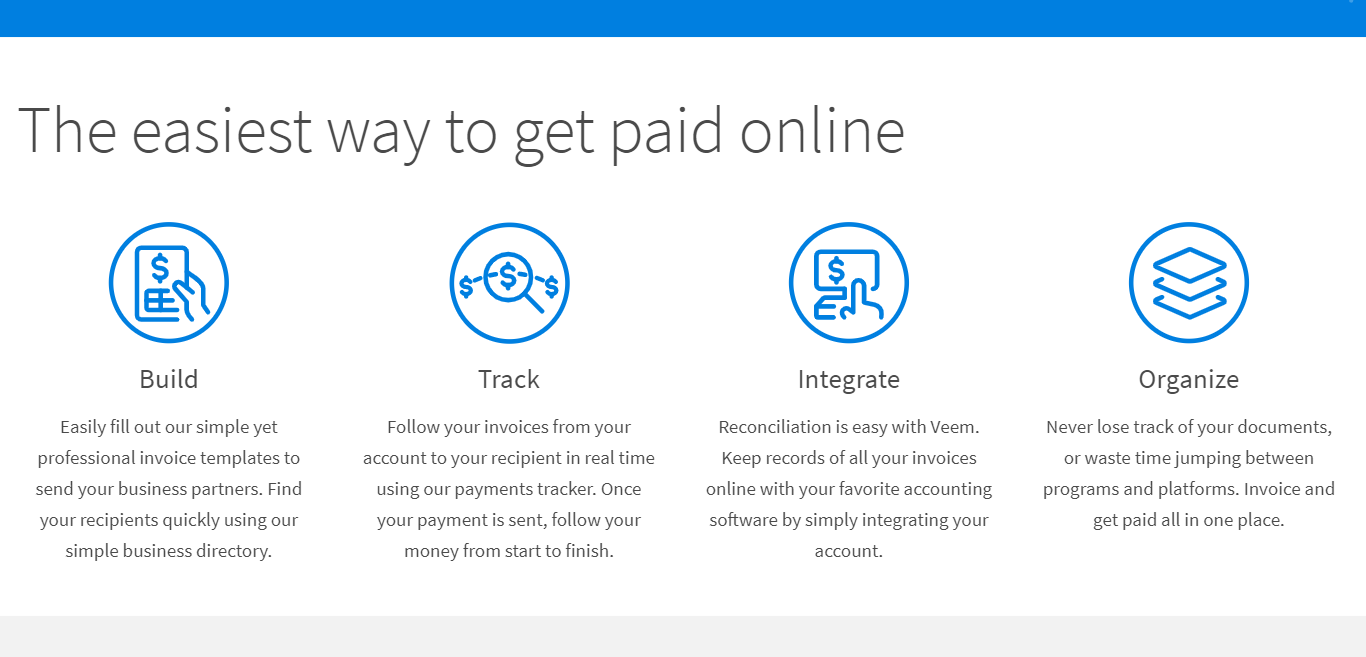 Transferwise
Transferwise doesn't offer much in the way of invoicing. They provide a free invoice template on their website, but this is a stand-alone courtesy that doesn't quite make it onto the features list.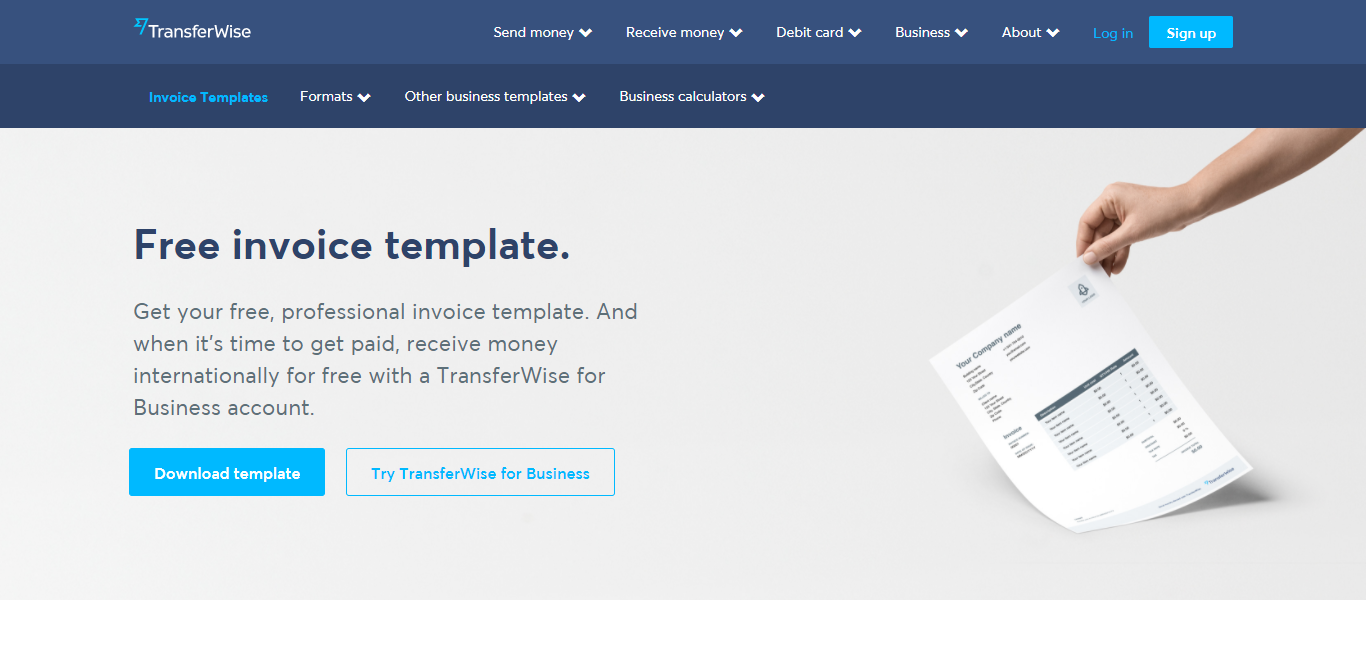 The Winner: Veem
While it's nice to get a free invoice template, Veem makes invoicing an essential feature. So, it's no surprise that this deserves recognition!
Mass Payments
If you're handling large numbers of payments, processing the info can take quite a while. This is where a mass payment functionality can save you vast amounts of time by repeating these processes for you. Let's see how Veem and Transferwise handle this…
Veem
Whether you want to send one or thousands of payments, Veem enables you to do so in bulk. Veem integrates with your existing systems to help transmit and reconcile payments more efficiently. There are no added costs for mass payments, so you can send as many as you want simultaneously. The process is simple and allows for easy scalability.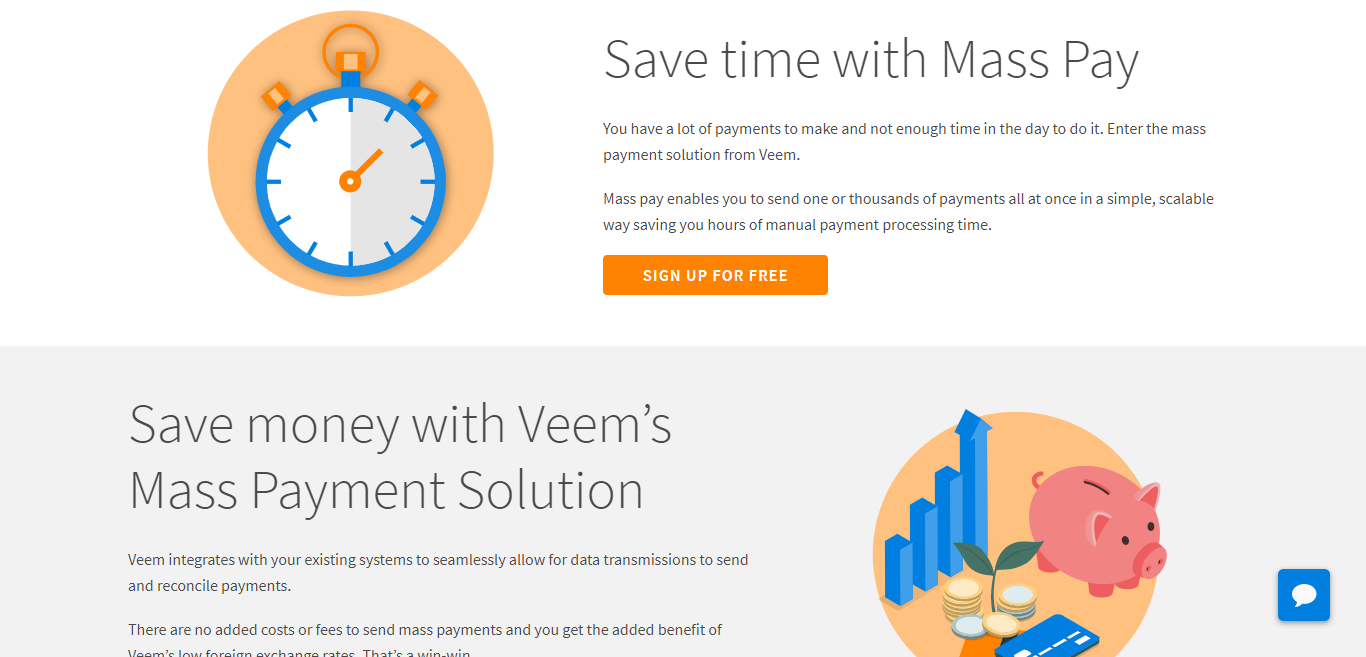 Transferwise
Transferwise also has similar mass payment features in place, which enable you to better organize your payments. Transferwise's batch payments tool also comes with a delivery estimator, pay-to-email, and real-time tracking of all payments.
The Winner: A Tie
Both Veem and Transferwise offer mass and bulk payments so that you can handle several transactions at once. This is a nice feature all around, making payroll easier and saving you and your team tons of time.
Veem vs. Transferwise: Integrations
If you're relying on Veem or Transferwise to handle international payments, there's a good chance you have complex accounting needs. So, you'll want to keep track of what you pay, the fees involved, and when and how you received the money. Integrating with other tools makes this process much easier by not having to jump between different software. So, which integrations do Veem and Transferwise offer?
Veem
Veem integrates with Quickbooks, Xero, Netsuite, and Shopify. But, through its Zapier integration, you can connect with hundreds of other third-party apps. You also have access to Veem's API, so if you have the coding smarts, you can create further integrations yourself.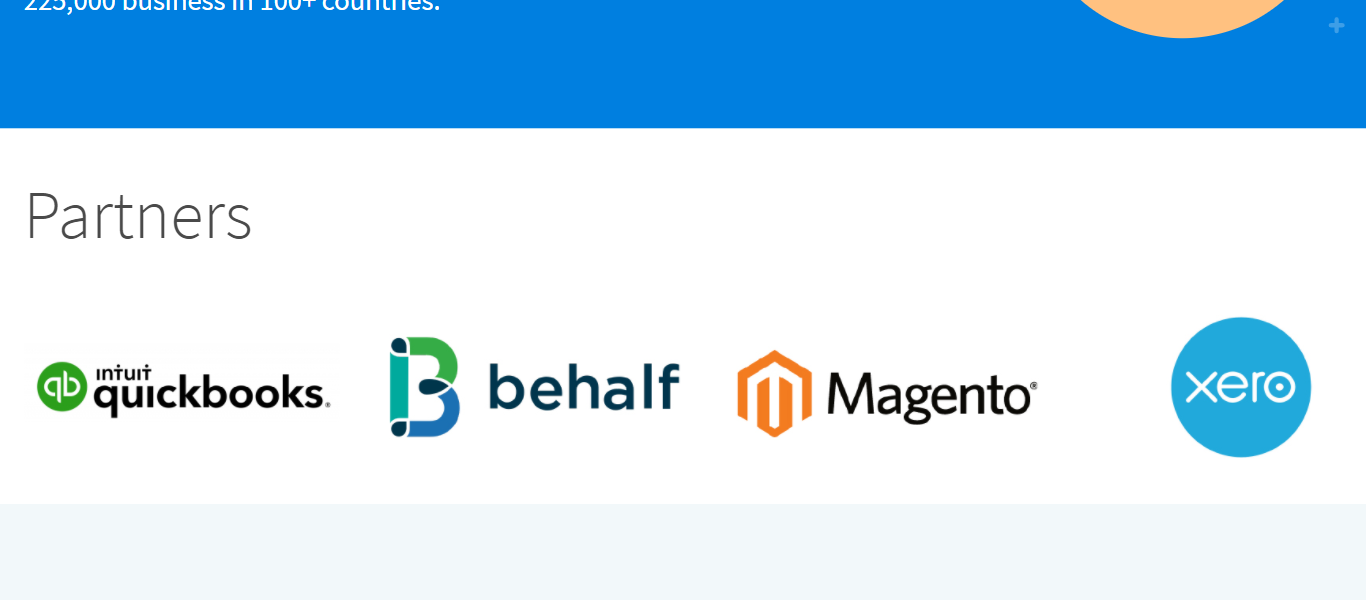 Transferwise
Conversely, Transferwise doesn't offer any native integrations other than Xero, QuickBooks, and FreeAgent. Instead, you'll have to rely on Transferwise's own open API to develop your own.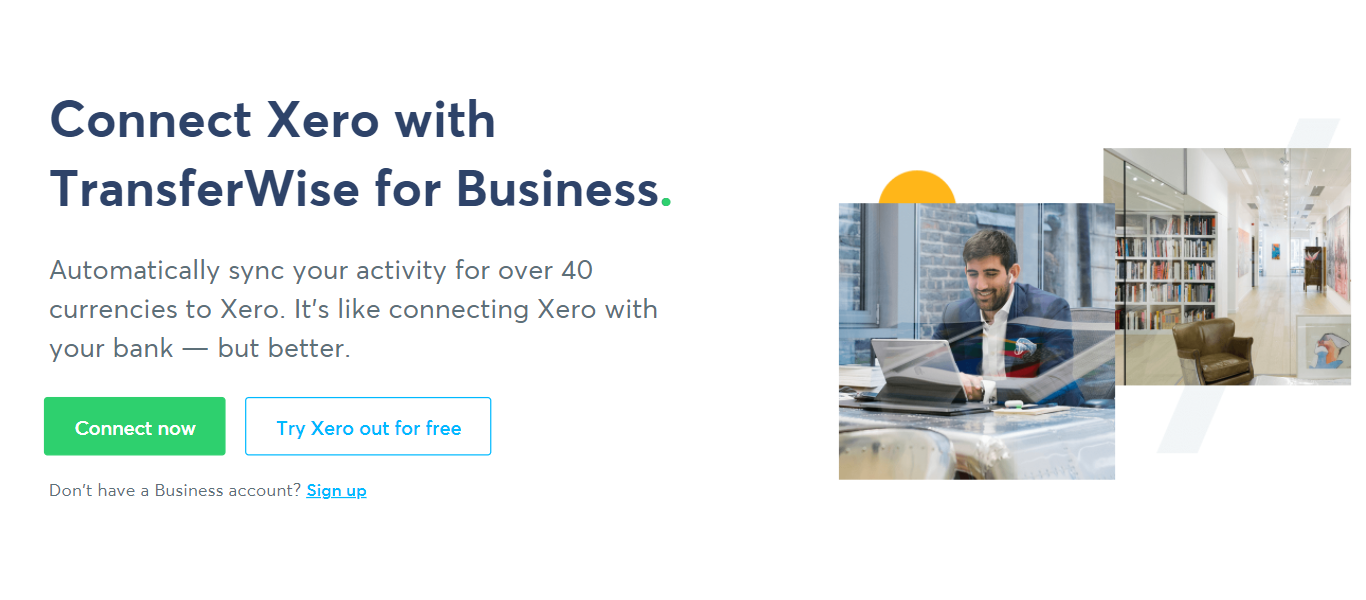 The Winner: Veem
Veem is the victor in this battle, hands down. They might not have many native integrations, but thanks to Zapier, you can connect with an extensive range of tools.
Veem vs. Transferwise: Pricing
Both Veem and Transferwise were created to make foreign transfers cheaper. As such, both providers promise not to charge a subscription fee or surprise you with any nasty hidden costs. Still, they pay their overheads! So, let's see how they achieve this…
Veem
Before diving into the pennies and pounds, let's quickly list what Veem provides at no additional cost:
Custom approvals

Accounting integrations

Customized pay links

Mass pay functionality

An invoice builder

Dedicated support

A global verified network

The Veem digital wallet

Payment tracking
This is what you can expect to pay with Veem:
International transfer fees are based on live exchange rates. If you're sending domestically within the US, this costs $1. Whereas, if you're sending USD abroad, there's a fee of $20.
To access Veem's instant deposit feature (as previously discussed), you can expect to pay 1% of the deposit. For this, there's a minimum fee of $1.50 and a maximum of $20.
If you're curious about the cost of live rates, you can visit Veem's website to get an estimate. Live foreign exchange rates for international payments are calculated based on the current market rate, payment volume, currency, and geographic corridor.
Volume payment discounts are available, but they're not publicly disclosed. If you're interested in these, you'll have to get in touch with Veem to see what (if any) discounts you can get off the interbank rate. Often, these are negotiated over email or phone.
TransferWise
Like Veem, it's free to use all of Transferwise's features and hold up to 50+ currency balances.
When sending money, the fixed fee varies depending on the currency, but you can expect to pay a minimum of $1.40. For example, the cost of sending GBP to EUR is 0.35%. Conversely, the cost of receiving money differs; for some currencies, it's free!
If you send large volumes of money, you can also benefit from Transferwise's monthly volume discount. You're eligible for the discount if you send more than 100,000 GPD (or the equivalent in your currencies) over a calendar month. The deal initially is 0.1%, which increases to 0.15% if you send over 300k, and 0.16% if you send over 500k.
There's also a one-time fee of $31 to receive new currencies. Like Veem, it might be challenging to figure out exactly how these prices add up. But you can use Transferwise's payment calculator to get a better idea of the fees involved.
The Winner: Transferwise
This is a close call. Both Veem and Transferwise provide very affordable international payment options. But, if you're sending large sums, Veem might (at times) be even cheaper. That said, we like that Transferwise is transparent about all its costs. You don't have to sign up to see their mid-market rates and you can lock in a price you're comfortable with.
Veem vs. Transferwise: Customer Support
Whenever money is involved, good customer service is vital. International transactions can be challenging to understand, and you might have concerns about the pricing, process, or security. So who can you turn to when you have questions?
Veem
You can quickly get in touch with Veem via their phone line or support email. Numbers are available for English and mandarin, and the company has offices in San Francisco, US, Kanata, Canda, and Hongkou Qu, Shanghai.
Their online resources include currency guides, several white papers alongside, and their Help Center. Here you'll find the answers to some of the most frequently asked questions.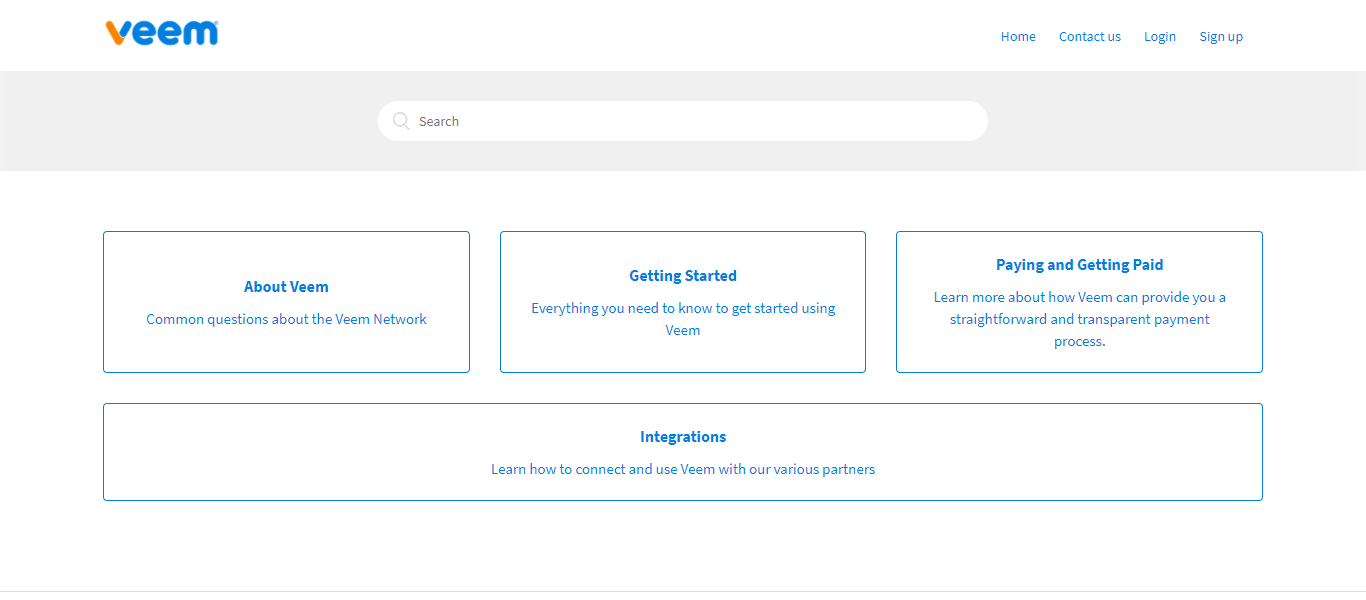 Transferwise
Transferwise also offers a detailed online help center covering how to send and receive money, use a multi-currency account, and manage your bills and accounting.
To connect with Transferwise's support team, you can contact them on the phone between 9 am and 5 pm GMT.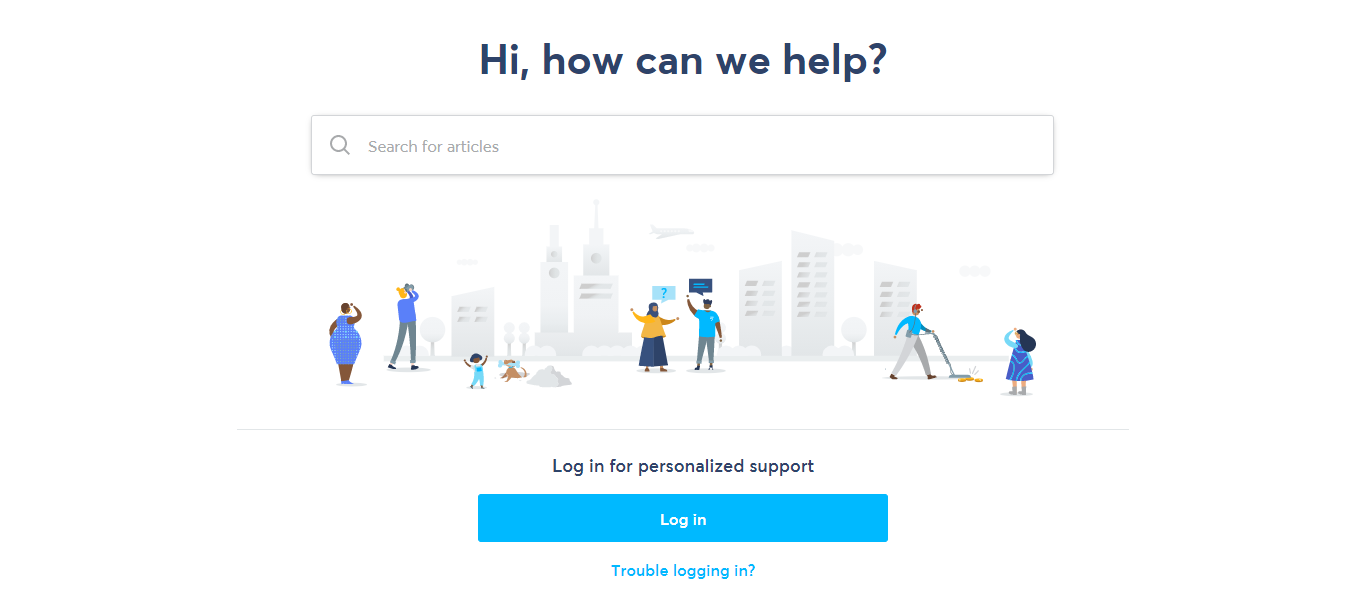 The Winner: A Tie!
Both Veem and Transferwise offer phone support and detailed online help documentation. That said, Veem's other contact numbers are helpful if you're based in Shanghai or Canada. In contrast, Transferwise has this edge for European users.
Veem vs. Transferwise: Pros and Cons
To help make the comparison between Veem and Transferwise easier, let's take a look at some of their pros and cons:
Veem
Let's start with the perks…
The Pros
Veem integrates with accounting software like Quickbooks and Xero.

Veem offers cloud-based invoicing, and you can create payment links to streamline payment.

Veem's easy to use

The instant deposit feature enables you to get paid faster.

Veem has an open API for developers, so if you want to create your own integrations, you can.
The Cons
Veem's exchange rates aren't publicly disclosed, making it difficult to get an accurate feel for pricing. You have to create an account to get live rates.

Veem offers superior pricing when the recipient is willing to accept money in their local currency. Otherwise, you'll have to shell out a fee.

Veem is geared towards businesses. It's not as suitable for individuals wanting to send smaller amounts of money.

The company has a US focus, so you may want to look elsewhere if you reside outside of the States.
Transferwise
Again, let's start with perks…
The Pros
Transferwise's fees are pretty transparent with its online rate calculations. These are easily accessible and give you a good idea of how much money you'll save.

Overall, Transferwise tends to be 19x times cheaper than PayPal!

Transferwise is well-suited even to individuals or sole traders that aren't sending thousands each month.

Open API is available for you to create your own integrations.

Transferwise is easy to use

Transferwise targets the fluctuating mid-market rates without calculating a markup, resulting in low fees.
The Cons
Transferwise only integrates with Xero.

Transferwise doesn't offer many additional features. You can perform mass payments, but there's no way to send invoices or create payment links.

For many countries, transfer times can be slow.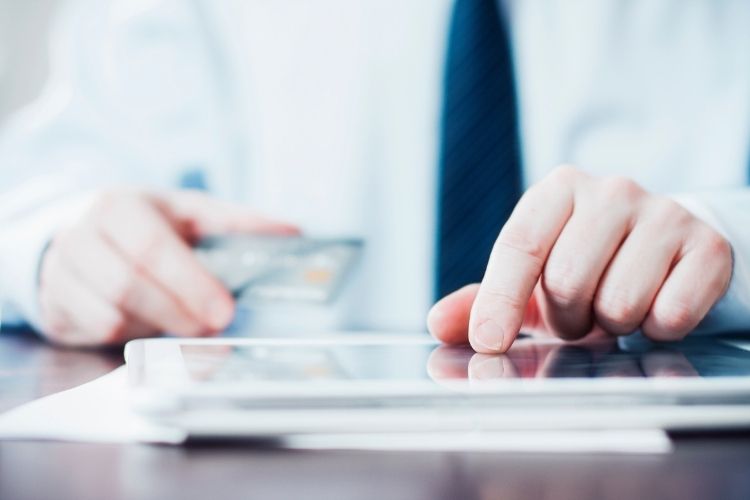 FAQ
Lastly, we'll round off this comparison by providing answers to some of the most frequently asked questions we hear about Veem and Transferwise:
Question: How are Veem and Transferwise different from a bank?
Answer: When a bank sends money overseas, they're unable to send it directly to the receiving bank. Instead, it's passed through intermediary banks, which each take a small fee for themselves.
Instead, Veem uses blockchain technology to negate these fees. On the other hand, Transferwise works by redirecting money to a recipient of an equivalent transfer going in the opposite direction. For the end-user, the outcome is the same. Veem and Transferwise avoid bank networks and can, therefore, offer cheaper-fees.
Question: What is the 'real exchange rate'?
Answer: The real exchange rate is also known as the mid-market rate or interbank rate. It's the midpoint between buying and selling rates on the global currency markets. These rates fluctuate constantly, so there are times where it's cheaper or more expensive to convert money to another currency. Transferwise operates using these rates. Once you initiate a transfer, the service fixes the rate for a certain period, so these aren't any nasty surprises!
Question: How secure is Transferwise?
Answer: Transferwise is registered with FinCen in the US and FCA int he UK. More than 6 million customers use it across 71 countries, and the service works hard to keep customers and their money secure.
Transferwise boasts bank-level data security and doesn't sell data on. They also have a specialized in-house security team who udnerstakeregular training.
Question: How secure is Veem?
Answer: Veem uses unique multi-rail and blockchain technology, which are considered some of the safest on the market. The service verifies the recipient before sending funds. It relies on intelligent risk automation and robust bank-level encryption to thrive.
Veem vs. Transferwise: Our Final Verdict
Both Veem and Transferwise are creative and affordable alternatives to transferring money abroad. They simplify payments and make them cheaper and often-times faster.
Which service is better suited to you may depend on your business's nature and which currencies you'll pay and get paid in.
Transferwise is very transparent about their rates and fees, which you can calculate on their website. They don't offer many business features and integrations. However, it's an intuitive option for individuals, sole traders, and freelancers.
Businesses looking for a more rounded approach and robust features might prefer Veen, which comes with invoicing functionality and integrates with commonly used accounting software and Shopify.
Have you sent money abroad with either of these services before? Let us know what you thought in the comments below.
Further read:
Latest posts by Rosie Greaves
(see all)
Get 40% OFF for 3 Months