Last Updated on June 1, 2023 by Ewen Finser
Running a small to medium-sized business is hard work. You've got to worry about sales, marketing, daily operations, and all the ups and downs in between. Not to mention, the struggle of trying to find enough time somewhere in all the chaos to take a day off.
With so much to do and so little time to do it, pardon the stolen Roald Dahl quote, it's easy to fall into the trap of feeling that there are simply not enough hours in the day.
In which case, you may want to consider investing in a payroll solution that can lighten the workload. Does this sound like you?
If so, then it's worth reading this SurePayroll review because I'm going to be doing my utmost to help you leave with a clear buying decision.
Let's begin!
What is SurePayroll?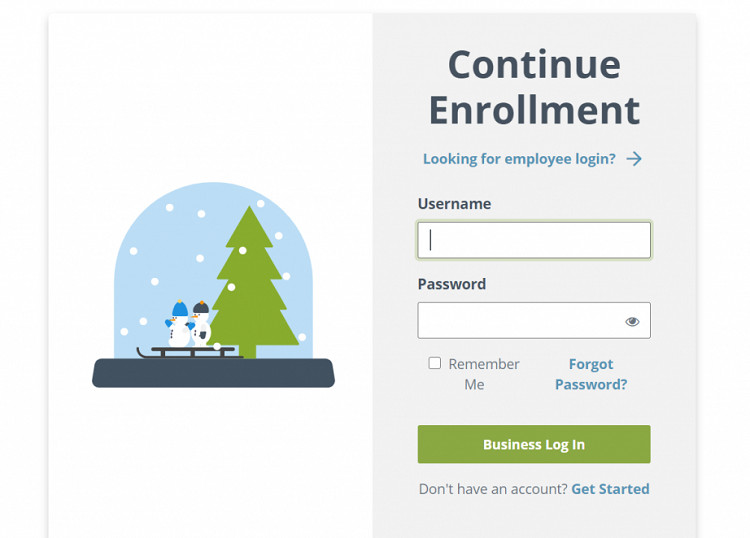 Surepayroll is an online payroll processing SaaS. The platform offers self-service and managed plans for payroll and other such related functions. For example, accounting, HR, time-saving, attractive business benefits, and nanny.
The greatest strength of SurePayroll has to be its low starting price of just $19.99. That's an undeniable advantage of using the tool. But as you'll come to see, its pricing isn't as great as it might seem initially.
The platform has been optimized for small businesses, so it's not the best option for firms operating in the upper mid to enterprise range.
SurePayroll is renowned for its customer service. Even customer complaints often highlight the professional, courteous manner through which SurePayroll's customer support team conduct themselves. So exceptional customer service is a huge benefit of choosing SurePayroll.
What to look for in an Online Payroll Service
Ease of use – Start trialing and researching the payroll providers that you feel could be a great fit for your company. Remember though, it's vital that your selection is user-friendly for not only you but also your employees.
Features – Payroll, as well as tax services, are naturally a must. Some small business owners may be seeking a hands-off service, so find out if that's available. Also, ask yourself do these features have any limitations. For example, how often can I run payroll without being charged?
Payroll Related Services – Think about what goes hand in hand with payroll. Taxes, accounting, HR, and business benefits. It pays to pick software that lets you manage all aspects of your business through one integrated system.
Support – You should have experts to guide you every step of the way.
Scale – The payroll service should be delivered on a scale that suits you. For example, SurePayroll is well suited to small to medium-sized businesses.
Location – Make sure that where you're located isn't going to negatively impact the level of service a payroll provider can offer you.
One of the Best Payroll Service Providers?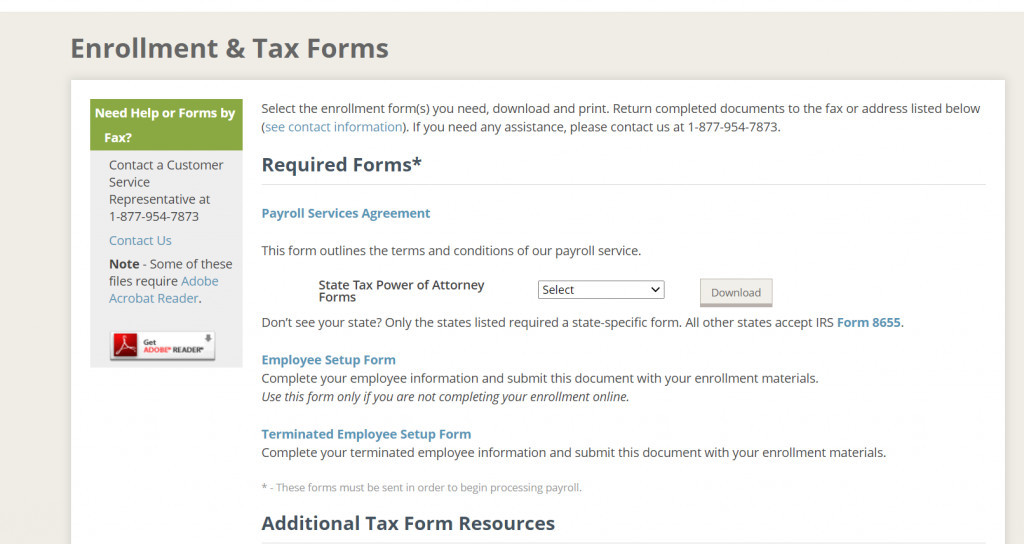 I'd like to quickly state that no PayRoll solution is good or, they just have their own unique selling points. Of course, some will be more well-rounded. That's a given.
Anyway, Surepayroll isn't considered to be one of the best payroll services on the market. That mantle falls to its parent company, Paychex and others such as Gusto and Square.
You can access SurePayroll using the cloud app or mobile. I'd consider the tool's mobile-friendly nature to be a huge bonus.
SurePayroll Pricing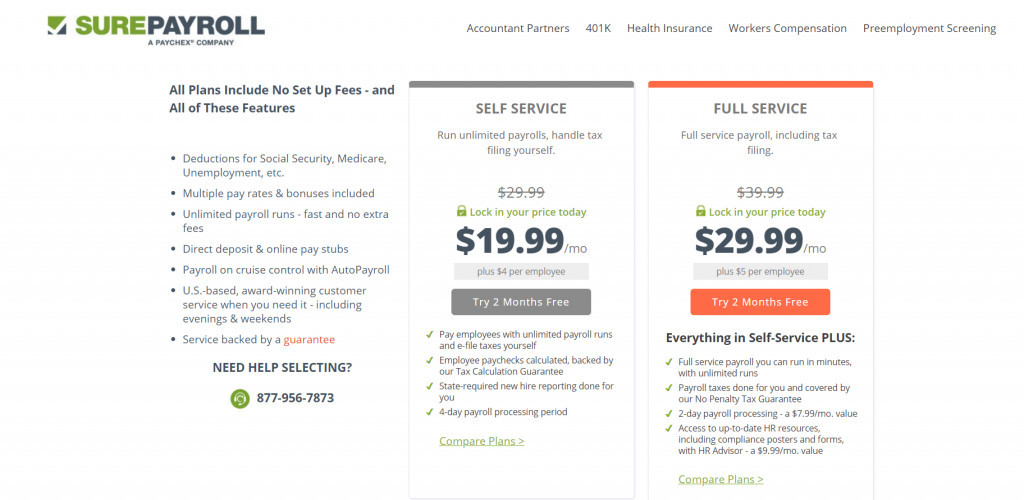 Surepayroll offers a 2-month free trial, as well as a guided tour of how best to use the platform. There are two SurePayroll pricing plans available to small business owners. These are Self Service (SS) and Full Service (FS).
SS costs $19.99 per month, whereas FS costs $29.99 per month. Naturally, FS costs more as it's a managed solution. This just means that SurePayroll will operate your payroll, taxes and so for you.
I like the fact that FS offers unlimited payrolls. FS also comes with automatic tax filing, which is another advantage the plan has over SS.
There are also added costs per employee. SS costs $19.99 monthly plus $4 per employee you register. FS meanwhile costs $5 per employee you register.
Overall, Surepayroll's pricing is extremely affordable when getting started and hugely competitive considering the price of similar offerings. But due to all the fees associated with its additional services and functionality, that attractive starting price is sure to become increasingly less so once you get set up.
Payroll processing timeframe
Depending on the SurePayroll pricing plan you select there may be a substantial payroll processing time delay.
For example, SS license holders experience a 4-day payroll processing period. I'm not a huge fan of that because SurePayroll alternatives can get your payroll processed a lot quicker, as in three days quicker in some instances. Of course, those providers cost more starting off so that tradeoff is something to be mindful of.
If you go with FS, you'll only be subject to a 2 day processing period. But that time reduction will cost you $7.99 per month extra. So it's important that you're aware of all these added fees so that they don't accumulate into something problematic.
SurePayroll's Services are available through different payroll types
On the SurePayroll cloud app, you can sign up for a plan by choosing which one best suits your needs. The options are as follows:
General Business
Household/Nanny
Officer Only/S-Corp
Restaurants (with Tips)
Non Profit Organisations
Church/ Clergy
I like the fact that there are so many payroll options tailored to small business types. That's something SurePayroll gets right.
SurePayroll Nanny
One such category is Nanny.
SurePayroll offers payroll services to the employers of nannies. Customers appear rather pleased online with the automated nature of SurePayroll's managed Nanny plan. Business.org rates SurePayroll as the best provider of payroll for both Nanny and Household, so it certainly has got some clout behind its offering.
SurePayroll Nanny's pricing is a bit steep, starting at $49.99 per month. But it's well worth the price for anyone who wants the hassle of managing their nanny's payroll taken completely out of their hands.
One downside of household payroll with the firm is the 2-day processing fee, which is slower than its competitors.
Accounting Services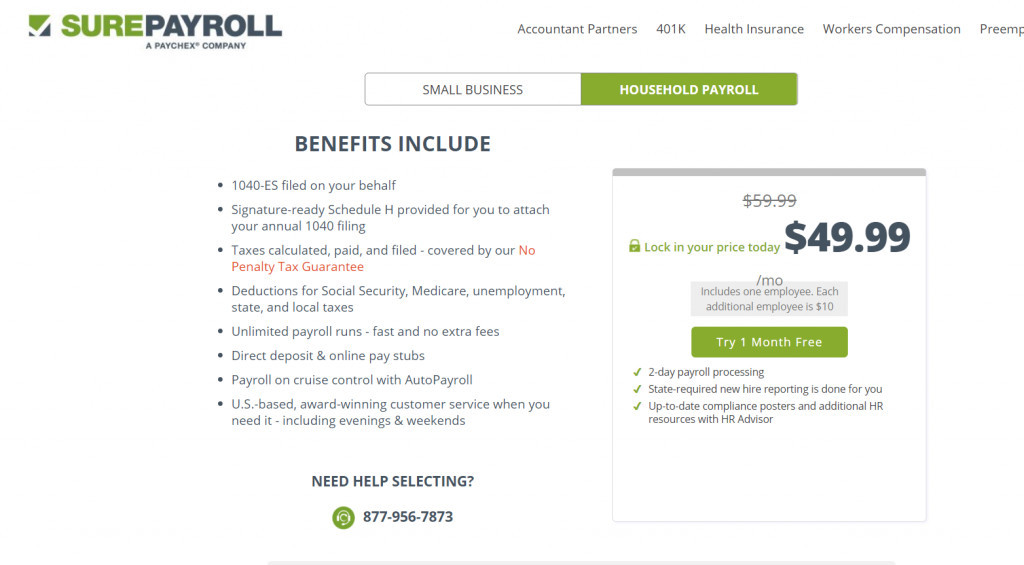 SurePayroll offers accounting services to its license holders. The payroll service provider gives its users the option to integrate with several third-party accounting apps, such as Intuit Quickbooks, Zoho, and Xero. These are all well-known platforms, so I like this aspect of what SurePayroll has to offer.
For general business, which is what most small business owners will fall under, it costs $4.99 per payroll to avail of an accounting integration.
Surepayroll is an affordable payroll solution, especially when compared with its competitors. But, again, it's so important to be mindful of these small fees that can begin to add up.
One thing that I dislike about SurePayroll is the fact that it doesn't offer certain features out of the box. Features which SurePayroll alternatives offer by factoring the feature into their pricing structures.
Accounting just so happens to be one such feature.
Ease of Use
From performing some research online, it has become clear to me that SurePayroll is not the smoothest piece of software on the market. Users have described its operation as clunky, to be descriptive. But others feel that the platform is intuitive. Personally, navigating SurePayroll was straightforward enough. Although the mobile app was a bit annoying. Also, the interface isn't exactly aesthetic, but it works and gets the job done.
The setup process is easy, and to be fair, the SurePayroll customer support team is friendly and genuinely seems to care about service quality.
SurePayroll 401(k) – Retirement Savings are Important, or so I'm Told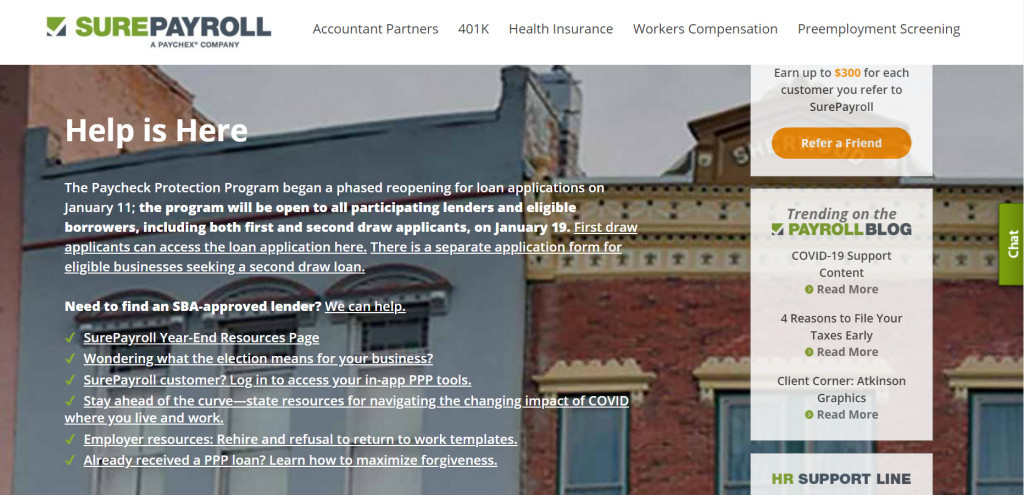 The Paychex subsidiary offers retirees the chance to create and implement a savings plan. I believe you can do so by chatting with one of their specialists. This service compliments payroll really well.
Nobody can work forever, so having a retirement plan in place makes a lot of sense. Don't you think?
Employees and people, in general, crave security and peace of mind, and that something SurePayroll's benefits can provide. So working with SurePayroll might serve to keep your employees satisfied.
And there's research to suggest that when your employees are happy in their roles, their performance goes up. Which can only be a good thing for business owners big and small.
There are several 401(k) plan types available. You'll have the option of a traditional 401(k) plan, that takes money from your payroll and places it into your retirement savings account. There's a "Safe Harbour" plan, which is unique due to its bypassing of annual nondiscrimination tests.
While the final option Solo(k) allows family-run businesses and single owners to make the maximum allowable contributions to their retirement plans.
SurePayrolls 4o1(k) also lets employees under 50 save up to $18,500 annually, while those 50+ have a limit of $24,500. I like the fact that these limits also apply to owners, it keeps the firm's employees in the same boat. Finally, the fact that you can contribute as much as you like to your employees' 401(k) plans is an added bonus.
If you're interested in learning more about 401(k) it's a good idea to speak with an independent professional, not just SurePayroll.
Time Management
SurePayroll's time clock integration enables license holders to carefully manage their time. Time clock partners include:
On the Clock
Redcort
Homebase
Click here to find out more about SurePayroll's time tracking partners.
Taxes
SurePayroll will manage a firm's taxes for them. And should there be any problems encountered, they'll foot the bill. Just be sure to have enough evidence collected so that you're covering yourself on the slight chance something goes wrong.
I've seen customer reviews where people mention issues when it comes to tax filings that weren't resolved to the extent they'd like. So I'd suggest being mindful and cautious enough to double-check things every now and then to be on the safe side.
Overall though automatic tax filing is backed under a guarantee – that's a huge plus of using SurePayroll.
It's worth noting that SurePayroll can help you manage unemployment tax, but you'll still need to consult the relevant bodies. SurePayroll also offers numerous tax calculators. These features are free and they're useful tools.
Award-Winning Support, but does it deliver?
SurePayroll support has won numerous awards, and for the most part, the sentiment seems to be that it's efficient in its function. From my experience, SurePayroll customer service is responsive and wants to help.
Although if you're slow to respond to their email upon asking for a quote they do pester you a little bit. Also, some online reviews have complained that SurePayroll's support team aren't as helpful as they are friendly.
Direct Deposit
I love that SurePayroll offers free direct deposit that's quick and flexible. That's going to go a long way toward keeping your employees happy. There's also the obvious time you'll save not having to write out cheques. SurePayroll's direct deposit will also enable users to pay freelancers and contractors alike.
SurePayroll has a great post defining and explaining Direct Deposit. You can check it out HERE.
Noteworthy SurePayroll Features
Automatic Tax Filing
Automatic Payroll
Unlimited Payroll (this will save you a lot)
1040-ES Filed for you on a quarterly basis accompanied with a Schedule H (Form 1040) that you then attaching to your 1040 filing.
Tax file guarantee (SurePayroll pays the fines if there are any mishaps. I like this because it provides peace of mind regarding margin for error.)
W2 employees, as well as 1099 contractors, are supported
FSA, HSA, and HRAs available to
Here are a Few SurePayroll Alternatives for SMBs
So with that in mind, let's look at some SurePayroll alternatives.
Gusto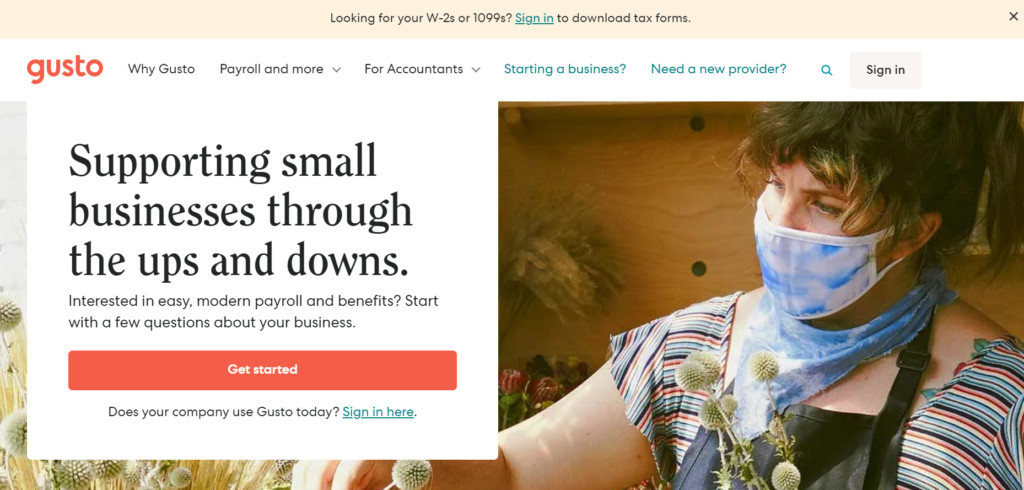 Gusto is one of the best payroll solutions out there. Both PC Mag.com and Business.org place Gusto as the pick of the bunch when choosing a SaaS to manage payroll. Gusto is intuitive and boasts a solid support team. I've found that many people love Gusto's payroll features, automatic tax filings, and easy-to-use design.
Paychex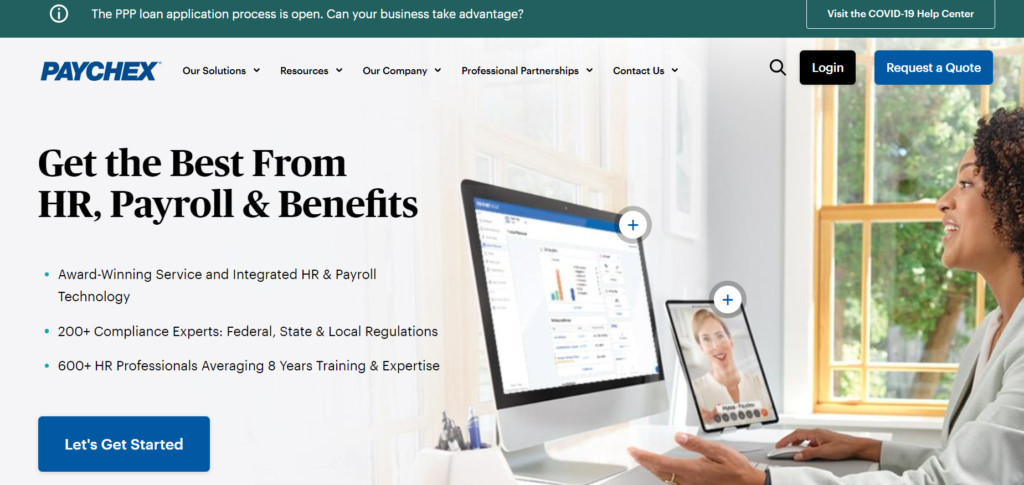 Paychex is the parent company of SurePayroll. The SaaS offers robust reporting functionality that enables users to measure and improve their firm's business performance. Paychex certainly has an advantage over its competitors in this regard. Paychex also has some strong human resource (HR) features providing respectable employee benefits.
Click HERE to see how Paychex matches up against Gusto.
ADP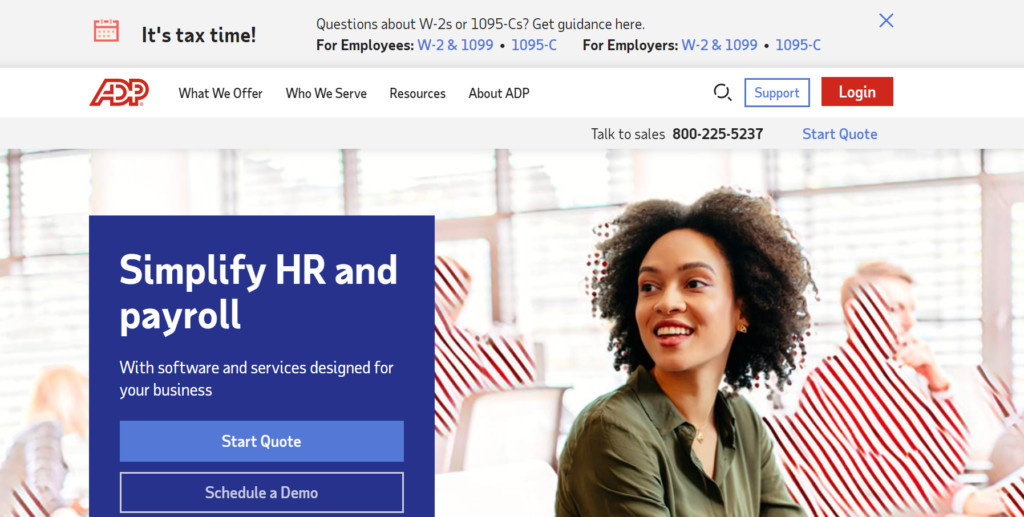 ADP's payroll, tax, and HR software features are reliable, it's a well-known brand too. So it makes this list. If you're a larger business looking for considerable reporting features and lots of HR add ons, then ADP may just be the right fit for you.
Click HERE to see how Gusto compares to ADP.
Surepayroll Review – Frequently Asked Questions
Question: How Much Does Surepayroll cost?
Answer: Surepayroll has a complex pricing system because there are so many client types operating within different sectors which they deal with. The best thing you can do is head over to the Surepayroll website and ask for a quote. Surepayroll customer service should get back to you fairly quickly.
There are some add ons and hidden fees that you'll also need to be aware of using the payroll software. SurePayroll's typical pricing costs $19.99 for self-service (DIY) and $29.99 for full service (managed).
Question: Is Surepayroll a legitimate company/Does Paychex Own Surepayroll?
Answer: Yes, Surepayroll is a legitimate company. The payroll service is a subsidiary of Paychex having been bought by its parent company in 2010 for around $110 million.
Question: Where is Surepayroll located?
Answer: Surepayroll is a US-based firm with headquarters in Glenview, Illinois. But there's also an office in St Petersburg, Florida.
Question: Does Surepayroll offer Health insurance?
Answer: Yes, Surepayroll offers health insurance to its license holders. It does so through the Paychex insurance agency. Health insurance with Surepayroll has, I believe, been optimized to cater to small business owners. This page will tell you more about health insurance by Surepayroll.
SurePayroll Review – Buying Decision
SurePayroll has its ups and downs, but it's a noteworthy option for small businesses. Its pricing does have a lot of add ons, but its starting price is incredibly affordable. So for small businesses and those managing household payroll, in particular, it's worth considering.
A huge advantage of choosing SurePayroll is the money you'll save courtesy of the platform's unlimited payroll. So while it can grow to be pricey, there's a cost-effective aspect to SurePayroll as well.
SurePayroll also offers full-service plans along with DIY options, so that's something to consider if you dislike navigating the logistics of payroll and taxes. There's a tax guarantee that holds SurePayroll responsible for errors, but it's no harm to double-check things yourself just in case.
Along with PayRoll, there are integrations, benefits, and services that help with:
Accounting
HR
Time Management
Nanny/Household
So, all in all, SurePayroll has a lot to offer. So if I were a small business owner, I'd certainly have SurePayroll on my shortlist. But it wouldn't be my first choice.
Further read: