Last Updated on April 28, 2022 by DMEditor
If you're after a project management tool, you may be wondering if Favro is right for you. A good project management/team collaboration tool should make communication super easy, saving time that would be spent on pointless emails or writing messages to separate people at every stage of development. The question is, is Favro worth it? Will it save you time and help your team to become more efficient? We think yes, which is why in this Favro Review, we'll tell you why we do think so!
Favro has some great tools to create a new project – large or small – a lot easier to manage. We think it has a lot to offer, from a customizable dashboard to automation to the mobile app. Keep reading to find out more about it. We've tested Favro ourselves, so you can see whether you think it will suit your business.
Let's start by looking at what Favro is, and then we'll take a look at the pros and cons.
What is Favro?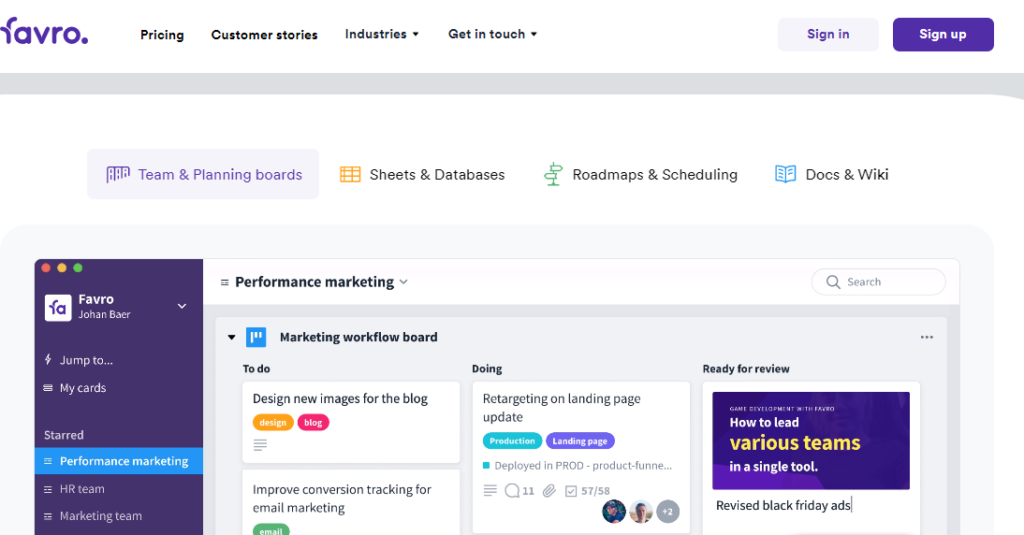 Favro was launched in 2016. It's a project management and collaboration tool, allowing you to create Kanban boards, sheets, timelines, and task cards. They also offer automation to cut down on admin time and dashboard templates to make project setup easier.
Favro is aimed at SaaS (Software as a Service) and game companies, but their tools can be used by any company wanting to launch a new product or service.
Favro – the Pros and Cons
Before we go into Favro in more depth, here's a quick list of the things we like best about Favro and the things we think could be improved:
Pros
It makes project management much easier
Automations cut down on time-consuming processes
Easy to alert other team members to new tasks
Includes mobile app
Good integrations
Great customer support
Cons
Ca be a bit overwhelming initially
Not many templates to choose from if you're not a SaaS/games company
The Main Features of Favro
Let's look at Favro in more depth!
We signed up for a free trial, so we can give you the lowdown on what to expect.
UX/Sign Up
It's really easy to get started with Favro, and you don't need to commit to a payment plan before you start a 14-day free trial. You'll just have to fill in a few details about your company, your role within it, and the industry you work in.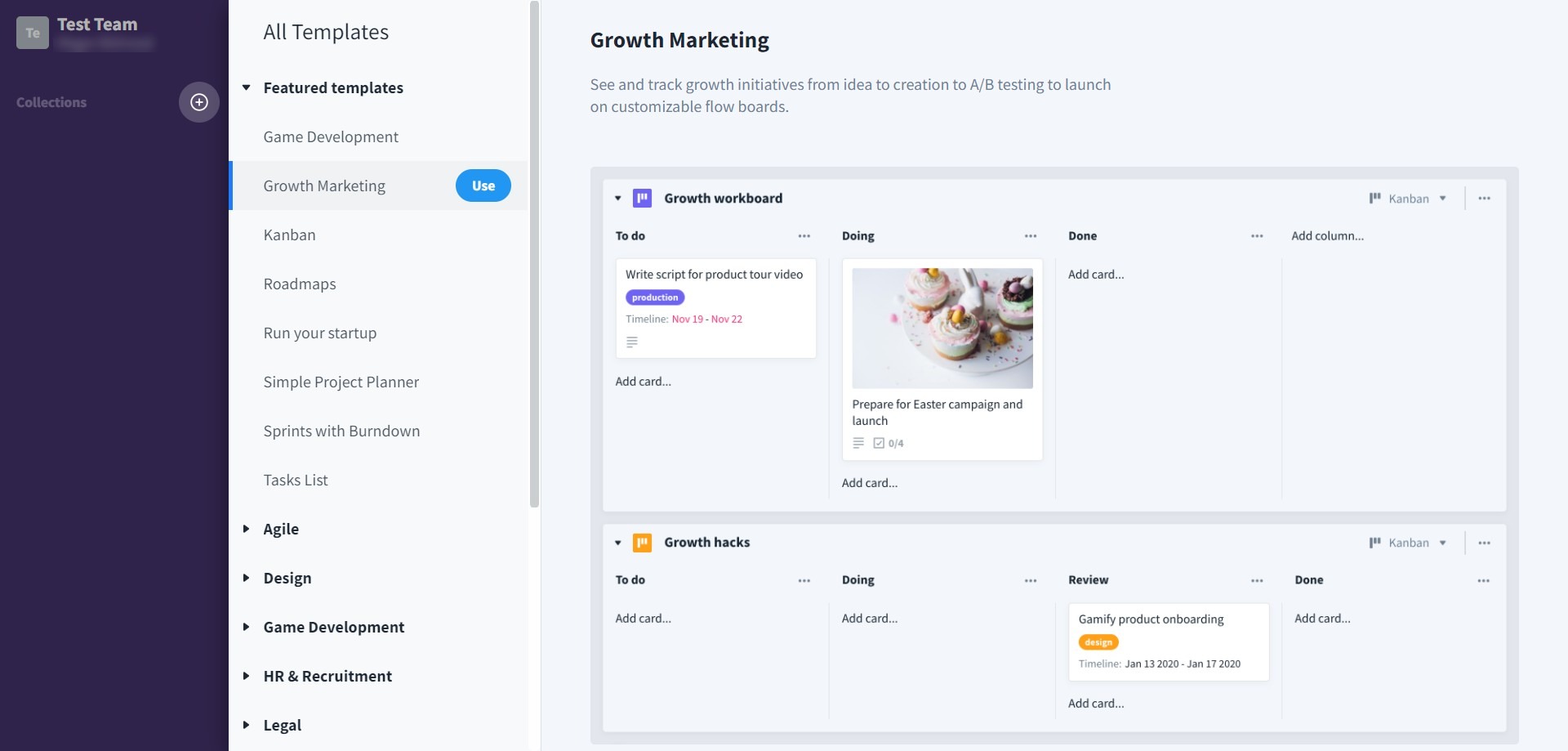 It's pretty easy to navigate around Favro, but it is a little overwhelming initially. If we were picky, we'd say it would be nice to have a pop-up tutorial to point new users in the right direction after signing up.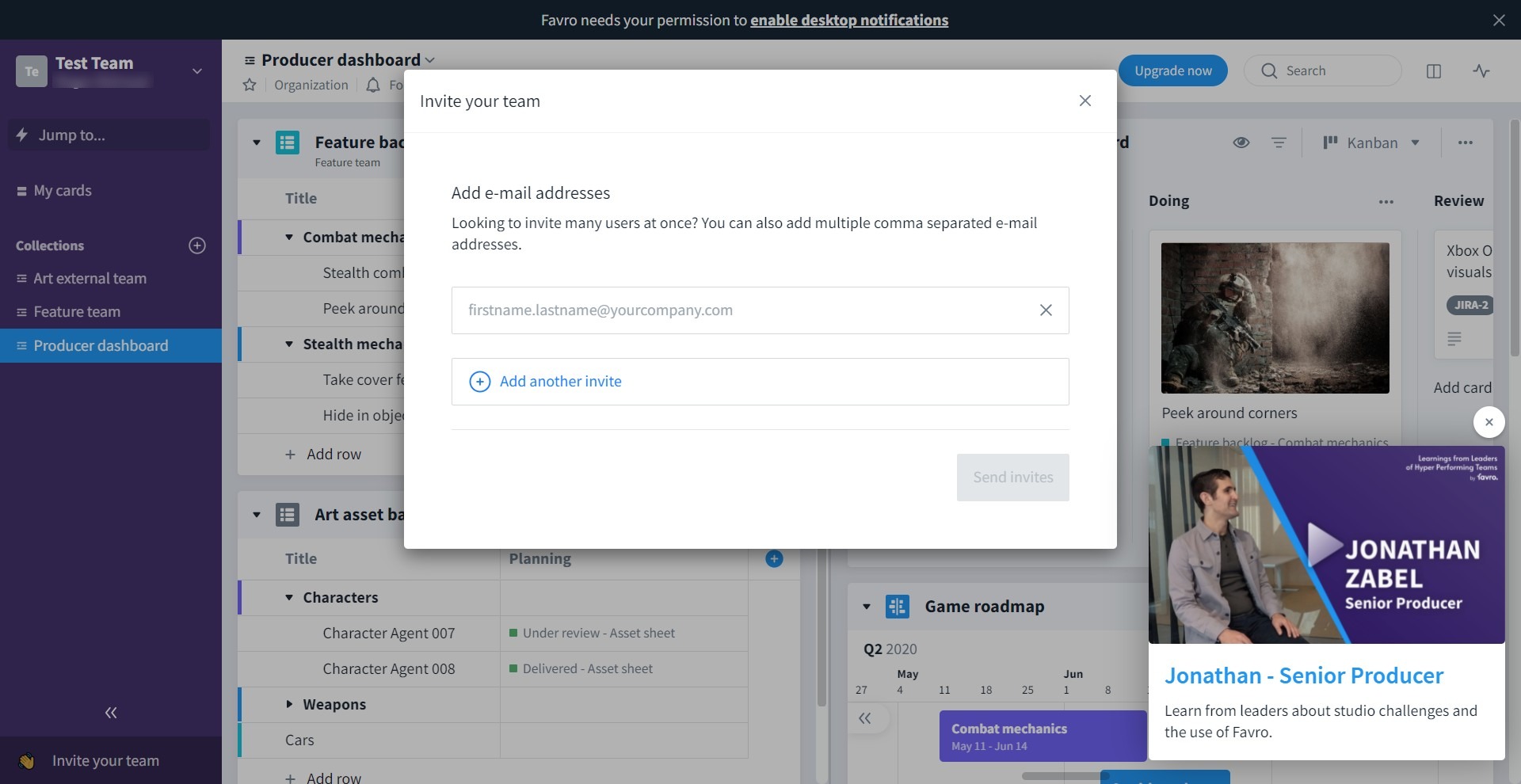 They offer short videos as pop-ups, which give you some idea of how other companies use Favro. Once you've set up your dashboard the way you would like to be (more on that in just a moment), it's pretty easy to find your way around.
Dashboard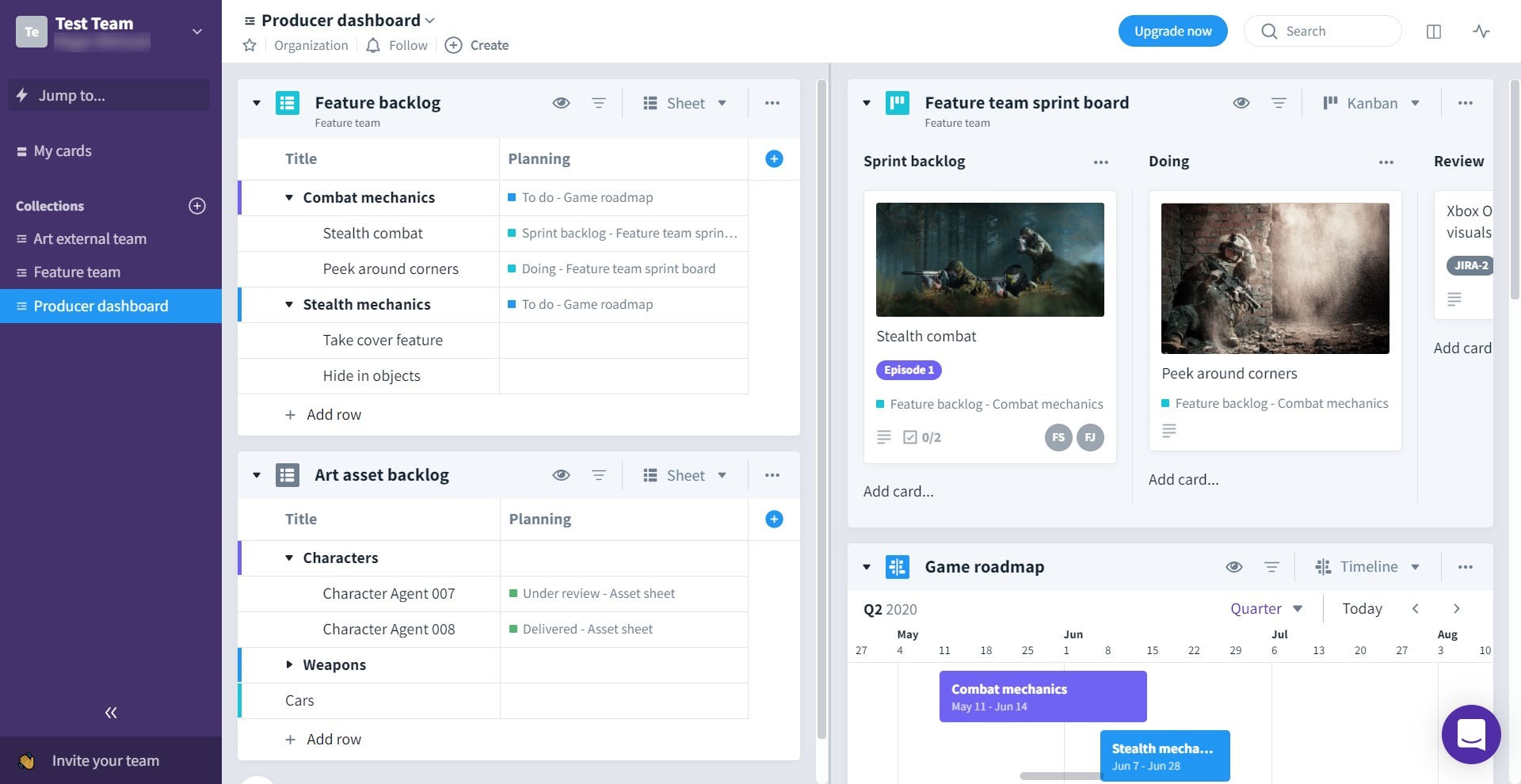 The dashboard is the central hub, and it can be customized to suit your exact needs as a team. There are templates available for each category, although there are some limitations here – they're mainly focused on software development and design, which means you may have to create your boards from scratch if you aren't working in a similar field.
On your dashboard, you can include:
Kanban Boards
Kanban boards are visual tools using cards and columns to represent tasks or items. For example, the following image shows a test Kanban board: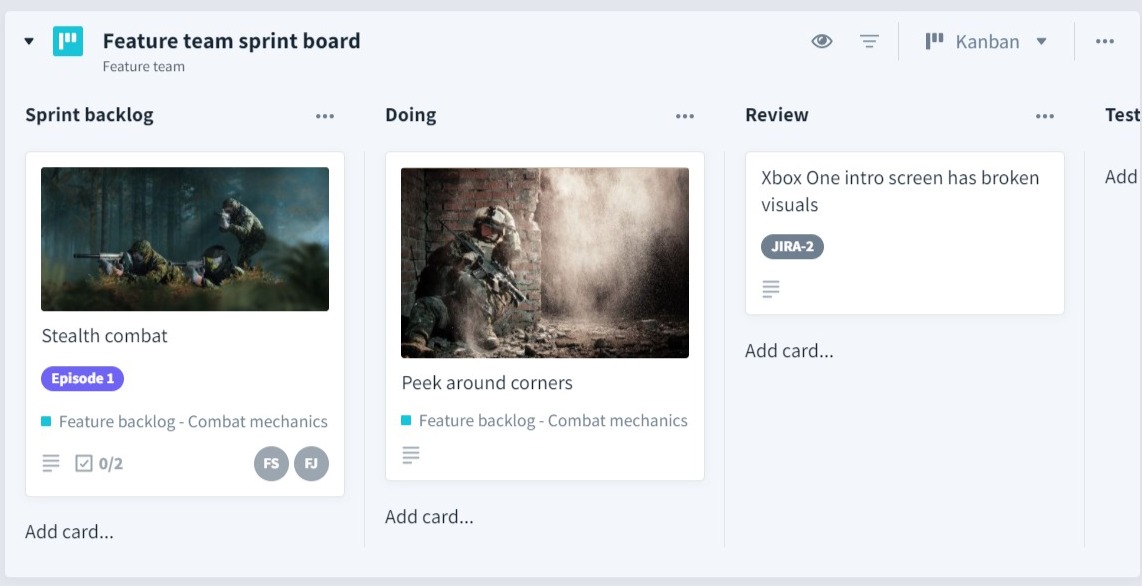 It's an easy way to keep tasks under one umbrella organized together (as in the above example). Each task (or collection of tasks) can be assigned to a different team. Each task is in the form of a card (more on that in a moment, too), which can be dragged and dropped exactly where you want them to be.
Kanban boards are great for getting tasks organized into categories. If you're managing a large project with several stages or smaller teams involved, it's easy to keep these organized into sections, with the most urgent tasks at the front.
Sheets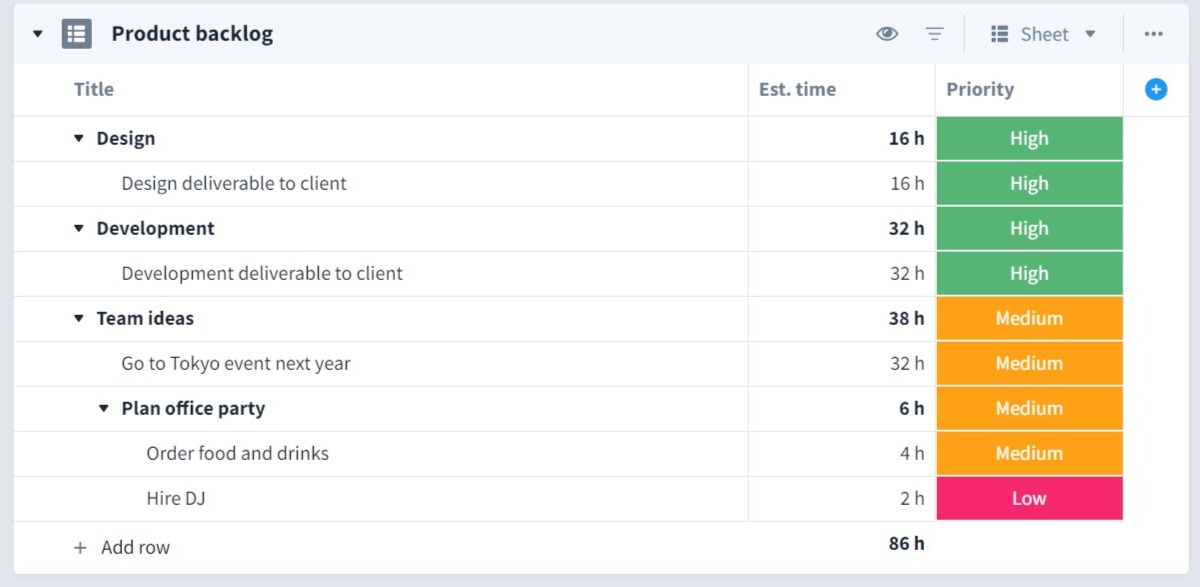 You also have the option of creating spreadsheets with customizable fields, including:
Title
Time frame
Priority
Text
Number
Status
Link
Members
Date
Tags
Rating
Vote
Checkbox
Sheets can be customized, with some basic templates for use. However, these (like all the templates) are really aimed at software developers, so you may have to start from scratch if you work in a different sector.
Timeline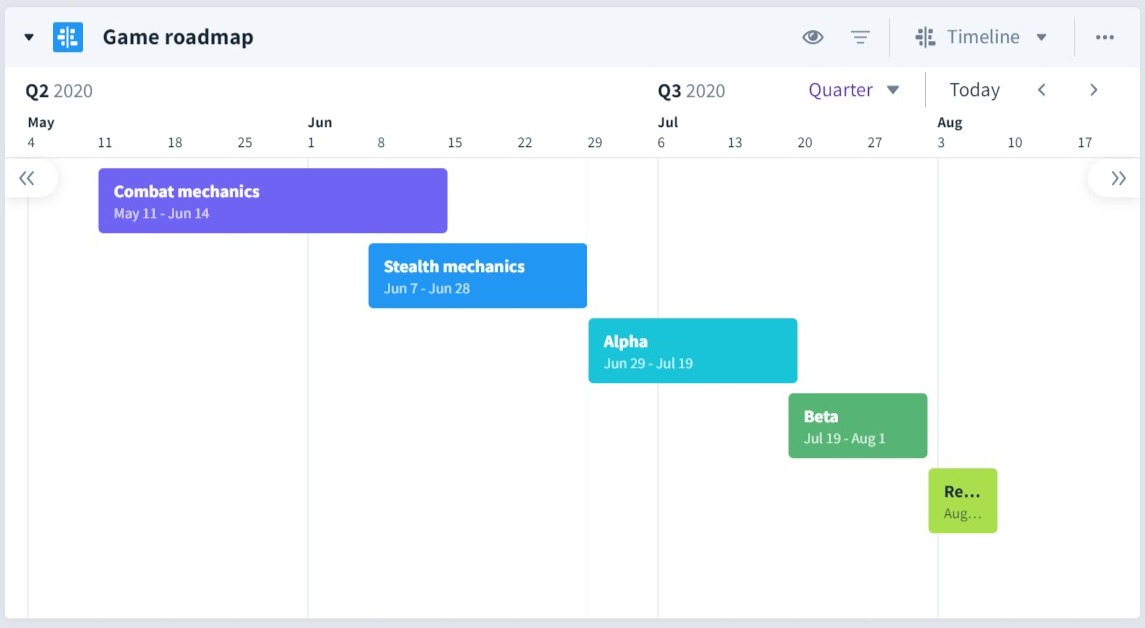 Timelines are a great way to visualize upcoming goals and deadlines. It's simple to add new events or goals, and you can quickly add notes to each item.
Timelines make a great addition to your dashboard, as it gives you an instant visual reminder of important events.
Card List

Card lists act a little like a to-do list or pinboard, and it's a good way of keeping important information or reminders in one place.
You can click on each card to edit them, adding members and tags, setting timelines and statuses, and adding notes and ideas. Other users can add comments on the right-hand side.
Views
Each section of your Favro board can be viewed in another format. For example, if you're not a fan of lists, you can switch each item to Kanban view. This can be done on an individual level, which means each team member can set up their board in a way that suits them.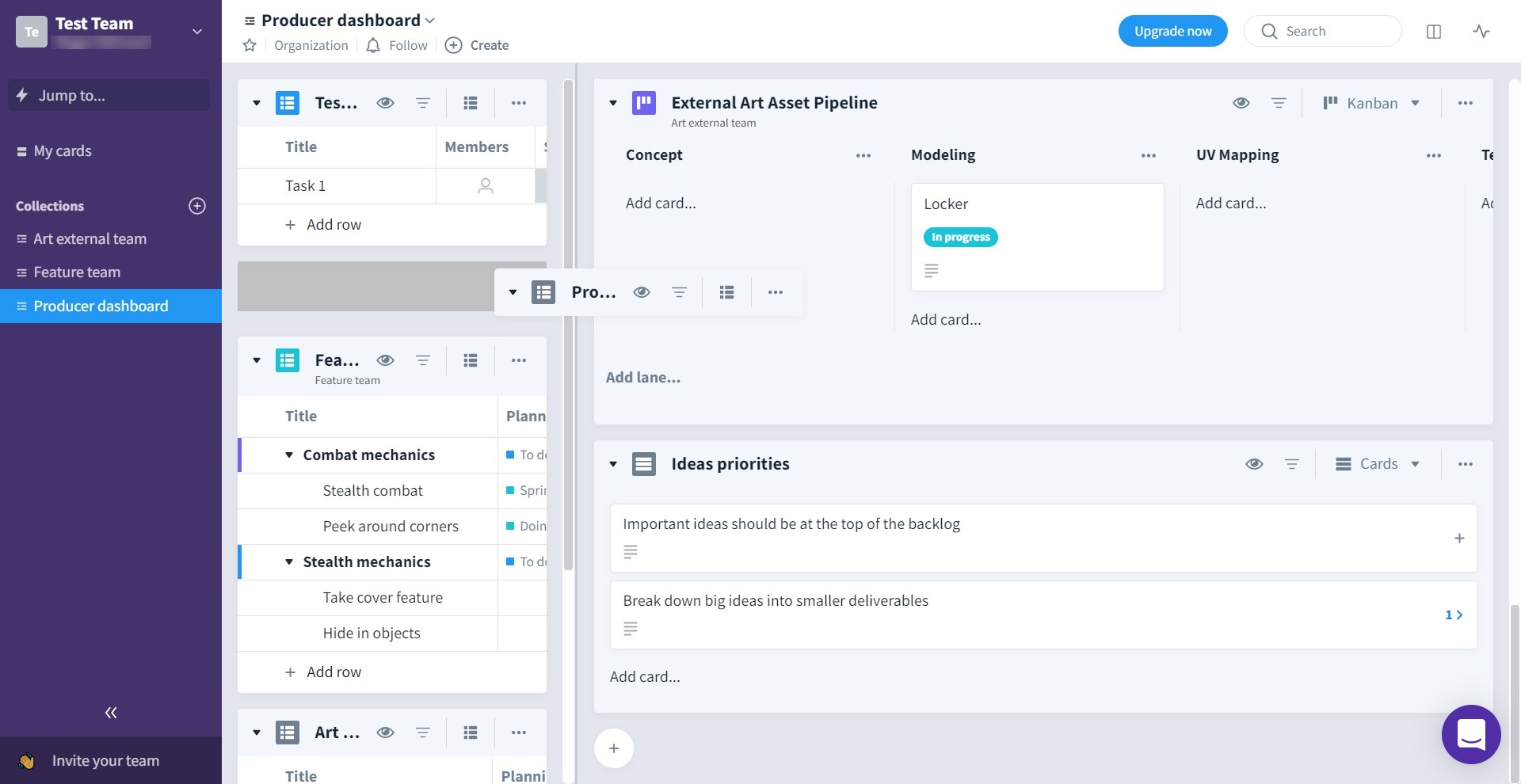 It's straightforward to move items around – just click and drag them to where you want them to go. This level of customization is really useful, as it allows team members to prioritize what they need to see right away.
You can change the color of each item if that helps you to find what you're looking for quickly, and even print individual items or send them via email.
We like the level of customization available for each person. You don't need to be an admin or team leader to swap things around, making it work for each team member. If you have team members who prefer lists to Kanban, they can switch them all over without losing vital information, tasks, or deadlines.
Teams
Each team within your company can have separate boards. This allows them to filter out the items they don't need to deal with. For example, the producer layout is quite busy: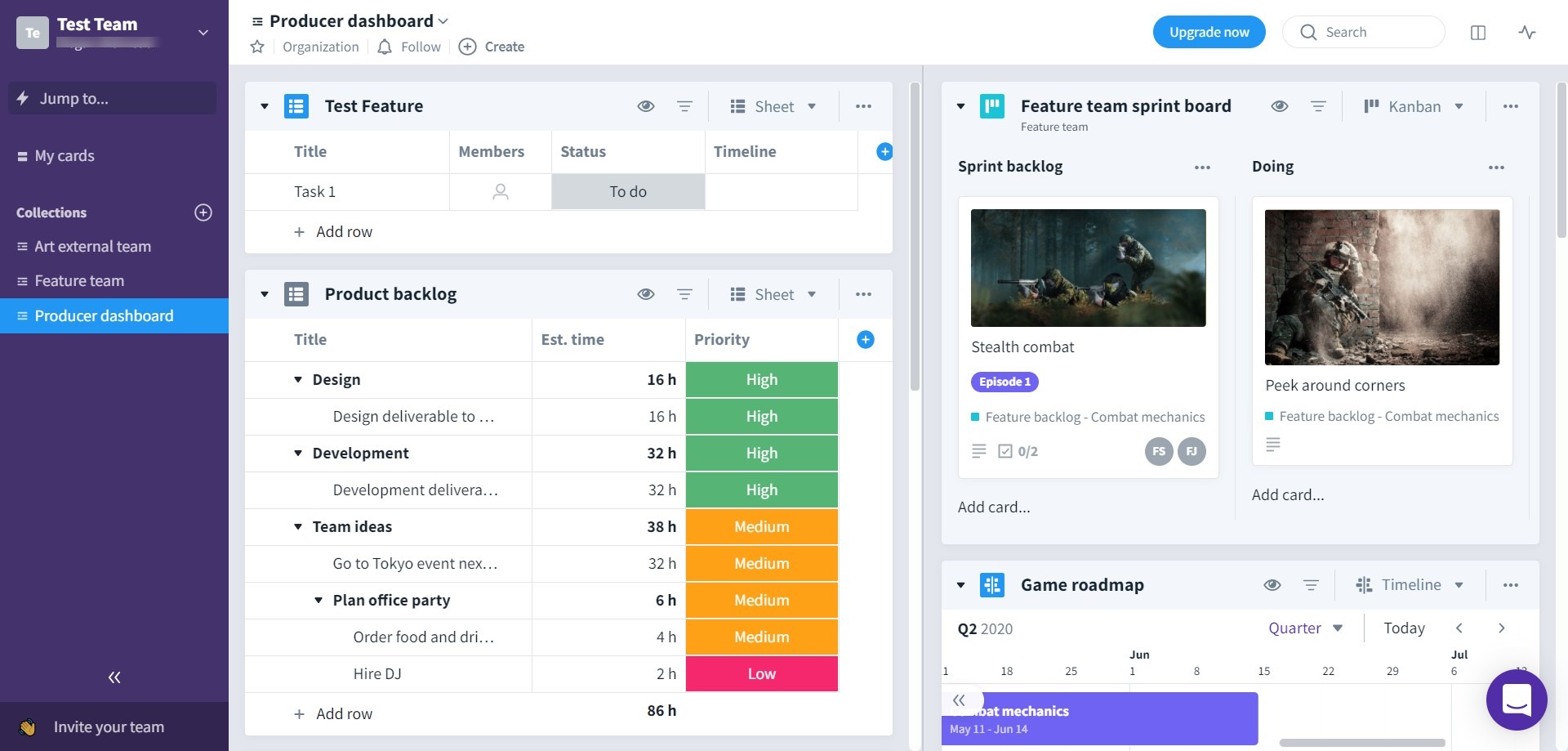 But the feature team dashboard looks different: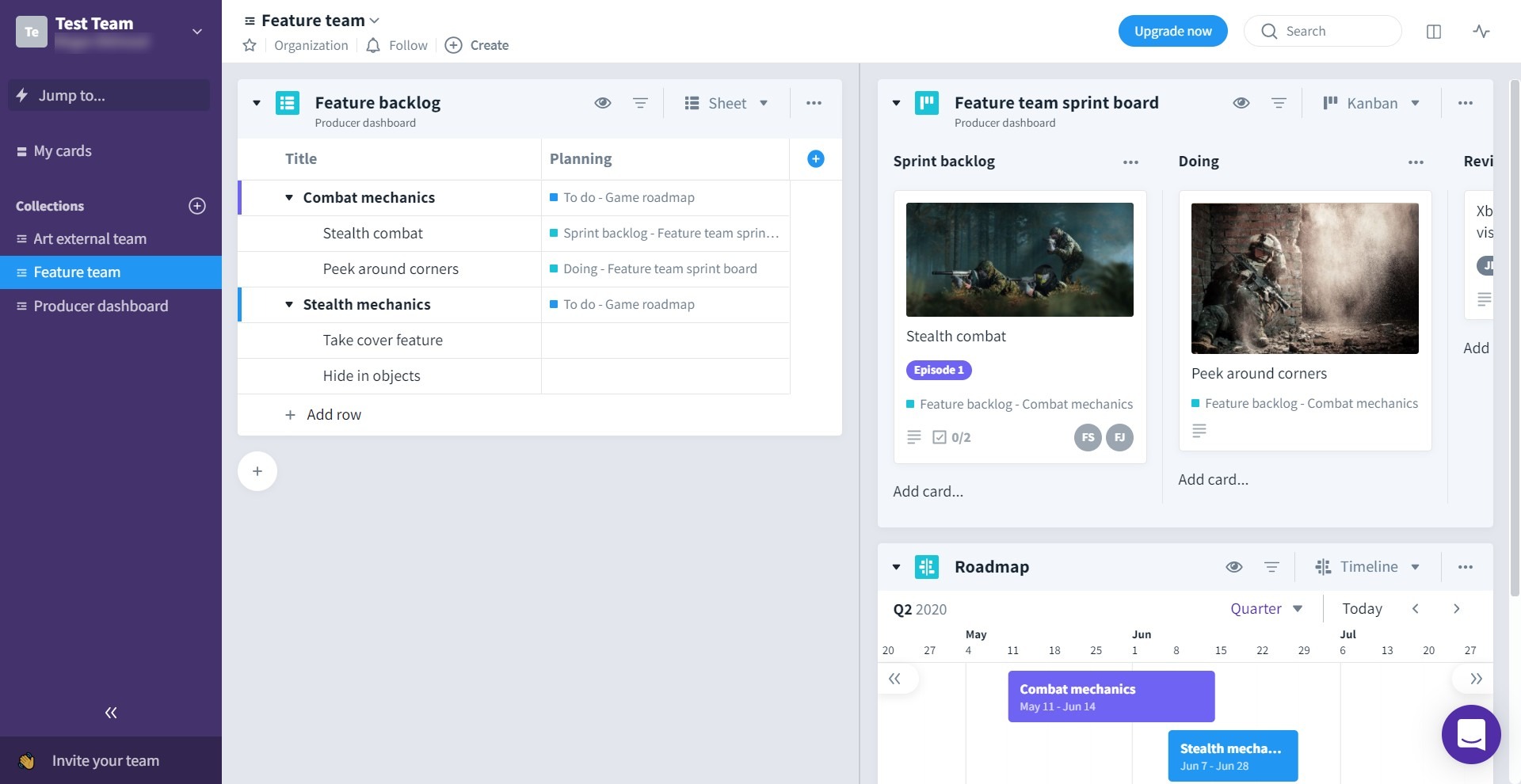 That way, each team only sees what is applicable to them, helping them immediately see the required tasks. It also helps keep projects secure if you need certain team members to access more information.
You can also view your own cards or cards you've been tagged in: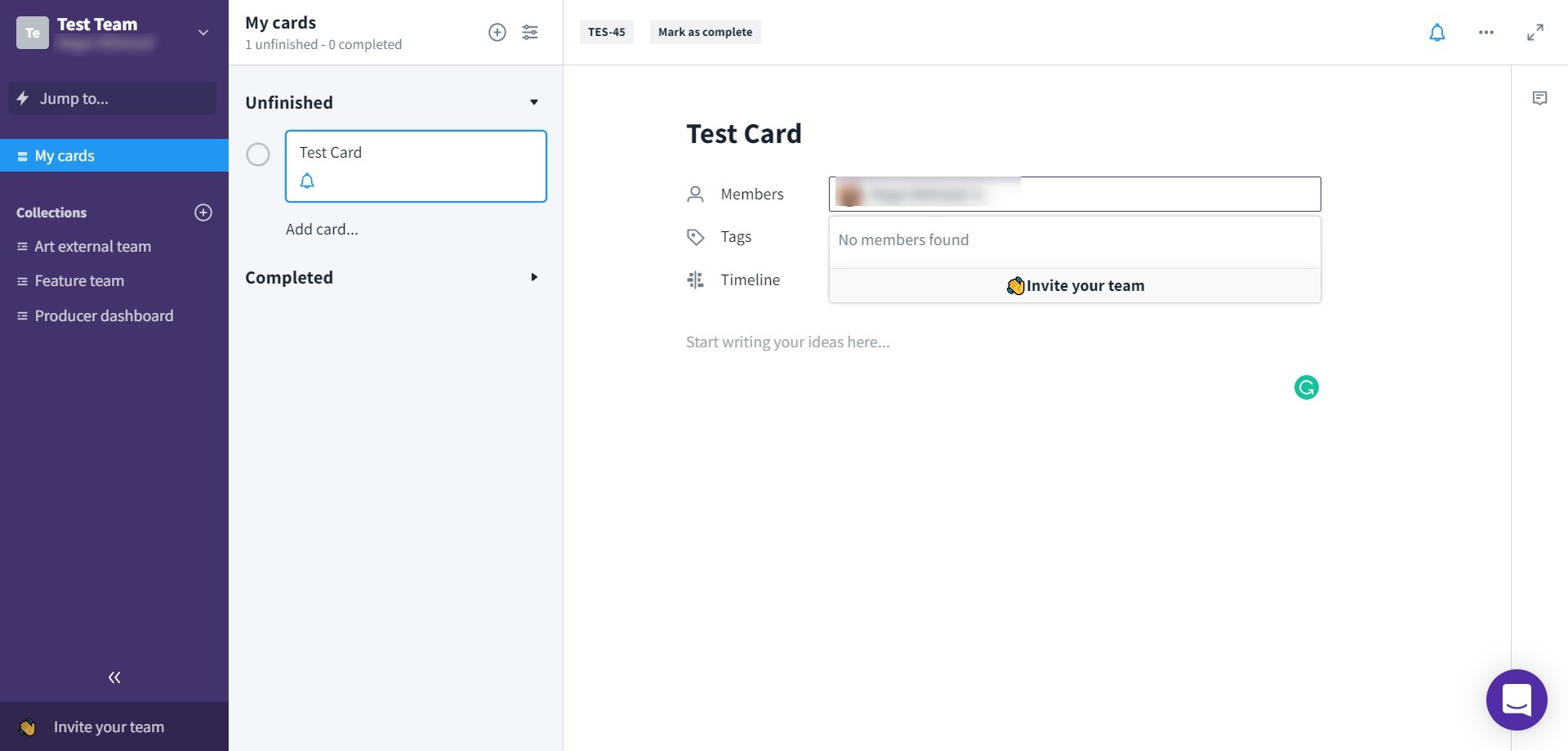 You can also invite your team to view the card or create tags, which are a great way to categorize tasks.
You can create new cards with your ideas and tasks or add to cards created by others. For example, if you are working on combat mechanics in game development, you can update tasks as you complete them on a dedicated card, which can be approved by management: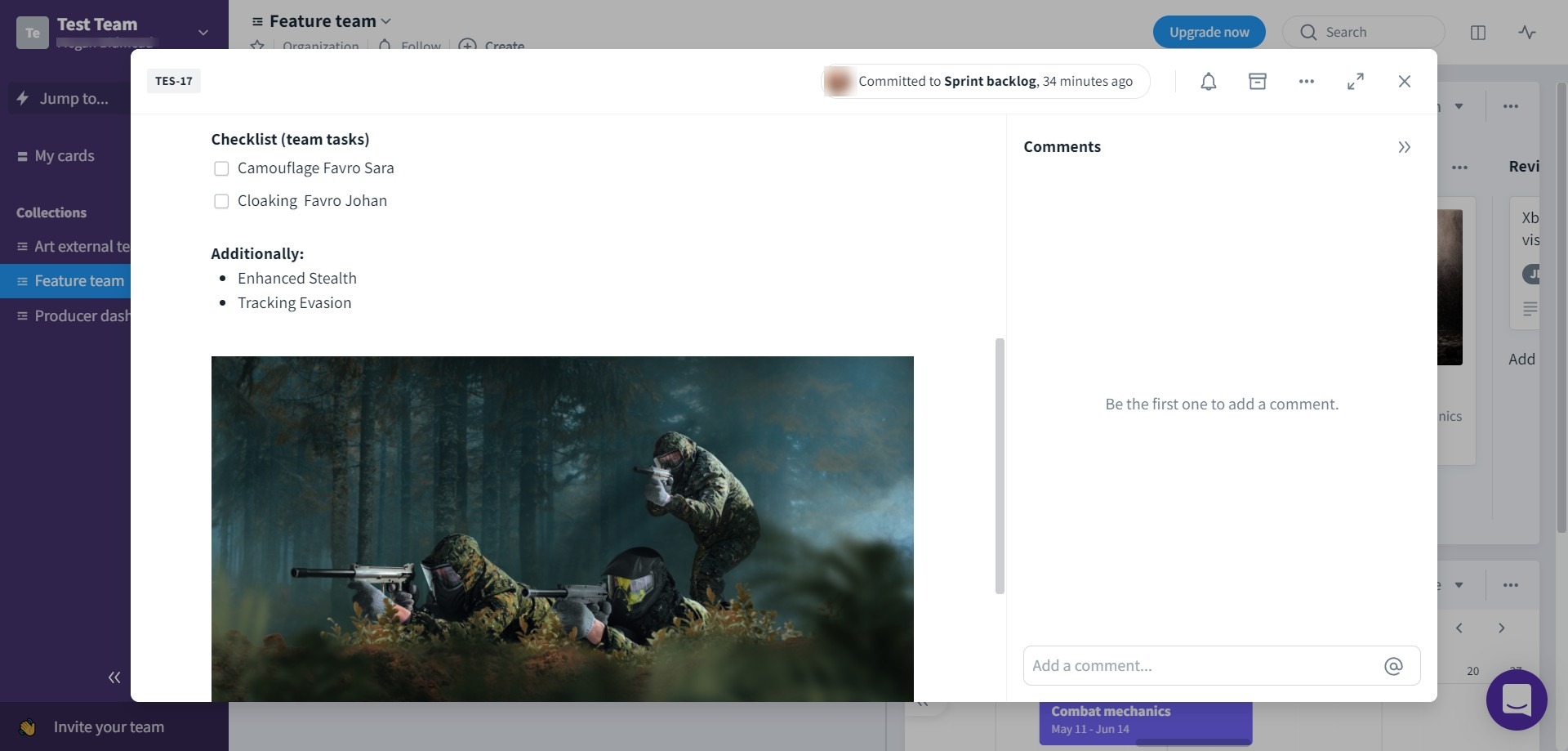 This makes collaboration much easier, as you can imagine – it's super easy to add comments as work develops, saving the hassle of having to contact different people with the same information. It works really well as a remote work tool, saving you from having to set up meetings in the office.
If team members are tagged in a new or existing task, you will receive a notification in the top right-hand corner, meaning they'll immediately be able to see it. This also pops up on the mobile app (which we'll go into more detail later).
Automations
Favro allows you to automate specific tasks.
You can create au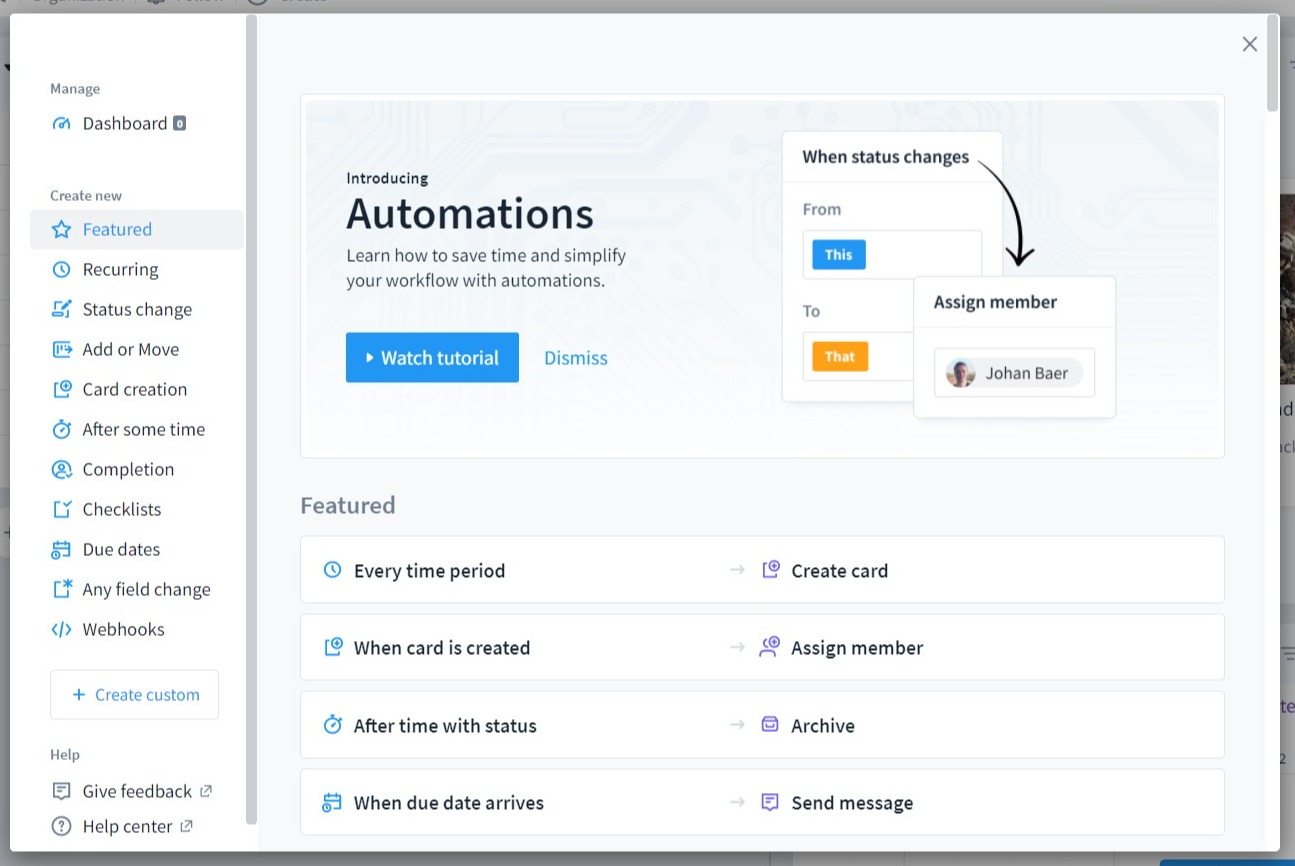 Automations for certain tasks, like card creation, automatic status updates, and so on.
Triggers include:
When cards are created or change the status
When cards are completed, or when new cards are added
When certain time periods pass, or when you reach a deadline
Actions include:
Send message
Archive
Create card
Apply card template
Change card status
Add tags
Assign members
Add or remove from the board
Favro offers a tutorial on how to make the most of automation. You can view how much automation has been used (you will be given 5000 actions per month during your free trial period – the number of automation varies depending on your price plan).
Automation is a valuable tool and utilized correctly. It can save you a considerable amount of time, allowing your team to concentrate on more urgent tasks.
Integrations
Favro has some great integrations, including:
Google Drive
Dropbox
Microsoft One Drive
Zapier
Google Calendar
GitHub
Microsoft Calendar
Reporting
You can create timesheet reports: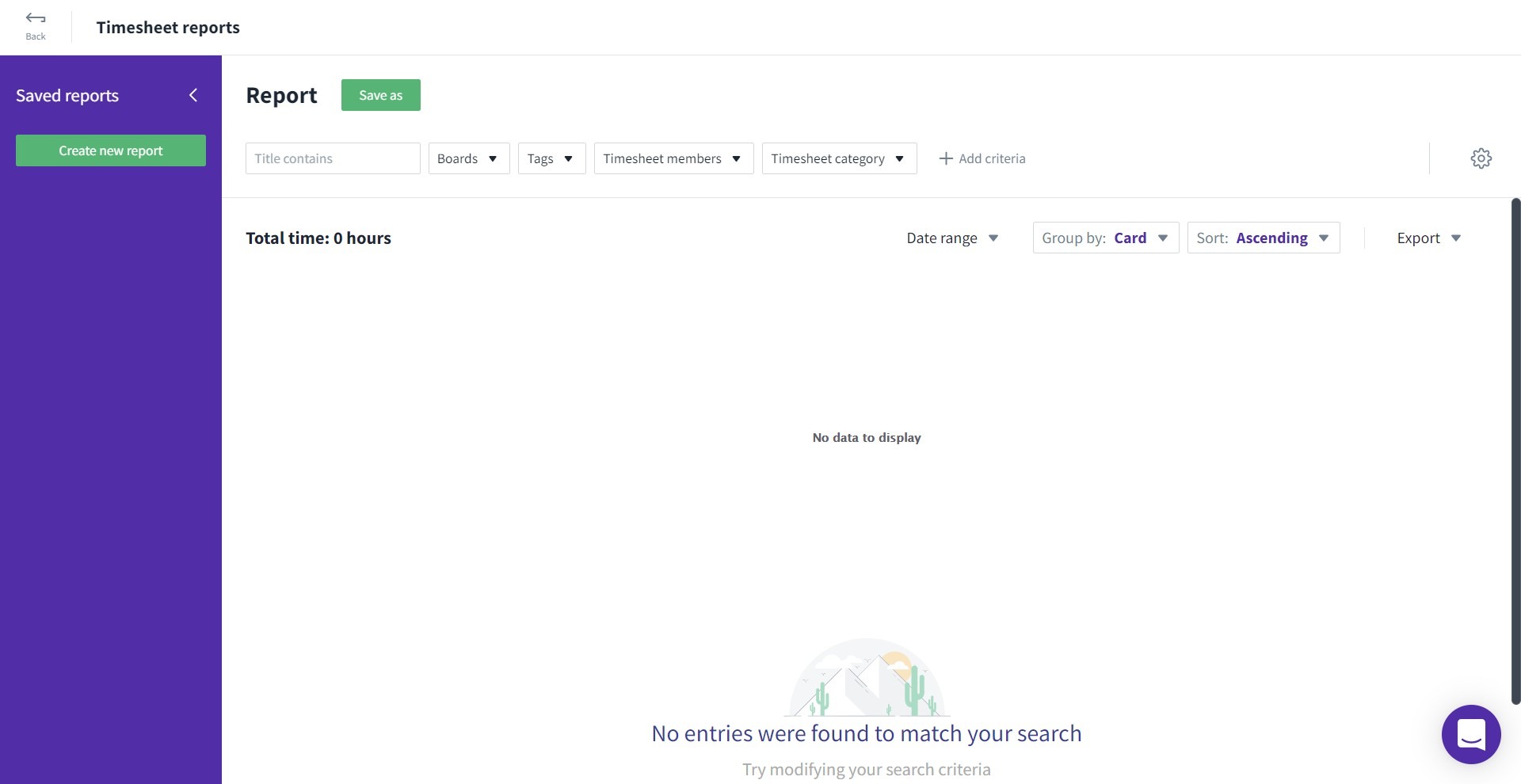 These can be filtered by board, tags, members, date, and categories.
Mobile App
Favro has a mobile app, which allows you access to most of the features of the desktop version.
It works really well, allowing you to access everything you need on the go – it looks pretty basic, but it's really easy to use. The app is available for iOS and Android.
Support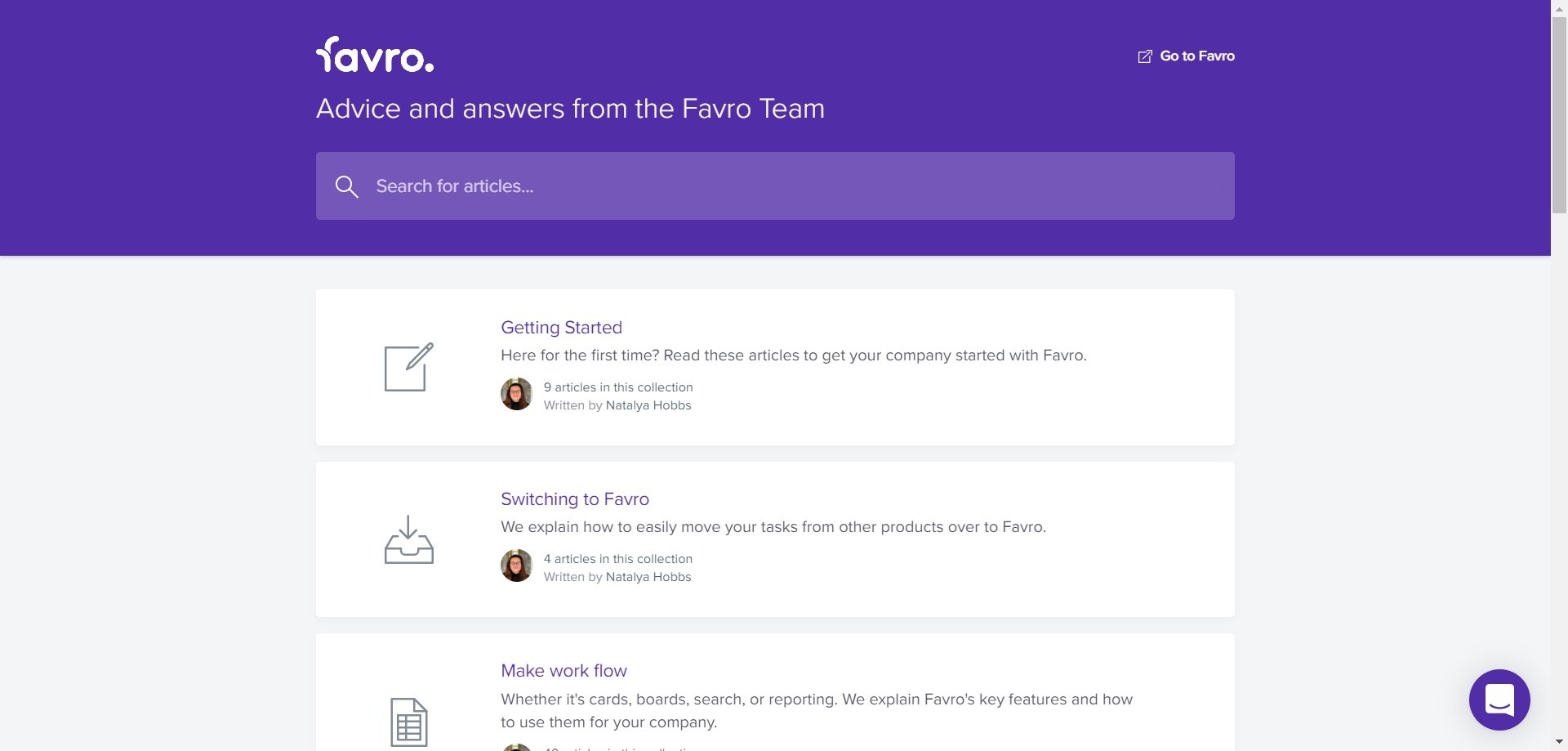 Favro has a knowledge base with guides on how to get started, as well as how to make the most of each feature.
If you need extra support, you can contact Favro via live chat, email, or book a meeting using their Calendly. Their customer support team is really friendly and responds quickly to queries. Users on a higher priced plan will receive faster responses – for example, if you go for the Enterprise plan, you can access 24/7 online chat support. If you have an issue in the middle of the night, you can still get support immediately.
Pricing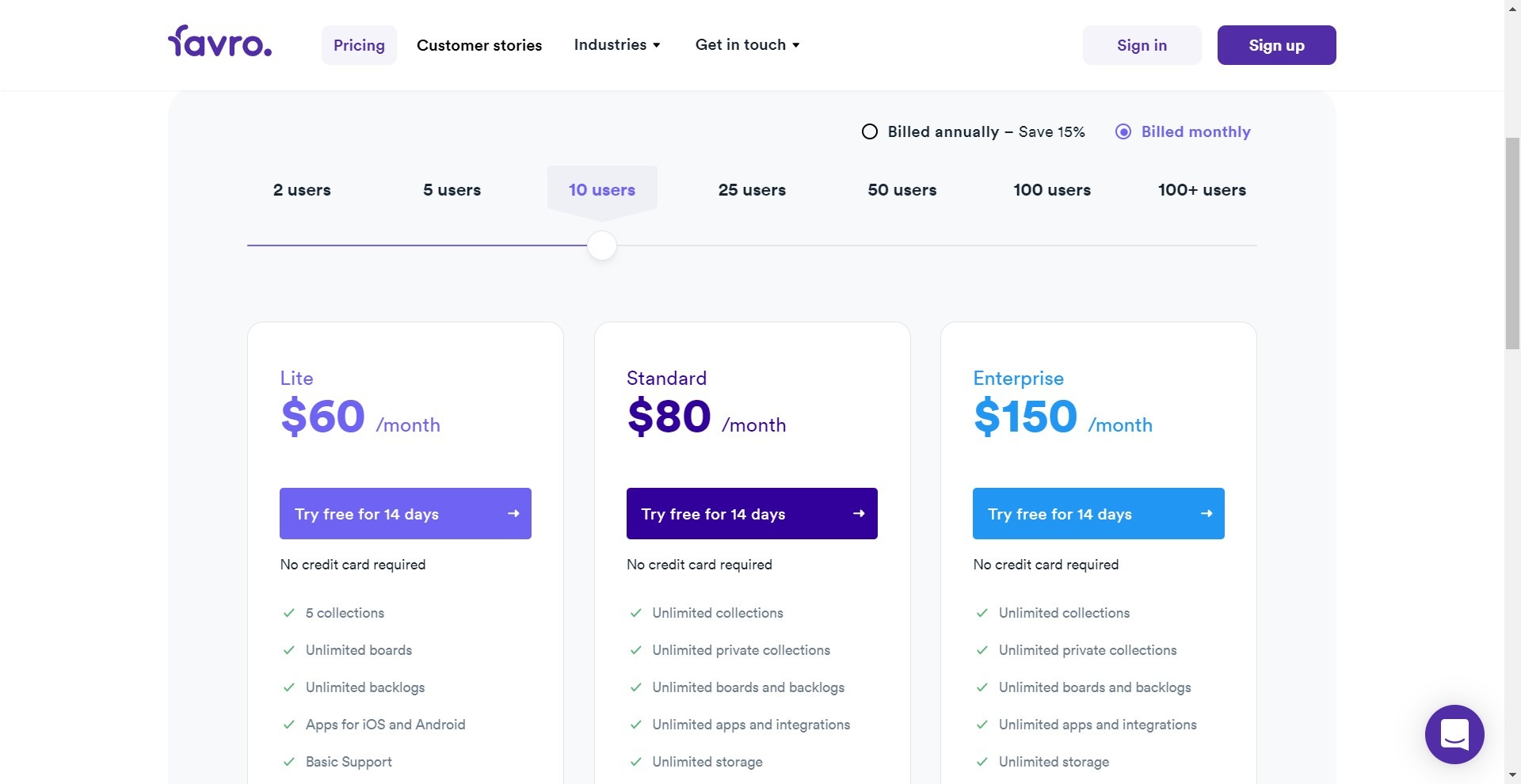 The pricing of Favro depends on how many users you have. Based on 10 users, the pricing is as follows:
Lite – $60/month (or $612 per year)
5 collections
Unlimited boards
Unlimited backlogs
Apps for iOS and Android
Basic support
OAuth via Google and GitHub
Standard – $80/month (or $816 per year)
Unlimited collections
Unlimited private collections
Unlimited boards and backlogs
Unlimited apps and integrations
Unlimited storage
Reports
Apps for iOS and Android
Guest accounts
1000 API calls per hour
Standard support
OAuth via Google and GitHub
Enterprise – $150/month (or $1530 per year)
Unlimited collections
Unlimited private collections
Unlimited boards and backlogs
Unlimited apps and integrations
Unlimited storage
Reports and Timesheet reporting
Apps for iOS and Android
Guest accounts
10,000 API calls per hour
Enterprise support – 24 hour response time on weekdays
OAuth via Google and GitHub
Manage collections
SAML based on single sign-on (SSO)
SCIM user provisioning
DPA and enhanced GDPR support
For small teams, pricing starts at $12 per month for 2 users. This goes all the way up to $1500 per month for teams of 100 users or more. Larger teams will receive a custom quote from Favro if they want to know more.
You can find out more on their pricing page.
Alternatives to Try
There are other collaboration tools you may want to check out if you feel Favro isn't the one for you:
FAQs
Question: Is Favro free?
Answer: No, but they do offer a 14-day free trial.
Question: How can I cancel my Favro account?
Answer: You can cancel at any time by going to the 'account setting' page.
Question: Can I use Favro as an individual?
Answer: Yes, you can – it would work well as a tracking tool if you have a complex project or several projects on the go.
Question: Who owns Favro?
Answer: Favro is owned by Hans Dahlstrӧm, Erik Olofsson, and Patric Palm, tech entrepreneurs from Sweden.
Question: Does Favro offer any training or tutorials?
Answer: They have some training articles in their knowledge base. They also have a blog for game developers with some tips on how to use the platform properly.
Favro Review: Our Final Thoughts
To sum up, we think Favro is well worth checking out and not just for game developers. It has everything you need to make project management a lot easier. We love that it's so customizable for each person, and we think the automation are excellent from a time-saving perspective.
It's also reasonably priced, especially for smaller teams – you won't have to worry about paying for features or users you don't need if there are just one or two of you working together.
Yes, we think that it feels a bit overwhelming for new users, and there could be more templates for other types of businesses. But overall, Favro is a good choice and well worth looking at.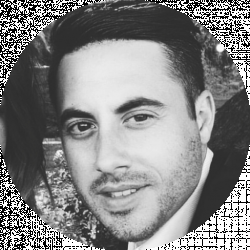 Latest posts by David Borgogni
(see all)
Get 40% OFF for 3 Months