Last Updated on April 22, 2023 by Ewen Finser
Looking for a tool that allows you to create and edit PDFs? You may be interested in PDFfiller or Foxit PDF: they're both great platforms offering a wide range of tools to make the admin side of running a business much more manageable.
I know how hard it is to keep on top of paperwork when you work remotely. In my years of experience running a business, I've realized it's these small admin tasks (like collecting signatures or creating all the necessary contracts) that can become a real hassle, even for a PDF expert.
Both tools we're looking at today can help with that, and I've tested them both to see how they work. They have some big differences, and in this PDFfiller vs Foxit PDF comparison, I'll be comparing them directly, so you can figure out which one is best for you and your business.
Bottom Line Up Front Summary: Between the two, I prefer PDFfiller. It's easier to use, has helpful document storage, and has a reasonably affordable monthly subscription. However, Foxit PDF has a better range of templates and offers a little more creativity (but has a higher learning curve to go with it).
Main Differences Between PDFfiller vs Foxit PDF
The main differences between PDFFiller vs Foxit PDF are:
PDFfiller offers a monthly subscription, whereas Foxit PDF has yearly subscriptions.
PDFfiller has fewer templates, whereas Foxit PDF has a more extensive range of templates.
PDFfiller's templates are basic, whereas Foxit PDF's templates are eye-catching.
PDFfiller has a slightly smaller learning curve, whereas Foxit PDF has a bigger one.
PDFfiller offers secure document hosting, whereas Foxit PDF doesn't.
PDFfiller has a 30-day free trial, whereas Foxit PDF offers a 14-day free trial.
What is PDFfiller?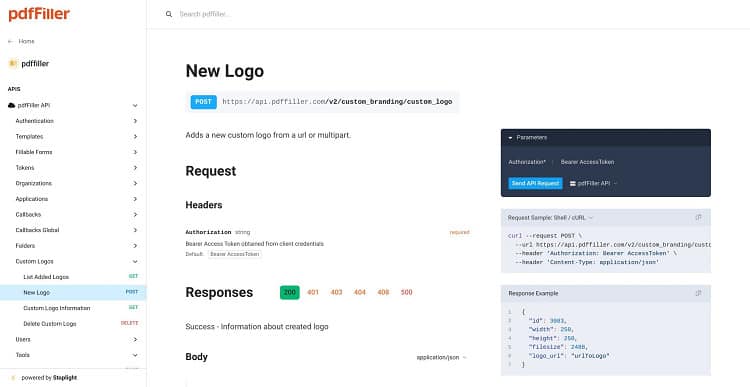 PDFfiller allows users to create, organize, store, and share PDFs. Users can create new a PDF form from scratch or use templates. It makes it easier to create and securely store important documents quickly. It's ideal for new or small businesses, as the pricing is affordable and relatively easy to use.
What is Foxit PDF?
Foxit PDF is a tool allowing users to create bold, eye-catching PDFs. It has a desktop app, a cloud-based app, and a mobile app. It has a slightly higher learning curve but a better range of templates than PDFfiller.
I'd recommend Foxit PDF to anyone who regularly needs to create, edit, and manage PDFs.
The Main Features of PDFfiller
Here's what I thought of the features of PDFfiller!
UX/UI
PDFfiller is easy to use. The main dashboard navigation is clear and straightforward, and the essential tools you'll want quick access to are highlighted so you can easily spot them. The onboarding process is excellent, too.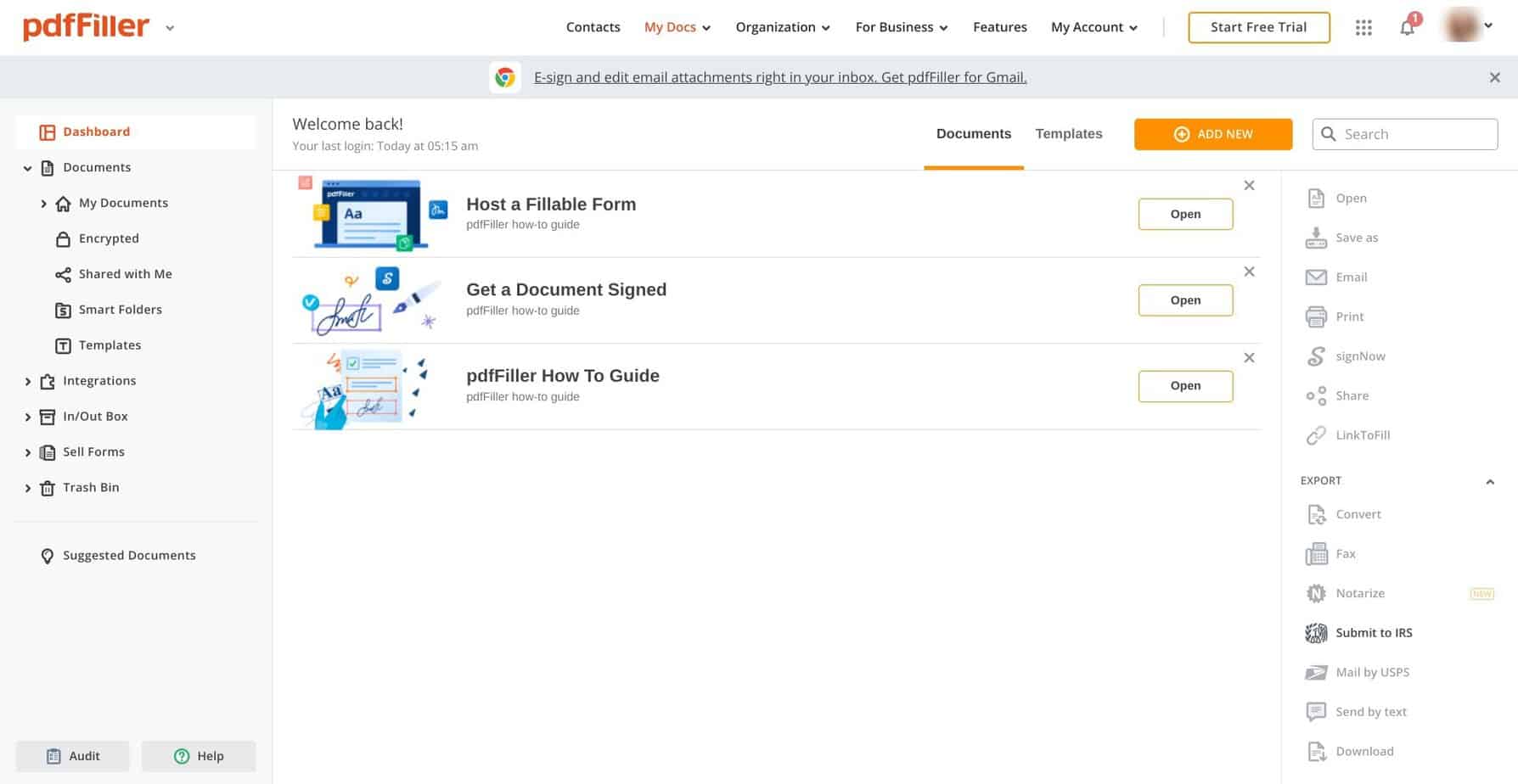 It could be better from an ease-of-use perspective. For example, the PDF creation tool could be more intuitive to find your way around, but I'll explain that in more detail in the next section.
However, for most tasks, PDFfiller is super simple to use. It also makes it very easy for new users by offering guides on the dashboard, from hosting offline or online fillable forms to getting a document signed.
PDF Creation
If you've ever used an email marketing tool to build an email, you'll understand how PDFfiller works. It's also like a Word processor but for PDF format. You can drag and drop new items (like images, text, buttons, PDF filler form fields, and so on) onto the PDF.
This only sometimes works as planned. For example, I would drop images only to find they were slightly off from where I wanted them.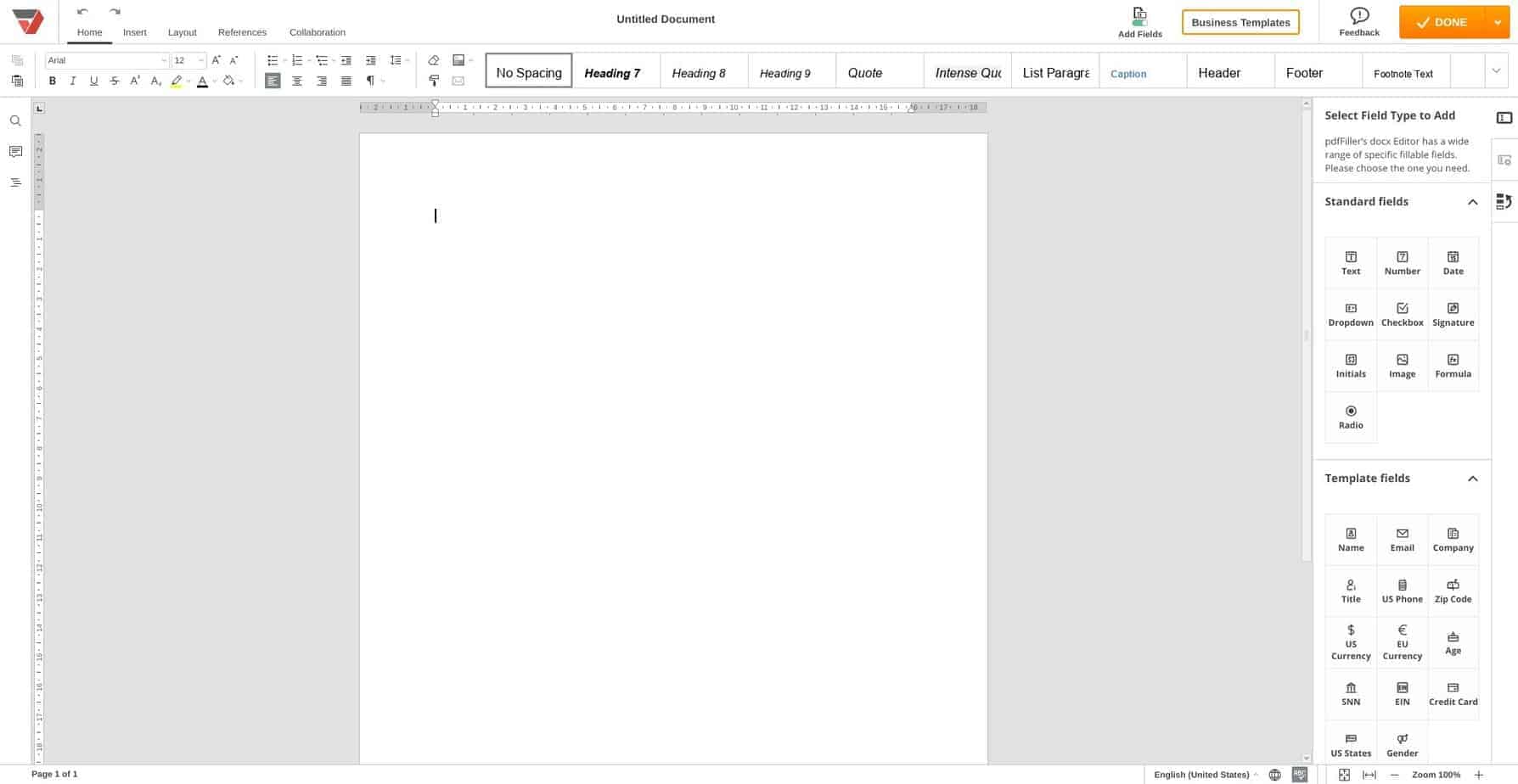 It will work brilliantly for basic forms, especially for smaller businesses. It lacks creativity but has everything you need to create documents like onboarding forms, invoices, and receipts. As a form-building tool, it works incredibly well.
If I had one criticism, this area is a little more cluttered and difficult to navigate – the icons are pretty small, and it may take a little longer to find what you're looking for.
You can preview your PDF at any time. It will auto-add fields you still need to set as fillable sections, which is helpful. You can download, print, and share your PDFs. You can also store them as secdiscussolders, which I'll discuss later.
Templates
The templates available in PDFfiller could be better to look at: think substance over style! However, they have helpful documents like employee performance evaluations, invoices, receipts, and more.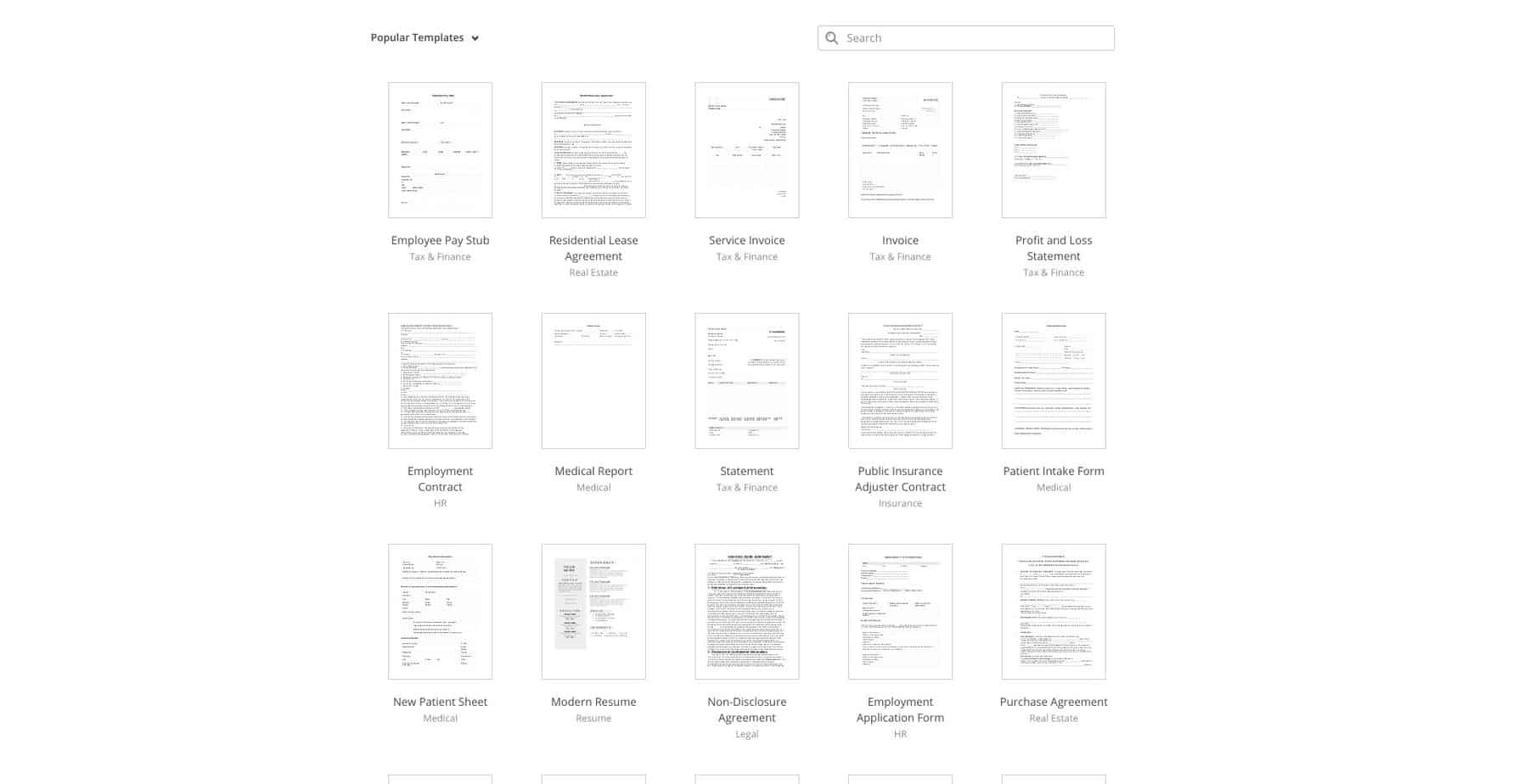 If you like, you can create your templates. These can be saved and adjusted as and when you need them, and you can access them anytime.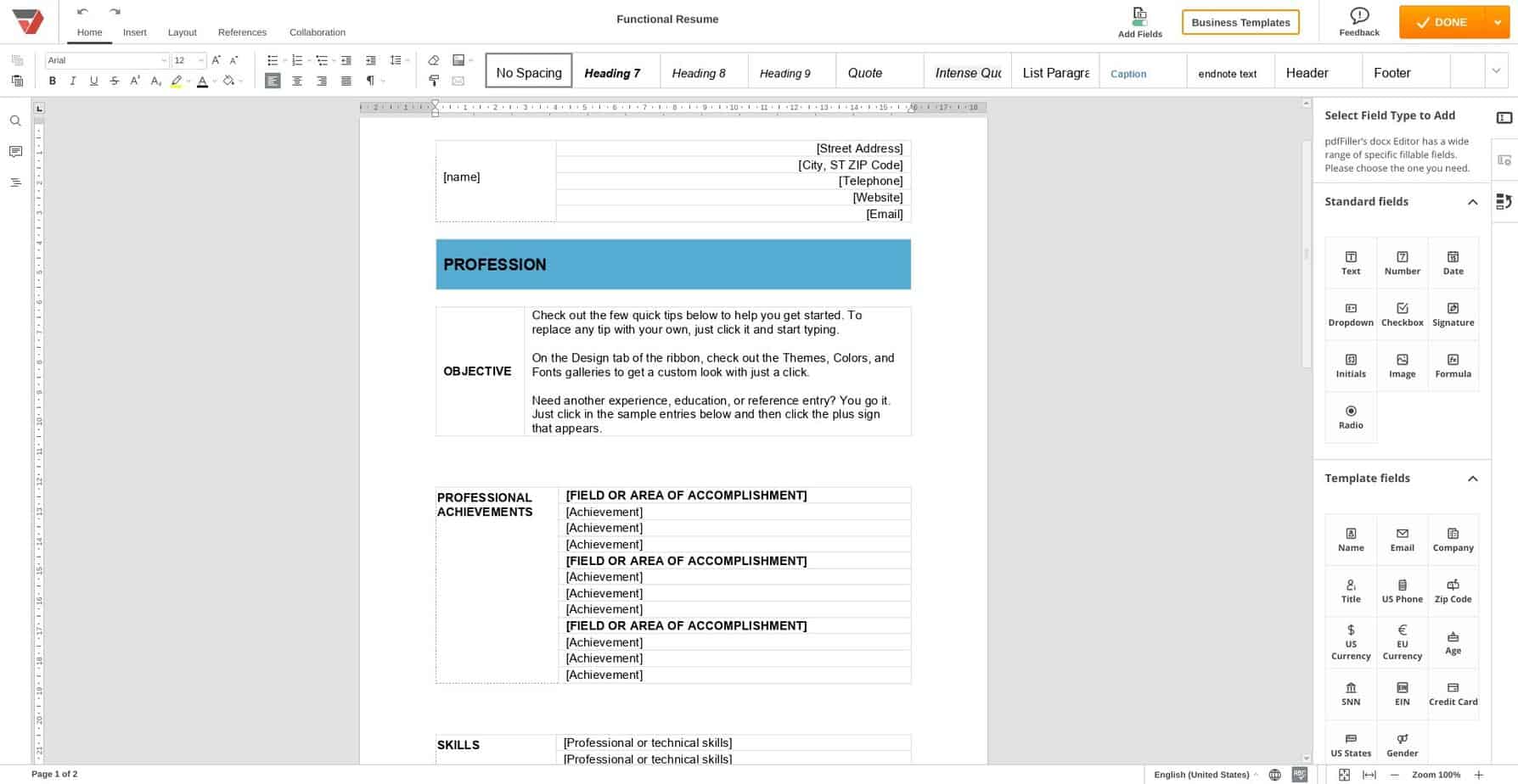 Form Hosting Integrations
Once you have created a fillable form, you can host that form to make it simple for others to complete them. For example, if you're hiring a freelancer, you can create a contract and then use integrations with Dropbox, Google Drive, Box, and OneDrive to host them. This means both parties can access the contract whenever they need to.
The storage tools are helpful. The inbox will show documents that have been collected and returned to your PDFfiller email address. The Outbox will show all forms you sent to be completed, making it easier to keep track of them. If you have one person dealing with all admin in a small business, this makes it easier!
Document Signing
I like all the options available for signing documents in PDFfiller. Users can give their signatures by drawing it, uploading a signature from their mobile device, capturing their signature with a webcam, adding a signature via email, or just typing. It's super easy to do and saves a lot of headaches on both sides.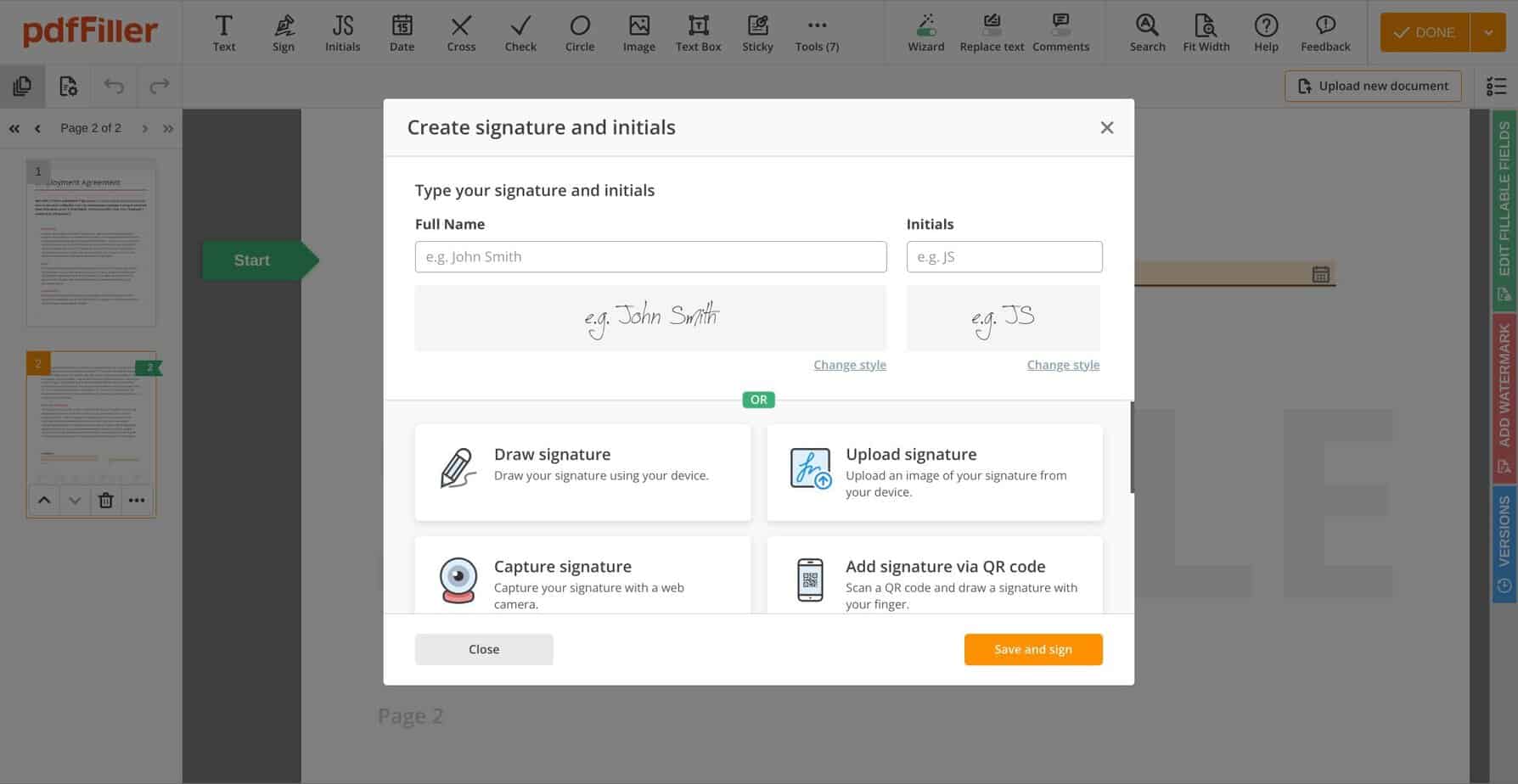 Many complex steps are involved in starting a small business or launching a new project. I know from experience that good PDF software will make these small jobs easier to do, and PDFfiller is ideal in that regard. (You can read more about some of these valuable tools in our guide to the best project management tools).
Conversion
You can convert PDF docs into fillable PDF forms, Word documents, Powerpoint files, JPEGs, and Excel files. Then, you can send them via fax, send them using USPS, and send them directly to the IRS.
Extra Features
A couple of extra features to talk about before we move on to the mobile app. Firstly, I love that they have an encrypted folder, which helps store sensitive documents. You can add another layer of security by requiring a password to access this folder, which users will obtain by SMS.
Secondly, you can create PDFs to sell online using Sell My Form, so if that's something you're interested in, it's easy to upload your forms to this platform. It's harder to make an eye-catching PDF using PDFfiller (but not impossible!), but it's still helpful to have this option.
Mobile App
The mobile app is helpful too. Available for iOS and Android, I was surprised by how useful it is. For example, it allows you to manage, fill out, and annotate PDFs on the go and access your inbox, outbox, and trash folder.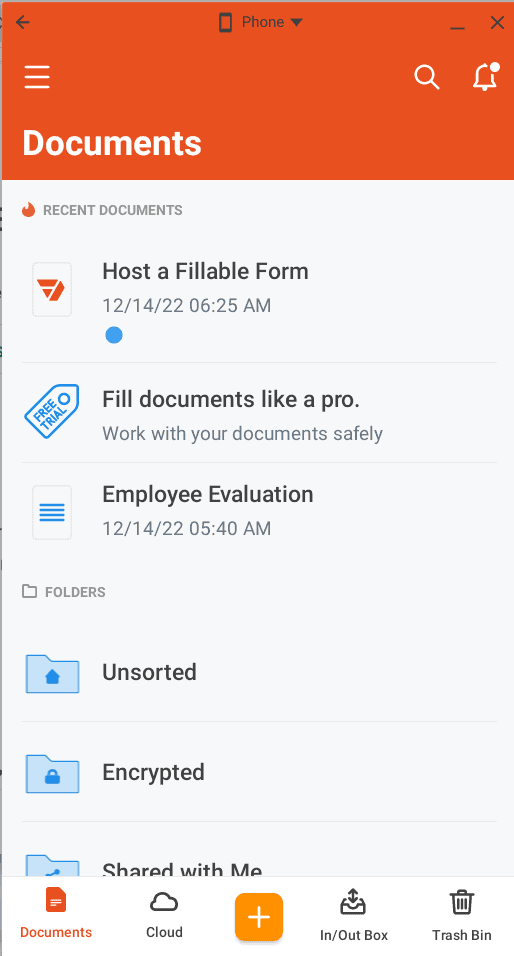 The Main Features of Foxit PDF Reader & Editor
Now let's take a look at the main features of Foxit PDF!
UX/UI
Foxit PDF is easy to navigate once you've signed up. It has a clean interface, and it's obvious where everything is in both the cloud and desktop versions. However, trying to figure out which version of the app you need is tricky. There's Foxit PDF Editor Pro, Foxit PDF Editor, and Foxit ESign. It takes a lot of work to figure out which one you need!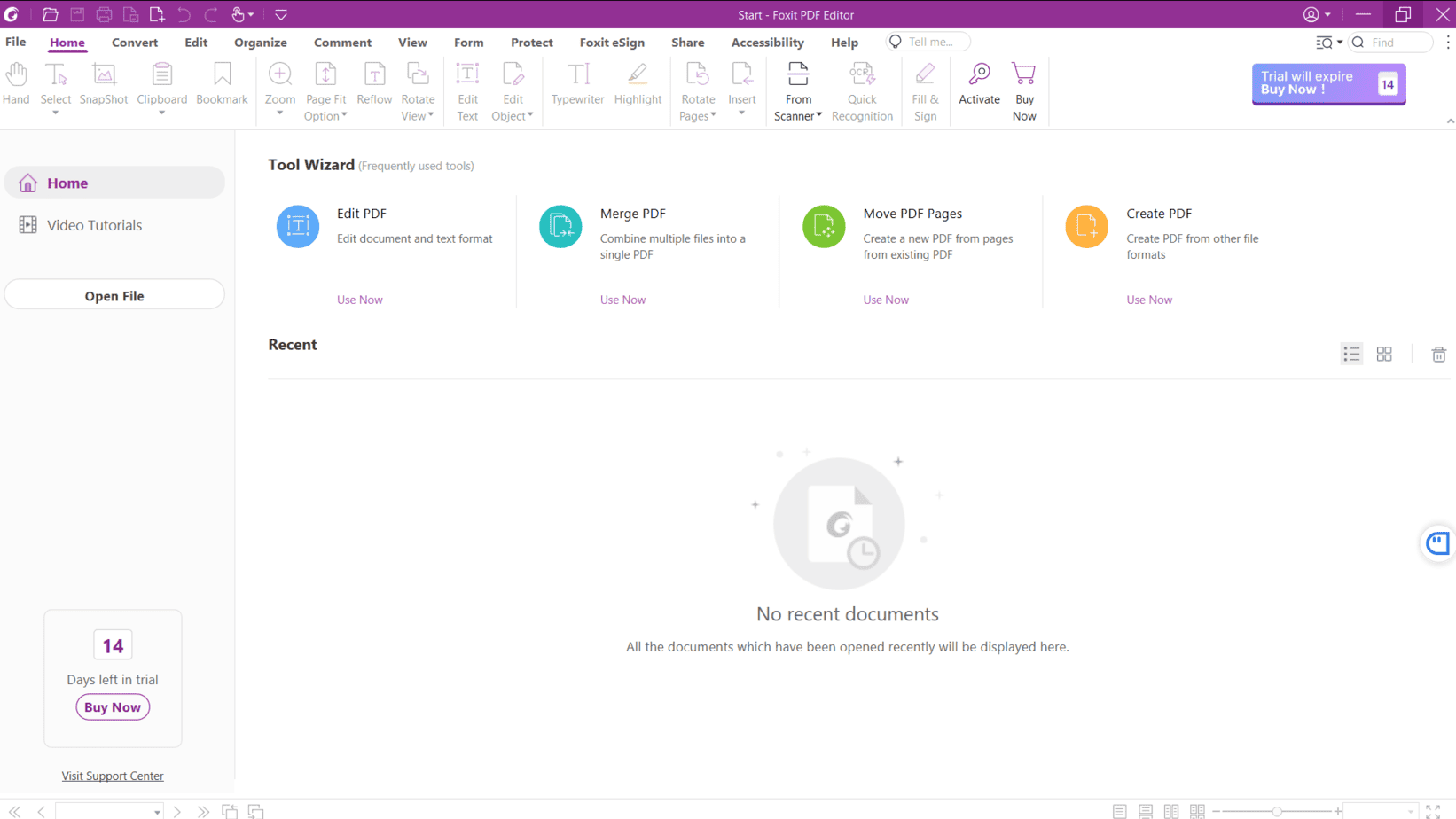 However, the onboarding process is smooth, and I like that on each version, the app offers you a tour to show you the essential functions and features. Unfortunately, the PDF creation tool is less easy to use than PDFfilller (but more on that in the next section).
PDF Creation
In the desktop version, you can create PDFs from scratch. Unfortunately, this could be more intuitive. It's got a steeper learning curve than PDFfiller, and even working out how to add text and images involved a bit of head-scratching.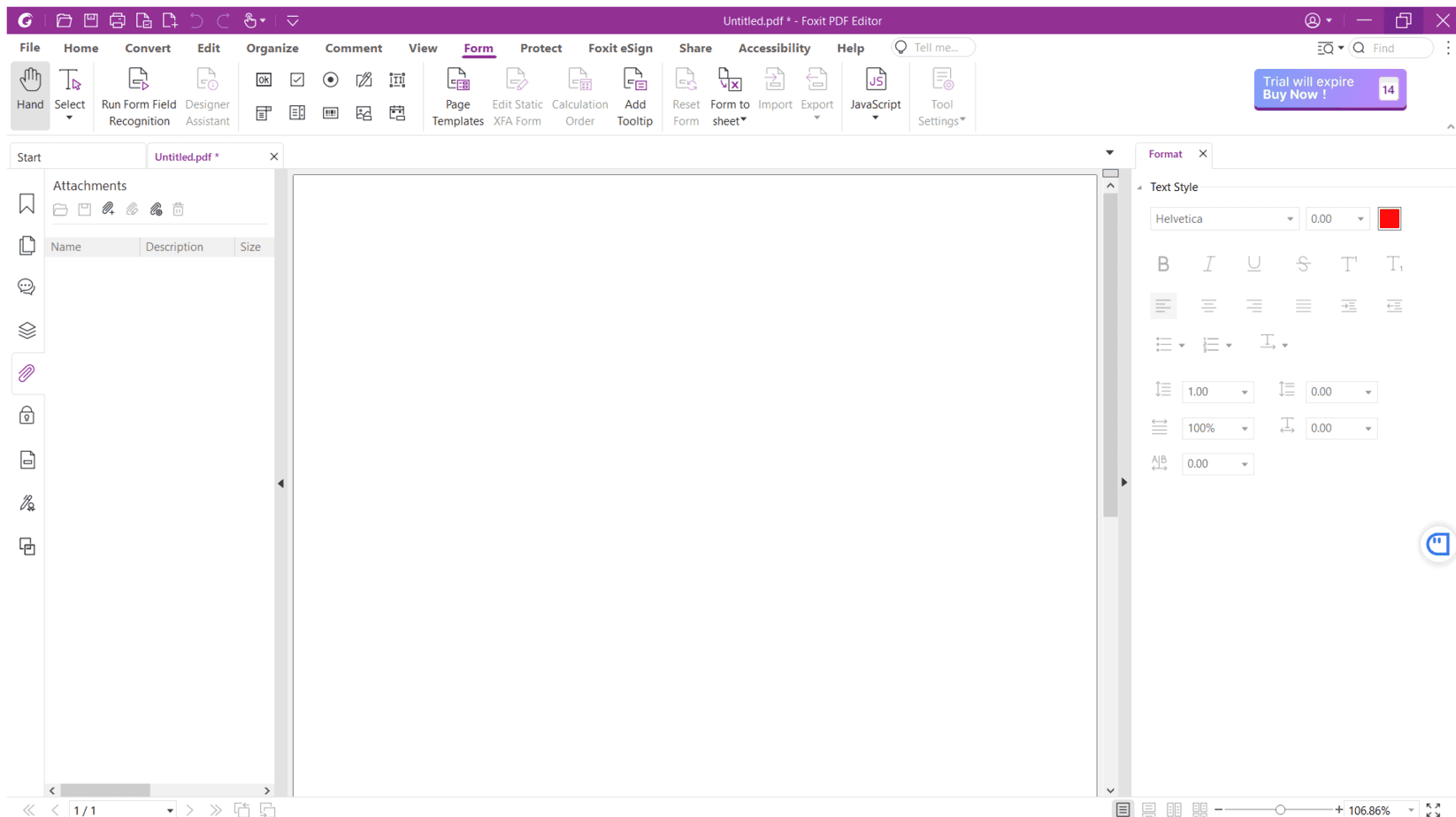 Foxit PDF has a little more scope than PDFfiller. More advanced tools are available here, including linking and joining text, PDF editing objects, and so on.
However, it could be more friendly for new users. It could be worth the effort if you're willing to put the work in to edit PDF files. But if you want to quickly and easily create a PDF, you might prefer using PDFfiller.
Templates
The templates offered by Foxit PDF are more varied and eye-catching than those offered by PDFfiller. There's a big range to choose from, from marketing to education to business to personal to research & design templates.
Everything from colorful minute meetings to an invitation to a pool party can be found here, and they can be edited to suit your needs.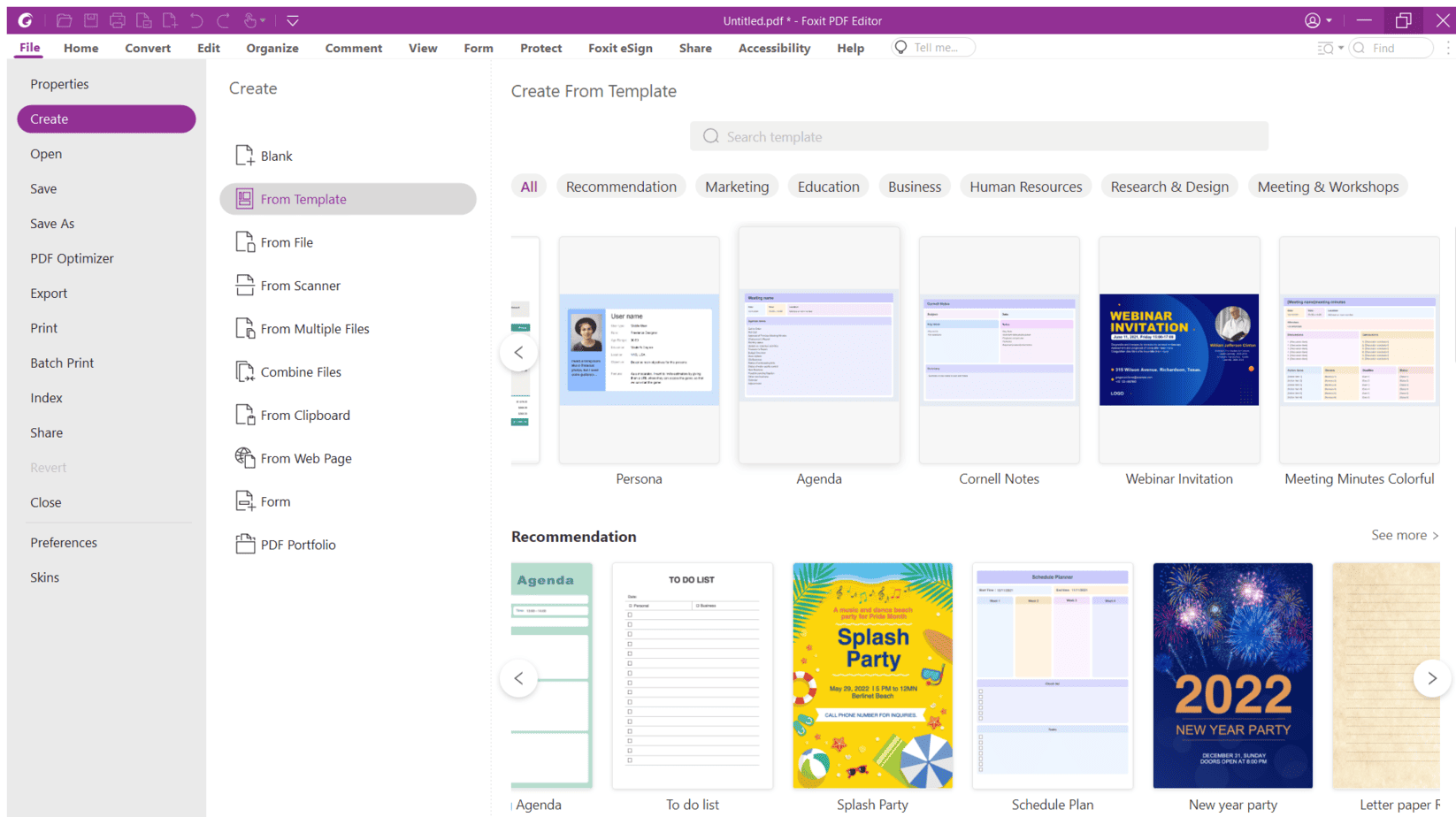 In terms of templates, Foxit PDF has the upper hand.
Conversion
You can convert PDFs into JPG, PNG, JPG2000, TIFF, and BMP files. You can also convert them into MS Office files, including Word, Excel, PPT, and XPS documents, as well as Rich Text, Plain Text, HTML, Accessible Text, and XML 1.0 files. That's a lot to choose from! Nevertheless, it's helpful to have all these options on the table.
You can also batch print PDFs, which is helpful for meetings or if you have a lot of documents you'd like to send to customers or clients.
Foxit ESign
The cloud version of Foxit PDF, Foxit ESign, offers similar tools to PDFfiller. It allows you to upload files, open templates, and add personalized branding to templates, which is helpful.

What I like about Foxit ESign is that it clearly shows at the top of the dashboard a few key numbers:
Number of documents waiting for the user's
Number of records waiting for other signatures
Number of documents continuing from a draft
Number of completed documents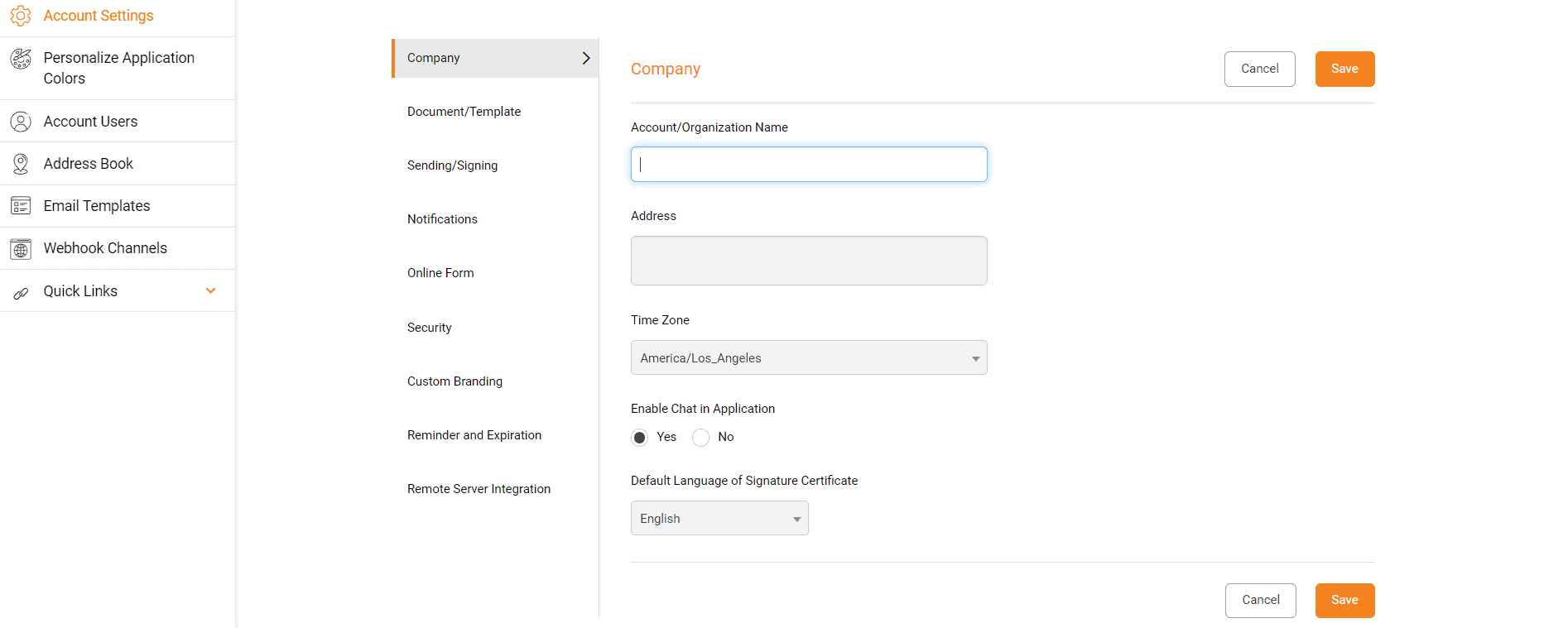 Each of these can be quickly and easily accessed, and I like its straightforwardness. If you've got a lot of documents you're trying to keep track of, this makes it so much easier! If you're in the middle of onboarding a lot of new employees, for example, or you need to get several freelancer contracts signed, this makes it simple.
Keeping on top of these documents is essential, especially if you're managing invoices for accounting purposes. I like that Foxit ESign makes this process easier. (You can get more advice on this in our guide on how to find the best accounting software).
PDF Reader
We also need to talk about the PDF Reader. This app allows users to open and view PDFs and sign documents quickly and easily. This is super easy to use and is useful from an employee perspective.
Mobile App
I was impressed by the mobile app for Foxit PDF. It's intuitive, it looks great, and you can even create PDFs on the go (as well as view, highlight, annotate, and send PDFs). I also like that you can transfer a PDF file from your PC to your phone via wifi, which is helpful.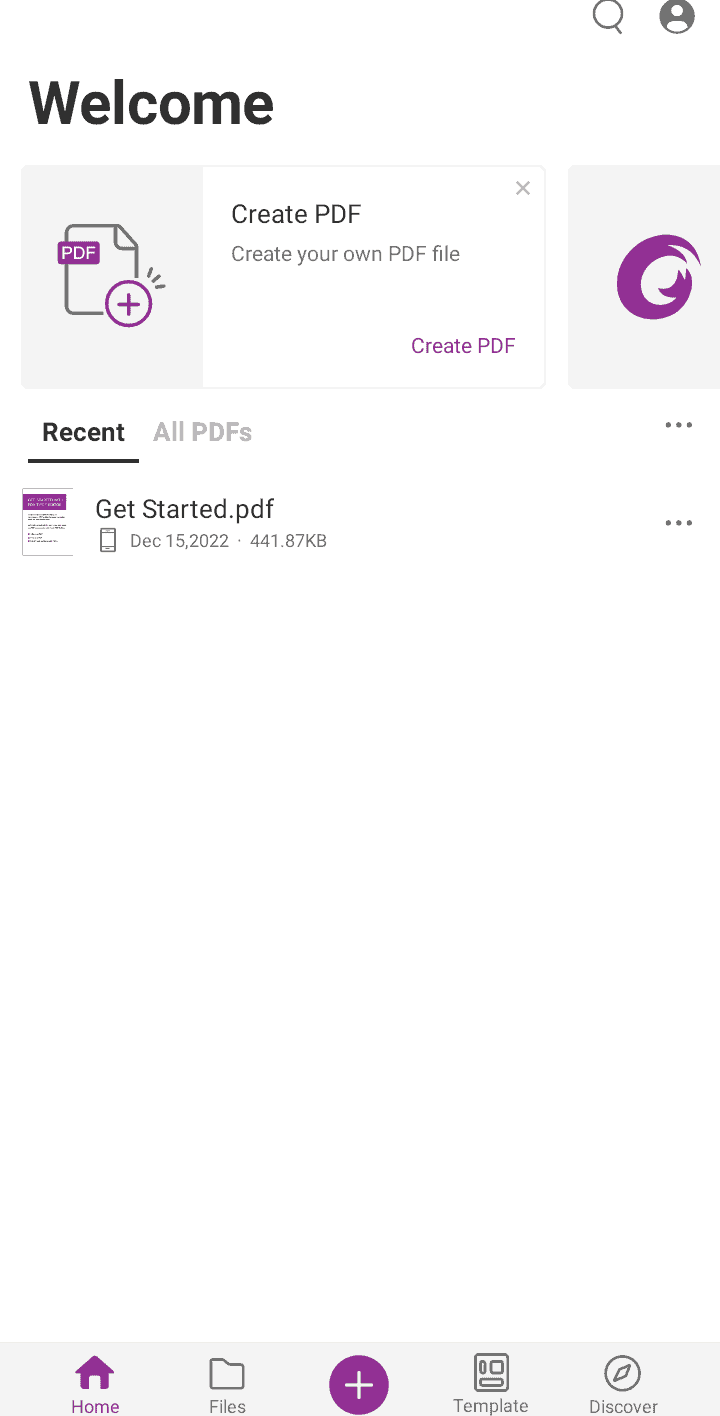 PDFfiller vs Foxit PDF Integrations
Let's see how they compare in terms of integrations.
PDFfiller Integrations
PDFfiller integrates with some useful platforms:
Google Sheets
Google Drive
Zapier
Slack
Gmail
Pipedrive
Foxit PDF Integrations
Foxit PDF integrates with some great platforms, too, including:
SharePoint
OneDrive
Microsoft Teams
Microsoft Office 365
PDFfiller vs. Foxit PDF – Support
Let's check out how they stack up in terms of support.
PDFfiller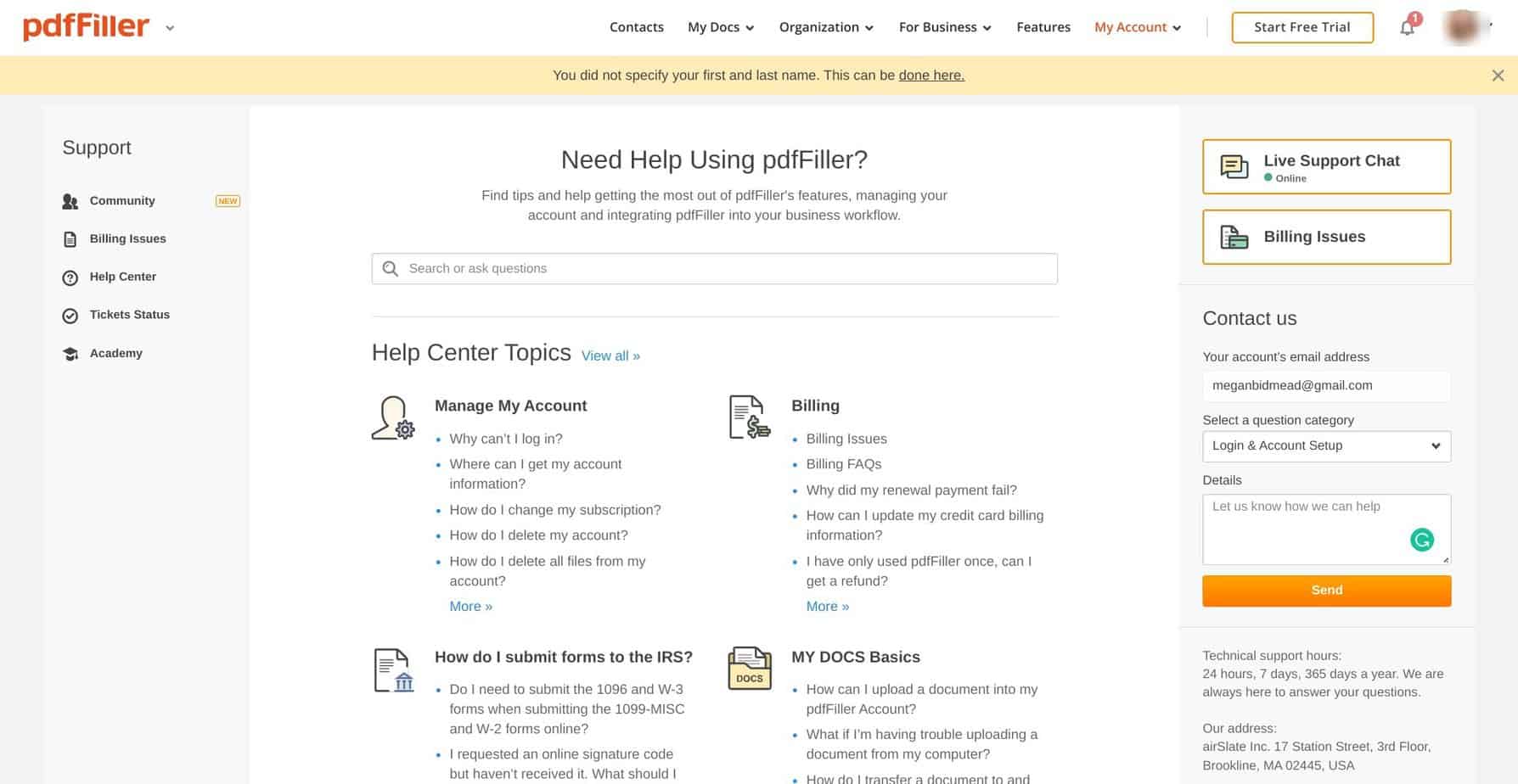 PDFfiller is good in terms of support. It has a Support Center with tons of valuable articles and FAQs. They also offer support in a few forms depending on your price tier, including live chat and a ticketing system.
Foxit PDF
Foxit PDF is also great in terms of support. The Help Center is helpful, with topics relating to each area of the platform and tutorials for new users. Plus, you can contact support via a ticketing system.
PDFfiller vs Foxit PDF Pricing
Finally, let's see how they compare in terms of pricing!
PDFfiller Pricing
PDFfiller has a few pricing plans:
One user
Edit, fill, draw, paint, save, or fax
Convert PDFs to editable Word documents
Erase, highlight, and re-write PDFs
Access documents from anywhere
Highlight & annotate documents
Customer support within a day
Premium Plan – From $30 Per User Per Month
Up to 5 users
Send documents out to be signed using SignNow
USLegal Forms Library
Create reusable templates
Collect and export data
Advanced workflows
Instant chat customer support
airSlate Business Cloud Plan – From $50 Per User Per Month
Minimum 10 users
Business process automation
Enterprise-grade e-signature
The largest library of legal forms and documents
PDFfiller is, I'd say, a bit more accessible for smaller businesses. You can get going from $8 per month, which is useful if you're just starting. In addition, you can get a free 30-day trial by going to their pricing page.
Foxit PDF
Foxit PDF has four options depending on which part of the platform you want to use:
PDF Editor Pro +12 – From $99 Per Year
This includes one year of access to PDF Editor Pro +12.
PDF Editor Pro 12 – From $103.95 Per Year
This includes a year's worth of access to PDF Editor Pro 12.
PDF Editor 12 – From $82.95 Per Year
This gives access to a year's worth of PDF Editor 12.
PDF Cloud Editor – From $52.49 Per Year
This gives access to just the cloud editor for a year.
I'd say that most people will have enough tools to create the PDFs they want using the regular desktop editor, which is fairly affordable when you break it down into a monthly cost. You can get a free 14-day trial by checking out their pricing page.
Foxit PDF and PDFfiller Alternatives
Not into either platform? Here are some alternatives you can look at instead:
Wondershare PDF Element – this is a desktop application. It has a moderate learning curve but has some great features, including a useful mobile app.
SignNow – This document signing tool is designed to make it super easy to sign documents digitally. It doesn't have as many features as the others on this list, but it's worth checking out if you've been looking to make document signing easier.
Nitro PDF – This is another desktop application. It's intuitive and has a fast learning curve so that you can get going straight away. Further read how Nitro PDF compares to PDFfiller.
FAQs
My Final Verdict: PDFfiller or Foxit PDF?
I prefer PDFfiller for a few reasons. Firstly, it has a lower learning curve. It feels more intuitive to use, which is excellent if you only have a little time to learn a new platform. I think it's affordable for the tools it offers, and I like the secure document storage. Plus, it makes it super easy to sign documents.
Foxit PDF is the more creative tool. It offers more flexibility, and it has some excellent templates. So if you want to create beautiful PDFs, you might prefer using Foxit PDF.
Try them out using their free trials to see which suits you best!