Last Updated on April 22, 2023 by Ewen Finser
Business administrative tools play a critical role in a company's productivity. The need to focus on building a better product or service, in addition to delivering it, has never been more important. While enterprise resource planning (ERP) tools provide companies with the backbone to handle and integrate their business processes and operations, many struggle with finding a solution that fits right for their type of business.
The increasingly complex nature of business has made it such that no two companies have the exact needs for enterprise resource planning. Two of the most prominent companies competing for business enterprise customers are NetSuite vs Workday, which provide cloud-based ERP systems.
This article will compare these two leading vendors to help readers decide which might be the right fit for their company.
Bottom line up front: Netsuite is my preferred choice due to its extensive automation features, flexible customer support options, cost and ease of use.
Main Differences Between NetSuite vs Workday
The main differences between NetSuite vs Workday are:
NetSuite is faster in implementing projects and changes, whereas Workday customers may have to wait longer for change implementation.

NetSuite has complete global multicurrency and entity support, whereas Workday has limited multicurrency and entity support.

Workday is more specialized, focusing on the human resources (HR) and financials (FI) modules, whereas NetSuite is more comprehensive with several additional functionalities.

NetSuite can support the operations of small businesses while also supporting the needs of larger enterprise clients, whereas Workday is designed for mid-sized or larger companies.
NetSuite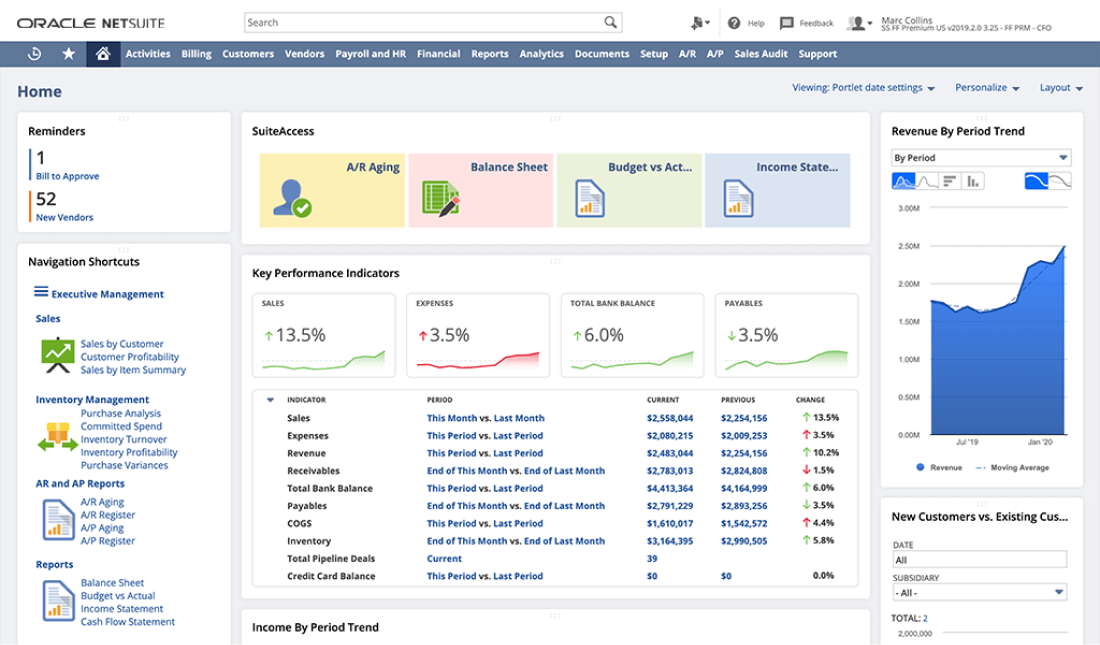 NetSuite is a multi-tenant, cloud-based ERP system that allows companies to integrate all aspects of their business operations. In addition to its ERP capabilities, NetSuite provides a wide range of tools for CRM, e-commerce, marketing automation, and analytics.
Businesses use NetSuite to manage inventory, track sales performance, and calculate payroll. By operating on the cloud, NetSuite continues to help companies evolve and scale as they see fit. As a SaaS cloud-based application, it enables businesses to access their information and run complex functions from any device in real-time.
A 2021 Gartner report named NetSuite as a Leader in the Magic Quadrant for Cloud Core Financial Suites for Global, large and midsize enterprises. The report called NetSuite's comprehensive functionality, the ability to execute, and its completeness of vision stark contrasts to the competition.
NetSuite Pros
Simple and comprehensive reporting

Excellent drill-down and visibility

Easy navigation

Unified customer records

Easily integrable with third party systems

Flexible pricing

Centralized processes
NetSuite Cons
Complex feature set

It can be challenging to configure
NetSuite Features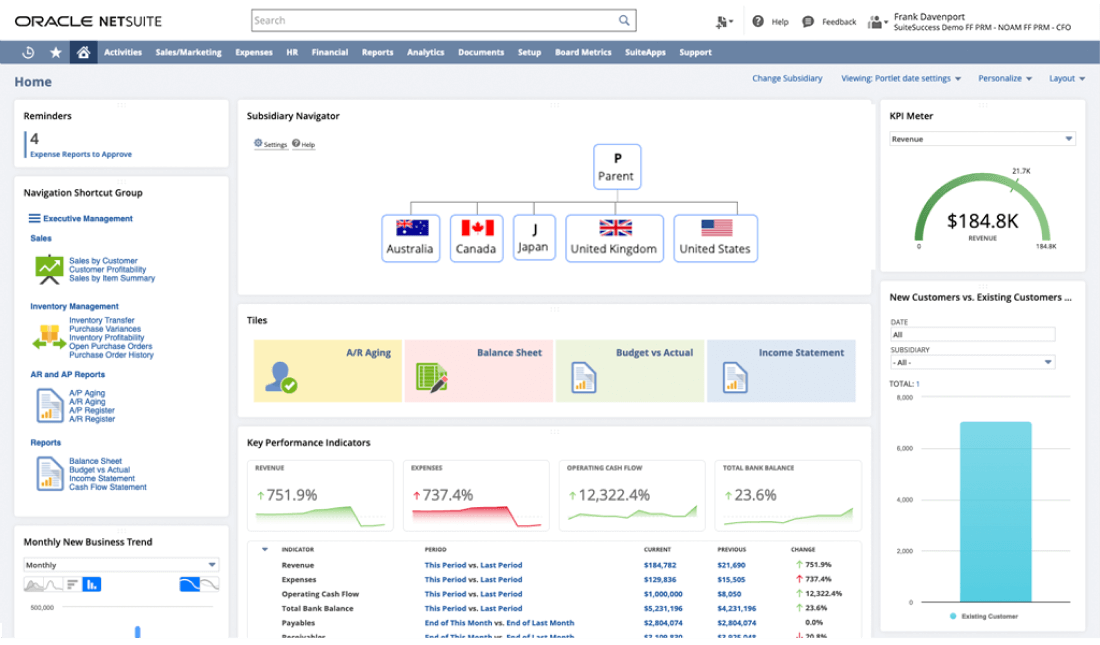 The significant number of NetSuite features that provide users with the ability to run complex business functions is one of the reasons it has been a market leader for over a decade. Below are elements that differentiate NetSuite from other ERP systems.
Accounting and Financial Management
Practical Accounting and Financial Management is an essential part of running a business. NetSuite offers robust financial management tools with multi-currency support, multiple tax rates, and currency conversion capabilities. Businesses can use their customer data to streamline managing invoices and payments, critical to business operations.
Analytics and Reporting
NetSuite uses intelligence to help businesses make data-driven decisions. The platform supports business users with deployable, web-based reports that maximize operational performance. Users can also gain insights from the data by using forecasting and multi-dimensional analysis features.
Customer Relations Management (CRM)
NetSuite is an excellent CRM solution for small to medium-sized businesses. It offers lead management, email marketing, and list segmentation features. By integrating e-commerce capabilities with CRM, NetSuite can help companies convert site visitors into customers. It provides opportunity management for sales teams and reports on the sales pipeline across multiple channels.
Human Resources and Payroll
NetSuite helps businesses manage their employees by centralizing everything from recruitment to benefits. NetSuite offers a robust payroll system with tax compliance features, automated time-off management, and more. It also provides workforce planning tools such as succession planning and workforce analytics.
Professional Service Automation (PSA)
PSA is a set of business process automation tools that helps companies handle functions like quoting, billing, and order management. It has built-in OpenAir acquisition to help companies find new prospects and integrate seamlessly with NetSuite's salesforce.
Financial Management
NetSuite's Financial Management capabilities help businesses gain a clear overview of their cash flow and profitability. The tool helps expedite finance tasks such as invoicing, managing expenses, and managing working capital. The cloud-based solution uses reliable, real-time data to provide secure access to the company's financial performance.
Workday Overview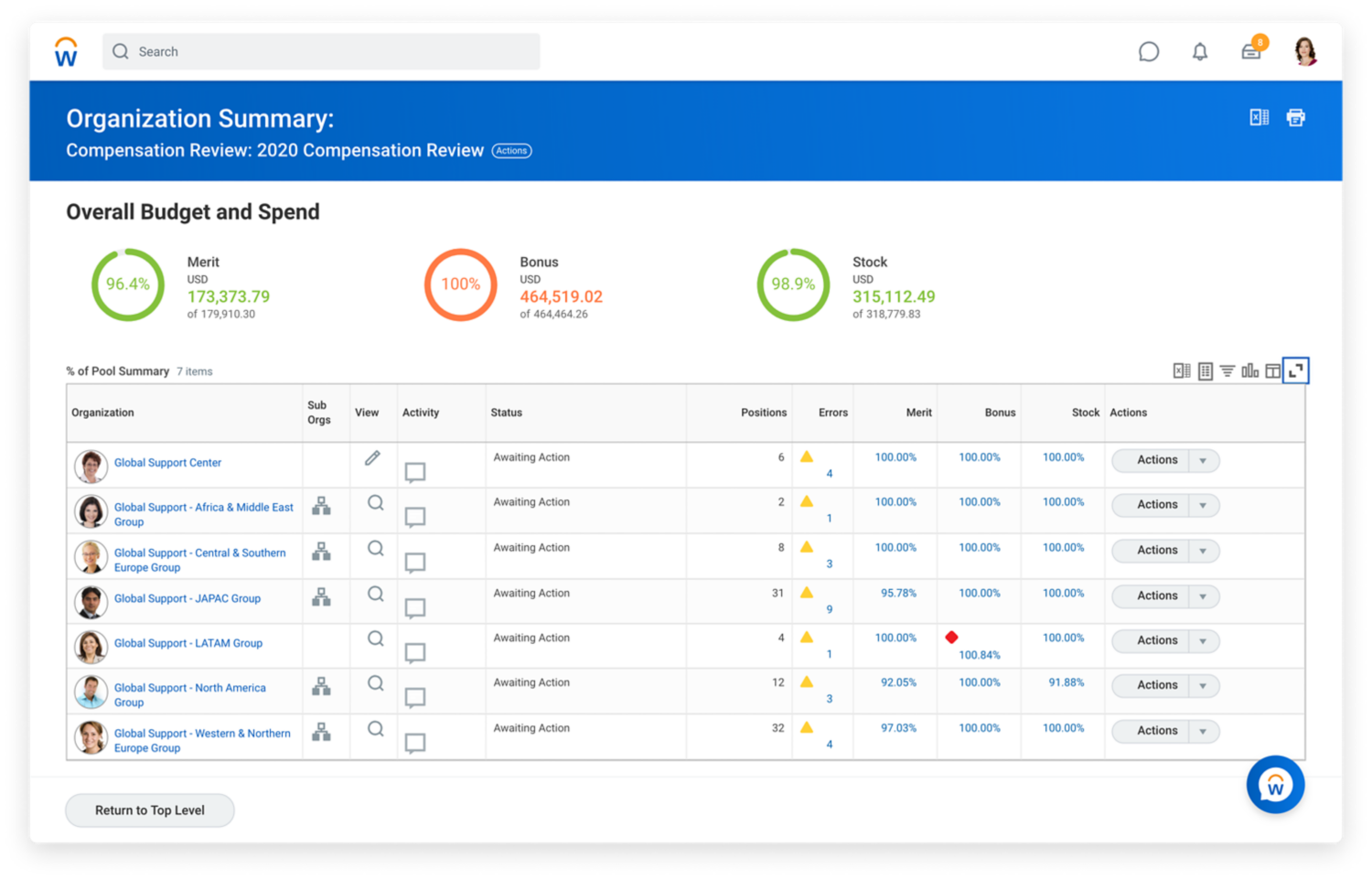 Workday is a unified cloud platform for financial management, human capital management (HCM), planning, analytics, project management, and business intelligence. Businesses use Workday to access their financial performance, human capital metrics, operational data, and business intelligence.
It offers more than just HR management capabilities; Workday's HCM module also helps businesses manage payrolls, training programs, time off requests, onboarding processes, recruiting needs assessment tools, and more.
As a single cloud-based solution, Workday can help businesses quickly adjust to changing market conditions with built-in analytics. It supports complex financial transactions and offers forecasting, business intelligence (BI), and multi-dimensional analysis.
Workday Pros
Provides interpretable data for easy decision making

Fosters consistent and modern practices

Real-time data for informed forecasts

Efficient management of data records

Provides detailed functionalities of HR activities

Features an intuitive user interface (UI)
Workday Cons
It can be challenging to manage for new users

Lots of hidden functionality

Lack of user guides

Cumbersome user experience
Workday Core Features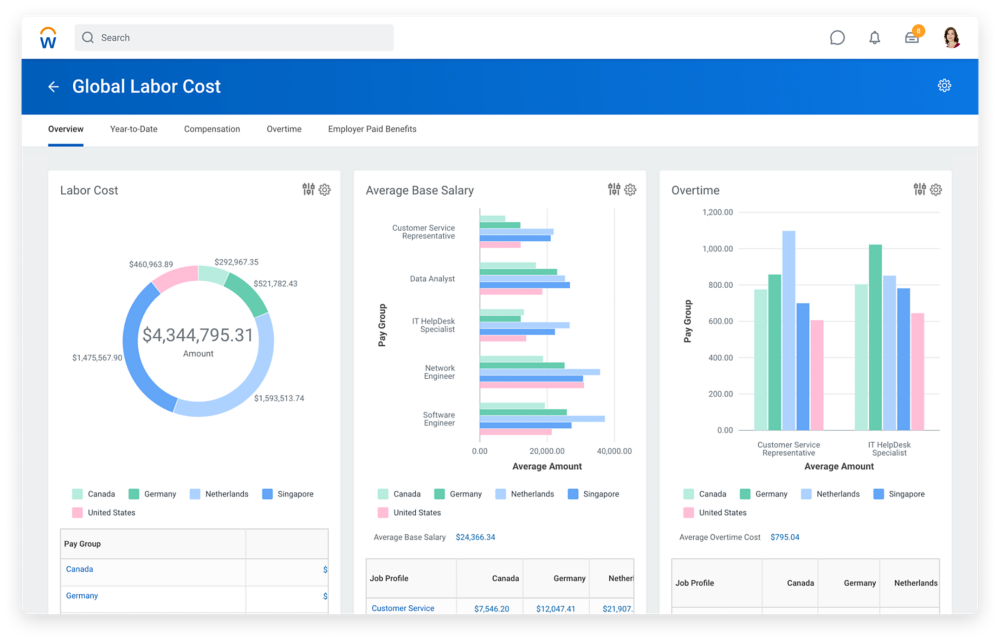 Workday understands that businesses have specific needs that a one-size-fits-all solution cannot meet. It offers functionalities that meet the needs of particular industries such as retail, healthcare, and media.
Below are core features of Workday:
Financial Management
Workday's financial management capabilities provide a comprehensive view of a company's financial performance. The tool adapts to the needs of the business and offers a high-end financial management solution. Electronic evidence is crucial in a finance-driven company, and Workday's "proof of financial transactions" feature provides an electronic audit trail for all accounting entries.
Human Capital Management (HCM)
Workday's HCM capabilities help companies manage core HR functions across all locations. The centralized information provides accurate and timely insights into workforce metrics. It also offers operational data to help companies make informed decisions.
Analytics and Reporting
Workday's self-service analytics and reporting capabilities help finance managers quickly access, visualize, and share data. It provides a consistent security model for ad hoc analysis within the Workday application.
Reporting tools within the platform allow users to build reports that enable portfolio and P&L analysis. It also allows historical comparisons, multi-dimensional data aggregation, and sub-ledger support.
Payroll and Workforce Management
Workday's payroll and workforce management tools allow companies of all sizes to manage their payroll and workforce needs. It offers a comprehensive solution by allowing a people-first experience with best-in-class functionality. The intelligent automation feature supports company growth by streamlining processes and reducing errors in payroll processing.
Professional Service Automation (PSA)
Workday offers PSA functionality for professional services organizations to manage project information, customer data, employee time, and expense approvals. With Workday's PSA, professionals can use customizable applications to collaborate with their team members. It also provides a full suite of project management tools to track time and expenses and manage resources.
Enterprise Planning
Workday offers business planning features to help companies make strategic decisions. The enterprise planning tool gives every department the power and flexibility to build and share models and data sets. It allows for a flexible financial, workforce, sales, and operational planning solution ideal for multi-currency and multi-language support.
NetSuite vs Workday: How Do They Compare?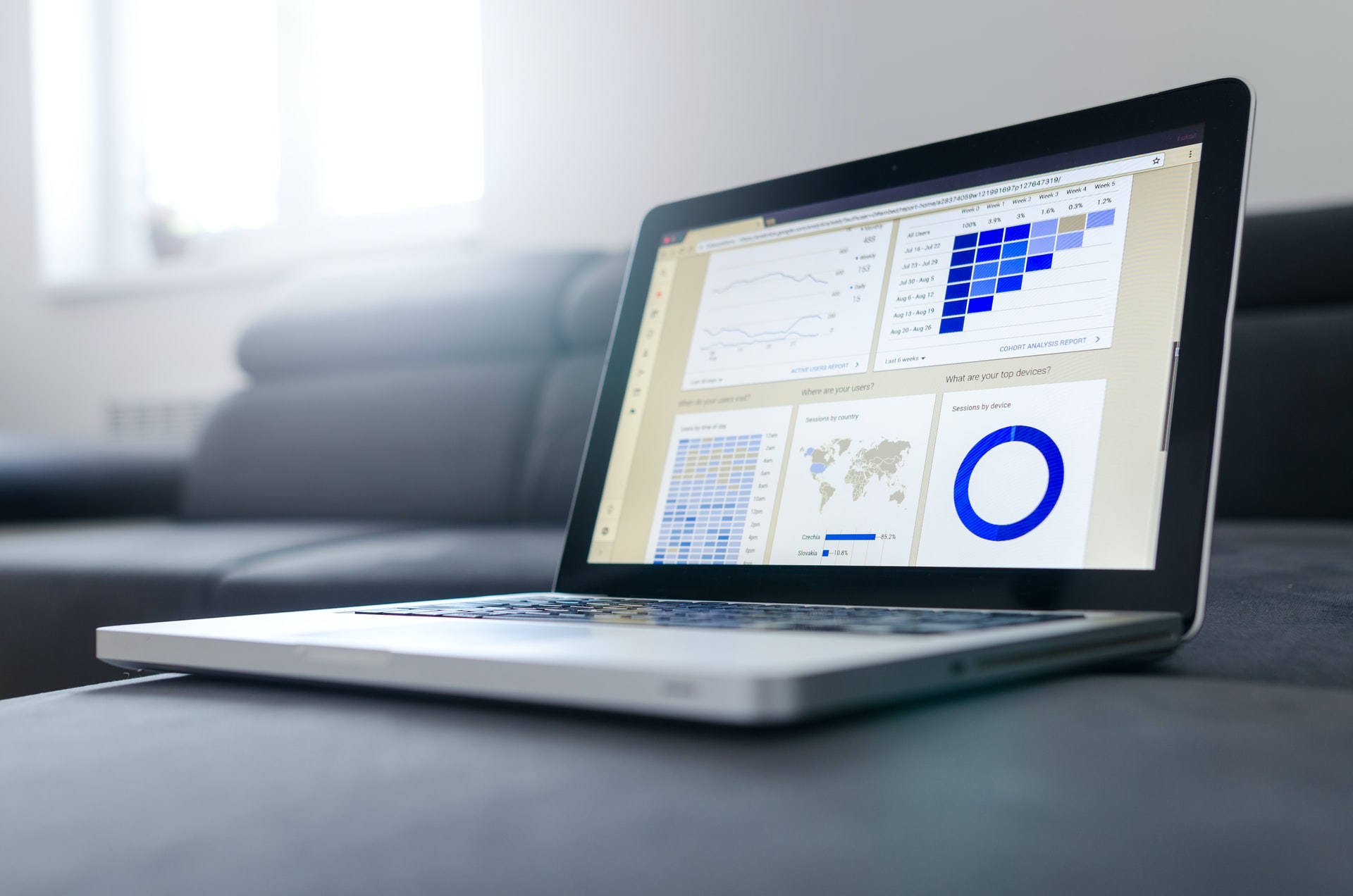 Before making a decision, companies should carefully evaluate both NetSuite's and Workday's capabilities to see which best meets the needs of their businesses. Below is a detailed analysis of how NetSuite and Workday compare customer service, pricing, ease of use, integration/implementation, and other capabilities.
1. Customer service
NetSuite offers a wide range of customer support services. There are different offerings from Basic support, premium support, and advanced customer support. These support standards provide different levels of support 24/7 support through the phone to online case submissions.
Workday support is available 24×7. It boasts customer success by the satisfaction and not by how many cases are solved. There's also a Workday community that serves as a place for experts and customers to discuss all things related to Workday.
The Workday customer support process is quite lengthy but provides thorough assistance. Customers will file a request via the customer center, wait for a confirmation email and case number. The customer will receive updates of their request via email before the request gets to the available customer service representative.
Verdict: If customer service is your primary concern, NetSuite offers more flexible options. As a customer, you'll have the flexibility to choose the right level of support that meets your needs. The Workday service process can be a bit time-consuming and frustrating for customers.
2. Pricing
Any company must evaluate pricing. Certain factors will influence the overall price of organizations who wish to implement ERP into their operation. The company's yearly revenue, size, and desired features will affect the final product price.
Contacting the companies will offer a better idea of how much it will cost to implement the ERP system. However, based on research on NetSuite and Workday, the following are general estimates of how much you'll need to spend.
NetSuite Pricing
NetSuite pricing depends on the number of users, modules, and additional services. Businesses have to pay a monthly licensing fee of $999 plus a per-user fee starting at $99.
The more features you incorporate into your business, the higher users and modules you'll need. The above base prices are simple estimates that may change depending on users, modules, and additional services.
Workday Pricing
Workday does not display its pricing online. Instead, a customer service representative will give individualized pricing during a demo or estimate. The pricing is specific to the company and its business needs.
Noteworthy, some customers complained that Workday's pricing is quite expensive and may not suit small and medium-sized businesses.
Verdict: You need to contact the sales team for both NetSuite and Workday to know the exact prices. However, the consensus is that NetSuite provides more options for businesses with different financial capabilities. Workday, on the other hand, is more expensive in general.
3. Ease of Use
NetSuite and Workday both deliver on providing simplified and integrated business processes. Although there are some reports on the complexity of the NetSuite feature set, navigating around the system is easy for most customers. New users may find it challenging to navigate through the system, but a quick intro demo will help you get the hang of it.
Workday boasts easy-to-use dashboards and menus, but reviews from some of its users suggest otherwise. From our research, it takes some time to achieve the hang of Workday. However, users can access the menus to drill down to more specific details. Some functionalities may be inaccessible to new users familiarizing themselves with the system.
Verdict: NetSuite's navigation system is more user-friendly than Workday.
4. Integration and Implementation
NetSuite's modular structure is ideal for organizations that want to implement several features of its software. It provides seamless integration with leading software vendors. Businesses can take advantage of this feature to create a connected ecosystem. However, they can hire a dedicated NetSuite team to implement integrations for an additional cost.
Workday, meanwhile, is a perfect fit for businesses that require a high level of customization. It has the flexibility to create specific features and functionalities to meet your organization's needs. Workday boasts more than 150 integrations and connections with third-party software. There is also support for complex integrations at no extra cost.
Verdict: Workday stands out when it comes to integration. Customers can get the full functionality of Workday by integrating with other business software for free.
5. Features and Functionality
The NetSuite and Workday end game provides businesses with the much-needed business process automation. NetSuite allows for the automation of more processes than Workday. It can run the entire financial, HR, operations, supply chain, and more.
Workday falls short when it comes to operations management compared to NetSuite. However, there are no limitations with Workday. You can implement any functions or features you like.
Verdict: NetSuite offers a broader scope in automation compared to Workday.
NetSuite vs Workday Alternatives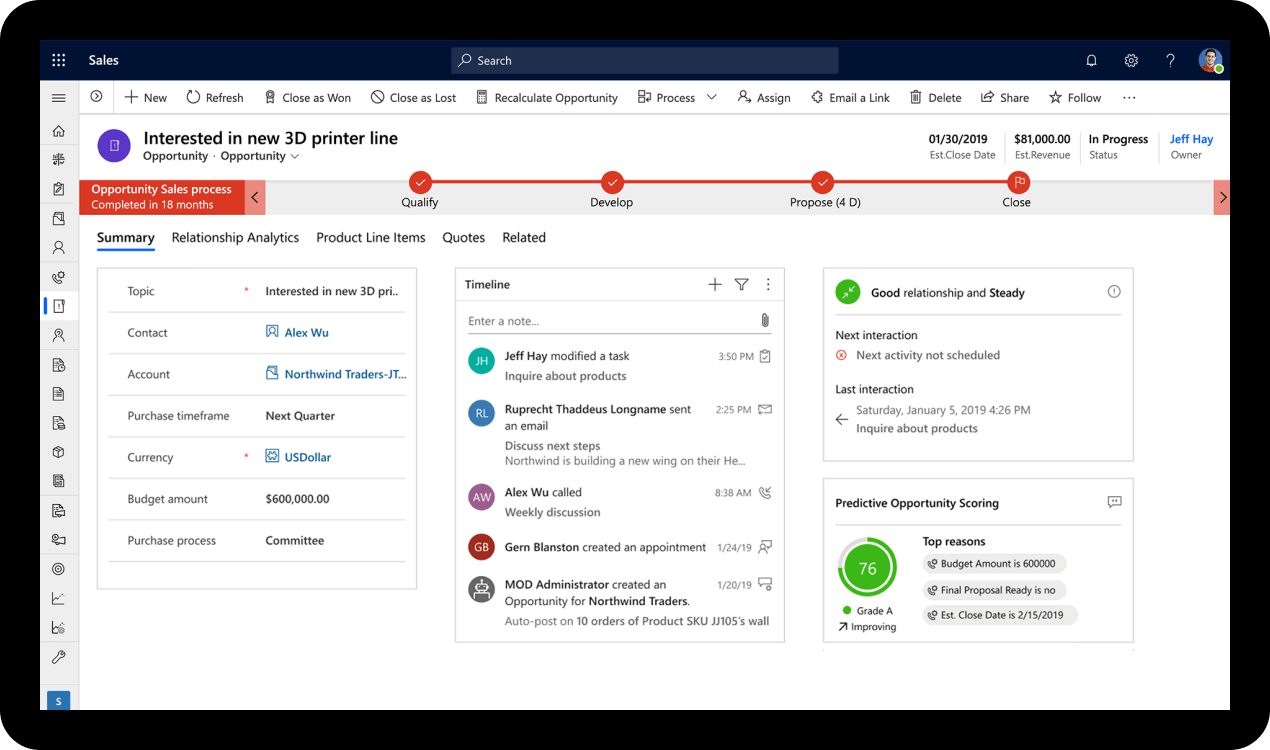 Below are some of the most popular alternatives to NetSuite and Workday.
1. Microsoft Dynamic 365
Microsoft is a powerful name in the business industry, and it does not disappoint with its Dynamics 365 software. It is an all-in-one suite that offers bundled solutions for sales, finance, marketing, and commerce, among other services. Pricing starts at $1,500 per tenant per month.
2. SAP ERP
SAP is a long-time player in the business software industry. It uses intelligent technology to provide a more streamlined user experience. With SAP ERP, you can access all the essential business functionalities, including payroll and project management. Pricing starts at $3,213 for the license plus an additional maintenance fee.
3. Sage X3
Sage ERP allows users to share information and resources throughout the entire organization. From accounting to sales, Sage ERP has something for everyone. Businesses can customize the system to add relevant modules needed for the company.
4. Acumatica
Acumatica allows the centralization of transactions and processes through its integrated cloud-based solution. It can help businesses increase accuracy and efficiency by streamlining internal tasks. You can schedule a demo and request pricing information through its website.
5. Odoo
Odoo is a great ERP if you need to perform numerous integrations for your business. It offers many features and functionalities from website building, sales, projects, finance, and accounting. Companies can enjoy real-time insights with this software. It's open-source software, so starting is free.
FAQs
Question: Is NetSuite the best?
Answer: NetSuite is a powerful business software that can help small businesses streamline their operations. It ranks top in most review lists for the best all-in-one business software. If the company is looking for comprehensive business management software, NetSuite should be the top choice.
Question: What is NetSuite similar to?
Answer: NetSuite is similar to other business management software such as Workday and Sage X3. Like NetSuite, these options also offer a suite of comprehensive solutions for businesses.
Question: Why is Workday so popular?
Answer: Workday offers a wide range of functions and features for companies. The software has a strong focus on business processes to deliver increased productivity in the workplace. It has good integrations that connect seamlessly to other business apps.
Conclusion
The NetSuite vs. Workday comparison offers a complete picture of the different software available for companies. NetSuite and Workday are two of the most popular end-to-end business management tools available. They both provide top-notch services to support small businesses, but they do it in their ways.
From the above analysis, I recommend NetSuite to companies that need an all-in-one business management software. NetSuite offers a more extensive scope in automation compared to Workday. If you plan on expanding your company in the future, NetSuite is the better choice.