Last Updated on May 2, 2022 by DMEditor
Text marketing is sometimes an overlooked way to get in touch with customers. Nowadays, everyone has a phone in their pocket- no matter where they go. So what better way to reach your audience? In fact, 34% of people read their messages within five minutes of receiving them – and as many as 91% of people opt to receive text messages from their favorite brands.
Suppose you want to turn text marketing to your advantage. In that case, a text marketing tool can work wonders for elevating your revenue and helping you fine-tune your text campaigns for maximum results.
The key is to make customers feel like they're getting in touch with real people. Nothing should feel too robotic or transactional. Don't have time for that? Think again. For Cartloop, conversational text marketing is at the heart of everything.
So, how exactly is Cartloop useful? What does it include, and is it worth its price? This article will aim to answer all of these questions. So, grab a cup of coffee, and let's get stuck in!
Bottom Line Upfront
Cartloop is an SMS marketing tool that provides access to a team of live agents who engage your customers in text conversations to recover abandoned carts. It's an affordable software with pricing based on how successfully it converts your customers.
What's Cartloop?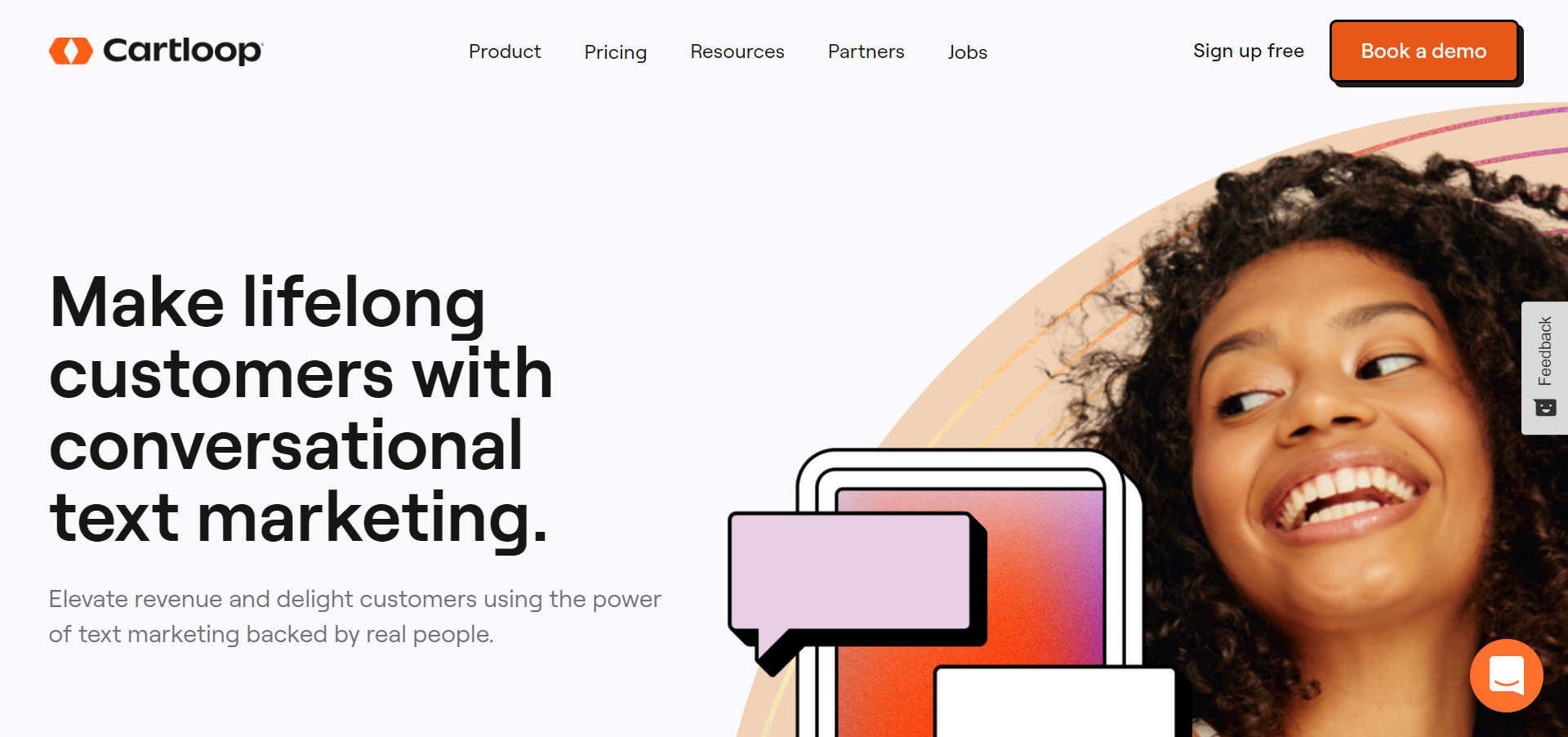 Cartloop is a communication-focused SMS marketing tool. It offers features like SMS sign-up forms for your website. Still, it also integrates with help desk solutions like ZenDesk or Gorgias to work hand in hand with your current customer support efforts.
Its purpose is to help improve your customer service game with SMS messaging. Cartloop's team assumes the role of your customer service agents by interacting with your audience on your behalf. As such, you benefit from offering customers 1:1 human interaction rather than automated responses.
The friendly and more personal nature of this messaging style helps to ensure customers feel at ease with your company. Many value SMS messaging as a more convenient way of receiving customer service. Not to mention, customer service agents tend to glean more from SMS interactions. Needless to say, this comes in handy for a better understanding of who your audience is and how to best solve their issues.
Rest assured, you can still oversee Cartloop's responses and interactions with your client base. So, if there's anything you don't like or would prefer to change, they'll follow your lead.
What Features Can I Expect To See?
Text marketing is much more than sending single text messages. With Cartloop's features, you can optimize your copy, send more relevant texts, and engage customers in a dialogue that better drives conversions.
That said, here are the key features that make Cartloop so useful:
Conversational Text Marketing

Cartloop provides you with a Live SMS Concierge that can reply to customers when you and your team are away from the computer. Even outside of your office hours, Cartloop's human shopping experts can keep responding on your behalf, 24/7. Cartloop's experts are also well-versed in pinpointing customer problems and complaints to provide valuable feedback that you can use to improve your service.
These 'Shopping experts' learn everything about your brand during the onboarding process and will continually refer to your website, FAQs, and your in-house support team. This ensures customers receive accurate information. When you first get started, you can determine which tone of voice your Cartloop SMS agents should adopt and how the initial, automated message to a customer sounds.
Cartloop offers five personality types to choose from. These are:
Casual
Quirky
Promotional
Classy
Professional
Rest assured, anytime you want, you can take over and respond to customers yourself.
Abandoned Cart Recovery
Create 'flows' to determine when to send a message to one of your customers. This includes abandoned cart flows where real humans engage your undecided shoppers, intending to encourage them to take another look at their checkout.
Abandoned cart recovery is where Cartloop shines the most. Once customers opt to receive marketing messages from you and have given their phone number at checkout, they'll receive an automated message in your brand's chosen voice within twenty minutes. A shopping expert will then take over the live conversation to see why your customer hasn't gone through with their purchase.
From there, they can use upsells, cross-sells, and discounts to get conversions rolling. So all you need to do is decide what (if any) discount you're willing to offer.
Two-Way Campaigns
Don't want to engage in a whole conversation? Send timed one-off messages, including sales messages, discounts, product announcements, etc., to your customer list whenever it suits you.
To make these campaigns more successful, you can segment your audience and schedule them to go out at suitable times.
High Compliance
Cartloop allows you to use a toll-free or dedicated number to ensure the highest deliverability for global audiences. Sign-up forms also follow compliance standards to ensure customers are informed about their rights when they give their number to you.
Reports and Analytics
Cartloop provides users with a dashboard. You can keep track of key marketing metrics, including your revenue, click-through rate, the total number of interactions, and whether customer interactions have increased/ decreased during different times. With this info to hand, you're better able to flag where there's room for improvement and take action!
Cartloop can then generate this data into weekly reports, advice, or suggest testing to help you refine your marketing strategy.
Cartloop Pro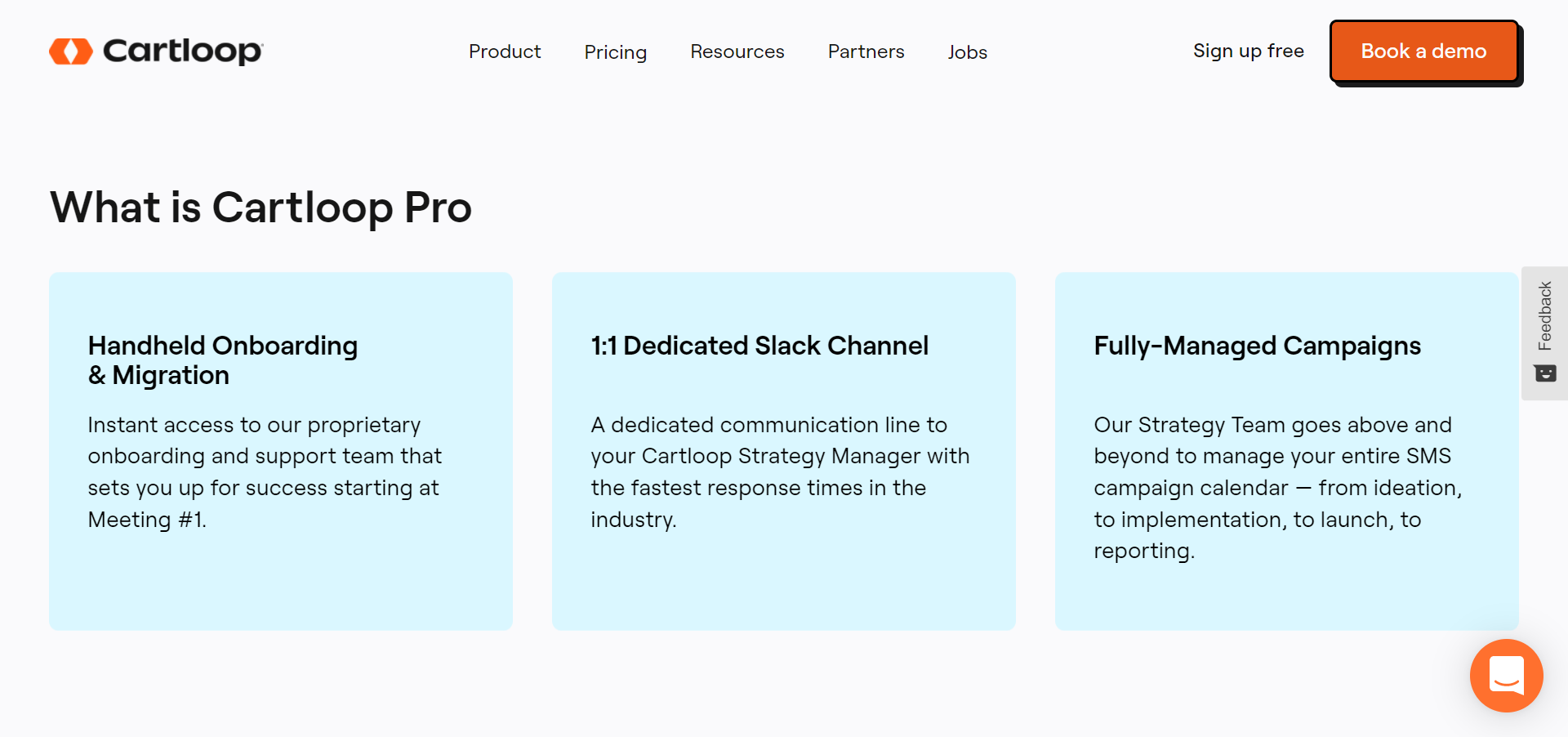 Suppose you need more from your text marketing tool. In that case, Cartloop's Pro version provides dedicated support to help you set up more effective campaigns. This service comes with:
Handheld Migration and Overboarding: Don't waste any time navigating new software. As a Pro customer, you'll get migration help and onboarding with instant access to Cartloop's support team.
1:1 Dedicated Slack Channels: Communicate directly with your Cartloop Strategy Manager through a dedicated slack channel for faster response times.
Fully-Managed Campaigns: If you opt for the Cartloop Pro plan, you'll benefit from Cartloop's Strategy Team. This group of experts manages your personal SMS calendar and provides detailed guidance on SMS campaign creation, implementation, and data.
Compliance Optimization: Stay compliant with Cartloop Pro's step-by-step help. Ensure your business fully complies with TCPA standards (i.e., the Telephone Consumer Protection Act of 1991). This piece of legislation protects phone users against overzealous telemarketing.
Access to Cartloop's Design and Copywriting Teams: Receive expert support in ideating, designing, and setting up your text campaigns and sign-up forms.
Cartloop Integrations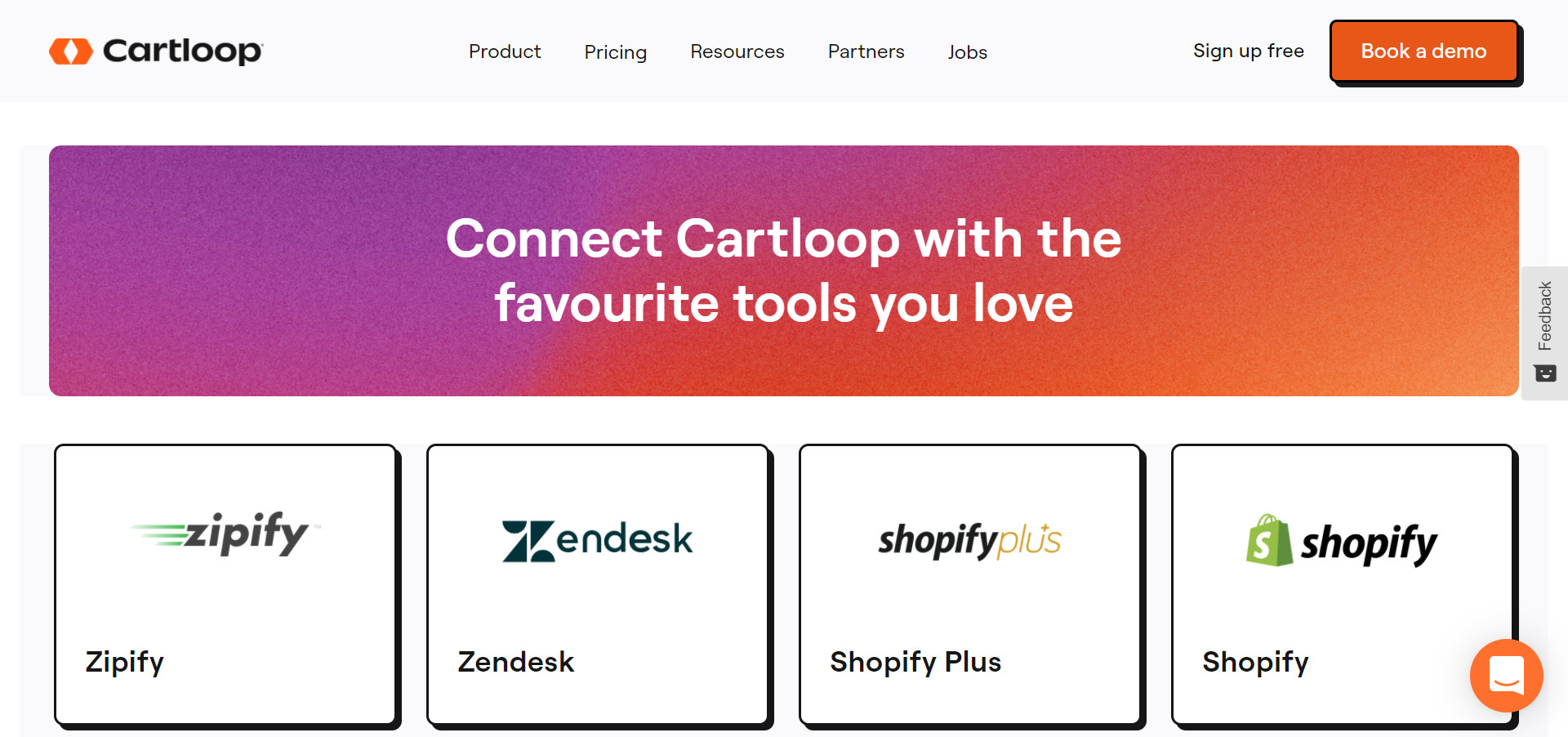 Cartloop integrates with other mainstream systems to make it easy to integrate Cartloop into your existing tech stack.
Native integrations include:
Zipify
Zendesk
Shopify plus
Shopify
Recharge
Gorgias
Carthook
Cartloop Pricing
Cartloop's pricing structure is super simple. There are just three packages charged at a set price per month. Sadly, there are no discounted annual plans available, and there's no free plan. However, you can test the Growth or Pro package for free for 14 days.
The Growth Package
This comes in at $49 per month. Additionally, you're charged a 7% success fee on top. This is a percentage of your revenue that's generated directly through Cartloop.
The Growth plan comes with:
The SMS Concierge Service, including 24/7 shopping experts
Campaigns and audience segmentation
QR Codes and Instagram sign-up
Conversational insights
Unique discount codes
Custom branded links
You can send two-way SMS campaigns and create abandoned cart flows. Cartloop's experts can also handle conversational text messaging when your team is busy. In addition, all text conversations are centralized in one convenient inbox designed exclusively for SMS conversations.
The Pro Package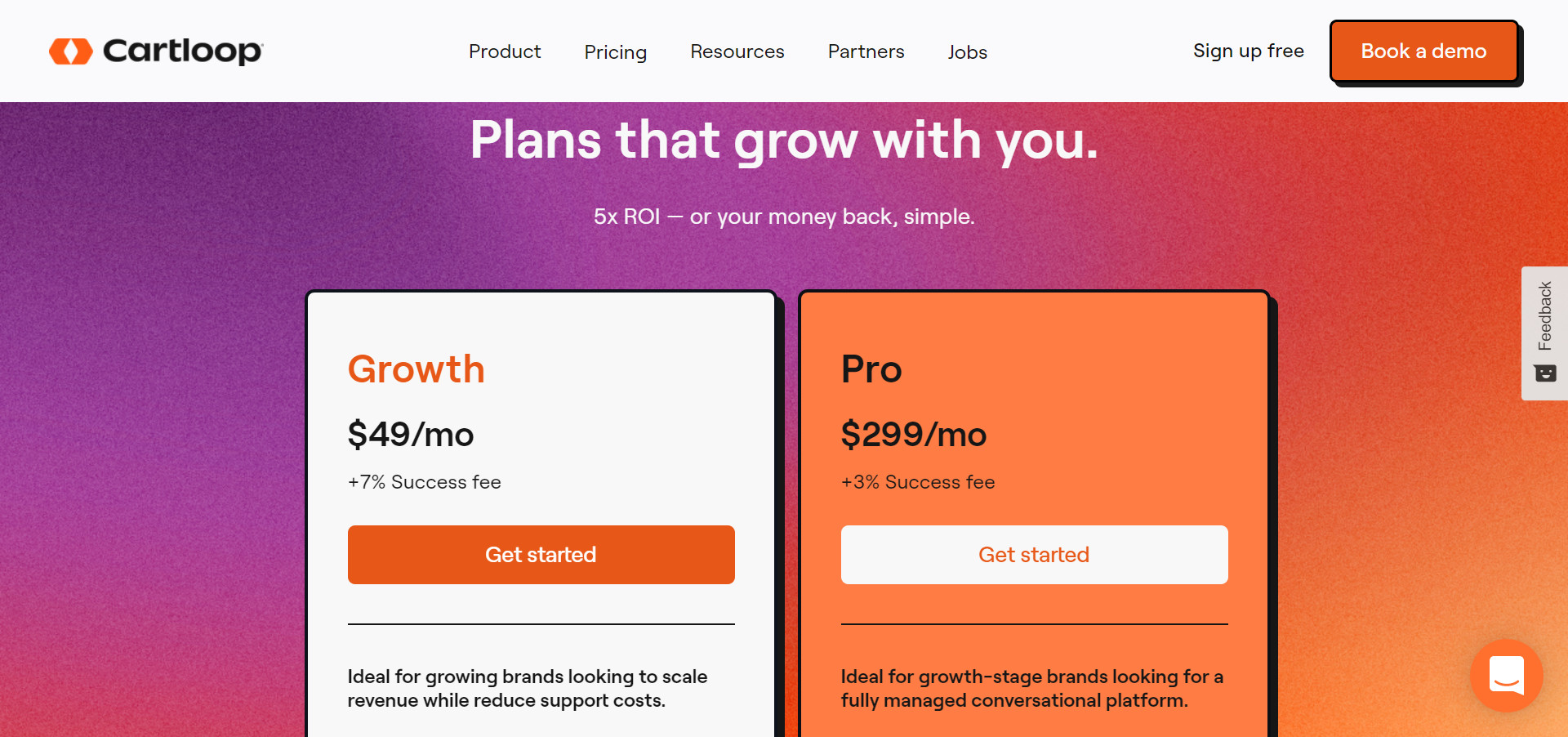 This costs $299 per month and includes everything above and the features we have previously discussed. This involves more dedicated support and onboarding, including access to a design team to help fine-tune your campaigns. That's as well as a dedicated strategy manager, whom you can also contact through a dedicated slack channel.
You'll also get access to a branded short URL. Using a branded link gives your business a more professional feel.
On the Pro plan, you're charged a 3% success fee.
Cartloop Alternatives
There are many Cartloop alternatives. However, we're just looking at six at the forefront of the market for our purposes.
That said, let's explore their similarities and compare them to Cartloop: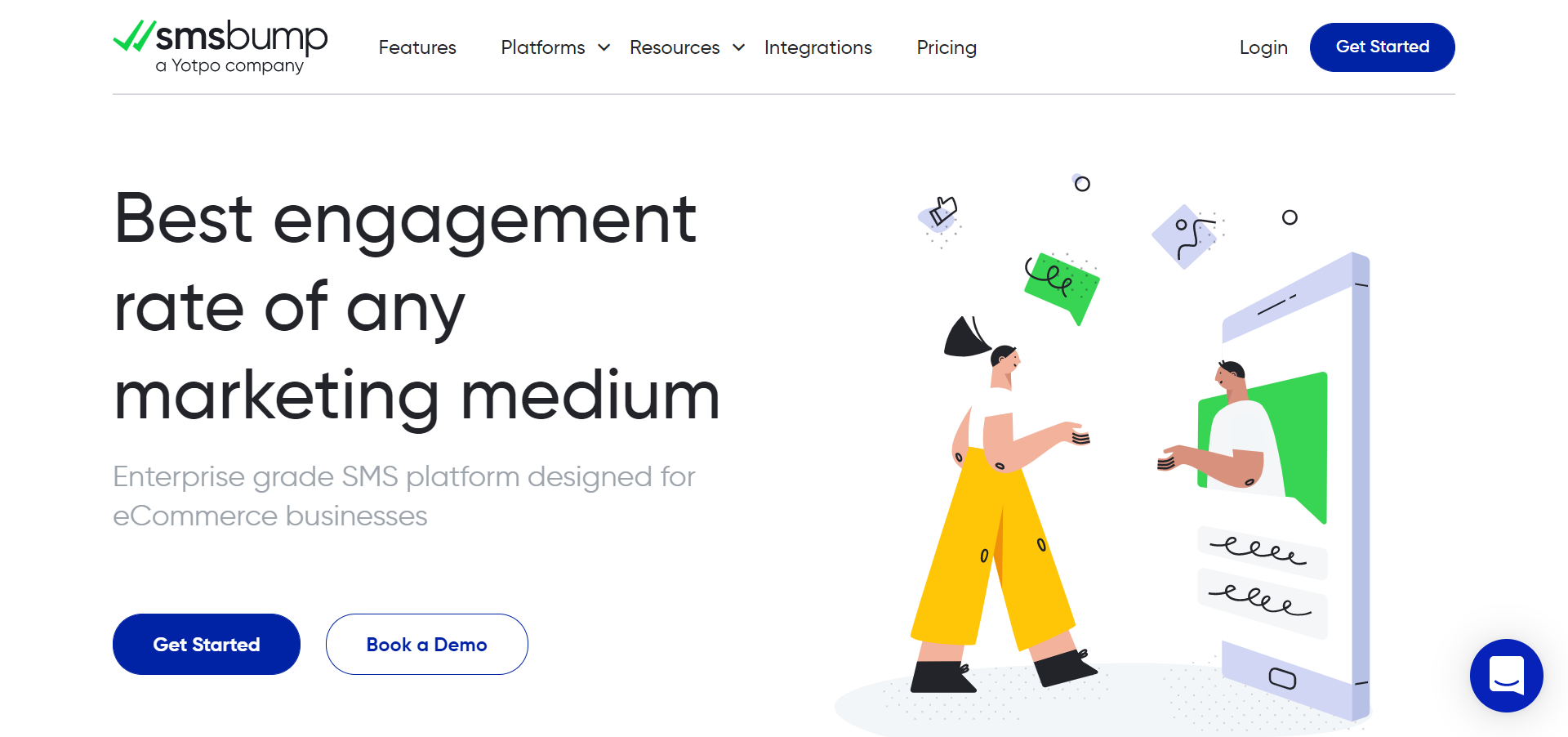 SMSBump is a top-rated SMS marketing tool explicitly designed for Shopify stores. Many of their features are similar to Cartloop's; a dashboard for keeping track of analytics, custom flows, campaign scheduling, and SMS segmentation. However, SMSBump isn't as pricey as Cartloop. SMSBump offers three packages: $0 (with a $0.30 charge for sign-up and $0.0149 per SMS sent), after that, $59, and $199 per month.
The biggest difference between the two products, and arguably what gives Cartloop the edge, is that SMSBump focuses on automated messaging.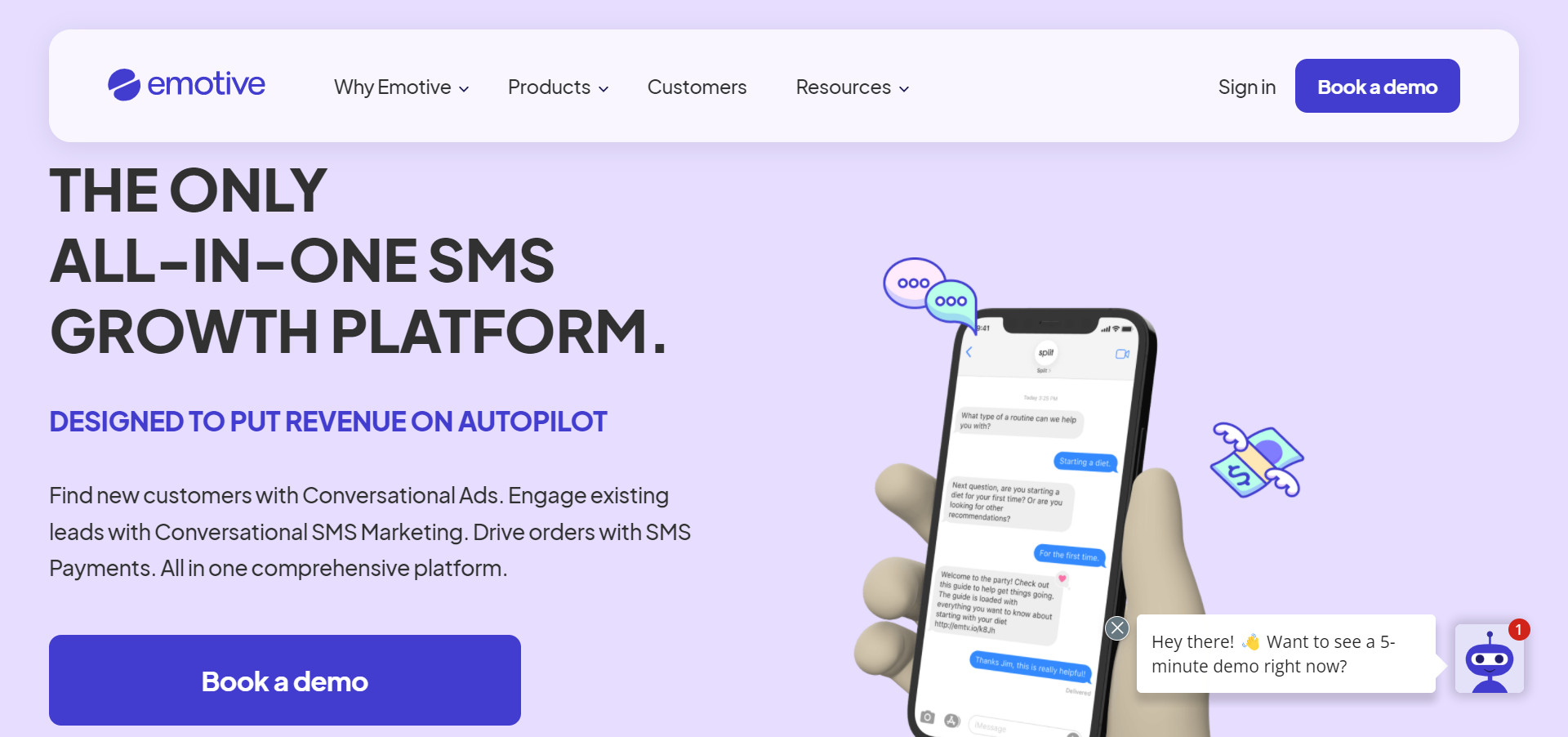 Emotive offers a hybrid approach by mixing AI-run campaigns with real-life customer support agents. Emotive uses emotional marketing and conversational text messaging to redirect customers to your site. For this, it uses message bots that mimic casual texting. It's a brilliant tool to run alongside a live chat strategy as it covers all bases.
The major downside is the pricing. The three packages offered range from $200 per month, $400 per month, and $1000 per month. On top of this, the starter and midrange packages charge $0.02 per SMS and $0.04 per MMS. The Pro package charges less, with an SMS costing $0.01 each and an MMS costing $0.02. However, this bumps the pricing considerably.
This tool is an excellent choice for businesses with an established on-site customer service chat looking to expand further.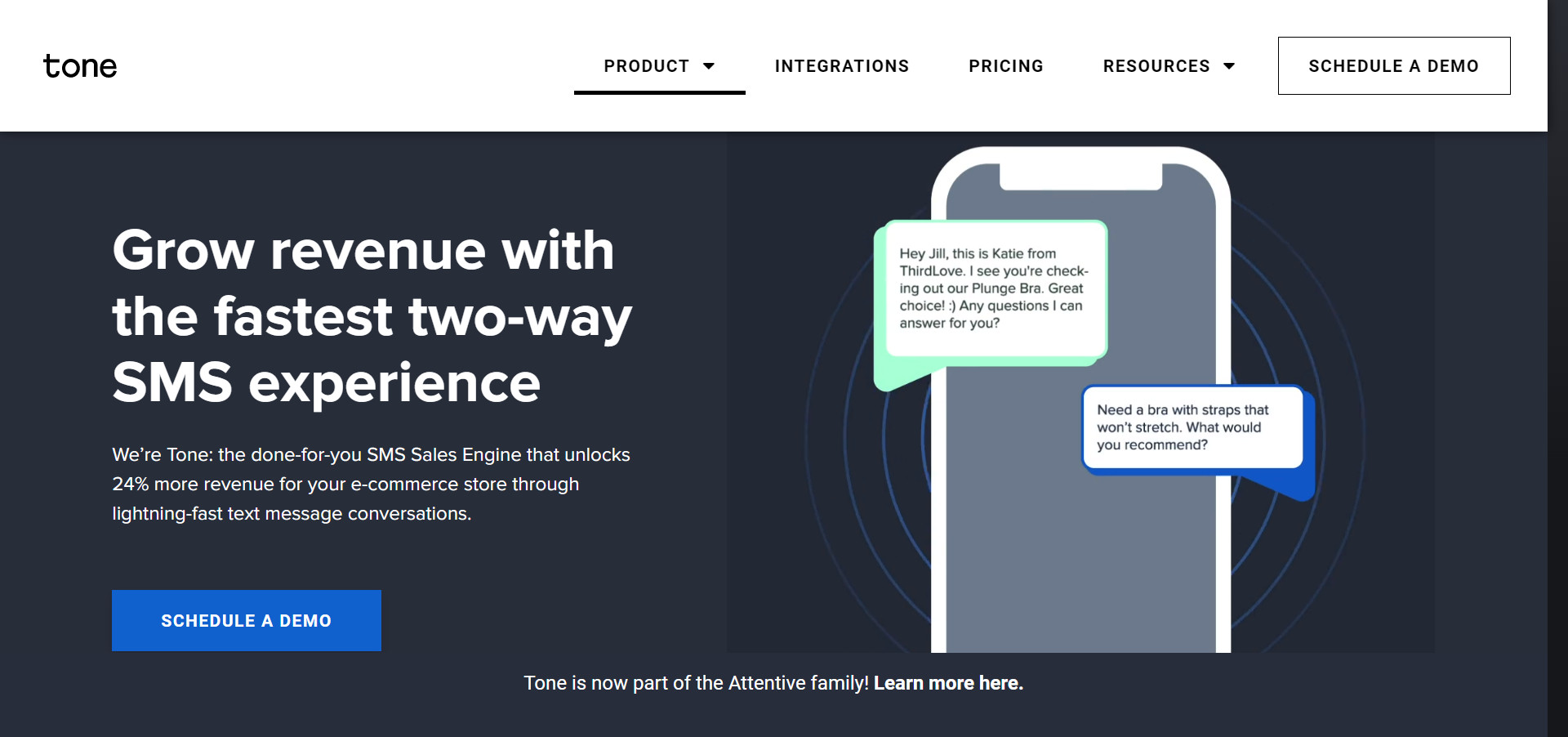 This tool combines automated texts with 1:1 in-person messaging. Like Cartloop, Tone provides real live agents that chat with your customers. However, by comparison, Tone leans more heavily on AI. Conversations start with a template that uses if/then conditional logic to inform your agents about what a customer is looking for. Then, the platform wires that information to the support agent to have all the info they need to successfully handle the customer query.
Unlike Cartloop, Tone comes with a free plan and cheaper pricing. This is as follows; $29 per month ($0.009 per SMS and $0.031 per MMS), $99 per month ($0.008 per SMS and $0.029 per MMS), and $249 per month ($0.007 per SMS and $0.027 per MMS).
It also includes a Magento Integration.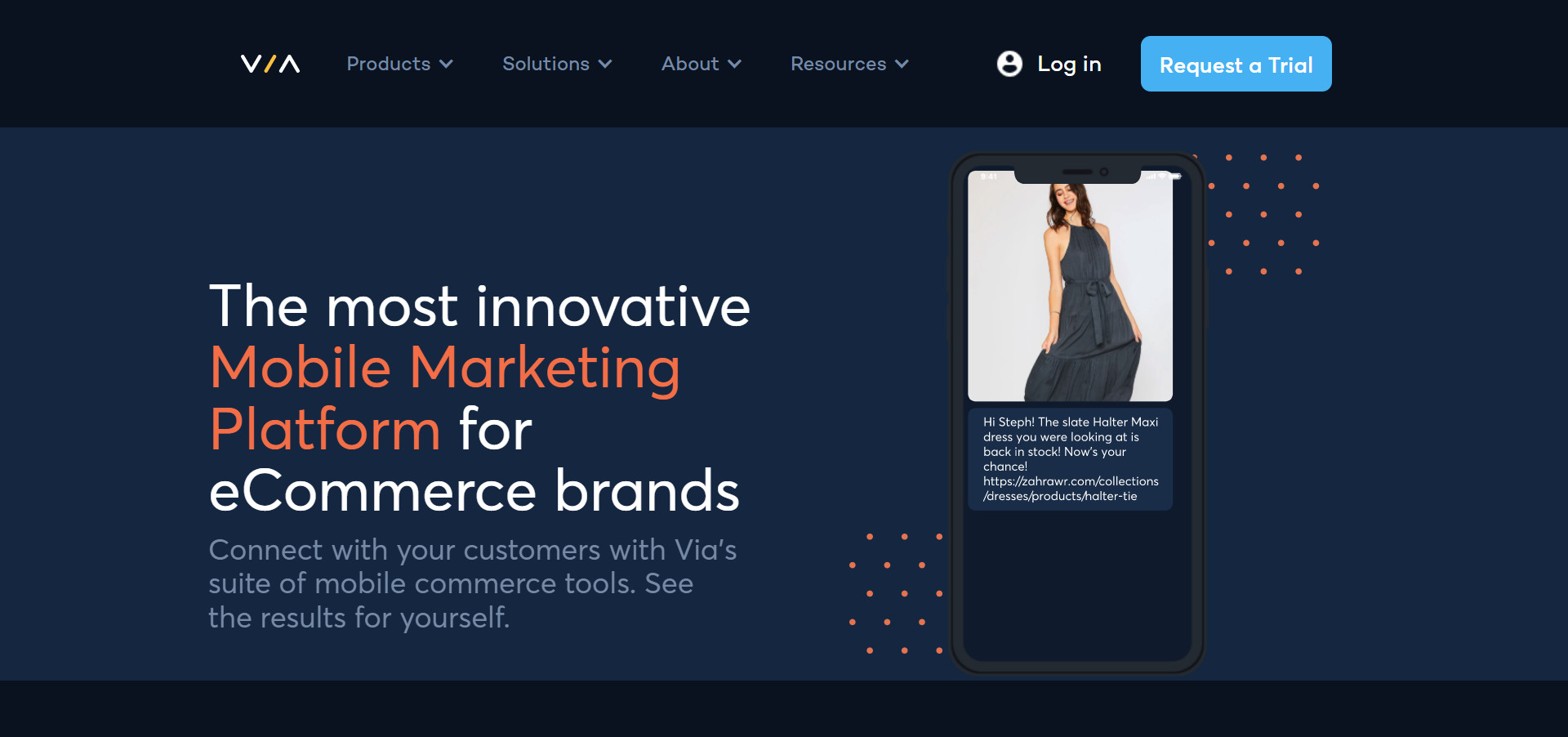 This tool focuses on sending marketing messages to customers via SMS. This is a much more direct marketing method and far less conversational. Messages can include out-of-stock notices, QR codes, and landing page links. You can also create lead capture popups to collect phone numbers from your website.
Via works on a one-time messaging basis. Unlike Cartloop, customers aren't engaged in a conversation and aren't encouraged to reply. Instead, you send bulk texts to all the numbers on file and include an opt-in/opt-out function for customers to use. In addition, the tool provides access to powerful segmentation and campaign optimization to ensure you can create personalized, relevant campaigns.
Pricing is super simple with only one option: For 10,000 text messages, you pay $399 per month and get access to customer success team support.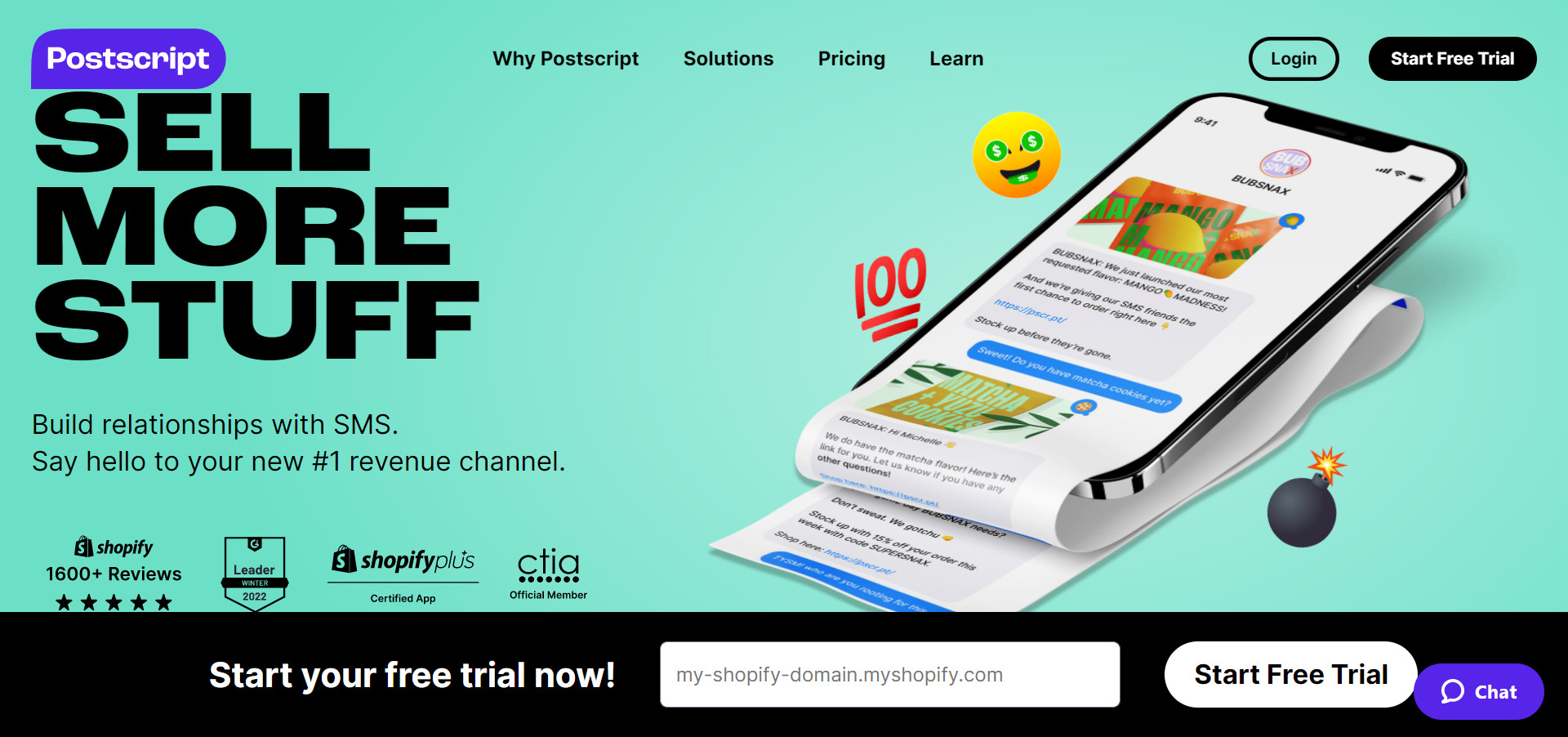 PostScript is another SMS marketing tool heavily linked with Shopify stores. This tool filters customers into groups based on purchasing history and previous interactions with your store, allowing you to manage communications more efficiently. You can also create set triggers based on different audience segments.
PostScript costs $100 per month for 10,000 messages, $1,000 per month for 102,000 messages, and $4,500 per month for 506,000 messages.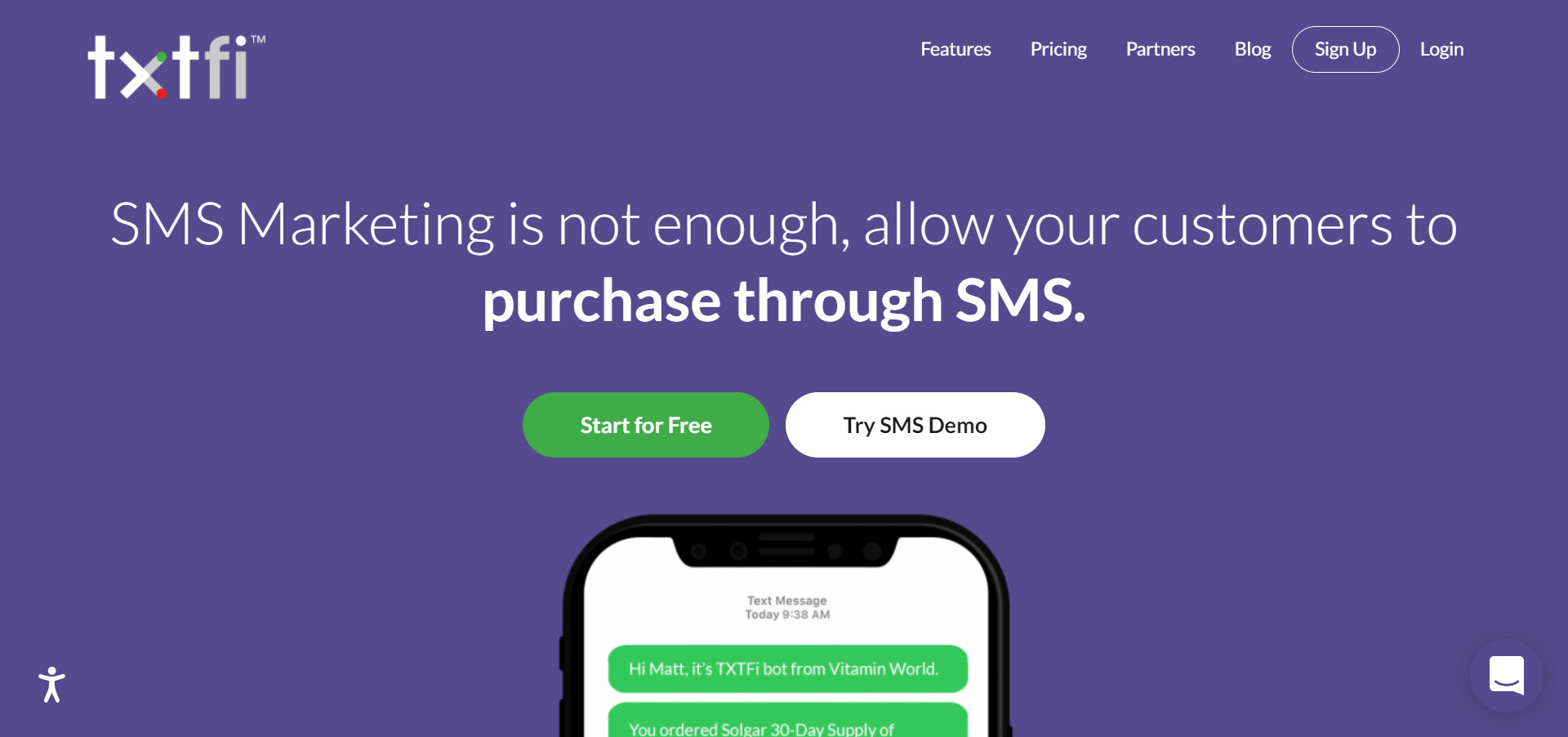 This text bot allows customers to add products to their baskets and repeat past purchases via text. It's important to point out, that this tool isn't designed to offer a comprehensive SMS marketing strategy but rather to partner with and enhance established SMS campaigns.
There are three packages available:'Forever Free,' which costs $0 but charges $0.05 per message; however, it includes $10 worth of free message credits. The 'Basic' package is at $49 per month, which charges $0.03-$0.07 per message but comes with $20 worth of free message credits. The final package is the 'Advanced Package,' costing $99 per month with $20 of free messaging credits and messages costing $0.03-$0.07 each. The difference between this package and the 'Basic' is that the 'Basic' limits your monthly conversations, whereas 'Advanced' allows for unlimited conversations.
FAQs
Question: How Do I Get Started?
Answer: Firstly you need to install the app. You can find it on the Shopify App Store and find clear instructions on getting started on Cartloop's Help Center. Once you've installed the app, you can create an account. This requires you to enter your email address, phone number, and shipping and billing address.
You'll then choose the 'voice' that fits your brand, whether casual, professional, quirky, promotional, or classy. Next, you'll set a discount to be included in your SMS marketing messages. Finally, you can modify your existing checkout page to include SMS marketing.
Voila, you're good to go!
Question: Do I Have To Use My Own Support Team?
Answer: The short answer is no! Cartloop is a fully managed service and will provide customer interaction agents, so you don't have to.
All of your text conversations are integrated into one SMS-only inbox. From there, you can jump into a conversation anytime and answer yourself. If you're out of the office or overwhelmed with other requests, Cartloop's Shopping experts are at the ready to take the weight off your shoulders.
Question: How can I test out Cartloop's features?
Answer: Cartloop doesn't offer a free plan, but it allows you to book a demo or opt into a 14-day free trial. On top of this, they provide a straightforward promise. You'll make back five times as much as you spent, or you'll get your money back!
Question: Why The Success Fee?
Answer: At first glance, Cartloop might look more expensive than some of the alternatives mentioned in this article. However, the success fee adds an interesting point to the pricing model. While many other tools charge per SMS sent, Cartloop only charges a percentage of the conversations that achieve conversions. The key takeaway is that you don't pay more unless you earn more. So depending on the scale of your campaigns, this might work out cheaper than some of the alternatives.
In Summary….
Cartloop is a fantastic resource for businesses looking to diversify their marketing strategy. Their SMS marketing service enables you to delegatepart of your customer service management to the Cartloop Shopping Expert team. Namely, their live agents can take over abandoned cart cases and help you win back customers using discounts, cross-sells, and up-sells while collecting feedback for you to act upon.
While Cartloop allows you to lean back and watch the revenue roll in, it doesn't expect you to be hands-off entirely. You can still see exactly what's going on, giving you the control you need to step in and intervene should you think this necessary.
The pricing is fair, and when compared with similar product models, Cartloop's dedication to customer-centered service seems worth it.
Overall, we're pretty impressed!
Over to you: Do you think Cartloop's a good fit for your business? Tell us all about it in the comments box below!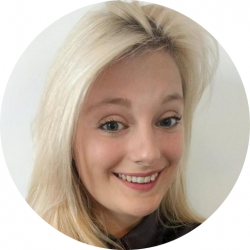 Latest posts by Rosie Greaves
(see all)