Last Updated on April 22, 2023 by Ewen Finser
Online retail is a trillion-dollar industry and continues to grow year on year. In an industry forecasted to grow to $7.4 trillion by 2025, businesses must establish their online presence to remain competitive.
There is no exemption for merchants looking to sell digital products. While digital products have a low overheads cost, the problem still exists as to which eCommerce platform will best suit their needs.
The best eCommerce platform for digital products should scale as the catalog grows, provide a seamless user experience, and maintain security. It should also include additional features such as order management capabilities, payment processing tools, shipping rates calculators, among others.
Bottom line up front: There are multiple eCommerce platforms for selling digital products with all kinds of features but my pick is Sellfy. It has an intuitive interface, important tools required to sell your digital products, and robust SEO capabilities to make them discoverable on search engines.
The best platforms include:
Sellfy: Best Overall for Digital Products
Teachable: Best Platform for Selling Digital Courses
BigCommerce: Best Platform for Selling Digital Products + Physical Products
Podia: Best Membership Platform for Digital Content
Easy Digital Products: Best WordPress Plugin to Sell Digital Products
Gumroad: Best Free Platform for Selling Digital Products
What Are Digital Products?
Digital products are intangible products or services delivered over the internet.
They are primarily used in industries such as Information Technology, Legal, Education, and Business Marketplaces, to name a few. The products depend on the customers' preferences for where they want to download or access them.
Digital products include:
eBooks / Magazines

Video Tutorials and Courses

Logo Templates and Graphics Files

Software Downloads and Apps

Music, Movies, TV Series or Audio Recordings

Image Collections

Photography

Web Elements

Research and data

Recipes

Podcasts

Swipe files
To keep things simple, when referring to digital products in this article, we will collectively refer to all listed intangible products and services as digital products.
What to Look for In an Ecommerce Platform for Digital Products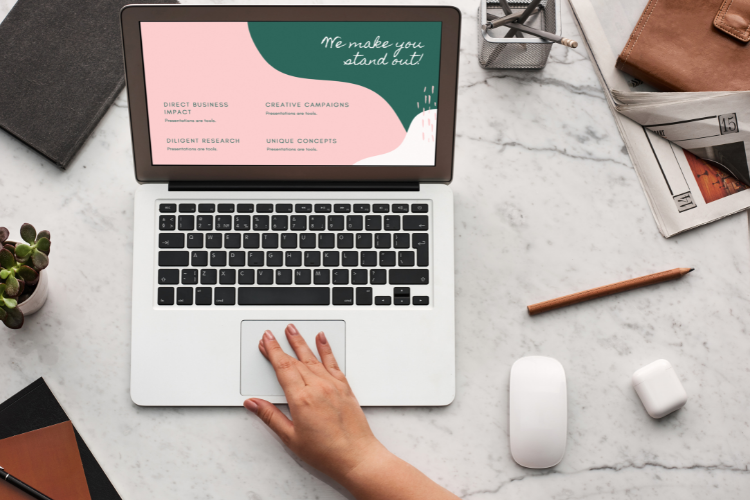 Not all ecommerce platforms are suitable to sell digital products. Here are some of the features to look out for in your ecommerce platform:
1. Search Engine Optimization (SEO)
Ecommerce without SEO is like having a brick-and-mortar store without signage. It's nearly impossible to drive traffic to your store if it's not visible on search engines. An eCommerce platform that is SEO friendly will help you reach a wider audience and convert them into loyal customers.
Some key SEO features to look for include:
Optimized URL structures

Simple 301 redirects

Customizable tags, URLs, meta descriptions, and title tags

Internal search feature

Mobile customization

robots.txt
2. Multiple Payment Gateways
Having a wide range of payment gateways ensures that customers can purchase your product regardless of their country or currency. The ability to process online credit card transactions is also an assurance that you won't lose prospective customers due to a lack of payment options. Some eCommerce platforms offer:
2D and 3D Secure credit/debit card processing

International merchant accounts for global payments

Alternative Payment Gateways such as PayPal, Alipay, and others
3. Marketing and Promotional Tools
Aside from looking for a platform that supports SEO, it's also essential to select eCommerce platforms that offer extensive marketing and promotional tools. Such tools allow merchants to advertise their products to attract more customers.
Some of these tools include:
Email marketing

Call tracking

Carrier solutions for SMS and MMS marketing

Social media integration

Promotional coupons, gift cards, order notifications, etc.

Upsell and cross-sell opportunities for additional products
4. eCommerce Digital Download Security
Security is a top priority for any company selling digital products on the internet. It's no different for merchants selling digital products through eCommerce platforms.
One way to assure customers of your platform's security is to have a PCI-compliant payment gateway. The website should have an SSL certificate to encrypt all order and user information transmitted online.
5. Customization Options
The eCommerce platform's customization options determine how much control you have over your online store. A platform that offers advanced customization options lets you alter the theme, colors, and fonts. The platform should also allow you to use code snippets for advanced customizations of your website.
6. Reporting and Analytics
An eCommerce platform with reporting and analytics tools allows you to track users' activities on your website. You can then analyze their behavior to improve your marketing strategies, conversion rates, etc. Tools such as Google Analytics give you a better understanding of your customers' preferences and spending habits.
7. Integrations and Social Media Connections
Having robust integrations and social media connections ensures that your eCommerce platform can work with other marketing tools and social media sites. Through such integrations, you can spread the word about your products on Facebook or Twitter without having to post updates manually. You can also integrate a third-party email marketing service to send newsletters and promotional materials to customers.
Best Ecommerce Platforms for Digital Products
Below is a detailed analysis of the best eCommerce platforms for digital products.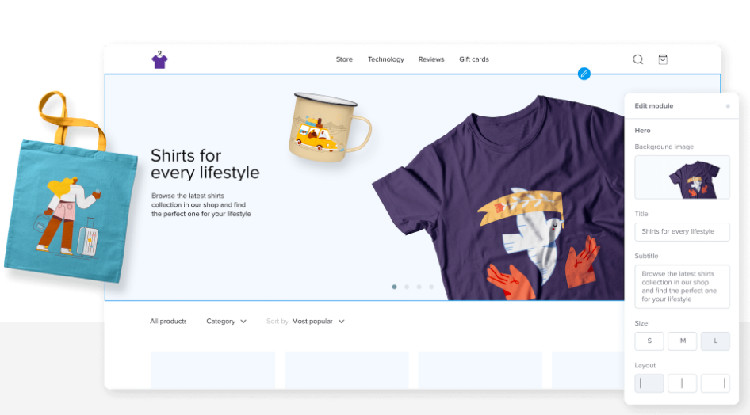 Sellfy is by far the best platform for merchants to sell digital products. It has all the features you expect from a top eCommerce platform, such as integrated analytics, SEO-friendly URLs and tags, and multiple payment gateways.
Sellfy's best feature is customizability. Merchants can use its extensive code snippets and HTML editor to control how their product pages look. The platform is also optimized for mobile devices, ensuring that customers can easily purchase your products even when they're on the go.
It allows merchants to customize landing pages, product pages, email campaigns, etc. Sellfy also has an extensive list of integrations to fit the needs of any digital business.
With its pre-built integrations, you can add a Facebook store to your website, share items on Twitter and Pinterest, add reviews from other marketplaces and social media platforms, and more.
The platform also allows merchants to sell videos on demand. Your customers can stream videos for free without the risk of piracy or buy them to download. Sellfy also has a user-friendly interface where customers can preview videos before purchasing.
Sellfy has three pricing plans:
Sellfy offers a 24-day free trial to help merchants figure out if it's the right eCommerce platform for their business. If your sales exceed $200,000, you can contact the sales team for a customized quote.
Sellfy Pros
Instant payouts

Easy to use

In-depth analytics

Supports multiple languages

It comes with Patreon integrations

No transaction fees

Features Facebook live chat

Customizable page layouts
Sellfy Cons
The basic plan lacks email marketing features

The support could be better

Lacks affiliate marketing management tools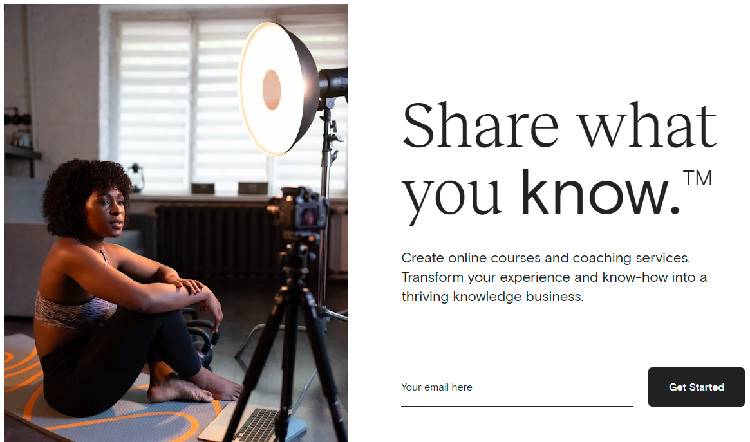 Teachable is an excellent eCommerce platform for teachers, trainers, and coaches. More than 100,000-course creators use the platform to offer high-quality courses on various topics, from baking to photography and foreign languages. Teachable provides comprehensive features, especially for creators who aren't tech-savvy.
Its crisp-clear interface is easy to navigate and understand, even for first-time users. Customizations are straightforward, allowing users to build a website that reflects their brand quickly. The dashboard lets merchants keep tabs on their sales, analyze their traffic sources and optimize the checkout process.
Teachable offers unlimited video bandwidth for all users. There's also an option for group coaching or one-on-one tutoring. Once the customer finishes a particular course, there are certifications available along with surveys and feedback forms to get a better idea of the strengths and weaknesses of the course.
The platform support integrations with other tools such as Zoom, Zapier, Calendly Mailchimp, Intercom, and ConvertKit. Teachable also allows its users to offer memberships, subscriptions, coupons, and one-time payments.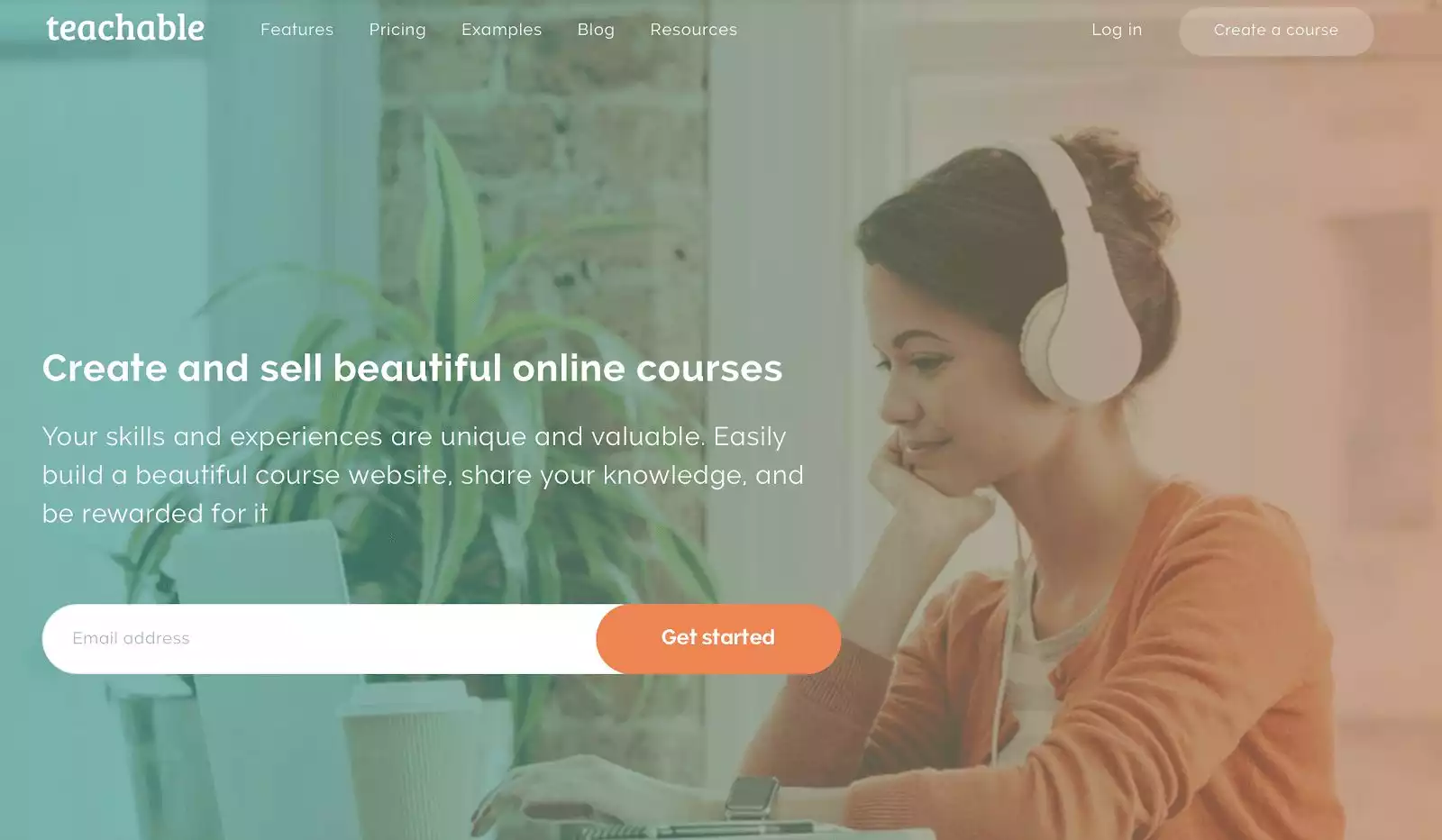 I Personally Prefer Teachable
Completely FREE to start, UNLIMITED courses to create, and dedicated specifically to delivering online courses. This is why Teachable is the better option for course creators here!
Check Current Teachable Promos
We earn a commission if you click this link and make a purchase at no additional cost to you.
Teachable has three pricing plans:
Teachable offers a free plan without any limits. However, it limits the features to only those that you need to create a course and not its full range of capabilities.
Teachable Pros
Users can create unlimited courses

The customer support is great

Easy to use and launch

Numerous options for integration

Continuous feature updates and improvements
Teachable Cons
Lacks email integration features

It has transaction fees on all plans
Other Teachable Alternatives vs Other LMS Systems: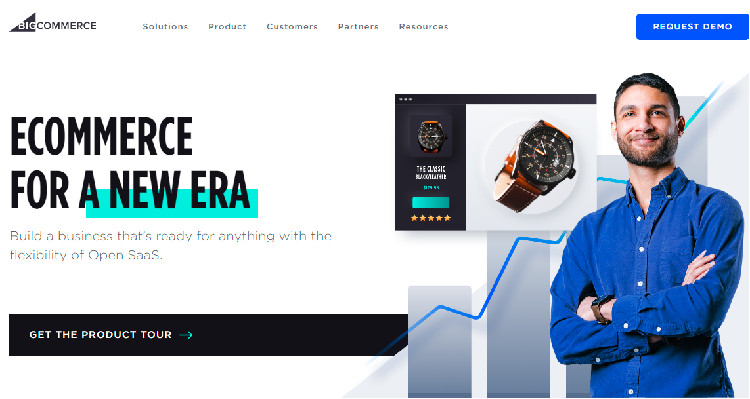 BigCommerce is one of the most popular eCommerce platforms online. It offers competitive features and functionalities for digital businesses of all sizes and types. As a hosted platform, it provides merchants with intuitive tools and powerful analytics to connect with their customers.
Users can tweak the interface using HTML and CSS code or a drag-and-drop interface to customize their website. Notably, almost all tools needed to run a successful eCommerce store are available on this platform. Merchants don't have to integrate numerous tools and plugins to make their websites work.
This feature saves time and money that otherwise would be spent on development costs. Analytics is a win-win for both merchants and their customers. Merchants can track the entire purchase process in real-time to determine where inefficiencies lie in the process. Customers can use customer service tools, including live chat and phone support.
Notably, it comes with extensive inbuilt marketing tools, making growth easier for merchants. Besides paid ad campaigns, it also offers organic marketing tools to get the best exposure on search engines. The comprehensive SEO tools, for instance, let merchants optimize their website and content to deliver better traffic.
If you intend to sell your digital products to countries in the European Union, you must familiarize yourself with the VAT Mini One-Stop-Shop (VAT MOSS). This requirement applies if you intend to raise more than 10,000 Euros/Year in revenue. The conditions are country-specific, so you'll have to apply for country-specific VAT rates on digital products.
A Digital Merchant Exclusive Offer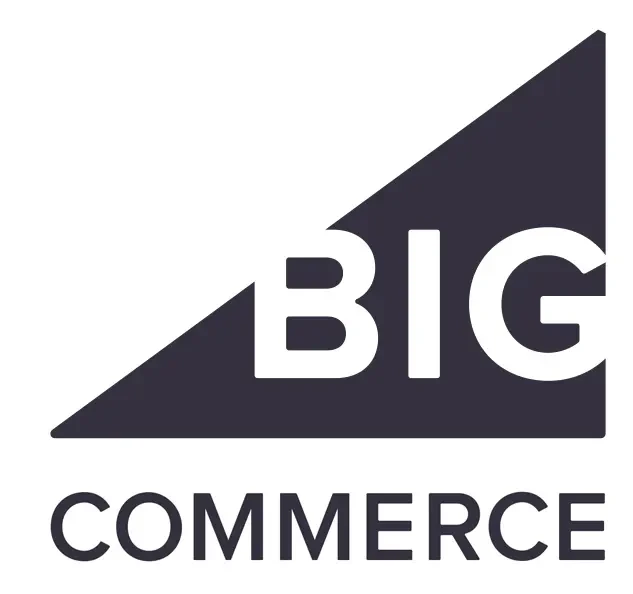 BigCommerce: Request a Demo and Save!
We partnered up BIG TIME with BigCommerce to bring you an offer you simply cannot miss: Save 10% yearly on your selected plan after you request your Demo (Valid until Dec 31st 2021).
Request your Demo
We earn a commission if you click this link and make a purchase at no additional cost to you.
BigCommerce has four pricing plans.
BigCommerce offers a 15-day free trial for merchants to test the service and explore all functionalities. The Enterprise plan pricing will depend on the customer's online sales and business requirements.
BigCommerce Pros
No transaction costs on any of the plans

Creating custom fields is easy

It has comprehensive SEO features

Features an all-around "abandoned cart saver"

There's a built-in blog
BigCommerce Cons
It's not the most affordable, especially for beginners who don't have significant online sales

The built-in blog lacks RSS feeds

The free themes are somewhat similar to each other
Further Reading on BigCommerce Alternatives vs Other Platforms: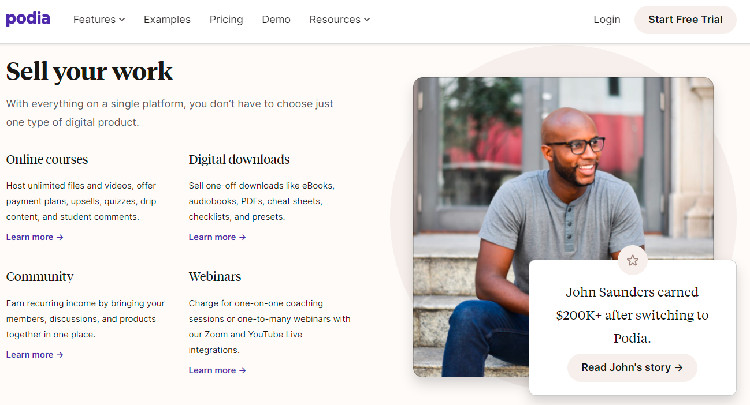 Podia is a platform where merchants can sell digital products such as downloads, webinars, and memberships. It's one of the best eCommerce platforms for digital products primarily because of its flexibility. Merchants can upload unlimited products, create multiple plans for them, and determine the pricing.
Upon first glance, the intuitive interface indicates its ease of use. It's one of those eCommerce platforms that you can begin using right away without having to read a manual, unlike most other tools and plugins. It's simple enough for beginners to use, but it has advanced features that let experienced users create complex functions.
The digital downloads feature allows merchants to sell PDFs, checklists, eBooks, Videos, cheat sheets, and audio without any coding experience. Sellers can also add webinars to their website and sell access to them. Podia boasts extensive marketing features, including email marketing and newsletters.
The security feature is top-notch. Podia doesn't collect information from merchants' customers. Instead, all the data is stored on a separate secure server with round-the-clock monitoring from an expert team of security professionals. All transactions go through an encryption process protected by 128-bit SSL security.
Our Pick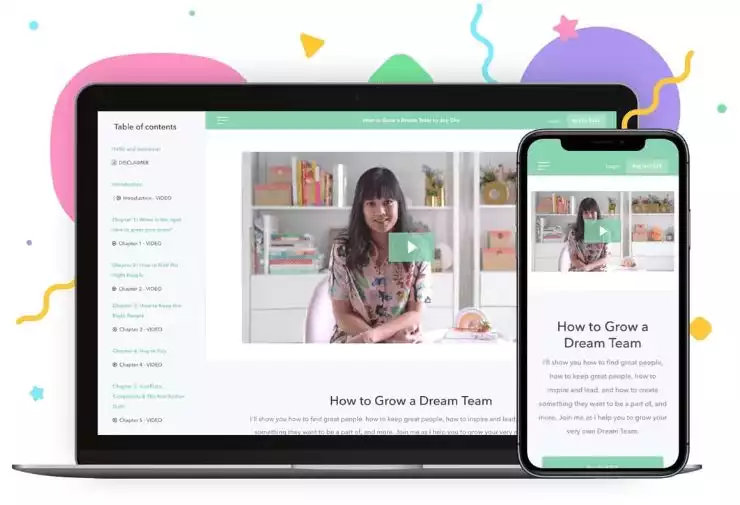 Podia IS Awesome!
I LOVE Podia. Here's why. It's simple to use . Fun. Works for courses, digital products, and memberships like a charm. It's going to be our FINALIST for 2023 Tools of the Year. Need I say more?
Free 14-Day Trial
We earn a commission if you click this link and make a purchase at no additional cost to you.
Podia has three pricing plans:
Podia offers a 14-day free trial where merchants can explore all features.
Podia Pros
The pricing plans are affordable

It has one of the best security features on the market

Easy to use

Extensive customization features

Continuous feature updates
Podia Cons
The automation feature could use more advanced tools

Merchants will need to have selling skills for their products
Further Reading on Podia Alternatives Compared:
5. Gumroad

Behold Gumroad, a digital product seller's best friend. Gumroad's wide range of features is what makes it one of the most sought-after eCommerce platforms in its category. Its simple interface makes it easy for beginners to upload and download digital products.
Gumroad is more than just a checkout option. It provides sellers with extensive marketing features that include promoting products on social media. Sellers can track the performance of their products using built-in analytics and create email campaigns to boost their income.
It has tools that will keep your visitors in the loop. The auto-updates features ensure your marketing functionalities are always up-to-date. You can also generate links for influencers and affiliate marketers to market your products.
Unlike some eCommerce platforms, you can create coupon codes with Gumroad and send them via Email or Direct Message. It's helpful for those who want to give out promotional codes for their services and products. It also offers on-demand SD streaming, which is excellent for professionals who provide webinars, lectures, and courses.
Gumroad Pricing
The Gumroad pricing is a bit complicated. However, it's free to start, but charges will apply for each transaction made online. Merchants have to pay $10 for each month plus an additional 3.5% and a 30% charge for each transaction.
UPDATE: As of December 2022, Gumroad has significantly raised their fees. Gumroad still might be an option for some, but I'd recommend these alternatives instead.
Gumroad Pros
Fair pricing

Support is always ready to help

Easy to use and beginner-friendly

Amazing marketing features

Features exciting SEO features
Gumroad Cons
Transactional charges

The platform could use more customization features

NEW for 2023: Terribly thought out new price hikes than penalize successful sellers.
Other Top E-commerce Platforms for Digital Products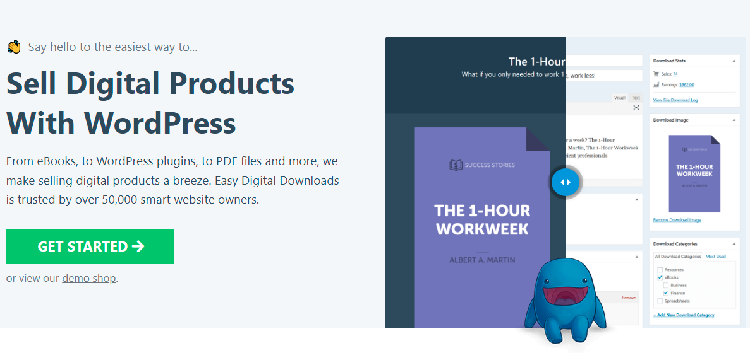 If the above eCommerce platforms don't fit the bill, here are some alternatives you can use:
FAQs
Question: What is the Best Way to Sell Digital Products?
Answer: The best way to sell digital products is to use an eCommerce platform. The eCommerce platform should allow you to easily upload and download your content and provide extensive marketing tools. It should also feature extensive SEO features.
Question: Can You Sell Digital Products on Instagram?
Answer: Instagram can't sell digital products. The best place to sell your digital products is through an eCommerce store that will handle all your transactions and marketing needs. However, you can use Instagram to drive traffic to your eCommerce store.
Question: How do I Launch a Digital Product?
Answer: Launch a digital product by creating an eCommerce store. You can use any of the best eCommerce platforms for digital products to create your store and start uploading content to it. Ensure the product is viable, create an audience, create a launch plan and launch your product.
Question: How Much Does it Cost to Make an eCommerce Store?
Answer: The cost of creating an eCommerce store varies depending on the platform you choose. Some platforms offer free sign-ups; however, they feature limited features compared to their premium plans. You should consider the features you need before making your choice.
Conclusion: Top eCommerce Platforms for Digital Goods
The eCommerce platform for digital products offers extensive marketing tools. It should also feature attractive SEO features and product management tools. One that is highly customizable, offers user-friendly interfaces, is secure, and has multiple payment gateways for international transactions is ideal.
After extensive research and testing, I recommend using Sellfy as the best e-commerce platform for digital products. It offers all the features you need to successfully launch your business, including an easy-to-navigate user interface and all the necessary SEO features to make your content discoverable.

Other tools such as BigCommerce, Teachable, Podia, and Gumroad are also helpful alternatives to Sellfy.

Further Reading on eCommerce Platforms Storefront Type: