Last Updated on January 11, 2023 by DMEditor
This ultimate Autopilot vs ActiveCampaign comparison review walks you through their main features, email marketing capabilities, CRM tools as well as overall ease of use.
Bottom Line Up Front Summary: Well, it all comes down to your precise campaign and business needs. Experienced digital marketers, for instance, would be much better off on ActiveCampaign since it provides advanced marketing automation capabilities.
Main Differences Between Autopilot vs ActiveCampaign
The Main Differences Between Autopilot vs ActiveCampaign are:
Autopilot is $39 a month, whereas ActiveCampaign has a starting plan at $9 per month
Autopilot prioritizes sales and CRM before automation, whereas ActiveCampaign focuses more on automation
Autopilot forces you set up a customer journey, whereas ActiveCampaign allows you to create emails on the spot
Autopilot comes with less than ten prebuilt email templates, whereas ActiveCampaign provides a larger selection
Autopilot provides all its premium features in every plan, whereas ActiveCampaign has feature restrictions
Ok, let's start with the basics here.
Purchasing a marketing automation tool is not debatable anymore. It should be a priority for all eCommerce businesses, not just digital marketers. Even small businesses and startups are now increasingly leveraging marketing automation, especially when it comes to email marketing, SMS marketing, social media marketing, and on-site targetting.
Another asset you cannot afford to miss out on is a customer relationship management tool. Businesses are exceedingly adopting CRM software to power their sales pipeline management and boost the accompanying lead conversion rates.
That said, it's understandable if you choose to acquire these two types of tools separately. In fact, I bet most online merchants and digital marketers install different software for marketing automation and customer relationship management.
Fair enough.
But then, there's this other group of digital merchants who prefer a more holistic approach. Instead of purchasing the solutions separately, they choose to install specialized marketing software that offers marketing automation along with CRM.
And now that you're here, I bet you belong to the second group- hence your dilemma between these two renowned tools- ActiveCampaign vs Autopilot.
Well, luckily, you've come to the right place. We're always comparing such tools to help eCommerce businesses and digital marketers identify the best software that combines marketing automation with CRM.
Consequently, today's battle is between yet another set of industry heavyweights.
From the look of things, both of these tools happen to describe themselves as customer experience automation software. They essentially focus on email marketing, omnichannel messaging, marketing automation, plus customer relationship management.
So, which of the two software solutions would be the best option for your business and online campaigns?
Let's find out, starting with the primary differences you should expect between them.
Autopilot vs ActiveCampaign – Overview
Autopilot Overview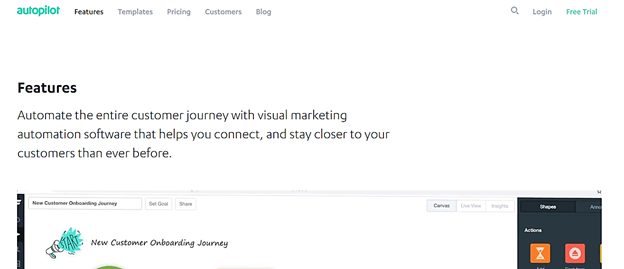 Autopilot reportedly came into the scene after three Australian brothers were fed up with the type of marketing and CRM tools on the market back then. They specifically wanted a marketing automation system that would power the customer journey, as well as act as a simple whiteboard that's capable of working well with other tools.
And so, Autopilot was born in 2012, which translates to less than a decade of industry experience.
But, get this. Although Autopilot hasn't been around for as long as ActiveCampaign, the company has managed to make a huge impact in the marketing automation space. We'll give them that.
And what exactly is it made of?
Well, Autopilot likes to think of itself as an easy-to-use marketing automation software that uses visual configurations to help businesses of all sizes set up automated customer journeys. It specifically relies on omnichannel marketing, as it offers email marketing, postcard marketing, SMS marketing, in-app messaging, Google Ads retargeting, and Facebook retargeting.
Therefore, in short, it appears to be a perfect cocktail for lead engagement across all the popular online platforms.
And speaking of leads, Autopilot further allows you to personalize your customers' journeys based on multiple behavior parameters. You essentially get a visual editor for building such workflows, complete with their corresponding automation rules.
Other notable capabilities you should expect to find on Autopilot include marketing analytics, data-driven marketing, marketing collaboration, website tracking, customer segmentation, email A/B testing, sales pipeline automation, lead capturing, lead nurturing, lead scoring, plus lead generation.
Overall, Autopilot tends to focus more on the entire sales process, while marketing takes a back seat. It turns out all its messaging channels are particularly optimized for the sales pipeline.
Autopilot vs ActiveCampaign: ActiveCampaign Overview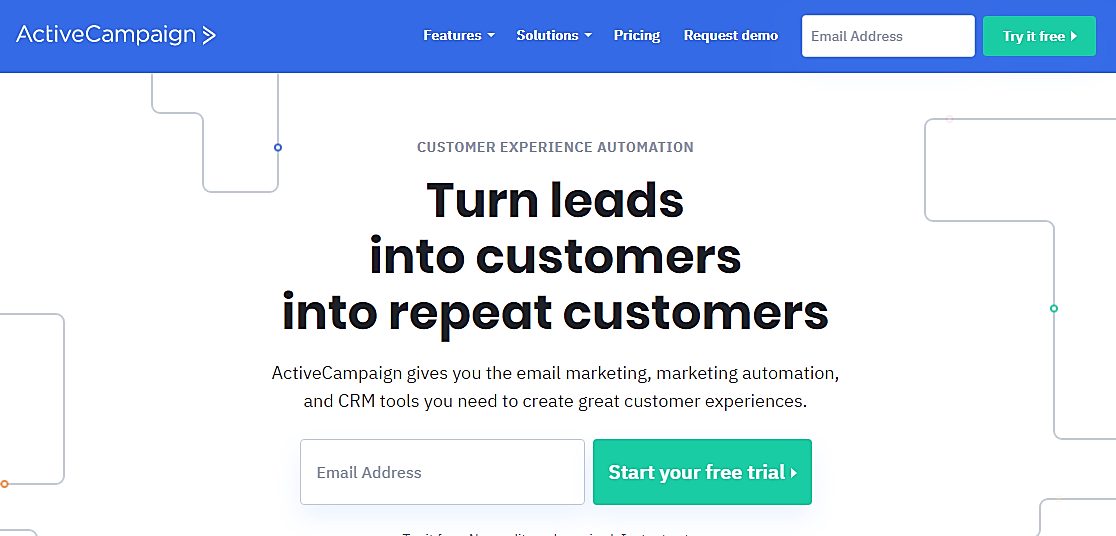 Considering it has been around since 2003, ActiveCampaign is more of an industry veteran. That adds up to nearly two decades of experience in marketing automation.
The company itself is primarily based in Chicago, from where it coordinates operations with supplementary offices in Indianapolis, Sydney, and Dublin. More than 500 employees work from these centers and many other locations around the globe.
But, make no mistake. ActiveCampaign wasn't such a huge corporation when it started out. Rather, it launched as a simple email marketing provider and subsequently grew to establish itself as an all-in-one digital marketing solution.
The type of capabilities we're talking about here include omnichannel campaign automation, email marketing, SMS marketing, on-site targeting, Facebook messaging, and of course, customer relationship management.
ActiveCampaign then goes ahead and integrates with more than 700 applications and services to form an extensively holistic digital selling environment.
So far, tens of thousands of businesses continue to take advantage of these features, which increasingly help them drive their lead generation and nurturing processes.
Quite a number of them have even praised ActiveCampaign for its intelligent approach to targeting and marketing automation, as it heavily capitalizes on its underlying machine learning engine.
Other than that, ActiveCampaign employs its AI system when it comes to lead scoring and deal predictions.
It's worth noting, however, that although ActiveCampaign seemingly focuses on both marketing and customer relationship management, email marketing automation is the main priority here. Sales and CRM only come as secondary features to supplement marketing automation.
Autopilot vs ActiveCampaign – Main Feature
Autopilot Ease of Use
Thankfully, Autopilot is generous enough to offer a free trial. Don't get me wrong though. A permanently free plans and package would be more welcome. But for now, I guess we don't have much of a choice here. The free trial is the only way you can try out its features before proceeding.
That said, the registration process here is pretty straightforward. You just enter your details and mobile number, then specify the volume of contacts you intend to keep. And when you're done, Autopilot will automatically direct you to its dashboard.
Now, the good thing about this dashboard is, it starts you off with onboarding right off the bat. Autopilot displays a welcome tutorial that walks you through some of the main functionalities on the platform.
You'll also notice that Autopilot's default dashboard comes with brief insights into your campaigns and activities. More specifically, you get to track the number of email sequences and texts you've sent, plus the corresponding volume of opened messages.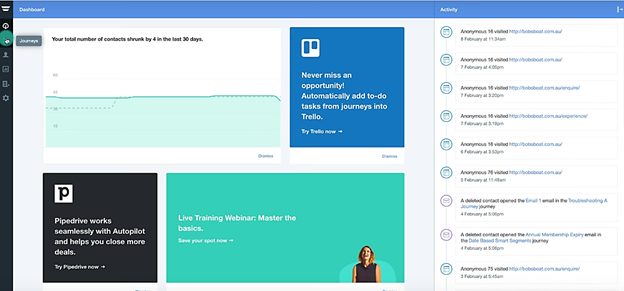 Other than that, it's also possible to scan through your active journeys directly from this vantage point.
And while you're at it, another thing you'll appreciate about Autopilot is its elegantly designed interface. I must say I like its minimalistic layout, plus the fact that it offers direct access to the main functions.
Navigation also happens to be fairly straightforward, although you might have trouble finding your way to the email editor.
You see, Autopilot's main menu doesn't provide a direct link to its email editor. So, you won't be able to send email newsletters on the spot. Instead, you're required to build a customer journey if you intend to gain access to the email editor.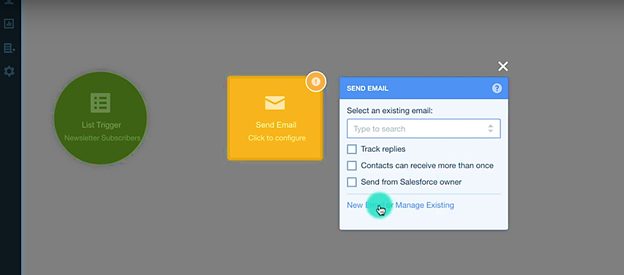 Quite strange, don't you think?
Well, personally, I find this approach to be a bit confusing and challenging, especially for beginners. That means you might have to pay more attention to the welcome tutorial before proceeding.
ActiveCampaign Ease of Use
Signing up on ActiveCampaign is not that different compared to Autopilot. Therefore, entering your personal and business details should get you underway.
And yes, ActiveCampaign offers a free trial too. But sadly no, you won't find a permanently free package.
Anyway, the user interface here, as we've said before, is neat and well-designed. The dashboard itself displays visual insights into your campaigns, while the main functionalities can be accessed from a side menu bar.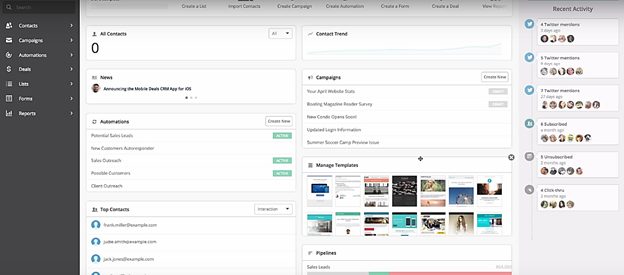 But, if you don't fancy the view, ActiveCampaign allows you to customize the dashboard based on your specific preferences.
You can, for instance, rearrange the insight widgets by dragging them across the dashboard. You may also want to resize them, or possibly introduce additional widgets to supplement your information.
Come to think of it though, I guess you probably won't be adding stuff any time soon, especially if you're a beginner. The default ActiveCampaign dashboard displays a lot of figures and charts, which could be a bit overwhelming before you get used to the system.
Another challenge is the number of tools you'll find when you start exploring your menu options. While the top menu is fairly straightforward and understandable, trouble begins when you proceed to the submenu items. ActiveCampaign will hit you with too many options, most of which could take you some time to learn the ropes.
So, overall, the learning curve here tends to be steep for beginners. But then again, I guess that shouldn't be a surprise considering ActiveCampaign is an all-in-one marketing automation and CRM solution.
ActiveCampaign vs Autopilot Ease of Use Verdict (Draw)
Autopilot and Active Campaign are both advanced solutions with multiple tools for marketing and customer relationship marketing. That's a great thing altogether, but then it complicates matters for beginners.
Each of these solutions might take you some time to learn the ropes. So, it's a draw for ActiveCampaign and Autopilot when it comes to ease of use.
Email Marketing
Autopilot Email Marketing
As we've established already, Autopilot is not the type of marketing tool that gives you the benefit of creating email campaigns right off the bat. So, you'll have to forget about jumping into newsletters and basic emails straight from the dashboard.
You see, Autopilot's email marketing campaigns are built right into its customer journey workflow. That means you can only create your emails and newsletters as part of a larger customer pipeline campaign.
Well, I don't know about you, but I could definitely use a "Create Email" button on the dashboard. Building an entirely new customer journey just to launch an email is quite inconveniencing.
Thankfully, however, it's not all bad news. At least Autopilot attempts to make things easier through a drag-and-drop journey editor. It resembles a typical workflow builder, complete with conditions, actions, and triggers.
Now, to create an email, you should specifically zero in on the workflow's actions. This is where you'll find email list suggestions such as "Send an Email", "Send Notifications", "Add From List", "Remove From List", etc.
Picking the email action gives you the option of either proceeding with a previous email message, or building a new one from scratch.
But, don't get me wrong. Technically, you don't have to design your entire email from the ground up. Autopilot allows you to import your own HTML, or simply customize its pre-built email templates.
Well, unless you're great at HTML coding, I bet you'd go for the templates. The only problem is, the number of template options here is very limited. And to be specific, it turns out Autopilot comes with less than ten email templates.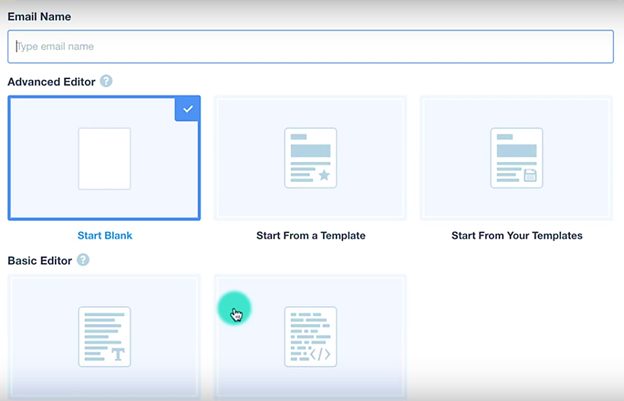 But, on a brighter note, every single template is elegantly designed. Autopilot's developers seemingly took their sweet time working on them and it paid off. All the layouts are admittedly neat and well-thought-out.
Once you make a selection here, you can proceed to customize the email template based on your preferred outlook. The design process itself is satisfyingly simple and straightforward, thanks to Autopilot's responsive drag-and-drop email editor.
You can, for instance, view how your email will ultimately appear on both mobile and desktop screens while you make layout changes.
In the end, when you're done creating the email, you still won't be able to send it directly from the editor. Rather, you're required to first publish it, and then do the same to the corresponding customer journey.
ActiveCampaign Email Marketing
Unlike Autopilot, ActiveCampaign offers a refreshingly straightforward email building process. It even gives you a range of email campaign options to choose from, including date-based email marketing campaigns, autoresponders (follow-up emails), typical one-off emails, etc.
However, the best thing is, Activecampaign doesn't force you to set up a workflow so you can launch an email campaign. You can easily send your emails and newsletters directly from its independent email editing tool, which is accessible from the "Campaigns" tab or the "Create a Campaign" button on the dashboard.
That said, the first place you'll land in the campaign selection area. And speaking of which, you might want to proceed with the "Standard" option if you intend to send a basic email. Otherwise, you could also choose "Date-Based", "RSS-Triggered", "Split-Testing". "Autoresponder", or "Automated".
ActiveCampaign will then direct you its collection of prebuilt email templates, from where you're required to pick your preferred email design.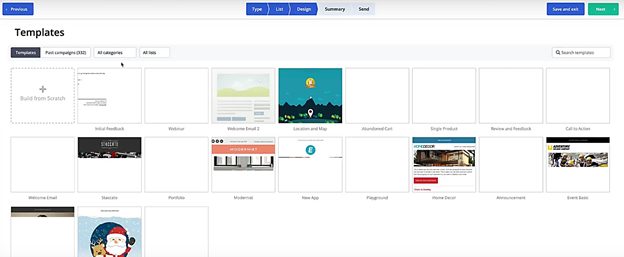 Although the range of options here might not be the most extensive we've seen on an email marketing platform, it's still fairly impressive. ActiveCampaign provides tens of attractive email templates for various business categories, occasions, and campaign types. Hence, you should be able to find a perfect one for your audience.
And once you do, ActiveCampaign will take you straight to its intuitive drag-and-drop editor. This is where you get to customize your email design by tweaking various appearance settings, editing text or images, as well as deleting, resizing, dragging and placing different elements on the email layout.
Other than that, it's also possible to save content blocks and then reapply them in future emails.
ActiveCampaign vs Autopilot Email Marketing Campaigns Verdict (Winner: ActiveCampaign)
This round is a no brainer. Although both marketing tools support HTML editing as well as visual drag-and-drop email building, ActiveCampaign substantially outperforms Autopilot. It comes with a wider range of email template options, plus a much easier campaign building procedure.
Campaign Automation
Autopilot Campaign Automation
When it comes to marketing automation, Autopilot relies heavily on its workflow editor, which provides just the right tools for automating campaigns within customer journeys. How you choose to configure each journey depends on the specific audience you're targetting, plus the corresponding marketing campaign goals.
And the best thing is, you don't need coding skills to build a dynamically automated campaign. Autopilot's workflow interface is built to facilitate visual editing and tracking of the entire automation system.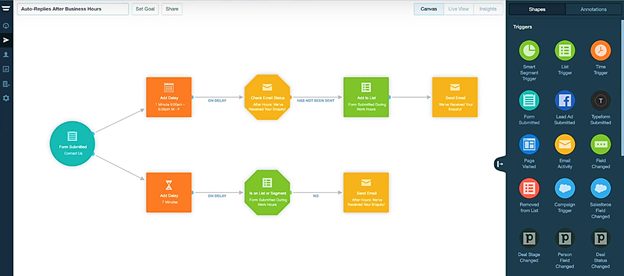 As a matter of fact, the process of building and customizing customer journeys along with their accompanying automated campaigns is as simple as dragging and dropping various interrelated elements.
You can, for instance, introduce emojis, stickers, images, text, and emails at different stages along the pipeline.
Your audiences, on the other hand, end up viewing the messages based on your specific trigger parameters. Autopilot happens to accommodate a vast range of campaign triggers, which ultimately give you the freedom to launch emails based on factors like interest, behavior, and time.
It's worth noting, however, that triggers can't possibly function alone. Autopilot combines them with conditions and actions to form dynamic workflow rulesets that define its automation paths.
Now, for the sake of clarity, conditions refer to specific criteria that your target audience is required to meet at various stages along their individual customer journeys. Actions are then used to define how the system responds based on the outcome of a condition.
If a site visitor subscribes to your mailing list, for example, you could set Autopilot to take an action like automatically sending a welcome email.
Therefore, when you leverage all these automation capabilities, you should be able to build and maintain adequately-personalized campaign paths for your target audiences. Consequently, you get to influence even your customers' decision-making processes.
ActiveCampaign Campaign Automation
ActiveCampaign also comes with its own workflow builder, which happens to share quite a number of features with Autopilot's customer journey editor.
The most outstanding similarity between the two is, of course, the visual drag-and-drop approach to building automated campaigns. ActiveCampaign offers an extensively flexible editor that's capable of building dynamically complex customer journeys.
And to achieve that, you need to calculatedly apply actions, triggers, plus "If/Then" condition logic in your automation workflows. ActiveCampaign offers an intelligent automation system that gives you the privilege of using various conditional branches along your campaign paths.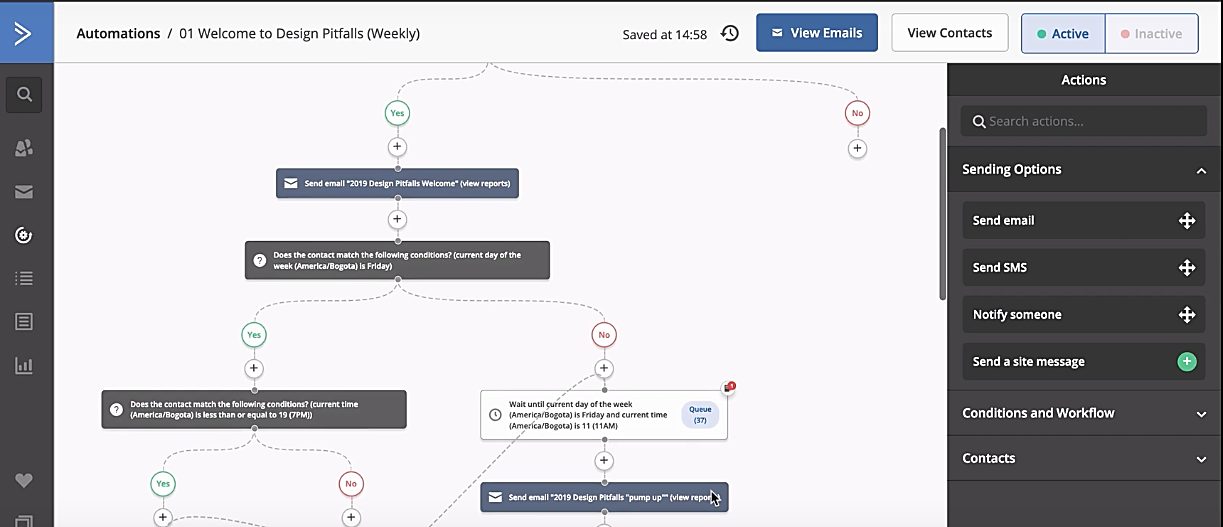 Well, I must admit though, the whole thing might seem intimidating when you're starting off. The learning curve here is relatively steep, especially if you're a newbie in the world of automated marketing.
But, get this. You might want to take advantage of ActiveCampaign's automation templates as you gradually learn the ropes. You'll find a number of customizable prebuilt templates that follow standard customer paths.
Then once you start figuring out how everything works, you can go ahead and try building your own unique workflows from scratch. ActiveCampaign's automation wizard offers a host of triggers for laying the foundation, after which you can proceed to define the campaign paths with various subsequent actions plus conditions.
And just like we've seen with Autopilot, such conditions come in handy when you need to branch a shared path into several more-personalized campaign segments.
These and many other features make, ActiveCampaign a powerful marketing automation tool, particularly when it comes to dynamically complex campaigns.
ActiveCampaign vs Autopilot Campaign Automation Verdict (Draw)
There's no denying that Autopilot offers a host of impressive marketing automation capabilities. With its drag-and-drop workflow builder, a responsive visual editing canvas, plus flexible automation rulesets, you should have an easy time setting up dynamic well-personalized campaigns.
But, let's face it. It still can't match up to ActiveCampaign's capabilities. Although it wins the simplicity contest, Autopilot is dwarfed by ActiveCampaign when we cross over to the world of complex marketing automation.
However, and rather interestingly, ActiveCampaign loses out to Autopilot in the CRM automation contest. Autopilot has an intricately streamlined sales funnel automation system / marketing funnel, while ActiveCampaign tends to focus mostly on marketing automation.
Autopilot vs ActiveCampaign – Pricing
Autopilot Pricing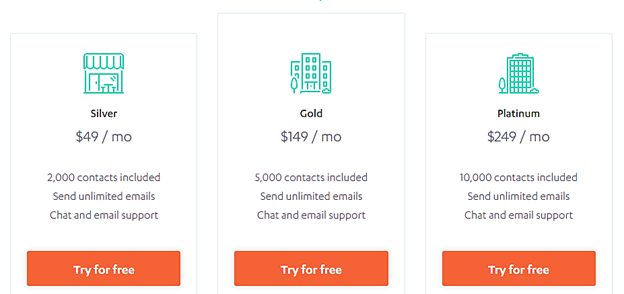 Silver – Costs $39.20 per month when you pay yearly, or $44.10 per month when you pay monthly but commit for a year, or $49 per month when you pay month to month without any long-term commitment.
Chat and email support
Send unlimited emails
Up to 2,000 contacts
Postcard marketing
Google Ads retargeting
Facebook retargeting
In-app messaging
SMS marketing
Multi-channel marketing
Sales pipeline automation
Lead capture / opt-in forms
Insights app / click-through rates optimization
Lead nurturing
Lead scoring
Lead generation
CRM integrations (plus Zapier integration options)
Customer segmentation
Personalized emails
Email A/B testing
Email marketing software
Marketing analytics dashboard
Data-driven marketing
Marketing collaboration
Marketing CRM
Customer journey map
Marketing goals and attribution
Website tracking
Gold – Costs $119.20 per month when you pay yearly, or $134.10 per month when you pay monthly but commit for a year, or $149 per month when you pay month to month without any long-term commitment.
Up to 5,000 contacts
All the features on the Silver package
Platinum – Costs $199.20 per month when you pay yearly, or $224.10 per month when you pay monthly but commit for a year, or $249 per month when you pay month to month without any long-term commitment.
Up to 5,000 contacts
All the features on the Silver package

Lite – Starts from $9 per month for up to 500 contacts to over $459 per month for more than 100,000 contacts.
Up to 3 users
Chat and email support
Marketing automation
Send newsletters
Email marketing
Unlimited sending
Plus – Starts from $49 per month for up to 1,000 contacts and over $399 per month for more than 25,000 contacts.
All Lite plan features
Up to 25 users
Conditional content
SMS marketing
One on one training
Custom branding
Custom user permissions
Deep data integrations
Landing page builder integrations (many leading options)
Contact and lead scoring
CRM with sales automation
Unlimited sending
Professional – Starts from $129 per month for up to 2,500 contacts and over $599 per month for more than 25,000 contacts.
All Plus plan features
Up to 50 users
Split automation
Win probability
Predictive sending
Attribution
Site messaging
Unlimited sending
Enterprise – Starts from $229 per month for up to 2,500 contacts and over $499 per month for more than 10,000 contacts.
All Profession plan features
Unlimited users
Uptime SLA
Phone support
Free social data
Free design services
In-depth onboarding
Dedicated account rep
Custom domain
Custom mail server domain
Custom reporting
Custom sending limit
Autopilot vs ActiveCampaign Frequently Asked Questions
Ultimate Verdict – Autopilot vs ActiveCampaign
Both Autopilot and ActiveCampaign have certainly proven their power in CRM and marketing automation. Therefore, small to medium-sized businesses should have an easy time leveraging either of them in their omnichannel campaigns and marketing campaigns.
That notwithstanding, however, we still have to crown the ultimate winner. So, for the final moment of truth…which of these two marketing and CRM automation solutions would you say offers superior features- ActiveCampaign or Autopilot?
Ok, this has been a tough battle, I must admit. Hence, in all fairness, we can agree that determining the better option here is more of a subjective matter.
While the ease-of-use contest has ended in a draw, ActiveCampaign has registered a win in the marketing automation contest, and Autopilot, on the other hand, maintains dominance on the CRM front.
What does this mean?
Bottom Line: Well, it all comes down to your precise campaign and business needs. Experienced digital marketers, for instance, would be much better off on ActiveCampaign since it provides advanced marketing automation capabilities.
But, if you're looking for a tool that can power your lead management processes across multiple digital channels, I'd advise you to go for Autopilot.
Further reading: