Social media is one of the best places to connect with your audience. Almost 50% of the world's population uses social media. But social media marketing requires a lot of time, knowledge, and skill. Fortunately, there are many social media marketing platforms that make the process easier.
There are many social media marketing platforms that businesses can choose from, but two of the most popular are Sendible and Buffer. Both of these platforms offer various tools and features to ensure your social media teams are productive and your campaigns are successful.
But which one should you choose? Here, we compare Sendible and Buffer and will recommend which one you should choose.
Main Differences Between Sendible vs Buffer
The main differences between Sendible vs Buffer are:
Sendible costs $29 a month and is a more costly option, whereas Buffer is a cheaper option and it costs $15 a month.
Sendible doesn't offer a free account, whereas Buffer does offer this option.
Sendible offers a few more features that Buffer doesn't, such as keyword filtering
Sendible offers more training opportunities whereas Buffer only offers training documents and webinars
Things to Know About Sendible and Buffer
Both platforms have excellent reviews
While Buffer offers affordable plans (including a free plan), Sendible is also a great price for businesses that require more features from a social media platform
There are many features available in Buffer's paid plans and not their free plan. For example, reports aren't available on the free plan
Before signing up for an account, know how many accounts you'll need to link up. Each plan requires a specific number of social media accounts per plan
Businesses still need to be creative and post quality content. Fortunately, both platforms offer insight and recommendations to improve your posts
About Buffer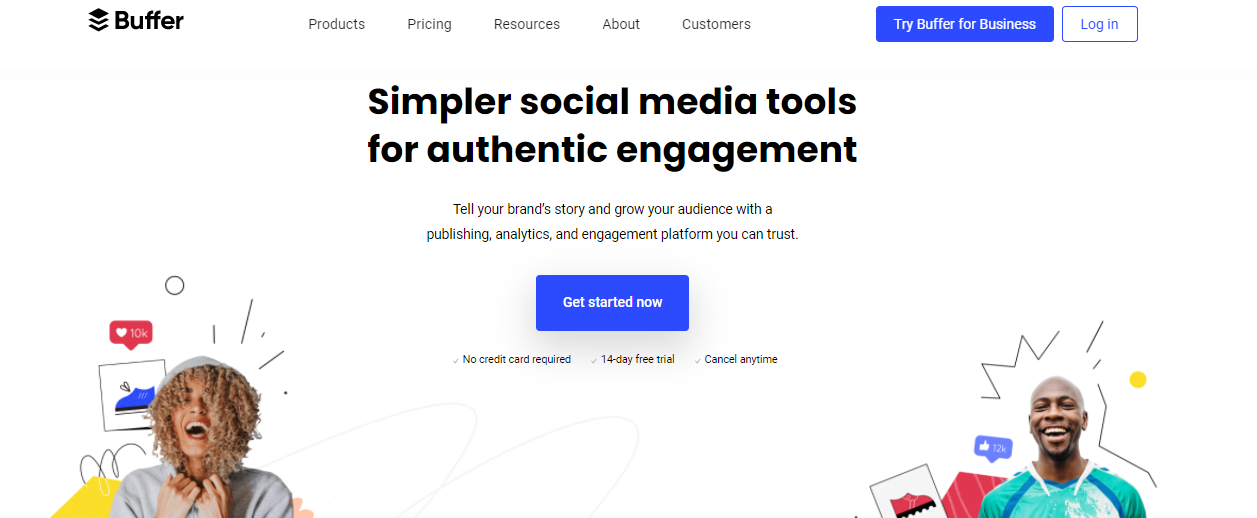 Buffer is a social media management platform that lets users publish content on various social media platforms. Buffer stands out because it's affordable, offers a free plan, and offers a user-friendly interface.
Buffer aims to help businesses drive more traffic to their social media accounts. They do this by offering tools that can increase audience engagement while making the social media posting process easy, such as scheduling posts across multiple accounts.
About Sendible
Sendible is one of the best-known and highest rated social media management platforms. This is an ideal solution for businesses of all sizes, from startups to enterprises.
Like many competitors, Sendible lets you manage and post on all social media accounts via one dashboard. Unlike many platforms, Sendible's platform is ideal for businesses hosting large campaigns. Its interface is very user-friendly, resulting in more productivity.
User-Friendliness
User-friendliness is one of the most important aspects of social media marketing platforms. Which tool has the most user-friendliness?
Sendible

Sendible has a very user-friendly interface. Many functions, such as creating a post, can be easily done from Sendible's centralized platform.
You can also change Sendible's interface to your liking; for example, calendar view shows your scheduled post while stream view shows different "streams" from your social media accounts.

You can easily find other functions, such as content recommendations, on the top toolbar.
Buffer

Buffer also has a simple interface, but figuring it out at first is a little odd. For example, to create a post, you click on the space bar at the top that says "what would you like to share?"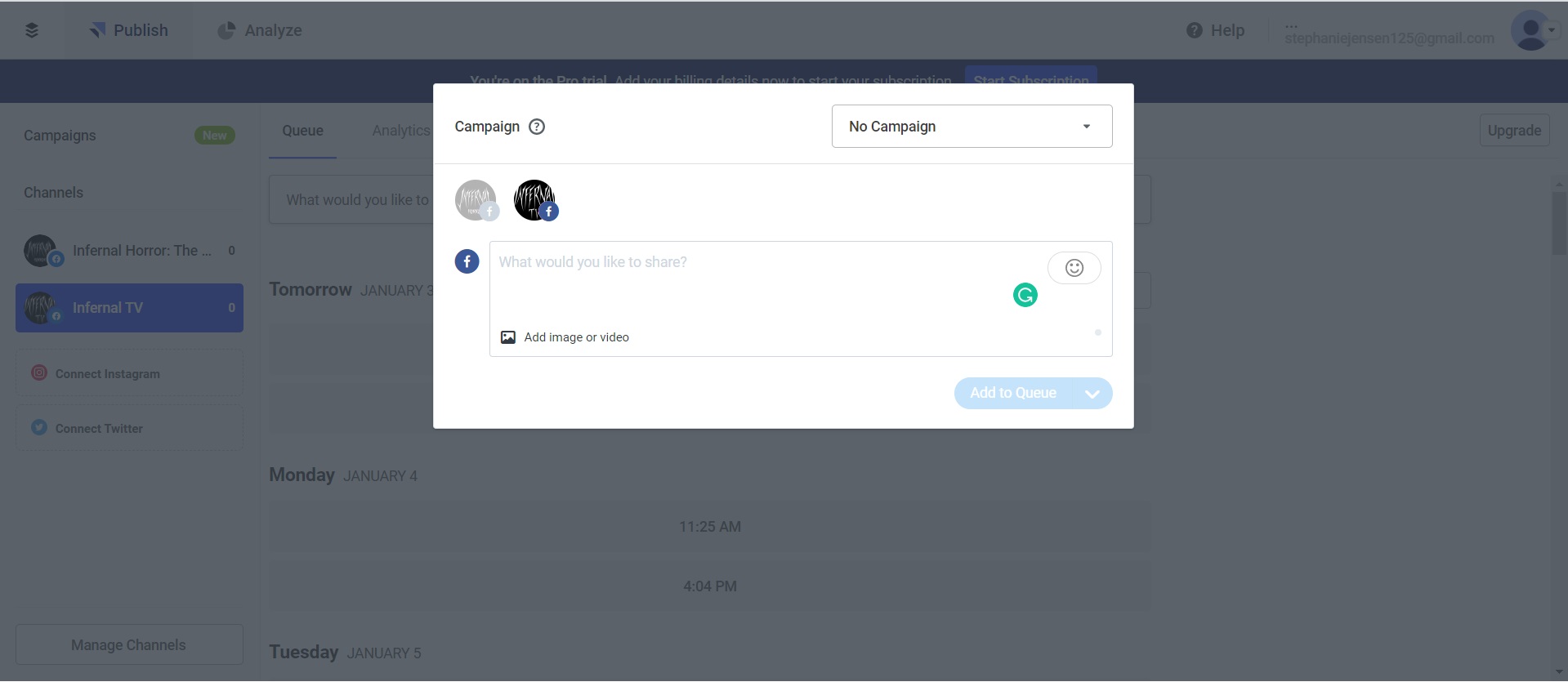 From here, you can type your text, upload your media, and choose which account you would like to post to.
Posting and scheduling are also odd. After you create your post, the only button they offer is "Add to Queue." But there's a down arrow that gives you the options "Share Now" and "Schedule Post."
If you click "Add to Queue," it will immediately be scheduled to post tomorrow (or at least it did for me). It's a little odd and Buffer doesn't offer insight into what the "queue" is and how to control it.
Sendible is way easier to navigate than Buffer. Buffer's interface is odd and they don't provide insight into some of their functions.
Functionality
Both Sendible and Buffer offers many functions in addition to posting. How do these features compare? I tried the entry-tier (not free) plans for both and here's my take.
Buffer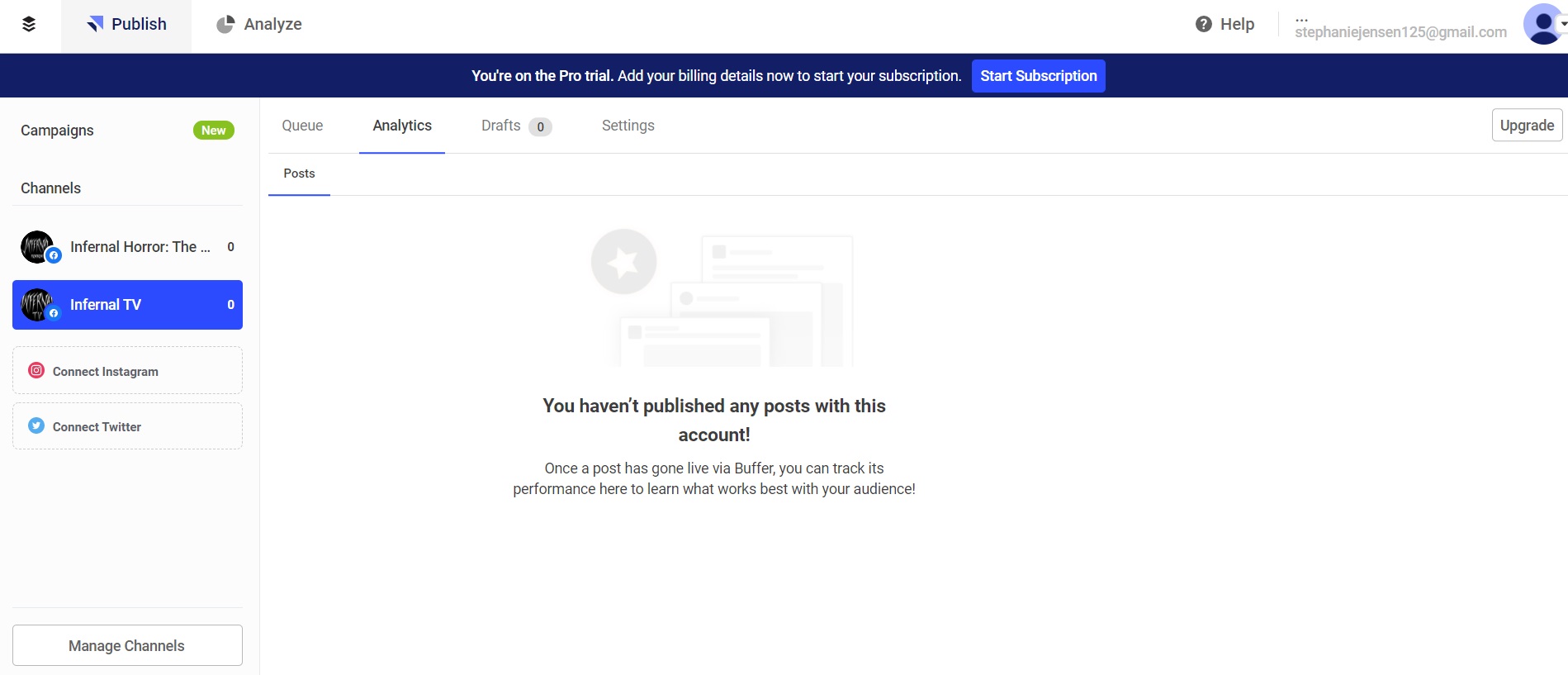 One of the reasons why businesses will likely upgrade to Buffer's paid account is for the analytics.
Honestly, I was hoping Buffer would provide complete analytics for my Facebook accounts. Instead, it states they can't provide analytics until I post something on the Buffer page. That's pretty unfair; I've had my Facebook accounts for a long time and would like to see some advanced analytics with the posts I already published.
Sendible
Sendible not only offers more features than Buffer but better ones. I'm especially impressed with their content recommendation tool, something that the entry-level Buffer tool doesn't offer. It even takes insight from your audience to recommend great content.
Sendible has more and better features than Buffer. If you're looking for more features, definitely go for Sendible over Buffer.
Customer Support
What if you suffer downtime or you simply have a question? In this instance, customer support is integral. Which platform has better customer support options? Keep in mind, we didn't need to contact customer support for either platform — this is based on reviews and other insights we heard.
Buffer
Buffer offers customer service, but their option is only limited to email. With that being said, their customer support has been rated highly. Otherwise, you can always navigate to their help center for answers to common questions and training in the form of webinars.
Sendible
Sendible offers customer support in the form of calls, emails, live support, and support tickets. They also offer a wide range of helpful resources and training videos.
Sendible offers more customer support options than Buffer. Therefore, they win this round.
Pricing
As we stated previously, Buffer is more affordable than Sendible. Buffer also offers a free plan and Sendible doesn't. But is cheaper and free always better?
Sendible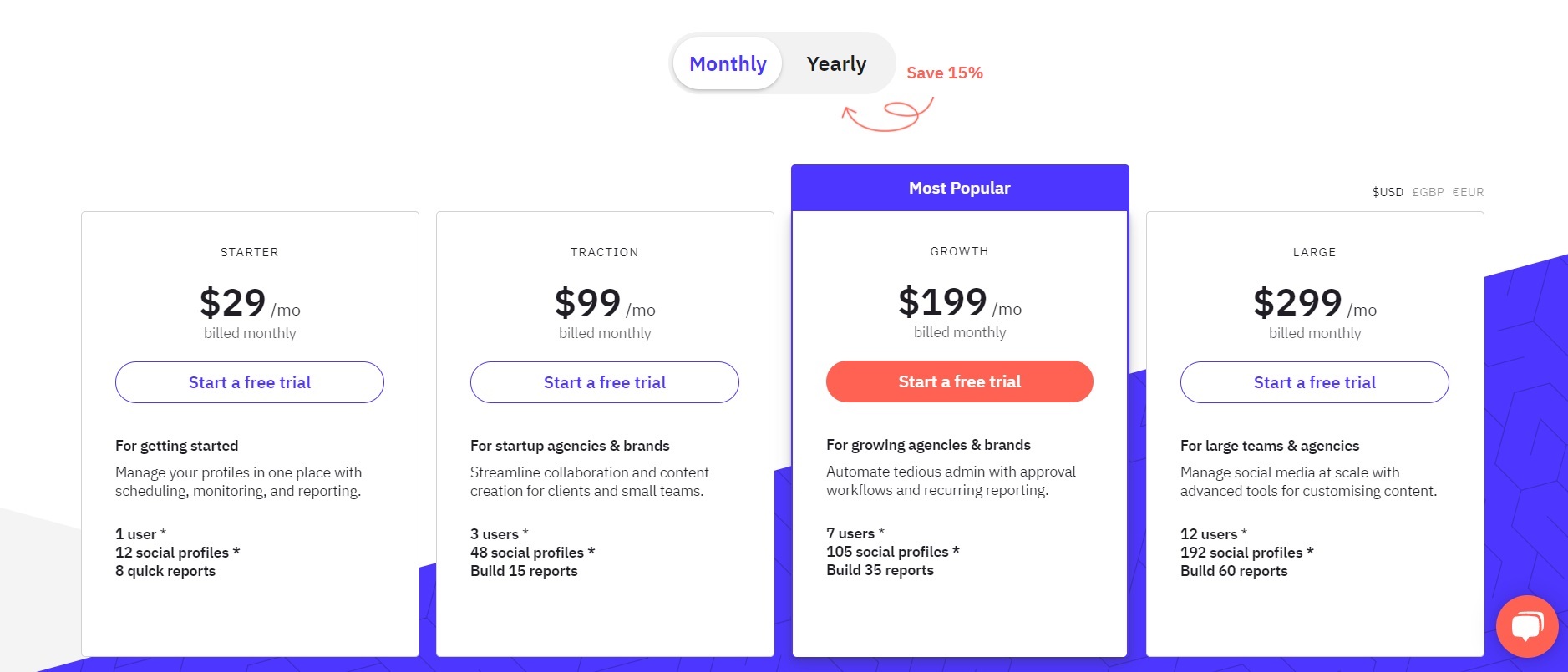 Let's go over Sendible pricing first. Their plan prices are as follows:
Starter plan: $29/month
Traction plan: $99/month
Growth plan: $199/month
Large plan: $299/month
The only thing I'm not fond of is the major differences in price points between the plans. Each plan is about $70-$100 more than the last. And the upgrades you're getting aren't worth the extra price.
For example, the starter plan for $29/month only lets you have one user whereas the Traction plan for $99/month upgrades you to only three more users. If a small business is forming a social media team, this isn't an ideal number of users for the difference in pricing points.
Buffer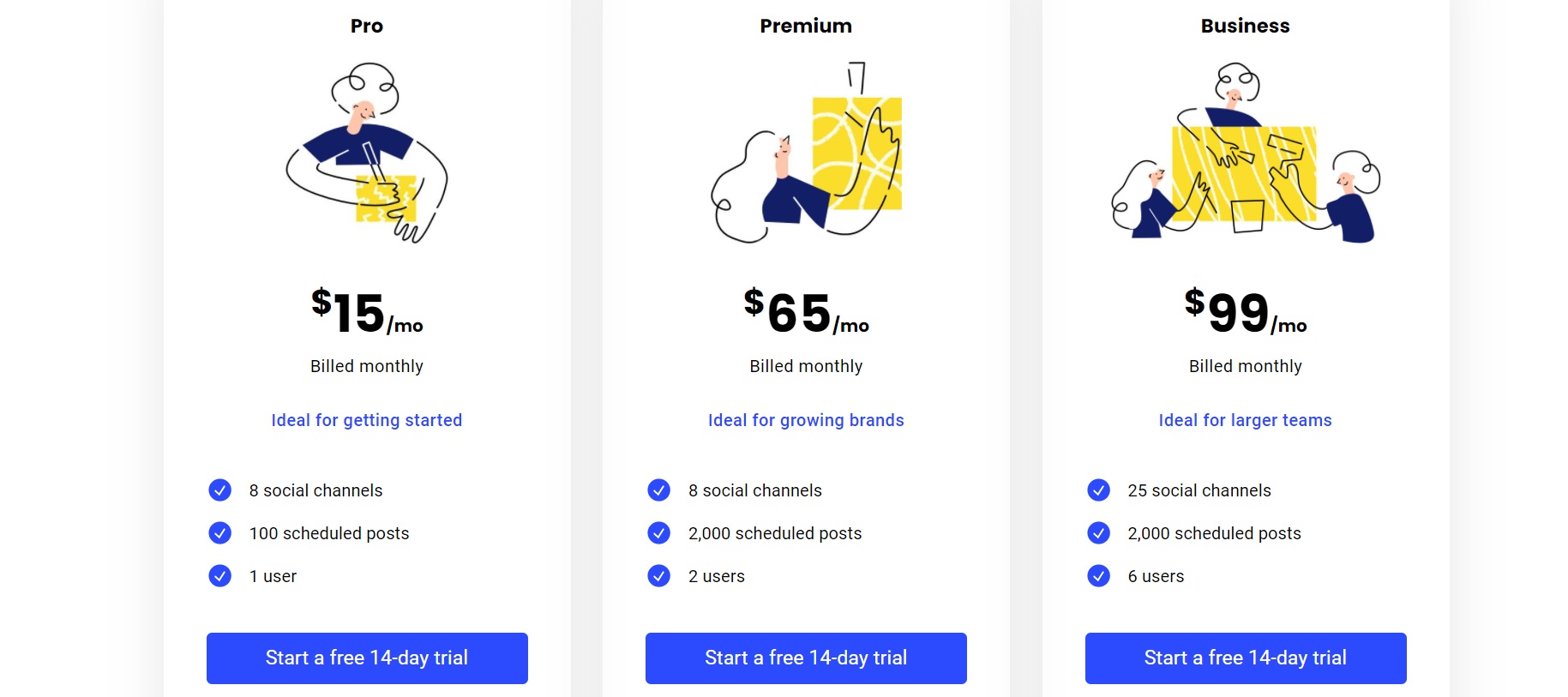 First, let's go over the Buffer's free plan. The free account lets you connect three social media accounts with up to 10 updates in your scheduler. You can choose between Facebook, Twitter, Instagram, and LinkedIn.
While I'm on the Pro plan free trial, I will likely downgrade to the free plan. I only need social media management for my Facebook and Twitter accounts. Honestly, I prefer Hootsuite so I will probably continue using their platform. But it doesn't hurt to have one more platform.
If the free plan isn't enough for you, you can always upgrade to one of their paid plans. The prices are:
Pro: $15/month
Premium: $65/month
Business: $99/month
I like these price differences much better. If you decide the Pro plan isn't enough, just an extra $50/month will get you 2,000 scheduled posts and two users, as opposed to 100 scheduled posts and one user.
Other than the fact that Buffer offers a free plan, the difference in pricing tiers is way friendlier than Sendible's.
While I think you get more for your money with Sendible, Buffer is ideal for bloggers, influencers, solopreneurs, and startups that don't have a lot of money to spend yet need more functions than the free plan.
FAQs
Question: What are the different pricing tiers?
Answer: Both Buffer and Sendible have various pricing tiers. These offer different features at different price points.
Buffer's Pro tier includes eight social channels, 100 scheduled posts, and one user. The Premium tier includes eight social channels, 2000 scheduled posts, and two users. The Business tier includes 25 social channels, 2000 scheduled posts, and six users.
Sendible's Starter tier includes one user, 12 social channels, and eight reports. The Traction tier includes one user, 48 social channels, and 15 reports. The Growth tier includes seven users, 105 social channels, and 35 reports, and the Large tier includes 12 users, 192 social profiles, and 60 reports.
Question: Why use a social media marketing platform?
Answer: Many businesses use social media marketing platforms to schedule posts across all of their essential social media platforms. This helps increase social media efficiency. Some platforms, such as Sendible, help businesses improve their posts so they increase engagements.
Understand that not all businesses will need these social media marketing platforms.
For example, if you have a side hustle or are an influencer and only post to a couple of social media platforms a couple of times a day, you can handle all posting directly on the platforms. However, you can also use some platforms such as Buffer for free.
Buffer vs Sendible: The Final Verdict
Even though Sendible is more expensive, we recommend Sendible over Buffer. They have a more user-friendly interface, better features, and they offer better customer support than Buffer. But if you want a free or cheap plan, Buffer offers the bare minimum features that influencers, solopreneurs, and startups can utilize.
Buffer isn't the only freemium social media platform you can try. We honestly prefer Hootsuite for their user-friendly dashboard, powerful post creation and scheduling features, and all of the other features they offer to marketers and influencers.
But how does Hootsuite compare to Sendible? Find out here!
Further read: