Last Updated on June 21, 2023 by Ewen Finser
SocialPilot and Buffer's social automation features are time-saving and an integrated robust social media analytics feature makes them indispensable.
Social media puts its best foot forward around midday, according to research. This is when social sharing and traffic is at its peak. Data also shows that social media traffic outperforms traffic to websites from late noon. No thanks to time zones, posting content optimally for your global audiences might mean a lack of sleep on your part!
Bottom Line Up Front: While Buffer clearly has more market share, I actually prefer the additional FB branding, total number of social media profiles, and more competitive pricing with SocialPilot here. In fact, I think SocialPilot is a great tool and one of the best kept secrets within social media marketing…
There is a lot of data available out there on the best time to post your content and on which social media platform. All that knowledge, unfortunately, can overwhelm even the most hardworking of social media managers.
Manual social media scheduling and content management can take a toll on your work life if you have to be present on multiple social media platforms all at the same time.
The most successful social media accounts are very quick to respond to their fans. Whether for business or personal interests, you cannot afford to relegate your social media accounts to sporadic engagement. Without active management, there cannot be a positive ROI.
You also cannot forego active human engagement for bulked up content or automated questions and answers. Your audience will fail to connect with you if your media accounts platform of choice has no genuine conversations. Social media audiences dislike being talked at. They adore being spoken to though.
The purpose of social media automation tools
Social media automation tools can assist you to make the best of your resources and time with your social media strategy. They can take charge of content posting, social media listening and even present clear social media analytics reports, all under one platform.
With a useful automation tool, those gut-wrenching repetitive tasks that take all day to accomplish manually will be a thing of the past. So instead of setting up alarms to catch the social media wave around the world at noon, schedule your content on an automation tool, then sit back and watch your engagement soar.
SocialPilot
Profiles: Facebook, Twitter, LinkedIn, Google+, Instagram, Pinterest, Tumblr, VK, Xing
SocialPilot is a fantastic cloud-based marketing and social media scheduling tool; no downloads or installation procedures so no system laggings. Just sign up, and you are in! Social media teams and agencies use it to stay effective in their social media strategy and, save time, energy and money too.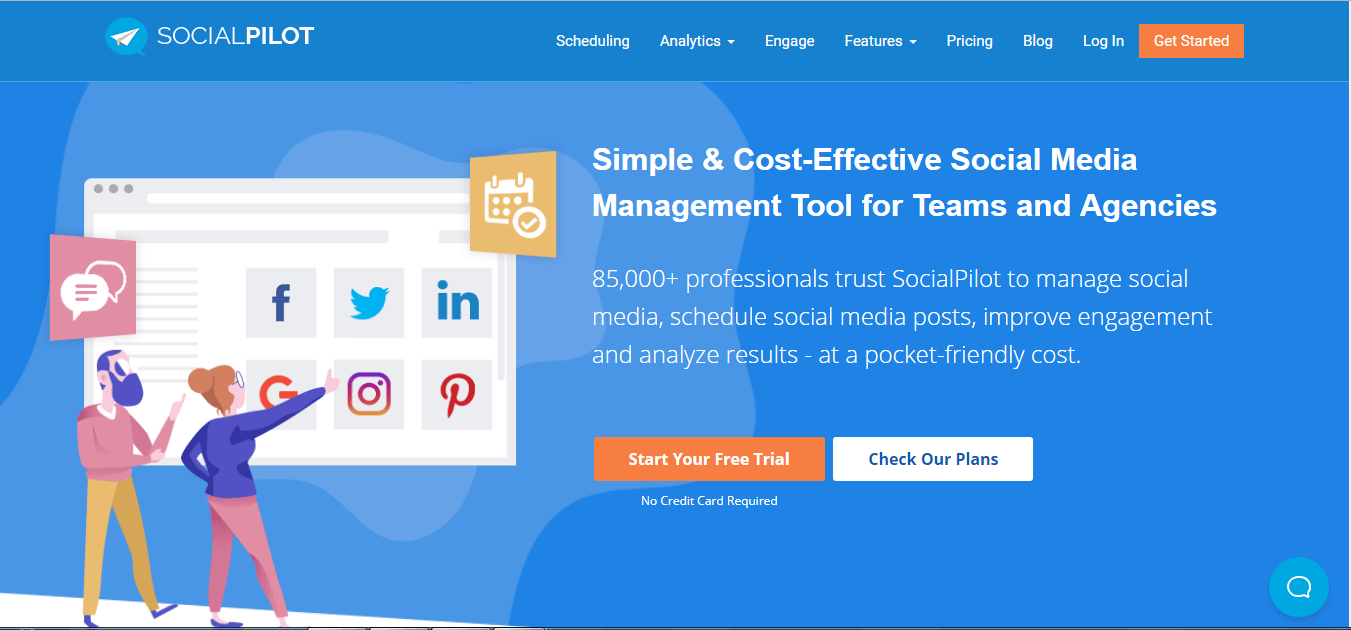 The price point for its premium features is very enticing, and there is a free starter package for individuals who would like to dip their toes in its waters just to examine its features. With SocialPilot the hassle of managing multiple social media will be a thing of the past, due to its very thoughtful white label client log in tool.
Top SocialPilot features
Social media management: The management of multiple social media accounts can be very exerting but also a big boon for business. Research, for example, shows that while Twitterati loves news, the Facebook bunch loves friendship.
This means that trending content on Twitter may not necessarily ignite a frenzy on other social media platforms. Creating different tones in content, publishing it, and then monitoring it is not a walk in the park.
Other pain points of managing several social media accounts that SocialPilot can solve include logging out and in of accounts, accidental posting of wrong content, inability to post in each platform's peak activity time, or replying to comments from all accounts which in the end leaves you with no time to be actually social! SocialPilot can save the day.
SocialPilot can help you get more efficient by helping you connect over 50 different social media profiles all under one platform. This will ensure easy scheduling of posts across networks when necessary.
It also has a social media analytics tool that will keep you in the loop about your performance and engagement efficiency as well. And if you would like a printed report or a document on these stats to email to your client or business partner, this feature will provide a jaw-dropping PDF report at a click.
Most people who post in social media usually expect a response to their comments within less than 24 hours. The average social demands of thank yous to feedback goes a long way in improving your accounts engagement. Social Pilot will ensure that you can quickly respond to all posts, messages, and comments from one social inbox in real time.
If you have engaged a social media team that you would like to keep connected to, use SocialProfile. It has a feature that can assist you to review and approve of their updates and posts.
Social media reporting and analytics
Social media data can be a goldmine showing you potential competitors, clients, and prospects. There was a time when having a slice of social media influence was good enough, but today, at least two-thirds of digital marketers rely on social media data for progress.
Vanity social metrics like the number of likes or followers have a tendency to excite but may add little or no marketing value. SocialPilot ensures that you have access to meaningful, actionable metrics like conversion rates and referrals that will propel your marketing strategy forwards. This tool will point out;
Your account's best performing content
Audience insights
Your best time to post
Top influencers that drive engagement for your account
Analytics of all posts from Facebook, Twitter, Pinterest and Linkedin
With this fantastic feature, you can also create a unique PDF report to share with any concerned parties.
Content Curation
Most digital marketers today use at least 25% curated content in their social media posts. This prevents burn out while providing fresh and relevant content for your account. SocialPilot will comb the web for you and delivered this evergreen content to you for scheduled posting to your audience.
Bulk Media Scheduling
SocialPilot has a simple three-step process that can upload at least 500 posts ahead of time on your accounts. All you need to do is upload, preview then select your desired account. With a simple notepad file or CSV file, queue up those posts for continued impact on your accounts.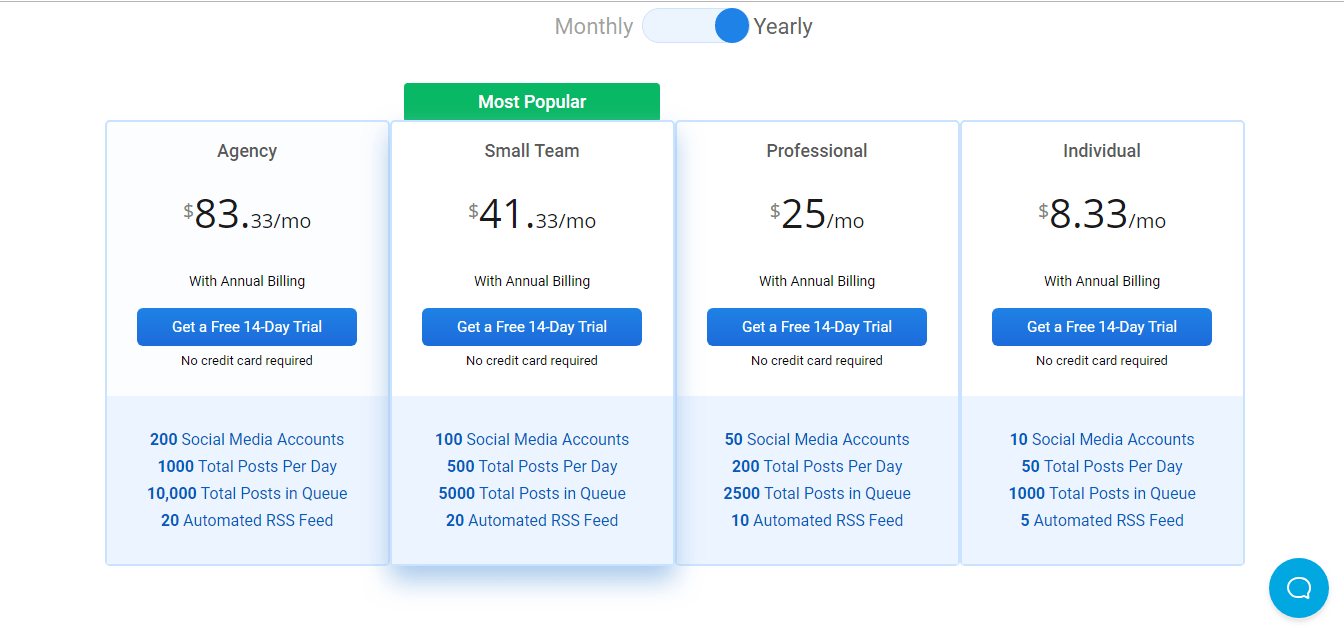 Buffer
Social Networks and Platforms: Twitter, LinkedIn, Google+, Facebook, Pinterest, Instagram and App.net
Buffer is internet based and is a fantastic social media content sharing app. Its simplicity of use has made it such a great hit with its users. It will connect all your social media accounts under one page, making logins pretty easy.

And if you see something that catches your eye while browsing online, you can initiate a post immediately to your accounts with a single click. Buffer integrates seamlessly with Chrome, WordPress and RSS feed through its browser extension that works for Chrome, Safari, and Firefox.
Its sophisticated organized layout is perfect for the home-based and small sized business owners. It makes it very easy for inexperienced users to access its analytics features and other fantastic features like the scheduled posting feature through its "Add to Buffer" option. Buffer has three main products including;
Buffer Publish
This feature has been Buffer's silver bullet since its inception. In Buffer's early days, it was mostly a post scheduling platform connecting users to all major social media accounts from one platform. It has a simple drag and drop editor, meaning that you do not have to be a tech wiz to use it. Its minimal learning curve is part of what has propelled its adaptation by many users worldwide.
A highlight of Buffer Publish features
Social scheduling where through the Buffer dashboard, you can edit links you want to post. This feature also supports videos which are estimated to account for 80% of all online consumer traffic by the year 2020. Today, at least 8 billion and 10 billion videos are watched on Facebook and Snapchat respectively on a daily basis. Buffer will take screenshots every 15 seconds of your preferred video for the featured images feature which you can then schedule for posting at an appropriate time.
Buffer's Optimal Scheduling tool is designed to recommend your social media's account best time to post and allows for a review of all scheduled posts before posting, for any last minute but essential edits.
RSS feed for all your blogs, for easy sharing of content
A Buffer power editor Pablo that ensures that all your images have the right specs, required for different social media platforms.
Buffer for Instagram which has cracked the code to what has been a historically tricky publishing ground for social media enthusiasts. This feature sends a push notification to your Instagram account so that once you are on it, all you have to do is press publish.
Buffer Reply
This feature caters to follower interaction displaying tweets in real-time and enabling you to reply, like, archive or follow right from the Buffer interface. It is all about keeping the social conversation going from one inbox.
There is an inbuilt custom search bar too that can sort messages and tweets by phrase, hashtag or keyword. Now, add all this convenience to Facebook and Instagram, and you have one robust media engagement tool. With this tool, you can assign your channel's conversations to different team members.
Buffer Analyze
Every brand big or small has turned to social media for that much-valued connection to their customers. Social media marketing though is slowly becoming an intricate art, which needs a lot of monitoring and feedback to avoid marketing hits and misses.
To ensure that you are on the right track Buffer Analyze provides comprehensive social media analytics to ensure that your efforts are directed at what brings a return on investment. This easy to use feature tracks and analyzes your digital content to help determine your most significant sources of engagement.
All the analytics data can easily be shared from Buffer Analyze to make presentations and discussions on performance easy.

Buffer vs SocialPilot
Buffer has powerful social media management tools that are easy to use, and its small learning curve makes it an excellent tool for all social media users. Social Pilot's strength lies in its fantastic array of social media marketing tools both for analytics and publishing functions. Both social media automation tools have free, and premium plans and both allow the connection of up to 3 social media accounts on their free programs.
With SocialPilot, you can access all social media networks with its free plan, but with Buffer's free program you cannot access Pinterest. The post scheduling option is available on both tools both for videos and images. SocialPilot, unlike Buffer, will not brand your Facebook profile if you post from its platform. All you have to do is use the branding feature on SocialPilot!
The analytics tools that SocialPilot has is what makes it a stand out social management tool as compared to Buffer.
While Buffer will provide actionable analytics from your accounts, SocialPilot will avail charts, figures, insights and post analytics that are a goldmine for marketers. Its social analytics and advanced social analytics features are premium tools not available for the free plan though. If you are looking for an affordable individual plan also, SocialPilot takes that cake too.
A comparison of SocialPilot and Buffer's main features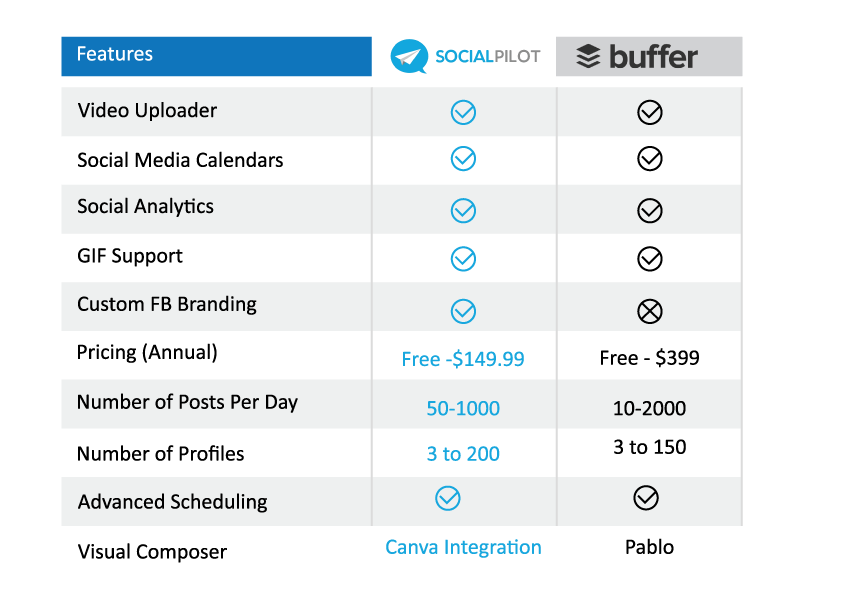 Conclusion: Buffer or SocialPilot
Consistent social marketing is the key to lead generation, and social media platforms are perfect for spreading the word about your brands social media profiles with a personal touch. The amount of time and energy required to run a social media account successfully can be baffling to most account owners.
Social media automation tools are the perfect answer to the very time consuming and equally frustrating repetitive social media management tasks. They can work magic both for the large account owners with substantial social media fan bases or individuals on social media seeking to save themselves time for more pleasant activity.
Both Buffer and SocialPilot have free versions of their management tools that you can try out just to get a lay of the land on their social media management and automation prowess.
These tools though cannot replace actual human activity on social media if you want consistent conversion rates. Use them only to put more time in your hands for more valuable tasks like engaging with your fans.
Bottom Line: While Buffer clearly has more market share, I actually prefer the additional FB branding, total number of social media profiles, and more competitive pricing with SocialPilot here. In fact, I think SocialPilot is a great tool and one of the best kept secrets within social media marketing…
Here are some other related articles: