Last Updated on January 15, 2023 by DMEditor
In this post, we're comparing the top social media scheduling platforms Post Planner vs Hootsuite.
If you're reading this article, you're probably a digital marketer who wants to improve their social media marketing operation and performance. And, it goes without saying, any sensible business owner is going to want to invest in reliable marketing software (social media management tool) to help them, but which to choose?
Main Differences Between Post Planner vs Hootsuite
The Main Differences Between Post Planner vs Hootsuite are:
Post Planner lets you collate your favorite social feeds into "Streams", whereas Hootsuite does reports on your social media effectiveness.
Post Planner has a recycle feature, whereas Hootsuite lets you set employee permissions.
Post Planner comes with a Discover Content, whereas Hootsuite has 250 technology partners to integrate with.
Just a quick Google search populates dozens of options, each promising fabulous results. However, it can be both time consuming, stressful, and boring to wade through them all.
So, we're going to simplify things by taking a look at two of the most popular social media marketing tools out there. Rest assured, we're going to drill down into what they're all about, who they are, their features, prices, the support they offer, as well as the pros and cons of using these platforms.
So, without further ado, let's dive into the nitty-gritty of this review!
Post Planner vs Hootsuite: Hootsuite Social Media Management Overview
When it comes to social media marketing and management software, Hootsuite is one of the giants. From their easy-to-use dashboard, you can handle all your social media marketing tasks from the convenience of one place.
Hootsuite's tagline says it all; it's a resource where you can:
"Manage all your social media in one place. From finding prospects to serving customers, Hootsuite helps you do more with your social media."
Founded by CEO Ryan Holmes in 2008, it now boasts an impressive leadership team with a head office in Vancouver, Canada. It also has operations in Toronto, London, New York, Mexico City, Paris, Rome, Milan, Bucharest, Hamburg, and Sydney. The company grew fast and says that today "we're the global leader in social media management, trusted by more than 18 million customers and employees at over 80% of the Fortune 1000."
That's pretty inspiring, right?
Its website hones in on its high calibre customer base. Here you'll see Hootsuite's worked with the likes of Melia Hotels, Marketo, and Yves Rocher. Not to mention, it has more than 4,000 customers worldwide signed up to its Enterprise Plan (see Prices below).
So, what does Hootsuite Social Media Management have to offer?
Well, as we've already alluded to, customers get access to the Hootsuite Dashboard. From here, you can see and manage your social media channels from one place.
Gone are the days where you and your team had to open a million tabs to keep an eye on all your social media accounts.
Once you sign up for one of Hootsuite's plans, you can connect with your business' customer base via all the popular social media channels. So, as you can imagine, Hootsuite works wonders for pitching targeted campaigns to your following.
You can also track each campaign's performance and amend it once you've analyzed your success rates. But more on Hootsuite's features later on in this review…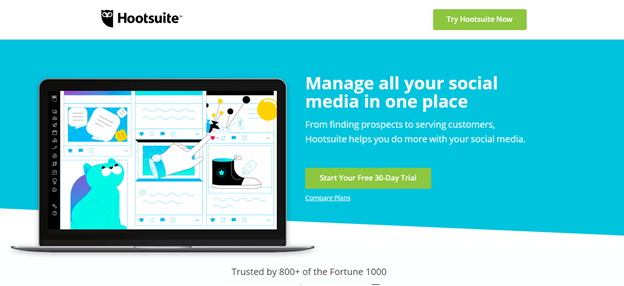 Post Planner vs Hootsuite: Post Planner A Brief Overview
Founded in 2011 by CEO Joshua Parkinson, PR Lead Julie Ben Zaquin, and Advisor Slav Ivanov, Post Planner describes itself as: "The Mad Science of Social Media. Post Planner is our laboratory for social media engagement."
Like Hootsuite, Post Planner also has photos and links providing more information about their management team. Again, this is a nice touch for building credibility and trust with potential customers.
It's a smaller app-based operation than Hootsuite. But, it still has more than 276,000 users creating 181,514,290 story impressions, 2,059,315 daily clicks, and receives 530,621 social media comments. These stats aren't to be smirked at!
Post Planner explains that its algorithm: "turns content curation and social engagement into an art and science. No more long hours spent finding, planning, and posting content." This is what every entrepreneur wants…the ability to take the guesswork out of their marketing strategies.
Its website lists some of its better-known customers, including Digitas, Hertz, Stanford University, Nike, and Microsoft. Again, just like Hootsuite, this is pretty impressive stuff!
Post Planner also promises "100% Satisfaction Guaranteed." When looking at their pricing, you'll even see they promise to be: "the lowest cost, highest performing app on the market." These are pretty strong claims. But, we'll get to the bottom of whether Post Planner hits the mark as we delve deeper into this review.
How does Post Planner work?
Like Hootsuite, Post Planner is also a cloud-based social media tool that provides options for individuals, small, medium, and larger businesses. Businesses can see and predict who engages with their social media activities.
Post Planner also gives customers the tools they need to post or schedule their content, including support for video, photos, and article formats. Customers can store content on their dashboard and opt to repost it automatically (if it gets a lot of traction).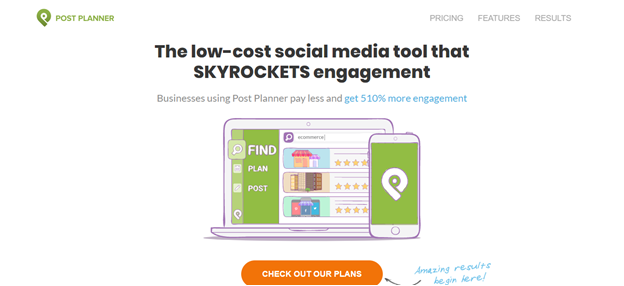 Hootsuite's Most Notable Features
Hootsuite separates its features into "Core features" and "other Hootsuite products."
Let's look at the core features first; they are:
Analytics: Reports on your social media effectiveness
Apps and integrations: 250 technology partners to integrate with
Content curation tools
A social media monitoring tool. This allows you to track who's saying what
You can use the Hootsuite Dashboard to promote your best content
You can plan and schedule your social media posts
You can set employee permissions, protect your brand, and get immediate security alerts
Whereas, the other Hootsuite products include:
Ads: This feature allows you to create, manage, a\\nd optimize Facebook and Instagram ads from Hootsuite's dashboard.
Hootsuite Amplify: This enables employees to securely share company news with their own friends and followers without compromising your company's security.
Hootsuite Insight: Tells you who's talking about your brand and on which platform, using real-time social analytics tools.
Impact: Find out how successful your social marketing is in terms of revenue and engagement. And find out what you need to do to increase your success.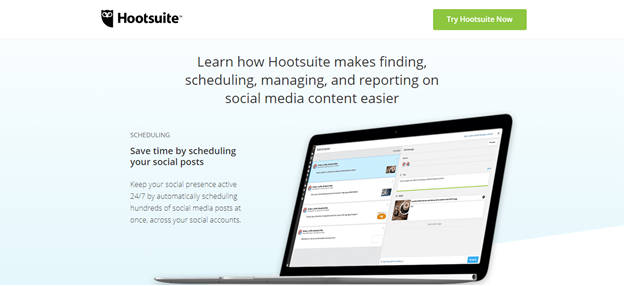 Post Planner vs Hootsuite: Post Planner Features
Post Planner's core features include:
The Post Planner 5-star rating system: This allows you to predict the popularity of content before you post it.
Discover content: Search the Post Planner database and add social content and RSS feeds.
Recommended engine sources provide access to top-performing content across the web.
You can collate your favourite social feeds into what Post Planner calls "Streams."
Post optimization for the specific social network you're publishing to.
You can schedule all your future posts
Recycle feature: Revive top-performing content with just a click.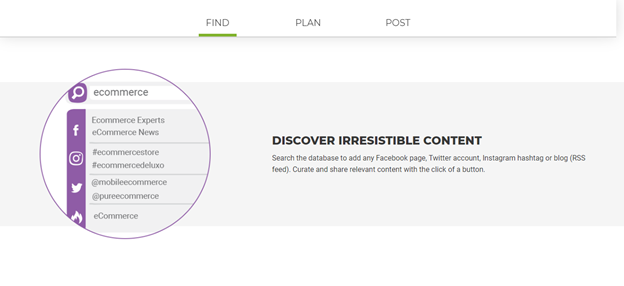 How Much Will Hootsuite Set Me Back?
There are four paid-for plans to choose from, the Professional Plan, Team Plan, Business Plan, or the Enterprise Plan. You get a free 30-day trial with the Professional and Team Plans, and you can request a Demo of the other two. So, rest assured, there's no need to jump straight into the deep end!
The Professional Plan
This costs $19 a month, billed annually. For this you get:
One user
Ten social profiles
Unlimited scheduling social media scheduling tool
Automated post scheduling tool
Key performance metrics
Unlimited RSS integrations
$500 monthly boost spend
In-dash live chat support
On-demand training
The Team Plan
This is best for small teams and costs $99 a month, billed annually. You get everything in the 'Professional' plan, as well as:
Three users
20 social profiles
Custom analytics
Team message assignments
Exportable reports
$2,000 monthly boost spend
The Business Plan
This package is created with small businesses in mind and costs $499 a month, which is again billed annually.
For this you get everything in the previous two plans, plus:
Five users, with a maximum of 10
35 social profiles
Five social media certifications
24/7 priority support
1 hour of 1-on-1 onboarding training
Flexible approval workflows
Option to buy add ons
The Enterprise Plan
This is Hootsuite's most extensive package, so it's best for larger enterprises. If you're interested in this bundle, you'll have to contact Hootsuite directly for a customized quote. It's a bespoke plan, and for this, you get everything we've already covered plus:
Unlimited boost spend
Team productivity reporting
Automated message tagging
Automated team assignments
Live training for the entire team
The option to buy these add- ons:
Paid and organic ROI reporting
Competitive benchmarking add-ons
Single Sign-on (SSO)
Social selling
Employee advocacy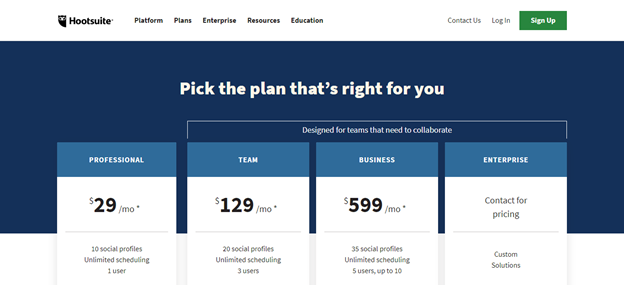 How Much Will Post Planner Set Me Back?
Post Planner says you can "get started for the price of a Latte!" which is pretty enticing. There are six paid-for plans to choose from. The first three are better for small businesses and the other three for larger enterprises.
Please note: All these prices are based on annual billing.
The Starter Plan
This costs $3 a month, and for this you get:
One user
Three social accounts
30 daily posts
300 posts planned
Content discovery engine
Star rating Algorithm
Recycle top content
Social management dashboard
Custom post plan
Social media analytics
The Love Plan
This jumps up to $9 a month, and for this, you'll get everything in the 'Starter' plan, plus:
Ten social accounts
100 daily posts
1,000 posts planned
Canva Design Editor
The Guru Plan
This is priced at $19 a month, and provides everything in the previous two packages as well as:
Five users
25 social accounts
500 daily posts
Bulk Scheduling
The Master Plan
This leaps up to $49 a month and is billed annually. For this you get everything we've already covered, plus:
Eight users
1,000 daily posts
Unlimited posts planned
Content discovery engine
Organic post targeting
The Agency Plan
This is the penultimate package and costs $99 a month. This entitles you to 12 users, 2,000 daily posts, and everything in the 'Master' Plan.
The Venture Plan
Last but not least, we have Post Planner's most expensive bundle, priced at $199 a month. For this, you get 26 users, 5,000 posts, plus everything in the 'Master' Plan.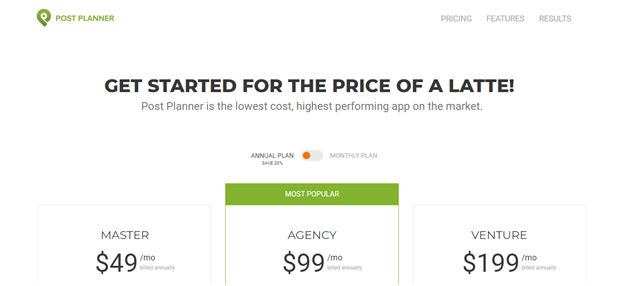 Hootsuite's Customer Support
Hootsuite provides multiple ways for you to get in touch with them if you need support. Obviously, they're going to have social accounts, and indeed they encourage users to get in touch via Twitter or Facebook for 24/7 support.
They also run multiple Twitter accounts providing general updates in Latin America, Spain, Germany, France, and Italy. As well as separate Twitter accounts for different subject matters. There are handles for Help, HootCommunity, Hootsuite Business, Hootsuite Life, Hootsuite Mobile, and the Partner Program.
Hootsuite is also active on Instagram, Pinterest, LinkedIn, and YouTube.
For immediate help, you can click the Help option on their website. This takes you to informative articles on popular topics like their "Quick start guide," "Publish directly to Instagram," and "Add social networks." It's where you'll also find information on essential updates LIKE "Updates to analytics" and "Access restrictions for non-secure browsers."
For your convenience, we've listed Hootsuites other customer service channels below:
Webinars: Watch industry experts outline popular topics such as social marketing, social selling, social ROI and brand protection
Hootsuite Academy: Here you can find tons of free online courses
What's new: Where you'll find info on all of the newest features and latest Hootsuite improvements
Blog: For content providing social media tips and advice
Resource library: Here, you'll find free resources including real-life case studies of Hootsuite success stories and strategy articles with titles like: "Making Search and Social Ads Work Together" and "Unlocking the Value of Social."
Leaving learning and strategy to one side, for day-to-day operational help, there's the aforementioned Help Center and a "Get Support Now" button. Just enter your email address and a brief outline of your question and ping your query over.
Post Planner's Customer Support
There's a Support section where you can type in your question or problem. This includes Troubleshooting and Tech FAQ's, addressing topics like "How to Reset and Update your App," "Adding a Team Member Who Has Their Own Post Planner Account," and "Why Content Isn't' Posting to Facebook."
There are FAQs on other subjects such as: "Getting To Know Post Planner," "Managing Team Members," and "Profile and Settings." If you can't find the answers you need, there's a "Contact Support" button you can click on their website, where you can email Post Planner's customer care team. They usually respond within two hours.
There's a user-friendly blog where Post Planner provides "thought leadership in daily doses" or, what it calls: "Sharing our Lego."
Blog posts are segmented into numerous categories, including "Twitter, Facebook, Social Media Tips, Social Media News, Content Marketing, Infographics, Instagram, Tools, Tutorials, and Case Studies."
Post Planner also has a social presence on Twitter, Facebook, Pinterest, LinkedIn, Google+, YouTube, and Instagram.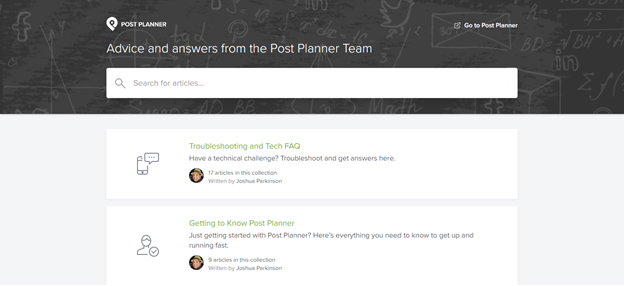 Hootsuite's Pros and Cons
Here's a quick list of Hootsuite's main advantages:
Their free trial is a generous length
They provide excellent customer support options, including extensive training if you take out one of their more expensive plans
Free online training for all users
Analytics reports
The dashboard is easy to navigate
No extra software needed
Integrates with a wide range of social channels
Large library of apps
But, the drawbacks, in our opinion, include:
You're tied to a limited choice of URL shorteners
The higher the number of team members you want to add, the more it costs
Only the more expensive plans get 24/7 support
Costs add up if you're on a cheaper program and need to buy in extras
No refunds for fees related to Hootsuite accounts and add ons
Post Planner's Pros and Cons
Here are some of the best things about Post Planner:
It's incredibly cheap for smaller businesses and inexpensive for larger enterprises
Free Pro App for life
Transparent FAQ's including info on how to cancel your subscription
Informative blog
Full refund for the first 30 days
But, the main drawbacks are:
There's inadequate information on their website about their features
Fewer features are available on the cheaper plans
You can only register one user on their two most affordable plans
No free trial
Post Planner only supports Facebook and Twitter, but there are plans to add Pinterest, LinkedIn, and Google+ soon
Users report slow response times to their queries
No refunds past 30 days
Hootsuite's Technical Details
It's cloud-hosted and supported on Android, iPhone, iPad, Web-based, and Windows mobile devices.
Post Planner's Technical Details
Again, it's cloud-hosted and supported on Windows, Mac, and web-based devices, including smartphones. However, Post Planner openly states in its Help Center that it: "Works best using a Desktop / Laptop and not on any mobile device (iOS/ Android)." We currently have certain limitations on both platforms."
Post Planner vs Hootsuite: What Do Others Have to Say?
Hootsuite's website points to four main awards they've won in recent years.
LinkedIn ranked it #3 of the top 25 companies to work for in Canada.
G2 Crowd places it as a "leader in the categories" of "Brand Advocacy, Employee Advocacy, Social Media Suites, Social Media Management, Social Media Monitoring, Social Media Analytics."
Forrester awarded it a "New Wave Leader 2019" award for its Sales Social Engagement Tools.
In 2018, Adobe gave Hootsuite the "Adobe Experience Cloud Exchange Partner of the Year" award.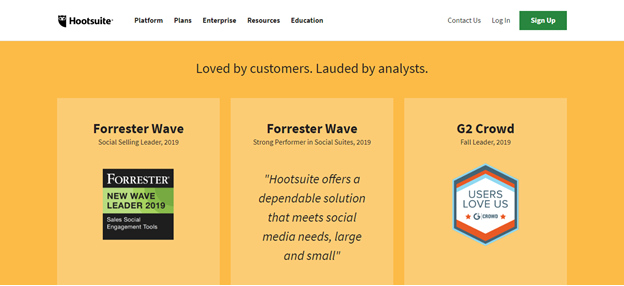 That aside, Hootsuite is generally well-reviewed by its users, as a quick Google trawl will tell you, gaining four or 5-star reviews for user satisfaction across many sites. However, in the UK, Trustpilot reviews are less generous. Some users complain about being charged earlier than anticipated once the free trial was over. Other concerns were over the little (or no) info available about how to cancel their subscription.
Where Post Planner is concerned, again, a quick scour on Google shows they aren't as hot on their user reviews. But their customers report that they like being able to schedule their posts, but don't enjoy being limited to only two social sites. There were also complaints about billing, cancellation, and the overall quality of their customer support.
However, its website tells a different story. You can see its testimonials page has customers' success testimonials-a-plenty. Customers who have a positive experience, are invited to tell it to Post Planner, who then features the customer's account and profile on their testimonials page.
What About Engagement?
The Post Planner site highlights the results of an interesting Buzzsumo and Buffer study. When they analyzed 500 million Facebook posts and looked at which software platforms provided the most social media engagement, Post Planner generated 510% more engagement. This was in comparison to Buffer, Sprout Social, Edgar, Hootsuite, and CoSchedule, in that order.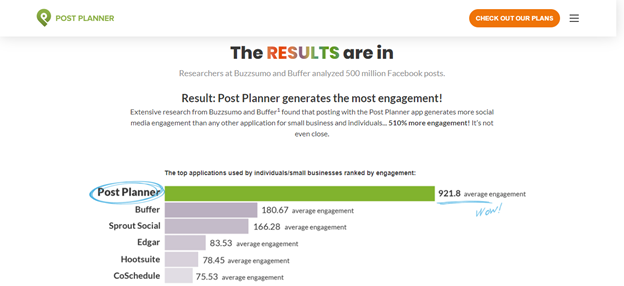 Although Hootsuite is probably one of the most famous tools on the market for posting on Facebook, it isn't according to Buffer, one of the top four tools used by Enterprises. Those honours go to Adobe Social, Spredfest, Sprinklr, and SocialFlow.
Post Planner vs Hootsuite Frequently Asked Questions
Can I Change the Link Shortener?
Every time you add a post, your Post Planner account will automatically shorten the links. The Bit.ly is not changeable with Post Planner.
Does HootSuite have analytics?
Once your Hootsuite accounts connected to the Dashboard, Analytics data begins to be collected. This applies with the Professional, Team, Business and Enterprise accounts.
Does Hootsuite store my password?
With Hootsuite, you will never have to worry about your privacy being compromised. Your password will never be saved or stored and our team will never ask you for it.
Which to go for Hootsuite or Post Planner?
If you're a small business with definite ideas and you don't want to go beyond Facebook and Twitter, then Post Planner is a no-brainer. If, however, you have broader needs outside of these two social sites, you'll struggle with Post Planner until it catches up with Hootsuite in terms of which networks it integrates with.
If cost is your primary consideration, then Post Planner has cheaper packages to choose from as you start-up. Then, if you need to, you can upgrade to one of their more expensive plans later on.
But, the level of support you get with Hootsuite far outstrips what Post Planner offers. We also felt Hootsuite's features were more extensive (presumably, that's why it costs more) and were easier to understand.
Post Planner's site didn't offer enough information on each feature. From what we can tell, the main advantage of Post Planner's costlier plans is in the number of users you can register, social accounts you can integrate with, and the daily post limits.
In short, if you're an entrepreneur with almost no budget and think your needs will be met with software that helps with your Facebook and Twitter usage, Post Planner is the way to go. If, however, your business wants to extend its reach, then Hootsuite may be worth shelling out for if you have the money.
When looking up both site's policies on refunds, in neither case was it supremely easy to find out information. It's there, but you need to really look for it. We certainly think anyone investing in a social media marketing tool should read the small print, no matter how much you plan to spend. This is especially true as most billing is done in advance and annually…and no one wants to be out of pocket.
We hope we've provided enough information to digest and think about before you choose the right software for your marketing needs. Let us know how you get on in the comments box below. We would love to hear your thoughts on these social media marketing tools. Speak soon!
Further reading: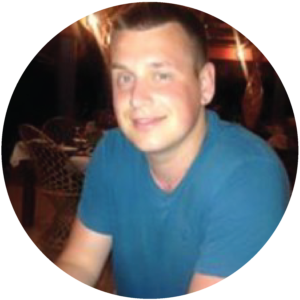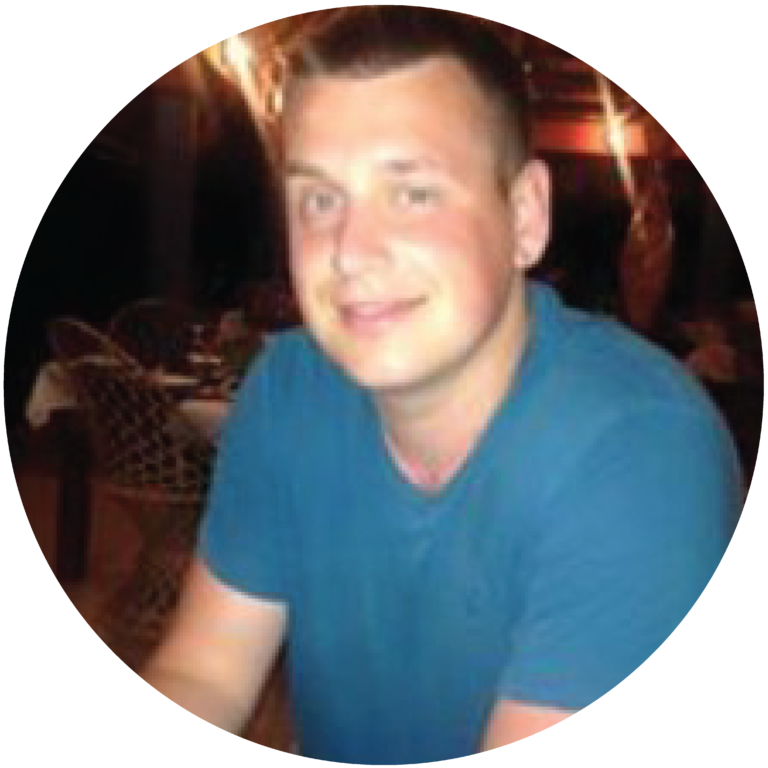 Latest posts by Ewen Finser
(see all)