Last Updated on April 22, 2023 by Ewen Finser
If Swyft Filings vs LegalZoom was a popularity contest, LegalZoom would obviously win the battle hands down. There's no question about it.
But, here's the thing. Swyft Filings vs LegalZoom isn't a one-rounded battle. Instead, you should think of it as a war since a single factor would not be enough to compare the two.
Bottom Line Up Front Summary: There was a time when LegalZoom disrupted the legal industry, now the tables have turned. The cheaper, faster, and easier to use system is definitely Swyft Filings here.
Main Differences Between Swyft Filings vs LegalZoom
The Main Differences Between Swyft Filings vs LegalZoom are:
Swyft Filings was founded in 2012, whereas LegalZoom was founded in 2001
Swyft Filings targets small business, whereas LegalZoom specializes in various corporate law issues
Swyft Filings is very easy to use and perfect for people without experience, whereas LegalZoom process can be faster but a little trickier to start
Swyft Filings pricing is very uniform, whereas LegalZoom prices vary and tend to be more expensive
And although LegalZoom registered agent is seemingly more renowned, Swyft Filings is certainly not a pushover. It's also a well-acclaimed formation service that continues to serve numerous businesses across all the states.
Speaking of which, the services we're talking about here are not limited to business formation (particularly LLC formation). Both LegalZoom and Swyft Filings go beyond incorporation to provide additional solutions for supporting businesses over the long haul.
So, which one does the job better?
Well, that's precisely what these Swyft Filings vs LegalZoom comparison review is all about. We've tried out a wide range of solutions from both providers to help you settle the debate once and for all.
So, stick with me and you'll get detailed insights into their business formation packages, service features, business entity management solutions, overall ease of use, as well as their corresponding package pricing. The goal here is to help you determine the business service provider with the best balance of pricing and package features.
And to start us off, here's an overview of each online legal service…
Swyft Filings vs LegalZoom – Registered Agent Overview
Swyft Filings Overview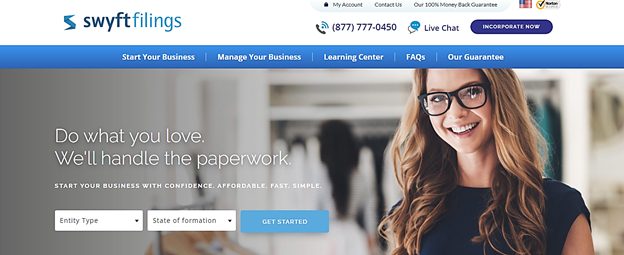 Considering it was founded in 2012, Swyft Filings isn't exactly as seasoned as LegalZoom and many other established business service providers.
But, don't let that fool you. Swyft Filings is anything but a novice. The attorney who started it has seen the company grow to become a powerhouse in business incorporation, compliance maintenance, LLC filing, corporate filings, registered agent services, drafting of operating agreements and corporate bylaws, preparation of corporate business minutes, tax filing (whether pass-through taxation or not), articles of organization filing, etc.
So, in short, Swyft Filings is all about helping you with business formation, registered agent services, plus compliance matters. It particularly targets small businesses, which subsequently entrust the bulk of their compliance paperwork to the service provider while they focus on their core operations.
And going by the customer reviews we've sampled online, Swyft Filings is proving to be quite a favourite in all business industries. So far, it enjoys tens of thousands of positive reviews from its past and current clients, who've predominantly given it 4-5 stars.
LegalZoom Overview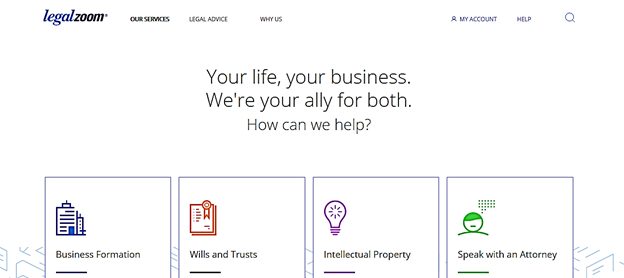 Unlike Swyft Filings, LegalZoom can be said to be an industry veteran. It has been around since 2001, which translates to two decades' experience.
And for all those years, LegalZoom has been helping businesses with formation, management, as well as compliance filing. It remains one of the top service providers of registered agent services, business incorporation paperwork, trademark registration, creation of custom legal documents, legal consultation, tax consultation, operating agreements, articles of organization, plus much more.
Combined, these packages have attracted over four million businesses so far, and 25% of them were incorporated through LegalZoom's business formation services.
And in case you're wondering, the company is called LegalZoom because it heavily focuses on the legal aspects of business formation plus compliance. In fact, it's one of the few registered agent service providers with a large in-house team of lawyers. Clients even get the privilege of consulting them one-on-one regarding various corporate law issues.
That said, customer reviews on the web give LegalZoom a clean bill of health. Although you'll find a couple of one-star ratings here and there, the majority of LegalZoom's clients have given it a solid 4-5 star rating. That places it in the same league with the likes of Swyft Filings.
Swyft Filings vs LegalZoom – Main Features
Registered Agent Ease of Use
Swyft Filings Ease of Use
One thing you'd expect from a company that goes by the name "Swyft Filings" is a seamless experience with jobs getting done quickly.
Well, it turns out that's exactly what the company delivers. Getting started here, to begin with, is fairly easy and straightforward. Signing up entails selecting a service package along with its preferred add-ons, filing in your business and personal details, then proceeding with the formation process.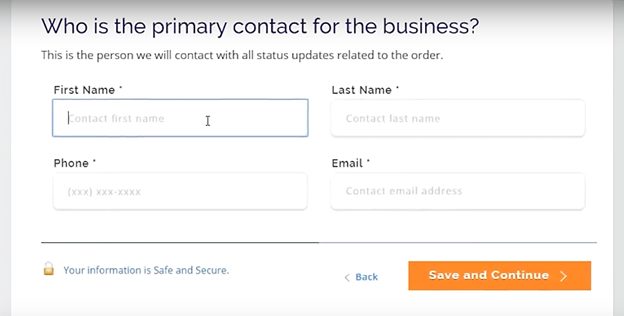 Overall, it should take you about 8-15 minutes to complete all the stages of business formation. Swyft Filings' system is pretty straightforward, and you shouldn't have any trouble figuring things out. Even novice users who've never formed a business before will have an easy time here.
The only problem is, Swyft Filings will probably hit you with a couple of upsells along the way. So, checkout could take you a bit longer than you might presume. And come to think of it, I had to go through about 12 pages to complete my first order.
On the brighter side, however, at least the dashboard you'll get after all that is fairly neat and well-designed. And apart from providing quick and convenient access to all the principal service orders, it helps you track ongoing processes, including your filing status.
Well, speaking of which, Swyft Filings won't cut ties with you after business formation. It will proceed to assist your business with the subsequent compliance requirements, so you can finally get everything up and running.
Then to help you figure out the compliance basics, Swyft Filings comes with an extensive library of relevant resources. You'll find a rich array of articles and guides about incorporating a business, state and federal compliance, managing a business, selling or ending a business, etc. It essentially provides all the information you might need along the way.
LegalZoom Ease of Use
Signing up on LegalZoom is very different compared to Swyft Filings. While Swyft Filings uses the standard system where package selection comes first, LegalZoom chooses to apply the inverse approach.
You begin by typing in your details, after which the system directs you through a couple of seemingly pricey upsells, and then package selection comes last. The entire process can be confusing at times, and you might end up with a rather costly bill of items during checkout. So, you might want to hold off adding the upsells for the time being.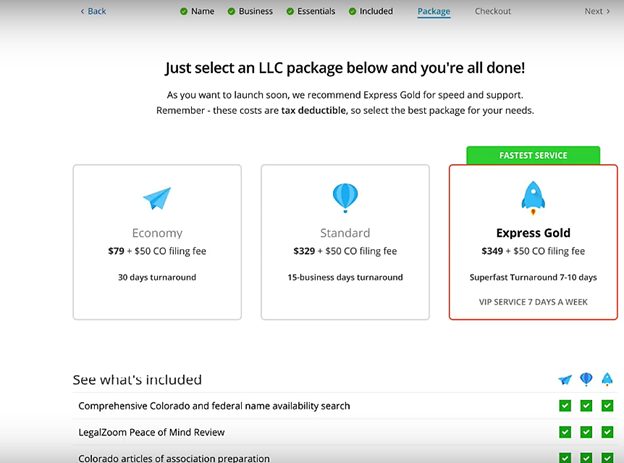 Ultimately, you should be done with the checkout process in about 15-20 minutes. But, in the event you fail to proceed to the end, LegalZoom will shoot you an email with a link you could use to resume. You'll find all your information to form and maintain an LLC or corporation intact and the system ready to pick up from where you had left off.
Now, another notable thing about LegalZoom is that the overall system structure varies based on the type of business you intend to form. Corporations and LLCs (limited liability company) don't follow similar application paths. And that translates to different user experiences.
But, all in all, LegalZoom is fairly easy to use. Its dashboard allows you to not only coordinate and track your business processes but also view the accompanying documents plus filings. Every single functionality is pretty straightforward and you should be able to proceed smoothly right off the bat.
LegalZoom vs Swyft Filings Ease of Use Verdict
Well, I'd say it all comes down to user preferences. Both LegalZoom and Swyft Filings offer their legal services through simple, well-built dashboards that are accessible from any web-enabled device. Plus, it takes you roughly the same amount of time to get started, and you should be able to find your way around without technical assistance.
However, that notwithstanding, I guess I'd pick Swyft Filings over LegalZoom purely because of how it has structured the registration processes. Swyft Filings lets you determine your package costs before anything else, while LegalZoom could trick you into picking extra stuff way ahead of the actual package selection.
Business Formation
Swyft Filings Business Formation
While the bulk of Swyft Filings' clients are probably LLC businesses, the company happens to support multiple types of formations.
In essence, you could use its tools and expertise to register either an LLC, a C-Corporation, an S-Corporation, a DBA, or a Nonprofit organization.
Well, by now, I bet you can tell the differences between these business structures. But, no worries if they seem confusing. Swyft Filings tries to make everything much easier for you through its incorporation wizard. You could use it to establish the most suitable type of business based on your specific needs.
But, whichever you pick, Swyft Filings' package pricing is uniform. All types of entry-level business formation services, for instance, start at $49 plus the accompanying state fee (State Filing Fee).
Then once you've paid, this package gives you the benefit of running a business name search, using Swyft Filings' dashboard to access your incorporation documents, as well as leveraging lifetime customer support via phone and email.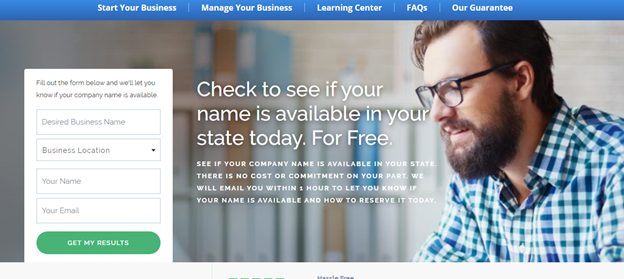 In the meantime, Swyft Filings agents will prepare your articles of organization, file your documents with the secretary of state, and advise you accordingly about tax compliance. Then to top it off, the company throws in a free domain name, which should help you set up an online presence for your business.
Now, the name search process should be fairly easy, thanks to Swyft Filings' responsive team. They'll swing into action and comb through the business registrations in your state to confirm whether your preferred business name is available.
And if it turns out to be available, you'll go to the next stage, which entails the preparation and filing of your articles of organization. Swyft Filings' agents will draft your required LLC formation documents or corporation formation documents (any entity business formation service) before handing them over to the Secretary of State.
You won't have to wait for long though, because thankfully, Swyft Filings will expedite the state process. What's more, the company promises to file your documents within one business day.
In the end, the overall waiting period depends on the type of business you're forming, the expedition service you've paid for, plus your state's business registration framework.
Entry-level users get the standard expedition service, which translates to a waiting period of about 7 to 30 days. But, if you'd like to speed things up, an extra charge of $85 qualifies you for the express expedition service. That should cut down the business formation time to 2-20 days.
Now, when the state eventually confirms the formation, Swyft will give you a signed and dated statement of the organizer or incorporator. That alone should identify you as the company's principal authority, a distinction you'll require when opening a business bank account.
Don't get too excited though. Opening a business account at this stage won't be possible. You can only proceed after obtaining a federal tax ID in the form of an Employer Identification Number (EIN).
LegalZoom Business Formation
Turns out the business formation process on LegalZoom is strikingly similar to Swyft Filings', with only a couple of minor differences here and there.
Take the entry-level package for instance. Just like we've seen with Swyft Filings, LegalZoom combines several legal services to form a holistic business formation package.
It offers a business name search, the preparation, and filing of the articles of organization, access to the compliance dashboard, lifetime customer support, as well as a corresponding banking authorization letter.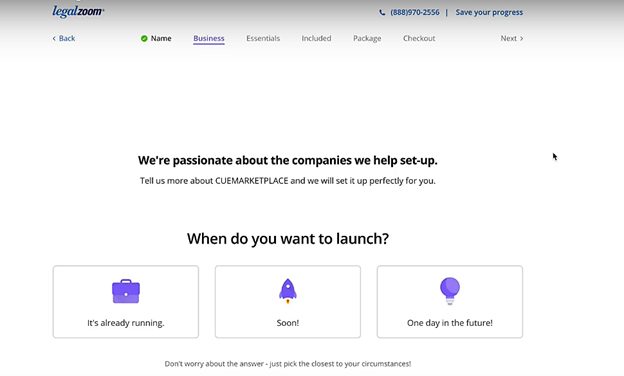 And for the sake of clarity, LegalZoom's banking authorization letter and Swyft Filings' statement of the organizer refers to one and the same thing. They both come in handy when you need to open a business account.
You might also notice that LegalZoom comes with what it calls a compliance guide. It's intended to help you understand your state's compliance legislation. Hence, it serves more or less the same function as Swyft Filing's compliance alert tool.
However, the similarities don't end there. When it comes to the actual business formation procedure, for instance, you'll notice LegalZoom is not that different after all. It'll take you through a business name search, after which its team of agents will proceed to prepare your company's articles of organization. Then finally, all the documents will be filed with your state's Secretary of State.
Make no mistake though. LegalZoom isn't completely identical to Swyft Filings. And one of the most notable differences is the package pricing.
While Swyft Filings charges you $49 plus the state application fees for business formation, LegalZoom stretches the cost to $79 exclusive of the state application fees.
Then get this. Despite the higher costs, LegalZoom leaves out expedition privileges from its entry-level business formation package. So, you'll have to patiently cope with the state's normal processing times.
Sadly, the only way out is purchasing its top-tier package for $349 plus the state fees. This could subsequently cut down the turnaround time to 7-10 business days.
LegalZoom vs Swyft Filings Business Formation Verdict – (Winner: Swyft Filings)
Admittedly, LegalZoom and Swyft Filings are both doing a great job of facilitating business formation. Apart from accommodating all types of business, they offer business name search, the preparation, and filing of articles of organization, lifetime customer support, compliance guidance, plus the issuance of a banking authorization letter.
But then LegalZoom loses out to Swyft Filings when it comes to the overall turnaround time. While the latter speeds up the process for entry-level users, LegalZoom holds off its expedition capabilities. Only top-tier users can take advantage of that.
Then to make matters worse, LegalZoom will charge you $79 in addition to the state formation fees, while Swyft Filings maintains $49 exclusive of the state fees.
So, it's no secret that Swyft Filings' business formation package offers more value.
Business Management Services
Swyft Filings Business Management Services
Since business formation is just the beginning, Swyft Filings follows it up with additional services that are meant to get your business up and running, as well as maintain compliance for the long haul.
One thing that will certainly interest you here is the EIN application service. Yes, that's right, Swyft Filings will handle the federal tax paperwork for you, and subsequently get you a valid Employer Identification Number.
Well, if you've done this before, then you know the IRS doesn't charge anything for the EIN number. But, here's the kicker- the process isn't as simple as you might think. It takes a lot of trouble, which Swyft Filings will gladly save you from for an additional charge of $79.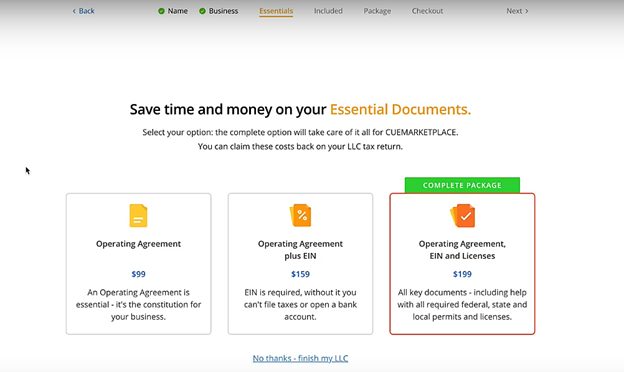 Eventually, you'll need that number to open a business bank account, as well as file your taxes. So, of course, you won't be able to operate a legal business without one.
Other than that, Swyft Filings provides what it calls a "Customized Digital LLC Kit". You can think of it as a collection of digital tools that help your business maintain compliance.
Among them is an ownership ledger, which comes personalized for your business. Swyft Filings specially designs it so you can document all the transfers of ownership (business owners).
And speaking of which, you'll also find 20 customized stock certificates in the kit. They come in handy when you need to issue the founding team of shareholders their ownership documents.
Then to help you mark all your formal documents accordingly, Swyft Filings completes the kit with a customized digital company seal. An ideal one should indicate not only the company's name but also its formation state and year.
Compliance assistance doesn't end with the kit though. You can also get an operating agreement, which essentially refers to a legal document that stipulates each stakeholder's managerial and financial rights. And most importantly, it protects you from being personally answerable for the company's liabilities.
What's more, you'll need the operating agreement along with your business' articles of organization to legally proceed with your organizational meeting, which should essentially mark the first formal meeting between the founding members.
And to help you set it up perfectly, Swyft Filings further gives you a custom minutes template, which takes into account all the fundamental compliance matters.
Then finally, Swyft Filings top off its set of compliance tools with registered agent services. That means it'll grant you an official business address for receiving as well as filing state and federal compliance documents.
Then upon reception, every single document addressed to you is uploaded to your dashboard, from where you can access, download, and respond accordingly.
Come to think of it, this is the point where you might consider supplementing your registered agent services with Swyft Filings' compliance filing services.
This move alone would save you the trouble of filing annual reports, amendments, initial reports, name changes, business license applications, and company conversion. Swyft Filings would, instead, handle all the filings on your behalf.
LegalZoom Business Management Services
LegalZoom happens to also be a very dynamic business management service provider. It goes beyond the standard solutions to provide all the principal complementaries with your business might need to remain compliant within the jurisdictions it operates.
Selling permits and licenses, for instance, should be easy to get if you leave the whole application process to LegalZoom's professional agents. This is one of the services that LegalZoom offers as part of its essential documents kit.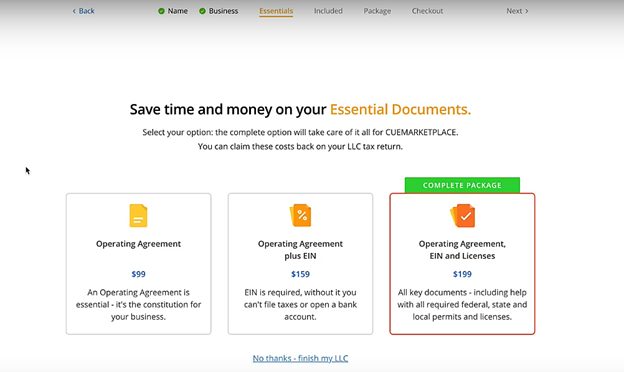 Another document you'll find included in the kit is the operating agreement. LegalZoom's team of experienced attorneys can draft a pretty comprehensive agreement based on your company's setup.
The other thing they could help you with is, of course, applying for an Employer Identification Number. They usually liaise with the IRS to provide companies with valid tax ID numbers as soon as the business formation process is concluded.
But, that's not all there is to tax service. Since filing business taxes can be a daunting task, LegalZoom tries to ease the burden through various solutions.
More specifically, it has partnered with an agency called 1800-Accountant, which is renowned for its small business tax expertise (great for a small business owner who needs more general legal advice and customer service akin to a traditional accountant or lawyer).
Legal Zoom will link you up with its team of tax experts and business specialist advisers, who'll then analyze your business accordingly, before providing valuable professional advice on various issues related to state and federal tax.
You might also want to try out LegalZoom's compliance assistance package, which perfectly covers all the critical federal and state reports. So, in a way, purchasing it means you won't be struggling to keep up with your compliance calendar. Instead, the team at LegalZoom will prepare and file your company's annual reports, along with the corresponding initial reports, plus any other corporate record requirement.
Now, in the meantime, you could nominate LegalZoom as your registered agent service. That will consequently authorize it to receive state and federal correspondence documents on your behalf, after which they could then be forwarded to you.
And just like Swyft Filings, all the documents here are scanned and quickly uploaded to their respective recipients' dashboards.
That said, the one area where LegalZoom is particularly specialized in is legal affairs. It is, in fact, a leader in corporate law matters, thanks to its extensively knowledgeable team of professional attorneys. You're free to consult them on any legal issues affecting your business.
And that's not all. They also review legal documents like consulting services agreements, independent contractor agreements, non-disclosure agreements, etc. Plus, they can assist you with trademark registration, copyright registration, property wills, and much more.
LegalZoom vs Swyft Filings Business Management Services Verdict (Tie)
We commend LegalZoom and Swyft Filings for providing all the basic supplementary services you might need to get your company up and running, as well as sustain it going forward. Apart from EIN tax ID number application, they are capable of assisting you with drafting operating agreements, monitoring compliance issues, filing annual reports, initial reports, and amendments, obtaining the necessary business permits and licenses, etc.
Now, when you compare the individual services, Swyft Filings turns out to be much cheaper than LegalZoom. But, the contest doesn't end there. LegalZoom seemingly makes up for that by providing a heck of a lot more services than Swyft Filings. It stretches way beyond the boundaries of other service providers.
So, in all fairness, it's another tie between the two.
Swyft Filings vs LegalZoom – Pricing

Basic – The Basic package will cost you $49 exclusive of the state formation fees. Some of the resultant privileges include shipping and handling, standard process expedition, a free domain name, ComplianceGuard company alerts, a free 30-minute business tax consultation, lifetime customer support over phone and email, online access to your incorporation documents, a free statement of the organizer, document filing with secretary of state, preparation of articles of organization, plus a name availability search.
Standard – For $149 along with the state formation fees, the Standard package combines services on the Basic package with a custom organizational meeting minutes template, a custom banking resolution, a custom LLC operating agreement, plus federal tax ID (EIN) application.
Premium – The Premium package adds $299 to your state formation fees. And for that, you get all the Standard package features plus shipping via FedEx with a tracking number a free website and 3 months of free web hosting, and ownership ledger, 20 customized stock certificates, a customized digital company seal, as well as electronic delivery of state documents.
LegalZoom Pricing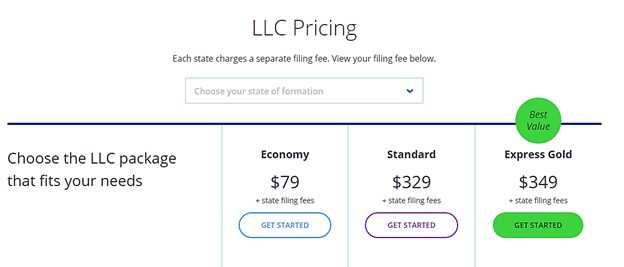 Economy – The Economy package costs $79 plus the additional state formation fees. This gives you a financial account authorization letter, lifetime customer support, a personal review of your order, step-by-step instructions to review your LLC documents, articles of organization, plus name check and business filing.
Standard – The Standard package will cost you $329 plus the state formation fees. It offers faster internal processing of orders, 20 personalized company membership certificates, a custom deluxe organizer, a financial account authorization letter, lifetime customer support, an official company seal, a personal review of your order, step-by-step instructions to review your LLC documents, articles of organization, as well as a name search and business filing
Express Gold – Express Gold is the costliest package and it will set you back $349 in addition to the state formation fees. This qualifies you for express shipping, expedited order processing with the secretary of state, faster internal processing of orders, 20 personalized company membership certificates, a custom deluxe organizer, a financial account authorization letter, lifetime customer support, an official company seal, a personal review of your order, step-by-step instructions to review your LLC documents, articles of organization, as well as a name search and business filing
Frequently Asked Questions:
Swyft Filings vs LegalZoom – The Ultimate Verdict
Let's now face the facts about the Swyft Filings vs LegalZoom registered agent showdown…
Well, for one, we can agree that it's been a very close race between both formation service options. Swyft Filings and LegalZoom are both fantastic service providers for registered agent services, business formation, and compliance management. Plus their systems are remarkably easy to use, with fairly quick turnaround times.
However, the turnaround battle has been won by Swyft Filings. It has an edge over LegalZoom because it expedites business formation processes for every single client, including entry-level users.
It doesn't stop there though. Swyft Filings further outshines LegalZoom in pricing and service value. It's considerably cheaper when it comes to both business formation and business management services.
But, don't make the mistake of writing off LegalZoom. While it's fairly costlier, its extensive experience pays off in business management. It has managed to specialize in a much wider range of services, all of which are very relevant to small businesses in the U.S.
Read my full Swyft Filings review for further information.
Well, what would you'd go for – services with value or all-round services?
Further Reading on Registered Agent and LLC Formation Service Options [Swyft Filings Alternatives]: