Last Updated on January 15, 2023 by DMEditor
In our Crowdfire review we will discuss key features, pros, cons, and factors to consider.

Are you looking to attract more customers via social media? Or do you want to grow your online following? Perhaps you're looking for a better ROI on your social media marketing campaigns?
Either way, if you relate to any of the above scenarios, you'll need a reliable and easy-to-use social media management tool.
Cue, Crowdfire.
This is one of many tools on the market, boasting the features you need to manage and automate your social media marketing tasks.
But, to ensure this software is the best possible match for your needs, we're going to review this tool thoroughly. That way, you can make a more informed purchasing decision.
Does that sound good to you? Great. Then let's delve straight in.
Who's Crowdfire?
First things first, let's take a brief look at who Crowdfire actually is and what they do. They've been around for years, and during that time, they've certainly evolved and fine-tuned their services.
By this we mean, features have been added and taken away. So as you can imagine, there are tons of reviews on the internet that are out of date. But, never fear, you'll only receive the best possible info in this article!
Depending on how long you've been in the digital marketing game, you might already know that Crowdfire was once called JustUnfollow. One of its major selling points was that users could follow tons of media accounts in one go. The theory is that some of these people would follow you back.
Then, you could keep an eye on who hadn't followed you in return…and subsequently, unfollow them. But, over the last year, Crowdfire has distanced itself from these 'spammy' style tactics and got rid of the follow/unfollow functionality from its feature list.
As we touched upon in the intro, Crowdfire is a social media management app that provides users with tons of features to help manage and schedule social network content. Crowdfire boasts seamless integrations with all of the following social networks: Twitter, Pinterest, Instagram, Facebook, LinkedIn, YouTube media accounts.
Crowdfire also integrates with platforms like WordPress and Twitch, as well as several other media accounts. So, it doesn't matter where you want to grow your online presence, there's a good chance Crowdfire has the tools you need to help.
It's not just the scheduling and posting of media Crowdfire handles. You can also study the reports and analytics Crowdfire produces to get a better feel for which content types (media) and campaigns do the best.
Now that we've taken a broader look at who Crowdfire is let's take a closer look at the more specific features on offer…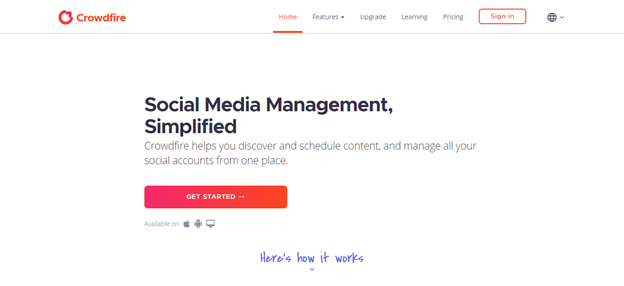 Crowdfire Review: Key Features
Crowdfire boasts a massive list of features, some of which we've already hinted at. But, for your ease we've listed the most notable hallmarks here:
You can link to lots of different social media accounts, track mentions, and your private messages, all from the convenience of one place.
You can queue and schedule content for automatic posting.
Access tools that help you discover relevant and engaging third-party content (this is amazing for upping your content curation game!).
Advanced analytics and reporting, so you can track the success of your social media strategies
Support for multiple users who need access to one account (this comes in handy for teams and agencies).
Tools to help you monitor the performance of your competition.
There's both an iOS and an Android app available. So, you can use Crowdfire to manage your social media accounts from wherever you are — great for busy entrepreneurs on the go!
Unsurprisingly, not every feature we've listed here is available across all pricing tiers. This leads us nicely onto our next section…here's how much you'll have to shell out for Crowdfire.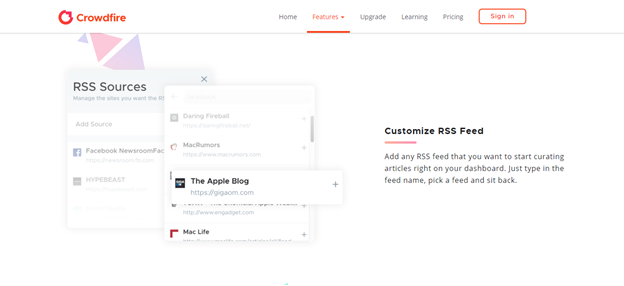 Crowdfire Review: How Much Will Crowdfire Set You Back?
There are a few pricing tiers for you to choose from, pitched to suit a variety of needs and budgets, so let's see if there's a package that accommodates your business…
You'll be relieved to hear, Crowdfire works on a "freemium" pricing model. Yes, you heard correctly, there's a completely free version available here!
But, as we've already hinted at, the free version doesn't boast Crowdfire's full suite of features. So, if you're using this solution for professional purposes, you'll undoubtedly experience a few limitations. For instance, you can only do ten scheduled posts per account.
Our best advice is to make good use of the free version Crowdfire offers, it's by far the best way to get a feel for the product. It's also a handy tool for sharing small bursts of content across multiple social networks.
But, when you're ready to take your social media strategy seriously (or once you've got a better grasp of what Crowdfire provides), you'll need to upgrade your account to a paid-for subscription.
The Plus Package: $7.48 a Month (When Paid Annually)
This is what you'll get with the 'Plus' package:
You can link to two accounts per social media network
You can schedule 100 posts per account
Access to a Chrome extension to share articles
A custom posting schedule
Support for video posts
You can connect up to five RSS feeds
Hashtag recommendations
Support for posts containing multiple images
Auto-tailored posts for each network with a preview function before posting
An ad-free experience on mobile
Social analytics displaying 30 days worth of data
Advanced analytics showing 90 days worth of data
Access to post analytics
Access to an unlimited number of articles recommendations for topics relevant to your audience (a content curation tool).
Access to an unlimited number of image recommendations to you to help you grow your Instagram and Pinterest profiles.
The Premium Plan: $37.48 a Month (When Paid Annually)
This is best suited to medium-sized businesses and includes everything in the 'Plus' package, as well as:
You can link to five accounts per social media network
You can schedule posts in bulk and use a 'Calendar' view to plan your content.
Connect up to 15 RSS feeds
Track mentions on both your Twitter and Facebook accounts inside of your team inbox. You can reply to all these mentions with images and gifs.
Access to competitor analysis. By this, we mean, you can compare critical metrics for up to two competitors per social account.
You can add and manage one company profile
You can add and manage one team member
Access to email support
The VIP Plan: $74.98 a Month (When Paid Annually)
This is Crowdfire's most extensive plan, so unsurprisingly, it's best for larger businesses and agencies. This is probably why the leap in cost is so substantial, you'll get everything in the previous two bundles, plus:
You can link to 50 accounts per social media network
You can schedule 800 posts per account
Connect up to 25 RSS feeds
Access to competitor analysis for up to 20 competitors per social account.
You add and manage up to two profiles ($25 for each additional profile)
You can add and manage two team members per profile ($25 for each extra team member)
Access to priority customer support
As you can see, you have to upgrade to the more expensive packages to access Crowdfire's more sophisticated features (mention tracking, competitor analysis, bulk posting, etc.) So, if you can't afford a minimum of $37.48 per month, this probably isn't the solution for you.
It's also worth noting: You benefit from a 14-day free trial for each of these pricing tiers. So, you can try the app for a bit to see whether it suits you, without risking your hard-earned dollars. Good news, right?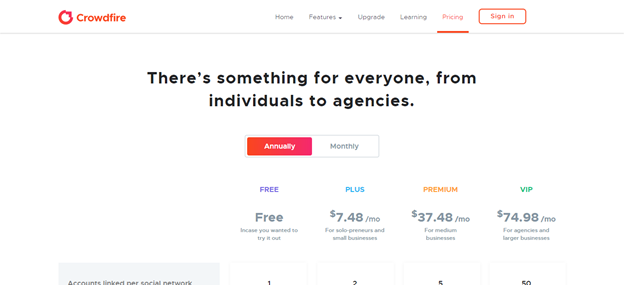 Crowdfire Review: Main Advantages
Here's a quick rundown of Crowdfire's perks:
As we've just said, Crowdfire offers a free version (yay!)
The 'Plus' package is an affordable entry-level tier
Its content curation tool is excellent.
For further clarification about what Crowdfire has to offer, we've outlined some of its more notable hallmarks in greater detail:
Content Curation, and Scheduling
Content scheduling is one of Crowdfire's key features. Crowdfire allows you to select either your own posts to schedule (these are automatically detected as they're already published). Or, you can pick any of the relevant posts and images curated by Crowdfire.
You just plug in the topics you're interested in and go from there. As you can imagine, keeping your social media presence active is a breeze. Gone are the days where you spent hours surfing the web to find engaging content to share with your following.
Also, within Crowdfire's "Scheduling" and "Content Curation" sections, you'll find some of the more sophisticated features. For instance, the calendar view and the ability to upload (in bulk) future posts via a CSV file. If you have or you're planning on hiring a virtual assistant to pre-prepare and schedule your social media content for you, this feature will certainly come in useful.
Crowdfire even provides you with a 'Queue Meter', this tool is fabulous for ensuring you have enough content scheduled for the week by telling you whether your profile looks 'active.'
Last but not least, when you post something new on your blog (or anywhere else online), you should see a desktop notification from Crowdifre. This prompts you also to post your content on other social media platforms. Handy, right?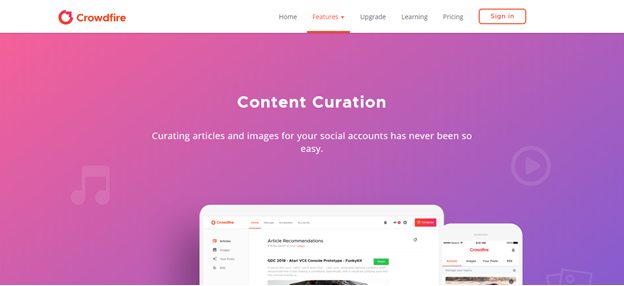 Analytics
The only way to examine whether you're running a successful social media campaign is by assessing the analytics and letting the figures guide your strategy. This is where using Crowdfire's detailed reports are worth their weight in gold.
If you've opted for one of Crowdife's higher price tiers, then in addition to data on your own social media marketing, you'll also benefit from competitor analysis. You can access this info from the 'Analytics' section of your Crowdfire account.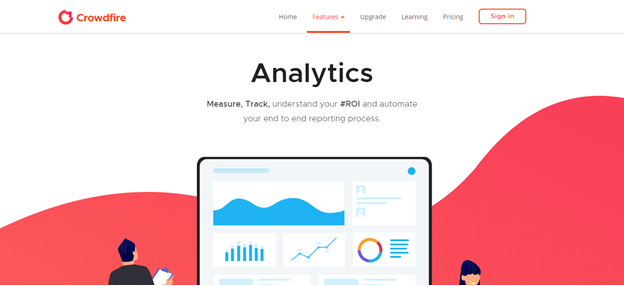 Mention Tracking
Are you trying to establish an online presence on lots of different social media networks? If so, mention tracking will shortly become your best friend.
This tool permits you to reply to all your @-messages from the convenience of one place. Never again will you have to log in and out of tons of different social media profiles to handle this monotonous task.
It goes without saying, if you're an agency or a social media manager managing multiple social accounts, this is especially useful. Think of how many hours you'll save yourself and your team!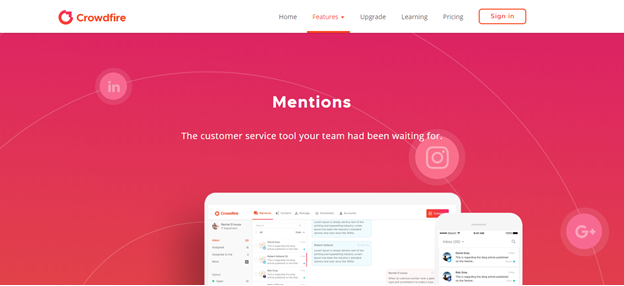 Crowdfire's Main Drawbacks
Like any other social media marketing software, Crowdfire isn't without its drawbacks. So, here are some of the more notable downsides to using Crowdfire:
Using Crowdfire Can Be a Steep Learning Curve
As we've already mentioned, Crowdfire allows you to handle lots of information at once. So you're probably not shocked to hear that, to begin with, its interface can be a tad confusing. This is especially true if you've connected your Crowdfire account to tons of social media profiles. If that's something you're planning on doing, then prepare your dashboard to look a bit crowded.
Also, in terms of clutter, it doesn't help that if you're on a lower pricing tier, users can still see the features that aren't available to them…
For some, getting to grips with Crowdfire's dashboard can be a pretty steep learning curve. Still, once you familiarize yourself with the interface and get the hang of the layout, things quickly become easier. Also, if you get stuck, there are useful tooltips and onboarding tutorials to help you out.
Note: The Chrome extension in the "Plus" package is a great LEVEL UP here to make Crowdfire easier to use with media platforms.
The Removal of the Block/Unblock Features
Unfortunately, Crowdfire came under some flak for falling short of the terms of services laid out by major social media networks. For instance, in early 2019, Twitter clamped down on many social media tools, including Crowdfire.
As we've already touched upon, one of Crowdfire's primary functions (used to be) that it could follow hundreds of social networks in one go. But when you consider most social platforms value user experience above anything, it's not surprising these annoying tactics don't go down well with the social media giants. This is especially true of Twitter and Instagram. They despise these automated follow/unfollow tools.
So, to put a stop to this, Twitter removed Crowdfire's API access. Consequently, this prevented these sorts of features from working.
As a result, Crowdfire has undergone a complete overhaul of its product. Fast forward to today, and this app only offers features and services that are compliant with standards set by social media networks.
What we're saying is, you can no longer use these follow / unfollow people tactics with Crwodfire. Which depending on your marketing strategy can be construed as either a good or a bad thing.
Side Note: Although some see this as a disadvantage, we actually think its more of a benefit. It's ALWAYS best to comply with the user guidelines provided by the social media platforms themselves.
It's also worth reiterating: As things stand, since the bulk follows and unfollow features were removed early in 2019, Crowdfire is now a safe management tool to use.
Crowdfire Review Frequently Asked Questions
What is the number of posts you can schedule on Crowdfire?
The number of posts you can schedule depends on the plan you are subscribed. With the free plan, you can scheduled 10 posts at a time for your social media accounts. For more posts, you can upgrade your account to a more advanced plan.
How do I stop my account deletion?
Just go to your account, and log in! By just doing this, you will avoid your account of deletion. Make sure you log in within 48 hours after activation of the deletion.
What are the languages Crowdfire is available in?
You can set up your Crowdfire account in any of these languages: French, Spanish, English, Russian, Latvian, Greek, Japanese, or Estonian.
Small Glitches
Some users have reported a few small glitches in Crowdfire's software. For instance, it sometimes fails to pull the featured image associated with a post. It's nothing major, but it's kinda annoying.
The Bottom Line: Is the Crowdfire Social Media Tool Worth It?
In short, Crowdfire isn't any better or worse than the majority of other social media marketing tools out there, say, Buffer or Tailwind. So, if you're already shelling out for other software, it's probably not worth the money.
Bottom Line: But, if you haven't yet got a management tool to help grow your social profiles presence, then Crowdfire is an excellent option. Its suite of features is impressive, and the pricing is reasonable.
Have you got any experience using Crowdfire? If so, let us know how you found it in the comments box below. Good? Bad? Average? We welcome any and all reviews, so let's get the conversation flowing!
Further reading: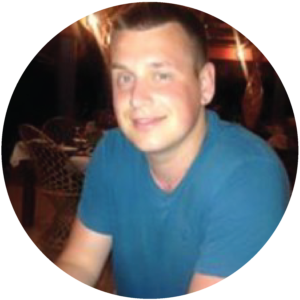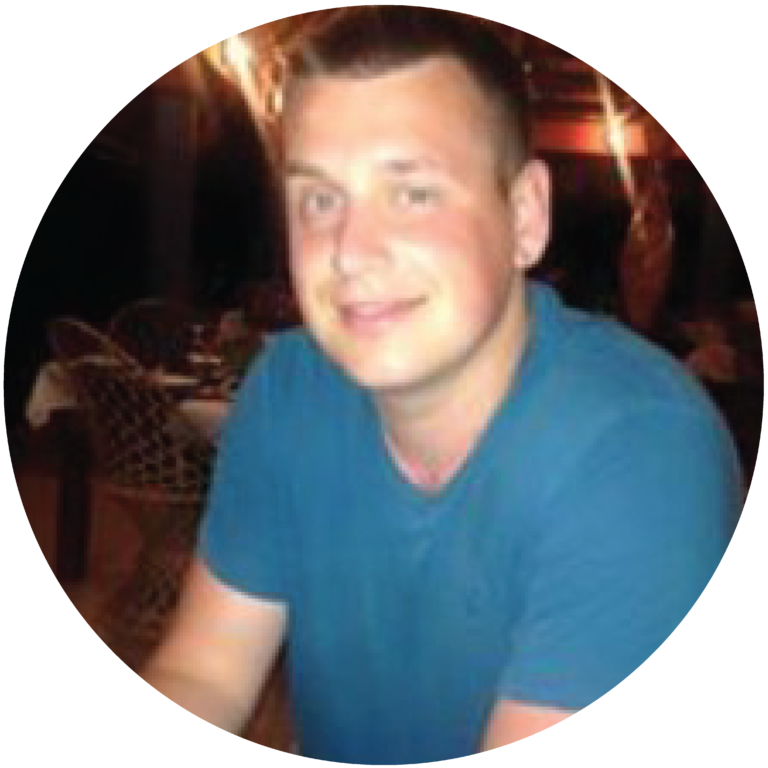 Latest posts by Ewen Finser
(see all)