Last Updated on January 8, 2023 by Ewen Finser
There are many things to consider when choosing the best registered agent service for business incorporation. This guide covers the leading registered agent services, how to evaluate them, and which ones to pick for specific business types.
Compared to other business entities like S or C corporations, the process of forming an LLC is considerably cheaper and much faster. So, you're bound to have smooth sailing overall.
However, for that to happen, there's something you might need to prioritize. You see, one of the most critical steps during the formation process is securing registered agent services.
And, as it turns out, this is not one of those optional extras you can afford to ignore. In most US states, businesses are required to acquire registered agent services (sometimes referred to as a statutory agent) as they apply for an LLC or a corporation. There are no two ways about it.
So what are the best registered agent service options to automate the process?
Top Line Summary of the Best Registered Agent Service
These are the best registered agent services researched in depth: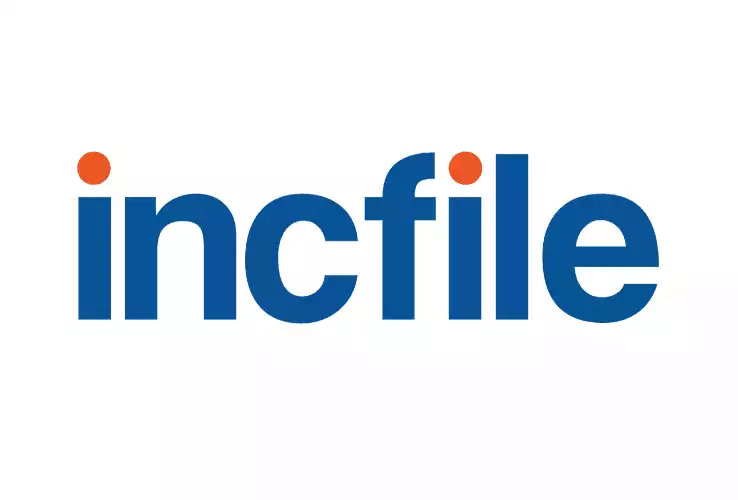 Why I Start with Incfile
I've tried a LOT of registered agent services over the years… BUT I've found Incfile to the the Fastest, Cheapest, and most user-friendly.
Business Formation for as little as $0 + State Fee when you incorporate with Incfile.com.
Start with Incfile
We earn a commission if you click this link and make a purchase at no additional cost to you.
If Northwest's agent service charges of $225 and Harbor Compliance's $399 puts you off, you could try forming a company through Incfile.
This particular solution has been in the industry since 2004, which translates to over a decade and a half worth of registered agent experience for business entity formation and maintenance.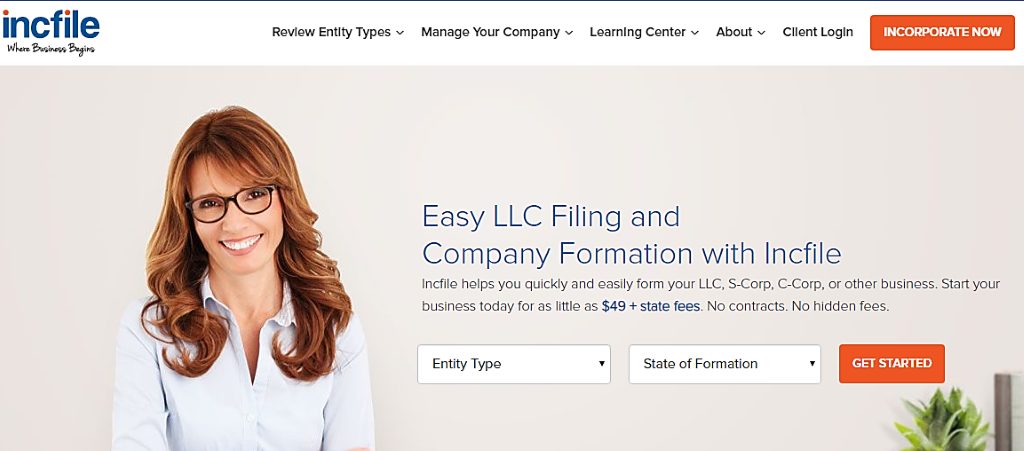 Compared to the rest, Incfile happens to be when one of the best registered agent services when it comes to affordability and package value. Forming an LLC here can be as cheap as $0 if you exclude your accompanying state fee.
And that's not all. Purchasing such a package means you also get registered agent services for 12 months at no additional charge. So, in a way, Incfile is a perfectly desirable option for small startups operating on a budget.
Also, you won't get charged another tax filing fee after you file once. Other companies charge you on a yearly basis.
Ok, I know what you might be thinking at this point. You may be thinking there's no way such a price translates to genuinely professional registered agent services.
So what's the catch?
Well, believe it or not, you'll hardly find a caveat here. $0 plus the applicable state fees essentially entitle you to lifetime customer support, free business tax consultation, online order status tracking, next business day formation procession, preparation and filing of articles, verification of company name availability, and free registered agent services (RA service) for an entire year.
They can offer their services like this because they have other services they can sell to you once you see how good they are and how well they work.
We've tested these solutions and we can confirm that Incfile is seeming as professional as they come. You'll also find numerous positive reviews of the company on various online platforms.
The bulk of Incfile's over 250,000 clients are satisfied with their experiences. Only a handful of critics have left negative reviews of Incfile's registered agent services. While there are pros and cons, the cons are few and relatively minor.
That said, Incfile is particularly ideal for online-based businesses. It comes with a wide range of add-ons that online merchants would find handy. We're talking about things like business contract templates, custom documents, important legal document types, and more important document types for organizations.
Then for information about compliance and other commerce-related issues (commercial registered agent), Incfile provides a pretty comprehensive learning center. It features business entity comparison charts (e..g LLC vs s-corp vs c-corp), state information on both LLCs (LLC formation service) and corporations, business checklists, requirements for filing various stuff in different states (e.g. Delaware), etc.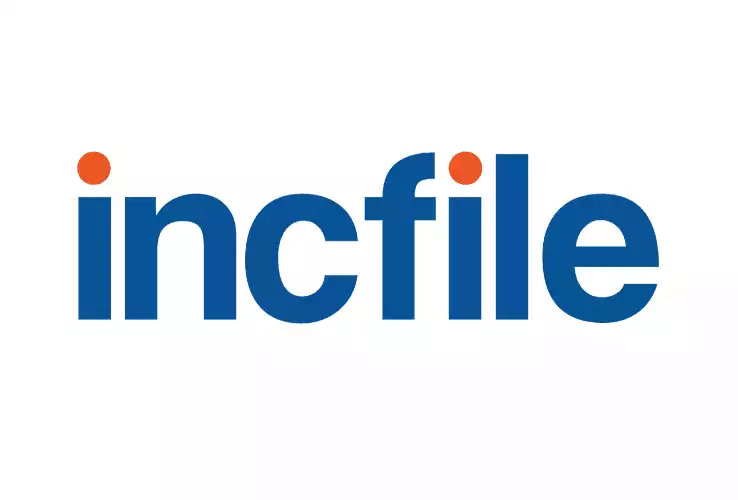 Why I Start with Incfile
I've tried a LOT of registered agent services over the years… BUT I've found Incfile to the the Fastest, Cheapest, and most user-friendly.
Business Formation for as little as $0 + State Fee when you incorporate with Incfile.com.
Start with Incfile
We earn a commission if you click this link and make a purchase at no additional cost to you.
Incfile Registered Agent Can't-Miss Service Features
Online access to incorporation documents (articles of incorporation)
Lifetime customer support
Free business tax consultation
Online order status tracking
Lifetime company alerts
Free registered agent service for the first year
Next business day processing
Preparation and filing of articles
Verifying company name availability
Express mail Shipping with Tracking Number
Expedited State Filing
Business formation kit
Free domain name & email service
Business contract templates
Banking resolution
Corporation organizational meeting minutes
Corporation bylaws
Operating agreement
Preparation and filing of IRS Form 2553
Employer Identification Number/ Tax ID
Business website
Online access to incorporation service documents
Lifetime company notifications
Online order status tracking
Unlimited phone and email support
Setup business banking account
Prepare and file the articles of organization
Incfile Registered Agent Service Pricing
Forming an LLC or corporation with Incfile will cost you at least $0 plus your state's fees. While this comes with a decent set of extras like business owners consultation and free registered services for 1 year, there are more benefits if you alternatively choose either the Gold or Platinum package.
Gold, for instance, costs $149 excluding state fees and it'll save you from paying an additional $70 for an employer identification number, $40 for an operating agreement, $50 for preparation of an IRS form, and more.
Then Platinum, on the other hand, offers even free domain name and email, in addition to expedited filing services. But, that will cost you $299 plus state charges.
When the subsequent free 12-month period lapses, renewing registered agent services on Incfile will cost you $119. Sadly, there are no discounts for volume purchases.
Incfile Registered Agent Services Pros
It provides great value. Incfile is considerably cheaper than its competitors.
Business formation service is accompanied by free registered agent services for 1 year.
Incfile is well-experienced and enjoys many positive customer reviews.
There are fancy add-on services for online-based businesses.
No hidden fees or gimmicks.
Incfile Registered Agent Services Cons
Although it's decent, the customer service on Incfile isn't as personalized as Northwest or Harbor Compliance's.

Learn More About Incfile's Plans

Summary: ZenBusiness offers a much more automated and streamlined barebones registered agent service, with less hand holding and sales tactics but perhaps the fastest process from start to finish.

Why Go with ZenBusiness?

ZenBusiness does NOT offer every imaginable legal service. That's a good thing! If you need an LLC or Corporation formed QUICKLY, it's hard to beat the easy registration wizard, rock bottom prices, and high ratings from happy customers.

See Latest Promotional Price

We earn a commission if you click this link and make a purchase at no additional cost to you.

ZenBusiness Advantages

Simple and straightforward self service
Competive starting price point (ties Incfile)
Minimal upsells and sales tactics
Unique "worry free guarantee" service $110 per year (will handle catchup compliance if you miss deadlines, report filing deadlines, amendments, other deadlines, etc…)
Knowledgeable live chat support
Very positive customer feedback & third-party reviews

ZenBusiness Disadvantages

No live phone support (only live chat interface)
No extra servicese outside business setup and reporting compliance
Minimal value to higher tier plans (basically just expedited or rushed filing + worry free guaranttes, EINs, and domain names)

ZenBusiness Prices: Starts at $49 + state fees per year (basic), then $149 (includes EIN number), and finally up to $249 for the premium suite.

Further Reading:

Summary: Offering standard registration services for C Corps, S Corps, LLCs, Non-Profits, and DBAs, Swyft (like the name suggests) is all about getting your business set up quickly, with a laser focus on registered agent services.

Why Choose Swyft Filings?

LegalZoom is being disrupted. One of those competitors is Swyfy Filings and they do a brilliant job and streamlining the process at a fraction of the cost. No gimmicks or clunky interface to deal with. Literally takes 7 minutes.

View Swyft Filings Promos

We earn a commission if you click this link and make a purchase at no additional cost to you.

Swyft Filings Advantages

Emphasis on direct phone sales consults with an easy to find number (compared with Incfile, ZenBusiness)
Also offers DBA services (relatively unique, but more obscure)
Basic business incorporation

starts at $49

Swyft Filings Disadvantages

Minimal add-on services
Relatively opaque pricing tiers (you have to get further down the funnel, beyond the $49 basic service to figure out the upsells)

Swyft Filings Prices: $49 basic incorporation service, variable pricing beyond (buffet menu of options).

Further Reading:
Since 1998, Northwest has been in the business of registered agent services for US companies. That translates to over two decades of experience, which has seen the firm interact with various types of businesses across all industries.
Then get this. Northwest has maintained an impressive track record over the years. You'll even have a hard time finding negative reviews on Google. This registered agent solution happens to boast of numerous positive testimonials from an extensive array of past clients.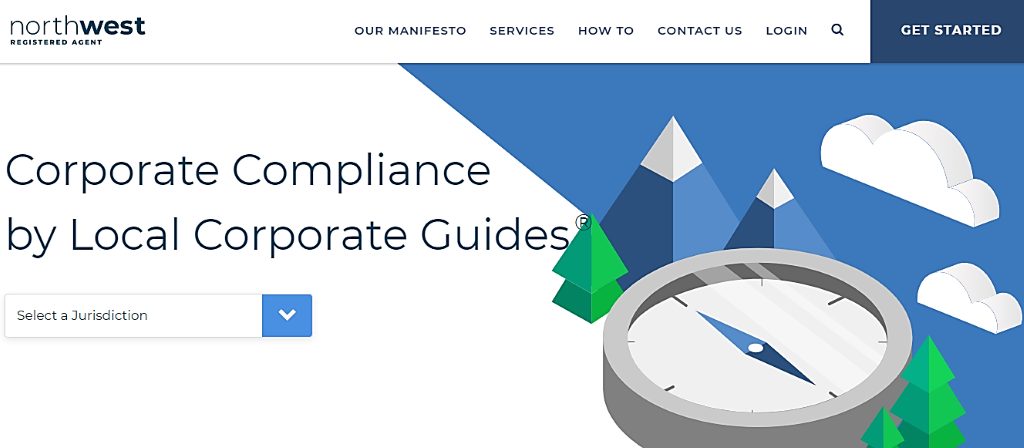 Now, the one area where Northwest stands out from the rest is customer service. Its support framework is undeniably the best in the industry, as the staff members here are seemingly trained to go the extra mile.
At the core of the whole system are personal support representatives, who are assigned to individual clients. Yes, that's right. You get your own personal assistant to serve your company throughout. You can freely reach out to them at any time, even when you have a minor concern.
Well, after testing them a couple of times, we can confirm that the representatives know their stuff as well. So, you can rest assured that you won't be getting into any legal trouble due to simple documentation compliance issues.
And speaking of which, documentation is another thing that Northwest takes very seriously. As a matter of fact, it happens to be the only countrywide registered agent solution that has a policy of locally scanning every single client document they handle.
While other registered agent services scan only as far as the law compels them, Northwest attempts to be as thorough as possible. So, of course, you can rely on them not to miss the important stuff.
Northwest Registered Agent Service Features
Annual report compliance instructions, requirements, and reminders.
Free online tools.
Filing tips, annual report help, and business maintenance help.
All forms are pre-populated with information for easy filing (and easy to change from other national registered agents).
Personalized and reliable customer support.
Your own corporate guides.
Local scanning of every single document.
Company management system.
Real-time notifications.
1 year of free registered agent service.
Corporation stock certificates and LLC membership certificates.
Operating agreement or bylaws.
Custom-drafted articles.
Registered agent address, organizer address, principal physical address, and mailing address.
Real-time support during and outside of standard normal business hours.
Offers Wyoming registered agent service (alternative to Nevada and Delaware: a Wyoming company or Wyoming corporation is a good option for foreign persons or states with nexus issues).
Northwest Registered Agent Pricing
The cost of applying for LLC or a corporation with Northwest registered agent services is $225 plus state filing fee. They'll then generously extend their services to cover a full year without any extra charge.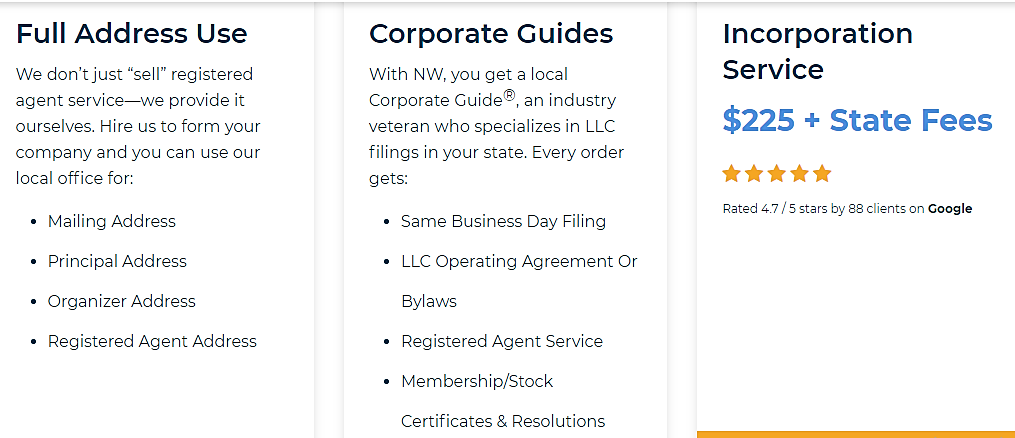 So, after the application sails through you can proceed to capitalize on Northwest's local scanning, as well as online tools like annual report compliance reminders for free.
Beyond that, however, the cost shifts to a standard flat rate of $125 per year for a single state. But, interestingly, Northwest is willing to revise that rate if your package has more than 5 states. The cost will essentially drop to $100 per year per state.

Northwest Registered Agent Pros
Free registered agent services for a full year after purchasing the formation service package
More than two decades of experience in the registered agent services industry
Personal customer support assistant
Purchasing registered agent services for five or more states qualifies you for a good discount
Every single document is subjected to local scanning
Positive customer feedback (in general)
Northwest Registered Agent Cons
Northwest registered agent services are not particularly cheap compared to the competition

View Northwest Registered Agent Promos & Discounts

Summary: Filenow is even more recent and they are attempting to one-up the market leaders like Incfile with faster service and more complimentary services included.

Why Choose Filenow?

The short answer? Filenow is affordable and offers a money-back guarantee. It's one of the quickest and easiest setups around, with a simple four-step process. If time is of the essence, Filenow is a great choice for you!

See Current Promotional Offer

We earn a commission if you click this link and make a purchase at no additional cost to you.

Filenow Advantages

Comparable or cheaper than most other online filing services (e.g. Incfile)
100% money-back guarantee
24-hour order processing
Only takes about 15 minutes to complete the application
Free Express Shipping
Customer support is available by phone, chat, email.
Offers a $0 Starter Plan here (just entity formation).

Filenow Disadvantages

Short time in business, will they stick around?
Only offers LLC formation service and corporate formation

Filenow Prices: The Starter Package begins at $0 and then a Premium Package for $199. Want to learn more about Filenow? Read more in our Filenow review.

Further Reading:

Summary: Inc Authority is a newer service (started end of 2019) offering a similar level of service to LegalZoom, but offering a better overall incorporation and formation experience and service.

Inc Authority Advantages

100% FREE entity formation

(not including state filing fees)
Prominently featured phone support
Advanced packages offer tax consultations
Advanced packages offer business funding and credit accelerators
Easy 4-Step process to register

Inc Authority Disadvantages

Only does LLCs and Corporations
Lots of upsells (make sure you uncheck boxes during checkout to take advantage of the "Free" service)
Not all positive feedback
No Better Business Bureau presence

Inc Authority Prices: Inc Authority offers 100% FREE barebones entity formation (not including state fees). YES, we actually checked by registering an entity… They do offer premium packages if you need additional services like EIN registration, Operating Agreements, Tax Consultation, etc…

Further Reading:

Summary: CorpNet is another full-suite business registration service, covering LLCs, Corporations, Non-Profits, and DBAs. It feels a bit more geared towards corporate setups, including trademark registration services and even corporate office supplies. Regardless, it is still one of the best registered agent service available.

CorpNet Advantages

Federal Trademark Registration service
Special section dedicated to Law Offices and Accounting Firms (to offer as a value-added offering)

CorpNet Disadvantages

The basic package only includes 60 days of registered agent services included
Not the cheapest for basic LLC setup (LLC formation service) and filings

CorpNet Prices: Starts at $79 for a Basic entity registration, $199 Deluxe with EIN + 1 Year Registered Agent, $249 Complete for additional Operating Agreement and extras.

Harbor Compliance (Best All-Round Registered Agent Services)
Harbor Compliance hasn't been around for as long as Northwest Registered Agent Services, considering it was only founded in 2012. So, in essence, Harbor Compliance Registered Agent Services has served clients for barely 7 years so far.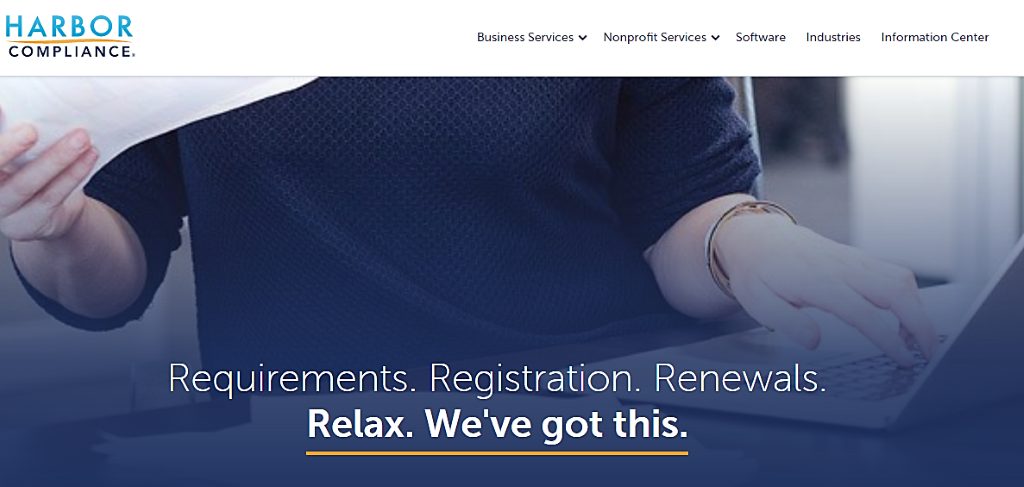 But, make no mistake about it. While it might not be the most experienced registered agent solution, Harbor Compliance has seemingly secured its fair share of the market. In fact, it quickly rose through the ranks to establish itself as one of the best-registered agent services in the US.
A lot of it has to do with the fact that Harbor Compliance achieves a perfect balance between pricing and the corresponding features. Although it might not be the cheapest solution in the market, Harbor Compliance manages to outshine many competitors that seemingly offer the same quality of service.
And if you're wondering, the answer is yes. Northwest is one of its principal competitors. While their registered agent services have a couple of notable pricing differences, the two solutions match up to each other when it comes to customer service.
You can bet, for instance, that you'll find the Northwest-style personalized customer support system on Harbor Compliance. Its clients are assigned "Compliance Specialists" who happen to be dedicated account managers. And their main job, of course, is handling your company's registered agent services.
If you ever need any form of assistance, you can get in touch with them via Harbor Compliance's site contact form, email, or phone. You'll find then to be quite handy, especially in legal compliance matters and related legal services.
Harbor Compliance Registered Agent Service Features
Follows through with the authorities until business formation applications are approved.
Federal Employer Identification Number (EIN)
Preliminary operating agreement
Articles of organization drafting
Managed annual report service
Publish notice of formation
Customizable notifications
User-friendly software
Pre-filled state forms
Local registered agent address for business owners
Local offices in every state (Registered Office / Physical Office / Physical Address)
Free document scanning
Same-day electronic delivery of documents
One-day onboarding
Store and access company documents
Review information on file with agencies
See where your entities are registered
Maintain access and control over corporate records (public record) and notes,
Compliance Calendar for compliance tracking and monitoring statuses and alerting staff of upcoming due dates for secretary of state's website registrations, annual reports, licenses, etc.
Registered agent services on Harbor Compliance will cost you just $99 per year for each state. But, it can drop by up to 10% if you choose to pay for five or more states. The same discount rules are applied to clients who make an advance payment covering two to three years.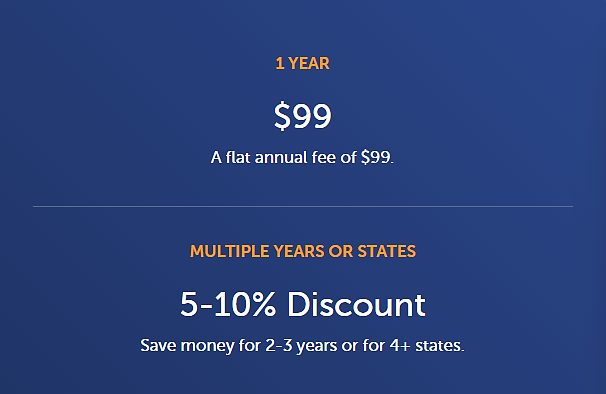 Forming an LLC (LLC formation), on the other hand, will cost you at least $399. No cause for alarm though, because Harbor Compliance's LLC formation package offers fully-managed startup services. In other words, registered agent services are supplemented by extras like articles of organization drafting, operating agreements, application tracking, etc.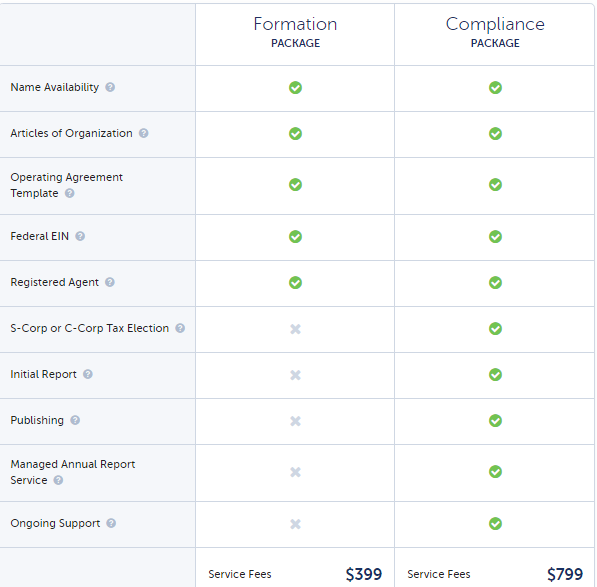 Harbor Compliance Pros:
Paying for multiple states or years comes with a reasonable formation service discount.
Harbor Compliance offers dedicated customer support.
There's an extensive collection of relevant how-to guides, webinars, and whitepapers.
Harbor Compliance provides annual report assistance.
Harbor Compliance Cons
While Incfile is an economical option for forming a company, InCorp wins that title when we switch to full-time registered agent services. Although it's one of the biggest and most established registered agent services providers in the US, InCorp has managed to maintain a low bar in the pricing department.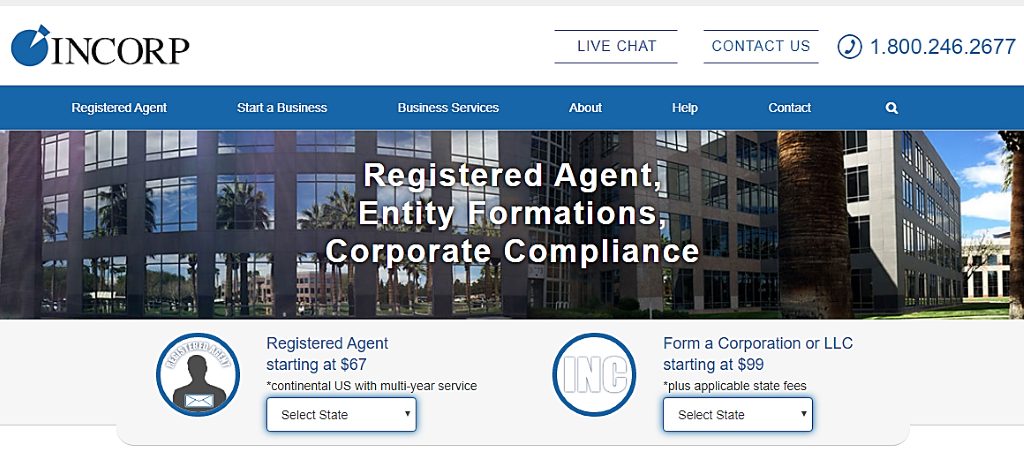 A year's worth of registered agent services starts at $99. And guess what? It can get cheaper if you add more years into your prepaid package. A 5- year subscription, for instance, will cost you about $66 a year. That's a rate you won't be able to get from other registered agent solutions.
But, what do you get in return?
Well, if the experience is one of your primary concerns in the selection process, then there's no reason to worry here because InCorp comes with plenty of that. It has provided registered agent services since 1998, which translates to two decades of professional experience.
And get this. Most of the clients who've been part of InCorp's journey over the years have nice things to say about the firm. So much so that various review platforms on the web are littered with positive testimonials about InCorp registered agent services.
Thankfully, things are not slowing down anytime soon. As a matter of fact, it seems like InCorp is gradually improving the level of services it offers.
The current customer service framework, for example, integrates web live chat, email, and phone support channels. You're free to contact InCorp's agents through any of these channels at any time between 9 AM and 9 PM, and they'll assist you accordingly. You can even switch to Spanish if you prefer since InCorp is all about bilingual customer support. The choice is yours.
InCorp Registered Agent Services Features
Submit and view all of your statuses, corporate documents, and state filings through a client website portal.
Real-time service notifications.
Physical offices in all 50 states.
Over-the-counter expedited filing service.
Entity Management System (EMS) for tracking corporate documents (LLC or other), forwarded emails, and compliance processes.
EntityWatch for real-time details on the status of your processes including the filing status, the current registered agent, officers, and directors. It also notifies you of changes to help avoid corporate identity theft.
Online compliance calendar.
Customized email notifications.
Price match guarantee.
Absorption of transfer fees.
Dedicated representative.
Online forms library.
Online account access.
Electronic service of process.
Registered agent address.
InCorp Registered Agent Services Pricing
Forming an LLC or a corporation via InCorp will cost you $99 plus the applicable state fees.
Then registered agent services, on the other hand, start at $99 per year. But, if you choose to pay for 2 years, you get to save close to $20 overall. The annual price essentially drops to $89.10.

A 3-year subscription makes the rates even friendlier by charging you $80.52 per year. The biggest savings, however, are made by choosing the 5-year plan, which reduces the costs to $66.56 per year.
InCorp Registered Agent Services Pros
InCorp applies favorable discounts when you pay for additional years of registered agent services
The EntityWatch feature helps in not only tracking your filing status but also avoiding identity theft.
There are three customer support channels, whose agents are very responsive and can offer assistance in two different languages.
InCorp Registered Agent Services Cons
The company formation process is not as competitively-priced as the corresponding registered agent services packages.
Compared to other major registered agent solutions, InCorp has a fairly incomprehensive knowledge base.

The following are some other options to consider, in no particular order:

Quick Summary: MyCompanyWorks narrows down on LLCs and Corporate registrations specifically and the site feels very much geared towards starting and managing a company (versus ancillary legal services and legal advice).

Quick Summary: BizFilings offers the widest array of registration services, including non-profits, DBAs, and LLPs, PC/PLLCs, in addition to standard LLCs and Corporations.

RocketLawyer

Quick Summary: RocketLawyer not only handles your basic business setup and compliance items, but offers a robust legal retainer service "in case you need it" covering a wide variety of business law questions and documents. Great for businesses in need of semi-regular and variable legal consults (or just as an insurance policy).

LegalZoom

Quick Summary: LegalZoom is definitely the market leader in the space, having originally distrupted the industry over a decade ago. Today, it's the incumbent that has a big fat target on it's back. Still, it can be a great option depending on your needs.

More reads:

Why Even Use a Registered Agent?
Ok, I'll admit that some states allow you to appoint yourself the registered agent. Fair enough. But, here's the problem – designating yourself means exposing your personal details like name and address to the public.
And that alone translates to an unending streak of junk documents in your mailbox. Plus, of course, you'll have to deal with reduced personal privacy.
So, whichever way you look at it, registered agent solutions are unavoidable if you're dealing with a serious business.
But, where do you even begin?
Now, if you've tried looking around, you've probably noticed that there's an overwhelming host of options out there. Perfect for competition. But, it would take you a heck of a lot of time to go through them.
So, allow us to save you the trouble by walking you through the best-registered agent services. We took the time to sample a wide array of options that enjoy good ratings across all the states. Then using the information we've subsequently compiled a solid list of the top registered agent solutions, all of which have a proven track record of outstanding services.
Before we dive into that, however, let's explore what the concept of registered agent services entails and why it's too much of a big deal.
What is a Registered Agent?
According to state laws in the U.S, every single business is expected to proceed with registered agent services while setting up a company, whether you run a large or small office (or no office) business.
It doesn't end there though. Full compliance means maintaining a registered agent for the long haul. So, in short, you can think of registered agents as your company's partners.
If you choose to ignore all that and choose to apply for a Limited Liability Company (including Limited Partnership) or a corporation without a registered agent, the application will probably be rejected by the state.
The ramifications are much worse if you fail to maintain registered agent services. A typical civil lawsuit (or copyright lawsuit, etc…), for instance, might end disastrously for you, with the judge penalizing your company heavily over something that would have been easily handled by registered agents. We've also seen cases where the state proceeds to suspend or dissolve a company completely.
Sorry to say, but yes, it's that serious. Registered agent services are critical to not only the creation of your company but also its survival over the long haul.
That said, some of the services you should expect from a certified registered agent include:
Document Organization – Registered agents help companies organize their documents as well as follow up on their filings accordingly.
Compliance Monitoring – Since they are conversant with legal procedures (general legal services), registered agents will help you maintain compliance, as well as file all the required papers in time.
Privacy Protection – By appointing a registered agent, you'll be able to keep your personal information private.
Mail Forwarding – Registered agents handle their clients' mails by forwarding and then following up to confirm delivery.
And speaking of which, the type of documents registered agents handle on behalf of their clients include:
Corporate filing notifications
Court summons
IRS and local tax authorities' tax notices, including franchise tax, use tax, etc…
Information subpoenas
Lawsuit notices
Official state and federal correspondence
What Should You Consider When Choosing the Best Registered Agent Service?
As we've established already, the process of identifying the best-registered agent services for your company may turn out to be extremely hectic. There are way too many firms that are now specializing in registered agent solutions and their seemingly identical offers can be confusing.
But, here's the secret to making the selection much easier. Simply vet your registered agent options based on:
Range of Services – What types of services does the registered agent offer compared to the rest?
While your primary concern at the beginning would probably be the LLC or corporation application process, don't focus on that alone. You can go ahead and review the subsequent set of solutions that various agents offer.
In essence, a good registered agent should supplement the standard services with a few notable extras.
Legal Zoom and Rocket Lawyer, for instance, go above and beyond the typical provisions to provide even attorney services like consultations, creation of wills, drafting of legal documents, etc. Your preference depends on your business' setup as well as its projected needs in the near future.
Supported States – States are very specific about the registered agents they license to work within their area of jurisdiction. So, you might want to check and confirm whether a registered agent is actually authorized to work in your state. If you are looking for a Delaware Registered Agent Service or Wyoming Registered Agent (two popular choices), be sure to check that these states are actually supported.
Thankfully, only the smallest firms (small business owner avatars) are affected by this. The bulk of the established registered agent solutions are capable of handling business in every state. That translates to less paperwork for you.
Software – Manual systems and service provider ledgers are now a thing of the past. Many of the currently registered agent services come with automation tools for increased efficiency.
So, take your time and evaluate the accompanying software features. A good one should not only be robust and user-friendly but also fairly comprehensive. The software should pack just the right set of automation plus tracking functionalities.
Customer Service – Normally, a company is expected to work very closely with its registered agent solution. Therefore, apart from being knowledgeable, the person should always be accessible when you need assistance.
12 hours a day for regular business hours is good enough for most companies, and this should be accompanied by several customer service channels. Plus, the corresponding registered agent staff must be responsive and polite at all times.
Pricing – Cheap might be tempting, I admit. But, there's a reason they say cheap is expensive. However, that's not to say expensive is the best. Going for a costly option without conducting due diligence may ultimately hurt your business.
Instead of comparing just the quotes, assess your selected agent services according to their package value. That means weighing their respective prices against the corresponding package features.
You'll notice that so far, most of the low-priced registered agent services offer only basic solutions, while their costly counterparts come with advanced provisions like personalized compliance support and legal benefits.
Now, let's cut to the chase by reviewing the best-registered agent solutions on the market, in no particular. And to keep it neutral, we've ensured that each of the options here is authorized to work in every single state.
Best Delaware Registered Agent Service
Delaware is a popular destination for business registration due to its unique protections and corporate tax advantages.
Thankfully, ALL of the services discussed on this page are licensed to register in Delaware.
For our DE formation, I used Incfile here, but I also considered Filenow and Northwest for similar services (hint: go with whoever is offering the best deals at the time of reading).
Best Foreign Registered Agent Service
What about if you are a foreign LLC or foreign corporation?
Well, this is an emerging field with not nearly the same level of online service as United States-based options.
That said, our team will be tracking this emerging area in this section as we uncover more information.
Best Registered Agent for Canada
If you are looking to set up shop as a business owner or resident agent in Canada, the best option here is to go with Owner.
Ownr is one of the first digitally-native solutions for online filing in Canada, offering similar functionality at the Federal, Provincial and Sole Proprietor level business address for Canadian business interests.
Frequently Asked Questions about B
est Registered Agent Service
Should you be your own registered agent?
You CAN be your own registered agent, but depending on the state, you will need to meet certain obligations such as maintaining a physical address, receiving and responding official forms and official mail (like lawsuits), and keeping Articles of Organization and related documents up to date.
Should I use LegalZoom as a registered agent?
There was a time when LegalZoom was one of the only digitally-native instant registered agent options available. Today there are many competitors to Legalzoom, some of whom are much better priced and user friendly.
Are registered agents liable?
Anyone who acts as a registered agent may be held liable if said agent had foreknowledge of a criminal act, similar to a CPA or attorney.
Final Take: Best Registered Agent Service Providers
And there you have it. The best registered agent services and business formation providers in the United States.
A point to note though on these agent service options. Considering we've only featured countrywide agents, you might want to find out all the available options in your state. You never know, you could discover a much better-registered agent solution from your local firms. And if you do, feel free to share the story in our comments section. We'd be glad to learn all about the most outstanding state-specific registered agent services providers.
As a final note, ALL of these options are far superior to paying a traditional law firm to set up your business. Instead, all of these options discussed here are formation service specialists!
Till then, all the best in the journey to finding the most suitable registered agent for your business.
Here are other related articles you may be interested in on finding a good agent service & other registered agent service provider options:
State-by-State Small Business Formation & Corporate Guide Resources