Last Updated on April 22, 2023 by Ewen Finser
Nothing is quite as joyful as tracking a steady cash flow when you run your own business. Naturally, all companies come with invoices, bills, taxes, and other bookkeeping aspects that are perhaps less exciting than the crux of your entrepreneurial venture.
But, to get a good idea of your revenue and spending, it's vital to keep precise records, which, unfortunately, makes this tedious and sometimes complicated task mandatory. This is where the right business accounting software comes in helpful for streamlining your bookkeeping tasks.
One popular option is Quickbooks. They're somewhat of a household name, so you may have heard of them. This bookkeeping software has been on the market for ages and is the go-to tool for thousands of businesses. However, other services are available – for instance, newer solutions like Bench.co, that may better suit your style of bookkeeping.
Both have their value. So, the question is: Which best meets your needs?
In this article, we'll provide a rundown of both Bench.co vs Quickbooks so you can make an educated decision.
Let's dive in!
Bottom Line Upfront
For businesses looking for an affordable accounting solution, we recommend QuickBooks. With automation features and an intuitive user interface, it's the best choice for streamlining your bookkeeping. However, If you need help with more complex financial issues, then Bench.co will be the superior pick. Here's why…
Bench.co vs Quickbooks: Their Key Differences and Similarities
Once we get into the nitty-gritty of this review, it will quickly become apparent that Bench.co and QuickBooks are two very different solutions. That said, if you're just after a quick overview of the two platforms, here are their core differences and similarities at a glance:
The Key Differences
Using Quickbooks' streamlined software, you handle your accounting, whereas Bench.co provides a comprehensive bookkeeping service.
Quickbooks is relatively cheap, whereas Bench.co's pricing will set you back several hundreds of dollars a month.
Quickbooks gradually unlocks more features with higher pricing plans, whereas Bench.co offers distinctly different services at different price points.
Bench.co can help you organize historic bookkeeping records and help your business recover from compliance issues, whereas Quickbooks only provides tools to manage your accounting tasks – it won't aid you in recovering old records.
Quickbooks provides the option of adding payroll services, whereas Bench.co can only recommend a trusted third-party service.
Quickbooks offers a greater selection of integrations, whereas Bench.co only works with a few select partners.
The Similarities:
Both Bench.co and QuickBooks can help you streamline your bookkeeping processes.
Both come with financial reporting functionality.
Quickbooks offers live bookkeeping services (like Bench.co's) in addition to its software for an extra fee.
Both partner with major eCommerce platforms like Shopify and integrate with Gusto
About Bench.co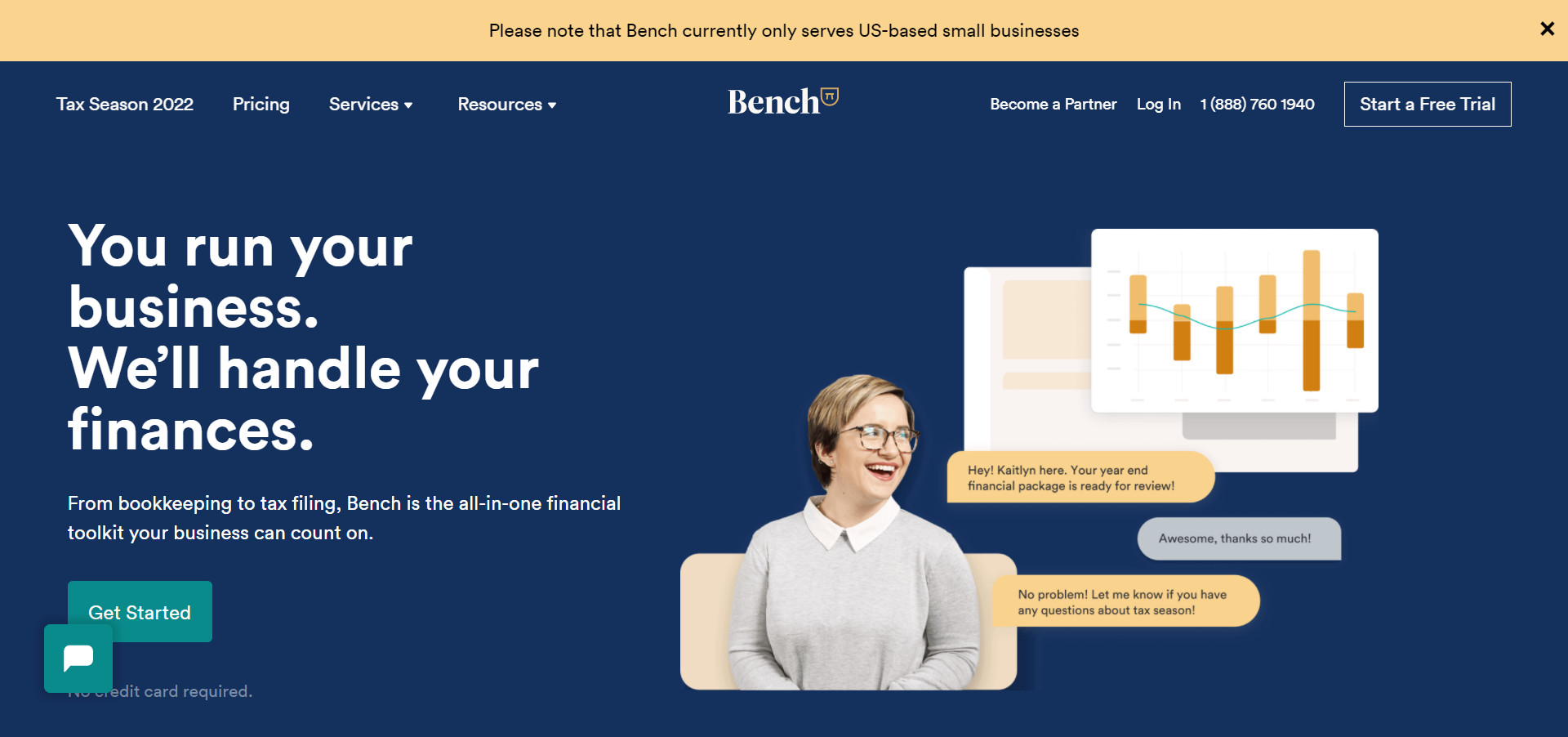 Launched in 2013, they've since amassed a team of over 600 employees. As we've already hinted at, Bench.co is an online bookkeeping service that connects you with a dedicated bookkeeper. Your bookkeeper can work directly with a CPA (certified public accountant) to produce clean, accurate books, saving you hours each week that would otherwise have been spent on administration.
Bench.co aims to take all the guesswork out of bookkeeping and relieve the weight of accounting and tax preparations from your shoulders. That way, you can focus on what you do best – running your business. Bench.co provides an end-of-year package as well as year-round tax advisory support. Typically, their customers are small businesses and solopreneurs looking to simplify their finances.
About QuickBooks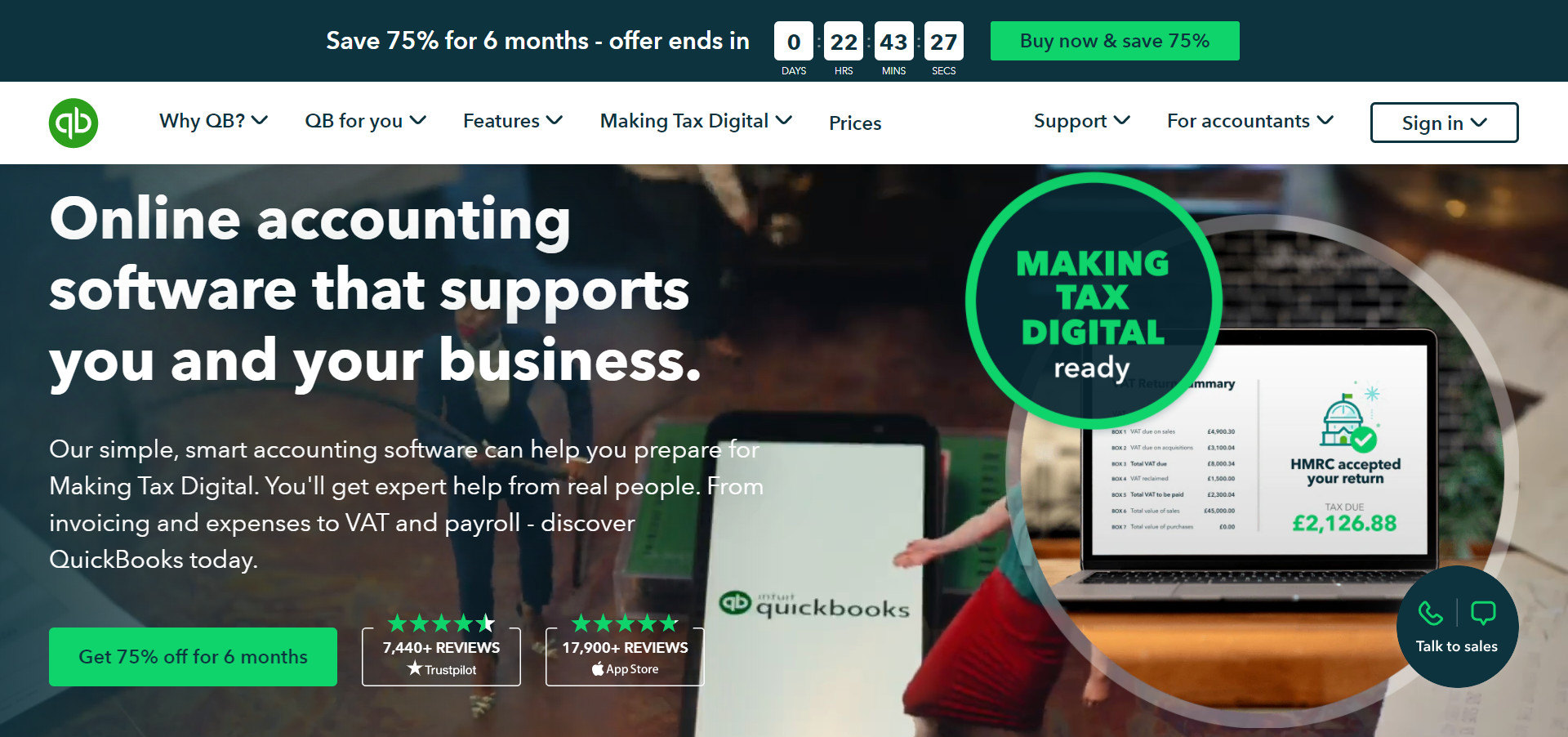 QuickBooks is one of the oldest accounting tools on the market – created in 1983, the company has gone from strength to strength ever since. These days the software belongs to Intuit and continues to grow with new features and capabilities.
It's an excellent choice for small and medium-sized businesses. Its comprehensive accounting system enables you to manage business payments, track cash flow, and send invoices. In addition, it's a cloud-based solution so you can manage your bookkeeping wherever it suits you.
In short, QuickBooks is an accounting SaaS that helps various businesses better streamline, understand, and manage their bookkeeping. In addition, Quickbooks offers a variety of monthly pricing plans that unlock more features as you upgrade your package.
Bench.co's Key Features and Services
Bench separates its services into four overarching categories, so let's take a look at each in turn:
Monthly Bookkeeping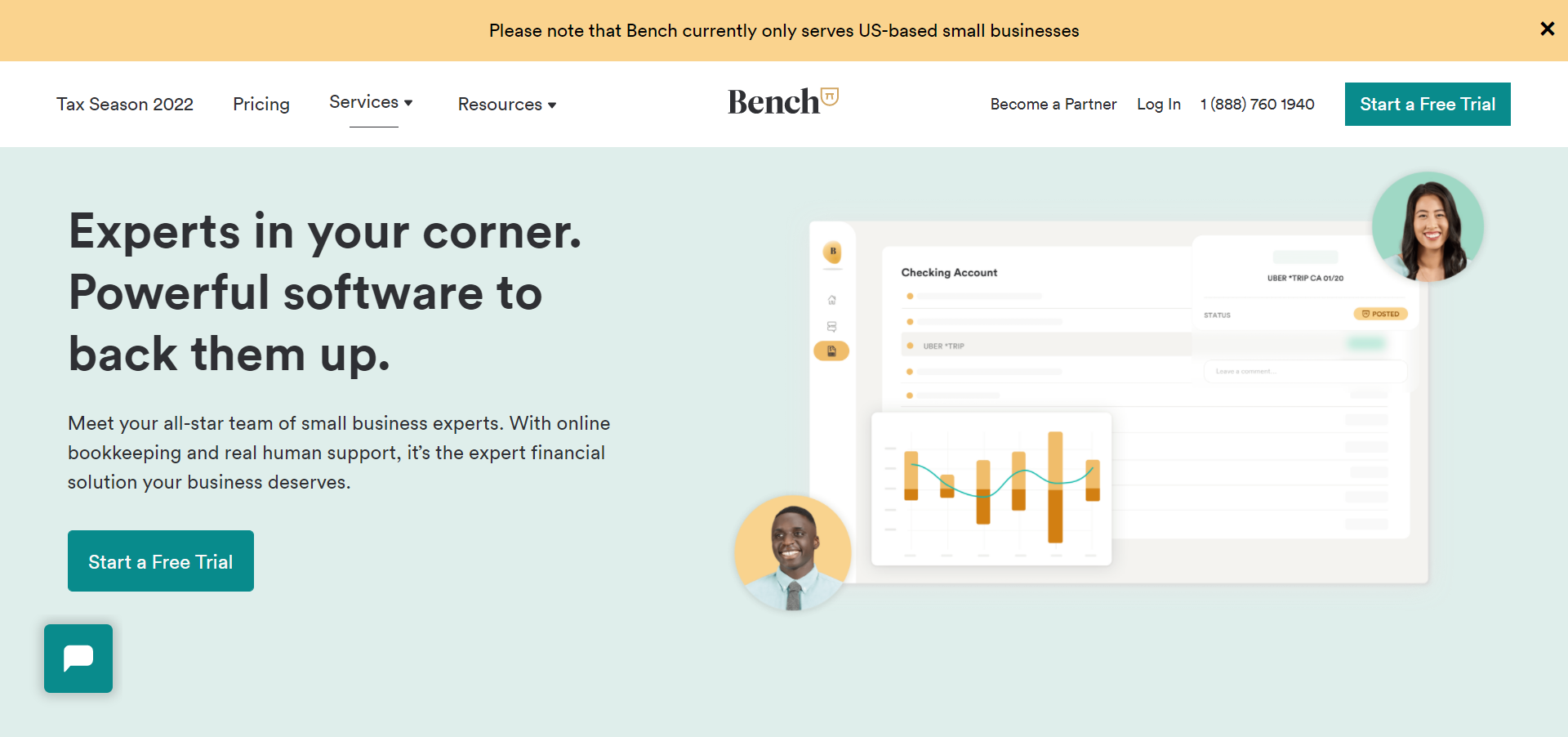 When you get started with Bench.co's monthly bookkeeping service, you're assigned your dedicated bookkeeper who will get to know your business. Your bookkeeper organizes your business transactions and readies financial statements for you each month. If they need extra information from you, they'll get in touch. As a result, you get tax-ready financials so that when the time comes to file, you can confidently submit accurate financial records.
On top of that, you'll get access to Bench's software. Your bookkeeper will help you understand how this works, including how to review your finances from their intuitive dashboard. From here, you can view your income statement, balance sheet, and visual reports to help you get a firm grasp of your finances.
You can also easily update information and check in with your Bench.co team. Bench.co's team will contact you with regular bookkeeping updates. Plus, you can schedule monthly or yearly reviews and receive guidance directly via your account – with no extra fees involved.
Tax Advisory and Filing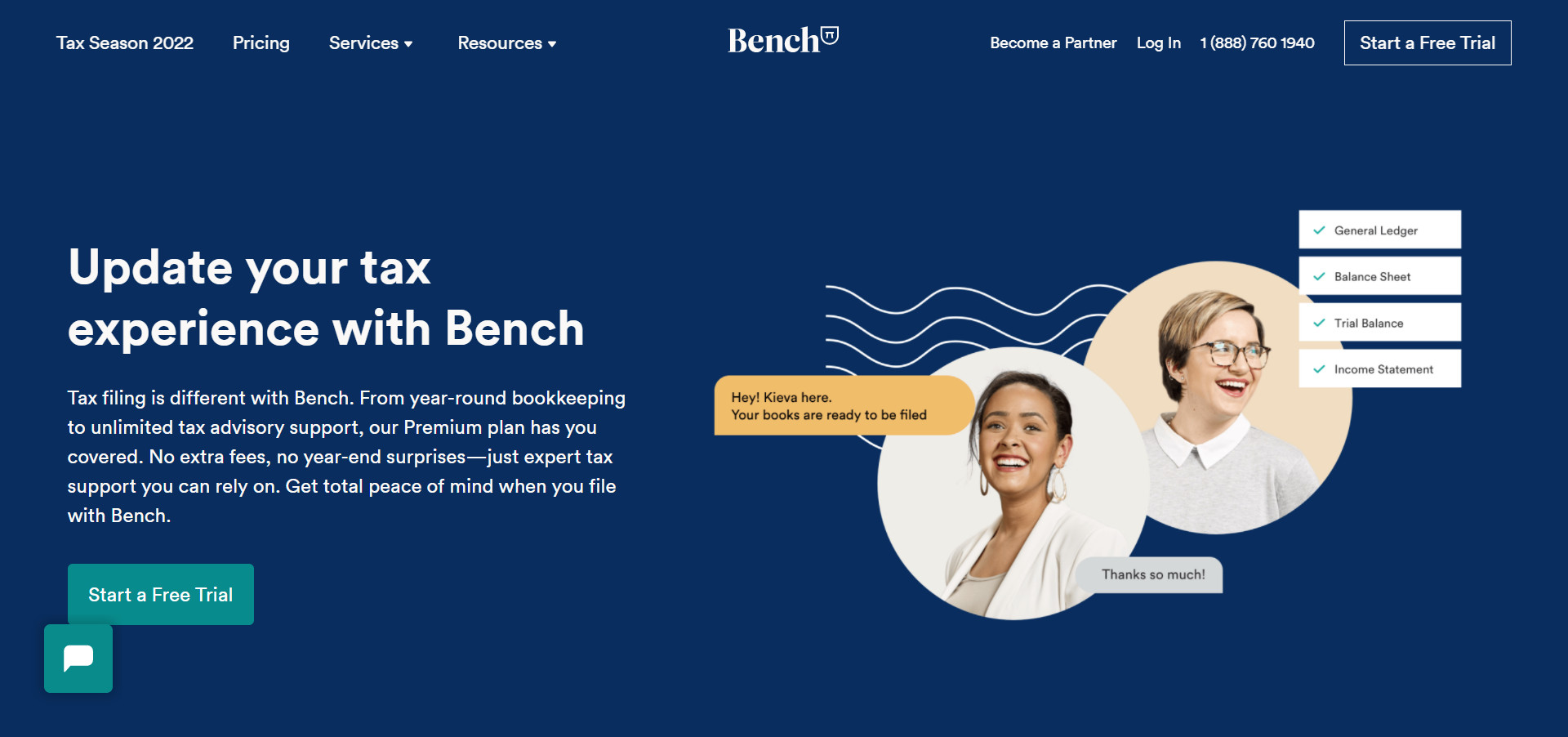 Bench can help ensure you're compliant and submission-ready if you're getting ready for tax season. You'll get all-year-round tax support with a premium plan, so you never have to worry about missing a deadline. Bench.co even submits your files for you and can offer consultancy on any concerns you have about compliance and tax.
All this comes in one tidy year-end financial package that includes:
An income statement
A balance sheet
A trial balance – (a complete worksheet containing the balance from all your ledgers).
A journal entry summary
A general ledger
All this documentation can be downloaded directly from your dashboard as an excel file.
Catch Up Bookkeeping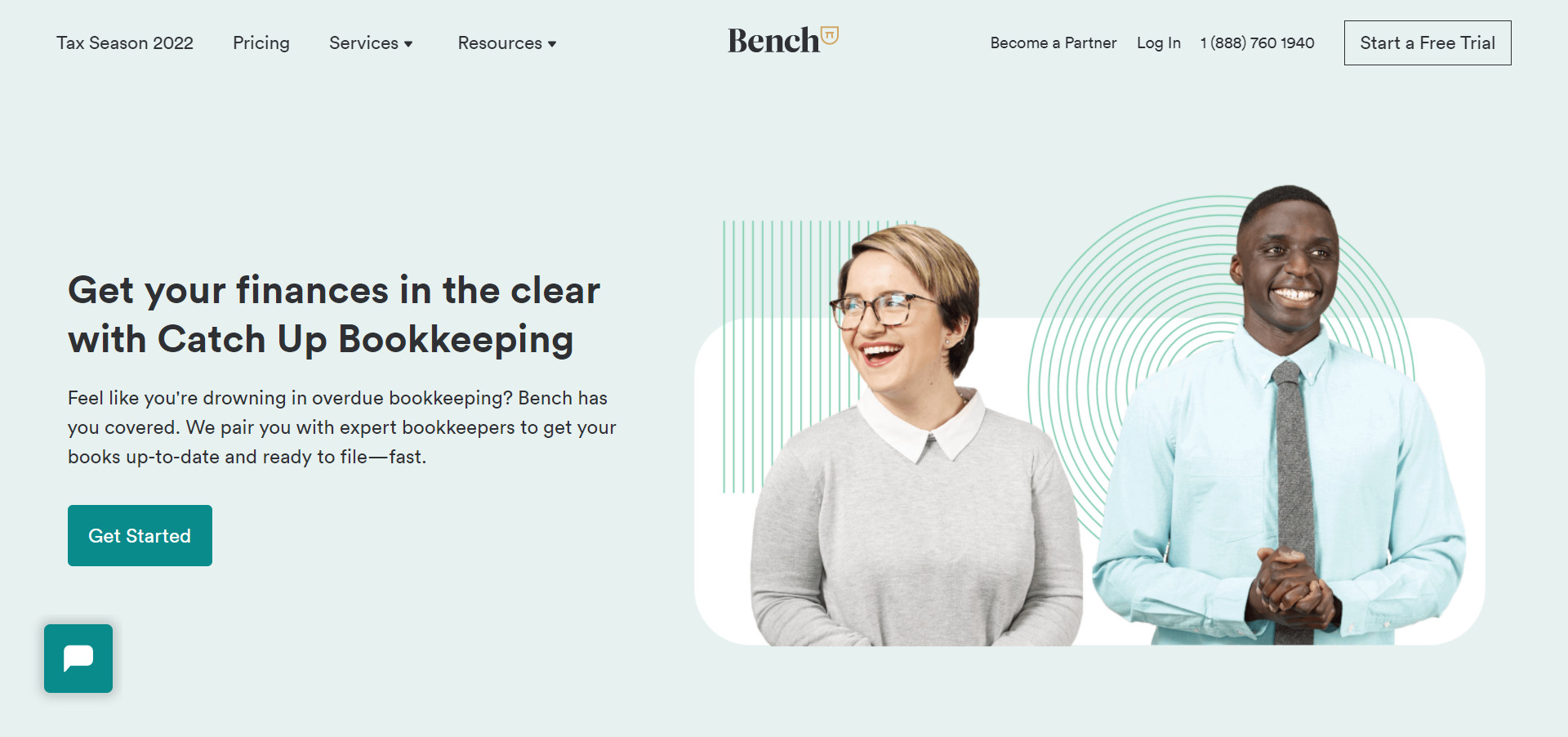 If you're struggling under a mountain of overdue bookkeeping, Bench can help. You can engage their services to tidy up your financials and get them tax-ready. With fast turnaround times, even months and years of bookkeeping can be brought under control. Needless to say, this goes a long way to getting your business back on track compliance-wise.
Bench.co will also send the supporting documents to apply for paycheck protection or an SBA disaster loan if your business needs it.
Bench Retro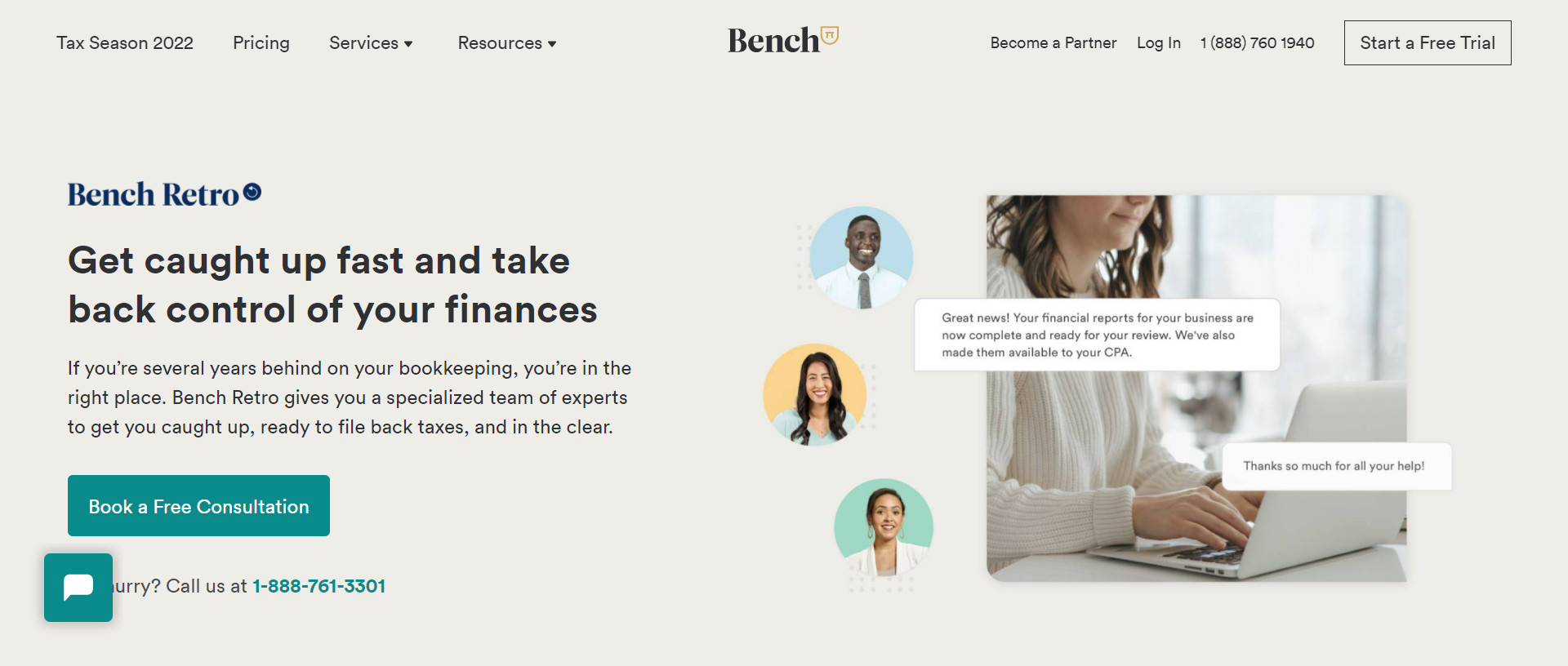 Bench Retro is for businesses needing to catch up on more than two years of bookkeeping – particularly companies responding to an emergency letter from the IRS. You may need to sort out years of pending tax returns and recover missing records in this instance. Fortunately, Bench offers affordable payment plans to help you get back on top of your finances.
QuickBooks Key Features and Services
QuickBooks is explicitly designed for a simplified user experience despite its array of features. That said, let's discuss what features QuickBooks has to offer:
Access All Your Business's Financials in One Place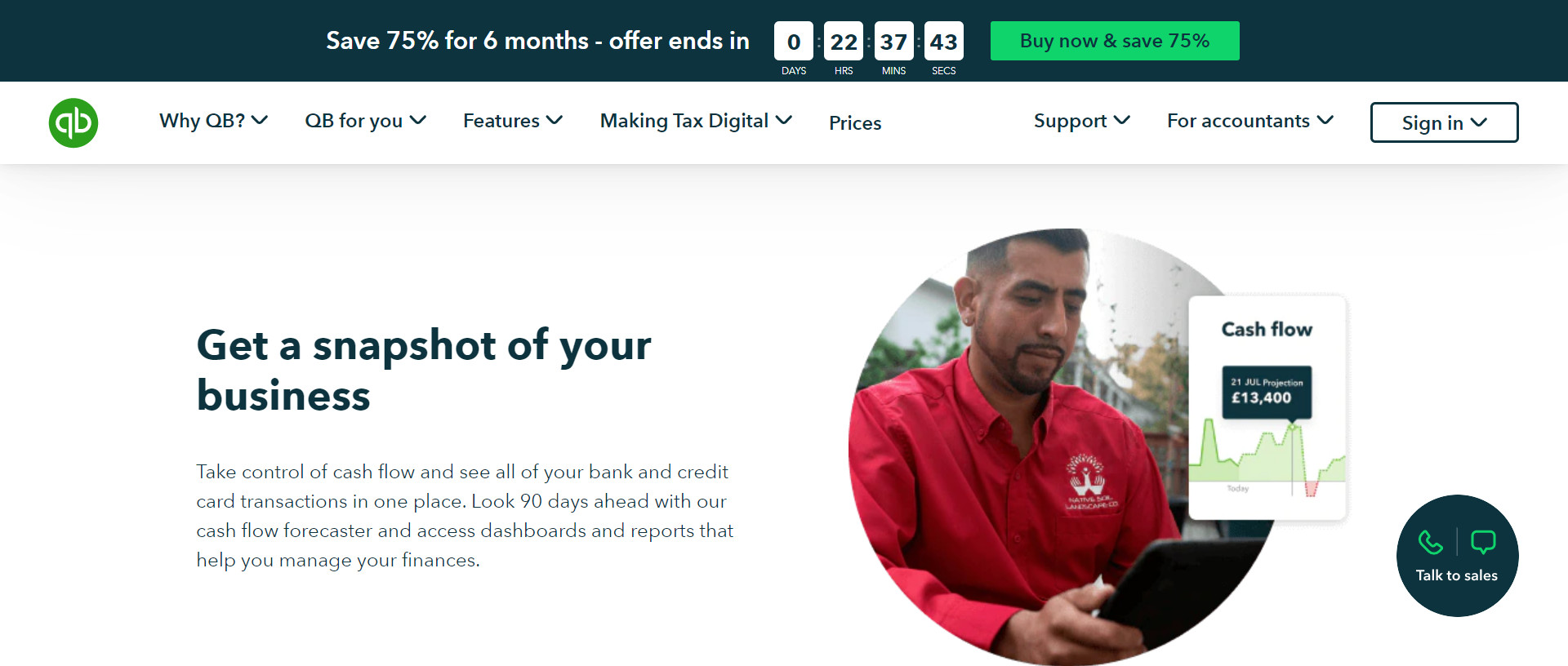 QuickBooks provides an intuitive dashboard where all your business's financials are displayed. The software automatically creates spreadsheets to keep your information organized and up-to-date. Information on transactions, invoices, and other financial statements can be found with just a few clicks.
In addition, QuickBooks lets you sync your business bank account so that you can register whenever money is going in or out. This makes it easy to categorize regular expenses like bills, payroll, and overheads. Not to mention, it provides a comprehensive and accurate overview of your cash flow as you can view profit and loss balance sheets in an instant.
Faster Invoicing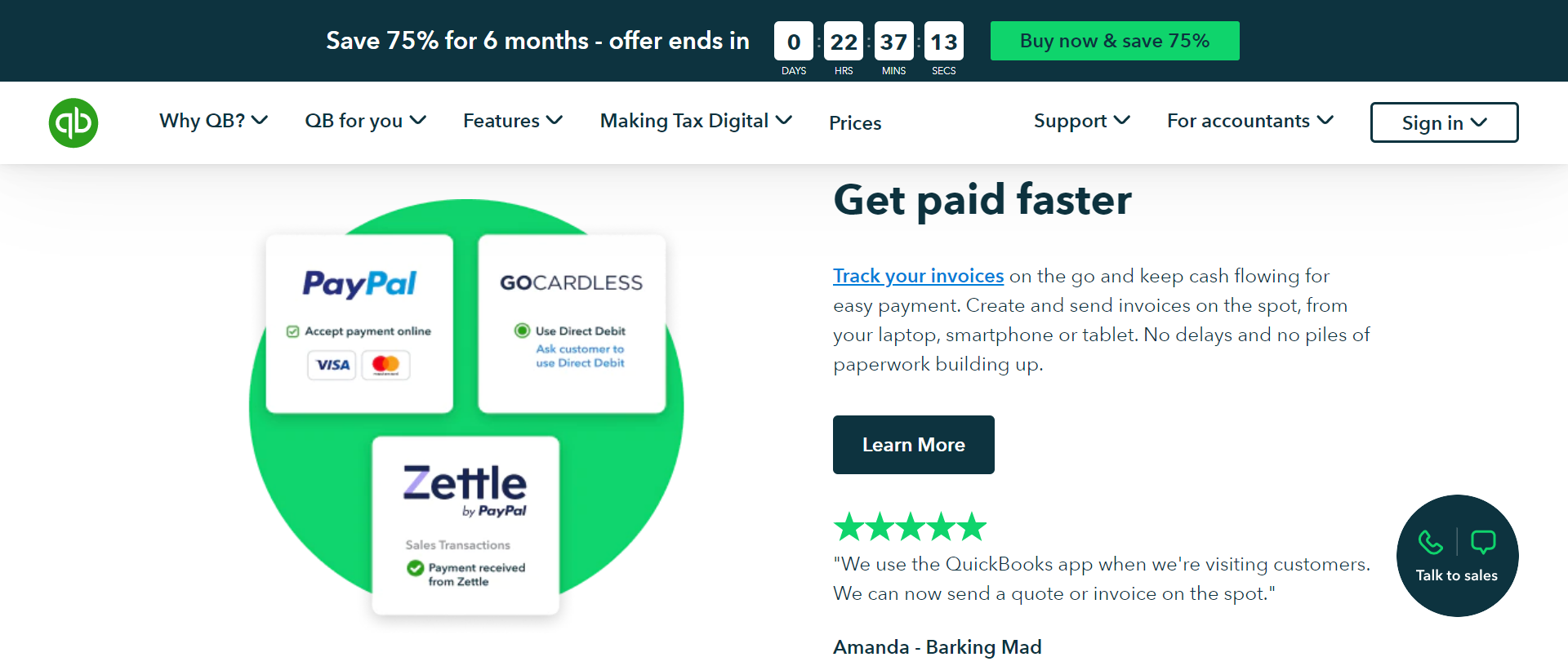 You can create invoice templates and send them automatically via email. You can trigger reminders to go out based on how long before an invoice is due and how often you want a reminder sent.
You can also use these invoices to prompt customers to pay via email, making it much easier for consumers to send over funds. Also, if the payment is made through QuickBooks' payment gateway, it's automatically entered into your books for easy income reporting.
Store Receipts and Track Mileage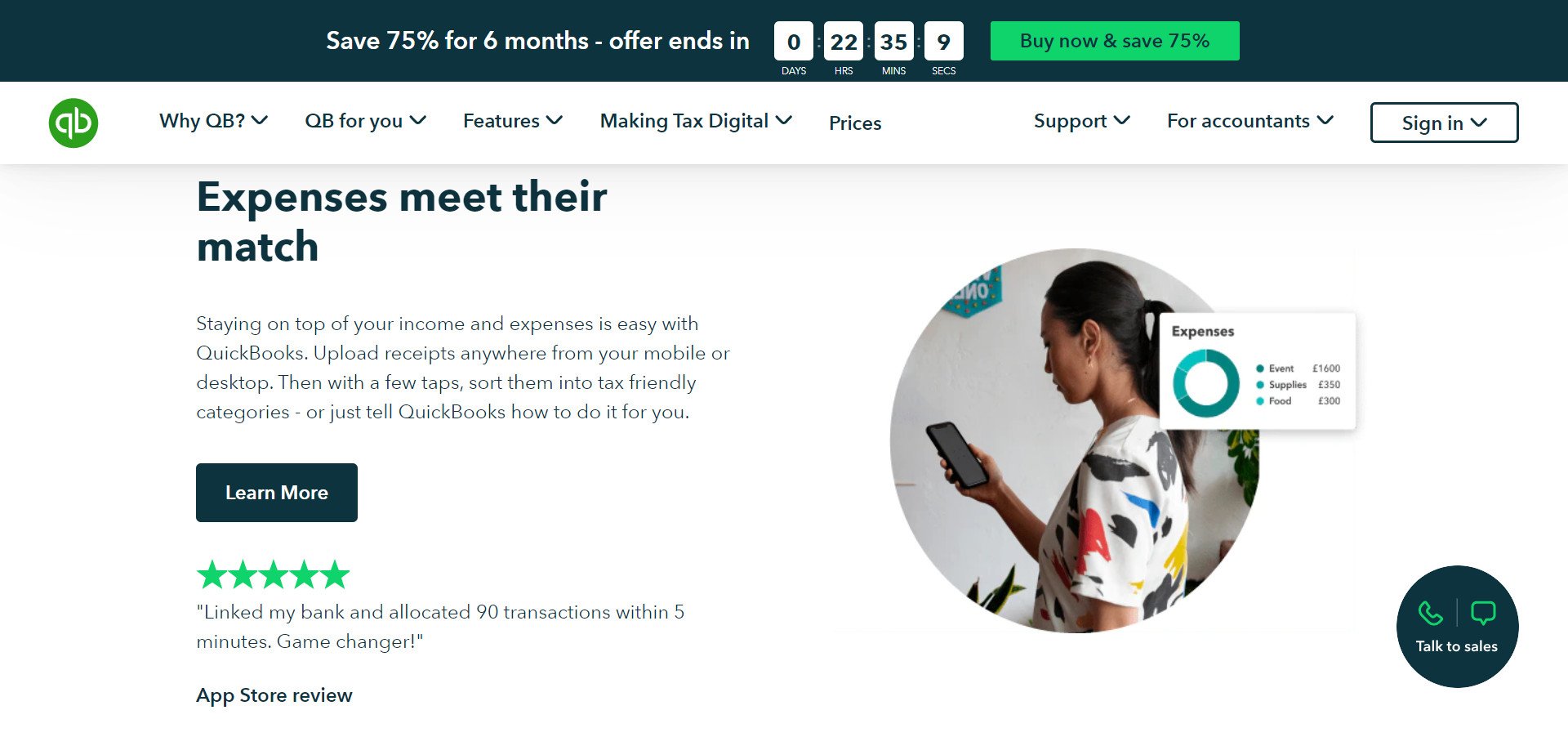 Photograph receipts of your business expenses and upload them to the QuickBooks mobile app. This makes it easy to count up what you've spent at the end of the month. You can also use the mobile app to track mileage as you drive. To track your fuel cost, simply add a drive to the app, enter their vehicle details, and QuickBooks will detect and monitor the cost of journeys from start to finish.
Work With a Live Bookkeeper
If you're looking for a more akin service to Bench's, QuickBooks can connect you with a live bookkeeper. They can bring your existing financials up to date and manage your current books. You can collaborate via video calls and receive tax-ready books, cleanup and setup in QuickBooks, and essential reports. For instance, financial statements, balance sheets, profit & losses, and cash flow statements.
Other Services
You can expand QuickBooks' core features with add-on products like Quickbooks Time and Quickbooks Payroll. The former allows you to track time via a mobile app, schedule employees for jobs and shifts, and report how time is spent at your company. In contrast, QuickBooks Payroll automatically pays your staff and contractors at the allotted time.
Recently, Quickbooks added inventory management into the mix with QuickBooks Commerce. This service syncs with popular eCommerce platforms (such as Shopify, Square, etc.) to help you manage product listings across multiple channels and track inventory. That way nothing falls through the cracks. It also syncs seamlessly with QuickBooks accounting software to provide more detailed insights into sale info, income, and expenses.
Bench.co vs QuickBooks: Integrations
On top of the add-ons discussed above, QuickBooks integrates with PayPal, Gusto, Amazon, and Fathom. QuickBooks integrates with over 650 apps, including industry-specific integrations like Builder Trend for construction businesses or Housecall Pro for service businesses.
Bench.co, unlike Quickbooks, doesn't offer payroll services or time tracking. This is something you'll need to find elsewhere. That said, the service provider partners with:

Stripe
Square
BigCommerce
Shopify
Gusto
FreshBooks
And more!
Bench.co vs QuickBooks: Pricing
Pricing is another area in which QuickBooks and Bench differ greatly; let's take a look:
Bench.co's Pricing
Bench offers one month of bookkeeping for free. After that, they have two plans whereby you can save money if you opt into annual billing.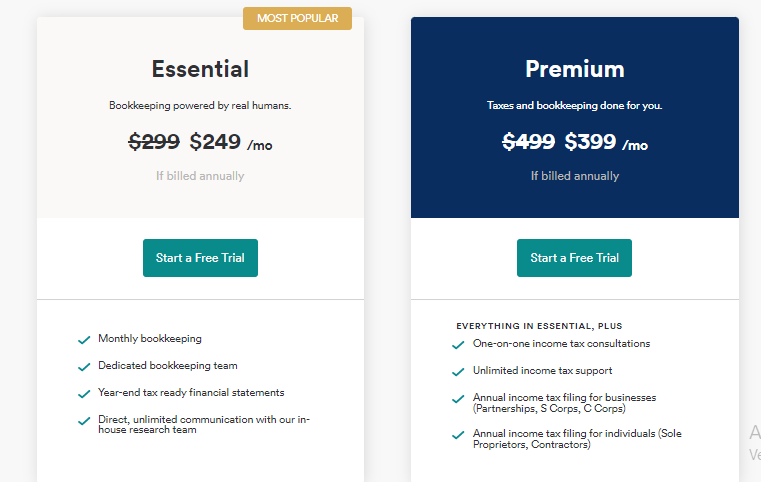 The Essential plan starts from $249 per month (if billed annually) and includes:
Monthly bookkeeping services
With the help of a dedicated bookkeeping team
Year-end tax ready financial statements
Direct and unlimited communication with the in-house research team
The Pro plan starts from $399 per month (if billed annually) and provides:
Unlimited tax advisory services
One-on-one tax strategy planning
Annual tax filing for businesses (partnerships, S Corps, C Corps)
Annual tax filing for individuals (sole proprietors, contractors)
You can also add historical or specialized bookkeeping to these plans:
Historical bookkeeping starts at $299 per month.
Specialized bookkeeping starts at an additional $100 per month.
QuickBooks Pricing
QuickBooks offers various payment plans to suit all business sizes and budgets; the quotes listed below are based on monthly billing: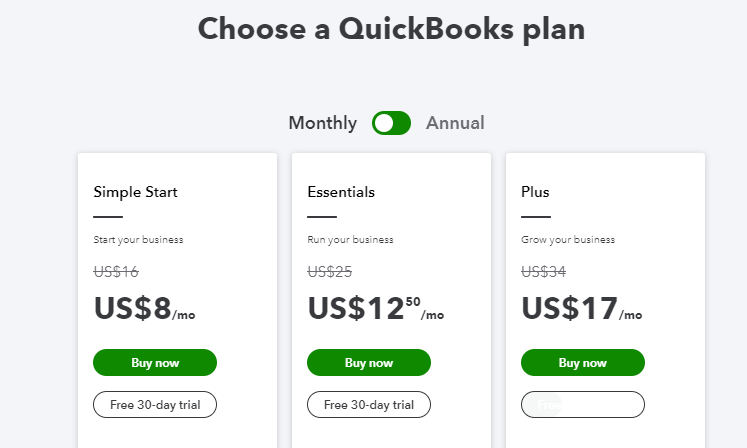 Simple Start: $25 per month
Essentials: $50 per month
Plus: $80 per month
Advanced: $180 per month
Each plan enables you to track income and expenses, create and accept invoices, maximize tax deductions, and run summary reports. You can also organize receipts, track mileage with the app, manage your cash flow, and calculate sales and sales tax.
At this point, it's worth noting that there are two main types of reports available: Summary reports and detail reports.
Aptly named, summary reports provide summary information about sales, customers, expenses, etc. An example is the A/R Aging Summary report, which gives you information on aging customer accounts.
In contrast, detailed reports provide more in-depth information about suppliers, expenses, customers, etc. If we use the same example, of the A/R Aging report, instead of just balances and a summary of the information, a detailed report will include individual transactions.
However, higher plans unlock additional features and more users. For example, the Essential plan lets you sign up three users. But, only the Advanced Plan includes more than five. With the Plus plan, you can also track inventory and project profitability. However, the Advanced plan unlocks business analytics and insights, the ability to manage employee expenses, create batch invoices, and exclusive access to integrations like Hubspot, DocuSign, Bill.com, and Salesforce.
You can also add an onboarding session for a one-time fee of $50.
It's also worth noting that QuickBooks offers a more affordable plan for freelancers at $15 per month. However, this limits features to the basics a sole trader might need. For instance, you can run straightforward reports, estimate quarterly taxes, and track income and expenses.
Bench.co vs Quickbooks: Pros and Cons
We've covered a lot of ground, so to help consolidate everything we've discussed, let's quickly sum everything up with a pro-cons list: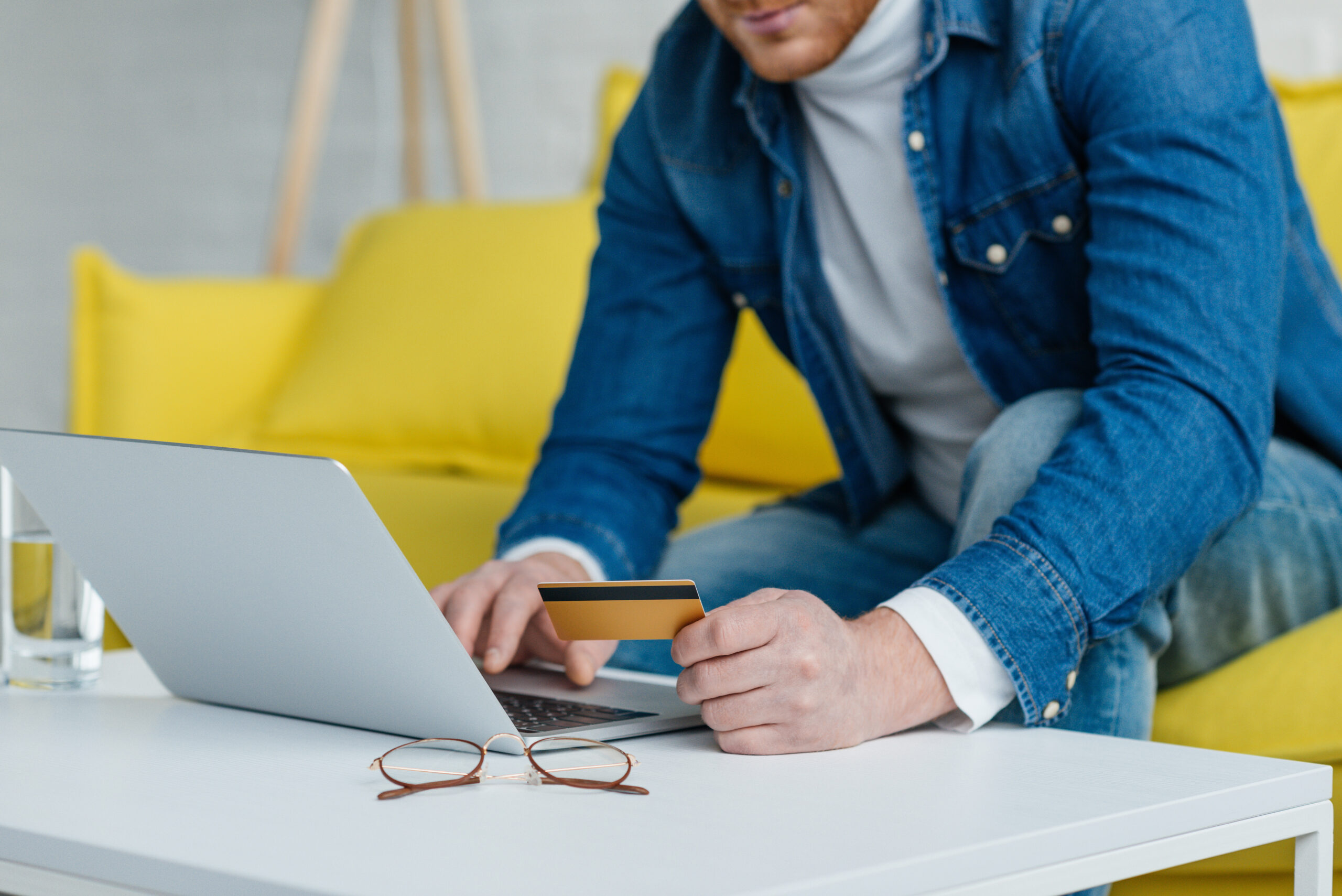 Bench.co Pros:
Bench.co handles bookkeeping for you, saving you a lot of time on administrative work.
You have access to a live bookkeeper that can help you understand your business finances. If you're not good with money yourself, they can walk you through reports you might otherwise not have found as insightful.
You can view financial reports in your dashboard, including visual representations, such as line graphs and stacked bar graphs, that make data easier to read and understand.
Bench.co can be a lifesaver if you need to sort historical bookkeeping records and quickly prepare for an overdue tax return. They don't shy away from difficulty in obtaining outdated records.
Bench.co Cons:
As you're reliant on a bookkeeper, you won't learn any accounting skills yourself. So as soon as you stop paying for their service, you're left where you started.
For most small businesses, their monthly prices are too high to justify.
Some users have commented that there is limited categorization and customization.
QuickBooks Pros:
QuickBooks is tried and tested software that's been the go-to accounting tool for many businesses for decades.
It comes with intuitive features to help you manage your finances. For instance, you can easily and quickly connect your bank and credit card account to your QuickBooks account. This ensures real-time updates on your business's financial health and reduces the amount of data entry you need to input.
You can drastically speed up your accounting tasks.
You gain better visibility over your cash flow.
You can grant access to your QuickBooks account to more than one user, which is great if you have a team.
The pricing plans are flexible and affordable for small businesses and even freelancers.
QuickBooks offers its payroll and time tracking solution.
QuickBooks Cons:
While QuickBooks simplifies accounting, you still have to do it yourself. So you may still spend hours on bookkeeping each month.
You're responsible for creating compliant records for tax returns.
QuickBooks might not be useful for businesses with difficult finances to order – especially those looking to overcome historical challenges.
FAQs
Question: What customer support do Bench.co and QuickBooks offer?
Answer: Bench.co gives you access to a dedicated bookkeeper. You can contact them by scheduling a call or messaging in the app. Typically, you'll receive answers within one business day.
Whereas Quickbooks' support depends on the plan, you've chosen. Support is available via phone and live chat, and priority support is available for advanced users.
Question: What is Plaid?
Answer: Bench.co uses Plaid, a data aggregation platform, to connect with thousands of US institutions through a simple, intuitive interface that allows it to sync with your accounts.
Question: Is my Bench.co pricing going to increase?
Answer: Bench's pricing depends on your business's monthly expenses. For example, suppose your business grows and starts to accept more financial transactions each month. In that case, your bookkeeping costs may also rise.
Question: Can I access Quickbooks and Bench.co on the go?
Answer: QuickBooks works on various devices, including iOS and Android mobile phones and tablets, and has an app to be downloaded for ease of use. Bench.co also provides a mobile app available for iOS but not Android.
Note that both Bench.co and QuickBooks require an internet connection.
Bench.co vs Quickbooks: Our Final Verdict
You can use both Bench.co and QuickBooks to streamline your business's accounting efforts. However, as you've seen, their services vary considerably.
Bench.co encourages you to commission an accountant through their platform to do the bookkeeping for you. It resembles working with an accounting professional; only the whole service is easily accessed online and also provides you with intuitive software to work with.
On the other hand, QuickBooks only provides you with bookkeeping software, so you still need to do all the accounting yourself. It simply automates tedious tasks and makes it easier to keep track of your income, sales, receipts, and expenses. QuickBooks comes with many features that make it intuitive and effective to use. However, you might still need a decent underlying understanding of finance to make it work for you.
Ultimately, the price makes a big difference. Businesses with relatively simple accounting needs on top of their finances will find QuickBooks much more affordable in the long run. If, on the other hand, you're struggling with a more complicated financial situation and need help getting on top of tax compliance, Bench.co could be an invaluable asset.
Over to you – let us know in the comments below whether you would sooner tackle your accounting with a SaaS or if you prefer to leave your books to the experts. Speak soon!