Last Updated on May 2, 2023 by DMEditor
In this Missinglettr Review, we are going to explore how this tool can help you streamline your content marketing, and give you an entire year's worth of social media posts in just a few minutes.
Content marketing is one of the most cost-effective ways to bring traffic to your website, and more and more businesses are getting on board with this by writing and sharing useful blog posts for their audience.
It's all very well creating great content for your blog, but sharing it and re-sharing it on social media is important too, and this can often be overlooked because of the time it takes from your already busy schedule.
If you're not already putting content marketing at the top of your list when it comes you marketing your business, you're missing a trick.
Did you know that content marketing gets three times more leads than paid search advertising? Amazing, right? And there are loads of other benefits too, including giving your SEO (search engine optimization) a serious boost.
Marketers who prioritize blogging are 13 times more likely to see a positive ROI, so it makes sense that you get everything you can out of each piece of blog content you create
So today we are going to be reviewing the Missinglettr social media tool, a tool that can save you hours of time each week, bring you more organic traffic, and help you grow your online presence. We are going to look at all the features Missinglettr offers, as well as the pros and cons, and pricing, so you can decide for yourself if this is the right tool for you.
But before we get stuck into this main review, let's just take a look at why your blog needs a social media strategy.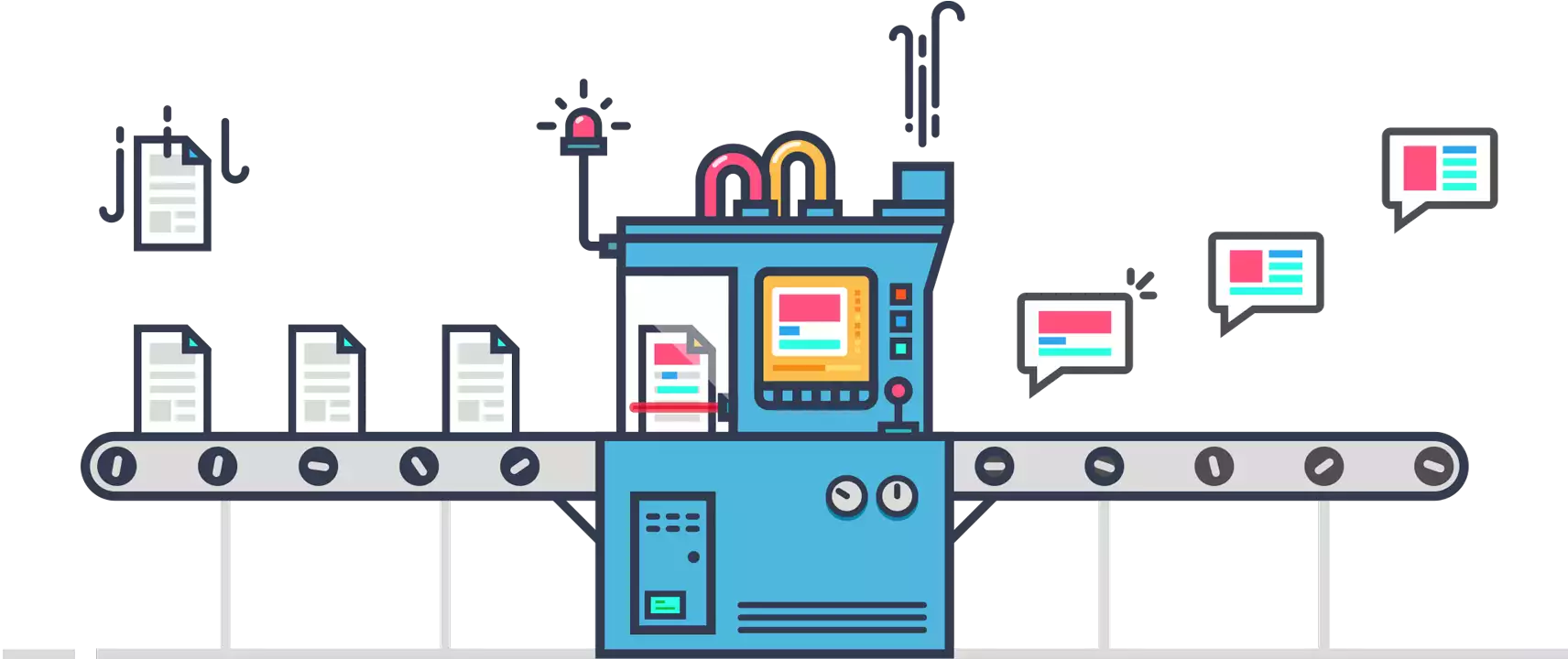 Missinglettr is My New Fav
Missinglettr wasn't initially on my radar, but when a colleague recommended it and I tried it out…. INSTANT Coschedule replacement. Not only is it much less expensive (even on the highest tier), but it is dead simple to use.
Try Missinglettr FREE
We earn a commission if you click this link and make a purchase at no additional cost to you.
Why You Need a Social Media Strategy for Your Blog
As a blogger, you already know how important content is. Creating awesome content gets you found online, builds authority with your readers, and helps you get more organic traffic to your website. Overall, it's a massive part of your marketing strategy as content marketers.
And you probably already have social media profiles too, right? But how often are you sharing your older content to your social media profile?
I thought so.
The reality is, it's a boring task. Creating beautiful images and text to post on social media along with a link to your content is time-consuming for every social media marketer, and it's easy to forget to do, and if you're not resharing your content regularly, you are losing out on page views and traffic. Which is exactly why you should be automating the process (marketing automation) with a tool like Missinglettr.
Here are just a few of the benefits of social media marketing:

It increases your Domain Authority. Having social media accounts with a link to your website or blog can help to increase your DA.
It enables others to share your content. Have you shared something great on social media this week? Chances are, if other people think it's great too, they will want to share it, and posting your content gives other people the opportunity to see it, and share it if they like it. If you didn't share it on social media in the first place it might never have been found.
It helps you generate more traffic. Sharing on social media helps you reach an audience who may not have found you through a search engine. This is another reason why hashtags are so important, as they allow people to see your content even if they already follow you.
It allows you to connect and network with other bloggers and your target audience. Social media is a great way to build a relationship with your followers and fans, and it also gives you the chance to meet other bloggers who you could perhaps collaborate within the future.
It creates brand awareness. Posting regularly on social media keeps your brand at the forefront of people's minds, and lets you reach people who didn't previously know about your brand or blog.
It can improve your SEO. In the same way, using social media for your blog improves your DA, it can also improve your SEO, as it can help with link building.
So now that we have talked about why having a social media strategy is important for your blog, let's get stuck into the review…
Missinglettr Review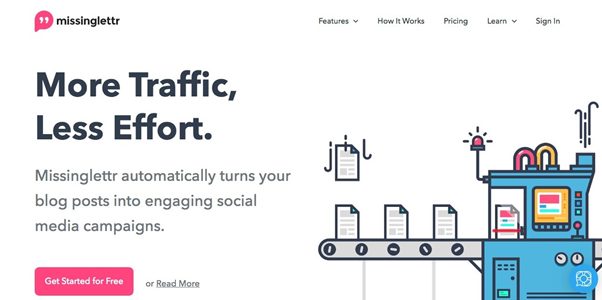 Missinglettr helps you automate your content marketing by automatically turning your blog posts into engaging media campaigns (social campaign), and sharing them on your channels on autopilot.
Normally once you have created a blog post you will share it to your social media channel once, giving you an initial boost in traffic, and then it gets forgotten about, and your traffic dips back down again.
It's time-consuming to remember to reshare your posts again, not to mention making sure they are shared at the right times. Missinglettr takes this all out of your hands, so once you have written a great blog post, you can sit back and relax as Missinglettr takes care of the promotion for you.
How does Missinglettr work?
To get started with Missinglettr all you need to do is sign up, enter the URL of the first blog post you would like to share, and connect your Facebook, Twitter and LinkedIn accounts.
Easy peasy.
From here Missinglettr will create your first 365 day Campaign. Missinglettr uses AI machine learning to scan your content for suitable images and quotes, and provides you with social media posts for your approval.
Once you click approve, your content is scheduled for the year, and you don't need to do anything else! Each time you create a new piece of content Missinglettr will find it and automatically generate a new social media campaign for you. You will receive an email requesting your approval for the campaign, and you can approve or edit it, so nothing gets posted without your approval.
The Key Features of Missinglettr
Automatic social media campaigns
Optimized social content
Promote guest posts
Hashtag recommendations
Content templates
Schedule templates
Medium repurposing
Client approvals
Custom URL shorteners
Branded imagery
ROI and analytics
As you can see, Missinglettr offers all the features you need to automate and share your content effectively, so now let's take a closer look at each of these features so you can see how it all works.
Automatic Social Media Campaigns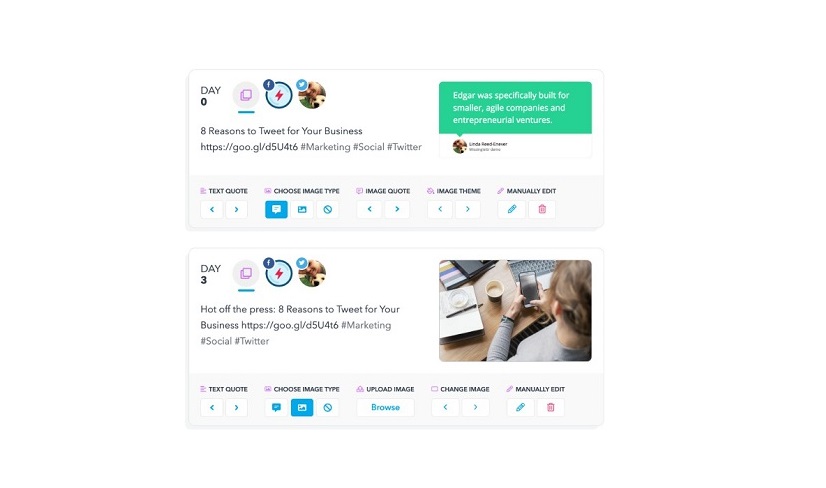 Missinglettr lets you create an entire year's worth of content from each of your blog posts in just a few minutes. Once you have added all of the blog posts you want to share, social campaigns are created automatically for you to review. You have the option to edit, accept or reject Missinglettr's campaign suggestions, so there will be no surprises, and nothing gets posted without your permission.
Missinglettr creates an entire year of branded, engaging content, and spreads (drips) out the social media posts for each piece of content you provide, so it's shared evenly throughout the year, ensuring it gets the highest number of views, and helping you to avoid that dip in traffic you see after only sharing a blog post once.
New posts are detected automatically, regardless of where they are being published. Missinglettr works with WordPress, Wix, Blogger, Ghost, Medium, Squarespace, and more, so you don't need to worry about manually uploading links to your blog posts, Missinglettr is already way ahead of you!
Missinglettr currently works with Facebook, Twitter, and LinkedIn, so you can easily connect your social media account profiles and everything else will be taken care of you.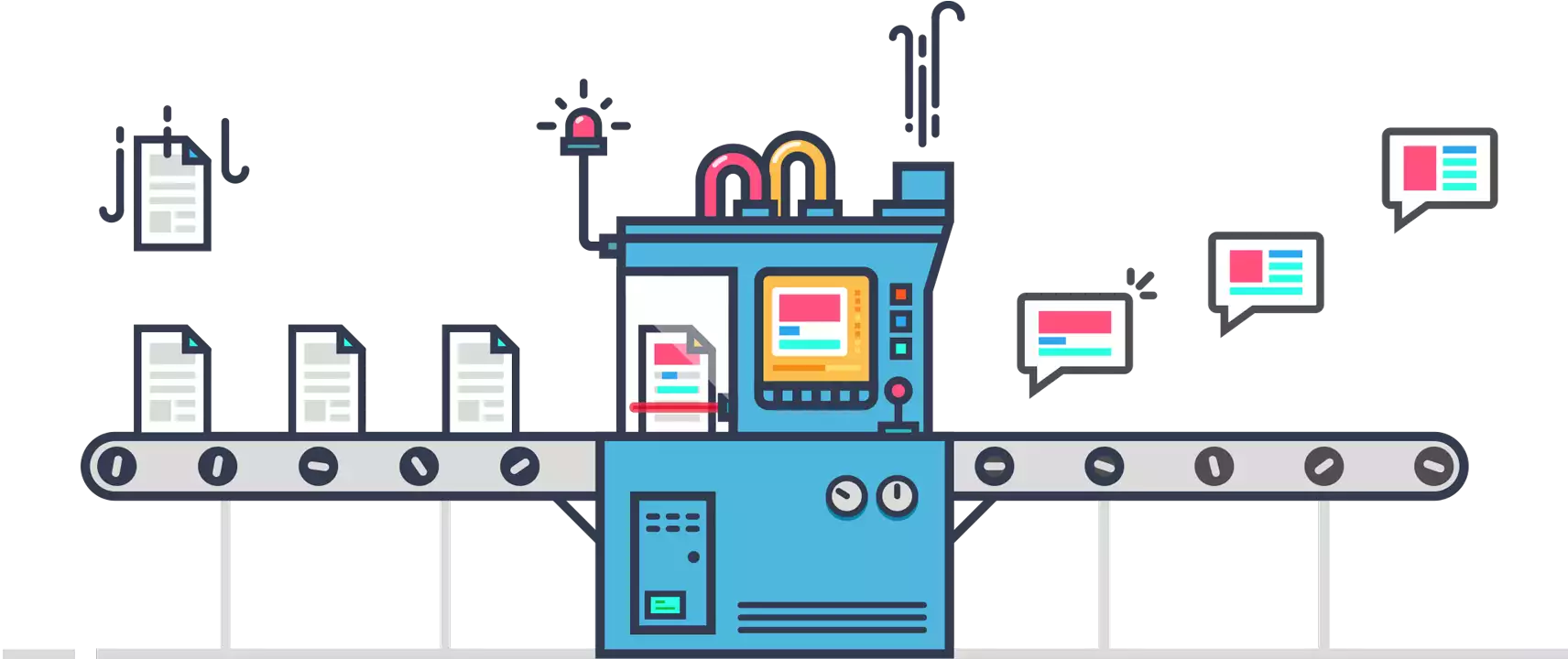 Missinglettr is My New Fav
Missinglettr wasn't initially on my radar, but when a colleague recommended it and I tried it out…. INSTANT Coschedule replacement. Not only is it much less expensive (even on the highest tier), but it is dead simple to use.
Try Missinglettr FREE
We earn a commission if you click this link and make a purchase at no additional cost to you.
Optimized Social Media Content
Creating images for your social media posts is normally quite a time-consuming task, especially since each social media platform uses different sized images in their post previews. With Missinglettr images are automatically created for you and cropped to make sure they look great on whichever social media platform they are being shared on, so you have the perfect photo for all social networks.
Missinglettr also extracts quotes from your blog posts and uses these to create a branded quote bubble images to be shared, and again, these are optimized for each social media platform, so your blog articles get more attention.
Promote Guest Posts
As well as promoting your own content, Missinglettr also lets you share guest posts that you have written for other sites. All you need to do is enter the URL of your guest post, and it will be automatically created into an engaging social media campaign. You can make any adjustments, and remove any content you aren't 100% happy with posting to your social platforms, and then it's ready to go and the content will be dripped out over the next 12 months.
Hashtag Recommendations
Missinglettr automatically generates hashtags for you based on the content of your blog posts. You can review the suggestions, and either select them or edit them before publishing your marketing campaign.
Hashtags are a great way for you to reach a new audience who may not have heard of you before.
The hashtags chosen for you are rated out of 5 for popularity, so you can see how successful they are likely to be before deciding which ones you will choose for your campaign.
As well as taking advantage of Missinglettr's hashtag suggestions, you can also add your own hashtags, and you can even set up default hashtags that are automatically used in every post. If you're not a fan of hashtags, don't worry! You can disable this feature too.
Content Templates
You have full control over the templates that are used to create and share your content, and you can edit them as you need to, to suit your writing style since every content marketer has a way they like things to sound.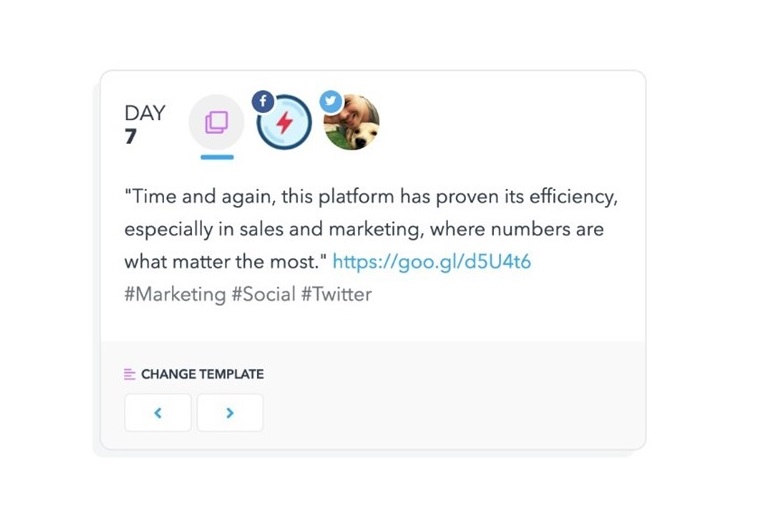 Missinglettr uses AI and machine learning techniques to create high impact social media content from your blog posts to put on your social accounts.
Missinglettr chooses a quote from within your blog post that it thinks will resonate with your audience, and then offers a variety of ways for the quote to be framed, so you can either go with the suggestion from Missinglettr, or edit the quote and template until it's just how you want it.
Schedule Templates (Social Media Scheduler)
As a default, a Missinglettr campaign for each blog post you publish will last 12 months, but you can also create your own schedule templates if you prefer. You can choose the length of your campaign, number of posts within the campaign, and the post-distribution throughout the campaign so posts are not clumped together.
There is also a handy post-distribution slider that lets you quickly allocate the distribution of your posts based on whether you want more posts towards the beginning of the end of your campaign.
This scheduling enables you to create longer evergreen campaigns, as well as shorter blasts for just one or two weeks for example, which would work well for any promotions you are running, or anything seasonal such as Christmas related content that would not be suitable as evergreen content.
Medium Repurposing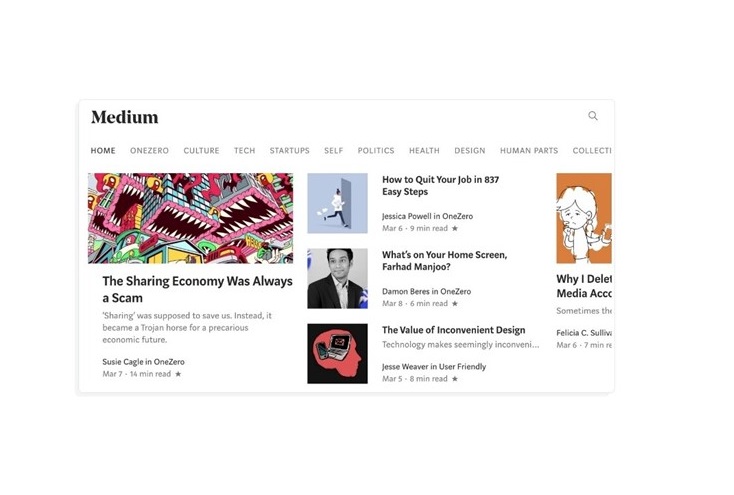 If you have a Medium account, you can use Missinglettr to automatically republish your blog posts to Medium after they have been published to your site. This has the advantage of maximizing the ROI and impact of your blog posts without harming your SEO.
All you have to do to get started is connect your Medium account, and you are ready to go. Your blog posts will automatically be re-published on Medium, opening you up to a whole new audience, increasing your overall exposure.
Client Approvals
If you are managing social media content for your clients you can still do this though Missinglettr. There is an option to invite your clients to approve campaigns before anything is scheduled.
All you need to do is enter the clients email address, and they will receive an invitation to view, and approve or reject the campaign. They can also add any comments or feedback in the box provided, so you are always on the same page, and can make quick edits if needed.
Custom URL Shorteners
Missinglettr includes custom URL shorteners, so you can easily personalize your campaigns. You can choose from several providers including lttr, bitly, PixelMe, replug, Short.CM, and JotURL.
Since all of the social media content created by Missinglettr will include a link back to your blog, using a URL shortener is a great way to keep things tidy. Missinglettr uses its own URL shortener (lttr.ai) as default, as it helps to track and analyse the performance of your campaigns, but you can choose one of the other providers if you prefer.
Branded Imagery
Missinglettr creates branded imagery to go with the social media content created from your blog posts.
You can choose from one of the existing themes, and customized it to suit your brand perfectly. You can change the fonts, colors, alignment, font size, and weight, and you can also change the background, and your logo so everything is perfectly on-brand.
With the background, you have the option to add a custom image, automatically extract images from the blog post, choose a random image from a gallery, or use a plain colored background, all it takes is a few clicks, and you can even instruct Missinglettr to use dynamic images that change automatically for each campaign!
ROI and Analytics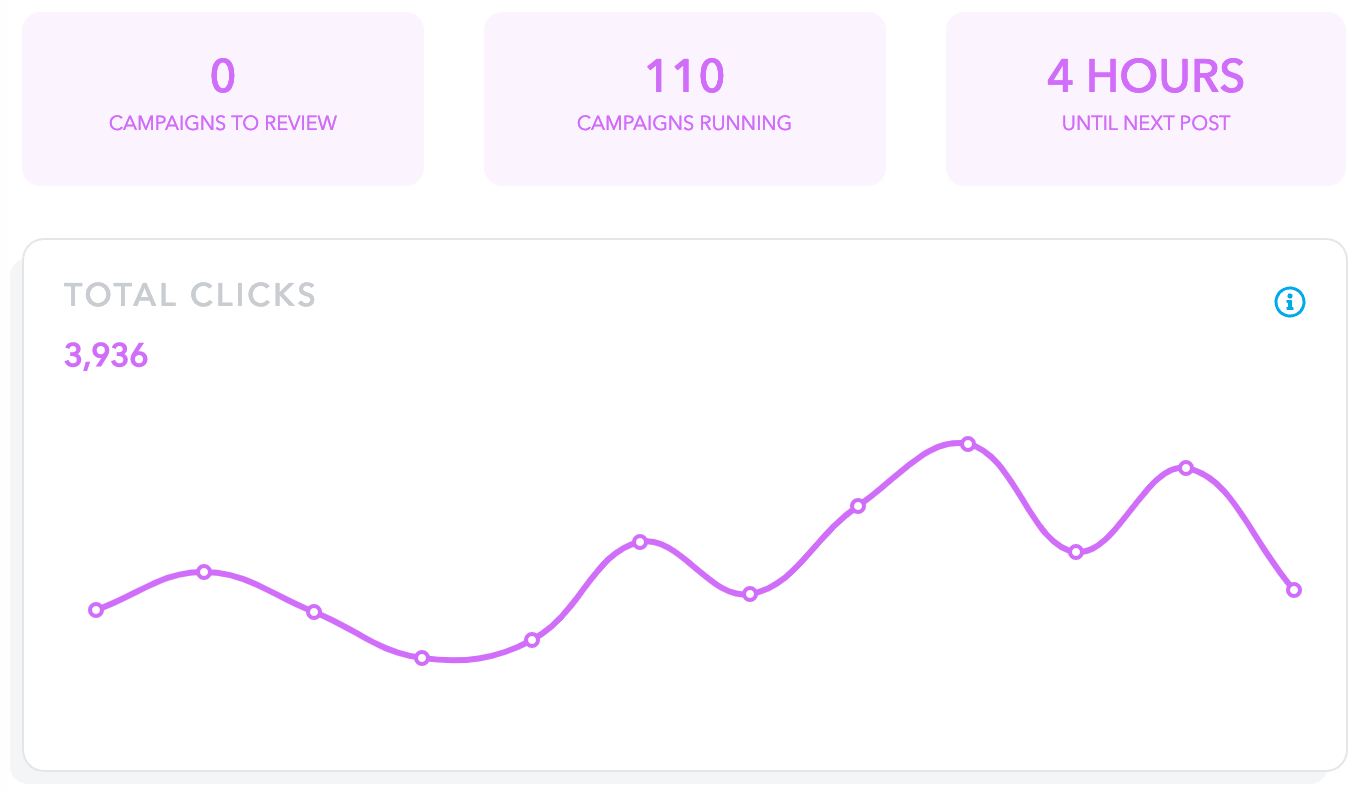 Missinglettr includes reporting and analytics features so you can see exactly how your campaigns are performing, and how many clicks each social media post received.
Every piece of content published is tracked and monitored for clicks, so you can see a record of your performance over time.
The Pros and Cons of Using Missinglettr
As with all software, Missinglettr has its own upsides and downsides, so let's take a look at the pros and cons so that you can decide what's important to you.
Missinglettr Pros

Missinglettr makes social media marketing for blogs easy and takes care of the boring and repetitive task of resharing content

with its

.
It saves you hours of time each week giving you more time to spend on other aspects of your small business.

This

keeps your social media profiles active, even if you are not posting due to being on a holiday or any other reason.
You can automatically generate years worth of content from your existing and new blog posts in just a couple of minutes.
Missinglettr generates recommended hashtags for you to choose from, and you can also set default hashtags that get used on every post.
Templates are provided for you to choose from for your social media campaign, and you can customize them to match your branding.
The software is easy to learn and use, and there are webinars and training available if you need any help getting started.
Missinglettr Cons

The analytics provided by Missinglettr isn't great, but they do say on their website that they are working on it, and there is more to come.
While the hashtag generator is helpful, it's not suitable for doing full hashtag research, so you may still need to do this with another social media automation tool and add them in yourself.
Another downside is that the starter " Blogger" plan does not include some of the important features such as schedule scheduling, automatic quote bubble generation, custom post templates, automatic repost to Medium and advanced analytics, so if you need any of these features you will need to skip straight to the business plan which is a little more pricey.
Missinglettr Pricing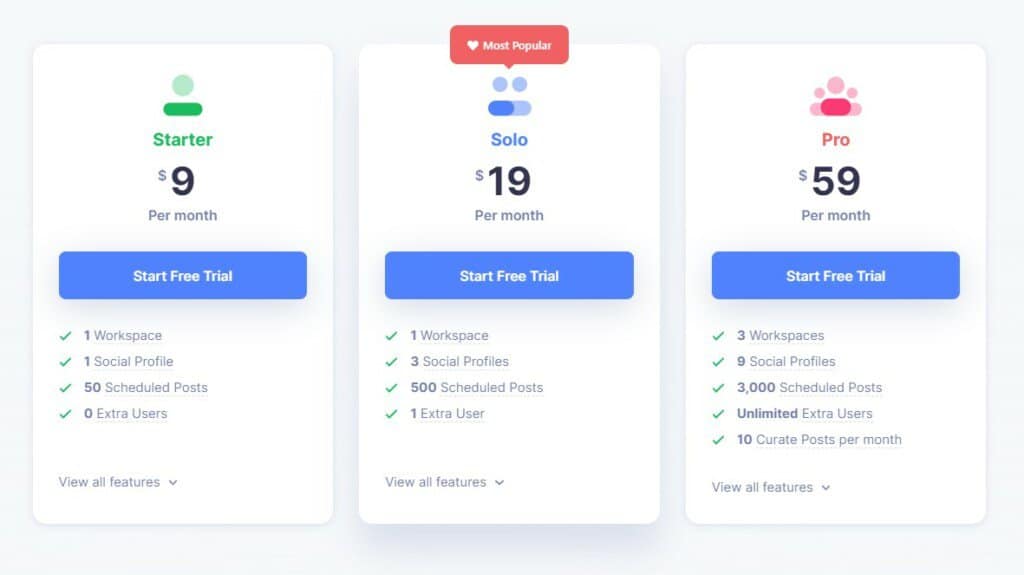 Missinglettr has three different pricing plans, depending on your needs. The first plan called the 'Blogger' plan, is aimed at independent bloggers, and costs just $15/month. This plan lets you use 1 content source, 3 social media profiles, schedule 1,000 posts and have 1 admin user. This plan includes automating campaigns, Manual campaigns, campaign editor, and the URL shortener for advanced analytics.
Next up is the "Business" plan which costs $47/month, and includes all of the features we have talked about it in this review. This plan lets you have up to 3 content sources, 8 social media profiles, and up to 50,000 scheduled posts.
And finally, there is the "Agency" plan which costs $147/month. This plan includes all of the features from the "Business" plan, and lets you have up to 7 content sources, 25 social media profiles, 10,000 scheduled posts, and unlimited users. The Agency plan also comes with other added benefits such as priority support, the ability to add on white labeling option, client accounts, individual PDF reporting for clients and a multi-site dashboard and calendar.
Missinglettr Review Conclusion: Is Worth the Money?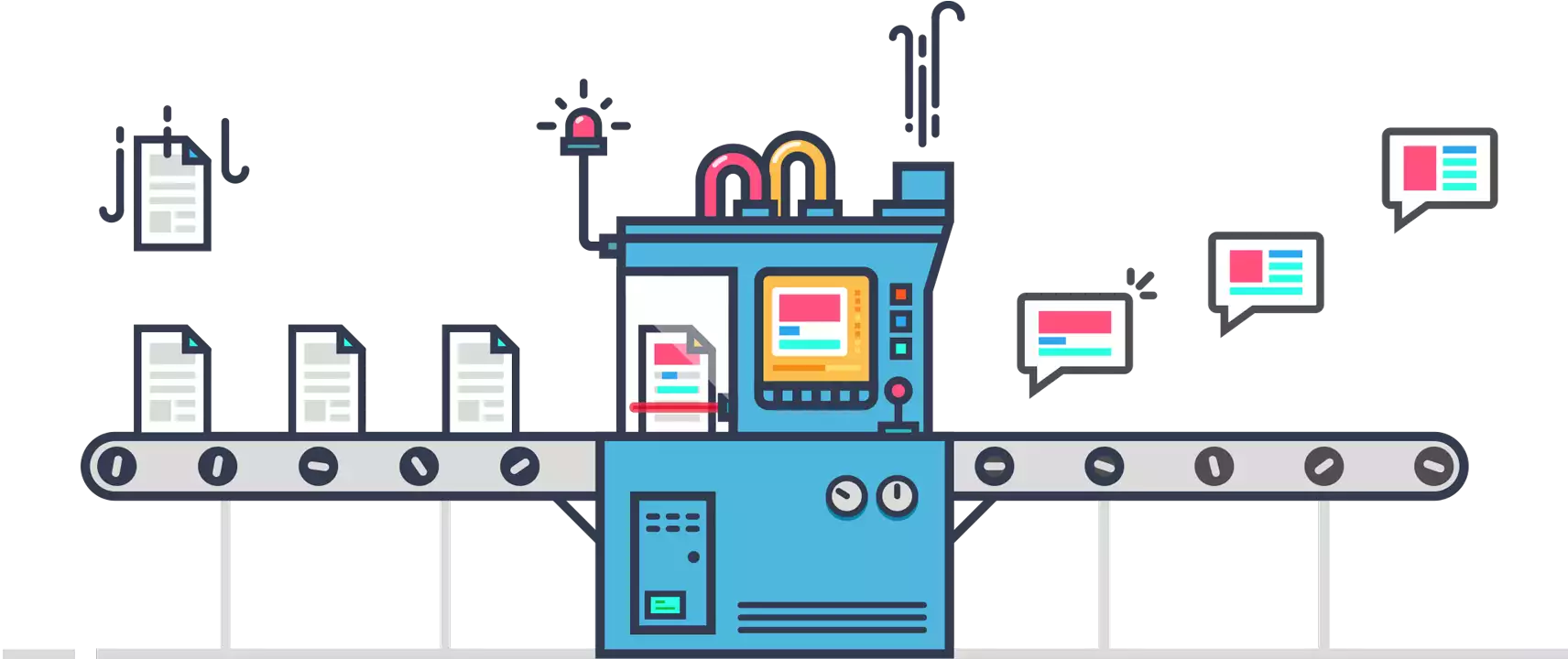 Missinglettr is My New Fav
Missinglettr wasn't initially on my radar, but when a colleague recommended it and I tried it out…. INSTANT Coschedule replacement. Not only is it much less expensive (even on the highest tier), but it is dead simple to use.
Try Missinglettr FREE
We earn a commission if you click this link and make a purchase at no additional cost to you.
We'll cut to the chase: Missinglettr is a great tool that you should definitely use to promote your blog content. No matter what type of business you run, if you are using content marketing as part of your overall marketing strategy (which you absolutely should be) then Missinglettr can save you hours of time each week by taking each of your blog posts and creating a 365-day social media campaign from each one.
Missinglettr does everything for you, from selecting the images to choosing appealing quotes from your content that can be shared within branded posts to your social channels, so all you need to do is review what Missinglettr has come up with, and approve it to be a scheduled post.
Sure, there are other social media scheduling tools and marketing tools out these, but the thing that makes Missinglettr special is that it does the hard work or putting together each post for you, and sets it to a schedule, which you would need to do yourself on most other social media scheduling tools.
As we revealed in this review, there are a couple of downsides, such as less than spectacular analytics, and the very basic hashtag generator, but we think that for all the benefits Missinglettr offers, these minor things can be overlooked.
Missinglettr helps you as a content creator, squeeze every last bit of juice out of each piece of content you have created so that you get the best ROI from your hard work.
If you would like to try Missinglettr, you will be pleased to know that there is a completely free 30-day trial, with no credit card details needed, so you can test-drive all of the features it has to offer before committing to a paid plan.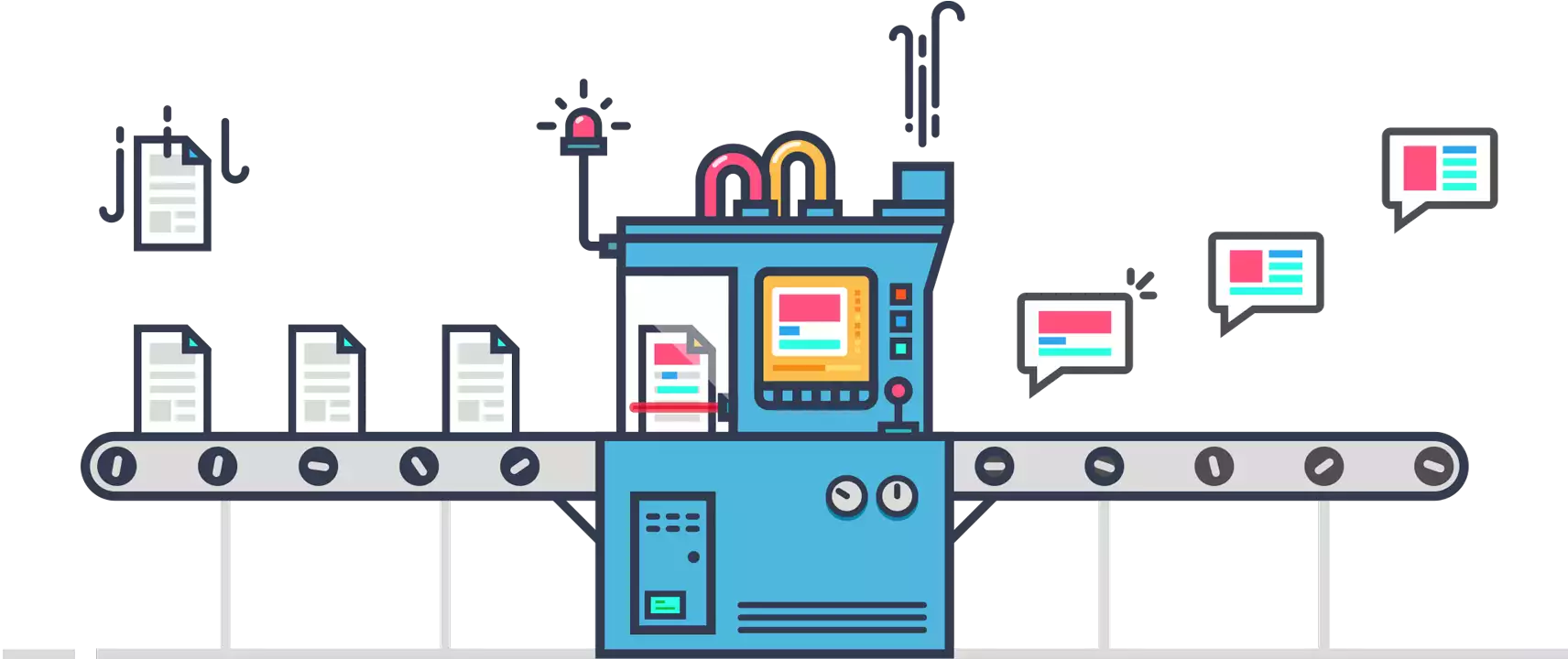 Missinglettr is My New Fav
Missinglettr wasn't initially on my radar, but when a colleague recommended it and I tried it out…. INSTANT Coschedule replacement. Not only is it much less expensive (even on the highest tier), but it is dead simple to use.
Try Missinglettr FREE
We earn a commission if you click this link and make a purchase at no additional cost to you.
FAQs About Missinglettr
How long are the plans with Missinglettr? Am I tied into a yearly contract?
Your plan with Missinglettr will run from month to month, and if you would like to cancel your account, you can do so at any time with no additional fees or penalties to play.
Does Missinglettr offer any discounts for charities or non-profit organizations?
Yes, Missinglettr offers a $25 lifetime discount to charities and non-profit organizations. To take advantage of this discount just get in touch with the team at Missiglettr ([email protected]) and they will organize this for you.
Can I change my plan after I have already signed up for a different plan?
Yes, you can upgrade your plan at any time. If you switch plans halfway through your billing cycle, you will be charged or refunded at the pro-rate for additional/missing fees. You can also switch between plans during the 30 days free trial period so that you can see for yourself what it's like actually using each plan to work out what's best for you and your business.
Which social media accounts can I use with Missinglettr?
Missinglettr currently supports Facebook, Twitter, and LinkedIn. The exciting news is that Pinterest will be added very soon!
Can I review and edit posts before they are published?
Yes, you have full control over everything that is posted so you can review, delete, edit and approve any posts before they are scheduled. Nothing will be posted to your accounts before you approve it, so there will be no surprises.
I blog in another language, does Missinglettr support other languages?
Yes, Missinglettr supports most languages. If your language contains any special characters that are not currently supported by Missinglettr, just get in touch with the support team, and they will fix it for you as soon as possible.
Here are other related articles you may be interested in: