Last Updated on April 23, 2023 by Ewen Finser
Cloud-based ERP (enterprise resource planning) software solutions are essential to any successful business today. These systems help companies streamline their operations and manage critical business functions, such as CRM (customer relationship management), inventory tracking, accounting, and payroll.
The cloud-based ERP software market is highly competitive, with many vendors offering integrated solutions for small to mid-sized businesses in a market expected to exceed $49.5 billion in 2025. The Acumatica vs NetSuite battle isn't without its fair share of fans and critics, as both vendors compete to convince companies that their solution is the best alternative.
While both providers have a lot to offer, it's crucial to understand the differences between their products so you can make an informed decision when selecting the best software for your company. This post will compare the key characteristics of each solution, assess their advantages and disadvantages, and evaluate pricing to make the best purchase decision.
Bottom Line Up Front
NetSuite stands out as a more mature and established player in the cloud ERP market, with a long track record of providing companies with high-quality product offerings. The solution is highly scalable and offers a lot of built-in functionality across key business functions, such as CRM, financials, manufacturing, project management, and more. One of the main differences between Acumatica vs.
NetSuite is the latter only offers cloud-based solutions, whereas Acumatica offers both on-premise and cloud-based solutions.
Main Differences Between Acumatica vs NetSuite
The main differences between Acumatica vs NetSuite are:
Acumatica offers on-premise and cloud-based solutions, whereas NetSuite only offers cloud-based solutions.

Acumatica offers a perpetual licensing model based on the computing resources needed, whereas NetSuite incorporates a per-user pricing model with a base price

The Acumatica accounting system depends on batch processing whereas, NetSuite is built around real-time processing and unified database management.

Acumatica utilizes C# and .NET programming languages, whereas NetSuite incorporates SuiteScript, its proprietary programming language
Acumatica Overview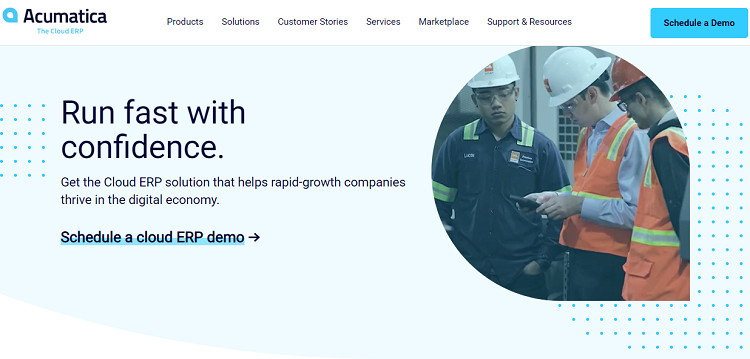 Acumatica is a cloud-based ERP solution that provides companies with an integrated set of business management tools, including CRM, inventory management, accounting & financials, among other modules.
Clients can choose to either have an on-premise installation or move everything to the cloud. The software works for most industries, whether, construction, distribution, manufacturing, retail, etc. It helps businesses transform into digital and automated enterprises through innovative business process automation.
Acumatica features an embedded CRM with case management, workflows, and analytics tools to help manage your sales process. The software also supports international accounting and tax compliance rules, advanced analytics to help you make smarter business decisions, and multi-entity & multi-currency support.
Its 24/7 customer support and cloud hosting make sure your business continues to run smoothly and uninterrupted, regardless of your location. In addition, users can integrate with other cloud-based applications such as Velixo, criterion HCM, Magento commerce, among others.
Acumatica Pros
Top tier customization tools

Flexible upgrade schedule/ pricing model

On-premise or cloud deployment options

Solid reporting

Personalized dashboards

Ready to use out of the box

Industry-specific modules for deep industry functionality
Acumatica Cons
Heavy reliance on third parties for addons

Difficulty estimating license costs

Problematic integration between sales and manufacturing
NetSuite Overview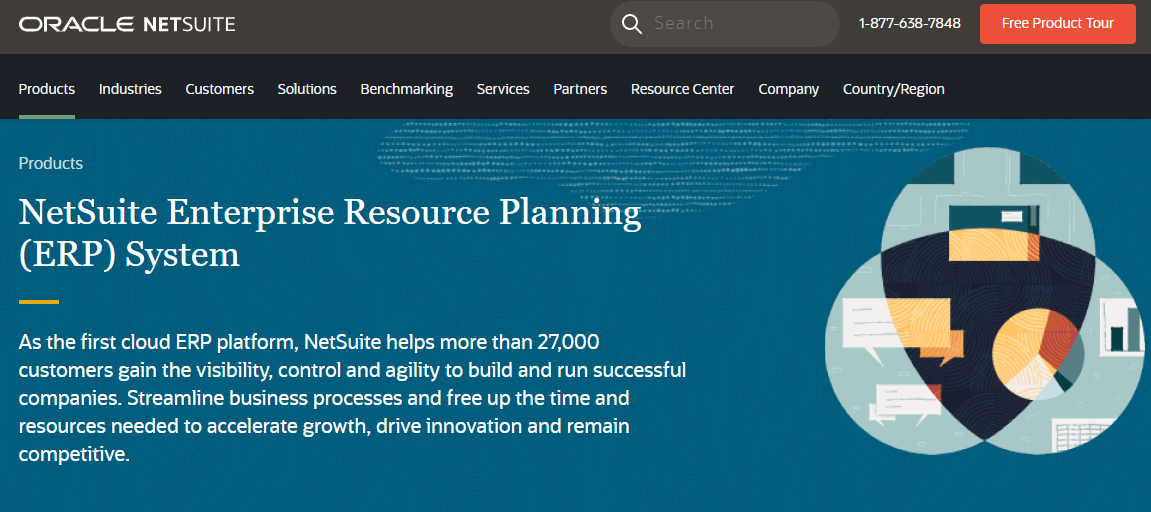 Oracle NetSuite is a cloud-based software solution that brings all your business functions together and helps you drive revenue. It provides companies with a complete set of business management tools, including financials & accounting, CRM, marketing automation, and project management.
It's one of the most recommended ERP software, with over 24,000 companies using it worldwide. NetSuite offers integrated solutions for any size business, along with industry-specific modules to help you manage your operations more efficiently.
As a single system solution, NetSuite streamlines all processes and allows access to all business information from a single platform, anytime and anywhere. It caters to businesses of all sizes across various industries including, automotive, consumer goods, financial services, high tech, wholesale distribution, and retail.
It takes flexibility and thoroughness right from the start, working around your current system and business practices to make the most significant impact at the lowest cost. NetSuite comes with preconfigured and customizable layouts to cater to different industry needs, and its modular design ensures that users can implement any changes with a minimum of fuss.
NetSuite Pros
Highly customizable

Strong integration capabilities

Greater depth of features

Excellent business management and intelligence tools

Easy to use interface

A complete/independent ERP solution

It provides real-time visibility
NetSuite Cons
Lacks on-premise support

Pricey for small businesses

Long implementation time

It doesn't offer a free trial like other ERPs
What to Look for When Comparing Acumatica vs NetSuite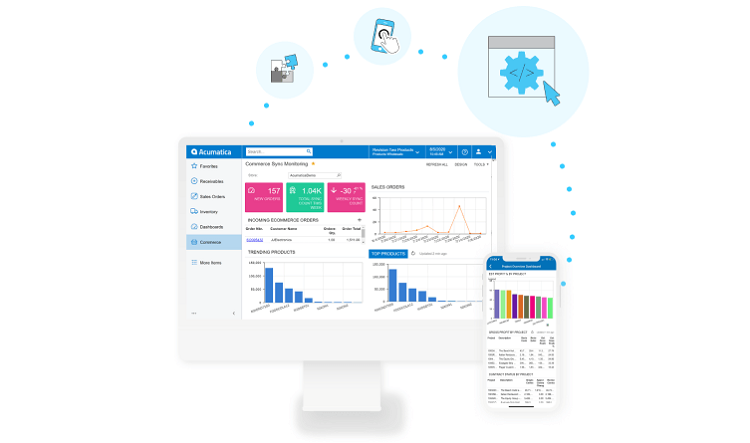 Before settling on a cloud ERP software, it's important to assess various components such as ease of use, pricing, implementation, integration capabilities, customer support. If you're considering NetSuite vs Acumatica for your business, here's what you need to know:
1. Customer Support
Both solutions offer top-notch services such as 24/7 email & phone support and a well-documented knowledge base when it comes to customer support. However, Acumatica's tech support is limited to the development side of it and app performance. Besides, NetSuite has a far more extensive knowledge base.
Verdict: NetSuite has better customer support than Acumatica
2. Pricing
Acumatica employs a "pay for what you use" pricing model with applications priced separately. Pricing will depend on the applications you plan on using, the type of license, and the projected resource consumption. This model offers the flexibility and scalability to grow and shrink as needed.
NetSuite's pricing depends on factors such as the total user count, add-on modules, and the product configuration of your choice. Users have to pay a base subscription fee alongside one user license. There are three editions that users can choose from NetSuite Limited Edition, NetSuite Midmarket Edition, and the NetSuite Enterprise edition that supports more than 1000 named users.
Verdict: Acumatica has a more flexible pricing model than NetSuite.
3. Ease of Use
Both software solutions are user-friendly and easy to implement, but they have their strengths regarding ease of use.
NetSuite is very intuitive with a single console and an in-built task manager and reporting & analytics tools. It's easy to navigate and provides users with a single view of all business operations.
Acumatica is also user-friendly with an intuitive UI, but it can be time-consuming because of the multitude of modules and settings that users have to configure. Most users complain about difficulties with implementing the software.
Verdict: NetSuite is easier to use than Acumatica.
4. Deployment
We all know NetSuite as the Pioneer of Cloud Computing for enterprise resource planning (ERP) solutions. Unfortunately, that's how far its cloud expertise goes for software development. However, it runs on the Oracle cloud, one of the most secure and scalable cloud infrastructures available.
Acumatica, on the other hand, is a trusted SaaS provider with a multi-tenant, pay-as-you-go, and high-performance cloud solution. If you want more control over your IT infrastructure, Acumatica's on-premise option is also available.
Verdict: NetSuite offers better cloud infrastructure than Acumatica.
5. Integration and Connectivity
Both Acumatica and NetSuite offer integrations with third-party business applications such as Salesforce, Microsoft Office, and QuickBooks. The integration capabilities in NetSuite and Acumatica are very similar.
Verdict: Both Acumatica and NetSuite offer integration options that users can customize to fit your business needs.
6. Additional Features
Both solutions offer modules such as CRM, e-commerce, reporting & analytics. Acumatica also provides an advanced inventory management module. NetSuite has a more expansive module library than Acumatica, including accounting, HR, and e-commerce, among others.
Verdict: NetSuite has a more extensive module library than Acumatica.
NetSuite vs Acumatica Feature Comparison
Understanding the features each solution offers is key to learning how they stack up against one another. Let's look at the specific functions that differentiate NetSuite vs. Acumatica.
1. Financial Management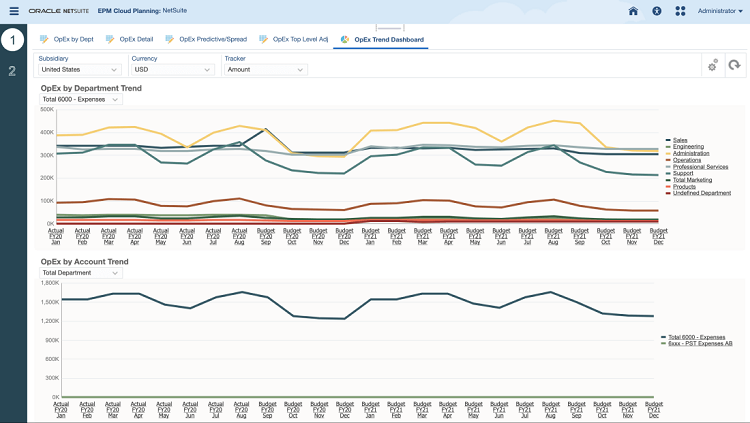 Financial management capabilities are one of the biggest draws for implementing an ERP solution for businesses. NetSuite and Acumatica provide tools to help you manage your entire accounting process, from accounting & finance to tax & compliance.
NetSuite's financial management capabilities include accounts receivable, accounts payable, multi-company consolidation, revenue recognition, financial planning and analysis, and much more. Its forecasting and billing tools help you automate your billing and collection processes. Users can also manage multiple currencies and automate their accounts payable process.
Acumatica takes a similar approach to managing finance-related processes. It provides tools for accounts receivable, accounts payable, inventory management & replenishment, multi-currency support, financial reporting & analytics, etc. It also offers business intelligence capabilities to help you make better-informed business decisions.
Verdict: While both NetSuite and Acumatica offer comprehensive financial management capabilities, NetSuite is more intuitive, easier to implement, and efficient.
2. Customer Relationship Management (CRM)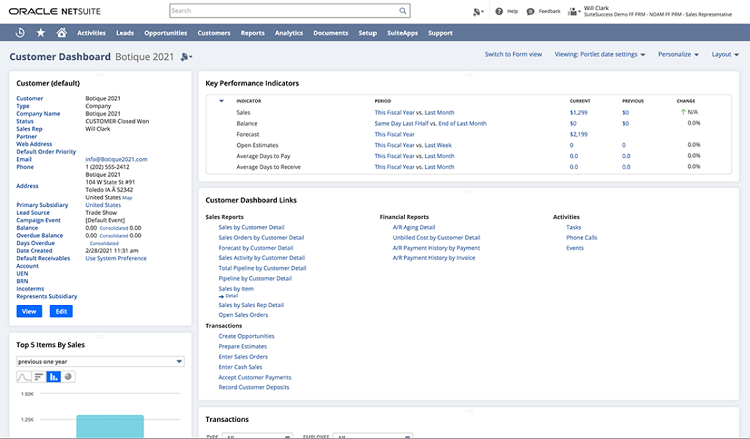 Customer relationship management is crucial for any business, regardless of industry or size.
NetSuite CRM has an integrated suite of CRM tools, including sales force automation (SFA) and sales analytics, marketing automation, campaign management, lead generation, and management. Its built-in social collaboration tools allow you to manage your relationships with customers, partners, and suppliers across social channels. There's also mobile integration to provide greater accessibility whenever and wherever you are.
As far as CRM is concerned, Acumatica offers a similar solution that gives a 360-degree view of the entire business process.
Users can leverage embedded AI technology and machine learning to improve business process automation and customer satisfaction. Moreover, Acumatica clients can create service orders from CRM leads, schedule appointments, automate email marketing campaigns, etc.
Verdict: NetSuite has the best CRM capabilities in the market regarding ease of use, flexibility, reporting & ROI tracking capabilities.
3. Inventory Management
NetSuite's advanced inventory management capabilities give companies extraordinary abilities to track and manage inventory across multiple locations and channels.
The cycle counting feature provides accurate inventory values by scanning all inventory items, allowing companies to perform cycle counts at their convenience. Clients can optimize inventory levels, boost profitability, and decrease the cost of goods sold (COGS).
Moreover, NetSuite supports different costing and depreciation methods: First-In-First-Out, Last-In-Last-Out, average cost, standard costing, and average group cost.
Acumatica offers a seamless inventory management solution that allows users to manage inventory across different locations. Users have access to different costing and depreciation methods to set appropriate prices for inventory items. However, it doesn't support the Last-In-First-Out method supported by NetSuite.
Verdict: NetSuite is a clear winner in inventory management capabilities.
4. Human Capital Management (HCM)

NetSuite offers a reliable and scalable HCM solution covering all HR-related processes, from recruitment to compensation and performance management.
Managers can automate and streamline functions such as time and attendance tracking, leave management, payroll, and more using its built-in suite of on-demand tools. Users can integrate financial and HR data to make more-informed business decisions.
Acumatica doesn't offer built-in HCM solutions, but it can integrate with third-party HCM solutions such as Workforce to provide a streamlined workforce management process.
However, it includes payroll management tools that streamline the payment process and accelerate decision-making using out-of-the-box reporting and analytical capabilities.
Verdict: NetSuite is the winner because users don't need to add any third-party solution for day-to-day HR requirements.
5. Analytics, Reporting, and Dashboards
Acumatica offers advanced reporting and analytics capabilities perfectly suited to meet the needs of companies with complex business processes.
Apart from customizable dashboards, it provides multi-dimensional reporting and analytical capabilities to help companies make faster and better decisions. It comes with a business reports designer, templates, ad-hoc filters, and reusable filters for creating custom reports.
NetSuite's SuiteAnalytics is a powerful data analytics tool that gives business users the flexibility and agility they need to stay ahead of their competition. It has built-in key performance indicators (KPIs), searches, and real-time reporting capabilities. Moreover, the dashboards display actionable and real-time data and key performance indicators (KPIs).
Verdict: It's a tie! Both solutions offer features that give a 360-degree view of the business.
6. Retail Commerce Management
Retail commerce management is a huge pain point for SMEs and mid-sized companies. NetSuite features an all-in-one ecommerce platform that allows clients to build an online store, manage inventory, engage with customers, and track sales.
Users can deliver personalized digital experiences from its e-commerce solution, including CRM and marketing features on desktop, mobile devices, and at the in-store POS. The Acumatica commerce management edition boasts advanced inventory management, order management, advanced financials, and a product configurator for B2C and B2B businesses.
Users can manage multiple stores, products, and customers using a single system. It provides native connectors for BigCommerce and Shopify, allowing users to sync orders, inventory, customers, and products.
Verdict: NetSuite is a better retail commerce management software for businesses with complex inventory and order management requirements.
7. Professional Services Automation (PSA)
NetSuite's SuiteProjects is a complete PSA solution for companies of all sizes, with task management capabilities and integrated accounting and financials.
Users can track the skills and availability of people with a built-in resource planning module. SuiteProjects makes it easier to collaborate with team members, build project plans, manage expenses, track time and attendance, create invoices, and generate reports.
Acumatica's Service Management feature allows a streamlined dispatch process and handles all related tasks in a single system.
Businesses can schedule appointments and improve communication through flexible automated notifications and gain the control of field service technicians. The service management system fully integrates with the Acumatica ERP solution, enabling seamless inventory management and orders management.
Verdict: NetSuite is a better PSA solution for companies with complex project management requirements.
Top Acumatica vs NetSuite Alternatives

At this point, when considering Acumatica and NetSuite, it's helpful to know about alternate options in the ERP market. There are such vast numbers of options out there, with ever-increasing new releases and features every year.
SAP ERP

IFS cloud

Sage business cloud enterprise

Orion ERP

Microsoft Dynamics NAV

SYSPRO

Odoo ERP
FAQs
Question: Is Acumatica Any Good?
Answer: Acumatica is one of the top cloud-based ERPs for small and mid-sized businesses, with a complete solution for your business needs.
It's one of the best alternatives to NetSuite due to its powerful financial management features, which include multi-entity support, manufacturing capabilities, real-time inventory, and order management.
Question: Who are NetSuite Competitors?
Answer: NetSuite has several competitors both in the CRM and ERP market. Its top competitors include SAP, Oracle, Microsoft Dynamics NAV, Sage Business Cloud Enterprise, and SugarCRM. It stands out as a high-quality cloud ERP solution best suited for companies with complex inventory and order management requirements.
Question: Who Uses Acumatica?
Answer: Companies in the construction, manufacturing, retail, distribution, IT, and B2B industries use the Acumatica solution to manage their business. It is a comprehensive cloud-based ERP software for small and medium enterprises. It's best suited for companies looking to manage their business from one platform.
Conclusion
Acumatica and Netsuite offer solutions responsible for managing an exponential amount of data and transactions every day. The functions of these ERP systems are vast, and the features they offer both complement and complete each other.
However, I recommend NetSuite as the better ERP and CRM solution for businesses. Its extensive feature set and compatibility with other cloud-based platforms make it an ideal choice for small, midsized, and even large companies.