Last Updated on July 6, 2023 by Ewen Finser
If you're looking to make things easier for your HR team, our Zenefits vs BambooHR comparison may be able to help.
Both services are great. They have a lot to offer, including time tracking, calendar management, payroll management, and employee management. But which one is best for your company?
The bottom line upfront: We think that BambooHR just about has the edge over Zenefits, thanks to their excellent onboarding services and good customer services.
Keep reading to find out more about them!
Zenefits vs BambooHR – the Main Differences
There are a few main differences between Zenefits and BambooHR:
Zenefits has payroll services built-in, whereas BambooHR requires you to sign up to TRAXPayroll
Zenefits offers a few useful onboarding features, whereas BambooHR has a stronger focus on welcoming employees to the company
Zenefits has a punch-in system included, whereas BambooHR requires TRAXPayroll to track hours
Zenefits doesn't have the ability to quickly approve pieces of work or documents, whereas BambooHR allows your employees to quickly get management approval
Zenefits has a clear pricing structure, whereas BambooHR requires you to get a quote for pricing
Zenefits doesn't always have a very responsive customer service team, whereas BambooHR is easier to get hold of
In a nutshell, Zenefits is better in terms of payroll management, and managing a complex calendar with freelancers and contractors. BambooHR has a stronger focus on payroll and employee management, with the onboarding and offboarding process being a key feature.
Another key difference is in the customer service. BambooHR has the advantage here, as they offer helpful, responsive service. Quite a few users have had issues contacting Zenefits.
The last thing to consider is price. It's difficult to compare directly, but some users feel BambooHR is quite pricey, especially given that you have to pay for TRAXPayroll on top.
The Similarities
There are a few similarities too:
Both allow your employees to edit their own personal information
Both allow your managers to quickly approve or deny time off requests
Both services have pay stubs for employees that are easy to access and understand
Both help your business to stay compliant by automatically filing certain taxes
Both allow you to generate reports that can be easily shared
Now, let's take a look at both of them in more detail.
What is Zenefits?
Zenefits is a service aimed at making HR and payroll easier. Employees can log in using the mobile app, which allows them to view their pay stubs and contributions, update their contact information, and access certain benefits. They can also use the app to clock in and out of shifts.
It's aimed at any-sized business wanting to make payroll and HR easier to manage.
What is BambooHR?
BambooHR is a service that has a strong focus on HR, with onboarding, offboarding, and employee performance management features. They also offer TRAXPayroll, which enables employees to track hours they've worked.
It's aimed at any-sized company wanting to make HR a little easier.
Zenefits – the Main Features
Zenefits has a fairly easy-to-navigate dashboard, although their home page is a little cluttered and might feel a bit overwhelming at first.
Let's go into the main features in more detail!
HR
Right from the recruitment process, you can save some time using Zenefits. There are pre-made letter templates that you can use to offer jobs to new employees, or you can create your own letters from scratch and save them for use in the future. They don't offer background checks themselves, but they have a partnership with Checkr. If you sign up to Checkr, you can run all the background checks required from the Zenefits platform.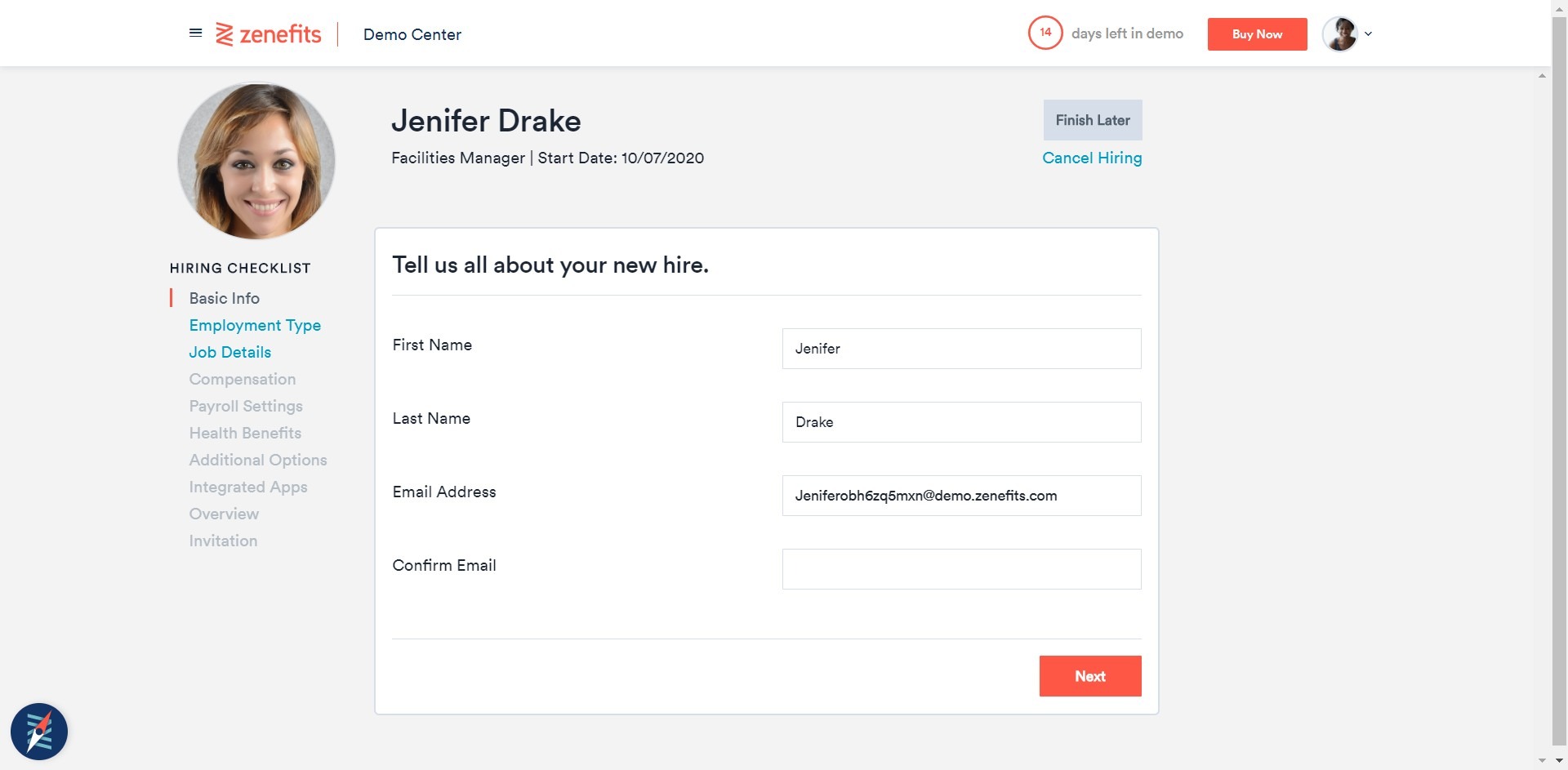 Once you've offered a job to a new employee, they can get started right away using the mobile app or website. They can access information about their pay rates, submit any paperwork that needs to be completed (using digital signatures), and get information on benefits.
The dynamic organization chart allows managers or HR team members to see employees at a glance, with their contact information quickly at hand. This includes freelancers, consultants, and contractors, so you can get in touch with them easily.
You can manage paid time off here, by uploading policies which can be viewed by all employees. They can request time off using the app or website, and managers can approve or deny them as they occur. If there are certain key events that employees are required to attend, you can black out those days so they aren't available to book off.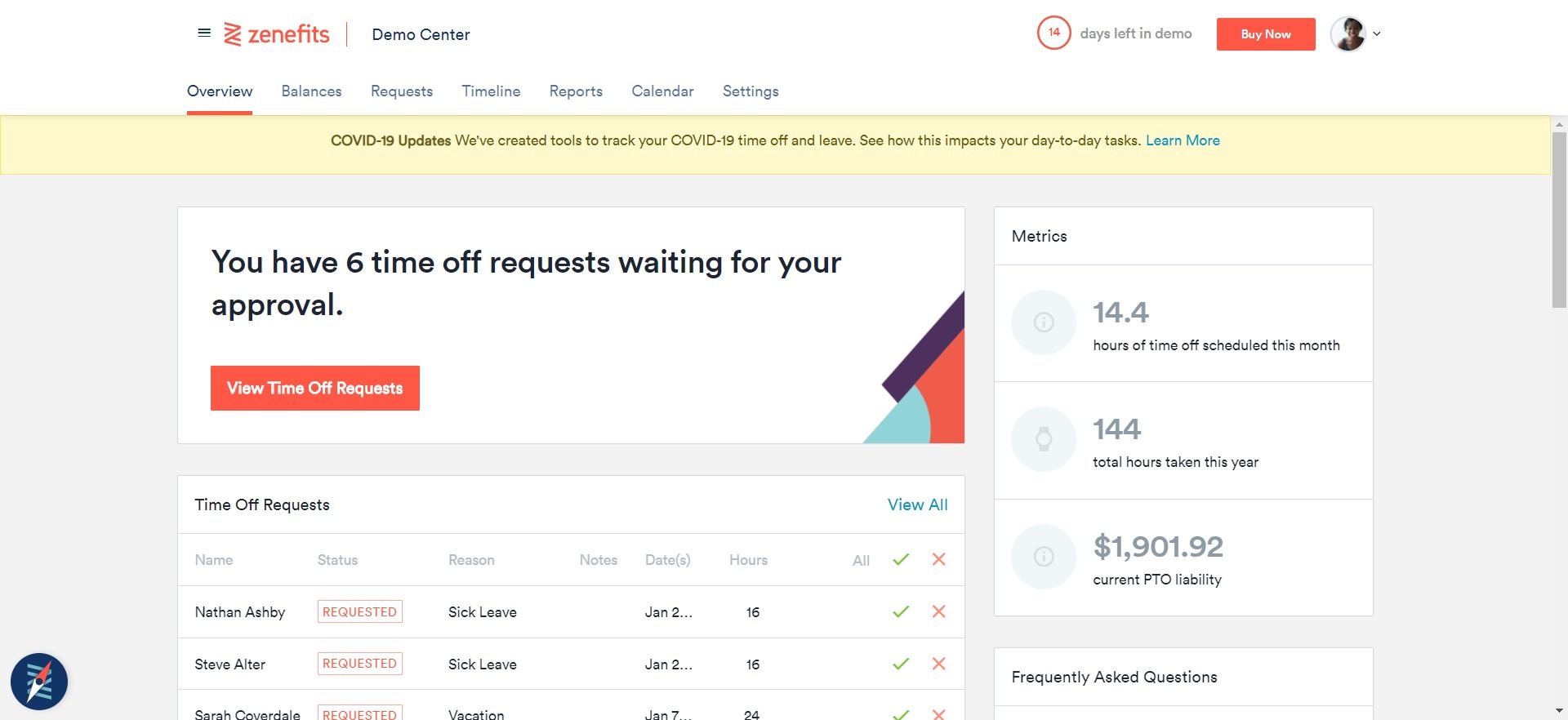 Some events can be automated, like transfers, terminations, or promotions. This can save a bit of time in the long run.
Calendar and Scheduling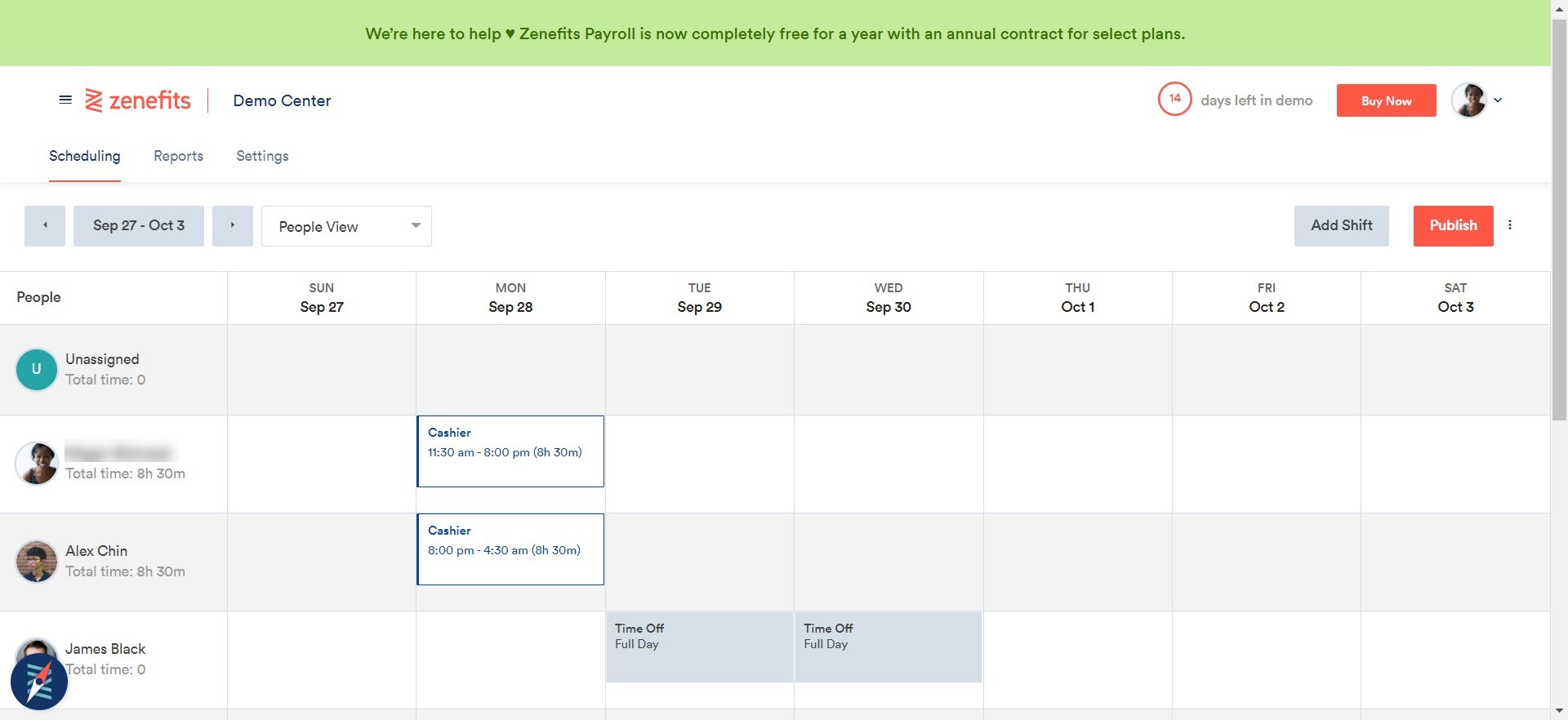 Zenefits makes it easier to manage a complex calendar of shifts, even if you hire freelancers and contractors. Shifts can be added or edited on the calendar, and you can block out certain days for employees (for example, if you have an employee that can't work Tuesdays, you can easily block out Tuesdays, saving you from having to remember that information for every employee).
There is a punch-in system which makes it much easier to ensure that your employees are paid for the shifts they've worked. Using the app, they can punch in and out, and there is fraud protection built-in (you can make it a requirement for your employees to take a photo at punch-in, for example).
Employee Management
Zenefits have a few tools to help manage employees and encourage their growth. A goal management system allows you to create goals with your employees, which can be aligned with wider company goals. These can be integrated into the performance review cycle. You can use pre-built performance review cycles or make your own from scratch. You'll be reminded when a performance review is coming up, so no matter how busy your team is, they won't be forgotten.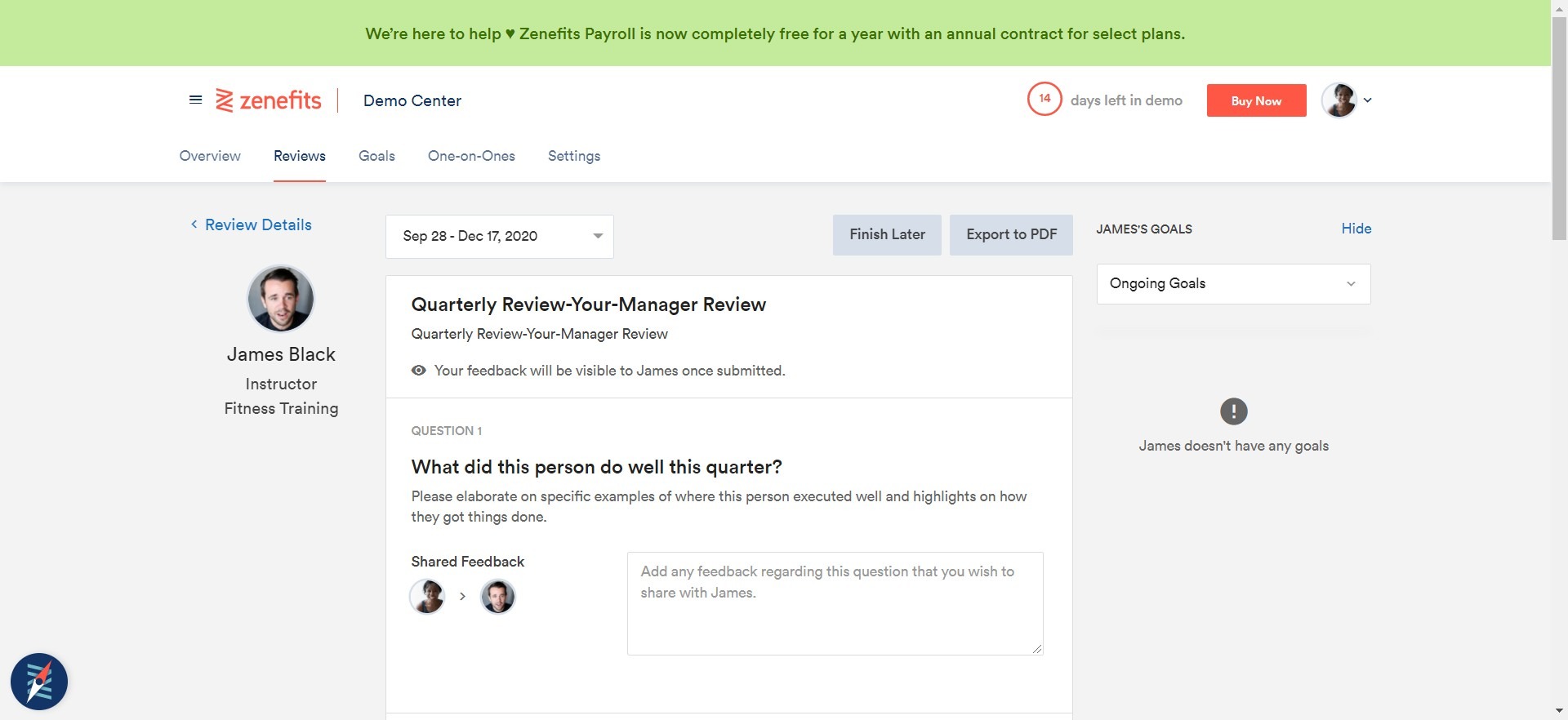 They have a partnership with Thrive – if you sign up for this, your employees can access help for certain issues (like not sleeping well, or not fitting exercise into their day). The integration will come up with ideas and articles to suit them, encouraging your employees to take control of their own wellbeing.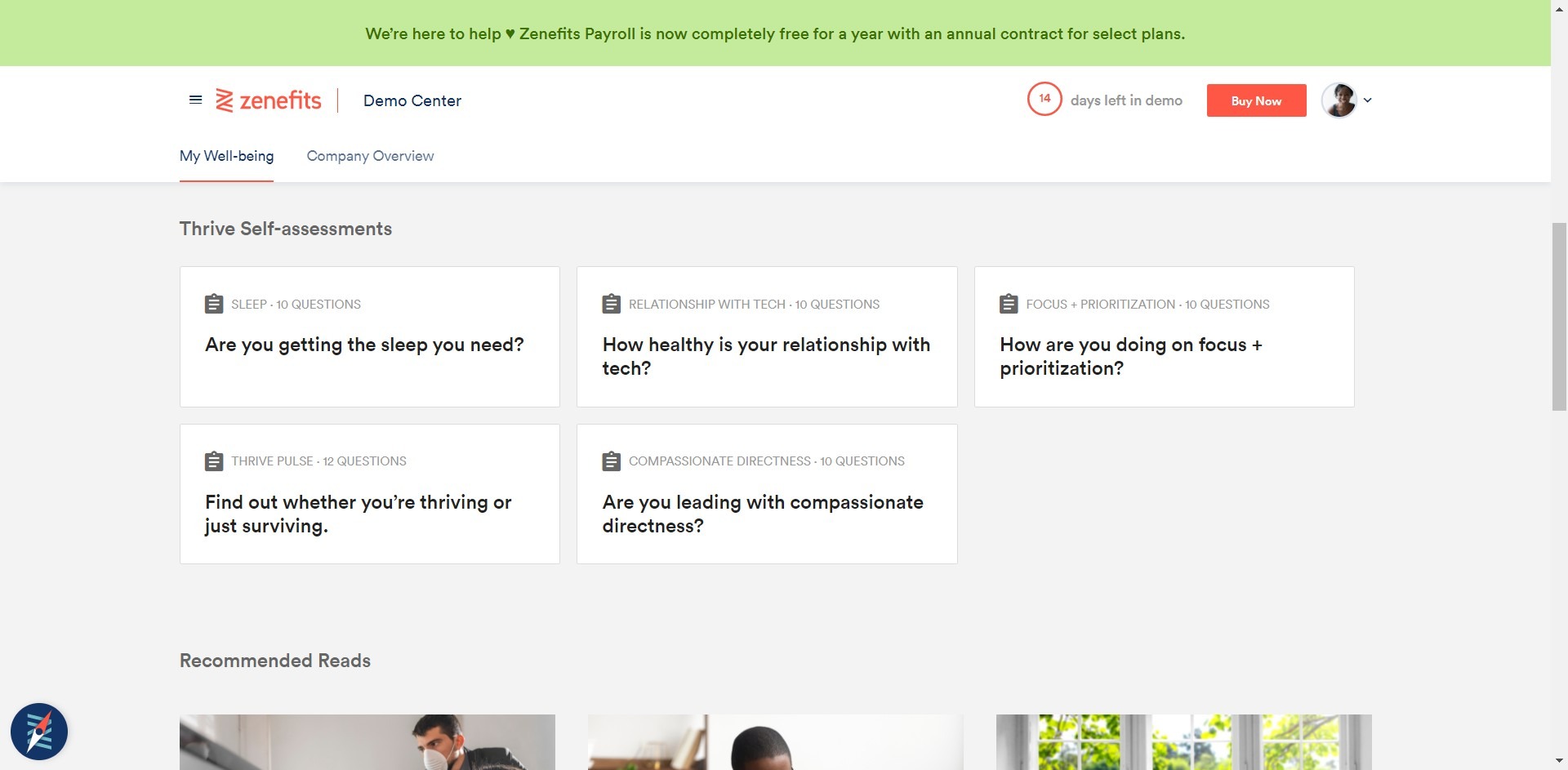 Payroll
One of the main strengths of Zenefits is the payroll tools that it offers. Employees can view their own hours worked, breaks, and time off, as well as checking their upcoming schedule. They can see when payment is due, and they can access dynamic pay stubs. These pay stubs allow your employees to see very clearly their pay, benefits, and deductions.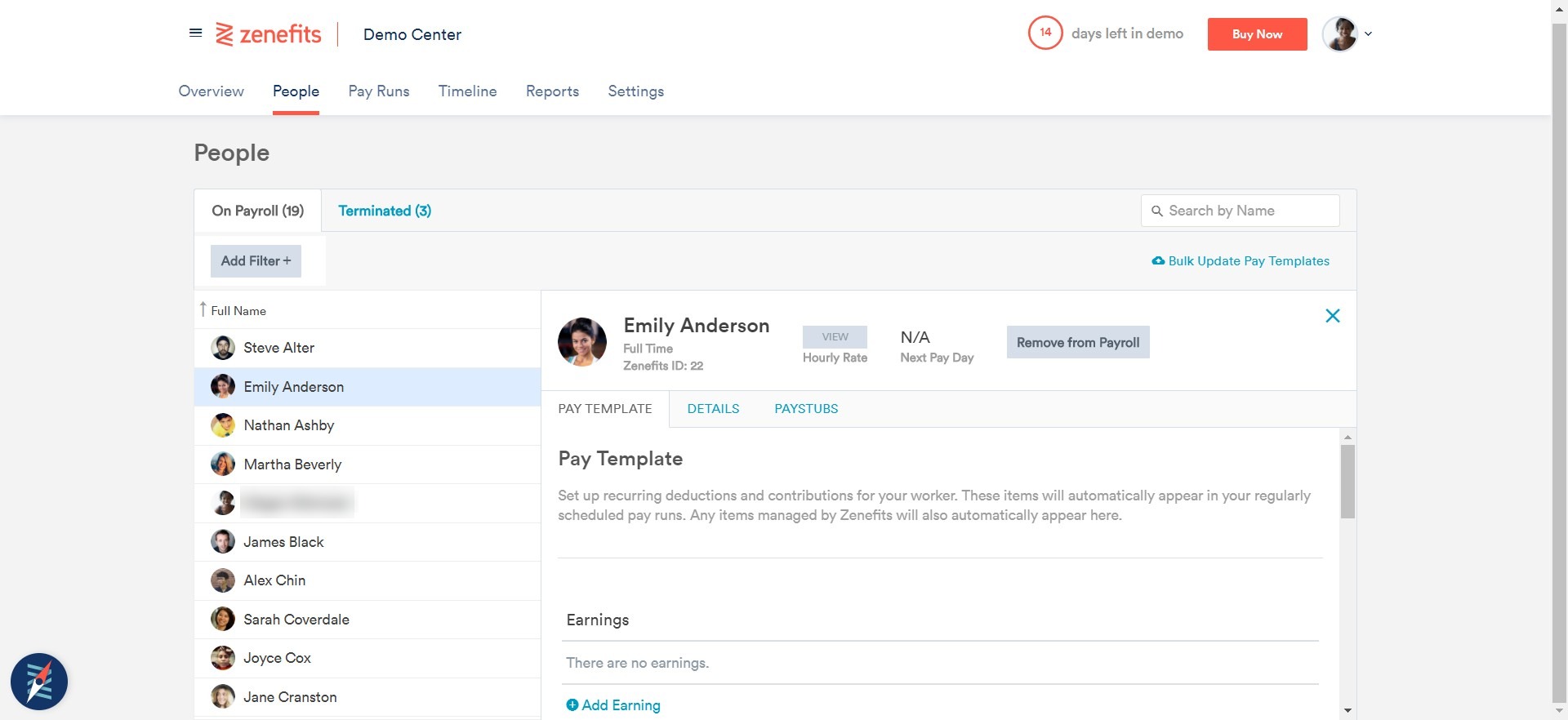 From the management side, you can add messages to pay stubs, and complete actions in bulk (for example, paying bonuses in one go). You can make salary changes easily, and your HR team can set up reminders for certain payroll-related tasks.
Taxes are filed automatically, so you won't have to worry about staying compliant. The most common forms (at federal, state, and local levels) are also taken care of.
You can also:
Manage multiple deductions, for different employees
Generate custom earning codes
Assign different pay rates based on different roles
Manage tips for hospitality service
Manage remitting payments for Child Support agencies
Benefits
If you need a new broker, Zenefits can connect you to one of their approved brokers. If not, you can use your current broker.
Employees can view all their options, in terms of benefits – so they can make the best decisions for them. They can view their balances, plans, and claims.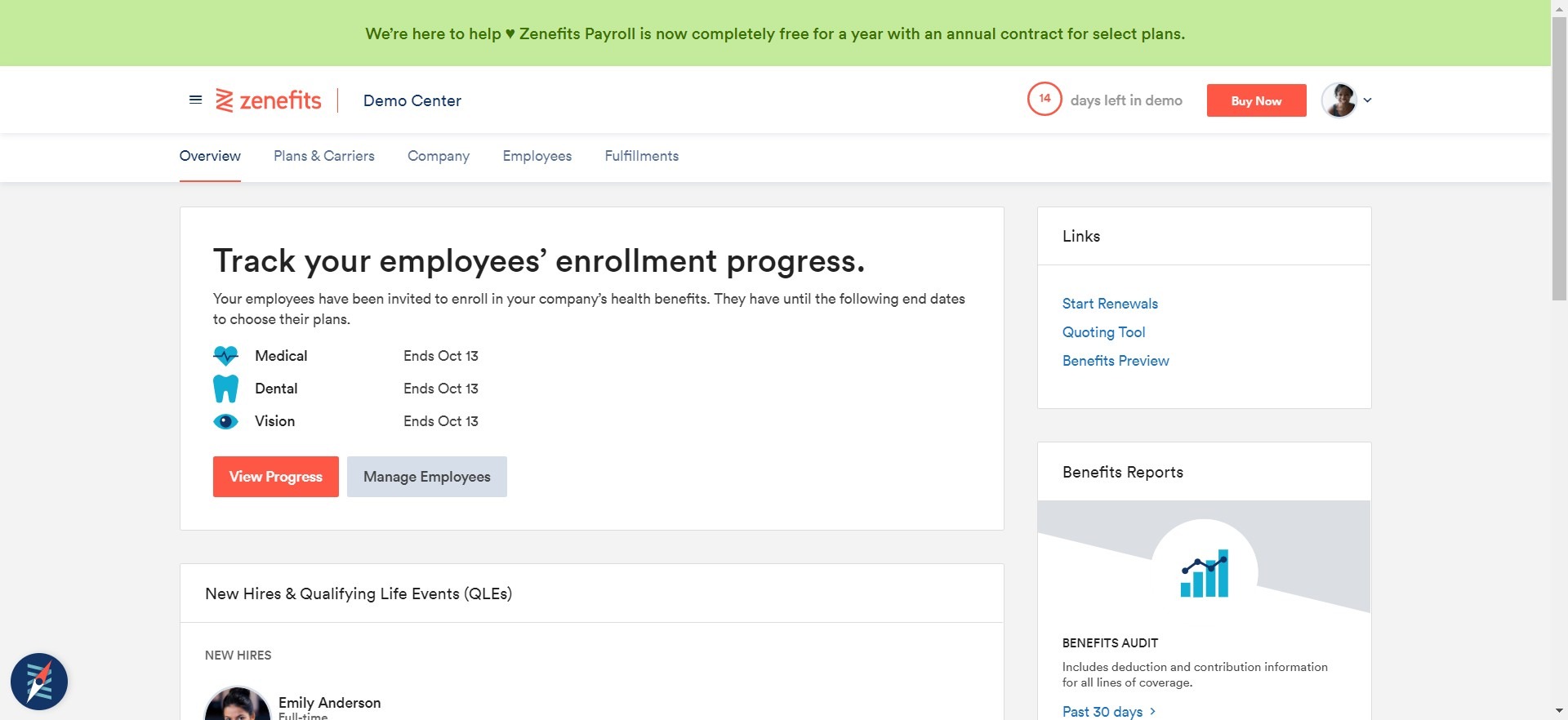 Employees can also take advantage of using certain apps like Uber or Lyft using the benefits feature.
Reporting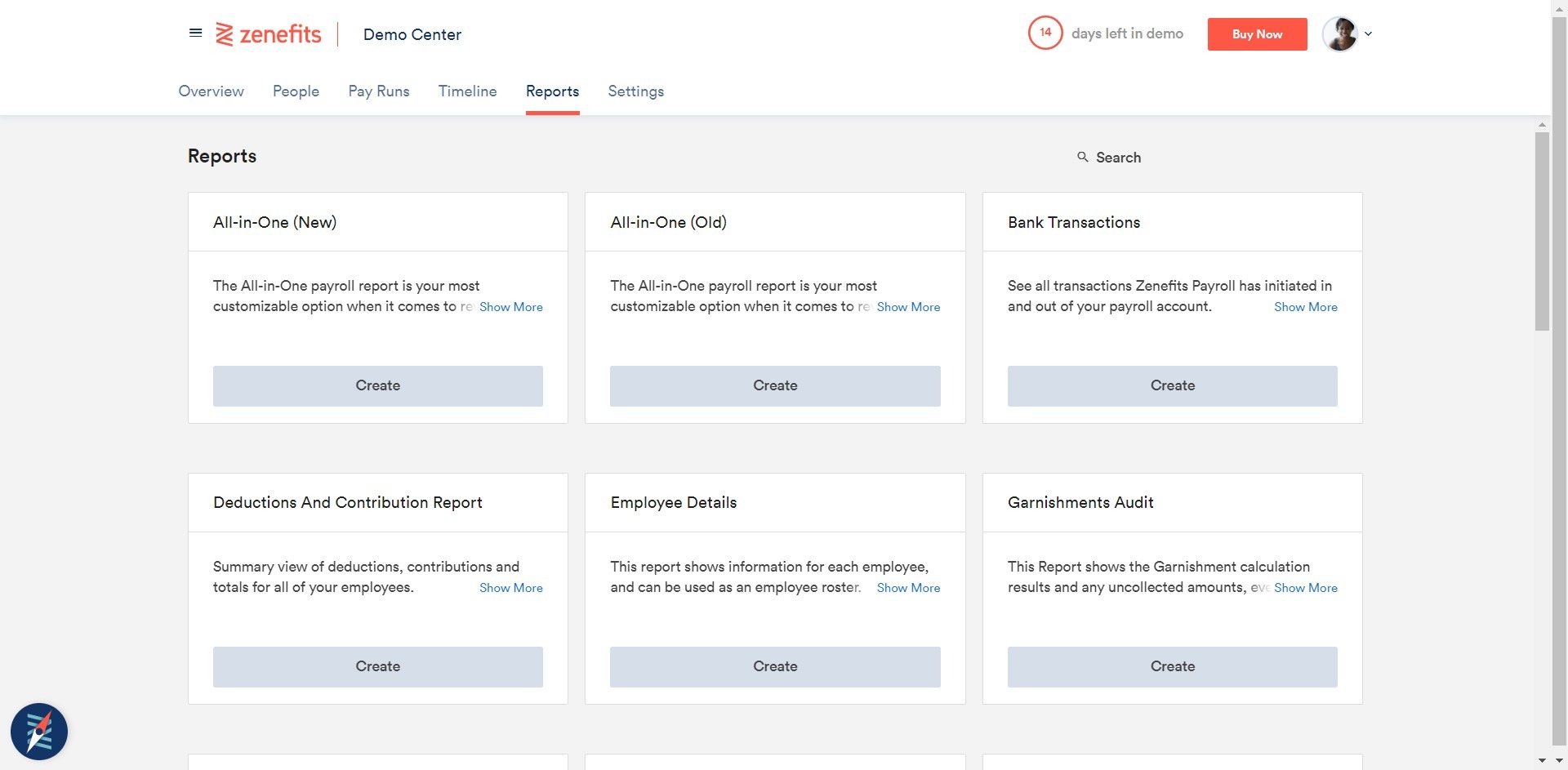 Zenefits can generate reports in a variety of topics, which can be shared with your team or investors at any time. These reports can include:
Compensation summaries
Equal opportunity statistics
Headcount activities
Stock options granted
Turnover rates
There are also a variety of payroll reports available:
Payroll register reports
Deductions and contributions reports
Wage and tax summaries
Garnishment reports
Contractors payments report
Employee details reports
Tax payments summaries
Tax liability reports
Comprehensive 'all-in-one' reports
BambooHR – the Main Features
BambooHR has a slightly easier-to-navigate platform than Zenefits, with a simpler layout.
Let's take a look at the main features it has to offer:
HR
BambooHR has a strong focus on making the recruitment process better for both managers and potential employees. The recruiting software is designed to help you find the best candidates for the job. You can add custom permissions to get input from colleagues and stakeholders, meaning you'll be able to hire the person that best suits the entire team.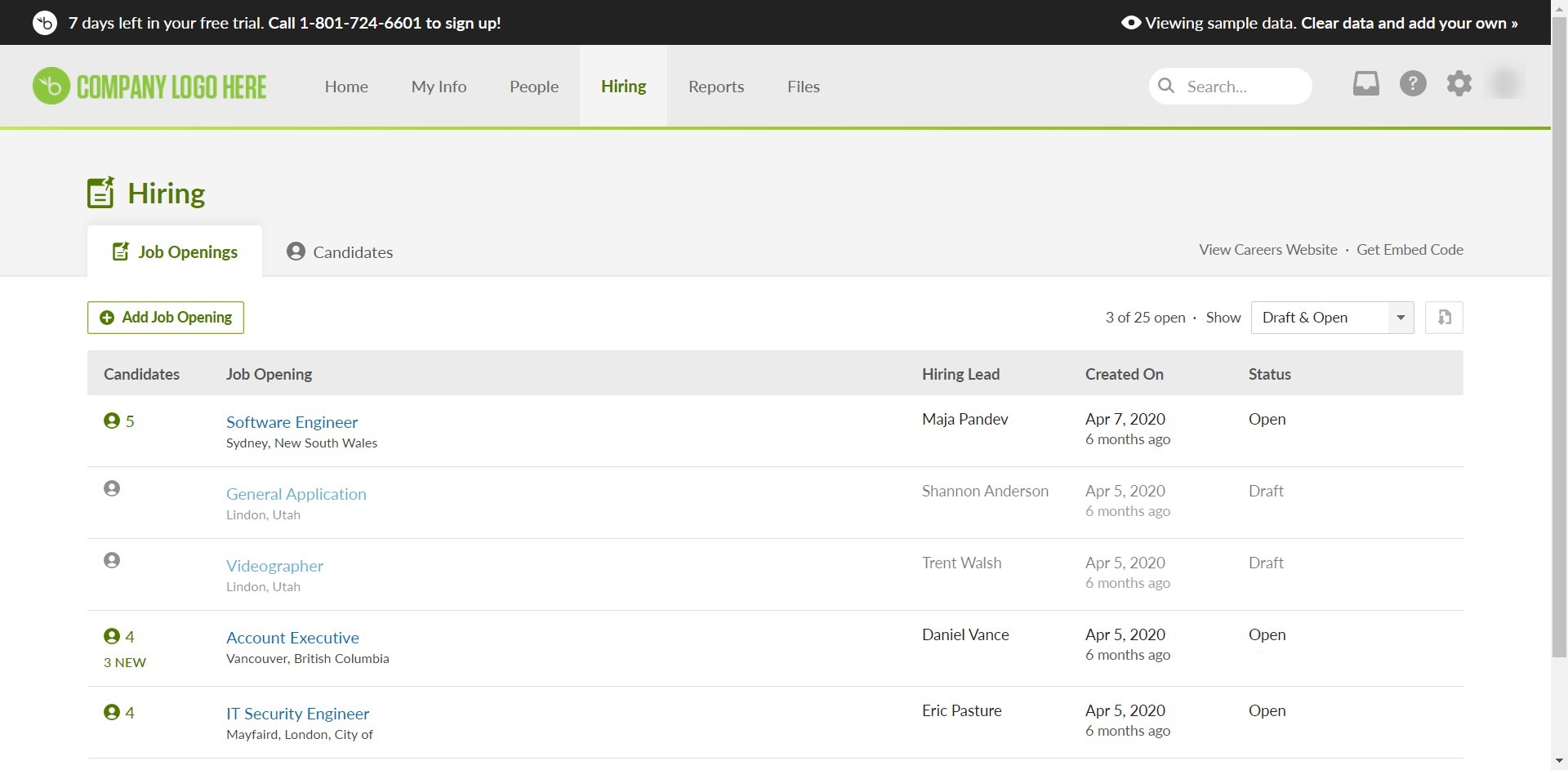 Potential employees will be automatically kept up to date at every stage of the process, so they'll feel valued and respected as they go through the hiring process. Once you're ready to offer a candidate a job, you can use BambooHR's customizable letter templates to quickly give them all the information you need. You can also take advantage of electronic signatures, meaning you can cut down on printed paperwork.
They also have an app, which allows you to quickly approach the best candidates. You can review resumes and cover letters, and answer candidate questions, even if you're on the go.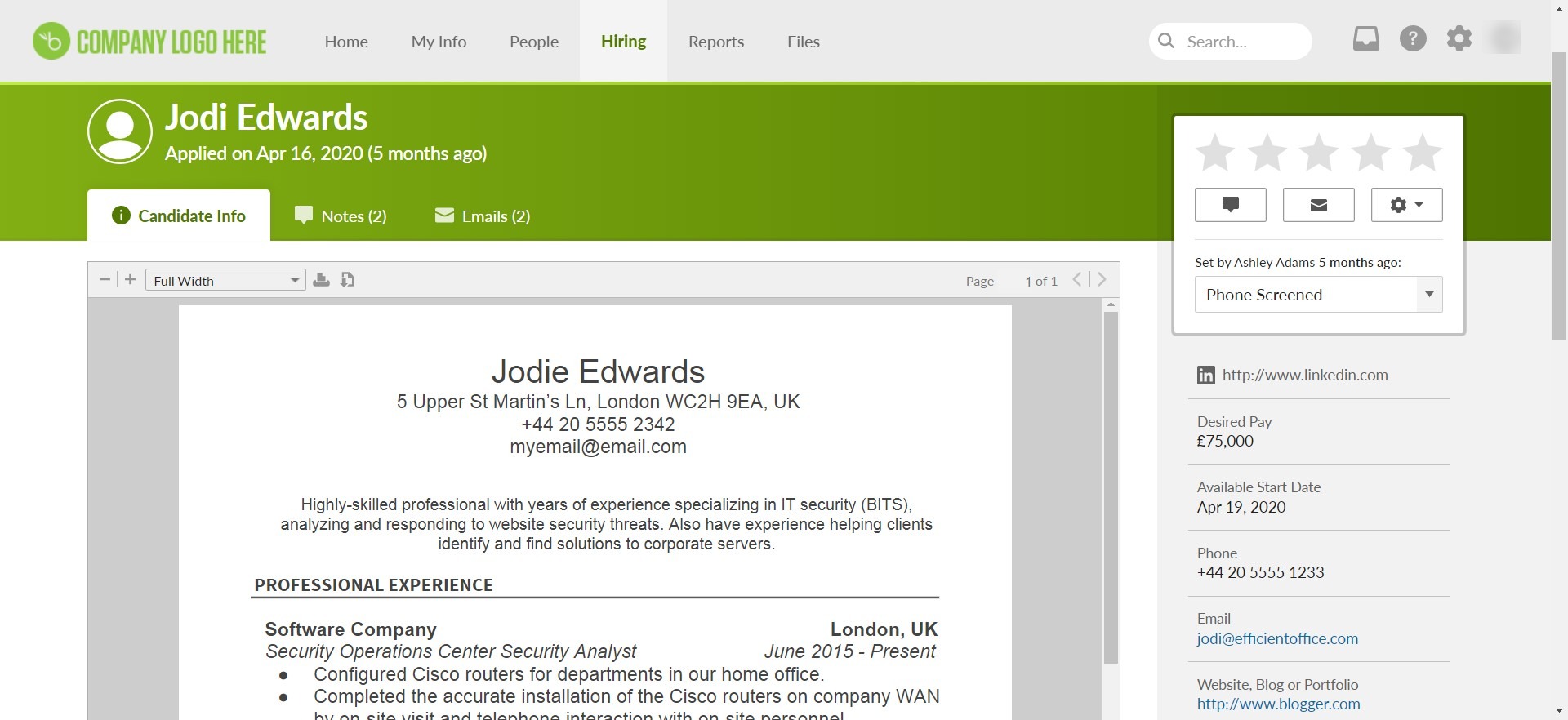 In terms of onboarding, BambooHR makes it as simple as possible. You can send your new recruits a list of tasks to complete, and you can introduce them to the team and give them a rundown on what they can expect on their first day. You can send out a 'Get to Know You' email, which will help your new employee to feel welcomed.
They also make sure that offboarding runs smoothly too. You can use customizable templates to pre-emptively answer common questions about leaving the company, and you can build accountability into the exit process too. You can give your former employees a chance to express their opinion about their time with your company.
BambooHR gives you a centralized database of employee information. This data syncs across the whole platform, so you won't have to keep inputting employee names, dates of birth, and other crucial information again and again. Employees can also edit their own personal information. You can limit company data whilst offering them access to their own information.
You can also customize fields to include the information you want. For example, if you provide employee uniforms, you can record their preferred sizing. These small details will help you to run the company more efficiently.
There are more features here too. For example, if your company requires a lot of forms or paperwork that needs approval, you can track the process of that piece of work, so nothing gets lost or forgotten about. The progress bar will fill up as every important task is completed, which is useful for you and your employees.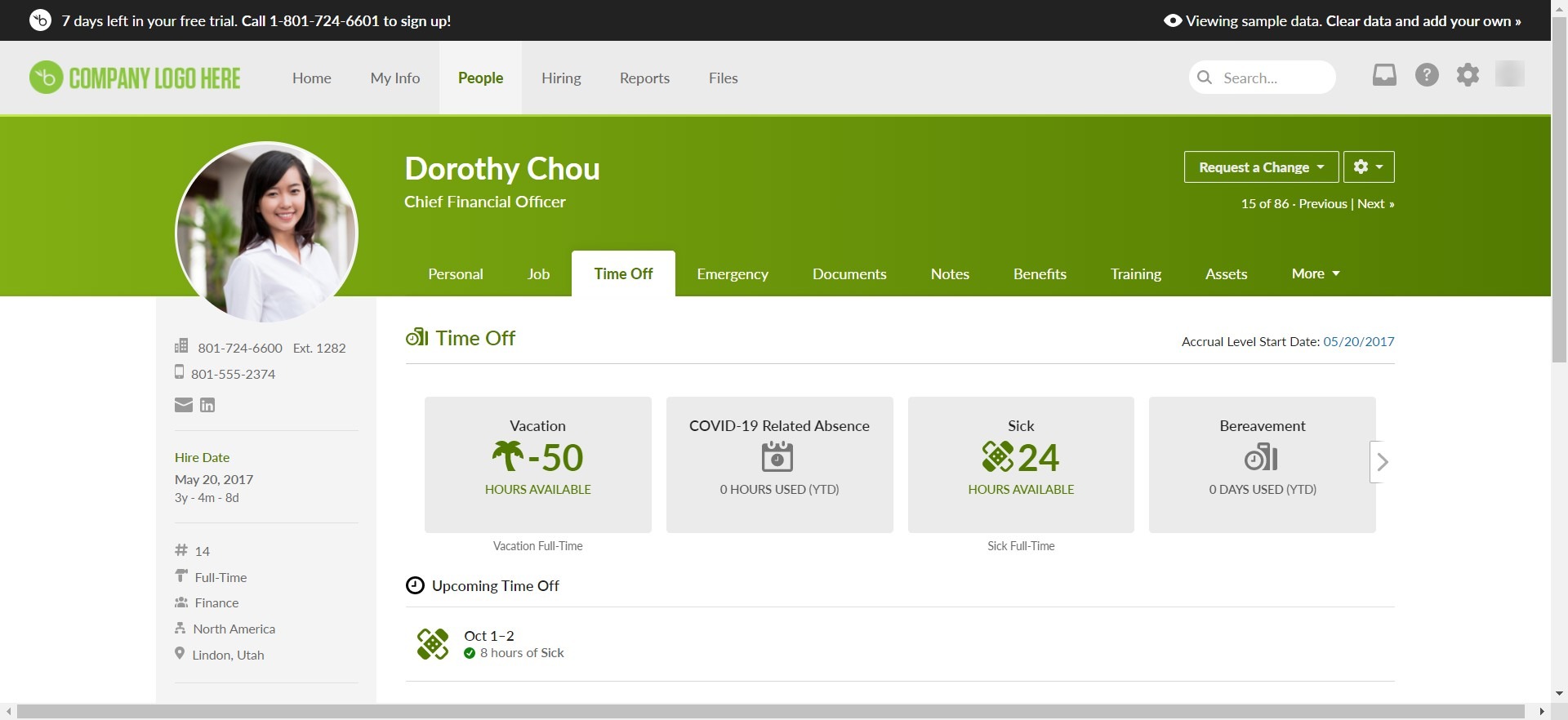 This same method applies to employees waiting for approval for a raise or title change. Managers can easily approve or deny requests as they occur. The same goes for booking paid time off – managers will get an instant alert the moment an employee requests time off, and they can approve or deny this request instantly.
Calendar and Scheduling
Employees can input hours to a specific project or client. This allows you to track exactly what everyone is doing, allowing you to figure out where to allocate people and resources to make projects run more smoothly. It also makes it easier to bill clients if you're charging them by the hour.
As we mentioned in the last section, one-click approvals make it much faster for your employees to gain approval from project managers, so they can move onto the next stage quickly. This makes life much easier for everyone. (You may be interested in our guide to the best project management tools to help simplify things even further.)
It also comes with automatic reminders built-in, so that employees won't forget to input their hours onto the system.
You can also track overtime, with built-in overtime regulation reminders – so you'll stay compliant at all times.
Employee Management
Managers can use employee performance reports to gain crucial information about employees. They can compare employees' performance and engagement individually or by department, or even across the whole company. They can find the best-performing employees and encourage them to take on new challenges or to feel valued for their hard work. They can also find under-performing employees and work with them to help them to grow.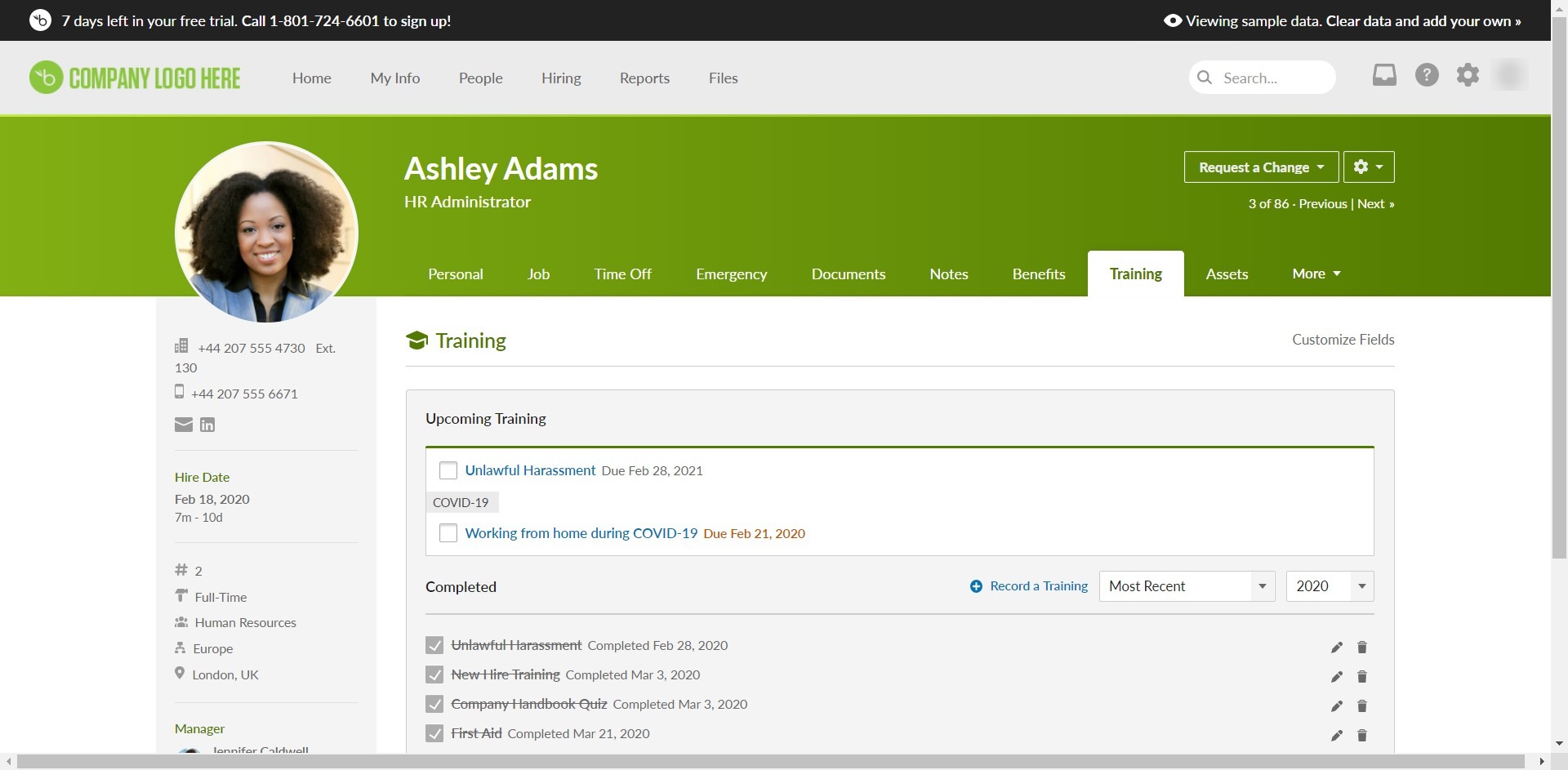 Through the performance management tool, managers can give employees feedback as they work on projects, with automated reminders and notifications to help managers to stay on top of this process (and to alert employees to new feedback).
You can set goals for employees, with the Goal Status report allowing managers to quickly see the progress employees are making.
Managers can even compare performance on a larger scale, comparing departments to see which teams feel the most values, or how their performance has changed over time.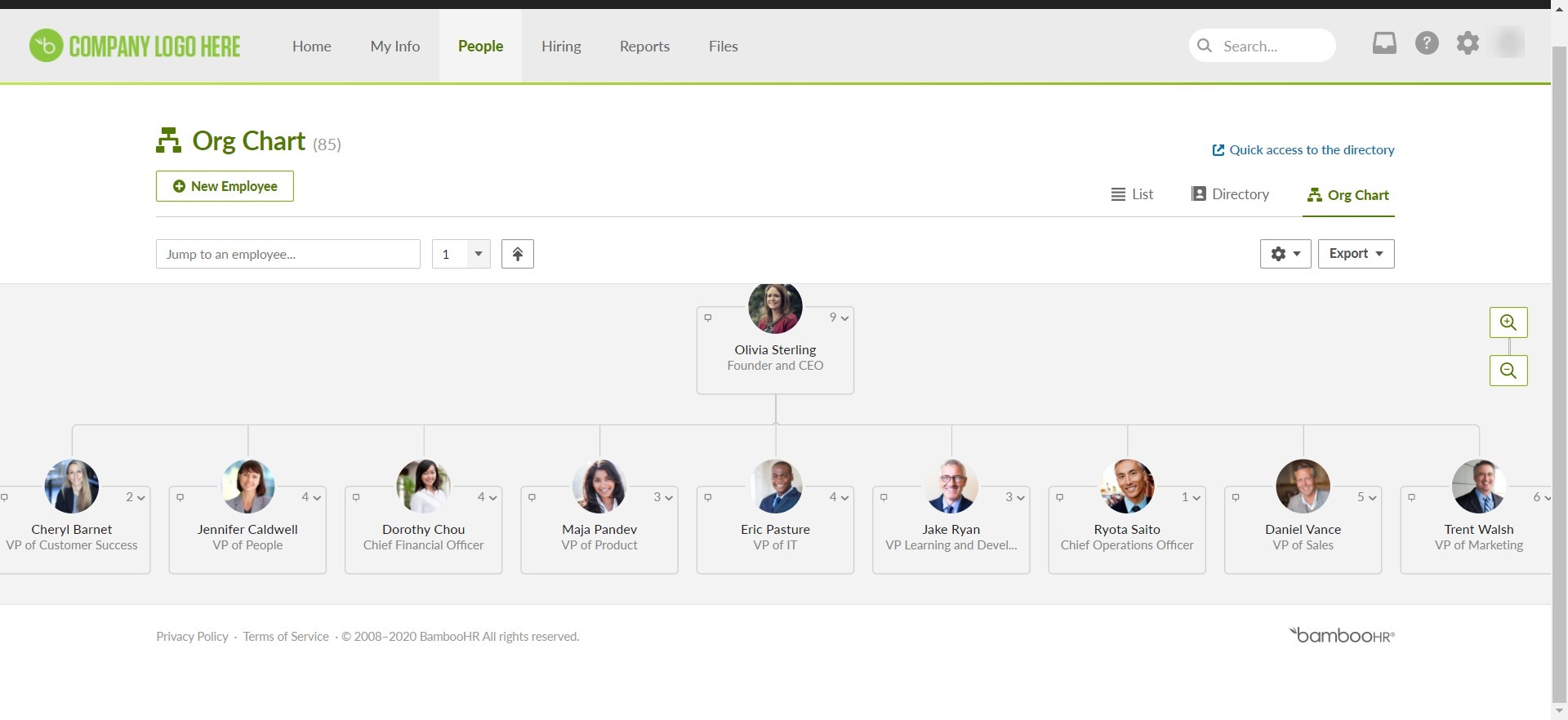 Payroll
BambooHR offers an integration TRAXPayroll, a system designed to make payroll easier. They take care of federal and state tax filing, which is useful.
TRAXPayroll integrates with employee information from BambooHR, meaning you won't have to input the same information again and again.
It's simple for employees to use, too. They can use one username and password to log into both BambooHR and TRAXPayroll. Once they're in, they can view their pay stubs and direct deposit accounts.
Benefits
BambooHR offers benefit tracking features, so your employees can make informed decisions about the best benefits for them. You can track custom benefit packages for specific employee groups, offer a variable healthcare plan, and even use future dating, making changes to benefits before it becomes urgent (for example, if an employee is getting married and needs to change their health insurance coverage, you can set this up so that it automatically happens on the date of the wedding).
Reporting
Reporting is a strength of BambooHR. You can easily create useful and aesthetically pleasing reports in moments, with the resulting reports saved on your desktop for easy access in the future. You can create HR reports to fit your needs, allowing certain people access and sharing them easily.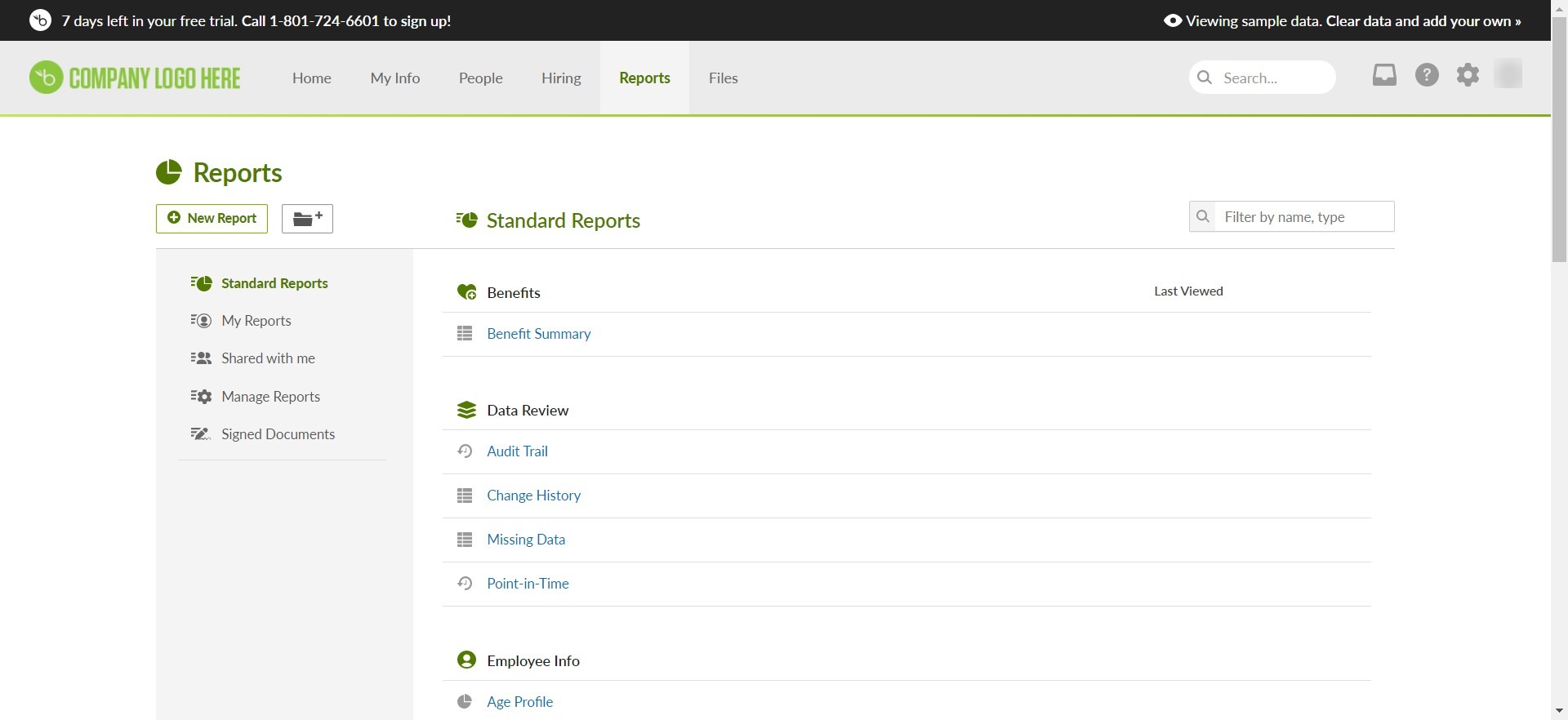 Zenefits vs BambooHR – Integrations
Zenefits
Zenefits has integrations in a variety of categories, including:
Applicant tracking
Employee management
Retirement savings
Accounting
Productivity
Financial
Travel
Performance management
BambooHR
BambooHR has integrations in the following categories:
Assessments
Background checks
Compensation software
Employee development
Benefits administration
Employment verification
Engagement and culture
ERP and accounting
Identity management
Integration platform
Job boards and sourcing
Learning and training
Onboarding
Payroll
Performance
Planning and charting
Recognition and awards
Time tracking and scheduling
Travel and expense management
Video meetings and video interviews
Zenefits vs BambooHR – Support
Zenefits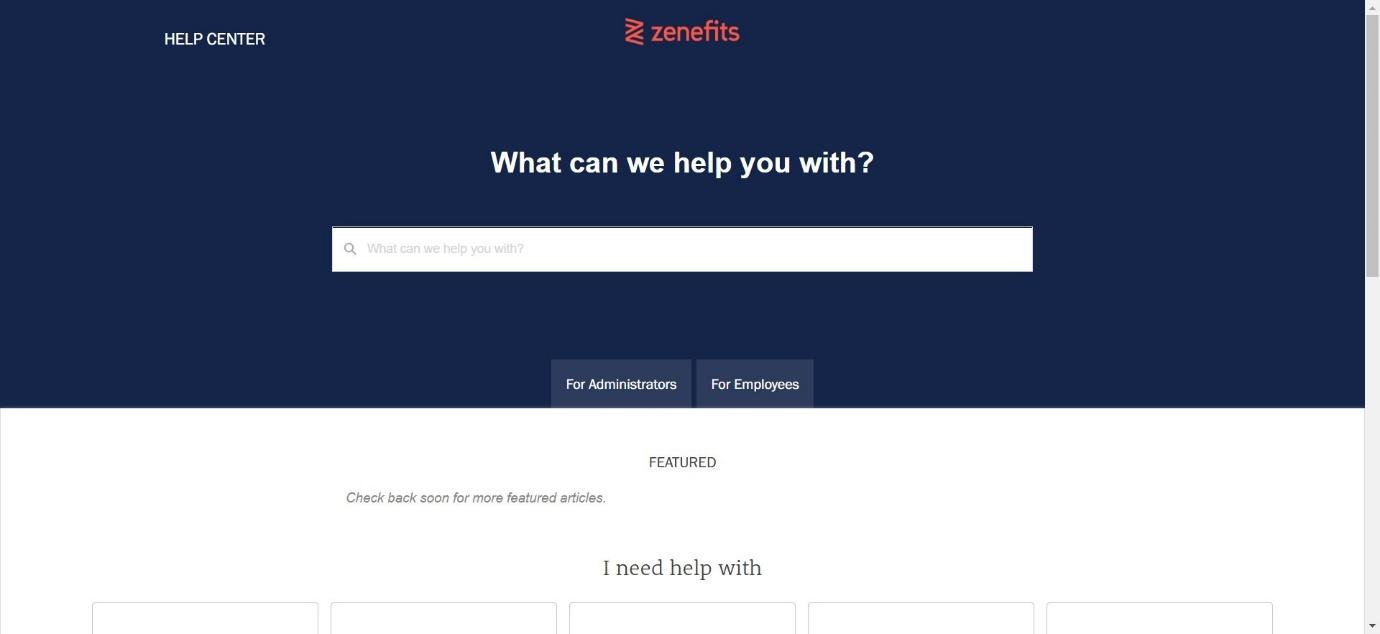 Zenefits has a knowledge base, which is mostly aimed at teaching new users to navigate the platform. It feels a little sparse, and there could be more hints and tips in there to help people make the most of using their services.
If you have an account with Zenefits, you can access support (either as an employee or a manager). The support team can be slow to respond, especially during busy times of the year. That lets the service down, as sometimes they can be slow to respond even to urgent requests.
BambooHR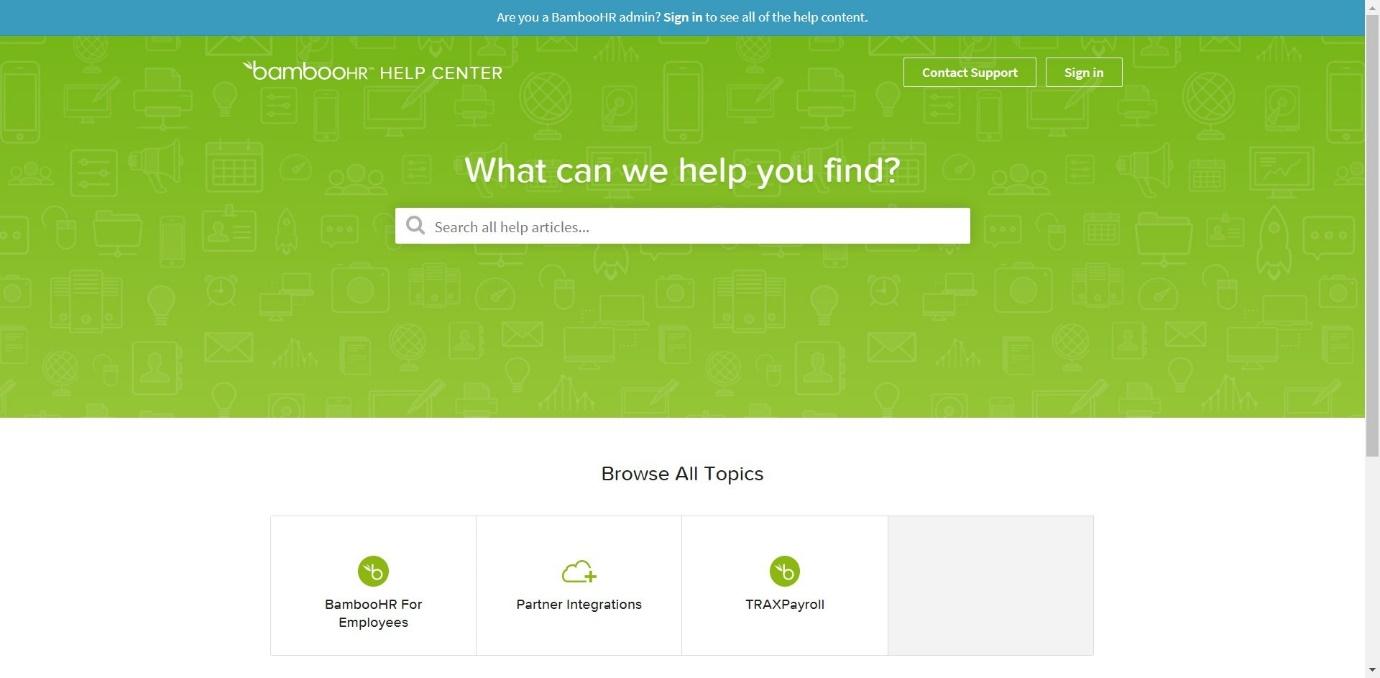 BambooHR has a simple knowledge base with some articles about how to navigate the platform. It's fairly similar to Zenefit's knowledge base.
If you want to contact them, you can either call them or use the form on their website. You can also leave them feedback if you wish.
The customer support team is helpful and easy to reach, which is great to see.
Zenefits vs BambooHR – Pricing
Zenefits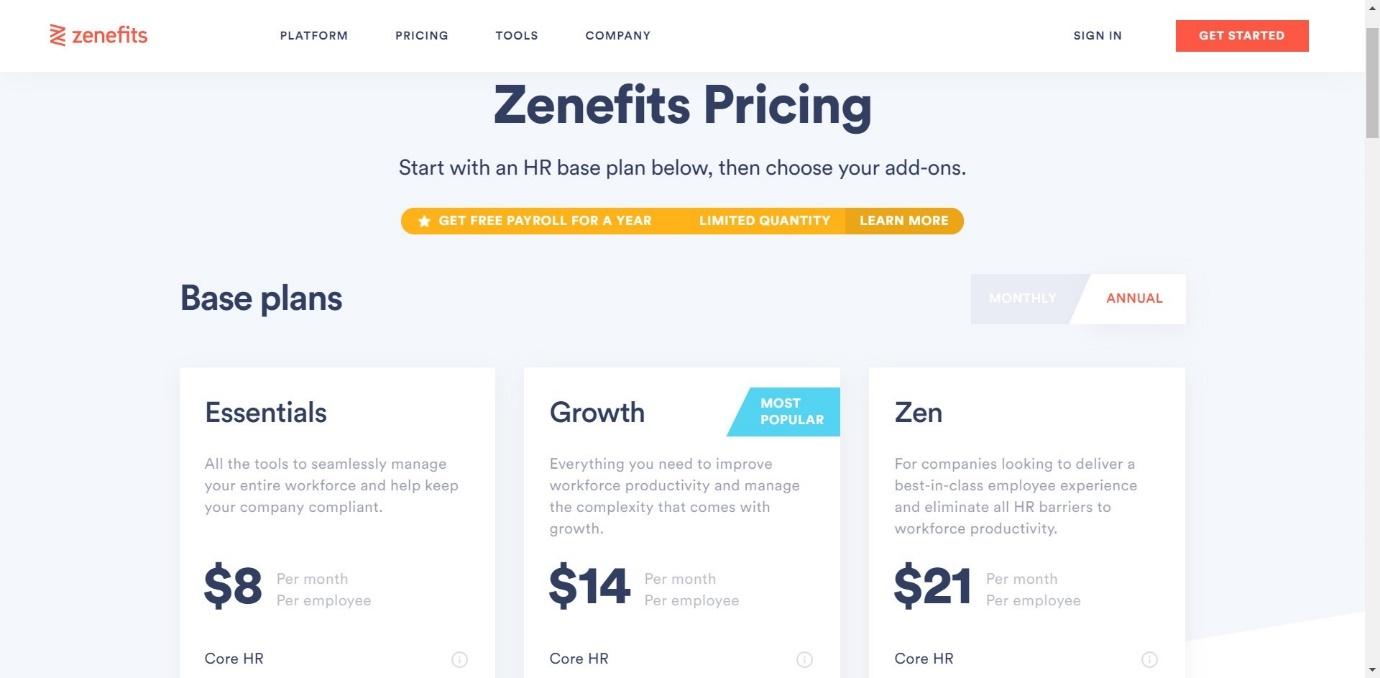 There are three pricing plans available for Zenefits:
Essentials – $8 per month per employee
This plan includes:
Core HR tools
Core time management tools
Integrations
Mobile app
Growth – $14 per month per employee
This plan includes:
Everything in the Essentials plan
Compensation management
Performance management
Zen – $21 per month per employee
This plan includes:
Everything in the Essentials plan
Wellbeing tools
There are a few add-ons like advisory services, but these come at an extra cost. You can find out more about their price plans here.
BambooHR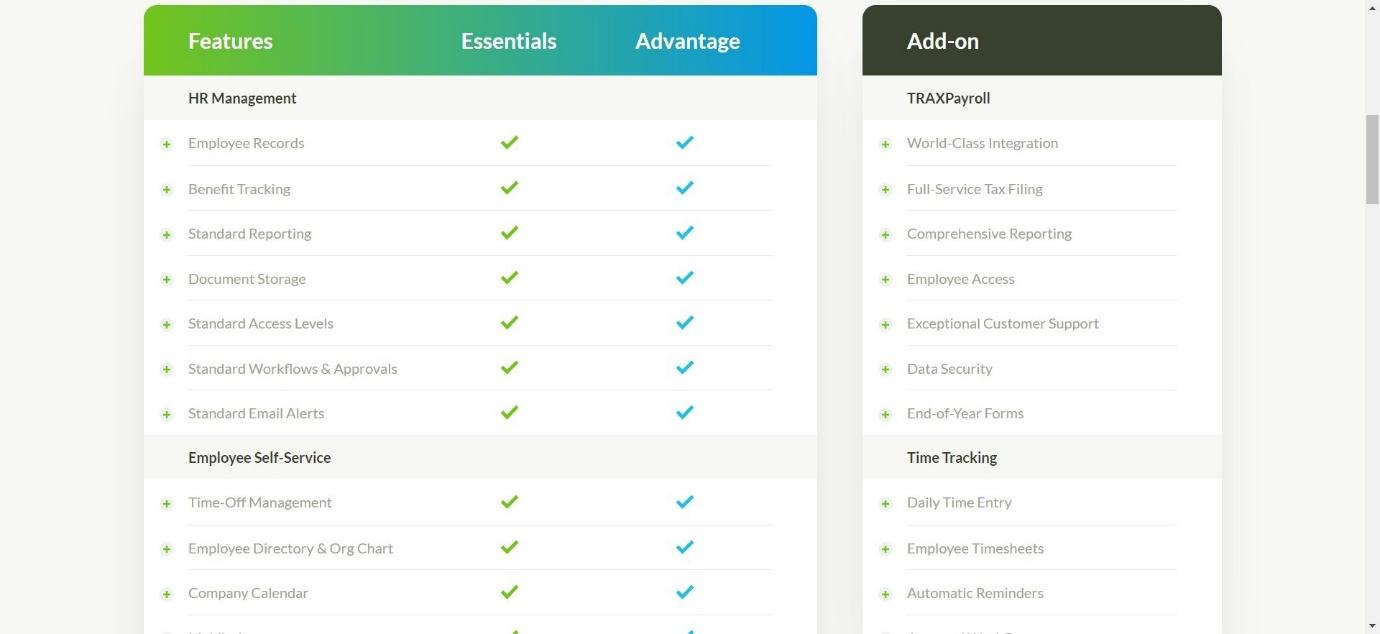 BambooHR requires you to contact them to get a quote for pricing. This makes it difficult to compare it to Zenefits. It is considered by users to be fairly expensive compared to other HR services. However, many users do feel that it's worth the extra cost for how well it runs.
It's worth noting that TRAXPayroll comes at an extra cost – so if you want payroll services, it's going to add up. You can find out more about their pricing here.
Zenefits vs BambooHR – Pros and Cons
Zenefits
Pros
Easy for employees to use
Simple for managers to keep on top of schedules and shifts
Easy to incorporate freelancers and contractors
Focus on wellbeing using the Thrive partnership
Cons
Customer service team can be slow to respond
BambooHR
Pros
Offers great HR services to help manage your employees effectively
New recruits are made to feel welcome using the app
Reporting is detailed and easy to share
Employees can log their time to certain clients or projects
Cons
TRAXPayroll (and time tracking) costs extra
No clear pricing structure available – you'll have to contact them to find out how much it will cost
Zenefits vs BambooHR – Alternatives to Try
There are a few alternatives you can try:
Gusto is a good HR platform that includes a lot of features to benefit your employees, including a great onboarding process. Employees can withdraw money from future paychecks too. Check out our Zenefits vs Gusto comparison for more details.
Justworks has a focus on improving the working environment for your employees, including health and wellbeing rewards and anti-harassment training. Read more about it in our Justworks vs Zenefits comparison.
Paychex has a focus on managing payroll and making that simpler. It helps you to manage compliance and employee benefits, and it's easy to use too. Check out our Paychex vs ADP Comparison for more information.
Frequently Asked Questions
Here are a few of the most commonly asked questions about Zenefits and BambooHR:
Will our data be secure with Zenefits or BambooHR?
Both services work hard to ensure that your data will be kept safe.
Zenefits has two-factor authentication and end-to-end encryption for data in transit and data at rest. Although they had a security breach a few years ago, they resolved it swiftly and are dedicated to improving data security.
BambooHR has a lot in place to help improve their security, including an active bug bounty program, vulnerability scans, input validation, annual third-party SOC II security audits, continuous security management and monitoring, and strongest industry standard encryption.
Are the Zenefits and BambooHR apps available on Android and iOS?
Yes – you can get both on either Android or iOS?
Are Zenefits and BambooHR cloud-based?
Yes, they're both cloud-based, so you won't have to worry about downloading software onto your computer.
To Sum Up – Which is Better?
So, which one do we like the best?
We think that BambooHR just about has the edge over Zenefits.
Zenefits is a good platform, and it's worth checking out if BambooHR turns out to be too pricey for your business.
However, despite the lack of clear pricing, BambooHR has excellent HR services, right from the recruitment and onboarding process (and even through to the offboarding process). It has great customer service, and the ability (through TRAXPayroll) for employees to log hours with particular clients or on certain projects will help you to manage your time and resources more efficiently.
Have you used BambooHR or Zenefits? Let us know what you think in the comments.
Further read: