Last Updated on April 22, 2023 by Ewen Finser
In 2015, the San Francisco-based software company Flexport revolutionized the world with its cloud software and data analytics platform. Flexport offers a wide range of cloud-based services for their clients, such as freight (air, ocean freight, truck, and rail), warehousing, drayage and cartage, financing and insurance, and even customs brokerage.
Do you need a freight forwarding service? 44% of freight forwarding customers say they love the service due to the provider's expertise and cost-savings opportunities.
If you think you'll benefit from freight forwarding (digital freight forwarder tools), you might think Flexport is the company you should choose. But is Flexport the best option for you? Here are the best Flexport alternatives.
What Is Flexport?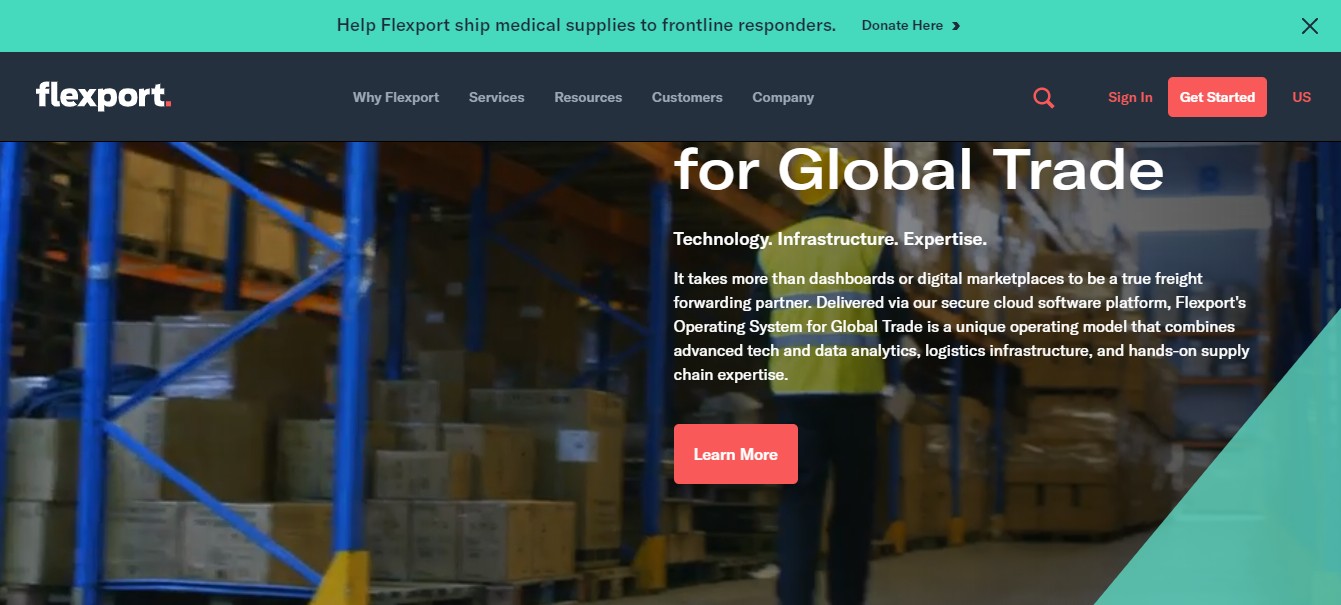 Flexport is a freight forwarding company and the first of its kind to fully function on an online dashboard. The company was founded by Ryan Petersen in 2013. His goal was to simplify the transportation of large-scale goods and shipping internationally, all while using software and automation.
They aim to digitize the shipping process, including the international shipping process. Products can move through customs with ease thanks to their global network.
Flexport is also unique thanks to its standards on compliance and regulation. With every freight shipment, Flexport promises there will be an expert involved in every shipment they process.
How can customers receive these benefits at a lower cost? You can thank technology. Technology enables fewer transaction costs and automates the shipping process so you find the best rates. In addition, technology reduces the number of errors in your shipment, not only saving you time but also money.
Flexport has also been receiving attention from the press. For example, Inc. places Flexport on the number 8 spot of the 10 Fastest-Growing Companies and the fastest growing in the shipping market in 2019.
Why Do Customers Love Flexport?
There are many reasons why customers love Flexport. For starters, it's modernizing the shipping and freight industry. We're rapidly relying on technology more every year, and Flexport is one of the many technological freight solutions available.
One of the key solutions offered by their platform is connecting all freight functions. The freight process has many steps: when there's an order, warehousing staff has to get the order together, and the order goes through the shipping process.
Handling this process manually is difficult and time-consuming; now, e-commerce brands can simplify this process with freight technology, which also saves money and enhances visibility in all departments. You'll also have quicker shipments and some customers even reported early shipments.
Flexport also offers additional benefits. This includes improving customer service, logistics analytics, and tracking processes. Flexport is also scalable, so growing businesses can always have a solution. Because Flexport has expertise in freight and international shipping, brands will experience fewer delays when shipping overseas.
Flexport Pros and Cons
Flexport offers many benefits for businesses of all sizes. But Flexport may not be the best solution for you. Here are the important pros and cons you should know.
Pros
Manages the supply chain efficiently
User-friendly and easy-to-use software
Effective KPI tracking
Manages shipments effectively
Excellent customer service
Real-time visualization of importing status
Search function for past shipments
Offers supply chain solutions on one dashboard
Cost-effective
Cons
Even though Flexport prides itself on having humans and technology work on your freight, many customers complain that the company isn't as personal as they expected.
If there's something wrong with a shipment (late shipments, etc.) Flexport doesn't take the blame. Many customersdon't think that's fair, especially since Flexport promises to have an expert overseeing all shipments.
Best Alternative to Flexport: ITS Dispatch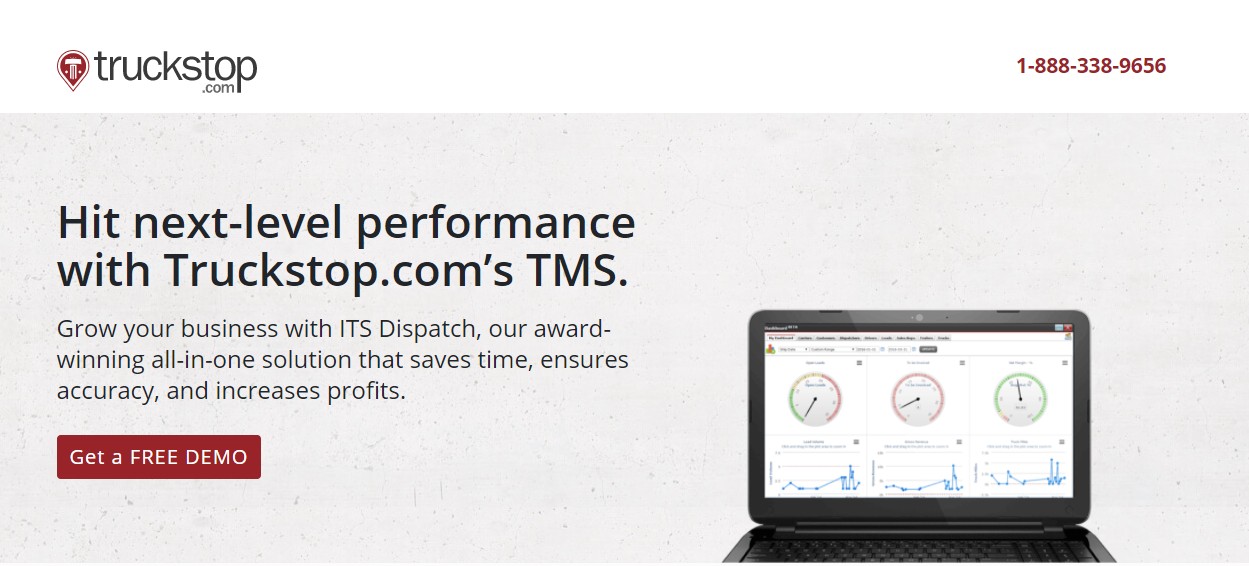 There's a reason why ITS Dispatch is the number one Freight Broker solution in North America. Not only is ITS Dispatch easy to use but its software is also affordable.
Even though they target small and medium-sized businesses, anyone can benefit from this powerful freight broker software. Some of the features of this software include load tracking, one-click invoicing, complete load management, carrier payables, and integrations such as with Quickbooks.
Not only that, but you have free support and the software can support unlimited users.
Pros
Has the ability to expand in case you need more capabilities
If you host your own trucks, you can calculate fuel.
Can connect drivers and shippers easily
Supports freight both nationwide and USMCA
User-friendly
Create invoices easily
Cons
Some users have reported software issues and bugs
Support is closed on weekends
Some users have reported inputting information can be difficult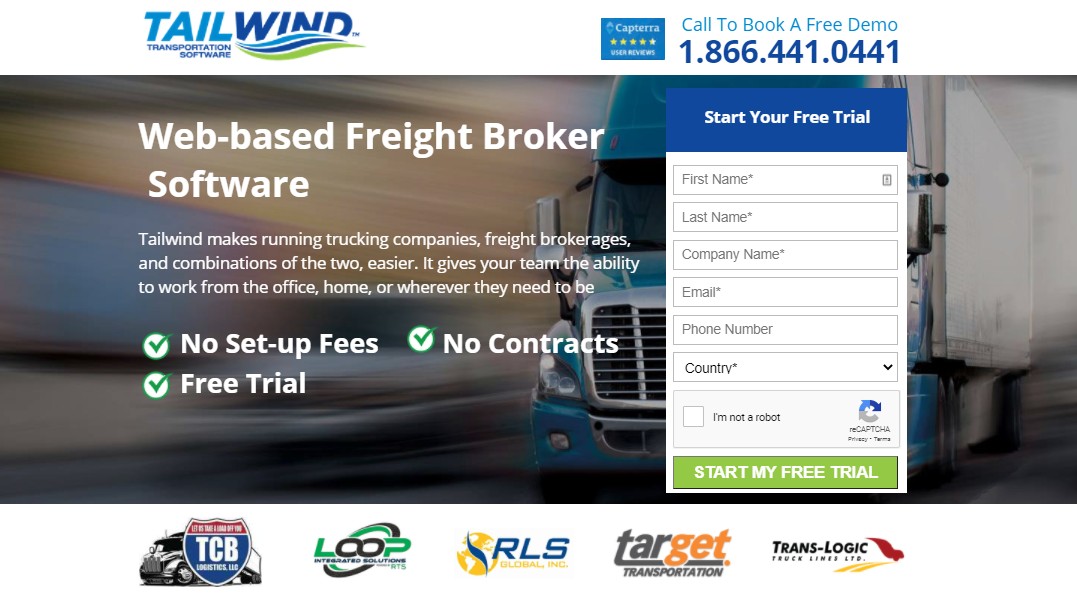 Tailwind TMS offers powerful software that's perfect for freight brokerages and trucking companies.
On their platform, you can manage customers, operations, admin, dispatch, and you receive a free POD capture app. Tailwind TMS also supports different integrations, such as payroll and Quickbooks.
Pros
Powerful software with incredible features
Excellent customer service
Cons
Some users reported this software can be slow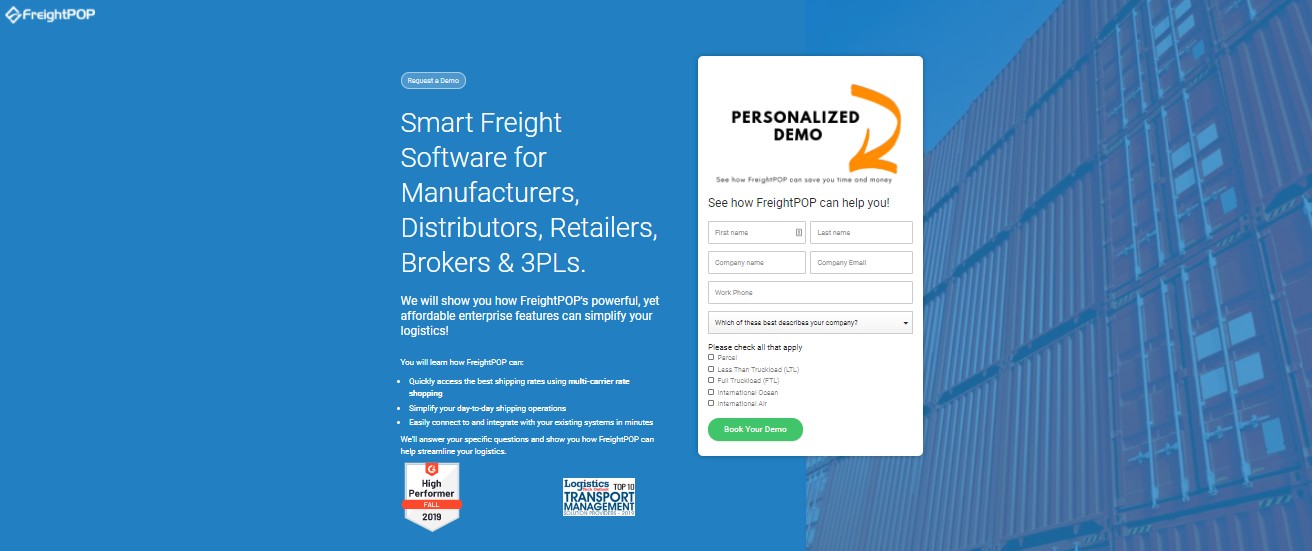 FreightPOP is a cloud-based transportation management system (TMS) that aims to make logistics simple. They have one login that lets you manage all inbound and outbound transportations. This includes LTL, parcel, ocean, FTL, and international air (global trade air freight).
Customers especially love how they can use FreightPOP to get the best deals on shipping. That's because FreightPOP has over 300 connections to different brokers, carriers, and marketplaces.
Another benefit of FreightPOP is it can work with your existing workflow. You can integrate FreightPOP with different WMS, ERP, and CRM systems.
Some of their most well-known clients include NewEgg, Toshiba, and Forever 21. FreightPOP is ideal for a variety of businesses, especially e-commerce. Even automakers can ship with FreightPOP.
Pros
Accurate data collection
Easy-to-use software
Excellent customer service
Loaded with features
Easily track your shipments
Cons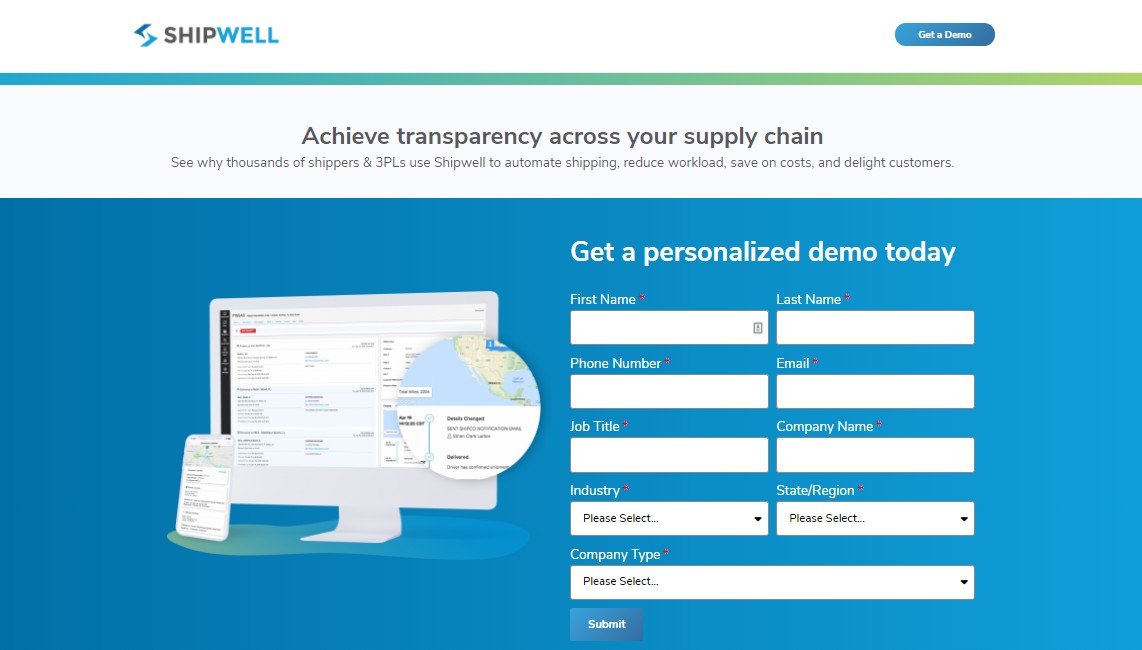 Shipwell is one of the leading platforms enabling tech solutions for the supply chain industry. They power their system with machine learning and you see all data in real-time. They're also continuously improving their system and always find ways to deliver better business intelligence.
Pros
Easy-to-use interface
Track all shipments in real-time
Cons
Some users reported glitches, especially when uploading load details or adding several purchases to a load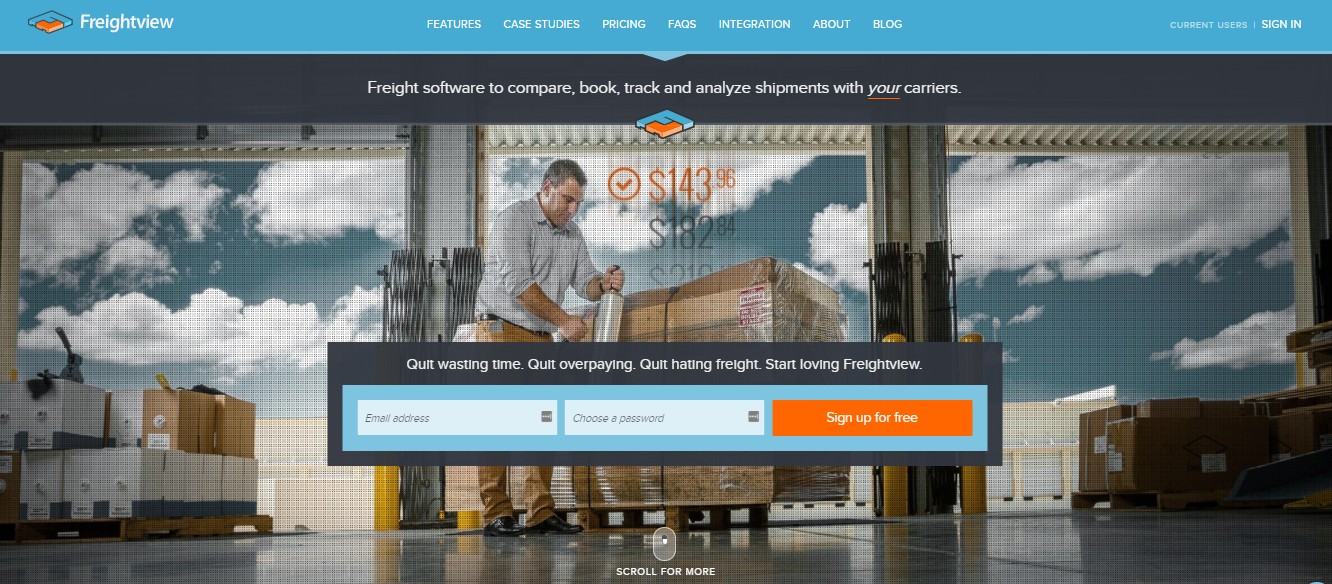 Do you ship parcel or LTL freight? If so, you'll want to use Freightview. Freightview shows you all negotiated parcel shipping rates so you can easily find the best option. You can also prepare bills of lading, schedule pickups, track your shipments, and print shipping labels.
Freightview makes the process as easy as possible. They offer a unified address book to save addresses. You can also visualize your shipping data in different ways, such as a graph, chart, spreadsheet, and report.
Pros
Easy to use
Data is readily available
Excellent customer service
Cons
Editing capabilities aren't as flexible as competitors'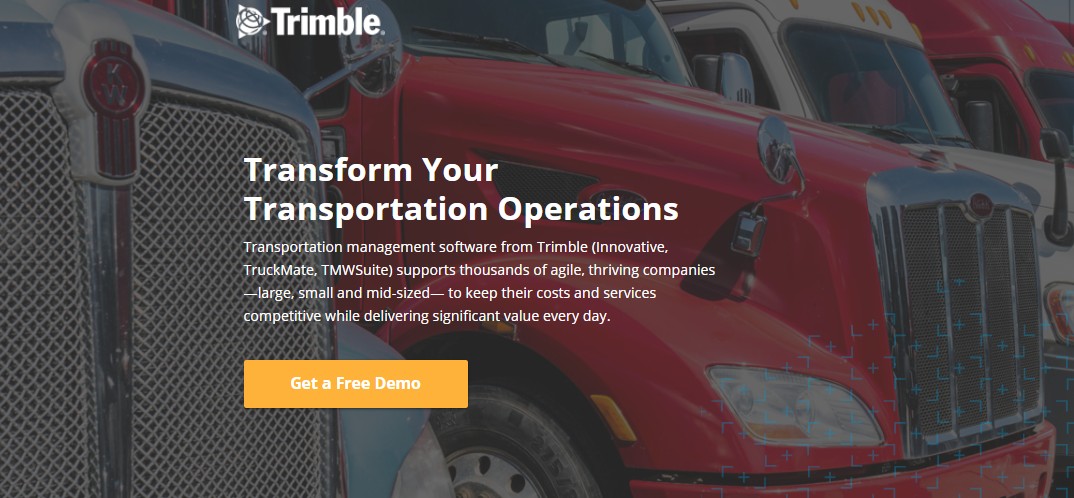 Trimble TMS offers all functions you need for your operations, such as route optimization, load planning, tracking, dispatch, and driver and equipment managing.
This software is even optimized for administrative functions, such as payroll, invoicing, document management and accounting, and settlements.
Pros
Packed with necessary features for your operations
Easy to use
Cons
Users reported the system frequently crashes as well as issues with receiving data and sending documents

If Trimble isn't a powerful enough system, you'll love Kuebix. This TMS uses advanced Freight intelligence to optimize supply chain opportunities with control, visibility, and the use of predictive analytics.
It also meets supply chain needs with integrations, premier applications, and managed service programs. Since it's built on the latest cloud technology, it has a low TOC and rapid implementations.
Pros
Easy to use
Can easily perform essential functions, such as booking shipments
Excellent customer service
Reporting can be customized to fit your company's analytical needs
Cons
Users reported the shipment tracking is unreliable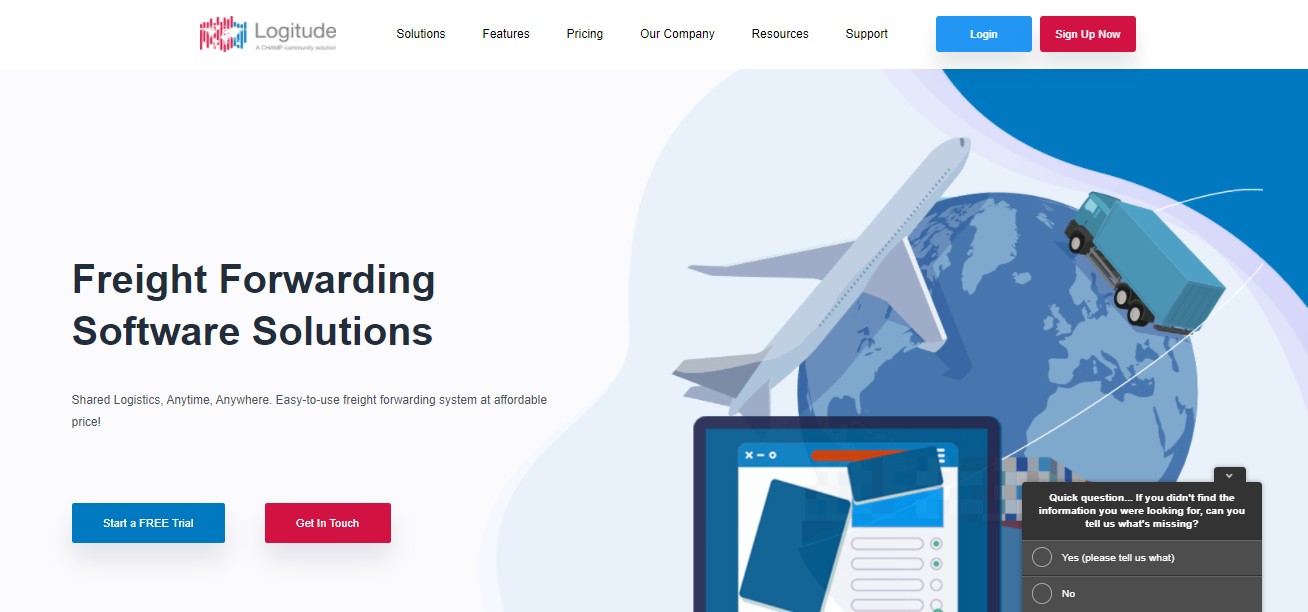 Logitude World is a true freight forwarding software solution powered with SaaS. This platform runs on the cloud; it not only covers the full freight lifecycle but does so with optimum functionality.
The entire platform is easy to use and features different modules. You can also work on a shipment directly using predefined modules.
Pros
Easy to use
Full range of features
Powered by the cloud
Cons
Users have complained about the customer service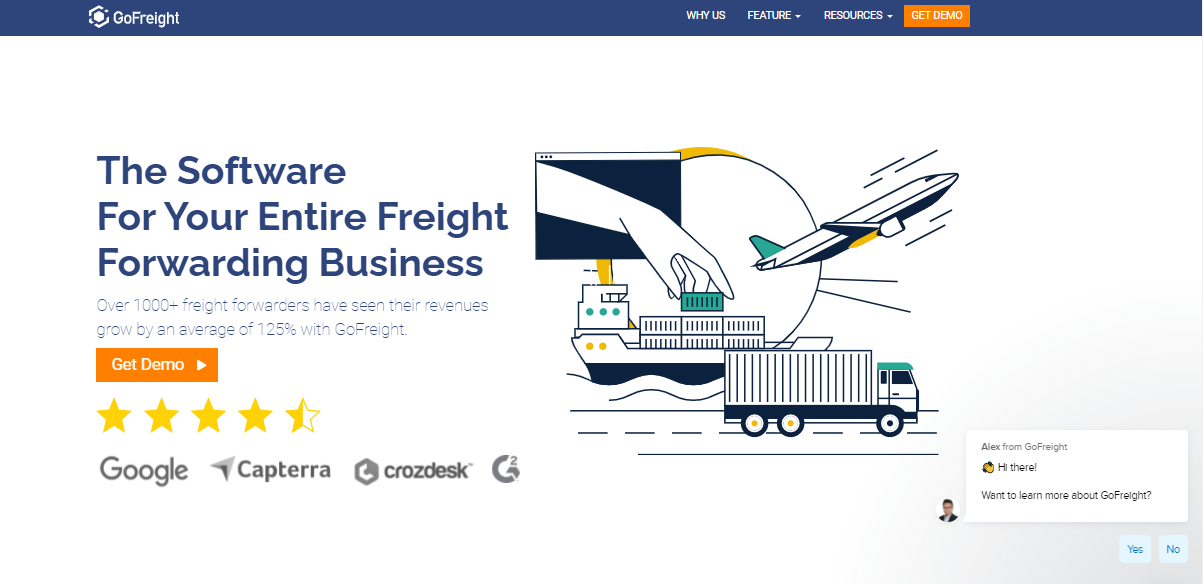 GoFreight is unique because it's a full web-based freight management software. This platform increases efficiency because you and your team can work from anywhere.
The software is high-quality and will assist you with all daily freight tasks. This includes security filing, ocean/air/inland operations, inventory control, invoicing, freight tracking, load plan, sales, PO management, and accounting.
Pros
Packed full of powerful features
Administrative features are also effective
Also offers a profit and volume chart, aiding in important business decisions
Efficient web-based platform
Excellent customer service
Cons
Some users complained the software still lacks functions (though they're always adding new functions)
Users complained that some functions are difficult to use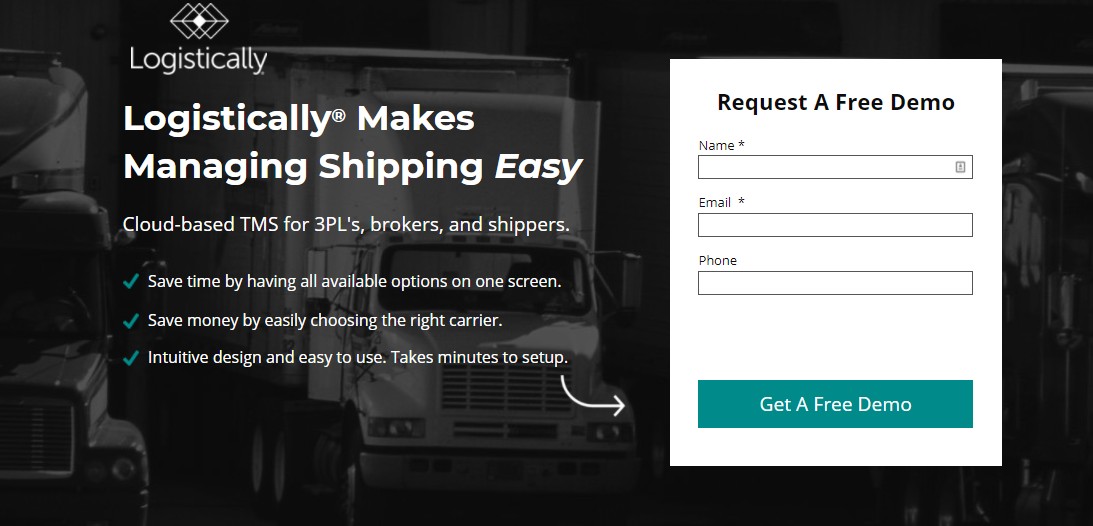 Logistically TMS is the perfect solution for brokers, 3PLs, and shippers. It's a cloud-based software that's powerful yet simple to use. Logistically TMS offers full lifecycle management support on one platform, from payment to billing.
This is also an affordable option, perfect for the smallest companies. But Logistically TMS comes packed with advanced features, analytics, and insights so big companies can also benefit from this platform.
Logistically TMS also integrates with any back-office system at no extra cost, as long as it uses industry-standard APIs.
Pros
Easy to use
Can view pricing and time for shipments
Cons
Users said the platform could use more features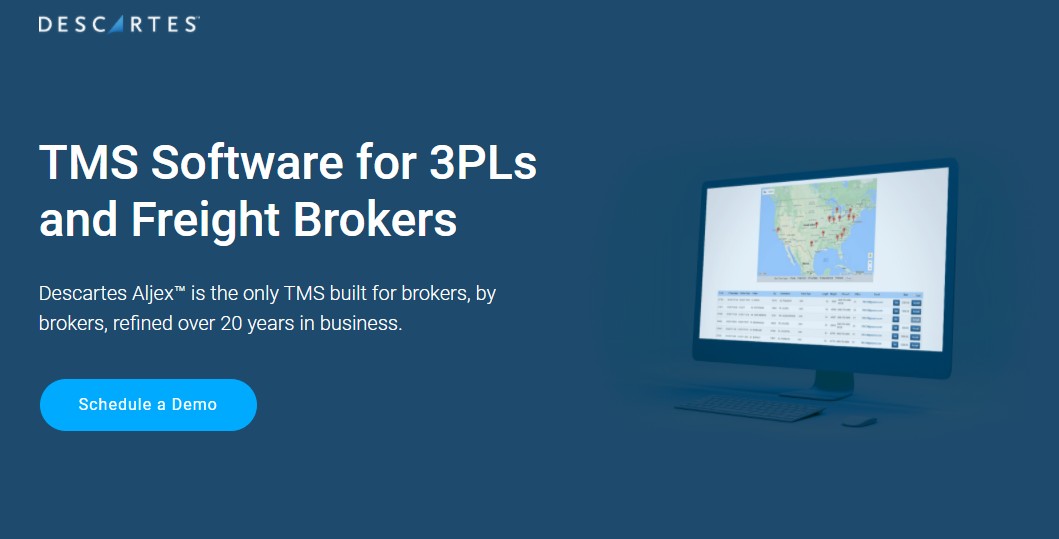 Descartes Aljex is another platform that's ideal for businesses of all sizes. Some of the biggest companies in the world, such as Pepsi Logistics, use Descartes Aljex. But Aljex also has convenient package options for small businesses.
These packages are packed with all essential functions, such as a customer web portal, accounting, factors, carriers, and agent offices. These packages are offered at an incredible value so anyone can afford this software.
Descartes Aljex also uses state-of-the-art cloud-based software. Unlike other platforms on this list, Aljex also includes training and hosting.
Pros
Easy to use
Incredibly fast
Works efficiently
Since it's a cloud-based platform, you can use the software from anywhere
Optimizes different integrations
Effective freight management
Users reported they made a great ROI
Cons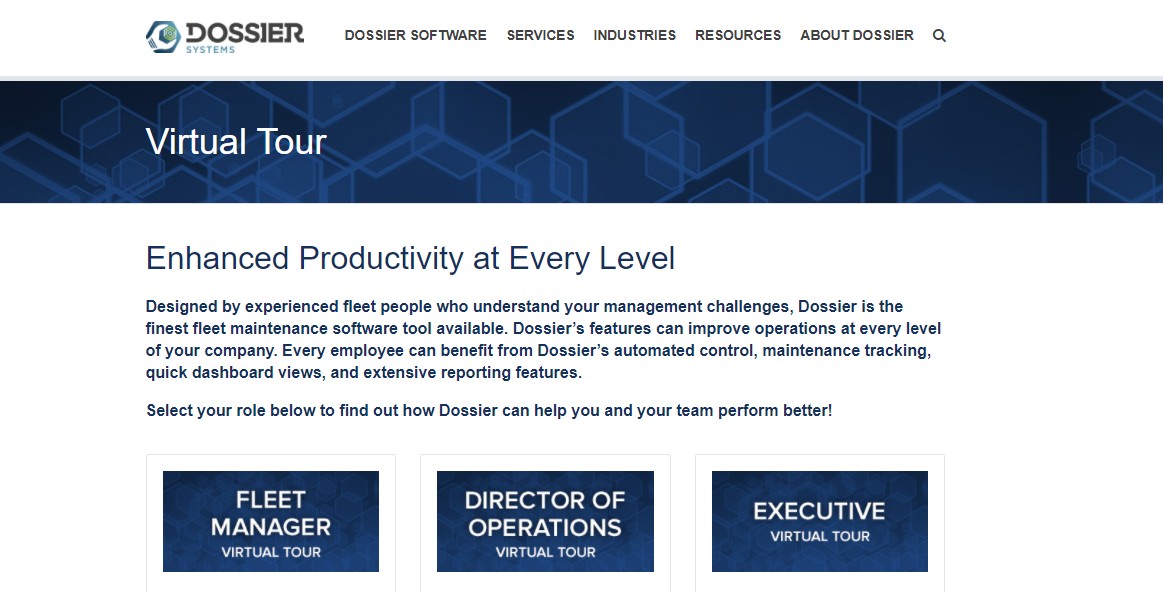 Dossier Fleet Maintenance supports for-hire, private, and public fleets. This platform runs on automation, not only improving efficiency but can also save you time and money.
Dossier Fleet Maintenance automates your PM scheduling, fleet records, fuel costs and MPGs, repair orders and histories, parts inventory control, cost control, work pending and campaign management, auto reordering, tire management, warranty management, license/permit renewals, and more.
Pros
Effective functions and features
Impressive automation capabilities
Cons
This platform provides training, but it's costly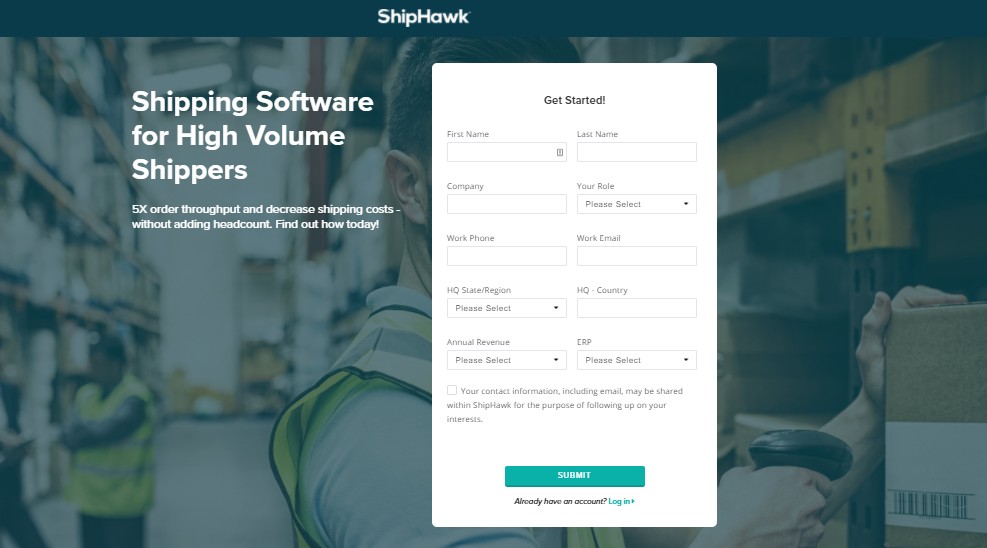 Are you a mid-level company or large enterprise that needs more advanced solutions? If so, ShipHawk should be your choice. ShipHawk automates warehouse operations, order fulfillment, and more. This platform can also help you save on shipping.
Pros
Handles many tasks for you, such as negotiating rates and updating tracking information
Works with multiple shipping partners
Handles a variety of functions on one platform
Excellent customer service
Cons
Not a good option if you're not familiar with the industry — they handle many complex functions that are made for bigger and more experienced businesses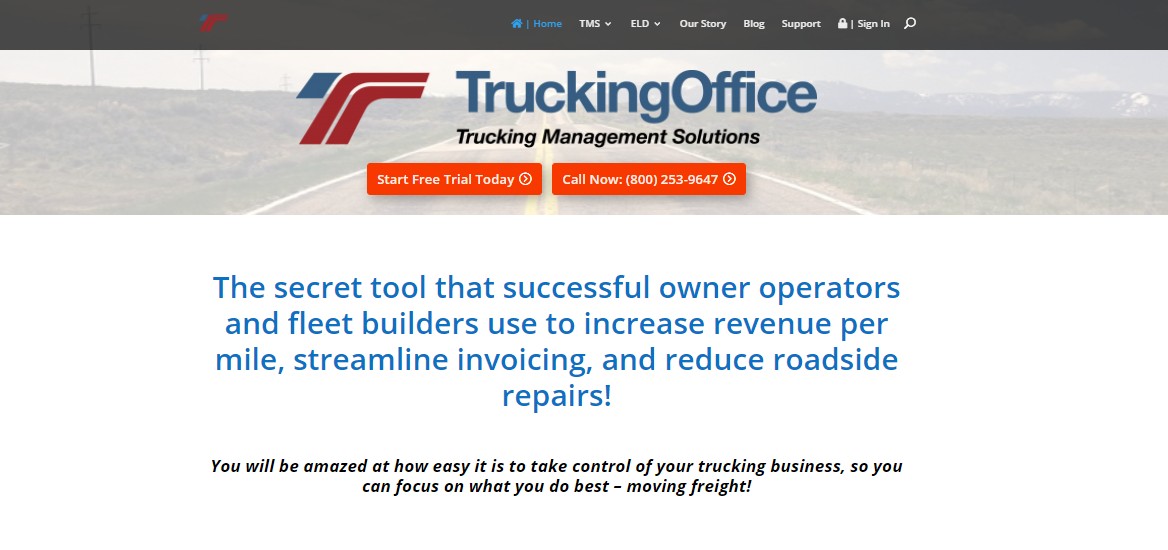 TruckingOffice is more than just a TMS software. This software aims to help you profit. It does so by showing you which loads make more money and which make you less money.
TruckingOffice also makes organization easy — you can use this software to manage your expenses, dispatches, and invoices. This software also makes it easy to keep up with your truck maintenance as well as your drivers.
Pros
Offers comprehensive features and tracking
Expense control
Full dispatch data
Driver compensation calculation
Easy to use
Lots of flexibility
Cloud-based platform
Excellent customer service
Cons
Can be time-consuming to learn and use
No integration
Can't be used for freight brokerage
FAQs
What Is Freight Software?
Freight software helps a business move freight. All freight software differs, but most include similar features such as booking, quoting, inventory management, tracking, invoices, and import and export forms.
Some freight software includes additional capabilities. This includes cargo, 3PL, inventory, brokerage and freight forwarder, and warehouse management.
Who Uses Freight Software?
Many businesses that ship goods and products are the ones who mainly use freight software. For example, a 3PL company may use freight software to enhance their daily operations.
When Will I Need Freight Software?
Most businesses who ship regularly, such as e-commerce businesses, should invest in freight software when their business grows.
These freight software solutions can help you manage your shipping process, details, and tasks. You do this while saving time and creating a more efficient shipping process.
Will I Benefit From Flexport Competitors More Than Flexport?
Flexport offers high-quality software and will benefit many companies. While we recommend ITS Dispatch, these companies aren't better than Flexport — they're just different options and alternatives so customers can compare these different services.
The ones that are featured on this list have many of the same great qualities that Flexport has, such as excellent customer service, great value for your money, powerful features, and these are all reputable brands.
Every business has different needs, so it's important to understand what will work best for you.
Why Should I Choose a Flexport Competitor?
If you're interested in Flexport but aren't sure what company to choose, this list shows you there are alternatives to Flexport. And if you were previously with Flexport, you can switch to another company.
How Do Flexport Competitors Differ?
This depends on the company. All of the options on this list are different and tailor their services to varying businesses and functions.
But there are options on this list that offer more than Flexport. For example, ITS Dispatch offers features that Flexport doesn't provide, such as 3PL management and customer management.
Which Company Should I Choose?
While we recommend ITS Dispatch, you should look into all of these companies and decide which one is best for your business.
Can I Sign up for a Free Trial?
These companies offer a free trial:
ITS Dispatch
Tailwind TMS
Freightview
Kuebix
Trimble
Logitude World
Logistically TMS
TruckingOffice
Conclusion: Top Flexport Competitors and Alternatives
Our pick for the top Flexport competitor is ITS Dispatch. This is one of the most recognized and highly rated freight software platforms in the country. It's an easy to use platform that comes packed with features, more features than even Flexport can boast.
But there are many high-quality freight and shipping platforms that cater to all types of businesses and businesses of all sizes. Look into each of these companies and decide which ones work best for you.
Many of these platforms offer data analytics. But do you need a more robust reporting tool? Take a look at how to find the best data analytics tools.