Last Updated on April 24, 2023 by Ewen Finser
In this TriNet vs Zenefits comparison, we are going to be looking at two fantastic platforms for managing Human Relations in your business.
As a small to medium-sized business, it can be hard to keep up with all the legal obligations in HR and benefits, but these platforms provide not only legal advice and guidance but a total platform to manage recruiting, onboarding, staff records, scheduling, and time-off, payroll processing, benefits and much more.
Actually, these companies are built around two different ways of working. TriNet is a Professional Employer Organization, which means that they co-employ your staff (more on that shortly) whereas Zenefits provides many of the same services but without the co-employment relationship.
Bottom Line Up Front Summary: The more user friendly and functional solution is definitely Zenefits here. While TriNet has a heap of experience and some really excellent features to offer the up-scaling small business, Zenefits is more user-friendly in today's fast-paced technology-driven world. It also comes at a slightly more accessible price.
In this comparison we will look at the key differences and features of TriNet and Zenefits, comparing price, pros and cons, support, and features. We'll have a look at any alternatives on the market and answer those burning questions. Finally, we will summarize the two platforms and explain why we think Zenefits is the best.
The Main Differences between TriNet vs Zenefits
The main differences between TriNet vs Zenefits are:
TriNet is a PEO, whereas Zenefits is not.
Zenefits makes things simple for the layperson, whereas Trinet uses more technical language.
Zenefits has a much more user-friendly interface, whereas TriNet does not.
TriNet has a much broader range of employee benefits available, whereas Zenefits is mainly focused on insurance-based benefits.
Zenefits is less expensive on a per employee per month basis, whereas TriNet operates a by-quote pricing system but is likely to be more expensive.
Of course, there are also many similarities between these two platforms. TriNet and Zenefits platform are both cloud-based platforms with an employee portal and good customer service access. They both offer payroll management and benefits administration, HR tools, time tracking and scheduling tools.
Now, let's look at these two products in detail.
What is TriNet?
Trinet is an online HR solution provider and Professional Employer Organization (PEO) established to provide small to medium-sized businesses with a comprehensive suite of Human Resources tools.
Founded in 1988, the company started out by offering basic employee benefits such as health insurance, life insurance and dental coverage. It has since grown to service over 13,000 clients, advising on employment law compliance and administering payroll and health benefits, as well as providing a web-based portal and apps for managers and employees to work together on their HR tasks.
As a PEO TriNet co-employs the workforce, taking legal responsibility for those workers in areas such as taxation, and allowing them to be part of a large enough workforce that they qualify for great rates on various benefits. Because they are legally responsible for the workers, it's in the PEO's best interest to support the smaller companies that they work with to ensure that they are compliant with all employment regulations.
What is Zenefits?
Like TriNet, Zenefits is a web-based human resources solution platform intended to support businesses with human resources tasks from compliance to benefits, onboarding, and payroll.
Unlike TriNet, Zenefits is not a Professional Employer Organization, instead, they use their buying power to negotiate good deals with insurance and other benefit providers ahead of time, which they pass on to the businesses they work with. They claim that while operating with a PEO may save some money and relieve your business of a lot of the employment law headache, it does remove some of your autonomy and business freedom.
Zenefits is an award-winning platform with a team of developers making weekly updates to the platform in response to customer feedback. They aim to make sure that they are ahead of the field when it comes to innovation.
Features of TriNet
Not all these features come with every package from TriNet. They operate a "by quote" pricing system so you select the features that will be helpful for your business and they give you a quote for the package you are looking for. Here's an outline of what is on offer at TriNet:
Professional Employer Organization
HR expert consultants
Tax filing
You can issue payments to freelancers and contractors
Large package of benefits options for employees
Employee portal
Payroll services
Risk mitigation for liabilities, taxes, and benefits compliance
Interface and Dashboard
When you log on to TriNet for the first time you have a basic set-up routine to go through. One of the key features of TriNet is that you are given a dedicated account manager to support you with this and everything else.
The TriNet dashboard allows you to see tasks that need to be completed and then you can access all the other HR tools via a sidebar.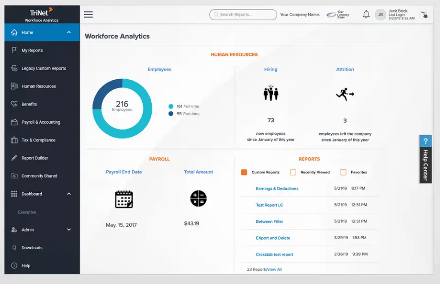 (image from TriNet website)
TriNet also has a mobile app available on both Android and Apple so that employees can access and view their paycheck and tax information, their TimeOff balance and history, their benefits policies, and contact details for the company directory.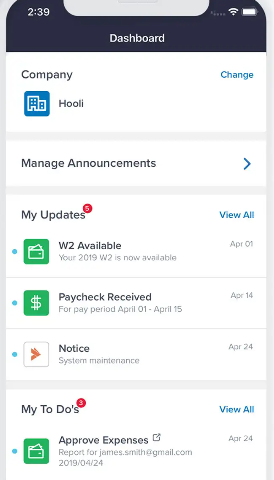 (image from TriNet website)
HR expertise
HR specialists are on hand to give you guidance in administration, sharing onboarding best practices, or choosing which benefits packages you should offer. The HR experts have the experience to help you when faced with more difficult situations and they also stay right up to date with current HR legislation and regulations to ensure that your business keeps up with any changes.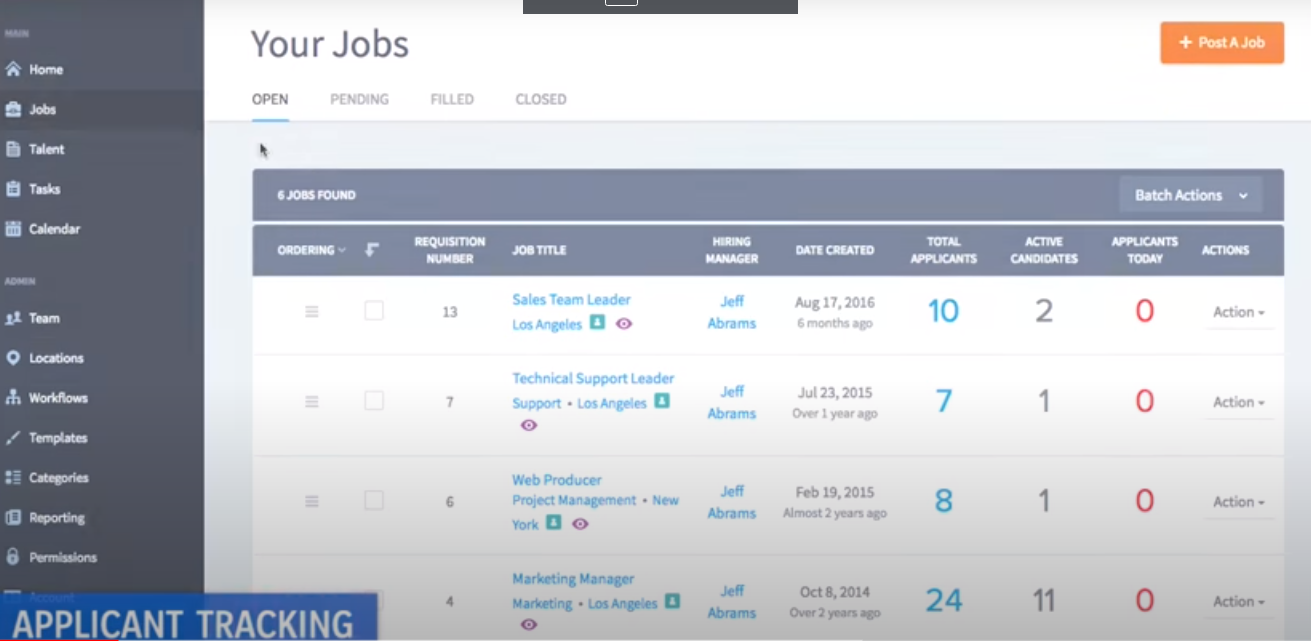 (image taken from TriNet's Youtube channel)
Benefit Options
Often, the way to recruit and retain talented and well-trained staff is by offering a great package of benefits. TriNet has built up some good partnerships with insurance carriers, health and retirement plans, childcare, pet insurances, gyms and commuter benefits. However small your company, you can still compete with bigger corporations when it comes to offering good options, making you an attractive proposition for new talent.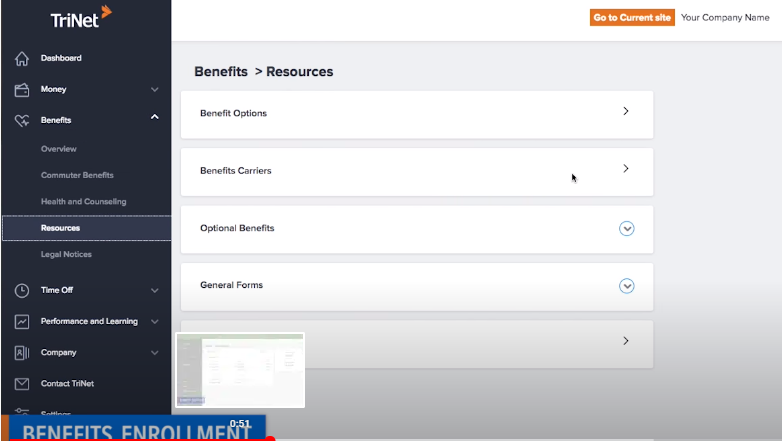 (image taken from TriNet's Youtube channel)
Payroll services
Paying your staff has the potential to be a complicated business, with different regulations for full and part-time staff, staff based in different states, and much more. TriNet helps you to ensure that your payroll is fully compliant, processed securely, and easy to report.
This fully streamlined service allows you to go paperless, view estimated costs, and add and make changes to employees. In addition, it allows the employees themselves to view their pay stubs, print documentation, and track their time-off.
To run your payroll, you simply enter the hours your employees have worked in this pay period (or import them from the Time and Attendance tool), add any overtime or bonuses and TriNet does all the calculations for you. You then check that everything looks right and hit "Run Payroll".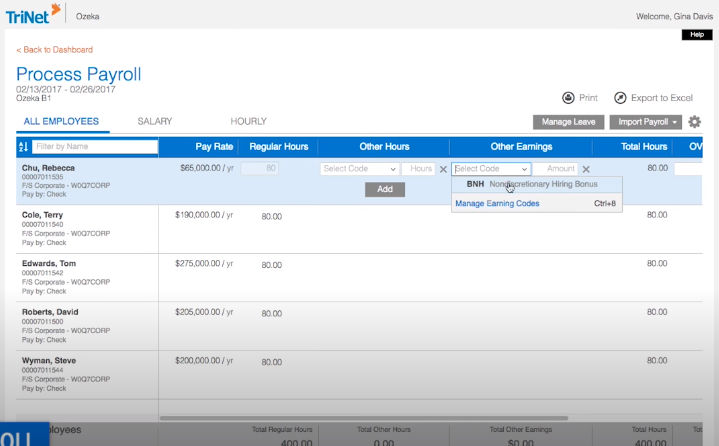 (image taken from TriNet's youtube channel)
A further great feature of TriNet is the ability to integrate your TriNet payroll services into most common accounting systems such as Quickbooks, Netsuite, or Xero. View our article on the best accounting software to use for your small business.
Risk Mitigation
It's an unfortunate truth that we live in a litigious society. The HR team at TriNet are experts on employment liabilities and compliance with benefits, so they will ensure that your business is compliant and protect you from unwanted litigation.
Scheduling and Time Off
The time-off tracking dashboard allows administrators and managers as well as employees to view time-off balance, leave taken, and planned time off. Managers and administrators can also view trends in time-off and a calendar to get an overview of when employees have booked time-off.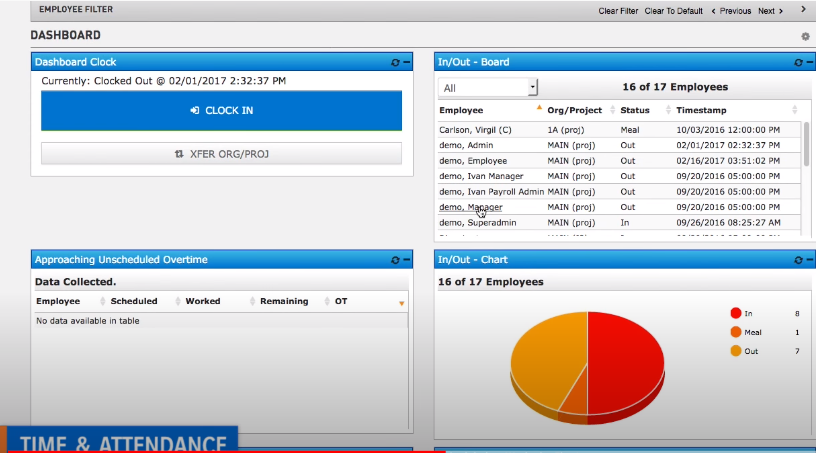 (image taken from TriNet's youtube channel)
Features of Zenefits
It's worth bearing in mind that not all the features of Zenefits come with every pricing package and some are added extras to be paid for. However, we will explore all the features, as even with all the extra paid-for features, Zenefits still comes in at a very reasonable price.
Automated onboarding
Employee management
Easy payroll services
Ability to manage time off and scheduling, synchronized with payroll.
Interface and dashboard
The Zenefits Interface is sleek and intuitive and easily accessible by your workforce. They can easily find information like organizational charts, their own records, and company directories, making information available in one place.
Another really positive feature is that Zenefits offers an Android and Apple app so that employees can access and update their information, sign up for benefits, and complete any other HR tasks they've been assigned.
When you first log in to the Zenefits dashboard you get a snapshot of your employee directory and then access to a range of apps to access the other functions of your account: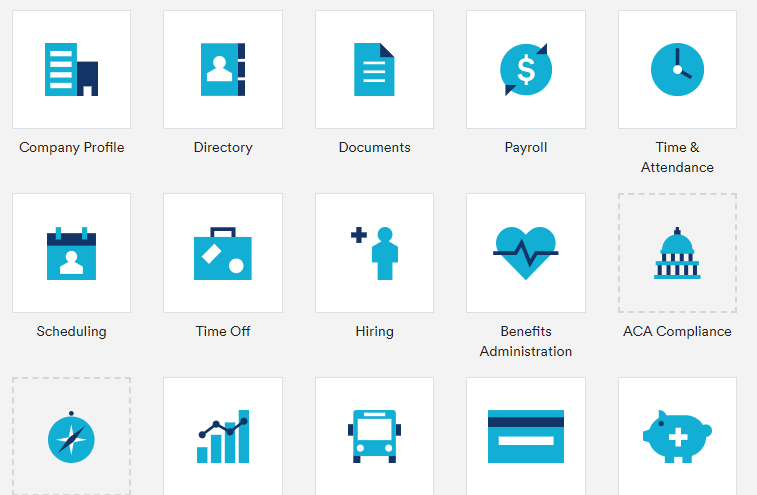 The employee directory is a great place to start. At a glance, you can see your employees and their status, whether full or part-time and where they are based. You can then click on an employee to access their personal record including paychecks, time off, and tax information.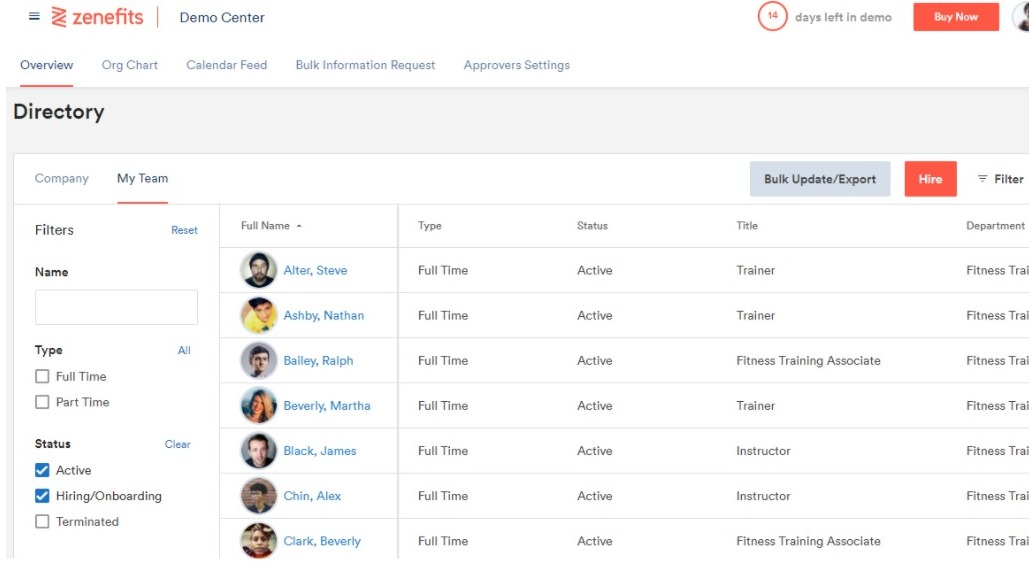 HR Expertise
Managing HR tasks like hiring, onboarding, and performance management or reviews becomes a piece of cake with the appropriate apps on Zenefits.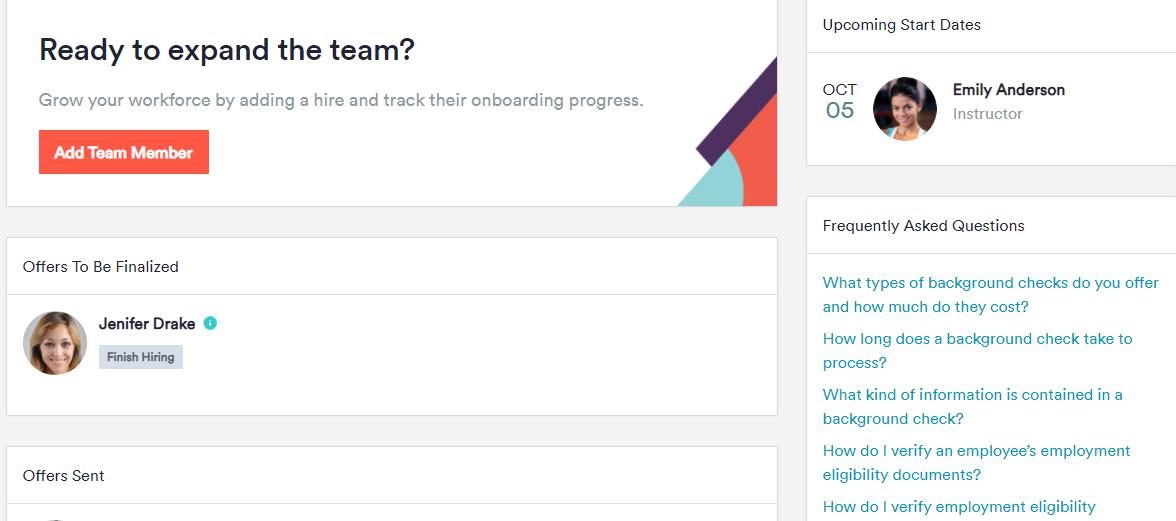 Once you add a potential hire you can arrange background checks, make an offer of employment, and manage employees through the onboarding process. In addition, you can see in advance when reviews are due, send reminders and arrange meetings.
Benefits Options
Zenefits offers benefits available across 49 states including comprehensive healthcare plans and life and disability cover through to commuter benefits. The dashboard enables you to see what the status is of employees enrolling in benefits programs, and for you to see what the contribution cost is to your company.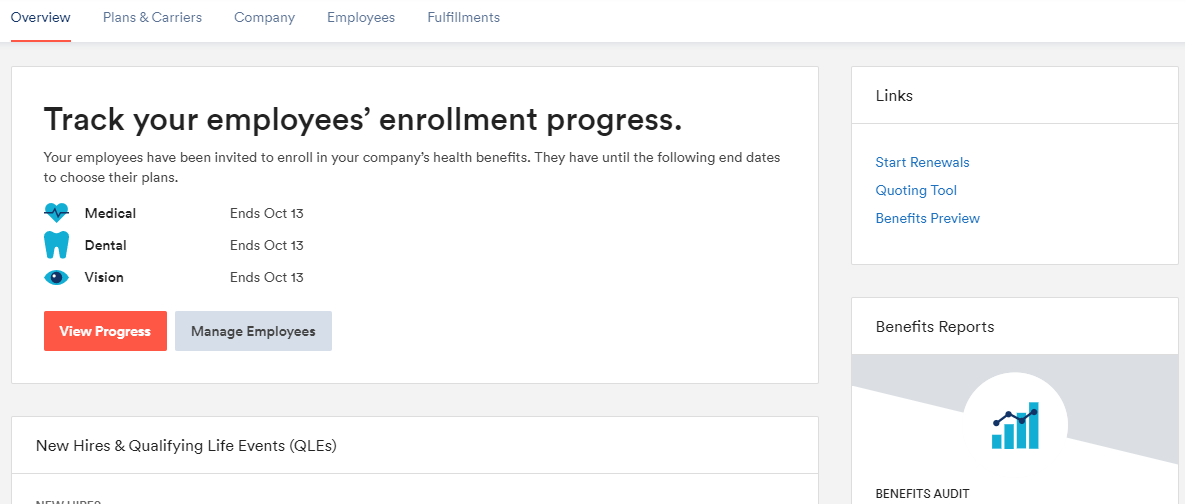 Payroll Services
Paying your staff is quick and easy, accessible in just a few clicks. In addition, as your business grows bigger, there are advanced features to help support you. Unlimited pay runs, direct deposits, and tips reporting are all really useful features.
The payroll part of the platform is simple to navigate. A calendar helps you keep track of when payroll is due and of any holidays where payments are exempt. You can see at a glance your pay run history, so you know who has been paid and how much.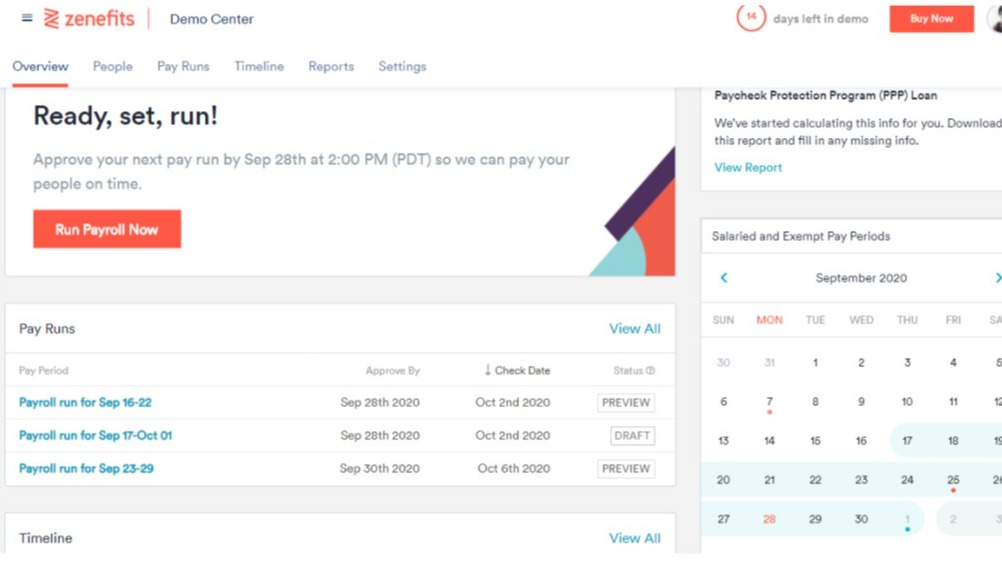 You really can pay your staff in only a few clicks.
Risk Mitigation
The ACA compliance app uses your existing payroll, benefits, and HR data to help you see what your compliance obligations are. You are then able to track your compliance status, send appropriate paperwork and forms to employees, and file forms with the IRS.
Scheduling and Time Off
Using the Scheduling and Time and Attendance Apps you can set up the shifts your staff is working as well as managing time off. Staff can request time-off through their own app and you can compare the hours they've actually worked with what was scheduled.

TriNet vs Zenefits – Support
TriNet has a few different support options available from their FAQ, a knowledge base with articles on various different subjects, and both online and phone support. Most importantly, you are assigned a dedicated account manager. You won't have to introduce yourself to a new support operative each time, your account manager will already know you and your business.
In addition, the support resources that they created and shared to support companies with managing their HR during the recent Coronavirus pandemic earned them a Stevie™ award for Most Valuable Corporate Response.
Zenefits have a wide range of support topics available in their Help Center and videos in their training center. In addition, you can get support from the Zenefits support team by email and by instant chat or phone during office hours. Another great feature is the ClubZen forum for Zenefits administrators.
TriNet vs. Zenefits – Pros and Cons
TriNet Pros
Good communication and customer service
Up-to-date HR and market information across industries
Availability of data for reports and analysis into different aspects of HR
Great choice of options and functions
Huge range of company benefits
TriNet Cons
Wait times increased after restructure
HR regulation updates are in technical-speak, not easy for a layperson to understand
Interface is impenetrable
Would be great to include things like a company calendar and an employee handbook.
Zenefits Pros
The new employee onboarding – upload supporting documents and fill in forms online
Time-off tracking
Helpful tools for smaller companies
Super user-friendly interface
14-day demo trial so you can explore all the different features.
Zenefits Cons
While Tech Support responds quickly, solutions can be a bit slow
The software allows people to clock back in early from breaks, leading to unintended legal violations.
TriNet vs Zenefits – Pricing
TriNet Pricing
While TriNet does not openly publish their prices, instead opting for a "by quote" price based on the package of features you are looking for and the size of your business. However, based on our own research it appears to be between $80 and $600 per month per employee.
Zenefits has a variety of different pricing plans. Each is based on a monthly price per employee. The prices shown here are based on monthly billing, but there is a significant discount for annual billing.
You can access a free 14-day demo to see what Zenefits has to offer – find it here.
Are there any alternatives to TriNet or Zenefits?
Do we know that TriNet and Zenefits have got some great options to offer small to medium-sized businesses, but are there any other HR solutions out there to compare?
BambooHR
Another web-based HR solution platform, BambooHR is also designed with small and medium-sized businesses in mind. In addition to the features mentioned for TriNet and Zenefits, BambooHR offers employee satisfaction and engagement tools to help you develop your company culture.
A really positive aspect of BambooHR is the interface which is easy to use and makes recruiting and onboarding really simple. There are some issues with integrating further systems and there are a few negative reviews of the payroll software and customer support. For further analysis, read our Zenefits vs BambooHR comparison here.
Paycor
Paycor gets full marks for ease of use and value for money. Offering a similar suite of tools to the systems we are reviewing. Over 30,000 businesses use Paycor and in general, the feedback about the user interface is excellent and the tools all do exactly what you'd expect. One of the places Paycor seems to fall flat is in customer support, which appears to be patchy. There is no free trial.
ADP TotalSource
ADP TotalSource is one of the big players in the world of Human Relations. Like TriNet, they are a PEO and pride themselves on personalized services, on risk management, and on great legal advice for small businesses. Again, like TriNet, ADP TotalSource also offers a huge range of benefits for employees, a great way to compete with much larger companies and attract talented staff (talent management) to a small business. In this article, we explore the features of ADP.
Other HR Alternatives:
Frequently Asked Questions About TriNet and Zenefits
Are TriNet and Zenefits certified PEO?
TriNet is a certified Professional Employer Organization (PEO) designed specifically for small to medium businesses. Using a PEO means that you have access to great benefits, reduced employment risk, and reduced HR costs.
Zenefits is not a Professional Employer Organization. It brokered deals with insurance companies ahead of time and offered these rates to customers for their benefits and it does that really well. It also offers a wide range of HR tools to use on its interface and app, but it doesn't have the legal implications that being a PEO has, for example with co-employment and limited legal coverage. A PEO is legally required to give you a lot more.
Compare different PEO companies in this article.
What employee benefits do TriNet and Zenefits offer?
At TriNet your employees have access to retirement, health, accident, home, and other types of insurance as well as options for spouses and pets and employee perks for example discounts with Avis, Hyatt, and Verizon. It also ensures legal compliance of your company benefits plan.
At Zenefits they offer healthcare and retirement benefits, 401k, FSA, and HSA accounts and commuter benefits.
What is Employee Relationship Management?
Employers want to have good relationships with their staff. It not only helps staff retention but it also helps you to achieve your business objectives and create your company culture. Tools that help support this and manage, for example, your feedback, performance management, and rewards fall into this category.
Who has admin access to the platforms on TriNet and Zenefits?
On TriNet, when you add or edit roles in the directory you can assign them different access to TriNet. The Company Owner is the master account with oversight over every aspect of the organization. Further administrator roles can be added for different tools and aspects of HR.
In Zenefits the Full Company Administrator has access to all the different areas of the site and permissions. Other Administrator roles can be added for staff to have permissions to access and manage specific tasks.
Our Verdict: TriNet vs Zenefits
To Sum Up …
So, why do we think that Zenefits is the option to go for?
This has actually been a really tough call and to be honest, the two platforms are different options and suitable for different purposes.
TriNet has a stack of great features, it's been in the business for three decades and it's a trusted PEO with a lot of happy clients. It does cost a little more, but for that, you do get some really sound legal advice and support and all the features that have been built up over the years.
Zenefits, on the other hand, is a much younger business. The plans start off much cheaper than TriNet and even once you've bolted on all the extras, it's still probably going to be less expensive, but still provides a really good service. Some of the features that really make Zenefits stand out to include the high-tech dashboard and interface, the ability to access a demo site for two weeks for free to explore the features before you buy, and the knowledge that business developers are always there in the background working on how to make Zenefits even better.
Bottom Line Summary: We think that for a small business looking for an easy to use the platform to manage all their HR tasks, you should try Zenefits here first.
Image Credits
All screenshots and images were taken by the author September 2020
Further Reading on HR Software, PEO Service Providers, and Payroll Provider Options: