Last Updated on September 5, 2022 by DMEditor
Bamboo HR aims to simplify all your HR processes. If you're struggling to formalize your hiring, onboarding, and employee management strategies. Bamboo HR can help you implement and automate standardized workflows so that you can lean back and focus on the individual needs of your staff.
This all-in-one HR suite also comes with powerful employee analytics, compensation management tools, applicant tracking, new hire onboarding, and more. In other words, it helps you maintain everything that usually requires lots of time and paperwork.
So, in this review, we're looking at Bamboo HR and everything it offers and providing a guide to help you navigate the most pressing questions about this comprehensive tool.
Bottom Line Up Front
Standard HR processes like recruitment, onboarding, maintaining employee records, and performance reviews often waste your precious time and come with tons of tedious paperwork. In response to this issue, Bamboo HR enables you to streamline all these processes with automated workflows.
This tool is more comprehensive than many other HR platforms on the market; it even includes payroll and time tracking functionalities. It also provides excellent customer service and online self-help resources. However, when it comes to pricing, you'll have to get in touch with Bamboo HR for a quote.
What is Bamboo HR?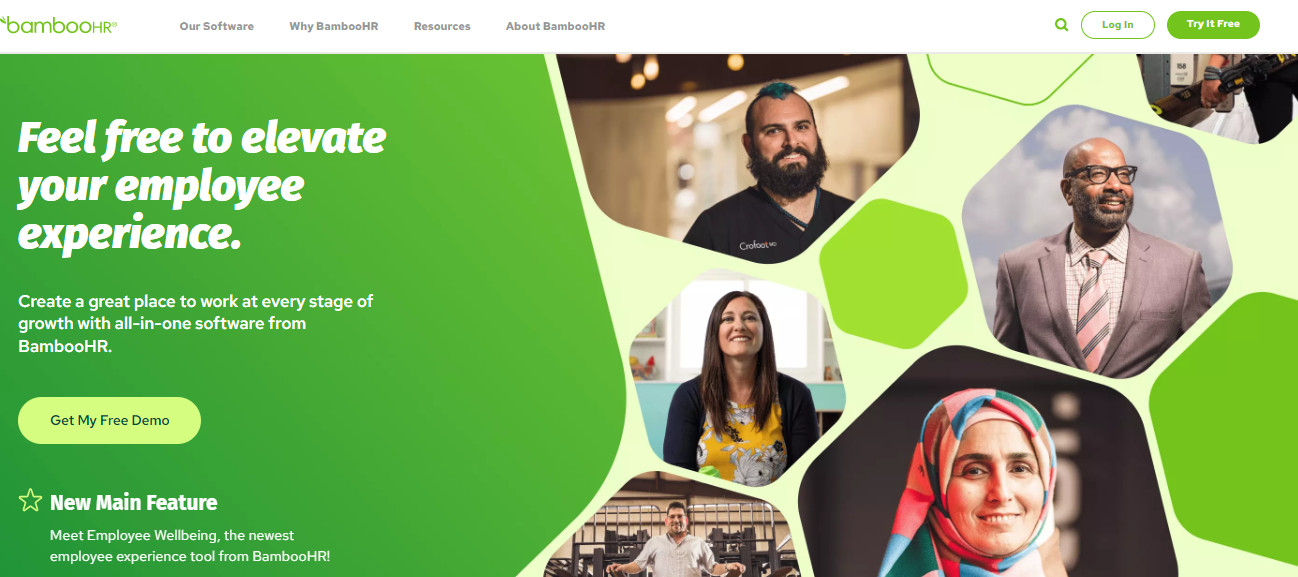 Bamboo HR has been around since 2008. Since then, it's steadily added and optimized its features to build a holistic HR solution. At first glance, Bamboo HR might seem like the perfect solution for enterprises that need a vast toolkit. But the software is flexible, allowing you to assemble feature packages according to your needs. In fact, Bamboo HR was named the best SMB-Focused Solution in 2022's HR Tech Awards.
Anyone with an HR background knows firsthand that recruiting, onboarding, and maintaining employees can be difficult. Each heavily relies on standardized processes that should strictly adhere to business guidelines and comply with relevant employment laws.
As a result, mistakes in this area can severely impact your company. For example, lower retention rates, decreased employee productivity and work satisfaction, and even legal issues! This is where Bamboo HR comes in. This software is explicitly designed to help free up your HR team to focus on optimizing HR processes and forming more meaningful connections with staff.
Thanks to Bamboo HR's extensive suite of features, you'll no longer be bogged down with things like payroll, sending out employee handbooks, leafing through CVs, or any of the other hundreds of tedious processes big HR departments undertake.
Key Features
Bamboo HR promises to be an all-in-one solution for your HR needs. As such, it's no surprise its features are plentiful, so we can't cover everything in detail here. So instead, we'll touch upon the five key areas in which Bamboo HR shines.
People and Analytics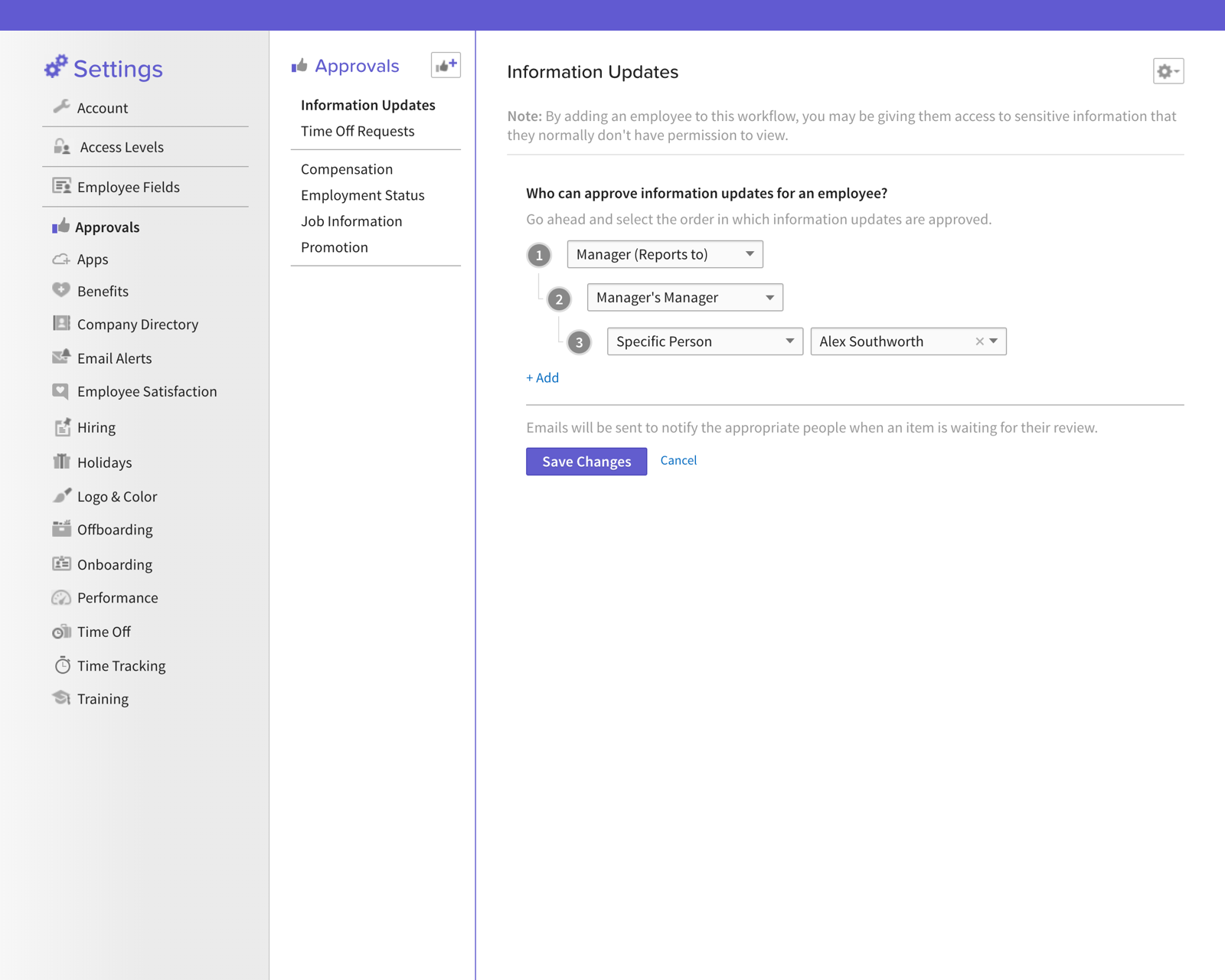 Each employee comes with a myriad of data attached to them. For instance, their initial application, payment information, performance reviews, holiday allowances, benefits, medical disclosures, etc. Therefore, one of the most important jobs of any HR department is to securely store these details and have them readily at hand when needed.
Bamboo HR makes this easier by providing one centralized employee data environment where you can securely store everything and find it again just as quickly. You'll also have access to reporting and analytics features which enable you to produce beautiful and easily readable reports in seconds. This makes reviewing data at a glance a breeze!
On top of that, thanks to Bamboo HR's custom workflows, you can automate approval and review processes. So, for example, you could assign people to fill in their employee data without running the form through you first. You can also easily track outstanding approvals, which workflows are still in progress, and which are complete.
The final item in this section is Bamboo HR's mobile app. This empowers each employee to review HR-related information from the convenience of their smartphone.
For instance, access to the employee handbook or their own records. To help better facilitate communication, employees will find a contact list here too. Plus, they can send time-off requests on the go. The app also has a synchronized calendar to help keep your whole team on the same page.
Hiring
Bamboo HR's Applicant Tracking System (ATS) allows you to organize and track applicant information through every stage of the hiring process. This makes it easier to check in with candidates and ensure they feel valued through alerts that keep you notified whenever a candidate progresses through your funnel.
BaMboo HR's ATS also comes with collaboration features. For instance, you can decide on custom permissions for stakeholders and team members who might need to review candidates themselves.
The software makes sending out job offer letters simple. It comes with customizable templates that auto-populate candidate info for different positions, job types, and other requirements. Candidates can respond with electronic signatures, ensuring a smooth and hassle-free recruitment process.
The ATS is also accessible via mobile.
Onboarding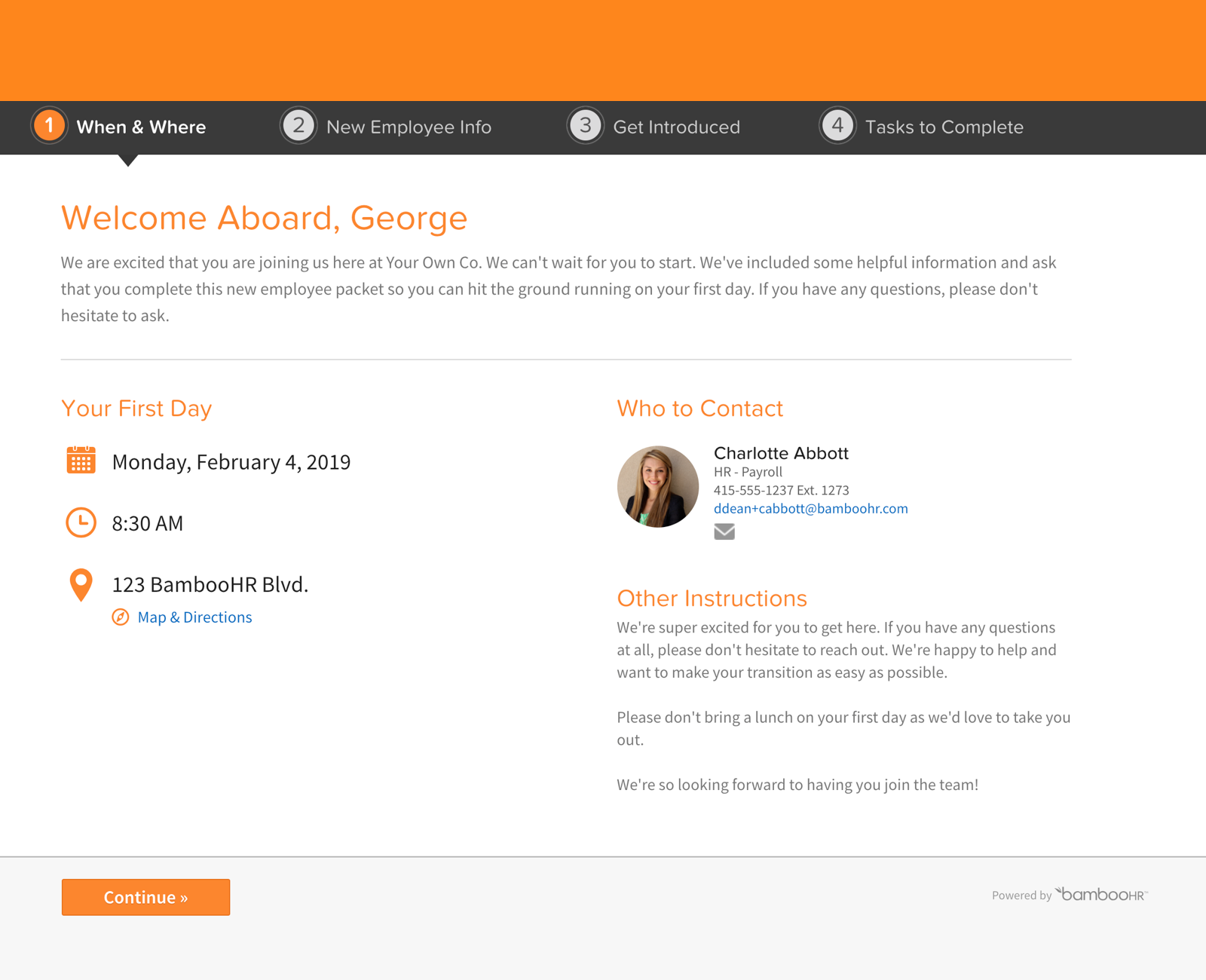 Onboarding (when done well) gives employees the best possible start at your company. Bamboo HR makes it easy to pay attention to every new hire. Signatures for the paperwork required at this stage can be handled electronically, which works wonders for saving time.
But HR Bamboo's onboarding tools go further than that. You can create workflows and processes to standardize and automate your onboarding procedures. For instance, this could include:
Requesting relevant signatures
Sending out new hire packets
Requesting get-to-know-you information
Sending out introduction emails to introduce the new hire to their team.
You can work from an onboarding template or create your own strategies from scratch. These templates are easily adjusted to suit different job types, departments, and locations.
Bamboo HR also provides similar features for your off-boarding process, enabling you to send out relevant documentation on time and establish follow-up communications. The latter is handy for determining why an employee quit and what could have gone better. With this info to hand, you're better positioned to pinpoint issues and tackle them to boost employee retention.
Off-boarding also comes with automatic security restrictions. You can also delegate important tasks to other team members and remove permissions from the ex-employee to ensure your systems remain confidential.
Compensation
Get everyone paid on time, and manage time-off more effectively. Bamboo HR permits you to send, review, and approve time-off requests. It also comes with time tracking, allowing employees to quickly sign in and out to track how much time they spent on the job.
This is vital for employees paid based on billable hours. But on top of that, time tracking gives you a better idea of which projects, clients, and locations eat into your time and optimize accordingly.
Bamboo HR also offers payroll functionality. You can pay US-based employees on time, every time, with automated payments. This comes with streamlined federal and state tax filing and can work hand in hand with time tracking. In addition, employee information like wages, hours, account numbers, benefits, deductions, and withholdings all automatically flow into Bamboo HR's payroll, so you never have to re-enter details.
Culture
Finally, Bamboo HR helps you hone in on the performance and well-being of each individual employee. Relevant insights from your team enable you to respond to potential issues to help ensure maximum employee satisfaction and productivity.
Bamboo HR also rehauls the performance reviews process so that you can track employee performance more frequently, without the subjectivity and tedium these reviews often suffer from. It splits performance reviews into three parts:
Manager and self-assessment
Peer feedback
Goals
These processes come with pre-specified questions to help streamline the review process. It also standardizes things to make comparing information from review to review easier. You can also add customized questions to meet your specific needs and dictate when you conduct reviews. For example, annual, semi-annually, or quarterly check-ins with automated reminders to ensure you don't forget!
Bamboo HR also facilitates better insight into employee satisfaction by allowing you to automatically request anonymous feedback from your staff. The results are run through a keyword tracker that assembles frequently mentioned topics and sentiments to give you a clear overview of the good and the bad. You can also track employee satisfaction with advanced analytics to review progress over time and quickly review your employees' most common dislikes and likes.
You can even tailor employee surveys for well-being to ask more directly if they're happy and motivated in their role, feel connected to their team members, and recognized by managers.
How Much Does It Cost?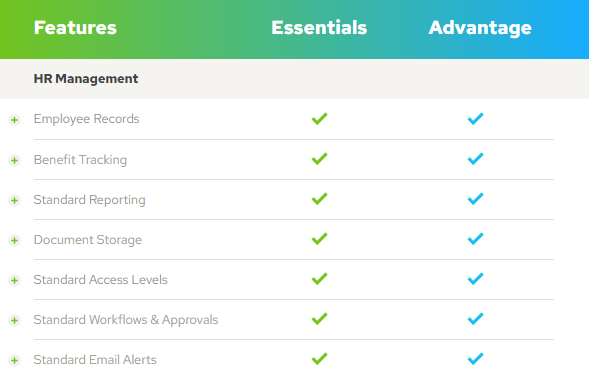 The cost of Bamboo HR depends on several factors. Most importantly, how many employees you manage and which features you want. For example, payroll and time tracking are add-on features that aren't included with the two packages outlined on Bamboo HR's website.
The Essentials package includes HR management tools like:
Employee records and document storage
Benefits tracking
Standard reporting
Workflows and approvals
Time-off management
A company calendar
The mobile app
Email support
Whereas the Advanced package unlocks:
An applicant tracking system
Onboarding and off-boarding features
Electronic signatures
Training tracking
Advanced reports
Tailored workflows and approvals
Company branding
Custom email alerts, access levels, tabs, and fields
Access to the Bamboo HR Marketplace for integrations
Employee satisfaction tracking
Phone support
Please note: to get prices for these plans, you need to contact the team for a custom quote. However, according to Trust Radius, prices start at $59 per month.
Benefits of Investing in Bamboo HR
Now that we've looked at what Bamboo HR has to offer. Let's review the key benefits of investing in this solution:
HR departments can save lots of time that would have otherwise been spent on tedious processes. For instance, the software automates paperwork and data collection, removing human error and freeing your HR teams to focus on other things.
You can assemble your own package of features according to your company's needs and budget. This makes Bamboo HR a flexible option for a wide range of organizations.
Bamboo HR is truly an all-in-one solution. Unlike many other HR solutions, it hones in on every important aspect of HR at an organizational level while also providing helpful tools for employees.
All of Bamboo HR's key features are accessible via mobile.
Which Companies Should Consider Bamboo HR?
Bamboo HR markets itself to small and medium-sized businesses that need an HR department that might not yet exist. Small businesses can rely on Bamboo HR to handle most of these processes instead of hiring a larger team to oversee HR-related tasks.
That said, the software also wouldn't be amiss for larger teams looking to automate and streamline their processes, freeing up time for other work.
Looking for Something Else? Bamboo HR's Alternatives
If Bamboo HR doesn't sound right for you and you want to keep shopping around, here are a few alternatives worth considering:
Monday.com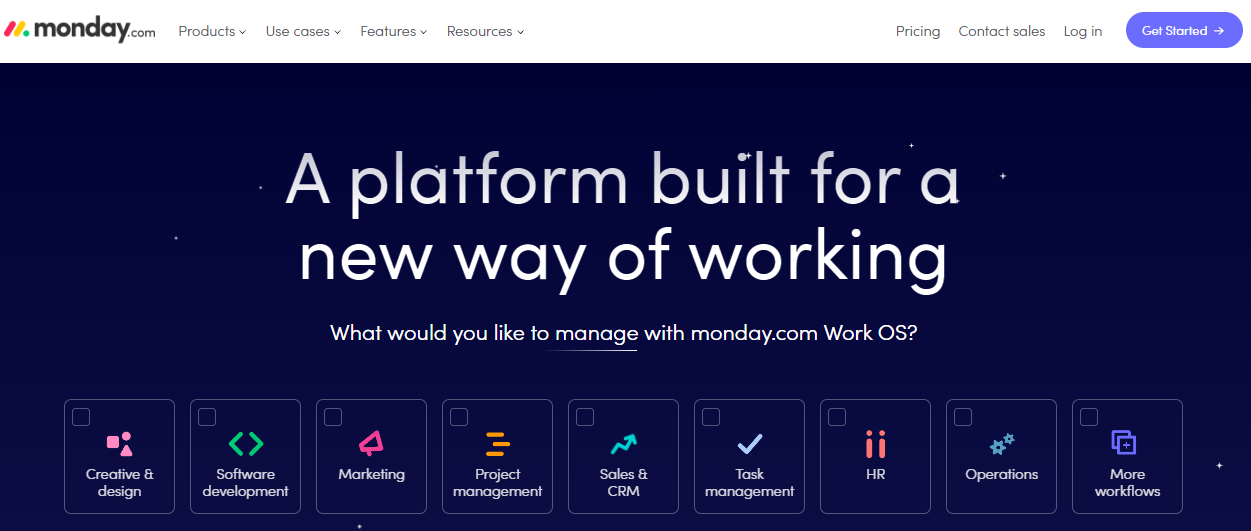 While Monday.com offers a few HR features, such as onboarding, candidate tracking, time tracking, and payroll, it focuses on a more versatile set of functionalities. Alongside its HR capabilities, you'll find a vast array of project and task management tools, marketing features, sales and CRM capabilities, and much more.
It's commonly used as a team management platform to help facilitate remote working structures. With over 152,000 customers worldwide, Monday.com is a popular alternative to explore if you don't have very specific HR needs. However, it doesn't provide the same depth as Bamboo HR regarding HR-focused features.
Monday.com offers a free plan for up to five people. After that, there are three relatively affordable premium plans.
UserGuiding

UserGuiding focuses primarily on the onboarding process. It allows you to easily create resource centers for your employees to ensure access to relevant information. In addition, it comes with robust analytics, goal tracking, employee satisfaction features, and it enables you to create custom onboarding checklists. You can even use segmentation for the onboarding experience to develop tailored onboarding processes for specific job roles.
Unlike Bamboo HR, it doesn't delve into many other aspects of HR. So it's a simple question of whether investing in onboarding alone is a worthy software acquisition for your business. Prices start at $69 per month and are billed annually. However, this includes up to 25,000 users, making it an affordable solution for larger businesses.
ClearCompany

ClearCompany is similarly comprehensive as Bamboo HR, especially regarding recruitment, onboarding, and employee engagement. The platform has a full ATS to track your recruiting efforts and streamline the hiring process. In addition, you can use it to onboard new hires, align team goals, and track and manage employee performance.
Like Bamboo HR, it also comes with advanced analytics that reveals employee satisfaction and progress insights. However, it doesn't offer time tracking or payroll functionality as Bamboo HR does.
Pricing is not displayed on the website, but you can get in touch for a quote or try a free demo.
FAQs
Question: Is Bamboo HR a big company?
Answer: Bamboo HR currently employs over 700 people and continues to grow. Since its founding in 2008, the tech company has expanded considerably and is hoping to offer its clients more features and streamlined tools in the future.
Question: Can I track employee time on Bamboo HR?
Answer: Yes, Bamboo HR currently offers a feature that lets you track your employee's time punches. This makes it easier for companies to manage payroll, review where time is spent, and streamline lengthy tasks accordingly. However, time tracking is an add-on feature that isn't included in the software's two main pricing packages.
Question: What's Bamboo HR's customer support offering?
Answer: Bamboo HR offers excellent customer support via email on the Essentials package and phone support on the Advanced Package. Bamboo HR also provides setup and onboarding assistance when you sign up for their product.
Aside from direct help from the customer support team, Bamboo HR also comes with a wide range of online self-help resources. This includes weekly demo webinars where you can see the software in action, a webinar library, an HR 101 guide, an HR glossary, and a content library, which includes plenty of podcasts and blog posts.
Question: What do customers say about Bamboo HR?
Answer: Bamboo HR enjoys fantastic reviews across several review platforms. On Software Advice, it's rated 4.58 out of five stars with over 1754 reviews and is one of the FrontRunners for 2022. On Trust Radius, it's won a score of 8.4 out of 10 across 234 reviews. Users praise its customer service and ease of use and particularly highlight the ease of approval automations, managing employee data, and performance management.
Bamboo HR – Our Final Verdict
Bamboo HR does precisely what it sets out to do. It provides an all-in-one solution that covers every vital aspect of HR. This allows your team to focus on other things like optimizing employee performance. Right now, when labor shortages make employee retention more critical than ever, it's a good time to invest in HR software that cares so much about the employee experience.
Bamboo HR was designed with ease of use in mind to create a better experience for everyone involved. It makes it much simpler to provide an excellent service to employees, gain meaningful employee insights, and communicate more effectively with every department.
While pricing remains elusive, it's worth requesting a demo and a quote to judge whether the platform is a worthy investment for your business. If you check out Bamboo HR after reading this review, drop a comment below to let us know your thoughts!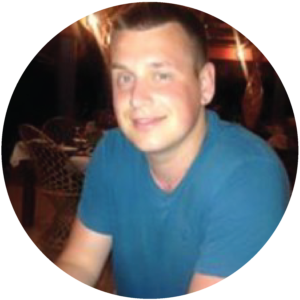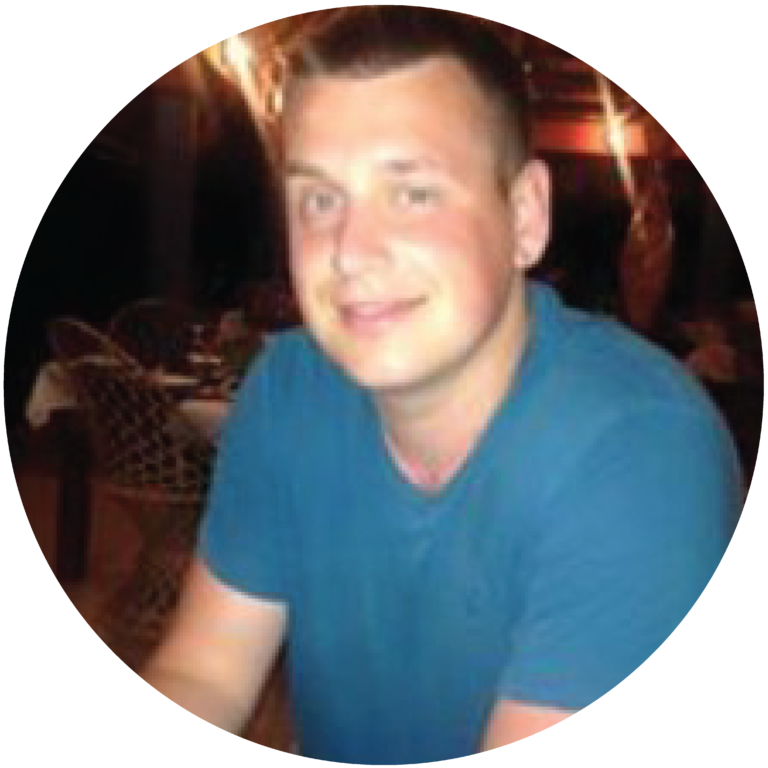 Latest posts by Ewen Finser
(see all)