Last Updated on September 10, 2023 by Ewen Finser
If you are looking for an alternative to Wordtune for your content operations, you've come to the right place!
I have 10+ years experience creating content (individually and with teams) for the web. I've tried and tested virtually every existing and new content editing tool and the many new AI-based entrants recently.
Wordtune is a solid product and in the upper tier of new tools out there, BUT there's some good reasons to look for something else…
What's Wrong with Wordtune?
Before continuing let's dive into why someone might want a different solution. Here's the top reasons I've considered personally and these help guide my recommendations in this article:
Limited Grammar Checking: While Wordtune excels in providing suggestions for sentence rephrasing and clarity, it doesn't provide the same level of comprehensive grammar checking as some alternatives. This could be a reason for seeking an alternative if comprehensive grammar checking is a priority.
Lack of Plagiarism Checker: Wordtune does not have a plagiarism checker. This can be a concern for academic writers, researchers, or content creators who need to ensure their work is original.
No Multilingual Support: Wordtune only supports English language, which might be restrictive for users who frequently work in multiple languages. Alternatives like Grammarly, which supports multiple languages, could be more suitable.
Price: Wordtune's premium features come at a cost that some users might find high. If cost-effectiveness is a priority, users might look for cheaper alternatives or those with more features included in the base price.
Limited Document Insights: Wordtune does not provide document insights like readability scores, word count, and vocabulary usage, which are provided by some alternatives. This could be a disadvantage for users who want a more in-depth analysis of their writing.
Lack of Offline Use: Wordtune is primarily a web-based tool. For users who often work without internet access, an alternative tool that can function offline would be more preferable.
Single Platform Support: Wordtune is mostly an online tool and doesn't support all platforms. Users who want to integrate their writing tool with various platforms like Windows, MacOS, or mobile devices might prefer an alternative that provides this flexibility.
1. QuillBot: Best Overall Alternative
Summary: QuillBot does a little bit of everything with grammar checking, plagiarism checker, summarizer, and rephraser, but now also sync's it all together with a well-designed document workflow editor that can research the web in-app. It's my go-to tool right now for creating well-researched content, quickly.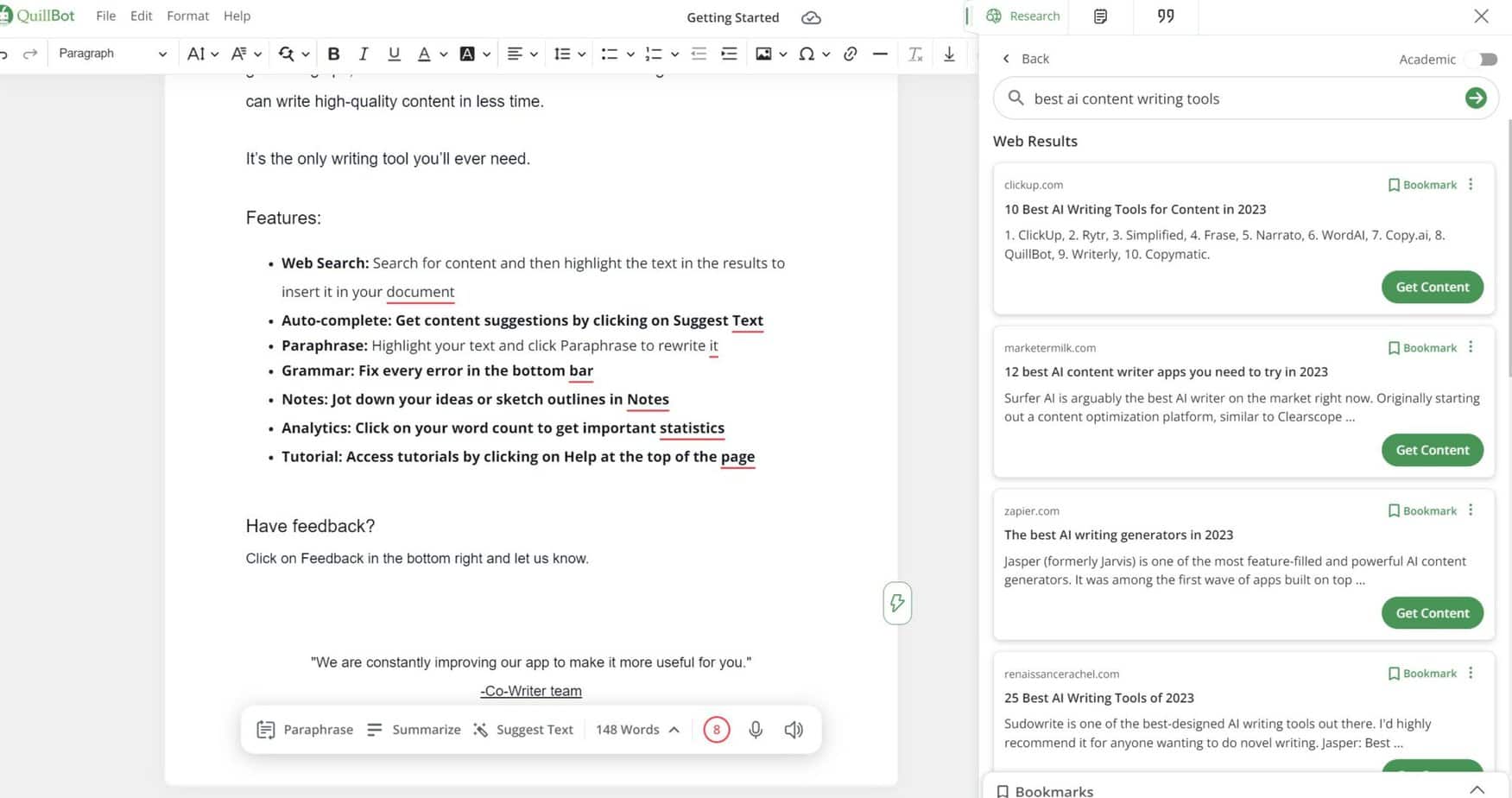 QuillBot Advantages
Here's how I see QuillBot standing out as compared to Wordtune.
Wide Range of Modes: Quillbot offers seven different writing modes for a more flexible and diverse rewriting experience. This is particularly useful when you want to change the tone or style of your text.
Entire Document Rephrasing: Unlike Wordtune, which only rephrases sentences, Quillbot can paraphrase entire documents. This makes it a more efficient tool for large-scale content rewriting.
Better Extra Features: I specifically like QuillBot's background with grammar checking and plagiarism checking as these round out the AI co-writer and rephraser. I often find myself checking my own work with these tools, whereas I would previously have to use third-party apps if I wanted to do this.
Integration with Popular Platforms: Quillbot offers seamless integration with popular platforms like Google Docs, Microsoft Word, and Chrome. This makes it easy to use Quillbot's features directly within the platforms you're already using for writing.
Affordability: Quillbot's premium plan is more affordable than Wordtune's, making it a more cost-effective choice for users who need extensive paraphrasing capabilities.
QuillBot Disadvantages
QuillBot is definitely a DIFFERENT suite with subtle UX differences, but also some potential disadvantages as compared to Wordtune:
Limited Free Usage: Quillbot offers limited free usage per month. After this limit, users need to upgrade to a premium plan to continue using the service. On the other hand, Wordtune provides more liberal usage under their free plan.
No Multiple Rephrase Suggestions: Unlike Wordtune, Quillbot does not provide multiple suggestions for rephrasing a sentence. This limits the user's choices to only one suggestion.
Lack of Language Styles: Quillbot lacks the feature to adjust the tone of the text, which Wordtune provides. This feature in Wordtune allows users to make the text more casual or formal as per their requirements.
QuillBot vs Competitors
2. Speedwrite: Best for Quick Re-writes
Summary: Speedwrite is a quick and dirty AI re-writing tool that can also predict the next sentences and paragraphs based on initial inputs. It's less comprehensive than QuillBot, but very helpful for speeding up the writing process.
Speedwrite Advantages
Here's how I see Speedwrite outperforming Wordtune:
Affordable: Speedwrite is a fairly affordable AI writing tool, coming in at just $19.99 per month (lower for semi annual or annual pricing)
More Human Content Outputs: In my testing, Speedwrite creates easy to read, better flowing content that reads like a human would write
More Focused: Speedwrite solely focuses on the writing process without getting distracted by feature creep
Higher Uniqueness: Speedwrite creates more unique outputs as compared to Wordtune (based on my experience)
Speedwrite Disadvantages
That said Speedwrite does have some disadvantages as compared to Wordtune:
Not for Enterprise: Speedwrite doesn't have the same enterprise business and team plans like Wordtune
No Additional Features: Speedwrite lacks the AI Answers, Summary, and business enterprise features that Wordtune has
Can be More Expensive: For a single user, Speedwrite is slightly more expensive than Wordtune's premium plan ($19.99 vs $14.99)
Speedwrite vs Competitors
3. Grammarly: Best Grammar Improvement
Summary: Grammarly has been around for a while and has a long track record as an industry leading grammar checking tool. The tech and prior experience really stand out as compared to Wordtune (which feels a bit underpowered in this department).
Grammarly Advantages
Here's how I see Grammarly standing out as compared to Wordtune:
Advanced Grammar Checking: Grammarly's core feature is its advanced grammar checking capability. It uses AI technology to detect grammar, punctuation, spelling, and stylistic errors in your writing. It provides detailed explanations for your mistakes, making it an excellent tool for learning and improving your English language skills.
Plagiarism Checker: Grammarly offers a plagiarism checker feature that scans your document against billions of web pages and published works to ensure originality. This feature is not available in Wordtune.
Document Insights: Grammarly provides insights about your document including readability score, word count, and vocabulary usage. This can help writers to understand their writing style better and make improvements where necessary.
Writing Style Suggestions: Grammarly provides writing style suggestions based on your goals and audience. It can adapt its suggestions based on whether your document is intended to be formal or informal, descriptive or analytical, etc.
Multilingual Support: Grammarly supports multiple English dialects including American, British, Canadian, and Australian English. This is helpful for users who write in different English dialects.
Multiple Platform Support: Grammarly can be used on multiple platforms and devices. It has a web-based editor, a desktop app, a browser extension, and a mobile keyboard. This gives users the flexibility to use Grammarly wherever they are writing.
Grammarly Disadvantages
That said, Grammarly was built in a different internet age and isn't the AI first tool that Wordtune is. Here are some of the drawbacks that I see:
In-Depth Editing: While Grammarly is great for grammar and spell checks, it might not be as efficient as Wordtune when it comes to in-depth sentence restructuring and rephrasing. Wordtune excels in understanding and rephrasing text in multiple ways, giving users more nuanced options.
AI Suggestions: Grammarly's AI suggestions can sometimes seem robotic and not as natural as Wordtune's AI suggestions, which are designed to mimic human-like language.
Lack of Real-Time Collaboration: Unlike Wordtune, Grammarly doesn't support real-time collaboration, making it less ideal for team projects.
Absence of Text Translation: Grammarly does not provide a text translation feature, which Wordtune does. This could be a disadvantage for users who frequently need to translate text.
Grammarly vs Competitors
Here's how Grammarly stacks up to some of it's peers:
3. Writesonic
Summary: Writesonic is hard to compare directly to Wordtune because it can be used for so many different applications. It's like ChatGPT with well-defined and proven prompt engines built-in for different business use cases. I'd recommend Writesonic for producing content at SCALE and/or if you have multiple applications for AI.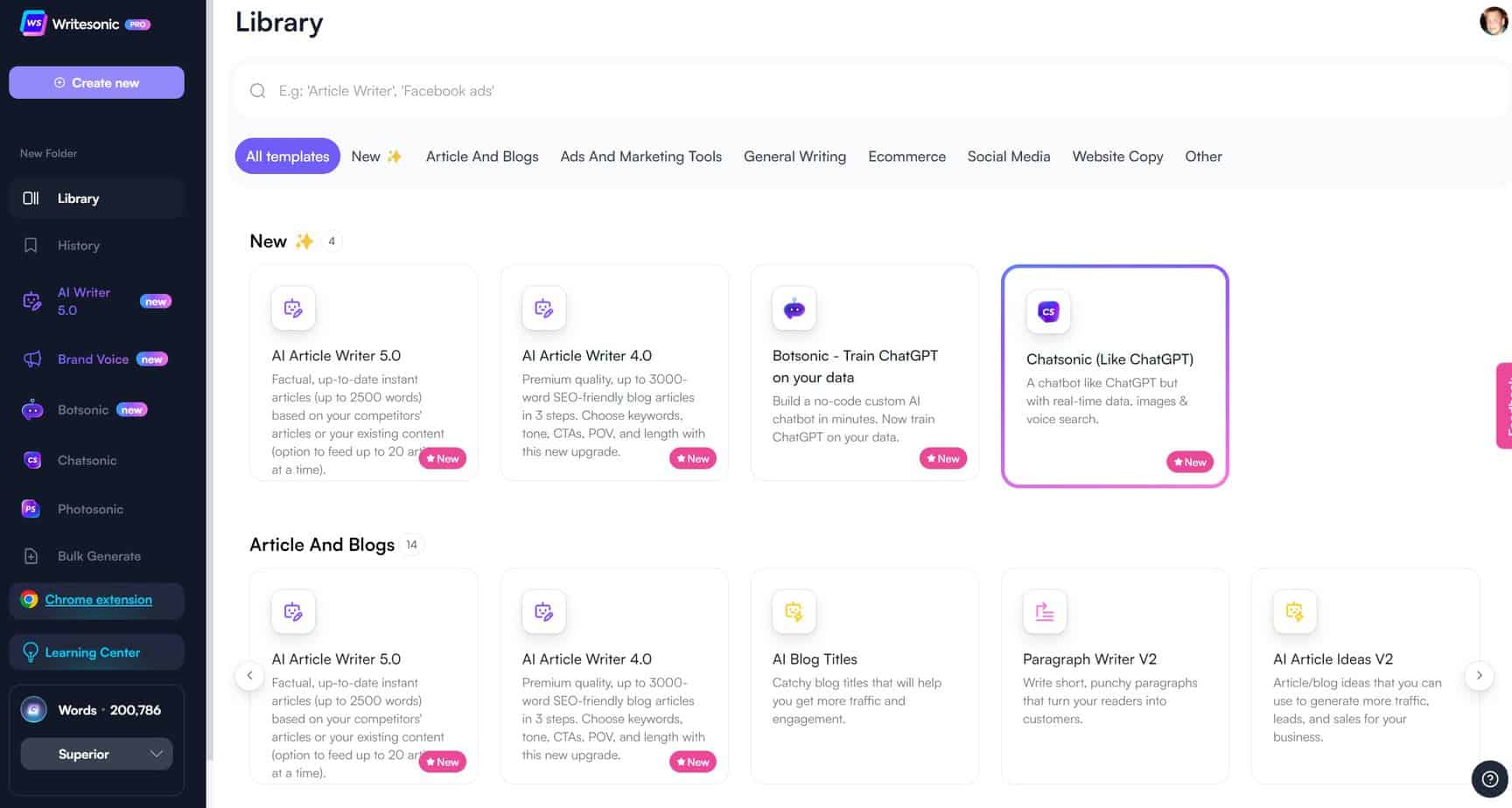 Writesonic Advantages
Here's how I see Writesonic as a better AI content creation suite compared to Wordtune:
Fast AI-Powered Writing Assistant: Writesonic employs advanced AI to generate high-quality content, from blog posts to ad copies, in a matter of seconds.
Long-form Content Generation: Unlike Wordtune, Writesonic can generate entire articles, blog posts, and other long-form content, saving you significant time and effort.
Multiple Templates: Writesonic offers a variety of templates for different content types, further customizing the writing process to suit your needs.
Landing Page Copy Generation: Writesonic can generate compelling copy for landing pages, a feature not available in Wordtune.
Multi-Language Support: Writesonic supports content generation in multiple languages, making it more versatile for global usage.
SEO Optimization: Writesonic creates SEO-optimized content to increase the visibility of your site on search engines.
Built-in Plagiarism Checker: Unlike Wordtune, Writesonic has a built-in plagiarism checker to ensure the originality of the content generated.
Custom Pricing Tiers: Writesonic offers several affordable plans based on usage based credits, providing excellent value for money compared to Wordtune. E.g. you can purchase credits as you go or sign up for specific tiers. Any credits you don't use in a cycle can carry over to future months.
Writesonic Disadvantages
That said, Writesonic is a fairly broad toolkit and might not be necessary for every individual or team. Here are some of the disadvantages I see:
Limited User Interface: Unlike Wordtune, Writesonic's user interface might seem a bit complex to some users initially.
Not Really a Grammar Checker: Currently, Writesonic is more of an AI content toolkit and doesn't have specific grammar checking or modules built-in to make you a better writer.
Requires Internet Connection: Writesonic, like any other AI tool, requires a stable internet connection to function. Wordtune, however, can be used offline to some extent.
No Browser Extension: Wordtune offers a browser extension that allows users to instantly edit and improve their writing anywhere on the web. Writesonic currently lacks this feature.
No Real-time Suggestions: While Wordtune provides real-time suggestions as you type, Writesonic needs you to input the entire text first before providing suggestions or improvements.
No Free Version: Wordtune offers a free version with limited features, while Writesonic only has a paid version.
Limited Integration: Writesonic does not currently offer integrations with other platforms like Wordtune does with Google Docs and other writing platforms.
4. CopyAI: Best for Marketing Copy
Summary: Similar to WriteSonic, CopyAI offers a generative AI content toolkit, but more directly targeted towards sales and copywriting functions.
CopyAI Advantages
Here's how I see the main advantages of CopyAI stacking up:
AI-Powered Content Generation: CopyAI uses advanced artificial intelligence to generate high-quality content in a variety of formats. This includes social media posts, ad copy, blog posts, and more, which can save a significant amount of time and effort.
Unlimited Content Creation: Unlike Wordtune, CopyAI allows for unlimited content creation, providing immense value especially for heavy users.
Multilingual Support: CopyAI supports multiple languages, making it highly useful for international businesses and multilingual content creators.
Variety of Content Types: CopyAI can generate a wide array of content types including emails, product descriptions, and SEO meta tags, providing more versatility than Wordtune.
Collaboration Features: CopyAI offers features that allow for team collaboration on content projects, a feature that is not as prominent in Wordtune.
Affordability: When compared to Wordtune, CopyAI offers more features for a similar price, making it a cost-effective solution for many users.
Long-form Content Generation: While Wordtune is primarily for enhancing and fine-tuning existing text, CopyAI excels in generating long-form content, such as blog posts and articles, from scratch.
CopyAI Disadvantages
On the flip side, here's how I see the main disadvantages over Wordtune:
Absence of Real-time Suggestions: Unlike Wordtune, CopyAI does not provide real-time suggestions while writing, which can be a drawback for users who want instant editing and rewriting assistance.
Lack of Browser Extension: CopyAI lacks a browser extension, making it less convenient for users who prefer to write and edit directly on web platforms.
Limited Integration: CopyAI has limited integration with other platforms compared to Wordtune, which can be a disadvantage for those who use multiple platforms for their writing needs.
No Free Version: CopyAI does not offer a free version, unlike Wordtune, which could be a disadvantage for users who are on a budget or want to try the service before committing.
User Interface: Some users may find the user interface of CopyAI less intuitive or user-friendly compared to Wordtune.
5. Jasper AI
Summary: Jasper was one of the first market movers in the generative AI space and is worth considering if you are doing large scale content operations, although recently it's pricing model has been under pressure from pretty much every content tool.
Jasper Advantages
Here's how Jasper stands out compared to Wortune:
Long-form content generation: Unlike Wordtune, Jasper AI is capable of generating long-form content like blogs, articles, and scripts.
Multi-lingual support: Jasper AI supports content creation in multiple languages, making it a more versatile choice for global users.
Versatile content types: Jasper AI can create a variety of content types, including ads, social media posts, blog intros, product descriptions, and more.
Built-in SEO optimization: Jasper AI has a feature to help optimize your content for SEO, which Wordtune lacks.
Unlimited content generation: Jasper AI allows for unlimited content generation, providing more flexibility for users with high volume needs.
Integration with Surfer SEO: This feature, unavailable in Wordtune, allows users to optimize their content for SEO based on real-time data.
Voice command feature: An innovative feature of Jasper AI is its voice command functionality, enabling users to generate content hands-free.
Document outlining: Jasper AI has a feature that allows users to outline their content before the AI starts writing, helping with structure and organization.
Jasper Disdvantages
But here's the major cons I see with Jasper:
No real-time suggestions: Jasper AI does not provide real-time suggestions while you type, unlike Wordtune that has this feature.
No browser extension: Unlike Wordtune, Jasper AI does not offer a browser extension which can be a disadvantage for users who prefer writing directly in their browsers.
Limited integration: Jasper AI does not have the same level of integration with other apps and platforms as Wordtune. This can limit its usability depending on individual workflow needs.
Significantly Higher cost: Jasper AI is generally more expensive than Wordtune, potentially making it less accessible for individuals or small businesses on a budget.
Less intuitive user interface: Some users might find Jasper AI's user interface less intuitive and user-friendly than Wordtune's.
6. Anyword
Summary: Anyword is an innovative marketing content optimization platform that not only allows you to produce content at scale with AI, but offers insights and performance estimates that get better the more you use the platform.
Anyword Advantages
Here's how Anyword stands out relative Wordtune:
Predictive performance score: Unique to Anyword, this feature predicts the performance of the content before it's published, allowing you to make necessary alterations for maximum impact.
Built with marketing in mind: Anyword is very explicitly oriented as a marketing and sales AI content and branding tool, making it a better fit for these organizational functions as compared to Wordtune.
Personalization at scale: Anyword enables you to personalize your marketing messages for each individual in your audience. This helps in creating a stronger connection with your audience and increases engagement rates.
Multi-platform content creation: Unlike Wordtune which is mostly used for improving existing content, Anyword can create original content for various platforms including social media, blogs, emails, ads, and more.
Language optimization: Anyword's AI engine understands the nuances of language and can optimize your content to suit your target audience.
Integration capabilities: Anyword can easily integrate with your CRM or email marketing software, which is not a feature offered by Wordtune.
Content testing: Anyword allows you to test different versions of your content to see which one performs better, giving you the opportunity to constantly improve your messaging.
Data-driven insights: Anyword provides insights based on data from successful campaigns and uses this to improve future content. This feature is not present in Wordtune.
Anyword Disadvantages
But here's how Anyword falls down a bit compared to Wordtune:
Less intuitive user interface: Anyword's interface may not be as user-friendly as Wordtune's, making it less suitable for beginners or those not tech-savvy.
Not built for long form content: Don't expect to be able to produce long form articles at scale as Anyword is more expressly suitable for markeitng and sales copywriting type tasks.
Limited real-time suggestions: While Wordtune offers real-time suggestions for improving your text, Anyword may not provide this feature as effectively.
No browser extension: Anyword does not offer a browser extension, limiting its accessibility compared to Wordtune, which can be used directly in the browser while writing emails, blogs, or social media posts.
No free version: Unlike Wordtune, which offers a free version, Anyword does not have a free tier, potentially limiting its audience to those willing to invest.
7. Honorable Mentions
There are a LOT of other options that didn't quite make it into my top list, but nevertheless deserve mention. Depending on your specific use cases, you may want to at least take a look at these:
ChatGPT: The brains behind many of the leader AI tools, it can be a LOT cheaper to just go to the source sometimes. The tradeoff here is that it can take a while to finagle ChatGPT to a point where you have the right prompt and logic to produce repeatable outputs. The other concern is that OpenAI has conceded to "watermarking" their generative content which may create problems down the road if customer or regulatory environments change.
Ginger: Ginger is a longtime Grammarly competitor and offers a similar grammar and style focused content editor solution. Worth considering for some use cases, specifically for creative writing.
ProWritingAid: Similar to Ginger and Grammarly, ProWritingAid uses AI and tech to be a companion writer toolset. I like ProWritingAid as a sort of hyper advanced Grammarly, with deep style, tone, and grammar insights to improve your writing. Not really a generative AI solution, though.
Spinbot: If all you need is a quick and dirty paraphrasing tool, Spinbot is a cheap and simple option to get the job done. Not an extensive suite though, and limited styles to use.
Final Cut: So Which is the Best Wordtune Alternative?
There's clearly quite a few options here, particularly with the AI explosion recently. That said, here's how I would narrow it down based on use cases.
Looking for a better writing workflow? I personally prefer QuillBot's AI co-writer dashboard editor as a superior writing and research Swiss-army knife.
Need to pump out unique writing as a solo operator? As the name suggests, Speedwrite accelerates writing without delivering bland "ChatGPT" sounding answers.
Just need a good grammar and style fixer? It's really hard to beat Grammarly here if you are trying to uplevel your writing.
Need an AI engine for MANY purposes? I've been really impressed with how Writesonic has outplayed Jasper here with one of the most extensive content marketing toolkits out there.