Last Updated on June 1, 2023 by Ewen Finser
The quality of your academic writing can make or break a student's college career. Even when one becomes an expert in their subject, the quality and conciseness of your prose still determine how successfully you communicate your knowledge.
Over the past decade, I've seen numerous writing tools surface. Often, these are powered by machine learning and AI, empowering them to do far more than traditional spell checkers. For instance, modern writing tools can help academic writers refine their vocabulary, eradicate unnecessary words, and cut to the chase of what they're saying.
This is where Quillbot comes in. Quillbot is an AI writing tool geared primarily towards academic writing, making it valuable for students and researchers. As a former law student and freelance writer, I'm interested to see what this software offers and how to use it.
But before I dive into the meat and potatoes of this review, I have somewhat of a disclaimer that I want to bring to your attention.
You'll sometimes find that the end product won't always make 100% sense when using AI writing assistants. In light of that, I strongly urge you not to use AI tools (from any provider) for your final drafts. As this hinders the user experience, it can also adversely affect your SEO – so be sure to keep that in mind!
Bottom Line Upfront
All in all, I think Quillbot is a simple and effective paraphrasing and research tool primarily intended for academic writers. It helps optimize your writing with its different paraphrasing modes. Plus, you can generate citations and check against plagiarism.
But while effective and intuitive, I don't think Quillbot is the most feature-rich writing tool on the market. That said, its generous free plan and affordable premium option make it worth your consideration – especially if you're working with a particularly tight budget.
About Quillbot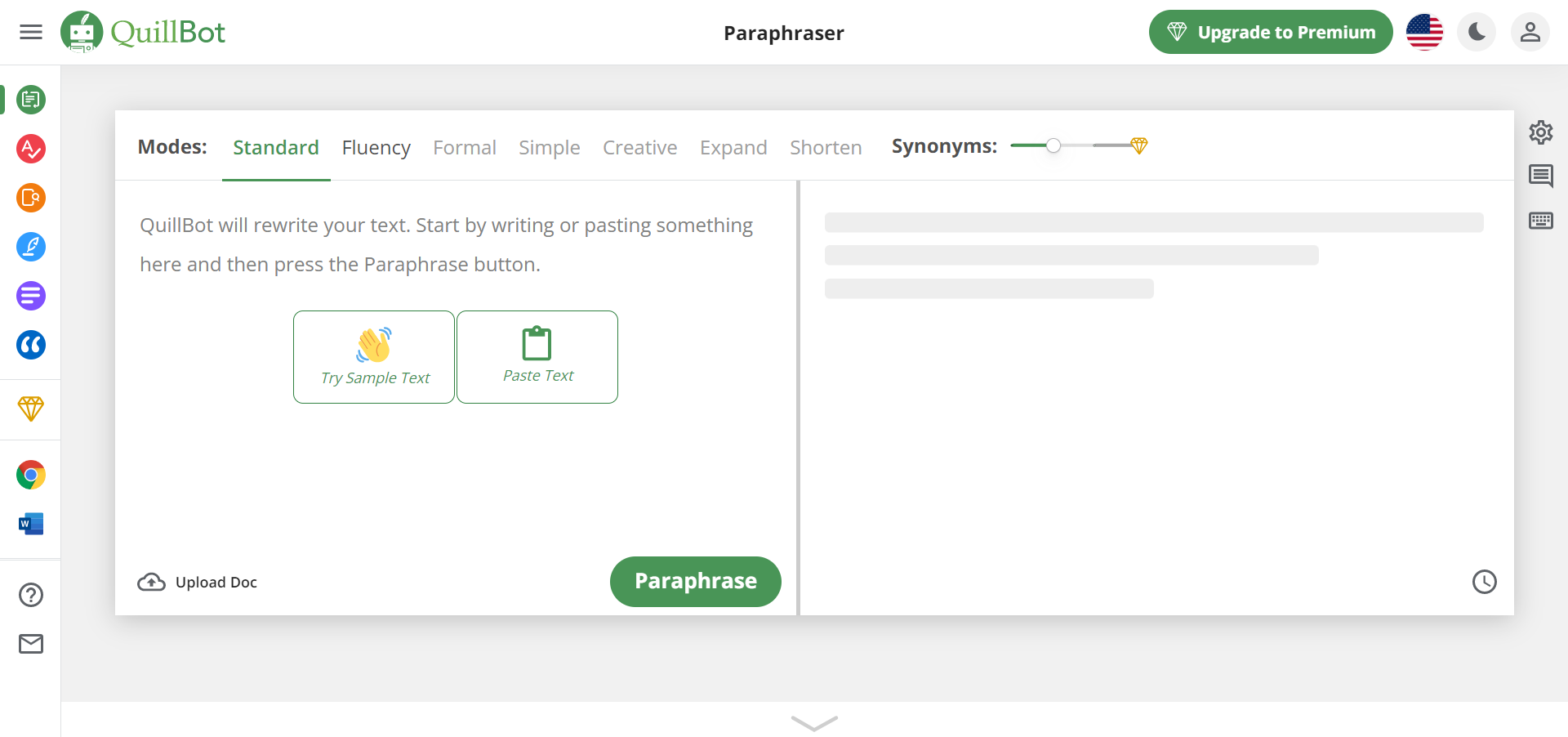 Quillbot joined the writing-tool market in 2017. The software was founded by three entrepreneurs who now employ dozens of team members worldwide. Unlike popular options like Grammarly, Quillbot focuses less on correcting your day-to-day social writing.
Instead, it serves as a research and academic tool for scholars. Its key features include a summarizer for larger bodies of text, a citation generator, and a paraphraser to achieve concise writing. Only recently, it began offering a plagiarism checker.
Quillbot can be used in-browser or added to your Google Suite or MS Word. With a free version and just one affordable premium plan to choose from, Quillbot won't break the bank.
But how well does it perform, and do its features warrant the monthly investment?
Quillbot's Key Features
Now that I've covered the basics, I'll turn my attention to Quillbot's six key features:
The Paraphraser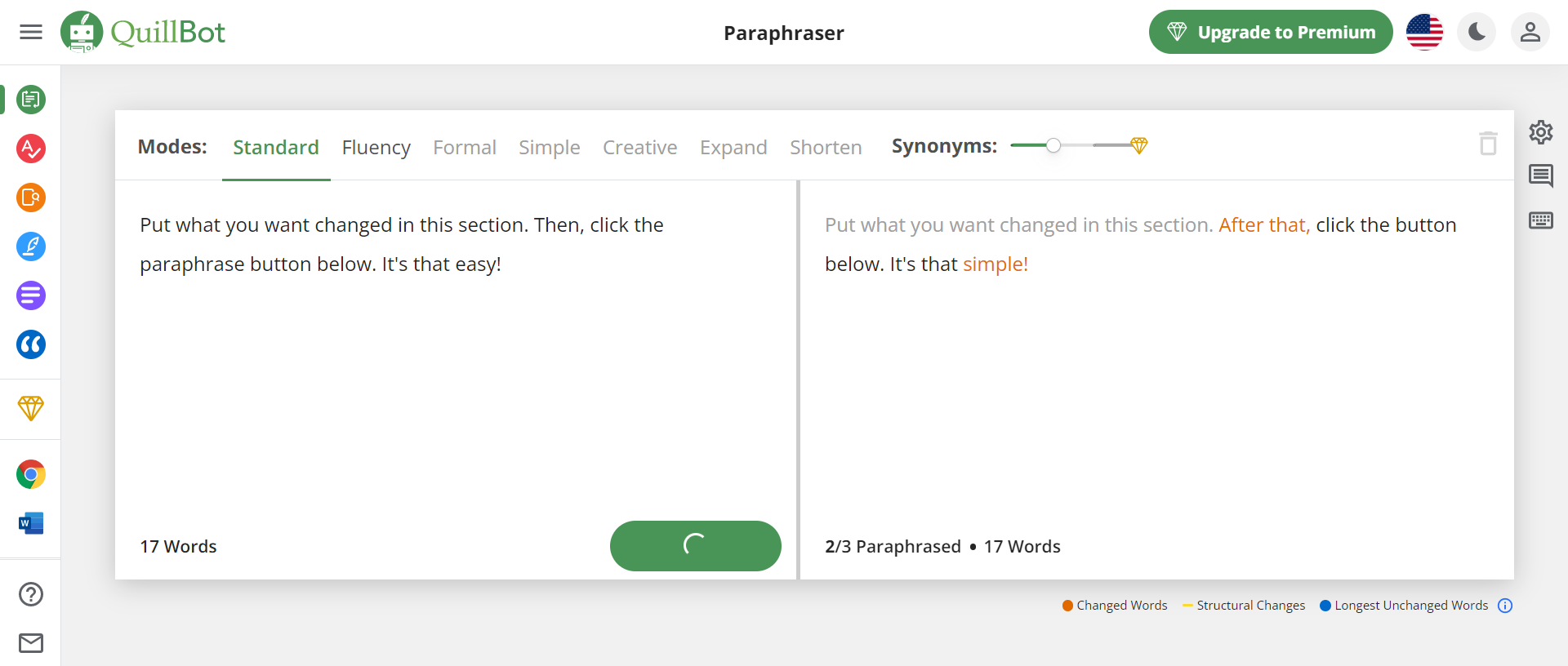 Quillbot's paraphrasing tool helps you write more succinctly. Users simply copy their text, and AI proposes ways to edit it down into a more concise version. It uses color to highlight which sentences have changed. You can then click on any word to choose another synonym or click on an entire phrase to select a whole new sentence version.
The paraphraser also offers various synonym modes which dictate the overall tone of the writing. By changing the mode, Quillbot chooses different synonyms to make the text more or less complex.
With the free plan, two modes are available: Standard and Fluency.
Whereas the premium plan unlocks five more:
Formal

Simple

Creative

Enhanced

Shorten
Also, with the premium plan, you can compare sentence versions for all seven modes simultaneously.
The Grammar Checker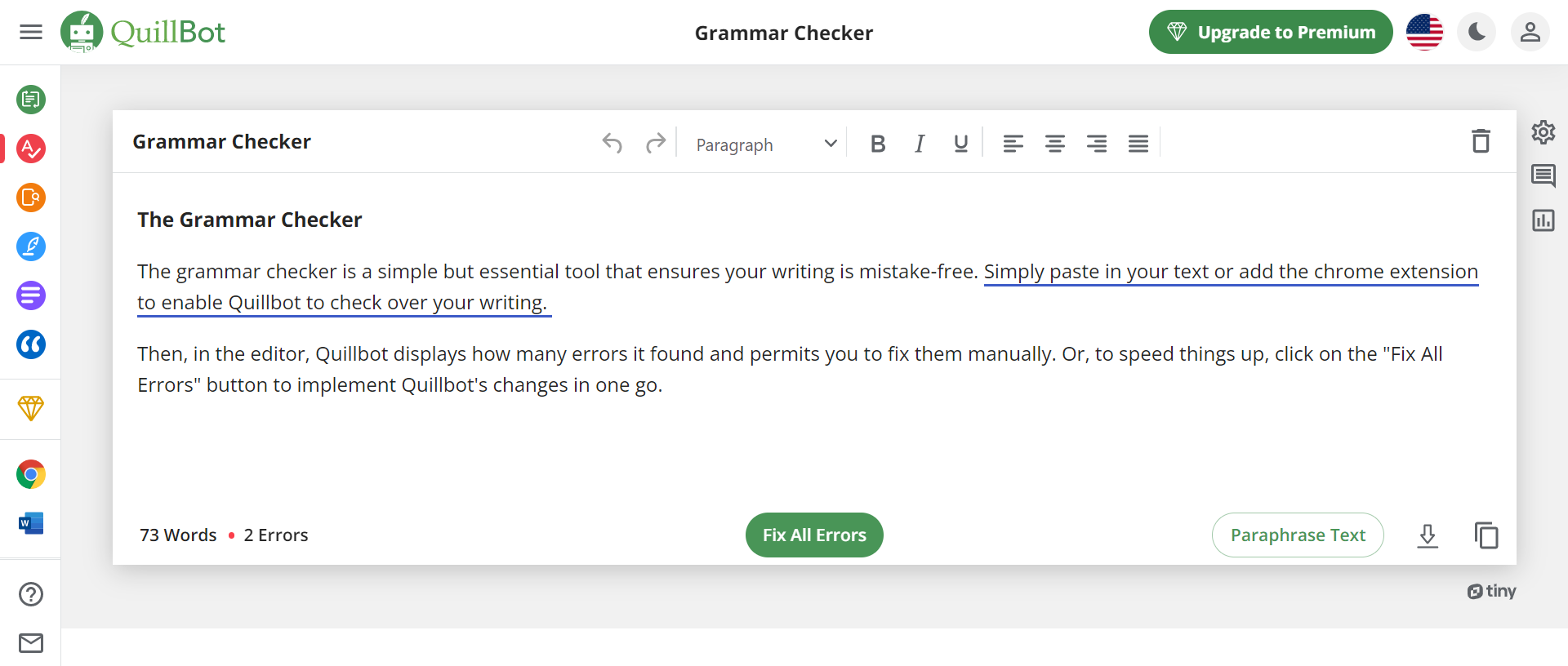 The grammar checker is a simple but essential tool that ensures your writing is mistake-free. Simply paste in your text or add the chrome extension to enable Quillbot to check over your writing.
Then, in the editor, Quillbot displays how many errors it found and permits you to fix them manually. Or, to speed things up, click on the "Fix All Errors" button to implement Quillbot's changes in one go.
The Plagiarism Checker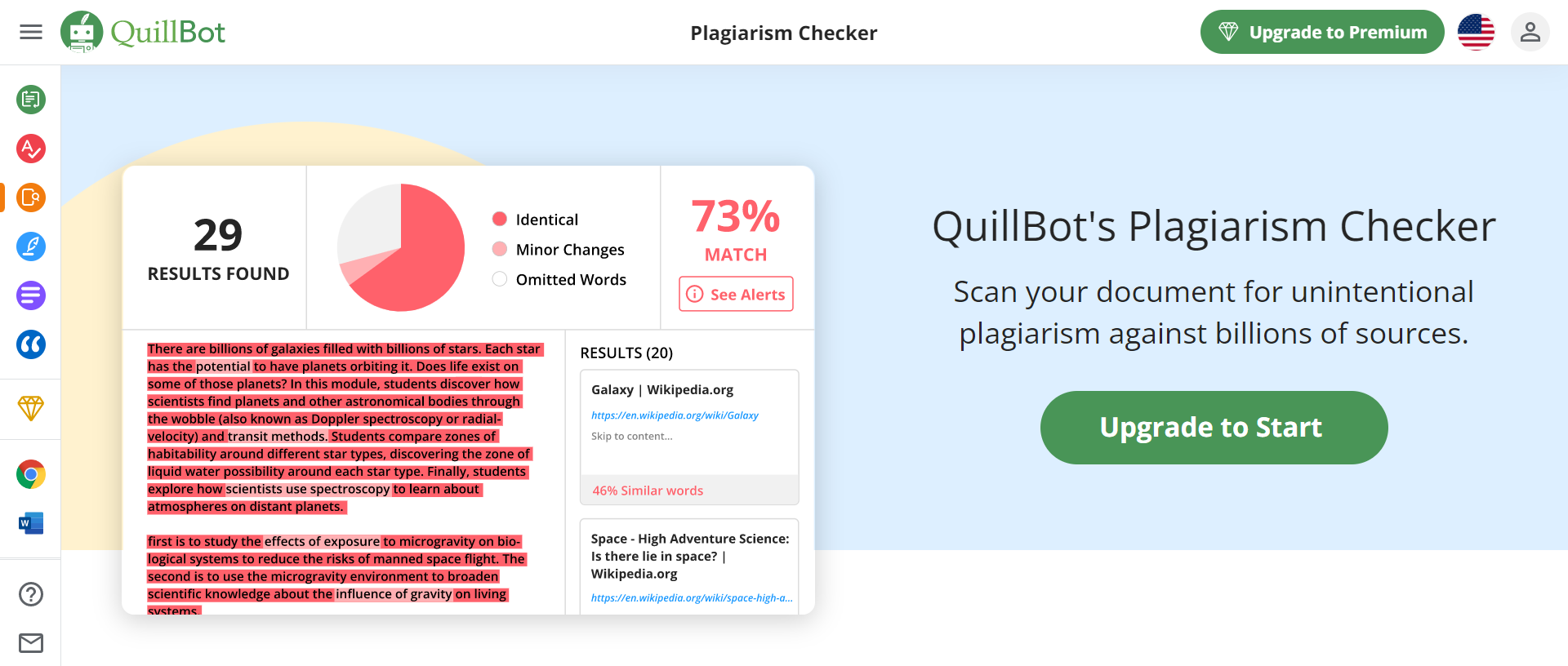 Plagiarism is a huge no-no – especially in the world of academia. Therefore, giving proper attribution and avoiding copying others' work is vital.
With the plagiarism checker, you can quickly see how much of your writing matches existing sources and where you might lack appropriate attributions. The plagiarism checker achieves this by comparing your writing to content published on the web or in books, research papers, academic papers, or news sources.
It counts how many instances of plagiarism it's found, how many sentences are identical, how many represent minor changes from the original text, and how many have merely omitted words. It also gives you an overall percentage match and shows which source your content mimics.
From there, you can quickly generate appropriate citations.
The plagiarism checker works in over 100 languages. But unfortunately, the feature is only available on a premium plan, and even when you unlock this functionality, you can just scan up to 20 pages per month, with each page up to 250 words long.
The Co-Writer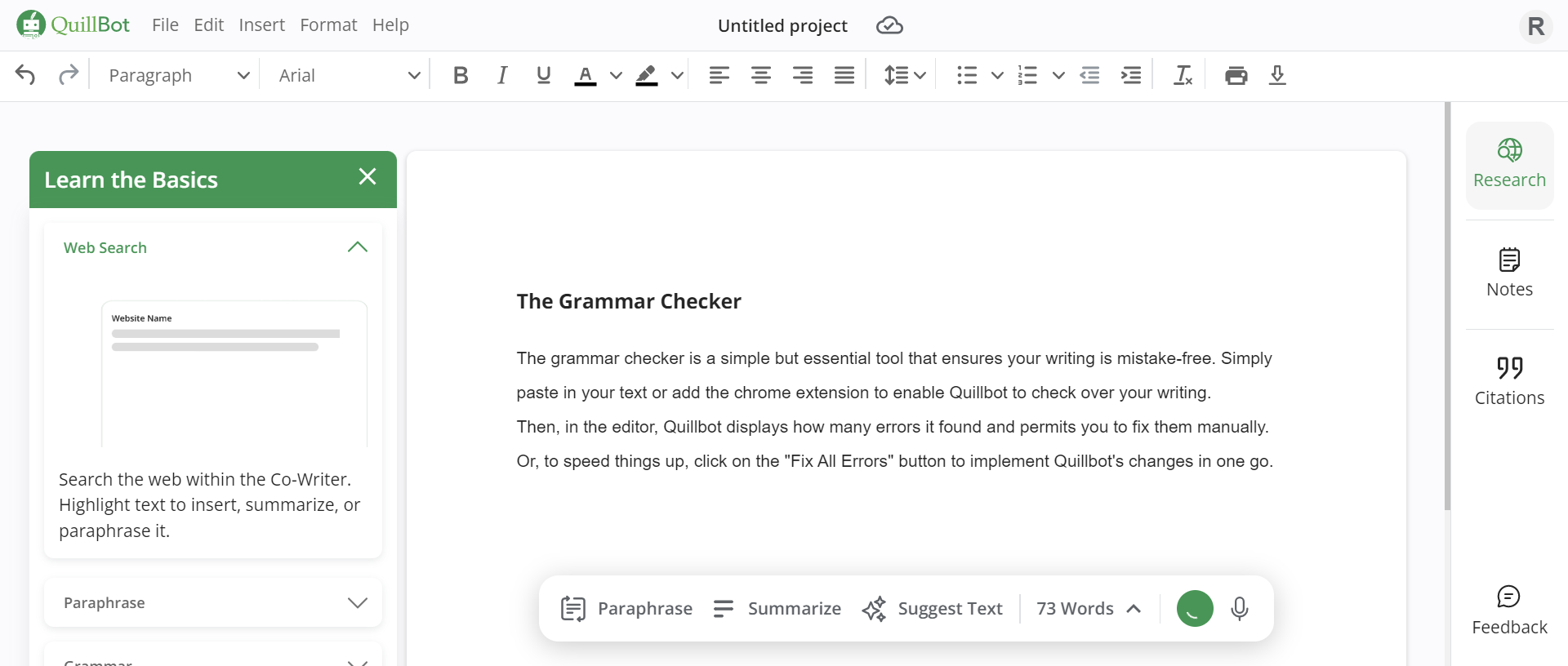 The Co-Writer is Quillbot's online writing space. Anyone with an account can log in to write their paper, with Quillbot's real-time suggestions to help them along. This ensures you benefit from their expert spelling and grammar checks and conciseness suggestions.
The Co-Writer has AI-assisted autocomplete, note-taking features, and online research capabilities. I.e., you can search the web for sources without ever leaving the co-writer – pretty neat, right?
The Summarizer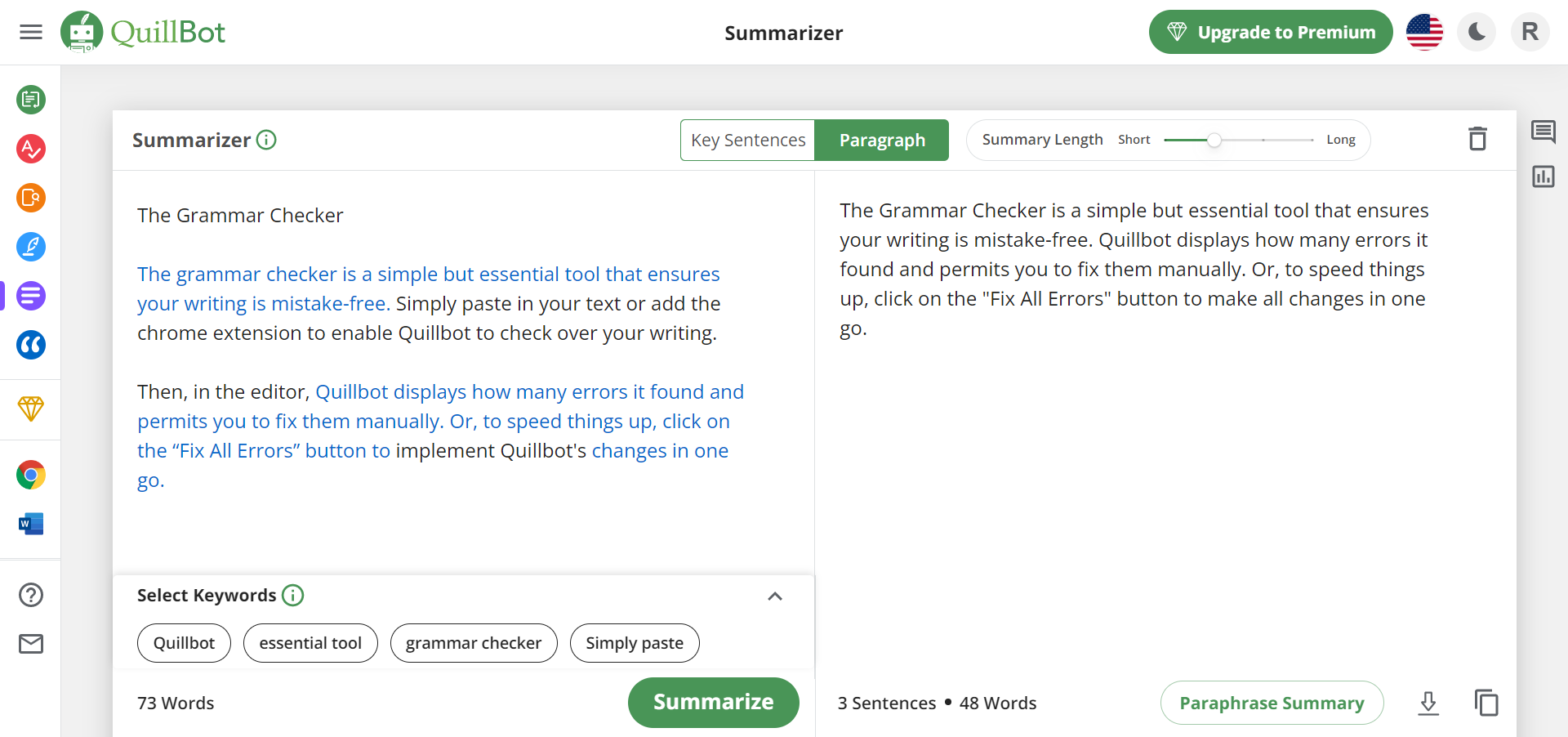 The summarizer functionality does precisely what it says on the tin. You can paste your text into the tool, and Quillbot will generate a summary.
You can opt for paragraph mode to get a unique paragraph summarizing the content. You can also choose whether you want a longer or shorter summary. Or decide to review key sentences to provide a bullet point list of key findings in the text. Again, you can adjust how many bullet points you want to receive.
The summarizer tool is beneficial during the research phase of your work. You can quickly scan a body of text and cut to the core of its meaning in no time at all.
The Citation Generator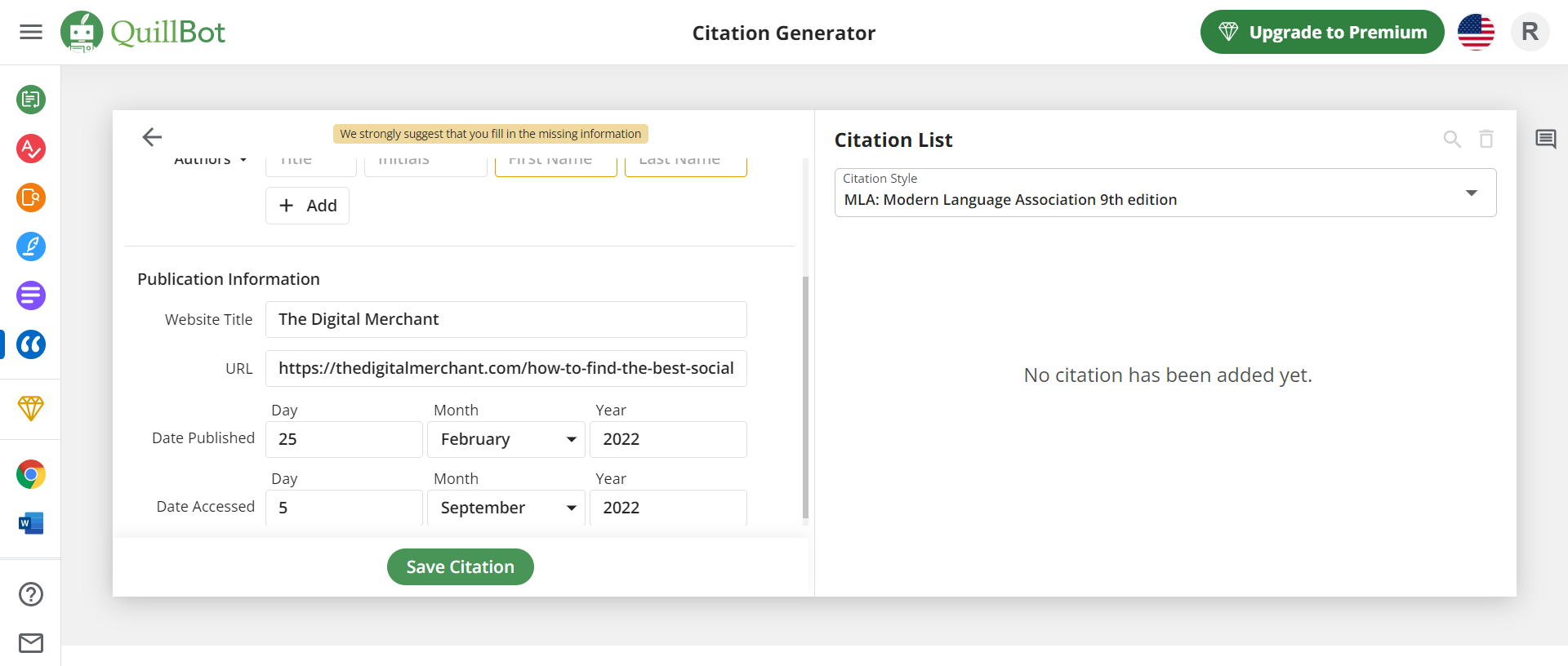 Finally, Quillbot's Citation Generator allows you to quickly and accurately generate attributions for your paper. You can choose to cite either a website URL or a book. Then you can specify your citation style. This might be based on what your academic institution prefers or feels most appropriate for your work.
Either way, once you have your citation, you can copy it to your clipboard or download it to your computer. If the citation is missing information or needs editing, you can do so in just a few clicks. The citation generator is free and a fantastic resource for any academic writer.
How to Use Quillbot
Now that we've discussed the crux of what Quillbot offers, let's look at how to set Quillbot up. However, at this point, I should clarify that you can visit Quillbot's in-browser editor to paste and edit text anytime. Similarly, the co-writer is accessible through Quillbot's website once you're logged in.
Now, let's explore the different ways you can utilize Quillbot…
Using Quillbot with Chrome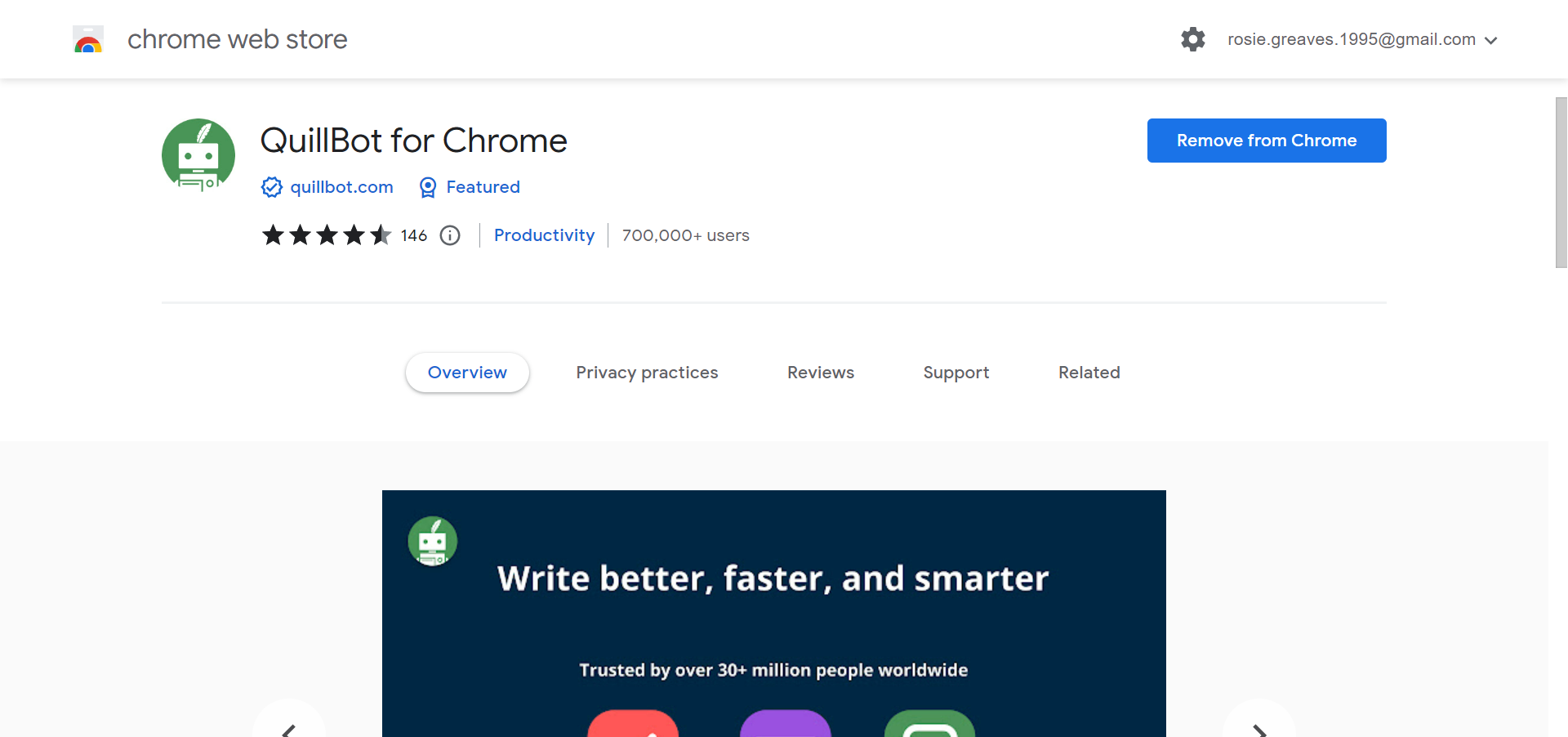 Quillbot can be installed like any Chrome extension and run in the background as you work and write online. You don't have to be signed into the free Chrome extension to use it unless you're working in Google Docs and/or wish to access premium features (providing you've opted for the premium plan).
Using Quillbot with Google Docs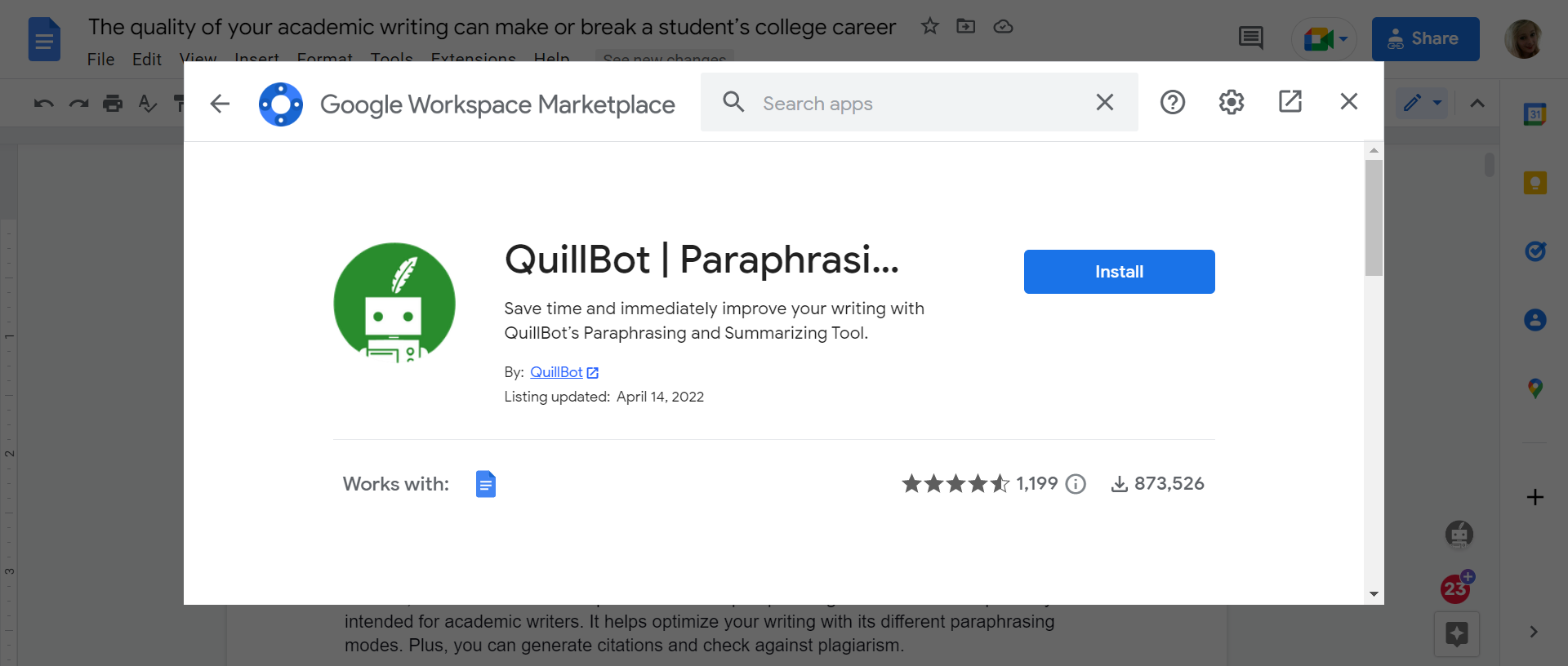 You can also install Quillbot as a Google Docs extension. Just visit Quillbot's page on the Google Workspace marketplace and click install. Then, follow the installation process and allow Quillbot to access your documents.
Then, in Google Docs, click "Add-ons," hover over Quillbot, and click "Launch Quillbot." Once you open Quillbot in Docs, you'll need to sign into your account.
Using Quillbot with MS Word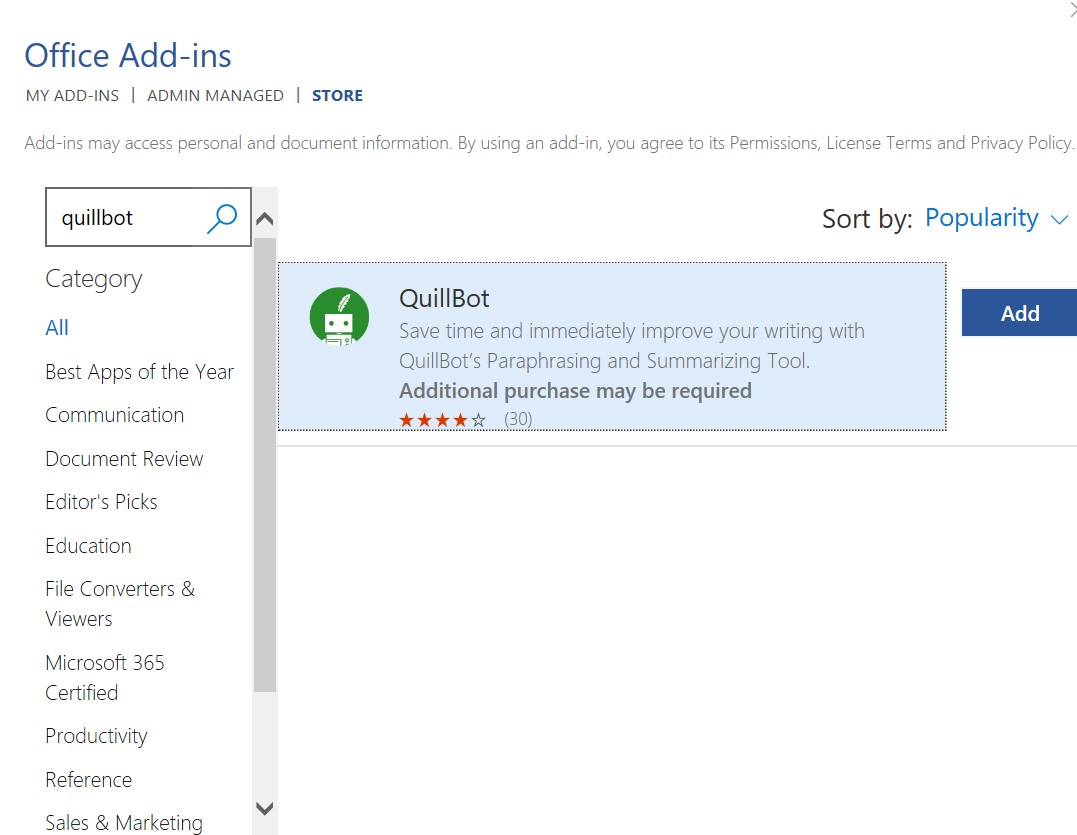 If you prefer working offline in Word, you can download Quillbot directly from the Microsoft App source page. Go to Quillbot's App source page and click "Get it now" to start your download. You'll need a Microsoft account to proceed.
After the download, you'll arrive at a new page where you can click "Open in Word." Alternatively, install directly through MS Word. Click on the "Insert" Tab in Word and click "Get Add-ins." In the window that opens, search for Quillbot and click "Add."
Once Quillbot has been installed in MS Word, it will appear in the tabs along the top bar.
How Much Does Quillbot Cost?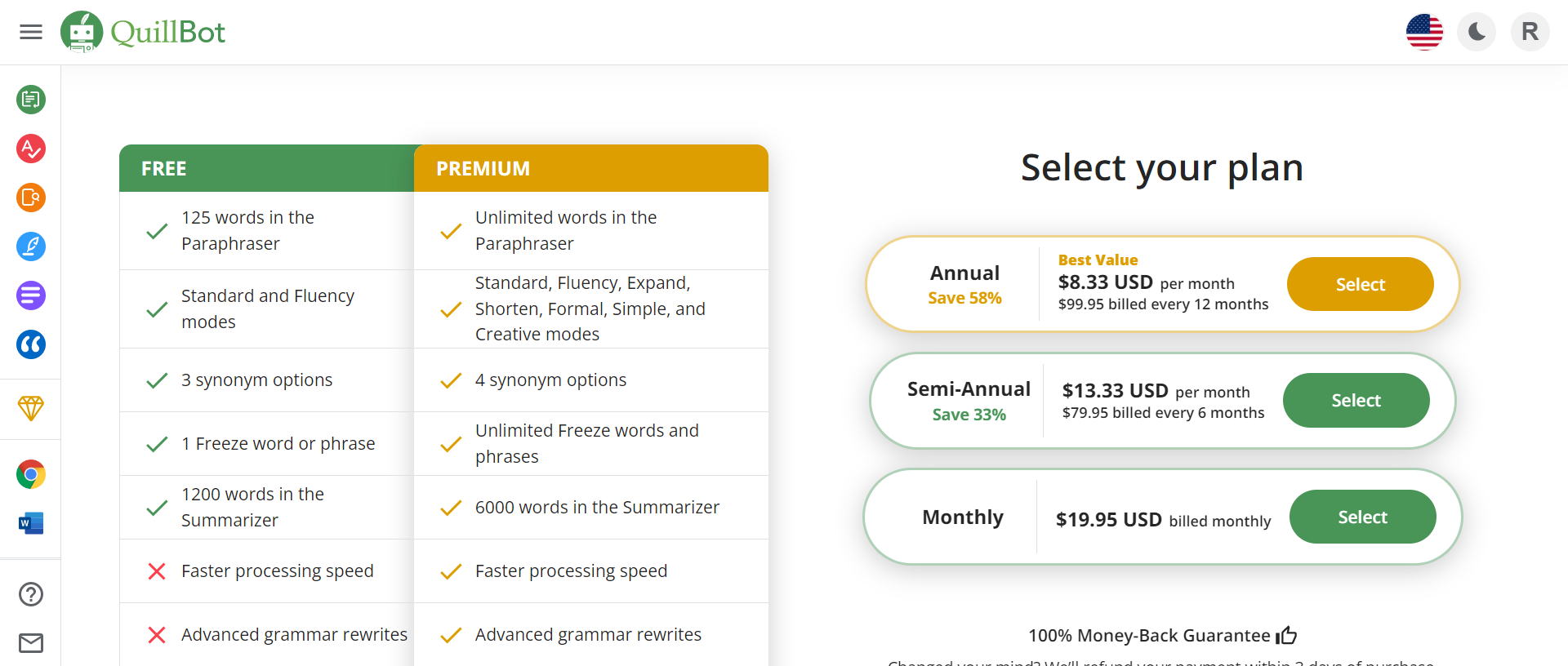 As we've already established, Quillbot comes with a free and a premium version.
The free version entails:
Checking up to 125 words in the Paraphraser and Grammar Checker

The standard and fluency mode inside th

e

paraphraser and co-writer

Three synonym options

–

you can get more word proposals in the editor on the premium plan.

One freeze word or phrase – these are words/phrases that Quillbot won't change when paraphrasing and optimizing your text. This is useful for brand-specific wording, for example.

You can process 1,200 words in the summarizer.

Access to the free citation generator
The premium version comes with all of the above plus the following upgrades:
Unlimited words in the paraphraser and grammar checker

Access to standard, fluency, expand, shorten, formal, simple, and creative modes.

Four synonym options

Unlimited freeze words and phrases

You can process 6,000 words in the summarizer.

Faster processing – Quillbot won't take as long to summarize texts, check for plagiarism, or propose more concise, paraphrased versions of your writing.

Advanced grammar rewrites – you can edit whole sentences simultaneously with just a click.

On the desktop version, you can compare paraphrasing modes at a glance.

Access to the plagiarism checker for 20 pages at 250 words per page per month
The premium plan is available on a monthly, semi-annual, or annual basis, with the following pricing:
Monthly Billing:

$19.95 per month

Semi-Annual Billing:

$13.33 per month

Yearly Billing (Cheapest):

$8.33 per month
What I Think Quillbot Is Best For
Suppose you're looking at Quillbot as a cheaper alternative to other grammar and spell checkers. In that case, it's worth considering what you gain and lose by opting for a more affordable option.
In short, I think Quillbot is best for scholars and students writing academic papers. However, it really comes into its own during the research phase. It's a quick way to simplify complicated texts. Quillbot also provides students with the tools to write succinct, error-free academic papers with the correct citations.
However, outside of this use case, Quillbot is less effective. Its spell and grammar checkers aren't the most advanced on the market. Many of its sentence rewrites need checking over manually to ensure the best solution because it doesn't always root out more subtle mistakes.
Quillbot also doesn't offer any features for optimizing more casual writing on social media or email. Unfortunately, neither does it come with collaboration features or analytics, so it's not the best team if you're managing a team of writers.
Quillbot Alternatives
If Quillbot's academic focus doesn't sound right for you, but you still require a writing tool to improve or generate content, here are some alternatives that I think are worth checking out:
For General Writing Improvements: Grammarly
Grammarly boasts a more advanced spell and grammar-checker than Quillbot. It also detects your writing's tone and provides suggestions to help ensure you strike the right voice.
Essentially, it provides everything you need to optimize academic text, marketing materials, and social writing, like emails and social media. Grammarly also has a Business plan brimming with useful team features, including style guides, snippets, and analytics.
While it doesn't have a summarizer tool, it also allows you to check for plagiarism and create citations. Premium plans start at $12 per month. However, there's also an excellent free plan for just spellchecking and tone detection.
For Content Generation: Jasper AI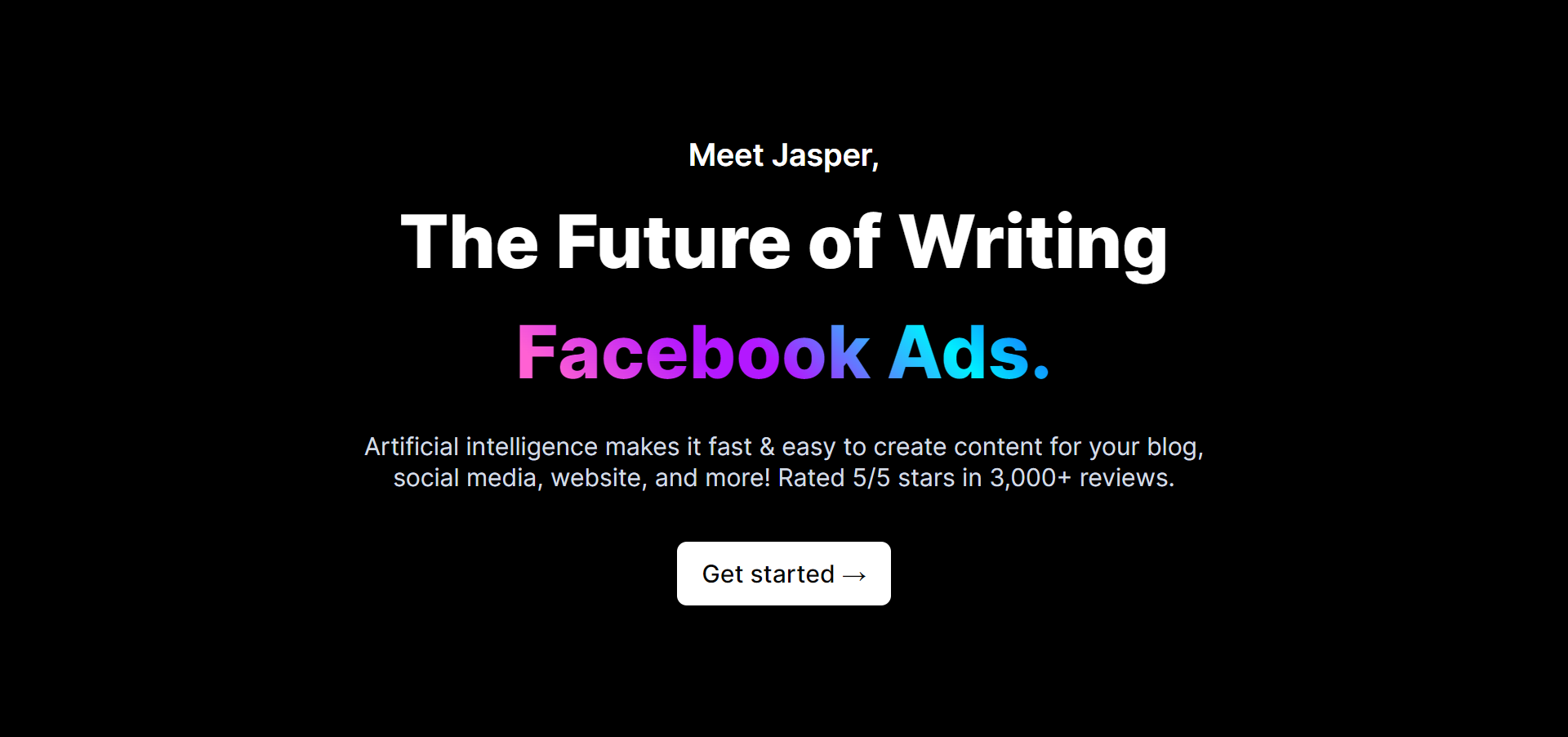 Like Quillbot, Jasper AI has a similarly powerful paraphrasing and anti-plagiarism tool.
However, when it comes to plagiarism, with Quillbot, you have to write your content before optimizing it to avoid plagiarism. In contrast, Jasper AI can generate human-sounding content for you. For example, you can paste text, and the tool will spin and rewrite it in new words. Or you can give Jasper AI a prompt that will turn it into the content.
Plans start at $29 per month.
For Paraphrasing and Rewriting: WordTune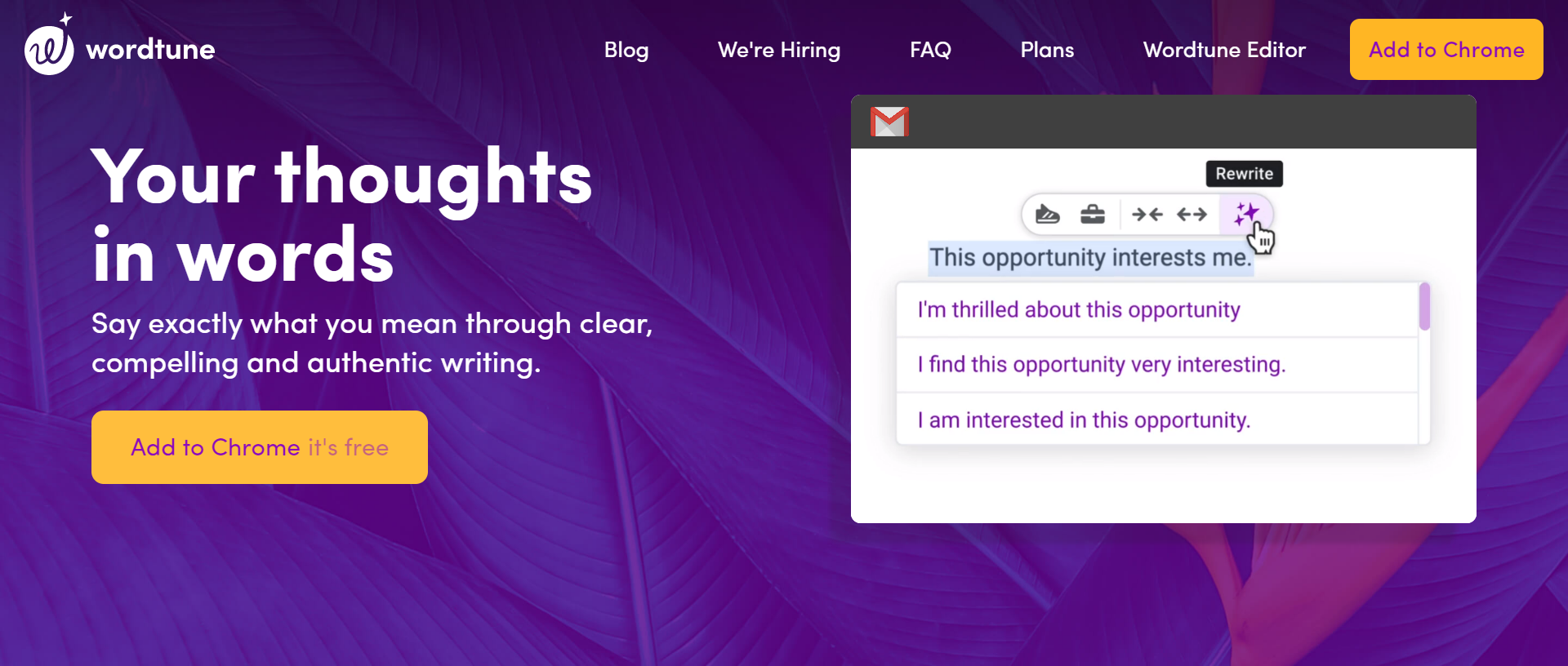 If paraphrasing is your focus, consider Wordtune. You get unlimited sentence rewrites for $9.99 a month, and you can shorten or lengthen your text to suit your format. In addition, you can choose between formal and casual tones. However, what makes Wordtune stand out is its ability to translate Spanish, Mandarin, Arabic, Hindi, Korean, Hebrew, and Russian into English. As such, it's ideal for non-native English speakers to accomplish fluency in their English texts and translations.
Quillbot's Pros and Cons
In summary, I've listed some of Quillbot's most substantial advantages and disadvantages below to help you decide whether this is the right writing aid for you:
Quillbot's Pros:
Quillbot is very easy to use. Just paste the text into the in-browser editor or let Quillbot's extensions pick up on mistakes in your writing. Just right-click on suggestions to implement the changes.

The free citation generator is a valuable tool for students and content writers.

Quillbot is easily added to your Chrome browser or MS Word.

It comes with a unique summarizer tool which is fantastic for researching more complicated topics.

The free plan offers many valuable features, and the annual premium plan is relatively affordable.

You can choose from seven different modes/tones for your writing.
Quillbot's Cons:
Even the premium plan imposes limits on its plagiarism checker.

There aren't any co-writing or team features.

The spell and grammar checker isn't the most advanced. You should already have a good grasp of the language to use Quillbot. In light of that, it's likely not the best tool to improve your fluency and polish your writing.

Discounts aren't available for educational institutions.
FAQs
Question: Does Quillbot have a free trial?
Answer: Quillbot offers a generous free plan, but there isn't a free trial to see what its premium features are like. In addition, it only offers a three-day money-back guarantee, which means you might have to refund your subscription quickly if Quillbot isn't for you.
Question: Does Quillbot offer customer support?
Answer: Quillbot enables you to send a support ticket if you need help with your account, billing, or have other questions. On top of this, there's an online help center with many valuable articles and courses to help you improve your writing. In addition, you can browse various resources explicitly designed to help students supplement their academic research and writing knowledge.
Question: What languages does Quillbot work in?
Answer: At the moment, Quillbot's paraphraser only works in English, as does its grammar and spellcheck. However, because the plagiarism checker simply checks for matching content, you can reliably use this for any language.
Question: Can I safely use Quillbot for my academic papers?
Answer: Suppose you're writing for school or college. In that case, you might have some fear about which tools would constitute cheating or endanger your credibility. However, Quillbot was created to help you improve your writing rather than paraphrasing someone else's. As such, as long as you use Quillbot on your own content, there's nothing to worry about, and tools like Turnitin shouldn't detect plagiarism in your work.
Quillbot: My Final Thoughts
All in all, I think that Quillbot is a useful, free, easy-to-use tool for scholars. However, even the tools available at no cost can help improve your writing and speed up your research. I would also highly recommend utilizing the free citation generator, paraphraser, and summarizer.
Quillbot's premium features help you avoid unintentional plagiarism. But, if you're looking to shell out for a paid-for writing tool, I think it might be worth shopping around a little. Similar alternatives like Grammarly offer a broader range of features (albeit without a summarizer) while overlapping with many tools that Quillbot provides.
That's all, folks! Let me know what you think of Quillbot in the comments below. Will you sign up for this paraphrasing tool or continue researching other options? Speak soon!