Last Updated on April 22, 2023 by Ewen Finser
Regardless of specialization or size, businesses need some form of customer relationship management (CRM) system. Managing leads, organizing client information, tracking sales, and automating workflows are crucial for success.
However, with the myriad of CRM systems on the market, it can be hard to decide which one is best for your business. Two CRM systems, Tave vs HoneyBook, stand out as leaders in the industry.
Both platforms have excellent features. Tave, for example, offers a comprehensive studio management solution that helps photographers manage their business. Meanwhile, HoneyBook provides a user-friendly platform that allows companies to streamline their operations and keep track of their finances.
So, which CRM system is right for your business? Below, we compare Tave vs HoneyBook to help you decide. We'll look at each CRM system's features, pricing, and overall user experience.
Bottom Line Up Front
Tave and HoneyBook are both excellent CRM systems. The main difference between them is that Tave is geared towards photographers, while HoneyBook is more generalized. If you're looking for a CRM system specific to photography businesses, Tave is the way to go. However, if you need a more generalized solution, HoneyBook is a better choice.
Main Differences Between Tave vs HoneyBook
The main differences between Tave vs HoneyBook are:
Tave Overview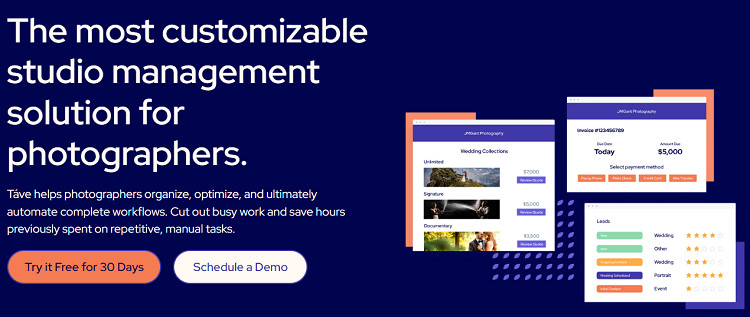 Tave is a CRM with a particular focus on Photo Studio Management. It was designed with the workflow of an ideal photographer in mind, with the main aim of saving time by automating processes. Tave has saved more than 478,000 hours for more than 4500 photographers as per its website.
It has all the features you'd want in an ideal CRM, but its focus on the photography industry sets it apart from the rest. It's also a perfect solution for other small businesses in the creative industry, such as DJs, makeup artists, and event planners.
With the help of Tave, they can easily manage bookings, payments, client communications, and workflows. Perhaps its most impressive feature is contract management. Tave allows businesses to create contracts, send them to clients for e-signature, and track the status of the contract all in one place.
This feature is a huge time-saver, as businesses no longer have to chase clients for signatures or keep track of multiple versions of the same contract.
Tave also makes it easy to manage workflow and automations. The wedding industry, for instance, is notorious for its complex workflows. Tave can automate many of the tasks associated with wedding photography, such as booking consultations, sending quotes, and managing payments.
Tave Key Features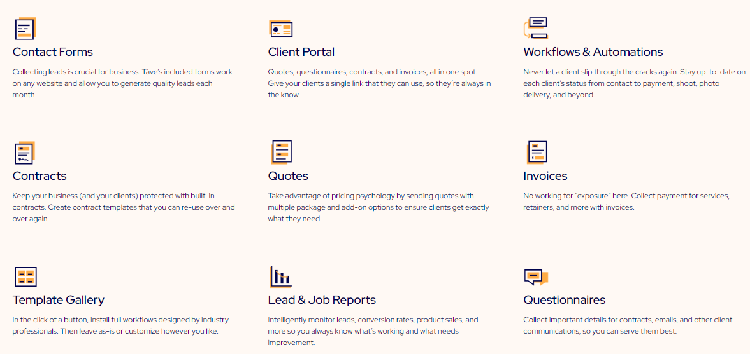 Below is a detailed overview of Tave's features:
Contract Management
Tave features built-in contracts designed to protect your business clients. You can customize these contracts or create your own from scratch. The software also allows users to create reusable templates for common contract types.
Notable is the automation within the contract management feature that eliminates the need to send reminders or follow-ups for contract signatures. The software automatically fills up the clients' names in the contract forms, sends them via email, and keeps track of their status.
Lead Management
Tracking and capturing leads is crucial for any business, and Tave excels in this area. The software offers a central location where companies can add and track leads from various sources. It includes contacts forms and questionnaires that photographers can integrate into any website and use to capture leads.
The lead management feature also allows businesses to segment their leads and create targeted marketing campaigns. Segmentation is based on various factors such as lead source, job type, and budget. If you find a lead that excites you, Tave will send a consultation request email on your behalf.
Workflows and Automation
Tave automates various tasks to save businesses time and energy. For example, the software can automatically send thank-you emails to clients after each meeting. The software also automates many of the tasks associated with weddings, such as booking consultations, sending quotes, and managing payments.
The workflow feature ensures you know exactly what needs to be done and when. You can also create your custom workflows or use one of the many templates available. Tave organizes each task by the due date or job type, making it easy to prioritize your work.
Quotes
Tave allows businesses to add line items, descriptions, and collection options when creating quotes. It ensures that you give the client what they want by allowing you to include only the services they're interested in. You can also upsell without being pushy by adding optional add-ons such as extra hours or a second shooter.
The additional products or services will automatically add specific tasks to the workflow, such as ordering the product or sending an invoice. The software also makes it easy to convert quotes into contracts with a few clicks.
Template Gallery
Tave offers various templates for various industries, such as weddings, portrait photography, and events. The templates ensure that you're always sending the right message to your clients. You can also customize these templates to suit your brand or style better.
The template gallery includes email templates, questionnaires, contracts, and price lists. The templates are designed to save businesses time by automating repetitive tasks.
Client Portal
Tave's client portal gives businesses a central location to store all their client information. The client portal stores contact information, invoices, contracts, and files in one place. It also allows businesses to send messages, reminders, and updates to their clients.
Sending a single link to the client gives them access to everything they need. The client portal is password-protected and can be customized for your brand. It's a great way to keep your clients informed and organized while building your brand.
Sales Tax Reporting
Tave offers sales tax reporting for businesses in the United States. The software calculates and files your taxes, ensuring that you're always up-to-date. The sales tax feature ensures you pay taxes only in states with nexus.
You can also add multiple locations and tax rates, making filing your taxes in different states easy. Once you customize everything to your liking, it only takes two clicks to file your taxes.
Tave Pros
Seamless setup process

Focus on photography makes it easy to use

Straightforward interface

Useful templates for various photography genres

Generous free trial period of 30 days

Cheaper than similar software
Tave Cons
Limitations in customization

No live chat support

Lacks social media integration

Not an all-round business management software
HoneyBook Overview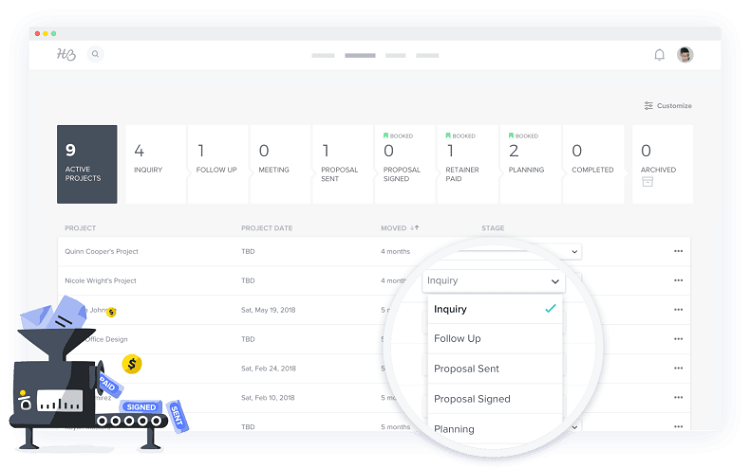 HoneyBook is an all-in-one CRM solution designed for small businesses. It boasts extensive features that go beyond basic client management. As an all-in-one solution, it also includes features such as online invoicing, scheduling, contracts, online payments, and proposals.
Unlike Tave, which mainly focuses on studio management, HoneyBook is a comprehensive solution for businesses of all types. Its end-to-end project tracking features ensure that the business owner is in complete control of the project.
Getting started with HoneyBook is easy. It has experts to help you get the most out of the software. The community and help center is always available to help you with any questions. There's also a blog full of article resources and tips.
The software offers a 7-day free trial with all the features you need to get started. After the trial, you can choose either of the two pricing plans: unlimited monthly or unlimited annual. It also integrates with top-tier business solutions such as QuickBooks, Google Calendar, and Zapier.
HoneyBook Key Features

Below are features that differentiate HoneyBook from other CRMs:
Contract Management
HoneyBook's contract management tool gives businesses the ability to create, send e-sign, and store contracts. All the contract management processes are online, making it easy to keep track of everything in one place.
The software also has ready-to-use contract templates for different industries. Businesses can customize these templates to suit their needs or brand. The process is automated, so pooling client details and encompassing them into the contract is easy.
Proposals
HoneyBook's proposals feature businesses to create and send proposals to their clients. The proposals feature binds invoice, contact, and payments details into one neat package.
Businesses can save time and close deals faster by automating the proposal process. It also brings forth the aspect of organization and consistency into the sales process. The 7-day free trial allows businesses to test out proposals and see how they can work.
Secure Online Payments
HoneyBook offers businesses a way to get paid faster with its online payments feature. All the payment processes are in one place and feature automatic payment reminders and tracking. It's also possible for clients to deposit funds directly into your account.
The software uses a secure, PCI-compliant gateway and accepts all major credit/debit cards.
The HoneyBook website guarantees that service is available 24/7, which is true because businesses can get paid even on weekends and holidays. The transfer fees are as low as 1%, and HoneyBook will have your back if clients dispute a charge.
Scheduling
Setting and confirming appointments is crucial for businesses that rely on client bookings. The scheduling feature in HoneyBook automates the process and even sends reminders to clients before their appointment.
The software also makes it possible to sync your meetings with Google calendar, something most CRMs don't do. Automating the scheduling process ensures that no client is ever double-booked. Business owners will also have a real-time view of their team's schedule, making it easy to assign tasks.
Online Invoices
Customized online invoices are available in HoneyBook. The software makes it possible to track payments, set up recurring invoices, and send automatic payment reminders.
The process starts with creating an invoice from a recently used template or a blank canvas. It also automates discount and tax calculations to save you trouble. HoneyBook also provides avenues to auto-pay future invoices or set up a payment plan.
HoneyBook Pros
Has an intuitive interface

Integrates with other software

Comes with an extensive feature set

Affordable pricing plans

Offers a 7-day free trial

Has an engaged and helpful community

The resource center is full of helpful articles
HoneyBook Cons
The setup process can be daunting for non-tech savvy users

The interface can be overwhelming for beginners
Tave vs HoneyBook: Comparison Criteria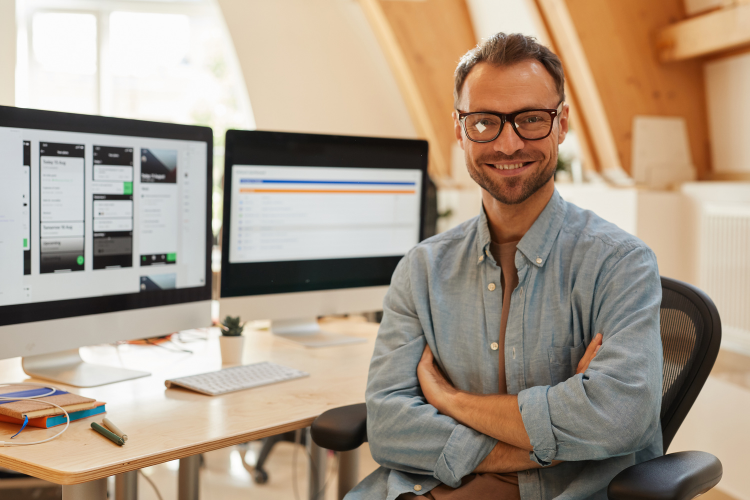 When choosing the best CRM for your business, it's essential to consider various factors. Here are some key areas where Tave and HoneyBook differ:
Ease of use

Pricing

Integrations

Customer support

Automation
Tave vs HoneyBook: How Do They Compare?
Below is a detailed comparison of Tave and HoneyBook based on the criteria above:
1. Ease of Use
Setting up any CRM is time-consuming. But once it's up and running, a good CRM should be easy to use. After all, the point of automation is to save time, not create more work.
Tave is relatively easy to use. Setting up may take some time, for starters, but it's straightforward. The software has a user-friendly interface that makes it easy to find your way around. Perhaps its focus on photography is what makes it easy to use.
HoneyBook is also easy to use. Unlike Tave, which has a focus on photography, HoneyBook is an all-in-one CRM. The extensive feature set may seem daunting, but the minimalist design and straightforward navigation make it easy. HoneyBook takes on a user-friendly and engaging approach, with dialogue like "Did we mention you are doing great!"
Winner: HoneyBook-I found HoneyBook's interface to be more user-friendly and its design more engaging.
2. Pricing/Value for Money
Tave has three pricing plans, all with the same features. The difference in pricing lies in the number of users and brands each account can have.
Solo

: $21.99/month

Boutique:

$29.99/month

Studio

: $43.99/month
The Solo plan supports two users and one brand, the Boutique plan has six users and four brands, and the Studio plan has ten users and unlimited brands. The most effective way to use Tave is to upgrade to the Boutique or Studio plans since they offer the best value for money. Tave offers a 30-day free plan for all of its plans.
HoneyBook has two pricing plans. You can either have the unlimited monthly or the unlimited annual.
Unlimited Monthly

: $39/month

Unlimited Annual:

$390/year
Each HoneyBook plan gives access to all the features with no limit to the number of transactions. There's also unlimited concierge support with unlimited team members. HoneyBook offers a 7-day free trial for both plans with unlimited access to all its features.
Winner: HoneyBook-While Tave has lower monthly rates, the overall value for money is better with HoneyBook.
3. Integrations
Tave integrates with different software to give users a personalized experience. Some of the software that Tave integrates with include, Calendly, Zapier, ShootProof, Fundy, ProSelect, and RedCart. These integrations make it easy to manage your business and automate various tasks.
HoneyBook integrates with a long list of software, including Google Calendar, Stripe, Quickbooks, Zapier, and Mailchimp. HoneyBook integrations are more diverse, focusing on accounting, payments, and email marketing. It also comes with a chrome extension, making it easy to add contacts and deals from anywhere on the web.
Winner: HoneyBook-HoneyBook's integrations are more diverse, making it a better choice for businesses that want to automate more tasks.
4. Customer Support
Tave offers direct support through direct calls and reaching out to their support page. Complaints about Tave's ineffective customer support are common, with some users stating that they never received a response to their support requests.
HoneyBook offers comprehensive customer support through its Rising Tide program. The program offers an onboarding specialist, live chat, a library of how-to videos, and email support. The platform also has a network of community members who can offer support and advice. The help center answers questions and shows guidance on how to use HoneyBook.
Winner: HoneyBook-HoneyBook's customer support is more comprehensive and effective, making it the better choice.
Tave vs HoneyBook: Alternatives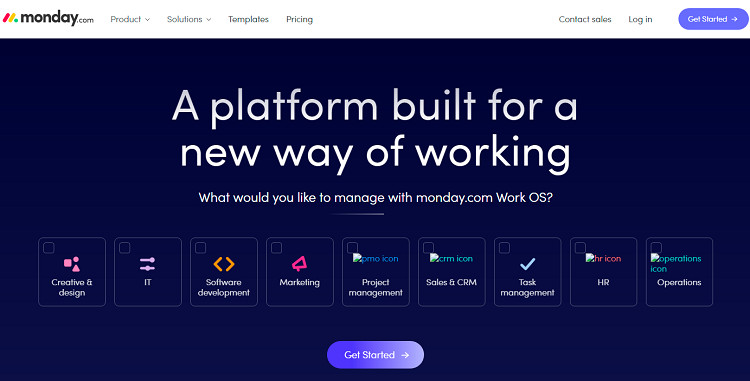 If neither Tave nor HoneyBook is the right fit for your business, here are some alternatives to consider:
Monday.com

Freshbooks

Calendly

Wave

Trello

Citrix pro

Notion

Smartsheet

Basecamp
FAQs
Question: What does Tave do?
Answer: Tave is a CRM for photographers that helps manage their business, from leads to bookings to invoicing and client management.
It's specially designed for photographers, so they focus on their art and leave the business side to Tave. Tave makes it easy to manage your business and stay organized through automation and integrations.
Question: What does HoneyBook do?
Answer: HoneyBook is a CRM designed for small businesses. It helps businesses with everything from lead capture to client management to invoicing and payments. HoneyBook also offers a wide range of integrations so businesses can automate their workflows.
Question: Is HoneyBook good for Photographers?
Answer: HoneyBook is a good choice for photographers. It offers a wide range of features that can help manage your business.
Photographers need a CRM that can help with everything from lead capture to client management to invoicing and payments. HoneyBook offers a wide range of integrations so businesses can automate their workflows.
Conclusion
Tave and HoneyBook are both CRMs designed to help businesses with their operations. They offer different features and integrations that make them suitable for different businesses. Tave is a good choice for photographers, while HoneyBook is good for small businesses. However, photographers can still use HoneyBook to manage their business.
From the analysis above, it's clear that HoneyBook is the better option, even for those in the photography niche. Even though Tave is designed for photographers, it doesn't have as many features or integrations as HoneyBook. I, therefore, recommend HoneyBook for businesses in general and photographers in particular.