Last Updated on April 22, 2023 by Ewen Finser
In our Spocket review, we will take an in-depth look at what the tool is all about. We will look at the main features of the platform, the pricing packages, and its customer support capabilities.
Dropshipping might sound simple and all, but it can also be a nightmare if you use the wrong approach.
And what exactly does that mean?
You see, for most merchants, the most attractive thing about the dropshipping business is its conveniently low starting and running costs. In fact, some have even christened it "the business with no capital" because it's open to pretty much everyone.
Turns out you don't even need a website. Just open an account on any of the popular marketplaces like Amazon, eBay or Alibaba, and you'll be good to go. What's more, this option allows you to further take advantage of the continuous stream of traffic in marketplaces.
So, in a nutshell, it's all easy-peasy, right?
Wrong. If you've tried your hand at dropshipping, then I bet you've noticed that it's not that simple anymore. It's many things all right, but a walk in the park is not one of them.
You see, while the concept of dropshipping is fairly simple and straightforward, running such a business is becoming increasingly complicated because of the numerous variables involved.
Consumers, for one, are very unpredictable. Their product interests are consistently shifting, and that translates into exceedingly volatile market trends.
Apart from that, it's getting harder to sort through the overwhelming mess of suppliers on the web. Many dropshippers are getting frustrated by poor product quality standards, the continuous stream of counterfeit items, plus the overall unreliability of the new crop of overseas suppliers, who repeatedly make promises they can't keep.
As a result, various experts and research studies place the failure rate of dropshipping businesses at 90% within the first month. Astonishing, right?
Well, yes and no. It depends on how you see the glass- either half full or half empty. Such a failure rate, when you come to think of it, is also consistent with other types of businesses.
So, dropshipping is just as promising as other types of businesses. Not all merchants are bound to be successful though. But rather, success awaits only the 1% who know exactly how to position themselves while leveraging the ideal tools.
Now, guess what? Spocket happens to be one of the tools built to help dropshippers finesse their way around all these common problems. More specifically, it's the type of software solution you turn to when you need to streamline your order fulfillment process, as well as find the perfect products and the right suppliers for your dropshipping business.
Ok, that sounds interesting, But, how good is it though? Is Spocket actually capable of transforming your dropshipping business? And does it have what it takes to outperform its main competitors?
Well, you'll find all the answers here.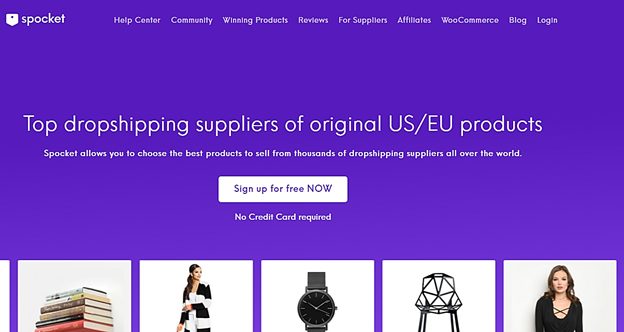 Launched in 2017, Spocket is a platform for dropshippers from all over the world. It specifically tries to help them discover the best products for their business, connect with the right suppliers, sample their selected product options, streamline their sales and order fulfillment processes, plus deliver orders to customers efficiently.
Hence, you can think of Spocket as an all-in-one tool suite for dropshippers. This places it in the same league with the likes of Wholesale2b, which is also a dynamic platform for discovering the right products and enhancing sales.
But, make no mistake. While there are many similarities here and there between the two platforms, Spocket doesn't run its stuff entirely like Wholesale2b.
One particularly outstanding thing about it is, it tends to favor US and Europe-based suppliers and businesses. But, don't get me wrong. I'm not saying these are the only parties you get here. Rather, while Spocket welcomes products from all over the globe, US and Europe-based options alone make up about 60% of the items on its marketplace.
So, in short, Spocket is worth considering if you're planning to ship your products from the US or Europe.
And what types of products are talking about here?
Well, Spocket has quite an extensive marketplace with a heck of a lot of products spread across various physical locations and industry categories. Plus, you get the privilege of connecting with thousands of dropshippers from all over the world.
But, get this. Instead of searching for products randomly, Spocket allows you to select your items based on location. That means you can pick items depending on where you prefer to ship from, as well as the corresponding target shipment destinations.
And what's the point of that?
In essence, you get to minimize your order fulfillment and shipping times by dropshipping products whose sources are positioned conveniently close to your customers' locations.
If you're planning to target Canadian buyers, for instance, you can source the products from reliable suppliers based in the country. This subsequently gives you the chance to deliver the items to your customers in about 2-14 days. A win-win for you and your buyers.
That said, it's worth noting that location is not the only parameter for filtering products on Spocket's marketplace. It also allows you to sort through various items based on keywords and pricing.
Then to help you ensure the quality of the stuff you choose, Spocket gives you the freedom to order for samples from its suppliers. Consequently, you even get to assess the delivery times before you ultimately start offering the products on your dropshipping store.
And speaking of stores, Spocket is a happens to support multiple sales channels. You can, for instance, import its products into your Shopify or WooCommerce online store. Such functionalities are powered by Spocket's lightweight native applications for WooCommerce and Shopify.
But, Omnichannel selling doesn't end with ecommerce platforms. Spocket happens to also support social media sites like Facebook, YouTube, Pinterest, and Instagram. So, you should be able to sell your products directly to social media users, along with other types of buyers through your personal website or blog.
And while you're at it, the subsequent order fulfillment process should be fairly easy. Spocket is renowned for its automation capabilities, which essentially save you the trouble of following up on every single order. This procedure is, instead, handled by the system, consequently giving you the much-needed space to focus on other important business matters.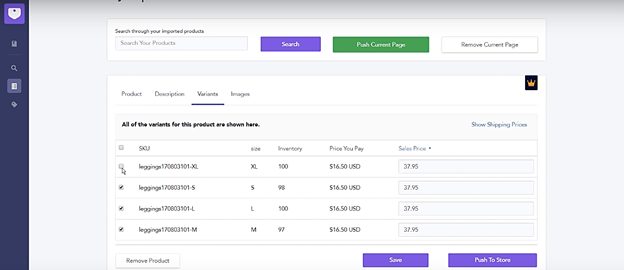 Now, when you add these features to Spocket's alleged heavy product discounts of 30-40%, the platform admittedly seems like a worthwhile asset. Dropshipping beginners are especially inclined to give it a try since it starts at only $12 a month. Besides, Spocket already boasts of supporting more than 30,000 satisfied dropshippers.
However, while that's a commendable achievement of the part of Spocket, it still doesn't answer the big question- how would it perform in your business? Or, in other words, what exactly should you expect from this dropshipping solution?
Here is an unbiased assessment of its main features to help you make an informed decision…
Spocket Review – Main Features
Ease of Use
Fortunately for seasoned ecommerce merchants, Spocket uses the same old system of integrating sales apps. Getting started here is as simple as searching for the Spocket app directly from your WooCommerce or Shopify control panel, installing it to your store, firing it up, and then completing the subsequent registration procedure.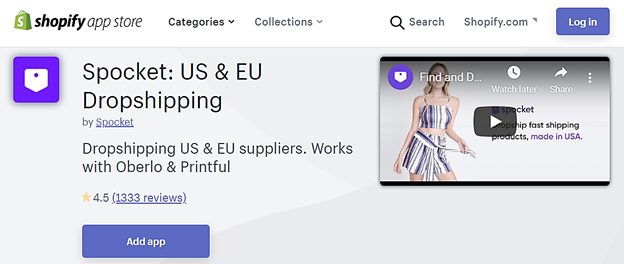 That's not the only way though. You could also create your Spocket account directly from its main site for free. And no, it won't request your credit card credentials.
Simply sign up with your personal details, or alternatively proceed with your Facebook or Google account details, and voila! Spocket will then grant you access to its online dashboard for a free trial period of 14 days.
That said, Spocket comes with a pleasant easy-to-use interface, which has a neat layout, a well-organized set of functions, plus a straightforward navigation framework. Chances of getting lost here are almost nil. That means even beginners should have an easy time finding their way around and figuring out how everything works.
The best way to learn the ropes, however, is paying attention to Spocket's dashboard guide when you log into your account. It comes in the form of a 4-step onboarding tour, which walks you through the core tools on the platform.
Once you're done, you can go ahead and start searching for the perfect products for your dropshipping business. The search process here is fairly seamless and straightforward, as Spocket has systematically organized its wide range of items by their respective industry categories.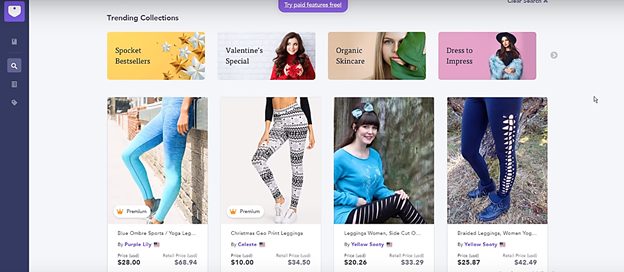 Additionally, you also get to sort through everything using supplier, location, or pricing filters. And in case you'd like to check out Spocket's exclusive product offerings, simply click on the premium product checkbox and the system will proceed to unveil an array of additional juicy deals.
Now, as you move forward, you'll notice that product exploration is just as seamless and satisfying as the rest of the system. The trick that Spocket has seemingly used here is, focusing on just the basic parameters. You'll only find the basic functionalities that a typical dropshipper would need for filtering and comparing various product offerings.
In essence, you get to explore your product options based on product images, shipping costs, item variants, source location, retail price, listing price, and more. Spocket further hands you a tool for building a list of all the products that interest you. You just need to identify them and click on the 'Add To Import List" option.
Then when you've compiled a solid collection, you can go ahead and simultaneously import everything into your store in one click. It's that simple.
Another notable feature that makes drop shipping conveniently easy is automated order fulfillment. Yes, that's right. You don't have to process your customer orders manually. That would be incredibly tiresome, especially if you're running an increasingly growing online store.
Now, to save you the stress, Spocket's automation system is flexible enough to accommodate all the standard order processing operations. Just give it the green light by clicking once and it'll proceed to handle everything on your behalf.
Eventually, your customers will get their shipments without your direct involvement. And in the meantime, you should be able to keep tabs on the progress of each order every step of the way, thanks to Spocket's real-time order tracking.
Therefore, all in all, we can agree that Spocket is indeed pleasant and easy to use. I guess providing just the basic tools has its perks every now and then.
Product Catalog
As we've already established, Spocket runs quite an extensive product database, which is still growing with each passing day. You'll find all the main categories well-represented here- from fashion and basic accessories to beauty products and gifts. Spocket has high-quality stuff from all over the globe.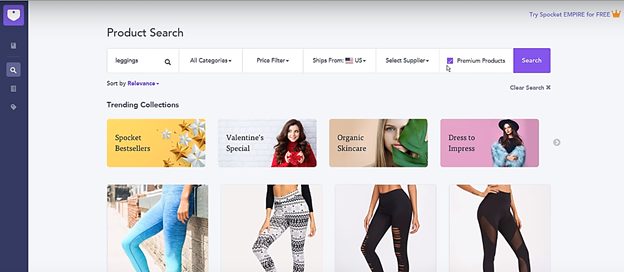 Don't let that fool you though. A closer look into the whole collection of items here reveals a rather peculiar yet interesting fact about Spocket. It turns out the bulk of its products come from Europe and the U.S. More specifically, you should expect to trace about 60% of the items to suppliers spread across these two regions.
What does this mean?
Well, of course, that's bad news for dropshipping merchants who'd like to sell to customers based in other global regions. The lack of many product options on other continents means you won't be able to optimize your order fulfillment and shipping processes for all your customers worldwide.
On the brighter side, however, at least you should be able to efficiently serve your customers based in Europe and the US. By providing a host of product options in these regions, Spocket gives you the privilege to proceed with suppliers whose warehouses are close to your customers.
This substantially minimizes the shipment delivery times, and it helps you effectively track everything between your suppliers and customers.
Another great thing about the products here is quality assurance. Since images do not conclusively reveal all the product details, Spocket gives you the chance to experience your selected items in person to get a good feel of what your customers will get.
The dashboard basically allows you to place sample orders for any products that interest you. The suppliers are then compelled to ship them to you for comprehensive assessment and testing.
Ultimately, if the subsequent quality fails to impress, you can keep searching through the database to identify other product options based on not only supplier and location details, but also the pricing, keywords, and categories.
This process shouldn't take long though, because high-quality products are everywhere on the platform. All that to Spocket's long track record of checking and verifying each product before listing.
Product Suppliers
Although Spocket is keen to expand its supplier base, it doesn't randomly enroll new applicants.
But, don't get me wrong. I'm not trying to discourage you. If you're interested in establishing yourself as a Spocket supplier, you can go ahead and submit an application through the main site. At least the platform is open to new signups from prospective suppliers in all its product categories.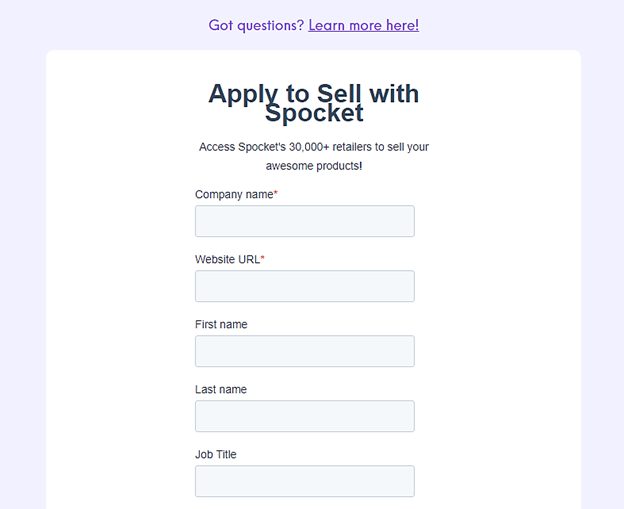 It's worth noting, however, that this won't automatically qualify you. Spocket's marketplace slots are only reserved for the suppliers who meet its strict requirements on various parameters, including product quality, pricing, and availability, as well as your supplying capability and credentials.
But, make no mistake about the qualification process. Spocket doesn't evaluate its candidates in one go. For you to earn that coveted marketplace slot, the company will subject your supplier business through several competence assessment stages.
Once the initial application sails through, for instance, Spocket schedules an interview with the supplier. The objective here is to deeply analyze the supplier's business, and get a good idea of its track record, size, sales, assets, liabilities, etc.
If the screening team consequently gives a nod to the business, the supplier is then taken through the third and final stage of the screening process. This is where the team at Spocket runs tests on not only the supplier's products but also the corresponding order processing capabilities.
Spocket takes into account, among other factors, the product's quality and build, the length of time a supplier takes to respond to an order request and process it, as well as the number of orders a supplier is capable of handling concurrently.
Ok, that sounds assuring. But then again, how strict is Spocket when it comes to the real thing?
Now, as you might have noticed from my previous review write-ups, I'm the type of person to take up such challenges. Plus, I had to see for myself how Spocket handles this whole recruitment process. And the best way to do that was to submit several supplier applications, each with a different set of names and credentials.
How do you think that eventually turned out?
Well, although the result was precisely what I was hoping for, I admit it was also sort of embarrassing. It turns out Spocket rejected all my applications because I failed to meet most of the supplier requirements.
Hence, I can say conclusively that Spocket doesn't play when it comes to picking its product suppliers. You can be certain that every single one you come across has been thoroughly tested and verified. This alone deservedly makes Spocket a haven for reputable and reliable product suppliers.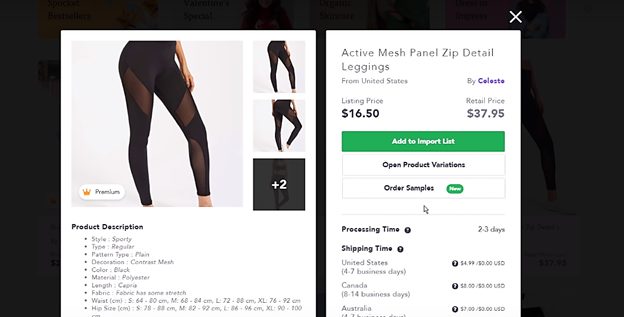 Come to think of it though, all that provides only a half of the building blocks required for a successful drop shipping business. The other half entails selecting the perfect combination of products and suppliers.
Importing Products
After conducting a thorough search plus identifying the best products and suppliers, you'll then be required to import the items into your online store to kickstart the selling process.
Thankfully, this is not difficult at all. Instead of embedding each product individually, you can simply capitalize on Spocket's import tool and upload up to 25 combined items to your store.
Then guess what? This entire procedure takes only one click on the Import button. All the products in your import list are subsequently pushed to your online store, along with their accompanying descriptions, images, as well as variants.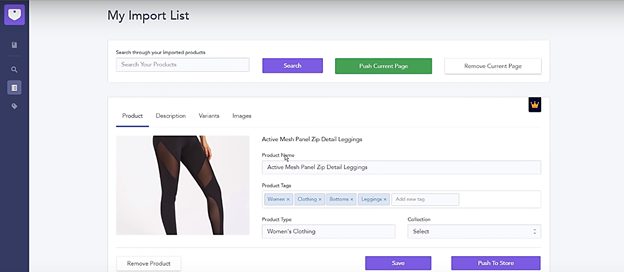 Ok, now that begs yet another question- what would be your options if, say, the product description is not good enough? Should you edit it on Spocket before importing your items, or via your online store's system after adding them?
Well, the good thing is, you won't be forced to wait until you add the products to customize them. It just so happens that Spocket provides an editing tool for reconfiguring different product elements directly from your import list page.
You can, for instance, adjust your product descriptions by aligning them with your site's SEO. Spocket further allows you to tweak the item prices, images, variants, and titles, or maybe play around with tags and media.
Then after you import everything, Spocket goes ahead and keeps tabs on your entire inventory in real-time. This keeps the system updated at all times, and you get to replenish your products when their stock levels drop past a certain point.
Sadly, however, Spocket doesn't give you the privilege of viewing your suppliers' inventories. Hence, you won't be able to make decisions based on their stock levels or other inventory variables.
Order Fulfillment
Apart from product discovery, the default Spocket platform is specially optimized for order fulfillment. This is yet another core function that fundamentally makes the difference between a successful dropshipping business and a failing one.
Well, Spocket seems to be firmly focused on the former as it provides a range of smart features for quick and easy selling, processing, plus fulfillment.
If you're looking for automation capabilities, for example, Spocket has got you covered with several tools that are capable of automating different processes- from pricing and checkout, all the way to order fulfillment and shipping.
One of the most exceptional things you can do to your product prices, to begin with, is to define a standard profit rate. You'll even find a Mark-Up tool which allows you to set a constant profit rate for the items based on percentages, multipliers, or fixed prices.
As a result, the system will automatically but uniformly adjust each product's price according to your rules.
How?
Well, it's unbelievably simple actually. A multiplier markup of, say 4, would adjust a product price $25 to a new rate of $100. Hence, when this is applied across the board, it saves you the trouble of manually editing your item prices over and over again.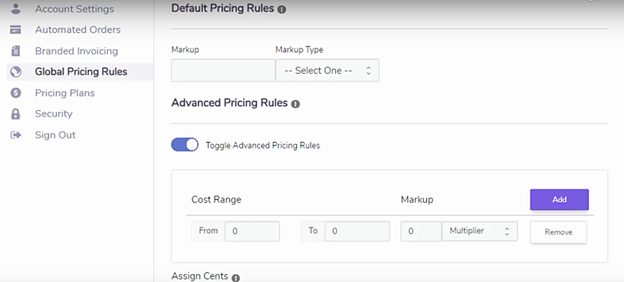 Now, when it comes to the subsequent order fulfillment process, Spocket is capable of accurately automating supplier coordination, order shipping, as well as order tracking.
The whole procedure begins when customers enter their contact and address details while buying stuff. All these are then transferred from your store's checkout section to the respective product supplier. Therefore, suppliers should not have a problem coming up with relevant address labels for the resultant packages.
In the meantime, Spocket will also send you an automatic notification via email to alert you that the order details have been relayed to the supplier.
The system doesn't stop there though. Spocket additionally tracks the package after it has been released by the supplier. And with that, you should be able to directly access the corresponding location and status info from your dashboard.
What's more, Spocket further keeps the product customers on the loop to help them track their shipments right from the moment they are released by the suppliers, to the very instant delivery and fulfillment is successfully completed
Spocket Review – Pricing

Starter: The Starter plan costs $12 per month, which is billed on a monthly basis. This gives you a shipment tracking number, global pricing rules, currency exchange, real-time inventory update, premium 24/7 chat support, unlimited orders, plus up to 25 unique products.
Pro: For $49 per month when billed monthly or $33 per month when billed annually, the Pro package supplements the features on the Starter plan with premium search, exclusive deals, premium 24/7 chat support, branded invoicing, up to 25 premium products, unlimited orders, and up to 250 unique products.
Empire: At $99 per month when billed monthly or $69 per month when billed annually, the Empire package combines features on the Pro plan with premium 24/7 chat support, unlimited premium products, unlimited orders, and unlimited products.
Unicorn: At $299 per month when billed monthly or $165 per month when billed annually, Unicorn is the costliest package. It offers everything on the Empire plan along with product requests, premium 24/7 phone support, a dedicated account executive, and bulk checkout.
Spocket Review – Pros and Cons
Pros of Spocket
Spocket provides native apps for easy integration with WooCommerce and Shopify-based shops.
It helps you minimize your product delivery time within Europe and the US.
The Spocket platform has a worldwide reach. You can source products from suppliers based anywhere in the world, as well as sell to customers across the globe.
Spocket supports selling on personal sites, blogs, online stores, as well as social media platforms like Facebook, Instagram, YouTube, Pinterest, etc
You get access to a wide range of reliable suppliers, who are carefully handpicked by Spocket based on strict qualification criteria.
Immediately after the 14-day trial period lapses, Spocket offers its services for as low as $12 a month.
The Spocket user interface is satisfyingly easy to use.
The Import List page supports product customization.
Spocket comes with an extensive marketplace that's filled with multiple cheaply-priced products for dropshipping.
The MarkUp tool automates price adjustment across all your products.
Spocket is capable of automating the entire order fulfillment process.
The system tracks and updates your inventory in real-time.
You can go ahead and order product samples to get a good feel of the quality you should expect from your supplier.
Importing products into your store is as simple as making an import list, and then clicking Import.
Customer support is available 24/7.
Cons of Spocket
The 14-day free trial period is very limited.
While Spocket facilitates selling on third-party sites and social media, it doesn't support regular dropshipping marketplaces such as Amazon, eBay, and Etsy.
You won't find a permanently free plan for beginners.
Spocket blocks you from viewing your supplier's inventory.
The system doesn't provide advanced dropshipping features like package customization, automatic tax rate assessment, etc.
Frequently Asked Questions:
How do orders come in?
Orders will come directly to your Spocket account and you will receive email notification for every order that comes in.
Can I bulk export all my orders?
Yes! You can export all your orders in a CSV and upload it to your preferred shipping platform such as Shopify, Shipstation, etc.
Where do I apply?
The first step to becoming a supplier on Spocket is filling out this short form: Sell on Spocket. Our supplier relationship team will review your application, and then reach out to you with further steps.
Spocket Review – The Ultimate Verdict
At first, Spocket might seem like one of those all-in-one drop shipping platforms that support all types of regular dropshippers across the world. But then after going through its features in detail, it turns out it isn't.
You can't, for instance, rely on Spocket if you're thinking of dropshipping on global marketplaces like eBay, Amazon, and Etsy. Another disappointing fact is, this service doesn't exactly support dropshippers whose target market stretches beyond the US and Europe.
However, in all fairness, this location issue is more of a catch-22 since the feature that limits your global options is the same one that facilitates dropshippers handling the US and Europe-based products. By focusing on these two regions, Spocket considerably speeds up your order fulfillment cycle as well as the subsequent shipment delivery process.
Now, combine that Spocket's user-friendly interface, extensive product database, thoroughly-vetted suppliers, automated order fulfillment, one-click product importing, 24/7 customer support, plus its multiple sales channels.
All that translates to an adequately-simplified but fairly powerful platform for supporting beginner dropshippers and small businesses in the US and Europe. It maintains a decent balance between ease of use, flexibility, functionality, inclusiveness, and task automation.
Further reading: