Last Updated on April 24, 2023 by Ewen Finser
No matter how big or small your company is, managing clients is never easy. Whether you're a wedding planner, a photographer, or an artist, some things will always be constant: finding new clients, managing deadlines, and collecting invoices. And as your company expands, so does your workload.
A growing business can no longer be managed effectively with hand-drawn notes, excel sheets, or notepads. A customer relationship management (CRM) tool may be just what you're searching for.
A streamlined CRM solution can help you, and your company, stay organized. CRM software makes it easy to keep track of current projects, centralize work, and focus on the basics.
Having decided that you need a business tool, the following question remains: which one is the best? Many software solutions exist to assist you in managing your workload, and I believe you must select the right one for your needs.
With that in mind, I have selected two CRM applications from a wide range of management tools to help your organization thrive. These are:
So, what are the most important points to highlight about any of these selections? First and foremost, ShootProof and HoneyBook are the two most popular online CRM solutions available.
ShootProof is an excellent option if you're looking for a basic photo distribution service with a pinch of CRM functionalities. In contrast, HoneyBook is a fully-fledged CRM tool that anyone can use. But of these two, which one is best?
My Bottom Line Up Front: Both ShootProof and HoneyBook are amazing products, but after comparing the two extensively, HoneyBook stands apart as the clear winner to me. Of course, if you want to know how I managed to narrow down this somewhat difficult decision, then you're definitely going to want to keep reading!
Main Differences Between ShootProof vs HoneyBook
The major differences between ShootProof vs HoneyBook are:
ShootProof is a CRM tool

focused on photographers

, whereas HoneyBook is a

complete CRM solution that everyone can use

.

ShootProof

comes with a free plan

, whereas HoneyBook

does not come with a free version

.

ShootProof is

fairly user-friendly

, whereas HoneyBook is a

bit more complex

.

ShootProof comes with a

professional branding section

where you can showcase your craft, whereas HoneyBook

has no such option

.
How to Select the Right Management Tool
Choosing the right tool for your business's needs is of utmost importance. Because of this, I've put together a five-point checklist to help you decide what to look for when purchasing a product.
Understand your company's objectives and requirements
Each company has its own distinct identity. Start by examining your demands and talking to the company's requirements team to identify the correct product.
Get ready for the user's adoption
Regardless of the system you adopt, certain people on your team will resist it. You'll have to give your workers some breathing room before going back to their prior production levels. Getting used to a new piece of software might be difficult for some people.
Ensure that the system is compatible with other programs
Before you finalize a product, make sure that it slides right into the organization's working environment.

For Example: Let's say your firm uses Microsoft Office, and the product you're purchasing doesn't support its integration. In such a scenario, it would be a waste of time learning and understanding the software that your team cannot use to its fullest. Remember that you're purchasing a management tool to increase productivity, so make sure it is compatible with your current setup.
Check out the product demo
It's no longer necessary to acquire software without first trying it. Nowadays, practically all software offers a trial period during which you may try out all the features to see whether it's the appropriate match for your needs. This is your opportunity to put the product through various checks and find its compatibility with your company's operations.
Consider solutions that are mobile-friendly
The world is gearing towards portability. Having a tool that operates both on your PC and mobile is a neat feature. Are you traveling? Or busy? Or just too exhausted? Most of the tools have a toned-down mobile version, through which you can perform the basic functions.
Now that we're done with the necessities, let's go ahead and dig deep into the heart of this article to find out which software best fits your needs. That way, you can better decide between ShootProof and HoneyBook and determine which platform is ideal for your business.
A Focus on Shootproof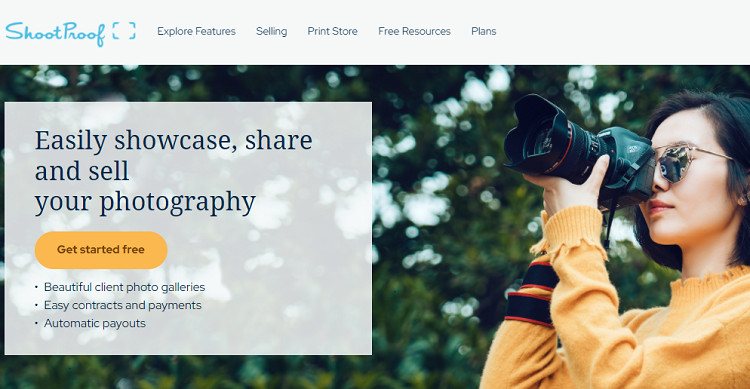 Since its inception in 2009, ShootProof has maintained a steady level of service. It's a one-stop-shop management tool designed specifically for photographers.
Using ShootProof, customers could download photographs, prints, and more from galleries they set up on the cloud storage of ShootProof. This will save a lot of time, and as a result, you'll be able to convert potential customers into long-term ones.
The program is geared towards photographers, but artists, content makers, and digital marketers may all benefit from using it. When I tried out the 5000-photo plan, the service's simplicity of use and functionality amazed me. On top of that, their friendly support team answered my questions about using their service within an hour.
Some of ShotProof's More Notable Features Are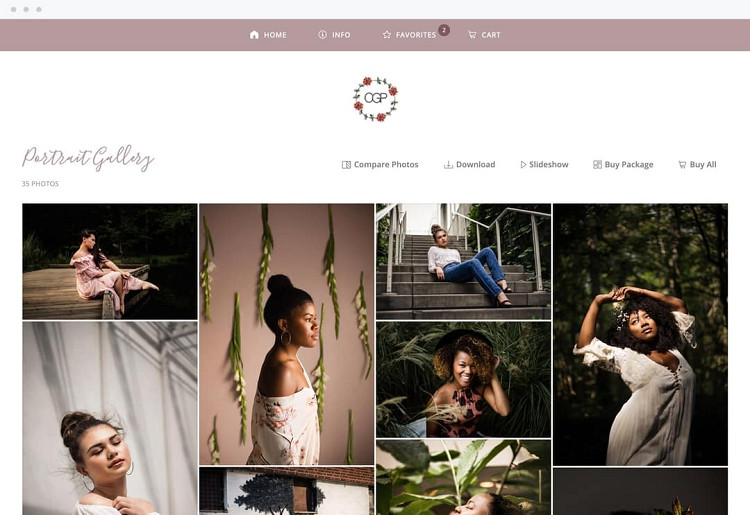 Archiving Galleries is a Breeze!
Archiving images that you no longer need is a great idea to free up some space. Select the photographs you wish to save, and ShootProof's servers will automatically upload them for you. However, what if you want to get your hands on them again? Well, fear not – the images can be retrieved with a single click!
Save Space Without Fuss
Additionally, image archival frees up space on your ShootProof photo plan, allowing you to use the basic plan without upgrading it. That way, you'll be able to locate and unarchive any photographs that you need quickly.
You'll Fall in love with ShootProof's Photography Invoice
ShootProof is a cinch thanks to a straightforward invoicing structure adapted to each customer's requirements. Blank invoices and commonly used photography packages would be good to start with.
Custom Watermarks are a Handy Feature
It adds an extra layer of protection to your digital content. Gallery watermarks may be changed or removed directly from the gallery, saving you time and effort from having to modify them in software like Photoshop or GIMP.
Cultivating Vibrant Community
ShootProof has done an excellent job of cultivating a vibrant community where individuals can exchange fresh ideas and assist each other. You'll be more likely to resolve customer support difficulties through the official help website or the community forums before contacting them directly.
E-commerce Features
E-commerce features such as discounts, bundles, and multi-tier pricing give your firm a more professional appearance. All these functions are included in the base plan, so try it before going all-in with the product.
What Makes Shootproof a Great Product?
You can easily

send an invoice with a single click

.

With AutoPay, customers will

never have to worry about paying their bills late

.

Its interface is

incredibly easy to use and very user-friendly

.

ShootProof has a

variety of price options

so that you may pick what works best for your budget. One caveat: the more photographs you need to submit, though, the more money you'll have to spend.
Reasons ShootProof Might Not Be for You
Photographers are the primary target audience for ShootProof

, so if you aren't one, you'd be better off looking elsewhere.

Because of its complexity,

I can't recommend ShootProof to anyone looking for a simple tool

.

It's

only possible to have one language per gallery

in the backend's multi-language possibilities.
All About HoneyBook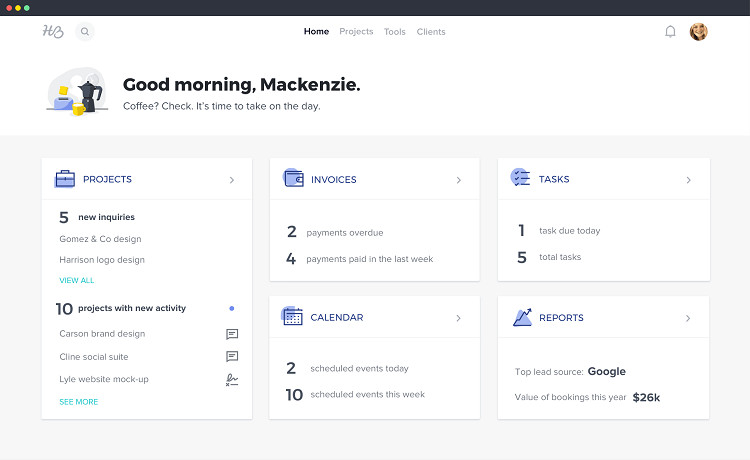 No doubt, ShootProof is one of the best options for photographers looking to establish their businesses. However, what if you aren't a photographer? Well, then HoneyBook has got you covered.
HoneyBook was established in 2013 by four friends to alleviate the burden that came with the never-ending paperwork. It was born because of the founders' conversations with a variety of creative enterprises and their customers, all of whom revealed to them that a management tool would help them increase their productivity.
HoneyBook is an excellent choice for service-based entrepreneurs. With the platform, you can manage your company from a mobile app, send out proposals and monitor their responses, and even take payments in a breeze.
There are many uses for HoneyBook, and it isn't just for small businesses looking for robust CRM software. It's intended to be an all-in-one management platform for a wide range of small enterprises.
Some of HoneyBook's More Notable Features Are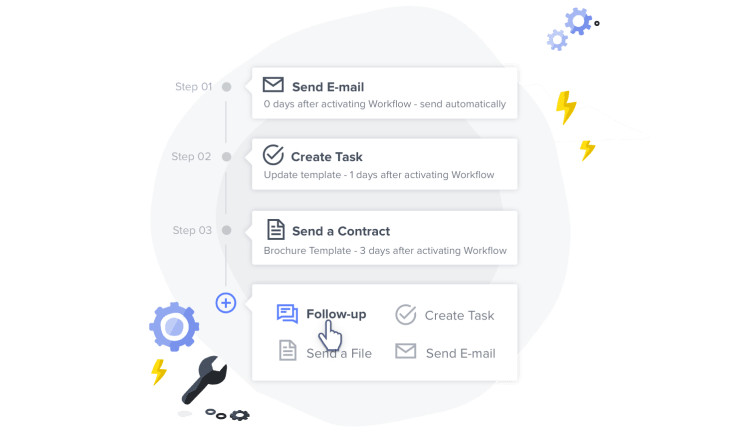 Client Booking and Invoice Generation
Client booking and invoice generation are just two of the many functions made easier by the platform, making it easier for businesses to keep track of their customers and money. Keeping track of records allows companies to provide unparalleled customer service.
HoneyBook supports automation
Automation is the way to go if you don't want to customize your emails, tasks, or reminders.
You Can Create a Digital Workplace for Each Project
You can create a digital workplace for each project, where you can invite your clients and partners to work together. This makes it simple to keep track of all your correspondence, papers, and other information under the same roof.
HoneyBook Integrations
HoneyBook integrates well with third-party software. For example, you can simply connect HoneyBook to third-party services like Gmail, Facebook, Zapier, and QuickBooks. Integrating HoneyBook with other services streamlines your productivity by allowing you to keep track of everything in one spot.
HoneyBook has Been Operating for Over Eight Years
Thanks to their experience, they're able to provide a smooth, all-in-one experience. What began as a simple management tool has grown into a small- to medium-sized business-friendly customer management application.
It's an Extremely Comprehensive Multi-Tasker
It can easily keep track of payments, generate invoices, set up appointments, and do a slew of other things, making HoneyBook an all-around polished software.
What Makes Honeybook a Great Product?
Scheduling

makes things easier. Simply pick a date and share the meeting link with customers such that you'd be able to implement a proper timetable.

Online invoices

are a godsend. You can create an invoice using in-house templates or create a new one from scratch. Features like discounts, tax calculations, auto-pay, and multiple payment gateways make it an excellent choice for invoicing needs.

HoneyBook's

digital contract saves a lot of time

. Replacing outdated printed contracts with digital signatures is ideal in this digital era.

It's an

all-inclusive CRM solution

for small and medium-size organizations. It's just one software to satisfy all your invoicing, scheduling, automation, and payment needs.

If being able to

work on the go

is crucial to your business, HoneyBook is the best option.
Reasons Honeybook Might Not Be for You
It's admittedly

quite expensive

.

HoneyBook is

designed for small and medium-sized enterprises

, so big organizations should seek alternatives.
How to Fully Utilize These CRM Tools
I understand how intimidating it can be to transition from your old excel sheets to these multi-functional management solutions. However, if you could give yourself some time to learn, it'll make things a lot easier.
There's a learning curve associated with any new piece of technology, and you'll need some time to familiarize yourself with it before you can use it effectively. My productivity skyrocketed when I figured out all the kinks in the software, and I'm not exaggerating when I say it has literally gotten ten times better than before.
With that in mind, I've compiled some effective tips that will speed up the learning process:
Create a sandbox environment for testing and learning needs.

To practice the tools in a temporary environment is your best bet.

Remember that a CRM solution is much more than a contact book.

That way, if things get out of hand, you can always contact customer support.

Before uploading the existing data into the software, make sure to check if there's an import function.

It will save you time by moving all the data with a single click.

Remember that old habits die hard.

You'll want to make sure to utilize all the new functionalities of the CRM and implement them in your routine. Automation for one can be a gamechanger if you strategize your plans correctly.

Educate your employees.

The more they learn, the better it is for the company.
FAQs
Question: What is a CRM tool?
Answer: CRM stands for "Customer Relationship Management." It allows you to centrally store customer information, identify sales opportunities, track issues, and manage marketing campaigns — all while making that information readily available to anyone in your company who might need it down the road.
Using a CRM is a great way to stay on top of things, be more productive, stay on top of deadlines, and make a great first impression on clients.
Question: What Is the Importance of Customer Relationship Management?
Answer: A CRM solution may help you spend more time with your customers by screening, analyzing, and prioritizing your sales leads, which increases the likelihood that they'll buy from you. It may help you better understand your customers and, as a result, craft more effective marketing campaigns, which will help you expand your business.
Question: Does HoneyBook Charge a Processing Fee?
Answer: Yes, HoneyBook charges a small processing fee. It's 3% for credit cards and 1.5% for ACH or bank transfer payments.
Question: Does ShootProof charge a processing fee?
Answer: Yes, ShootProof also charges a modest processing fee. They charge 2.9%, plus $0.30 per transaction.
Question: What is Similar to ShootProof?
Answer: There are several alternatives to ShootProof, such as:
• Pixieset
• SmugMug
• Zenfolio
• Photoshelter
• Pixpa
Question: What isSimilar to HoneyBook?
Answer: Similar tools as HoneyBook are:
• HubSpot Sales Hub
• Monday.com
• Salesforce
• Dubsado
• 17hats
ShootProof vs HoneyBook: My Final Verdict
I have used both ShootProof and HoneyBook extensively, and it's tough to pick a winner. There's no right or wrong answer, as both systems are excellent at their respective tasks.
But while both solutions are fantastic software tools, determining which one is best for your company and needs is the question that you need to ask. If your company is geared towards photographers or artists, then ShootProof will be a better solution than HoneyBook.
In comparison, HoneyBook is a complete CRM solution catered towards small to medium businesses in various sectors.
However, that said, HoneyBook is my choice because of its capacity to integrate with any business. The versatility it provides is significantly superior to that of ShootProof, and for that reason alone, I will award HoneyBook one point higher than the competitor.
In short, if your company involves sharing and showcasing a variety of digital products, go for ShootProof. Otherwise, HoneyBook is the way to go. Either way, you can't go wrong with using either of these comprehensive, highly beneficial CRM services!
Further Reading: