Last Updated on March 24, 2022 by DMEditor
Are you overwhelmed in your business and need extra help? Or maybe you have work that needs to be done quickly but you don't have the time or skill? Upwork vs Fiverr which freelancing recruiting platform should you try?
Bottom Line Up Front: If you need a project to be done quickly and at a low cost, Fiverr is your go-to platform. The gigs are specific and easy to choose from. Simple tasks like adding music to a video, creating a power-point presentation and proofreading a staff handbook are some of the gigs you'll find on the platform. In short, I like to START with Fiverr Pro and then use Upwork only if I'm not finding what I need.
You've probably gone online and googled 'best freelance platforms' to find qualified freelancers. The problem is that many of those 'lists' on Google aren't that helpful. They simply provide basic information on several freelance platforms which might leave you a bit confused.
Upwork and Fiverr although they have some differences one thing is for sure they are considered two most diverse and popular remote worker freelancing websites (freelancer platform) on the internet. They have a large pool of talent to hire and can assist with various tasks including graphic design, web development, search engine optimization (SEO), social media marketing and freelance writing.
So you're probably wondering which of these two giant freelance platforms has the best freelancers. Let's begin with an overview. 
Main Differences Between Upwork vs Fiverr
The main differences between Upwork and Fiverr are:
Fiverr is generally cheaper than Upwork, especially when you include fees
Fiverr is excellent for templated tasks like logos, product descriptions, voice overs, and animations
Fiverr lets you search from defined service offerings, whereas Upwork uses a project bidding system
Upwork is generally better for experienced web developers compared to Fiverr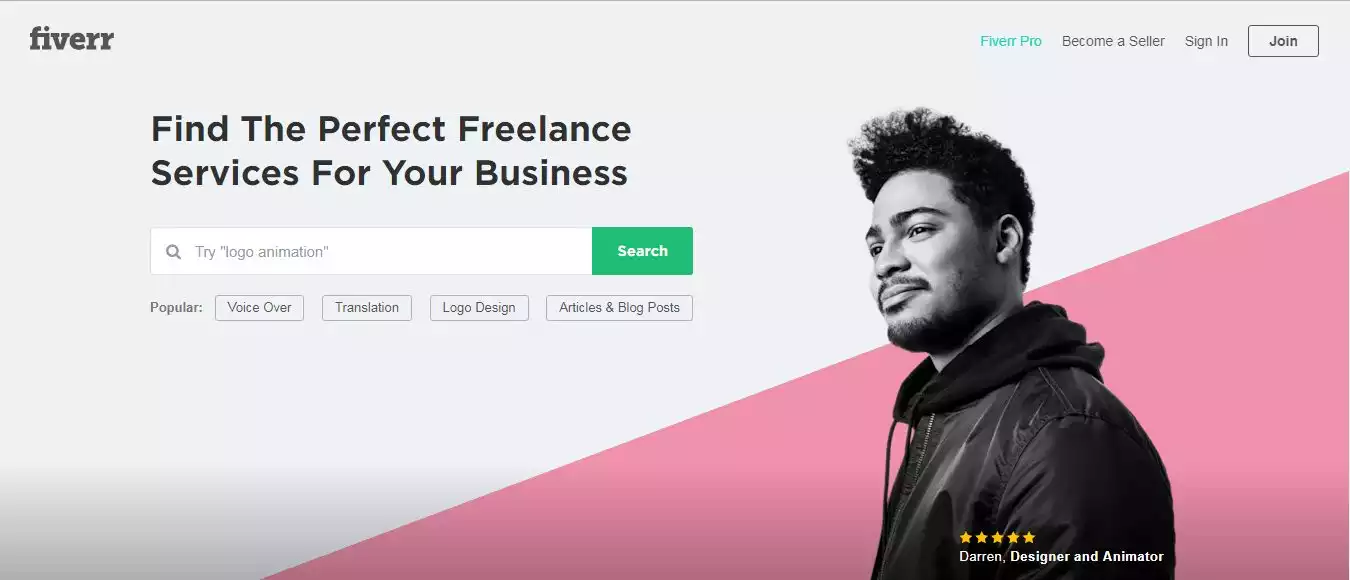 Upwork vs Fiverr Compared
What is Upwork?

Upwork was born in 2015 as a result of an Elance and O-desk merger in 2013. Its headquarters are in California, USA and it is currently the biggest global freelance platform that aims to connect businesses and skilled professionals.
The platform currently has 12 million registered freelancers. In September 2018, Upwork reportedly had 34.76 million visitors each month proving its popularity. In fact 30% fortune 500 enterprises use Upwork to hire freelancers.
What is Fiverr?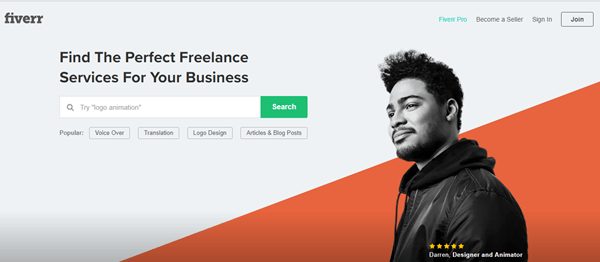 Fiverr was founded by Shai Wininger and Micha Kaufman in 2010 with the aim to provide an online platform where freelancers can provide services globally for not less than $5. Their headquarters are in Tel Aviv Israel.
At first, Fiverr marketplace was not looked at as a serious platform because it had some weird gigs, but two years after launching, it grew rapidly to the extent of hosting 1.3 million gigs per month (a large driver of the overall gig economy). Fiverr uses the word 'gig' to define a project provided by a freelancer for hire.
Finding Talent on the Platforms – Upwork vs Fiverr
With 12 million freelancers and 2900 skill sets on Upwork, finding the ideal talent for your project can seem daunting. First of all, you need to know exactly what skill you are looking for.
For example, saying you need a freelancer with marketing or writing skills is quite general. The good thing is, Upwork has listed the specific skills to help you identify exactly what you need.

When you click on any of the categories above, a list of qualified freelancers for that category will appear. Their profiles will provide all the information you need to decide whom to work with. For example their hourly rate, number of hours spent on Upwork, their location (for time difference issues) and performance ratings given by past clients.
After signing up for a free account, you can start posting jobs immediately and reaching out to freelancers about your projects.
To find the best talent on Upwork, find freelancers with 'Top Rated' badges. You will see the badge on their profile. The 'Top Rated' badge indicates that the freelancer has consistently excelled and delivered high quality results for their clients on the platform. It shows that a freelancer has achieved over 90% job success and annual earnings of not less than $1000.
Freelancers with '90% job success' also have top talent on the platform. These scores show past success based on client feedback, repeat hires and extended contracts.
The 'Rising Talent' badge should not be ignored either. This badge is for those who have amazing potential based on information in their profile and past or present experience outside Upwork. These freelancers are still working to achieve a job success score on the platform.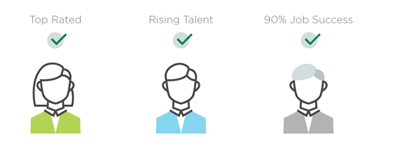 Because of the large pool of talent on Upwork, you will get overwhelmed with proposals. It's best to have a non-negotiable vetting criteria ahead of time to make the screening process easy.
For Fiverr, after you have signed up, you can find the talent categories displayed at the top of the page. If you move your mouse over these categories, a drop-down menu of subcategories for you to choose from will appear.
Clicking on the subcategory will present you with various profiles of freelancers that provide that particular gig. The amazing thing about Fiverr is that the gigs are detailed and you can easily compare them with others. You can also read reviews left by clients for a particular gig.

To provide the best services for businesses, Fiverr introduced Fiverr Pro. Freelancers go through a thorough vetting process to become Pro Verified. Their professional background, higher education and previous freelancing projects are taken into account. Those who are successfully vetted have the words 'Pro Verified' on their profile. This makes it easy for you to select outstanding talent.

There are different seller levels on the Fiverr online marketplace. To experience excellent results, look out for the Top Rated sellers on the platform. This rating shows consistency in delivering quality, responsiveness, order completion and on-time delivery.
After buying a gig, you can review your seller by evaluating their quality and communication as well as recommend their services to other buyers. This method also helps you to determine the service you'll receive based on other reviews.

Skill Tests
Upwork freelancers have the opportunity to impress potential clients with several skill tests availed to them for free. They are under no obligation to take them or even publish their results. These tests are not a key determinant of competence. It would be meaningless to have high scores and yet have poor reviews.
However, high skill test scores give clients confidence and build trust in the freelancer. Especially if it's important for a particular project. A client looking for a blog writer will be impressed with high scores in vocabulary, spelling, and grammar. These tests can be retaken after 180 days meaning that freelancers have the opportunity to improve their skills and take the tests again.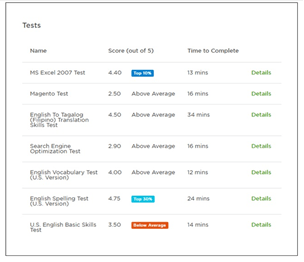 Fiverr also recently introduced skills tests so that sellers can earn buyers' trust. They are listed in several categories and can be retaken twice in a space of three months. Sellers are encouraged to take the tests but it isn't mandatory and they don't have to display their results if they don't want to.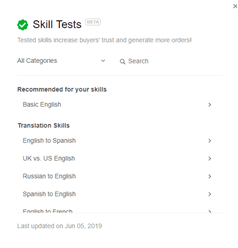 Dispute Resolution
Upwork's approach to dispute resolution sets it apart from other freelancing platforms. For matters to do with poor quality work, the client and freelancer must sort it out between themselves and the client can request for a refund. If it's not sorted with 30 days, you can contact their customer care for assistance.
However, in case a client can prove that a freelancer is charging for more hours than they worked on the project, the client can file a dispute. They can only do this within 5 days from the close of the billing period, not after.
Asking for a refund or contacting customer care does not equal filing a dispute. The client must take certain steps. After filling in the dispute form, Upwork contacts the freelancer. If they accept or ignore the dispute, the disputed hours are refunded to the client. If they challenge it, the matter is forwarded to a dispute specialist who reviews the issue based on the terms in the Upwork Hourly Protection.
Both parties should allow four working days for a final decision to be made. If they decide in favor of the client, the money billed for the disputed hours is put on the client's Upwork account. If the decision favors the freelancer, payment will be released to their account.
On the Fiverr website, disputes are not handled by mediators but are logged onto their 'Resolution Center'. After clicking the 'resolution center' tab, the buyer can click on one of these options:
Extend delivery time
Ask the seller for an update on the gig
Ask the seller to cancel the order
Subsequent prompts will vary based on what the buyer clicked. When you finally click send, the seller is required to respond either accepting or declining within 48 hours.
Escrow Payment Processing
Both platforms use the Escrow payment system. Upwork ensures that both the client and freelancer are protected by using this processing system. The client will have to pay for the project done and the freelancer will have to deliver what was agreed on.
The client deposits the agreed funds onto the escrow account of the freelance platform. The money is only released to the freelancer after completing certain milestones. Not only does it show your seriousness and commitment to paying the freelancer, it also protects you in case they do not deliver.
On Fiverr, the buyer is charged immediately (Fiverr charges) but the seller does not receive payment unless they deliver what was agreed and the buyer accepts it.
Project Monitoring
Due to hourly billing, Upwork has a billing tool called a work diary which visually records the activity of a freelancer. This tool takes snapshots every ten minutes of work-in-progress in hourly rows when they are on the clock. Clients are able to see the work being done and how many hours they took so that they aren't cheated. This is a billing tool and clients cannot use it to delete, edit or communicate expectations for the project.
Gigs on Fiverr have a fixed price via the marketplace and are not charged on the hour so this tool is not required. Each gig has a specific price and delivery time-line. As long as both seller and buyer agree and comply with the terms, there shouldn't be a problem. In case the buyer would like a status update on the gig, they can contact them directly.
Cost of Using the Freelancer Platform
For Upwork, several businesses prefer to begin with the Upwork Basic Plan where it's free to post a job. The only payment you'll make is the rate of the project that you will agree on with the freelancer and a standard administration and processing fee which is typically 3%.
Upwork also has three paid plans. Upwork Plus is recommended for small-to-medium businesses and will cost you $49.99 per month. It contains everything in the basic plan and more. A dedicated account manager is assigned to you to help with hiring high-quality talent quickly. You also get additional tools to help you obtain top-level freelancers easily. If you're approved and make payments via bank transfers, you won't need to pay additional processing fees.
Upwork Business is priced at a whopping $499 per month and includes everything in the Plus plan. It is best suited for bigger businesses that require more robust tools. This plan offers you consolidated invoicing and billing, detailed reporting and a team of advisors to make the hiring process successful. In addition, you will pay 10% client processing fee.
Upwork Enterprise is for companies that require a solution that is customizable to their model, so the price varies depending on your specific business needs. It includes everything in the Business plan plus project-based solutions, customized contacting and worker classification services.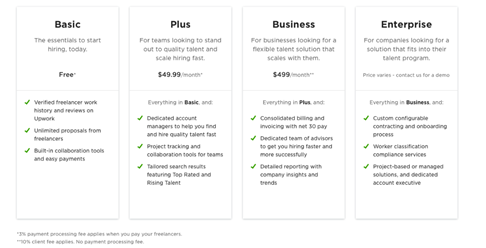 Fiverr will only charge you a processing fee of $1 on gigs that cost up to $20. For gigs above $20, you are required to pay 5%.
Upwork vs Fiverr: is Upwork or Fiverr Better?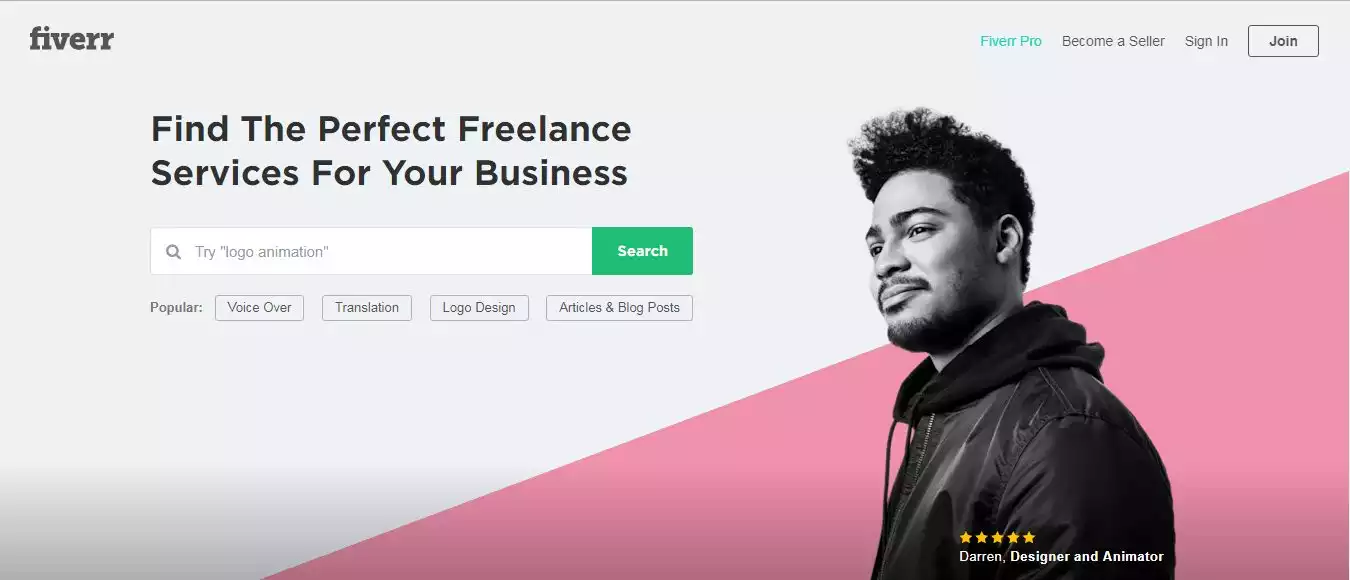 Both platforms Upwork vs Fiverr have benefits to working with their freelancers. Upwork has a giant pool of global talent, which is a good thing but can also turn out to be overwhelming. Freelancers are required to provide services that are related to a similar set of skills.
You have control over the recruiting process and it's easy to communicate with freelancers. It's perfect for one-off tasks but long term contracts also work well and it does not require upfront payments.
However, you might fall, victim of scammers, if you aren't alert. Thankfully, whenever Upwork is notified, they close those scammer accounts. It's important that you do your due diligence before hiring anyone for a project. You will not be able to get a refund when a milestone has been approved and paid.
Bottom Line: If you need a project to be done quickly and at a low cost, Fiverr is your go-to platform. The gigs are specific and easy to choose from. Simple tasks like adding music to a video, creating a power-point presentation and proofreading a staff handbook are some of the gigs you'll find on the platform. In short, I like to START with Fiverr Pro and then use Upwork only if I'm not finding what I need.
Freelancers can provide gigs that cover a wide range of skills. Payment to the seller is made when you accept the final product. After our comparison of Upwork vs Fiverr, its time to make your choice. So, will you go with the more seasoned freelancers on Upwork or the low-cost freelancers on Fiverr?
Here is another related article you may be interested in: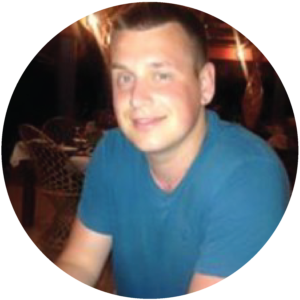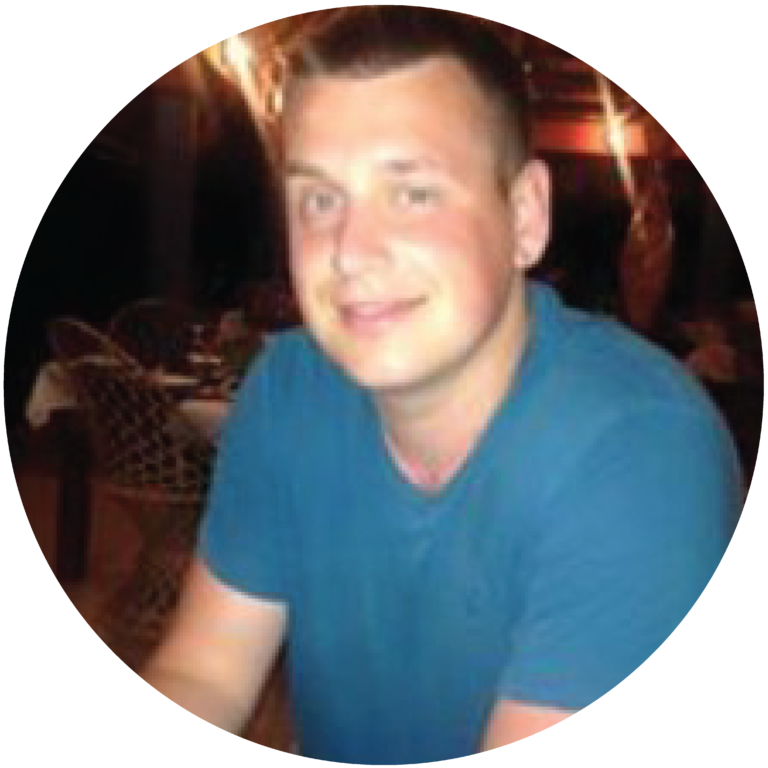 Latest posts by Ewen Finser
(see all)
Get 40% OFF for 3 Months