Last Updated on April 22, 2023 by Ewen Finser
Whether you're a new entrepreneur or a veteran, you'll know all too well that running any business involves juggling lots of plates in the air.
Whether it's ensuring optimum stock levels, hitting sales targets, managing customer service, or undertaking competitor research, the to-do list is often seemingly endless.
That's why more and more business owners are turning to competitor analysis software to unlock valuable insights into their competitors':
Marketing campaigns

Social media presence

Pricing strategies

Earnings reports

Share prices
…and more.
One such company used by small businesses and household names alike is SimilarWeb. With so much hype surrounding them, we're providing the low down on who SimilarWeb is and what they offer – explicitly zoning in on its accuracy.
There's lots of info to get through, so let's take a breath and dive in.
The Importance of Competitor Analysis: Why Bother?
It doesn't matter whether you're a savvy wannabe business owner or you're already operating; you have to stay on top of your game. This involves staying up to date with what competitors are offering and how. With this info to hand, you're better positioned to identify your competitors' strengths, weaknesses, and what they're planning next.
On top of all that, successful competitor research should shine a light on the strength of your competitor's brand. With these insights, you can fine-tune your marketing strategy and better identify new business opportunities to boost your bottom line.
What's SimilarWeb?
So, what's SimilarWeb?
In short, SimilarWeb describes itself as an 'official measure of the digital world.' It's used by famous names, including Booking.com, Walmart, Google, Adidas, Adobe, DHL, and many other digital brands. In fact, SimilarWeb says that more than 50% of Fortune 500 companies rely on its data. Impressive, right?
Founded in 2007 in Tel Aviv, Israel, by Orr Offer, the company soon attracted outside investors. The company has offices in Tel Aviv, New York, San Francisco, and London. Fast forward to 2021, SimilarWeb went public on the New York Stock Exchange with a valuation of $1.6bn.
With so much success to its name, it's no wonder the company boasts accolades like Best Alternative Data Provider in 2020. This was awarded to them at the Hedge Fund Magazine's European Technology Awards. SimilarWeb was also recognized in 2015 as one of Europe's top 100 fastest-growing companies by Red Herring.
Put simply, SimilarWeb is a web analytics platform offering a range of data intelligence solutions in the following areas:
Digital research intelligence
:
Including benchmarking, company and market research, the consumer journey, and audience analysis
Digital marketing intelligence
:
Including keyword optimization, competitor analysis, ad research, media buying, and affiliate optimization
Digital sales intelligence
:
Including lead engagement and enrichment, fraud detection, and sales engagement data
Investor intelligence
:
Including stock intelligence and alternative data
Shopper intelligence
:
This refers to online shopper behavior and online buying habits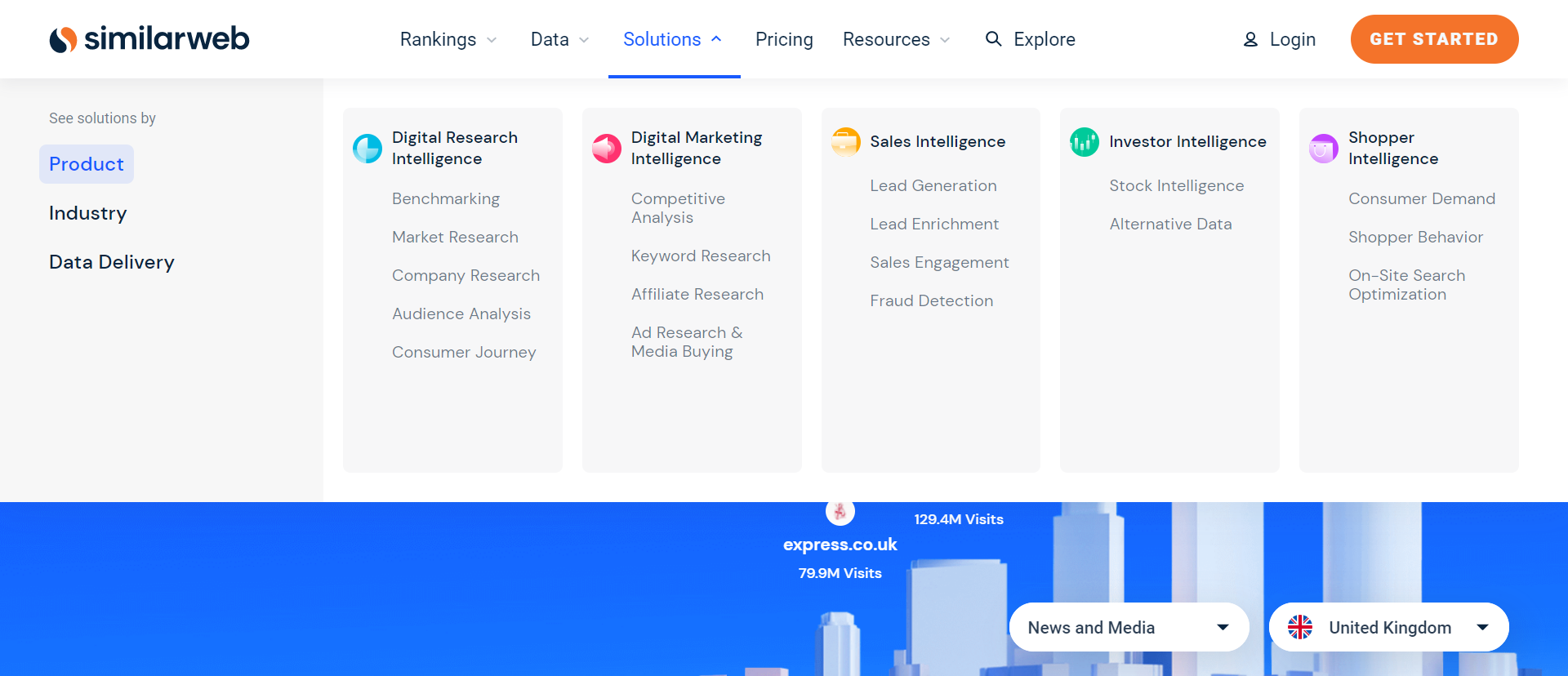 How SimilarWeb Works
First off, SimilarWeb collects website data. Then it runs its algorithms to 'clean, match, synthesize, process input, and blend inputs for data modelling.' The data is then run through SimilarWeb's advanced machine learning to provide users with accurate readings of the digital world over different periods.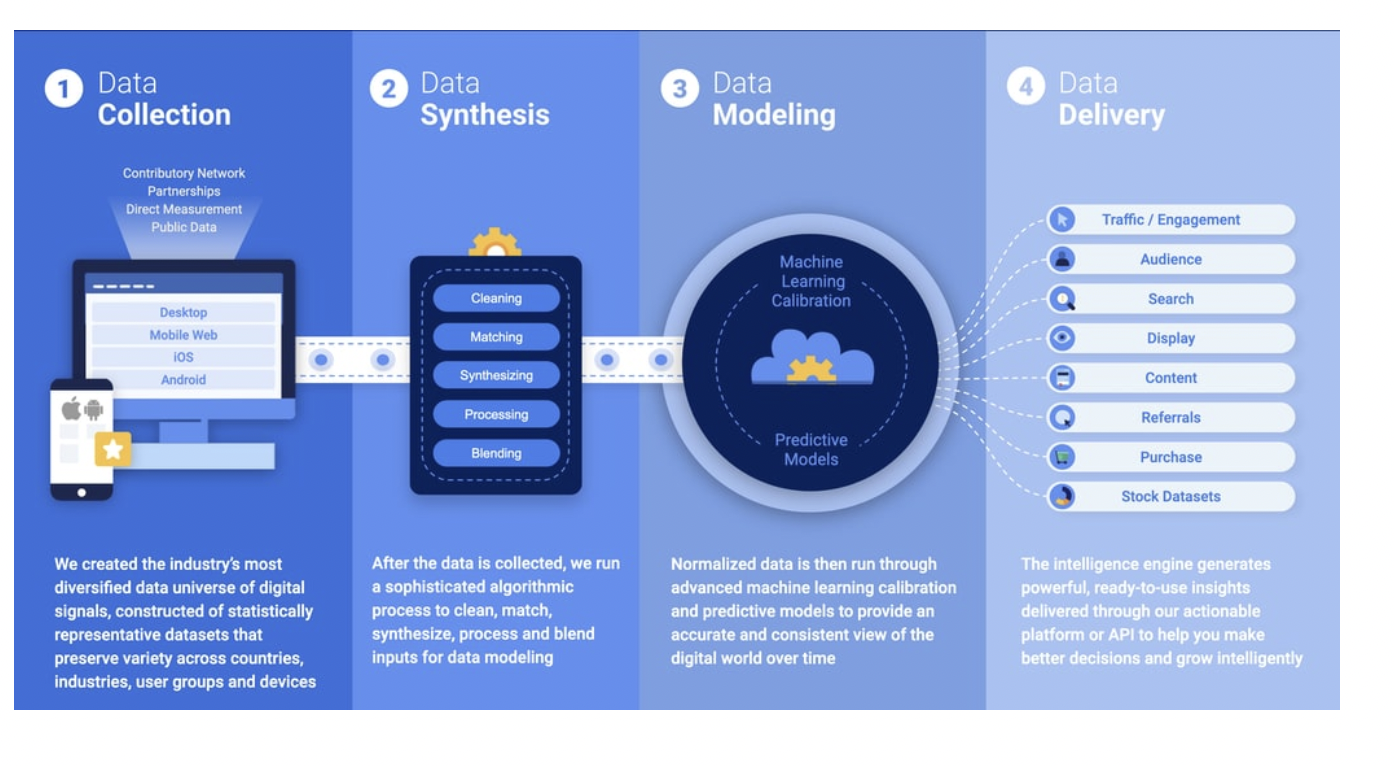 How Accurate is SimilarWeb?
SimilarWeb has been measuring data for over a decade. In fact, it analyzes around 2TB of data a day, collects 10 billion digital signals a day, and generates 10,000+ daily reports. In addition, 200 SimilarWeb data scientists pull all this work together.
Here's what they do:
The site acquires its data from four different sources to calculate the information its customers need:
Anonymous app website owners using first-party analytics such as Google Analytics

ISP (Internet Service Provider) data from around the world

Browser plugins and extensions

Data measured from selected websites such as census data, Wikipedia, etc., – basically any publicly available site.
SimilarWeb has a powerful web crawler that scans more than 2 billion web pages every month. They also have over 200 million monitored devices across 190+ countries, achieved by partnerships between SimilarWeb and local service providers in different countries.
The upshot
All these websites are connected and therefore linked to SimilarWeb's databases. Consequently, SimilarWeb can verify its data to provide customers with as statistically neutral information as possible. As such, what you're seeing is data that's similar in appearance to data in Google Analytics, making it trustworthy.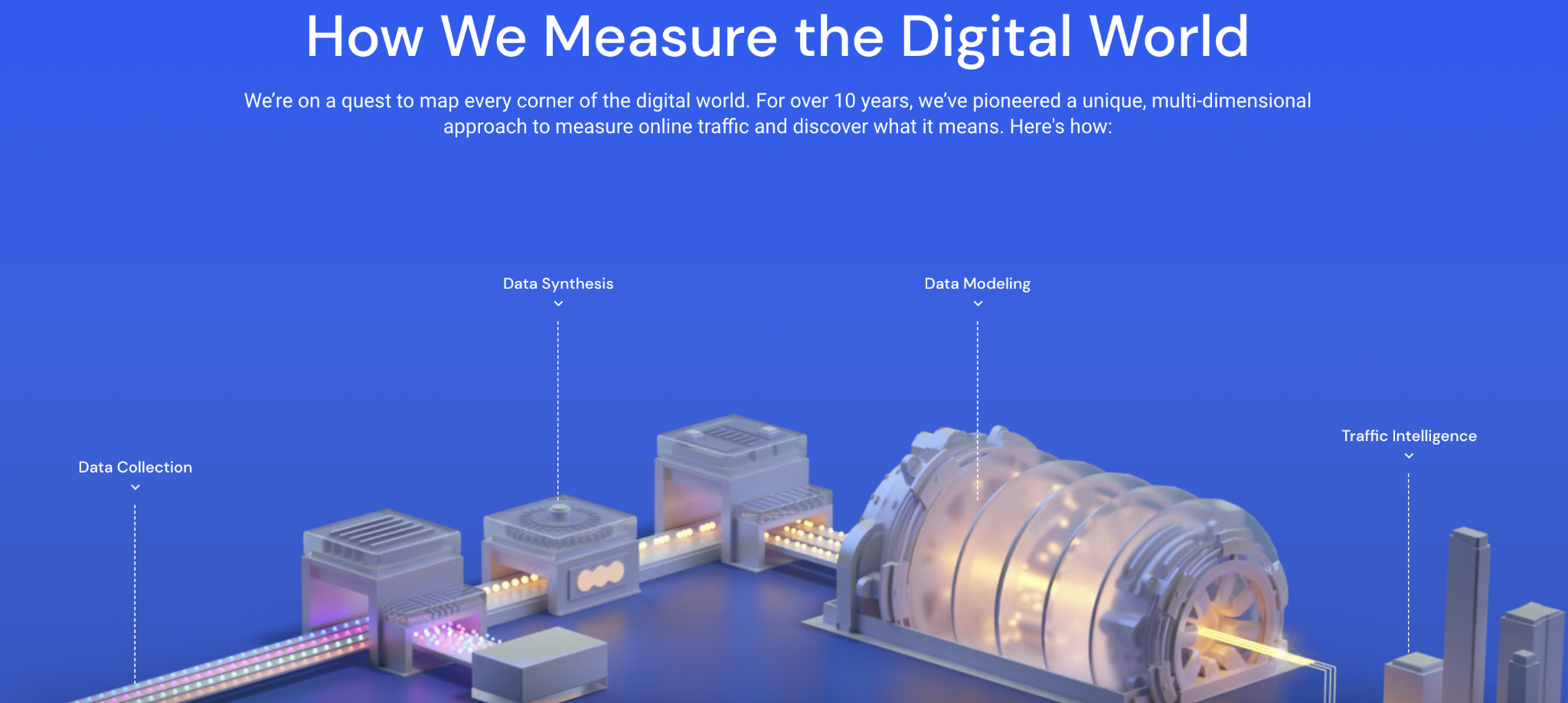 SimilarWeb's Tools
Drilling down a bit further, we checked out some of SimilarWeb's tools to provide a better insight into how they work:
Traffic Overview
For this review, we chose two websites to compare: the New York Times vs. the New York Post. We simply typed "New York Times" into the search bar on the home page and clicked the search icon. From there, you simply click on the + Compare button of the "New York Post" and up pops your analysis.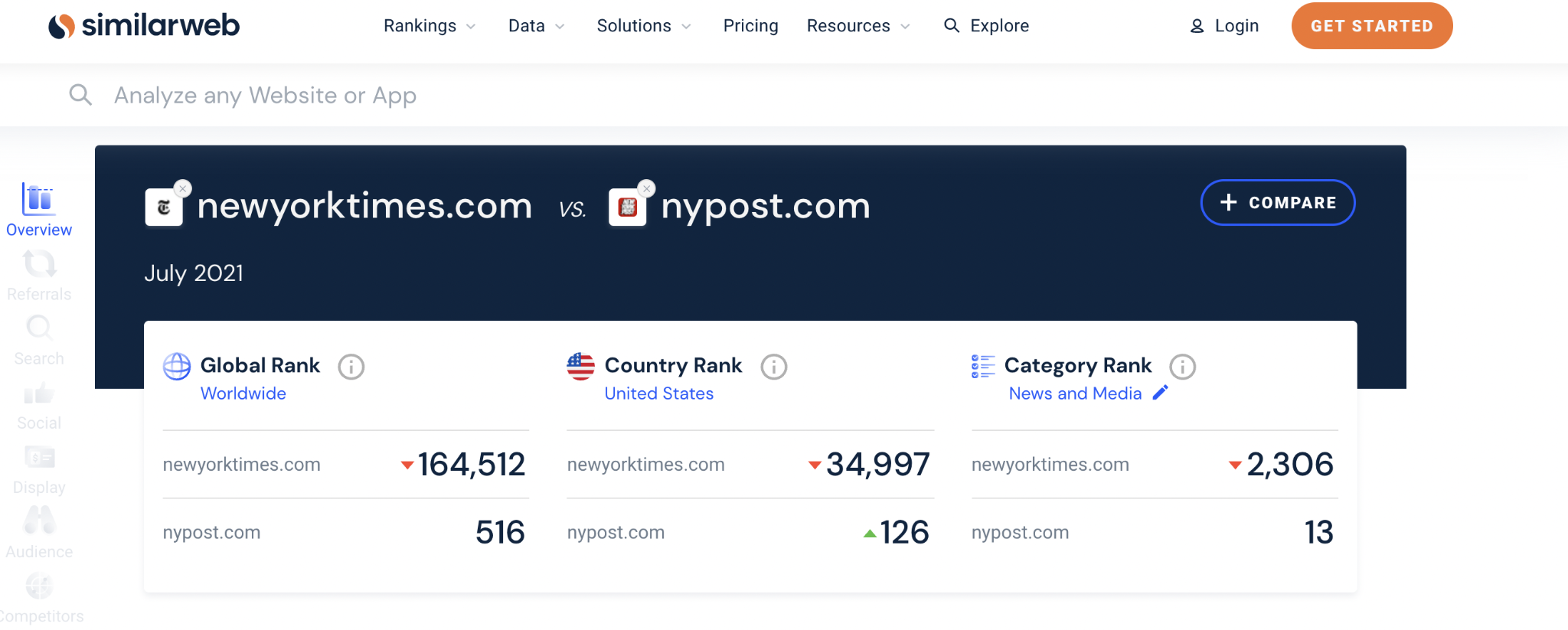 Immediately this populated their worldwide, US domestic, and category rankings compared. While it's unclear what SimilarWeb means by "worldwide" we can say it does include countries in Europe, South America, the Middle East, Asia, and South-East Asia. The worldwide rankings relate to the traffic rank of sites on a global scale. The US domestic rankings relate to the US traffic rank of the site and comparing it against the country where it's best ranked.
We also saw their bounce rates, the total number of visitors the websites received over the past six months, average visit duration, where their traffic came from (such as social sites or direct to website), etc.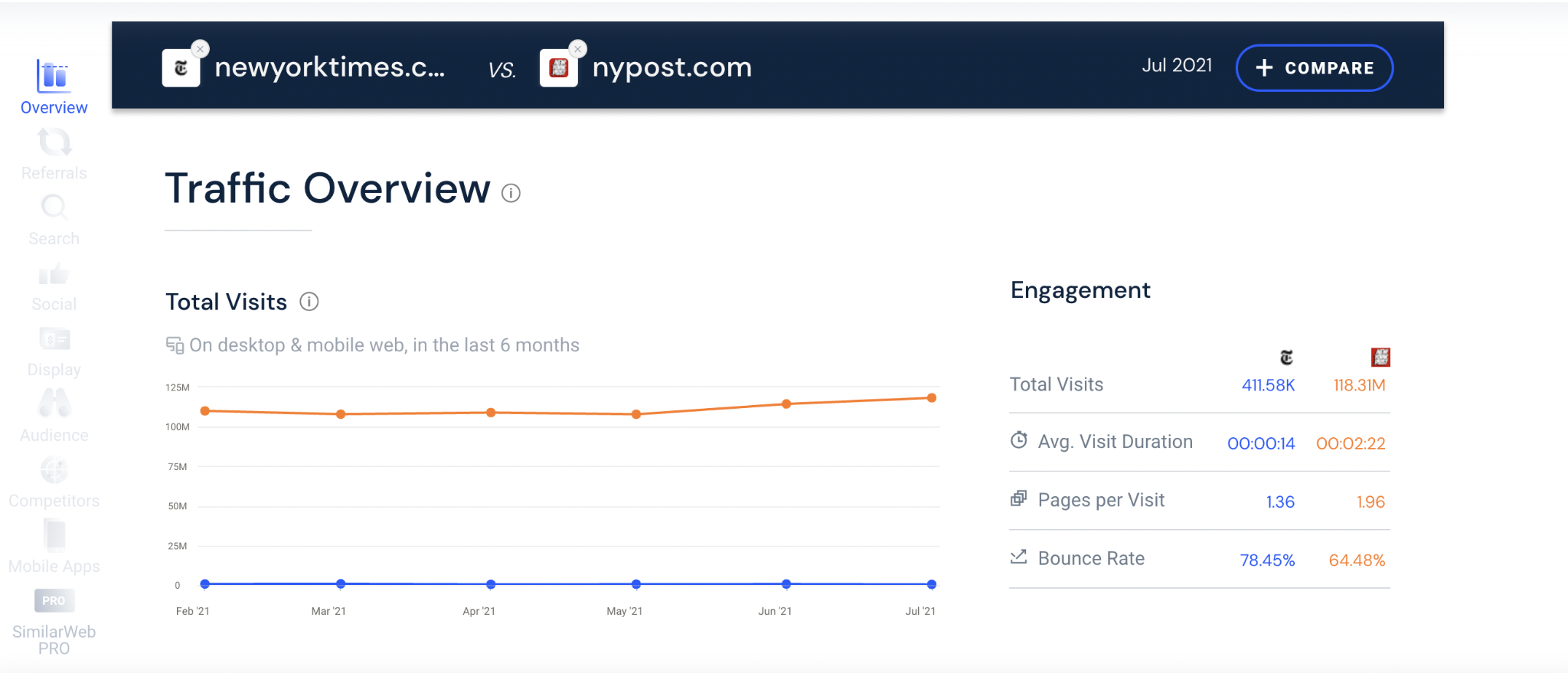 You can generate more in-depth reports, but only if you pay. These reports give you the tools to:
Benchmark yourself against your main competitors

Look at your competitors' marketing strategies across different countries

Conduct keyword research based on your website's traffic stats

Find new ways to attract visitors by learning from your competitors' mistakes
Audience Overview
As the name of this tool suggests, you can use 'Audience Overview' to find out more about your competitor's target audiences.
Again, we looked at the two media outlets mentioned above and managed to glean information about their audience's interests, the other websites they regularly visited, and so on. You can also use this tool to assess your competitor's website rankings, their total number of site visitors, which country their audience views from, etc.
Keyword Research
Using this tool, you'll get access to info on over one billion keywords. Needless to say, this is worth its weight in gold when it comes to building a sturdy keyword strategy that boosts your website's SEO.
You can find out which keywords your competitors are using successfully, generate thousands of fresh keyword ideas based on current trends, near word matches, and question queries typed into search engines.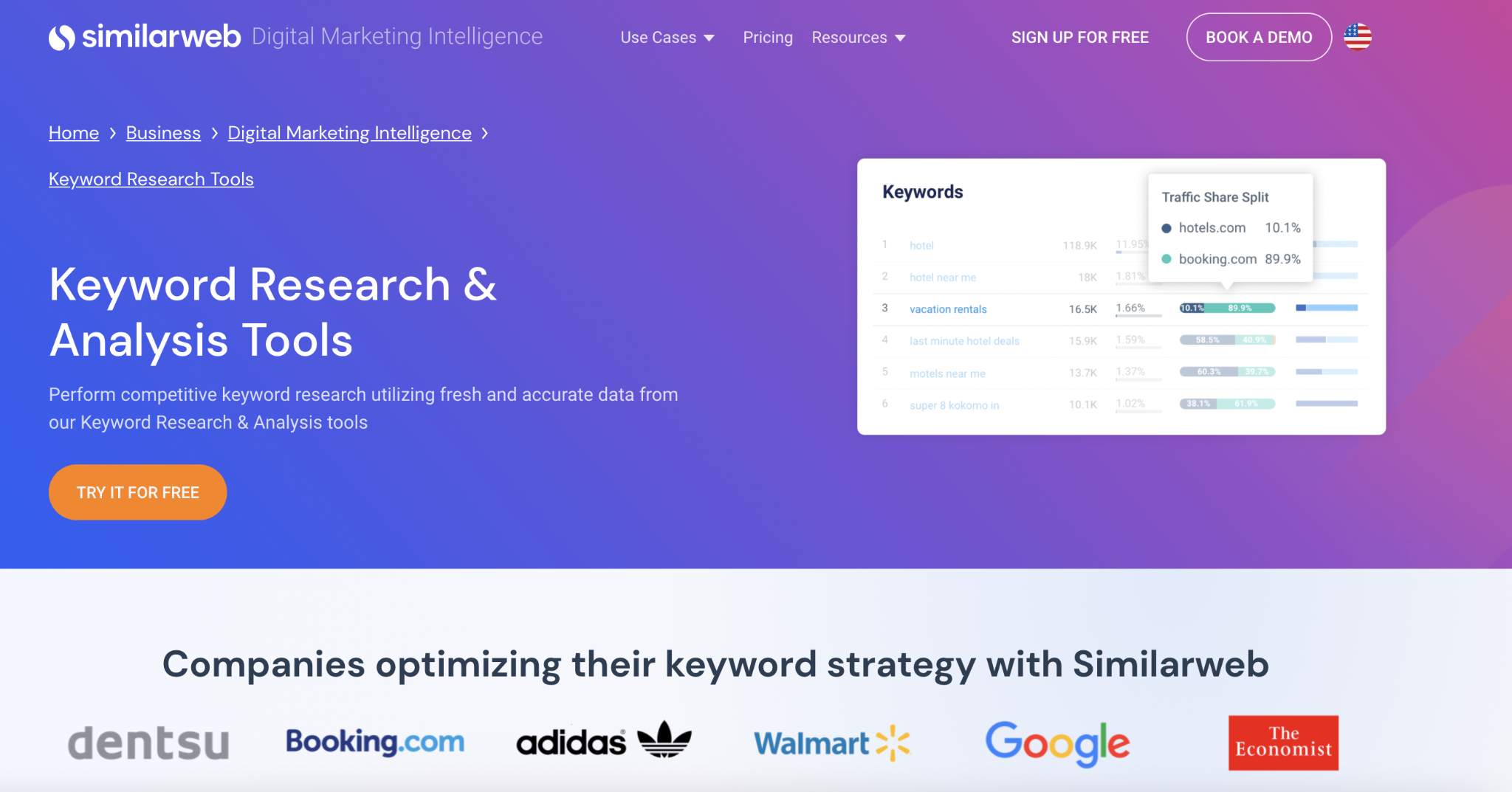 This same tool reveals the share of website traffic your chosen keywords attract. You can also view figures on keyword data over the past week to optimize campaigns in real-time and stay ahead of your competitors. You can even see data about your competitor's paid and organic traffic engagement.
Finally, you can benchmark your keywords and keep on top of how they're working in your industry to stay ahead on keyword trends.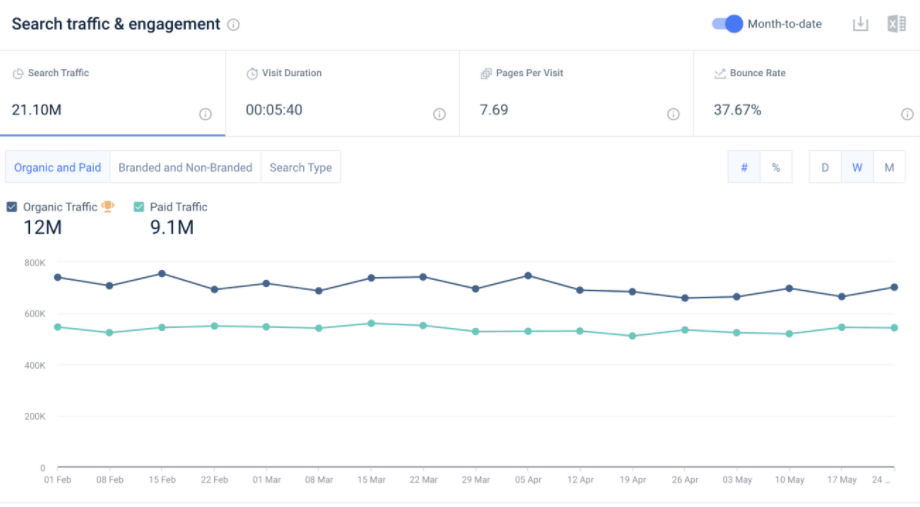 There's also an interesting sub-tool within the Keyword Tool, called the Keyword Gap tool. This analyzes the keywords that send traffic to your competitors.
When using this tool, you can add any websites you like to see how your chosen keyword rankings compare against each other.
SimilarWeb: The Pros and Cons
First, let's take a look at the pros:
SimilarWeb's Pros:
You're in good company since it's used by some pretty big digital brands, which makes us think SimilarWeb's gotta be doing something right!

Its interface is relatively user-friendly.

The free plan offers limited functionality – one month of mobile app data and three months of web traffic data.

SimilarWeb's free tools are easy to use

You can cancel your subscription at any time.
SimilarWeb's Cons:
SimarWeb comes with a bit of a learning curve if you're an absolute beginner.

There are only two pricing plans: Free and Enterprise – there's nothing in between. That said, once you sign up with your email address (free) there should be inner pricing pages for different packages. These tend to change frequently so your best bet is to sign up and see what tailored offers you can see.

There are no visible prices on the website, you have to speak to a SimilarWeb consultant for a quote, and there were no prices visible when we scoured search engines and reviewed sites either. So clearly, SimilarWeb is keeping its costs well under wraps!
Reverse Engineer What Works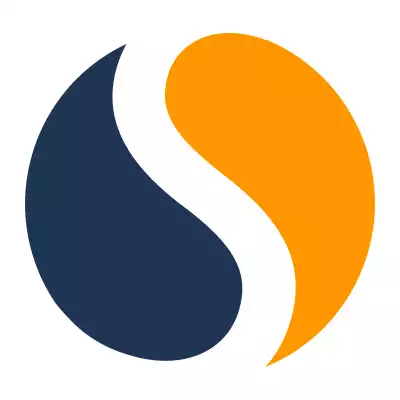 Why Go with Similarweb?
I love Similarweb for it's ability to provide deep market research insights, reverse engineering almost ANY digital footprint to find out what's actually working. Great for competitive research. Particularly if you are an affiliate or brand manager, ad buyer, or SEO operator. Yes, it's pricey & it won't replace other tools, but it will supercharge market insights (in my experience).
Try Free for 7-Days
We earn a commission if you click this link and make a purchase at no additional cost to you.
SimilarWeb vs Google Analytics
The data you receive from SimilarWeb is sometimes different from data you might see using only Google Analytics.
The reasons are threefold:
SimilarWeb uses different methodologies to gather its data – for example, their practice of removing duplicate copies of repeating data. SimilarWeb goes into tons more detail about its methods on its website. But, suffice to say that simply because its results are different from Google Analytics doesn't mean they're inaccurate.

SimilarWeb doesn't simply rely on analytics, algorithms, and trackers. It also uses a team of data scientists to ensure page visitor numbers aren't under-reported due to codes being incorrectly installed or missed out. On a similar note, SimilarWeb's hybrid approach better enables them to identify when a company might have added trackers to other aspects of its business, such as plugins, emails, apps, and widgets. They use this off-site data in their stats.

SimilarWeb suggests that anyone wanting to check its accuracy against a direct data measurement tool such as Google Analytics needs to ensure the parameters are the same in terms of time frame, device, and metrics. Again, taking a unified approach helps ensure a fairer comparison.
To sum up, there's no reason why you can't use SimilarWeb and Google Analytics hand-in-hand to gain as much of an unbiased picture as possible about your eCommerce business.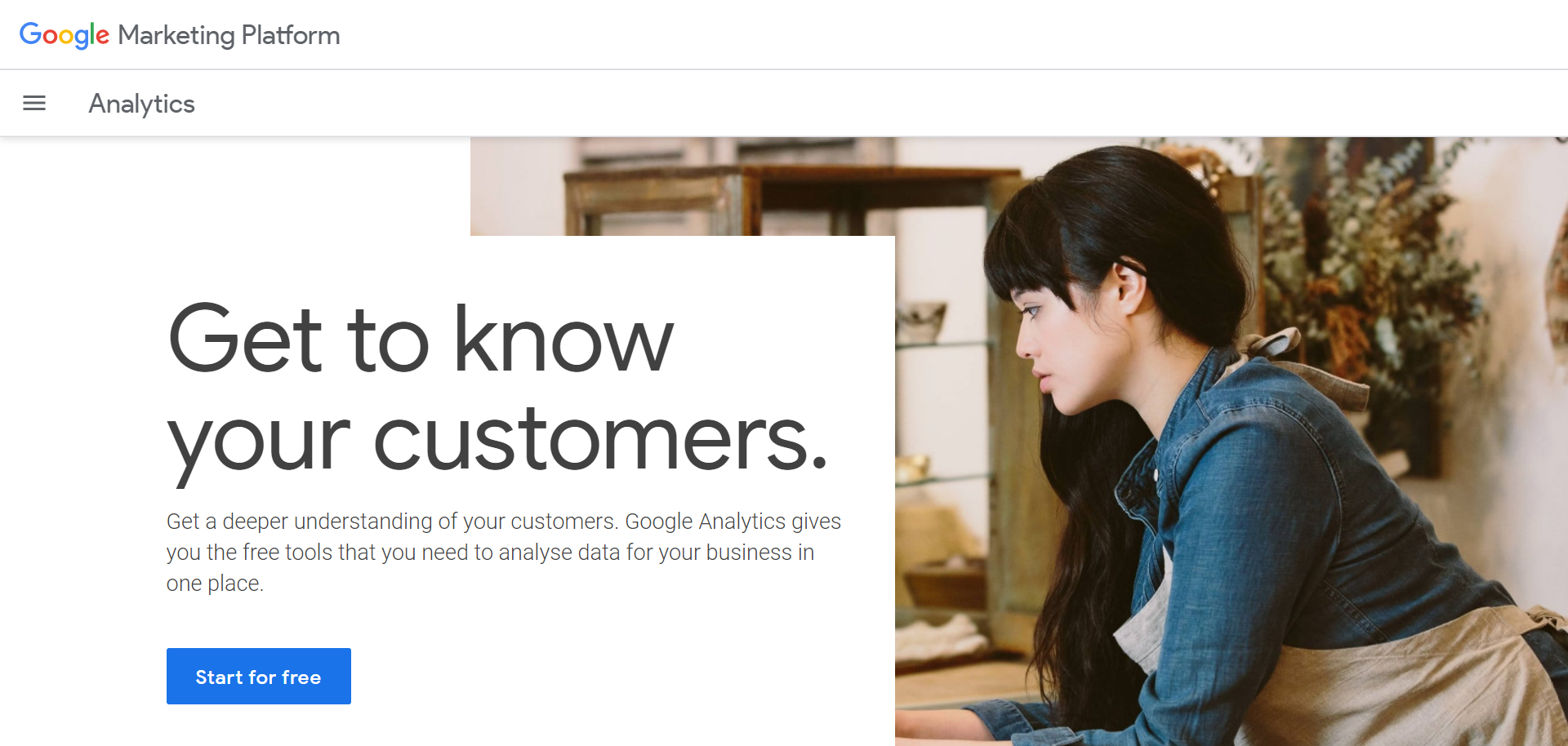 SimilarWeb vs SEMrush
Also popular is the digital marketing insight platform SEMrush. Created in 2008, SEMrush is one of the most popular SEO marketing tools out there, with over seven million users. However, there are several differences between SimilarWeb and SEMrush:
Prices are visible on the SEMrush website, with three plans. The Pro one starts at $99.95 a month if you pay annually upfront. If you choose to pay monthly, it's more expensive, starting at $119.95 a month. The Guru plan prices start at $191.62 a month if you pay annually upfront or $229.95 a month if you pay monthly. Lastly, the Business plan prices start at 374.95 a month if you pay annually or $449.95 a month.

Now we turn to accuracy. While we know SimilarWeb's dependent on its web crawlers and user panels for its data,

SEMrush handles things a bit differently. SEMrush is built on databases holding almost 8 million keywords used around the world. As such, where SimilarWeb excels in providing data on specific industries and brands, SEMrush is more generic search marketing software.

SimilarWeb primarily focuses on analyzing website traffic, while SEMrush is more about statistics on pay-per-click (PPC) ads, social media statistics, online visibility, and SEO.

SimilarWeb and SEMrush also have some similarities. Both platforms come with benchmarking tools that compare and contrast websites in terms of:

Visitor numbers

Bounce rate

Session length
…and so on.
Exclusive Offer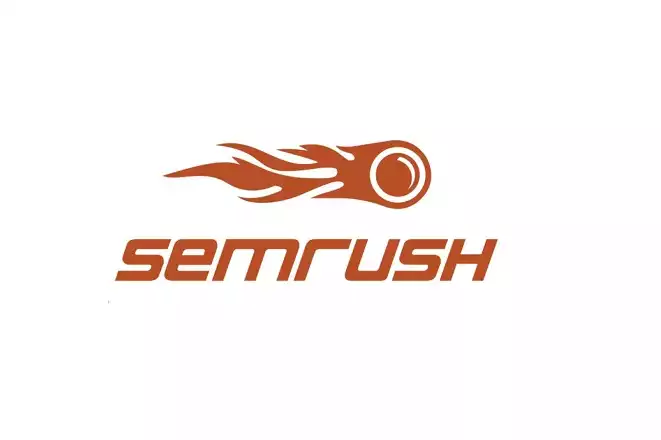 Get 14 Days of FREE SEMrush
SEMrush has generously offered our readers a double extended fully featured FREE TRIAL. Play around with the suite for 2 full weeks to see if it's what you need!
Activate FREE SEMrush
We earn a commission if you click this link and make a purchase at no additional cost to you.
They also both enable you to compare competitor performances, more specifically, they provide data on SEO and PPC. Lastly, and importantly, both offer analytics tools that track organic and paid-for keyword searches.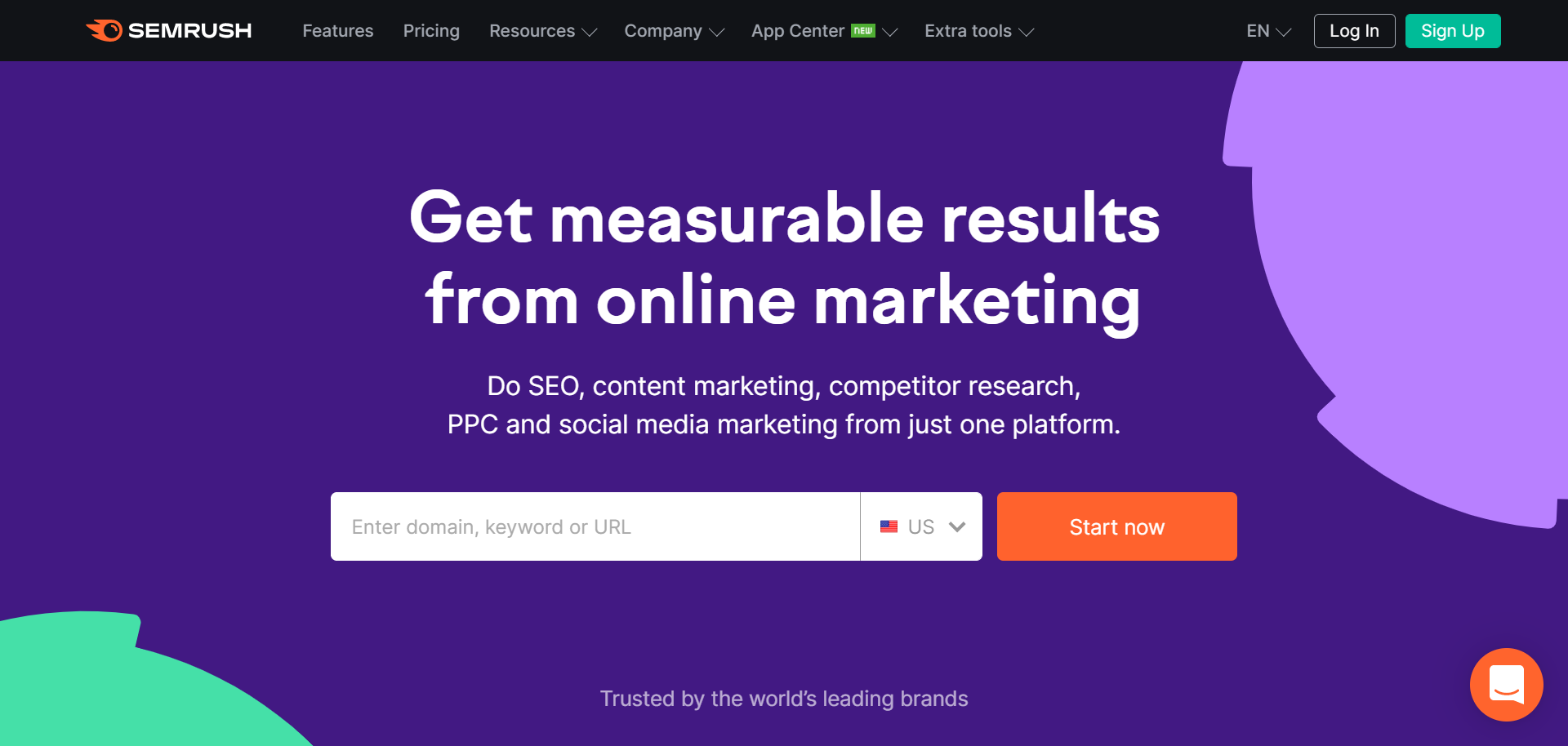 SimilarWeb vs Ahrefs
A cheaper alternative to SEMrush and possibly SimilarWeb (prices unknown! )is Ahrefs. This all-in-one SEO toolkit often pops up in comparison reviews and with good reasons:
Ahref is affordable, with a week-long trial for $7 and four price plans: Lite, Standard, Advanced, and Agency. These have annual upfront fees of $82 a month, $149 a month, $332 a month, and $832 a month, respectively. Prices are higher if you pay per month at $99, $179, $399, and $999 respectively.

Ahref's popularity is often attributed to it having what it claims to be the world's most extensive backlink index. For example, if you enter a domain name into Ahrefs, its SEO tool provides info on URL ratings and organic traffic based on the number of backlinks pointing to it. In addition, you can view which websites link to your competitors' sites and assess the quality of their backlink profiles to gauge how you square up.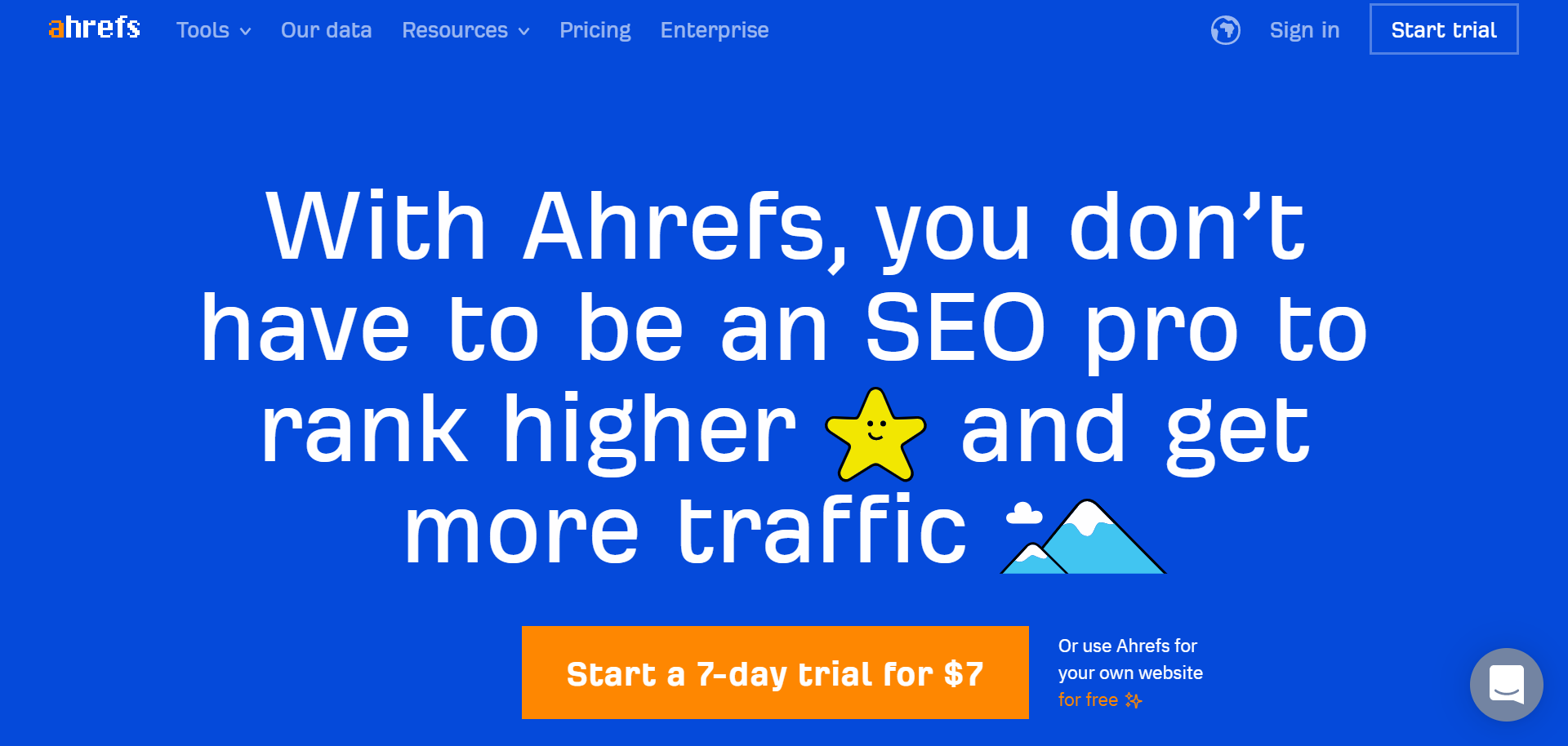 What The Reviews Say
Looking at a few popular review sites, SimilarWeb has a mixed reception. Trustpilot users give it an overall 2.3-star rating out of a possible 5, with 42% of users rating it 'excellent, while 50% rate it as 'poor' or' bad.' Reviewers complain about an outdated database, poor customer support, and a lack of data. On the other hand, fans of the site enjoy the information it provides on website traffic and competitor performance. So, all in all, it's a mixed bag.
We also took a look at G2 reviewers. Generally speaking, they're more optimistic about SimilarWeb, with the site coming out around 4.5 stars out of a possible fie. Reviewers praise how easy it is to use, its informative insights on digital marketing, and its excellent user interface. However, a few unhappy reviewers were critical of inadequate responses from customer service and inaccurate data.
SimilarWeb's response to such criticisms is that 'we are not a website analytics tool like Google Analytics or Adobe Analytics; we don't claim to have perfectly accurate individual website data. Those individual tools often don't even have the same data as each other, so accuracy or a single version of the truth becomes a bit difficult to nail down. What we do claim is that our trending and overall market analytics are very accurate.'
There are also a few analysis pieces out there about SimilarWeb's accuracy levels. However, the consensus appears to be that the site, by and large, is more accurate than its competitors, such as Alexa, Ahrefs, and Semrush. The conclusion is that SimilarWeb seems to overestimate by just 1% when analyzing organic website traffic and overestimates visitors by around 17% – which by industry standards is pretty good going!
FAQs
Question: If SimilarWeb is the most accurate tool, how does it get and analyze its data to ensure accuracy?
Answer: Every day, the platform analyzes billions of digital signals from four sources:
• Public data from billions of websites and apps. SimilarWeb uses an advanced algorithm engine that captures and indexes this data.
• Through a contributory network of anonymized consumer behavioral data
• Directly measuring millions of apps and websites that share their first-party analytics with SimilarWeb
• Through its partnership with a global network of organizations that collate digital signals across the internet
• After collecting all this data, SimilarWeb uses its sophisticated algorithms to clean the data up for modeling. At the modeling stage, the data is run through advanced machine learning. It's this stage that gives you the most accurate and congruous view of the digital world over a period of time. Lastly, SimilarWeb's intelligence engine creates powerful insights that you can use to make better business and marketing decisions.
Question: Does SimilarWeb have an app?
Answer: SimilarWeb launched an app in 2017 so that customers can access valuable insights from the convenience of their mobile device, while on the go.
At the time of its launch, it was the first-ever market intelligence app out there. Users can download it either from the Apple App Store or Google Play.
The app allows you to:
• Get daily notifications on keyword statistics, changes to digital traffic, and more.
• Keep an eye on your site's performance in real-time
• Share insights with team members and on your social media channels
Question: Does SimilarWeb have a social media presence?
Answer: Yes, SimilarWeb has an active presence on Facebook, Twitter, LinkedIn, and YouTube. These channels are a simple way of gaining fast access to the freshest company and product news. You'll also find investor news and links to any pertinent blogs on SimilarWeb's site.
The SimilarWeb YouTube channel has 2,800 subscribers at the time of writing. Head here if you're interested in watching clips on various topics, including Why we love working at SimilarWeb, Career advice, and Shopper Behavior on Amazon.
Question: Can I disconnect my Google Analytics account from SimilarWeb?
Answer: Yes, if you're a free trial user and have decided SimilarWeb isn't for you, simply log into your Google Analytics account to remove SimilarWeb and follow these steps:
• Click on 'Security'
• Click on 'Third-party apps with account access
• Click on the SimilarWeb icon and then the 'Remove Access', button.
It's that simple!
How Accurate is SimilarWeb?: Our Verdict

Reverse Engineer What Works

Why Go with Similarweb?

I love Similarweb for it's ability to provide deep market research insights, reverse engineering almost ANY digital footprint to find out what's actually working. Great for competitive research. Particularly if you are an affiliate or brand manager, ad buyer, or SEO operator. Yes, it's pricey & it won't replace other tools, but it will supercharge market insights (in my experience).

Try Free for 7-Days

We earn a commission if you click this link and make a purchase at no additional cost to you.
Ultimately, it's your decision which tool you use to improve your competitor and keyword research. However, based on what SimiarWeb itself says about how it collects and measures data, we'd say it certainly sounds as if it warrants its popularity amongst big name brands.
The downside is always going to be the cost if you're an SME. While no fees were available at the time of writing, we'll take a punt and say we imagine prices are steep if you want more than just the basics offered by the free plan.
That said, why not try SimilarWeb's free plan and use it alongside your usual tool, such as Google Analytics, using the same parameters as SimilarWeb suggests and give it a run for its money? After all, you have nothing to lose by giving it a whirl!
Are you considering using SimilarWeb or one of its competitors? Whatever you decide, let us know in the comments below!
Related Reading on Similarweb Compared to Other Competitors: