Ecommerce continues to increase year after year. In 2019, eCommerce sales reached 14.1 percent of global retail. By 2023, the percentage is expected to account for 22 percent of all retail sales.
As a consumer, you might have heard of Shopify vs eBay, but picking out the best platform as a business owner can be more difficult. You will need to consider the platform's selling support, fees, and scaling your business.
Although Shopify and eBay both allow you to sell products online, that is where their similarities end. Both have unique features that should help you quickly distinguish which platform is more suited for your needs.
Our in-depth comparison walks you through the main features, pros and cons, and monthly pricing to make an informed decision on where to host the best online business for your needs.
Why Shopify Wins
There are PLENTY of ecom platforms out there. Only one has a true NETWORK effect that can catapult your growth. Shopify has thousands of developers building apps and a robust ecosystem of integrations. This cannot be ignored. #ShopifyWins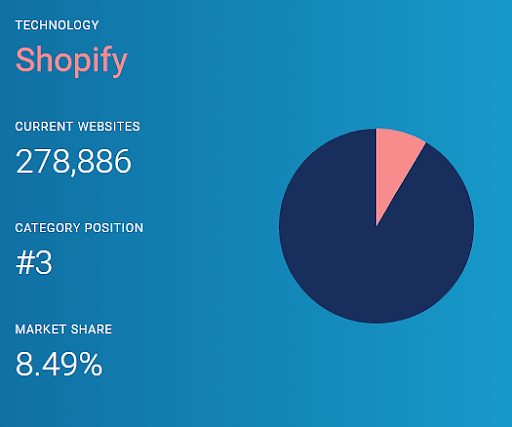 We earn a commission if you click this link and make a purchase at no additional cost to you.
The Main Differences Between Shopify vs eBay
The main differences between Shopify vs eBay are:
Shopify allows you to use your domain, whereas eBay does not.
Shopify features no transaction fees when using Shopify payments, whereas eBay has transaction fees after each listing has sold.
Shopify offers premium templates created by independent designers, whereas eBay does not offer online store customization.
Shopify features a bulk upload of inventory through a CSV file, whereas eBay does not.
Shopify offers third-party integrations, whereas eBay does not.
eBay is a marketplace platform with access to over 180 million active users, whereas Shopify is not.
eBay provides healthcare solutions to its PowerSellers, whereas Shopify does not have a similar service.
The Similarities
eCommerce platform
The monthly subscription fee for premium features
Accepts PayPal
International sales support
Powerful mobile app
Shopify vs eBay: What is Shopify?
Shopify is an all-in-one eCommerce solution that combines store customization with inventory management and shipping solutions. users also have control over their online business marketing within the platform which helps build trust and a relationship with your customers.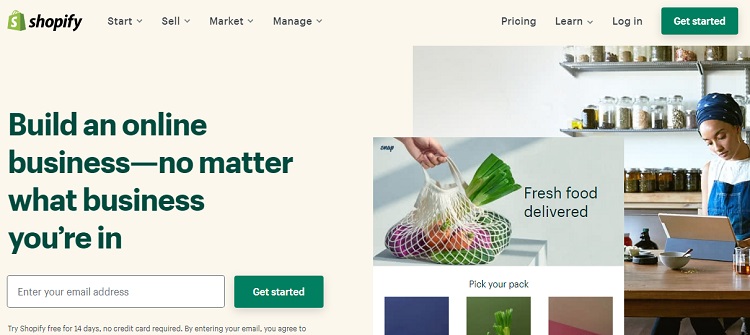 Shopify vs eBay: What is eBay?
eBay is well-known and for good reason. It is the world's first online auction platform and was introduced to consumers a mere year after Amazon.
While eBay started as a way to get rid of used items, eBay has grown to offer new products, liquidations, and even handmade items. If you are interested in listing single products, a free account is all you need.
If you have a lot of inventory to move (at least 100 products) or need to list multiple quantities of the same SKU, paying a monthly subscription fee to open an eBay Store is recommended.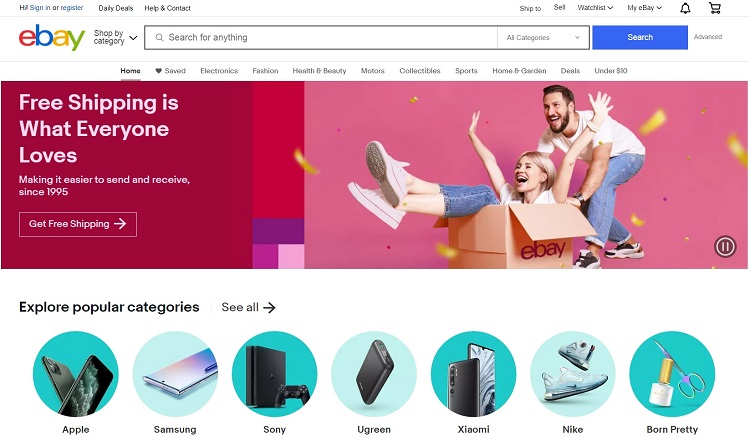 Whether you choose a free account or a paid subscription, listing your products for sale is a breeze. Take a few pictures, complete the pre-built listing categories, and publish. You can even list all of your products with just a smartphone and an Internet connection.
The Main Features of Shopify
Templates
Shopify's templates all feature eCommerce so you won't have to worry about finding the perfect theme and then having to add on a shopping cart. Plus, many are created by independent designers so you can get a professional look without the cost of hiring a design team.
Once you find a theme that you like, keep in mind you can hide certain sections within the template without removing them from the template. This is beneficial when you want to scale. Simply add the sections back in when you want to scale or switch up your design without starting over.
Customization
One of the clear advantages of Shopify versus eBay is the ability to customize your store using premium themes, third-party apps, and your domain name. Although it takes more work to get your site up and running (compared to an eBay Store), you have a lot more control over the final result.
The Shopify App Store integrates shipping, logistics, payment options, push notifications to customers, and more. Plus, Shopify has transparent and easy to understand fees, unlike eBay's laundry list of miscellaneous charges.
Shopify POS
Shopify is more than just an online platform. If you are planning on selling your products at a brick and mortar shop, festival, pop-up, etc., Shopify has the software and hardware to support multiple sales avenues.
Why Shopify Wins
There are PLENTY of ecom platforms out there. Only one has a true NETWORK effect that can catapult your growth. Shopify has thousands of developers building apps and a robust ecosystem of integrations. This cannot be ignored. #ShopifyWins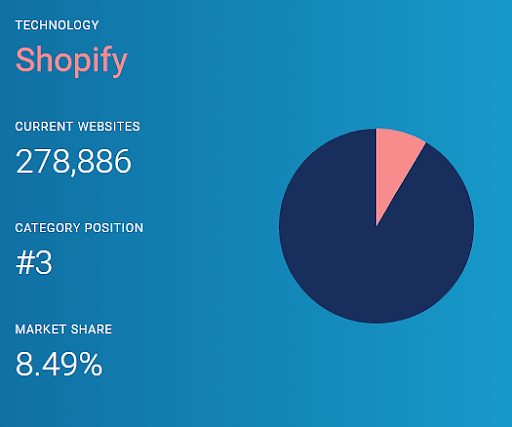 We earn a commission if you click this link and make a purchase at no additional cost to you.
The Main Features of eBay
Ease of Use
Not into web design or coding? Nothing is stopping you from getting started. No templates to browse and no apps to integrate. An eBay Store is super easy to set up, you won't need a tutorial or manual to get started.
Photos can be uploaded via mobile app and listings can be carbon copied via a similar listing from another user. Plus, PayPal is already integrated so you don't need to worry about choosing a payment processor.
Built-In Marketing
It is easy to see why so many entrepreneurs and business people flock to sell their goods online. eBay alone has over 180 million active buyers and 475 million app downloads worldwide.
This active audience is great for entrepreneurs and new business owners who need to introduce their product quickly and accelerate sales. No matter the niche, there are buyers on eBay ready to try your goods. This is perhaps eBay's greatest advantage over Shopify which requires users to start marketing their products and website from scratch.
Shopify vs eBay – Pricing

Shopify
Shopify has 5 pricing tiers, Shopify Lite, Basic Shopify, Shopify, Advanced Shopify, and Shopify Plus. Shopify also offers a 10% discount on annual plans and 20% off biennial plans when paid upfront.
Shopify has a free 14-day trial, with no credit card required. You only pay when you launch your online store. You are free to check out all the features and dashboards without payment.
Shopify Lite
$9 per month
Shopify Lite allows you to sell on Facebook, blog, or website for $9 per month. Facebook sells through Messenger chat and real-time tracking. Use Shopify's buy button on your blog or website to instantly get more sales.
With Shopify Lite you can accept credit card payments anywhere. Sell at home or away with POS support for iOS or Android devices. You can even create invoices for custom orders within Shopify Lite's dashboard.
Basic Shopify
$29 per month
Basic Shopify doesn't include gift cards, professional reports, third-party shipping rates, USPS Priority Mail Cubic® pricing, and various POS (point of sale) options.
Shopify
$79 per month
Shopify is only missing the advanced report builder and third-party shipping rates. You will also be paying lower fees per sale than with Basic Shopify.
Advanced Shopify
$299 per month
Advanced Shopify includes all features and a generous upgrade to 15 staff accounts (as opposed to 2 for Basic and 5 for Shopify).
Shopify Plus (Enterprise)
Contact sales for pricing
Shopify Plus is reserved for high-volume eCommerce and you must contact Shopify via their online form to get business-specific pricing.
eBay
Unfortunately, eBay's fees vary by category and are hard to narrow down in a common table. Sellers should take all fees into account when assigning pricing to their products.
Also, note that eBay allows you to donate a portion of your sales (10% and up) to a charity of your choice. Fees are marginally reduced if you choose this option.
When using a free account (for selling under 100 individual items), eBay does no charge a monthly fee. However, you will be charged the following fees for each item:
Insertion fees
Using the free plan with eBay will get you up to 200 zero insertion fee listing. This means you won't pay to list those items but will still be subject to any add-on fees at the time of listing or fees after the item sells. If you choose a monthly paid plan, the number of zero insertion listings increases (as seen in the table below).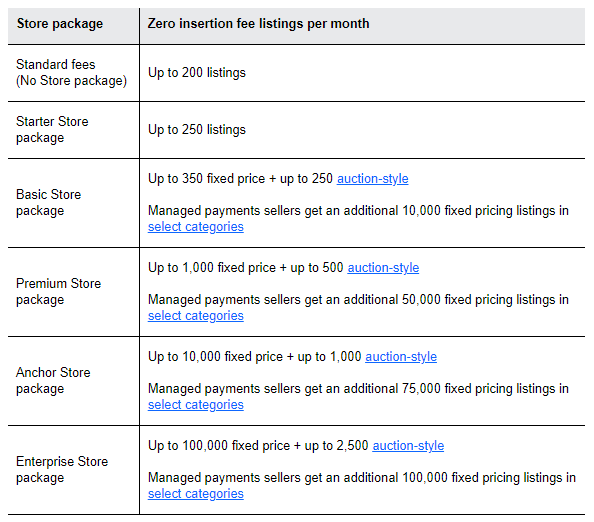 Final value fee and final value fees on shipping
When a listing sells, fees are calculated as a percentage of the total sale price, including any shipping and handling charges. Any taxes are not included in the final value fee.
Your final value fee is capped by your current Store subscription tier and listing category. For both individuals and eBay Stores, fees vary from 0% (for clothes over $100) to 12% (Books, DVDs & Movies, Music except for Records category).
If a seller doesn't pay, you need to cancel the sale or report an unpaid item to get credit for final fees.
You will also be subject to a final value fee on shipping. Fees are based on the shipping service the buyer chooses or the cheapest domestic option you offer.
Payment processing fees
eBay accepts the following forms of payment at eBay checkout:
PayPal
PayPal Credit
Credit card or debit card processed through the seller's Internet merchant account
Payment upon pickup
Payment upon pickup must offer one of the approved electronic payment methods. Listings may include the statement: "Contact me for payment methods to pay on pickup."
Listings in one of our approved categories may offer the following additional payment options:
Bank-to-bank transfers (also known as bank wire transfers and bank cash transfers)
Checks
Money orders
Online payment services (for example, Allpay.net, CertaPay, Fiserv, Nochex.com, XOOM)
Depending on which payment method you choose will determine the percentage of payment processing fees.
Good 'Til Canceled listings fee
Good 'Til Cancelled listings are fixed-price listings that eBay will automatically renew for you every month. This type of listing counts toward your monthly zero insertion fee listings. Depending on the current promotions, fees can be accessed when the item is listed and each month it renews.
eBay Store
When you choose to open an eBay Store (paid monthly subscription0, you will receive the following benefits:
More listings with zero insertion fees
Lower final value fees
Access to management and marketing tools
Even with an eBay store, the fees are difficult to predict as the total fee depends on several factors including the item's price, category, and format of the listing, any optional upgrades, your subscription tier, and your performance as a seller.
Store subscription fees vary based on tier (Starter, Basic, Premium, Anchor, and Enterprise). The fees also vary depending on if you pay monthly or yearly.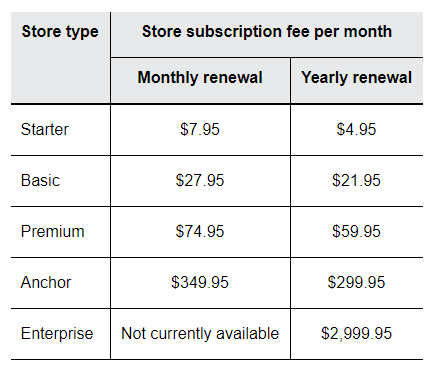 All eBay Stores receive the following benefits:
Unlimited insertion fee credits for auction listings that end in a sale.**
As much as 60% off final value fees compared to non-subscriber rates.
A coupon of up to $50 toward eBay-branded shipping supplies for Basic Stores and above.
Access to Promotions Manager.
Exclusive discounts to business services.
Anchor Stores
Access to white-glove customer support by phone and email—wherever, whenever.
The biggest discount on insertion fees for listings beyond your free allocation.
A coupon for $150 toward eBay-branded shipping supplies.
A quarterly credit for $25 toward Promoted Listings.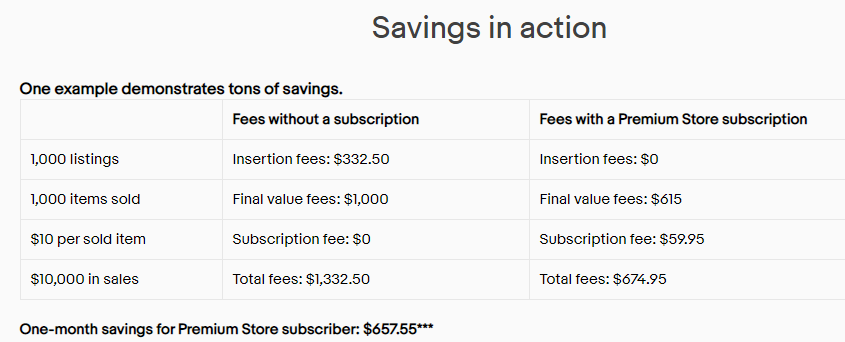 Shopify vs eBay – Support
Shopify
Shopify offers 24/7 customer service via online chat, phone, and email. They also provide video tutorials, webinars, and written documentation if you prefer to tackle the troubleshooting and advanced features yourself.
The user forums have nearly 700,000 members (as of 08/2020) to answer specific issues quickly. Take advantage of Shopify fans who are happy to help with shop logistics, custom design, and site errors.
eBay
eBay offers phone support. However, users have stated that it is difficult to talk to someone when calling and are often on hold for a long time.
You can also request assistance through an online portal for Seller Help.
Shopify vs eBay – Pros and Cons
Shopify Pros
24/7 customer service
Multiple selling options such as Facebook, website, blog, or Shopify hosted site
Responsive mobile app
No transaction fees when using Shopify payments
Multiple currency support
Multiple dropshipping app integrations
Applies tax rates automatically for US and Canada
Automatic VAT rates for EU
Free digital downloads app for selling digital products
Abandoned cart recovery
Email marketing within the platform
Shopify Cons
Integrations can be expensive
Minimal free themes
Real-time shipping rates only available on higher-tier plans
No multi-lingual support
Limited reporting available
Limited staff accounts available
Limit of three options per product
eBay Pros
Large audience – currently 180 million active users
An audience for every niche
Easy to create a listing
No tech knowledge needed to create a store
Consumers prefer marketplace shopping
International sales
PayPal integration
Auction style listings can result in an infinite amount for your product
The platform doesn't sell any of its own products
PowerSeller status gives access to healthcare solutions
Private listing for no additional fees
eBay Cons
Return policy restrictions (no control)
Final value fees are determined by your seller reputation
High competition in competitive niches
Manual inventory syncing
Feedback restrictions
Lack of customer service for sellers
No integrated shipping and fulfillment logistics
Shopify vs eBay FAQs
Can you use Shopify with eBay?
Yes. When you add new products to your Shopify store you can sync the product information with the eBay sales channel. Doing so will allow you to create an eBay listing and sync inventory so you never have to worry about selling the same product when cross-posting.
Is Shopify worth the cost?
While Shopify is not for everyone, it can be useful for business owners running a shoestring operation. Shopify provides syncing inventory, marketing tool, customer data, and POS.
What can I sell on Shopify?
While most business owners use Shopify to sell physical products, you can also use the platform to sell services, memberships, rentals, event tickets, etc.
Shopify vs eBay – To Brand or Not to Brand?
If you are looking to start a small business and need help choosing between Shopify vs eBay, it depends on whether having a brand is important to you.
Choose Shopify and it will perhaps take longer to generate income, but in the long-run consumers will recognize your brand and you can scale the platform to meet the demand. You will need more time and resources to scale a Shopify store successfully, gaining traffic, and creating and implementing company policies.
Why Shopify Wins
There are PLENTY of ecom platforms out there. Only one has a true NETWORK effect that can catapult your growth. Shopify has thousands of developers building apps and a robust ecosystem of integrations. This cannot be ignored. #ShopifyWins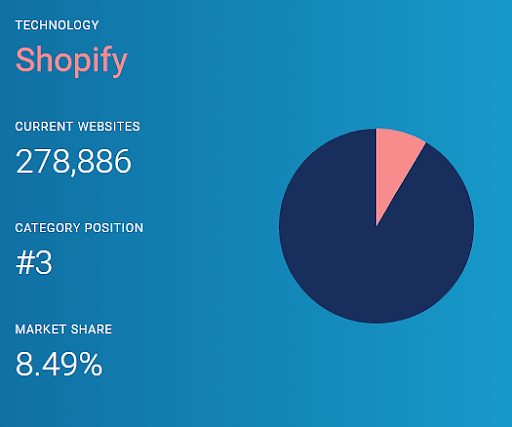 We earn a commission if you click this link and make a purchase at no additional cost to you.
If branding is not important to you and you would rather keep your online business small or simply generate side hustle income, eBay is the better choice. You can make money instantly, gain a following quickly, and not worry about working on your business 24/7. The main drawback of eBay is your lack of control since consumers are buying from eBay and not your branded online shop.
Will you choose Shopify or eBay? Select the platform that closely matches your business goals, marketing capacities, and budget. And if you are just starting, consider using both platforms. eBay is best for testing the waters to see if a product is profitable, once you determine the best products, you can build your brand using Shopify.