Last Updated on May 3, 2022 by DMEditor
If you want to simplify some of your tedious admin tasks when it comes to running your business, you might want to look at an HR and payroll platform – which is where our Paylocity vs Paychex comparison can help.
Straight away, we'll tell you what we think: Paylocity and Paychex are pretty similar, but we think Paylocity has the edge. Keep reading to find out why we like it so much.
We'll be looking at both platforms in detail, looking at their features, pricing, customer support, and pros and cons. If you want to find out more about either platform and how they can help to save you time and effort, read on.
First, let's check out the main differences between Paylocity and Paychex!
Main Differences Between Paylocity vs Paychex
The main differences between Paylocity vs Paychex are:
Paychex offers a full HR suite as you scale, whereas Paylocity mostly sticks to payroll
Paylocity encourages employees to talk via the app, whereas Paychex doesn't focus on that
Paylocity has an easier-to-navigate website, whereas Paychex can be a bit overwhelming
Paylocity has one mobile app, whereas Paychex has two separate apps
Paylocity doesn't have a small business loan center, whereas Paychex does
The main thing to note here is that Paylocity focuses more on encouraging employees to use the app to discuss projects and give each other feedback, whereas Paychex doesn't.
Paylocity is a bit less daunting in terms of browsing their website, so for small or new businesses, they might find it a bit more user-friendly. Paychex has a lot of features, but it can be a bit confusing to figure out what they have to offer.
Paychex does have a small business loan center, which is great.
Paylocity vs Paychex: The Similarities
They are very similar in a lot of ways:
They both offer great payroll services
They both take care of filing certain taxes for you
They both have workforce management tools including time management features
They both help you to navigate benefits for your employees
They both use apps to make the onboarding process much simpler for your employees
They both allow employees to withdraw money early from their paychecks
Now, let's take a look at them both in more detail!
Paylocity vs Paychex: What is Paylocity?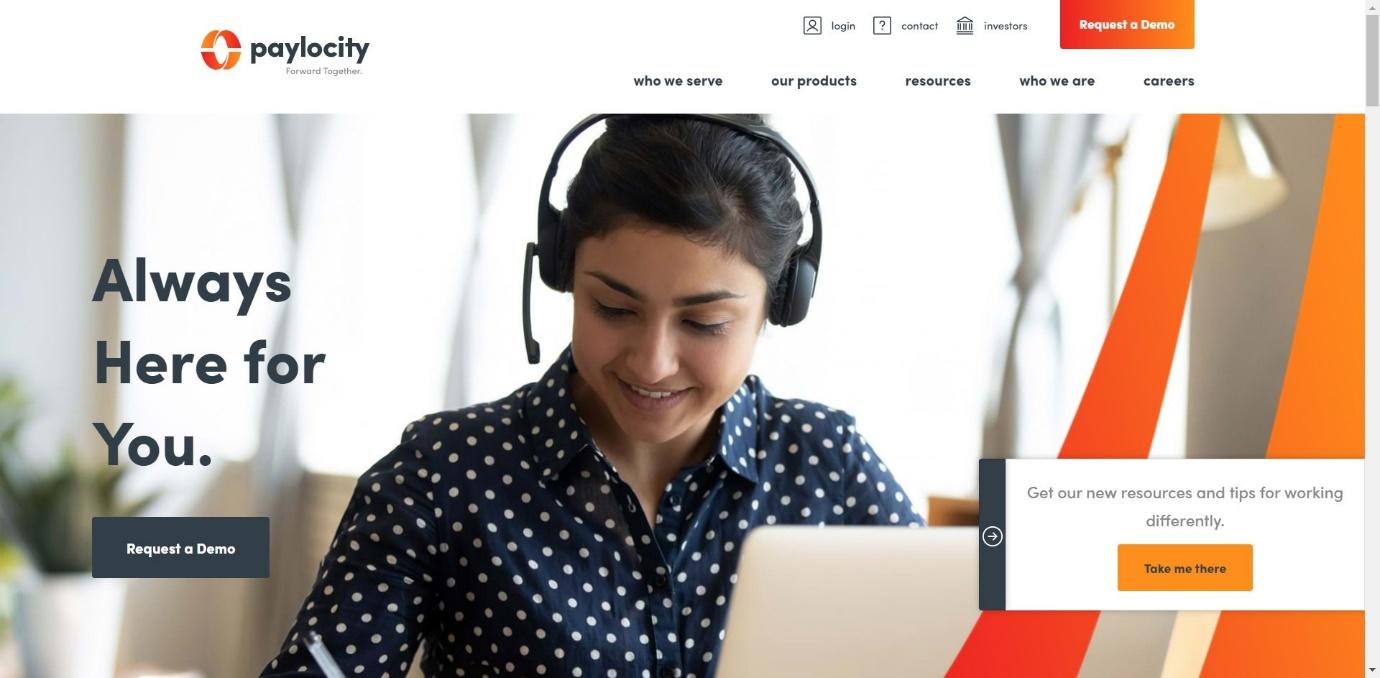 Paylocity is a platform aimed at streamlining your HR and payroll processes, saving your admin team time and effort. It was launched in 1997, and it has a focus on community, welcoming new employees, and helping your team to communicate effectively via their mobile app. It's aimed at any-sized business.
Paylocity vs Paychex: What is Paychex?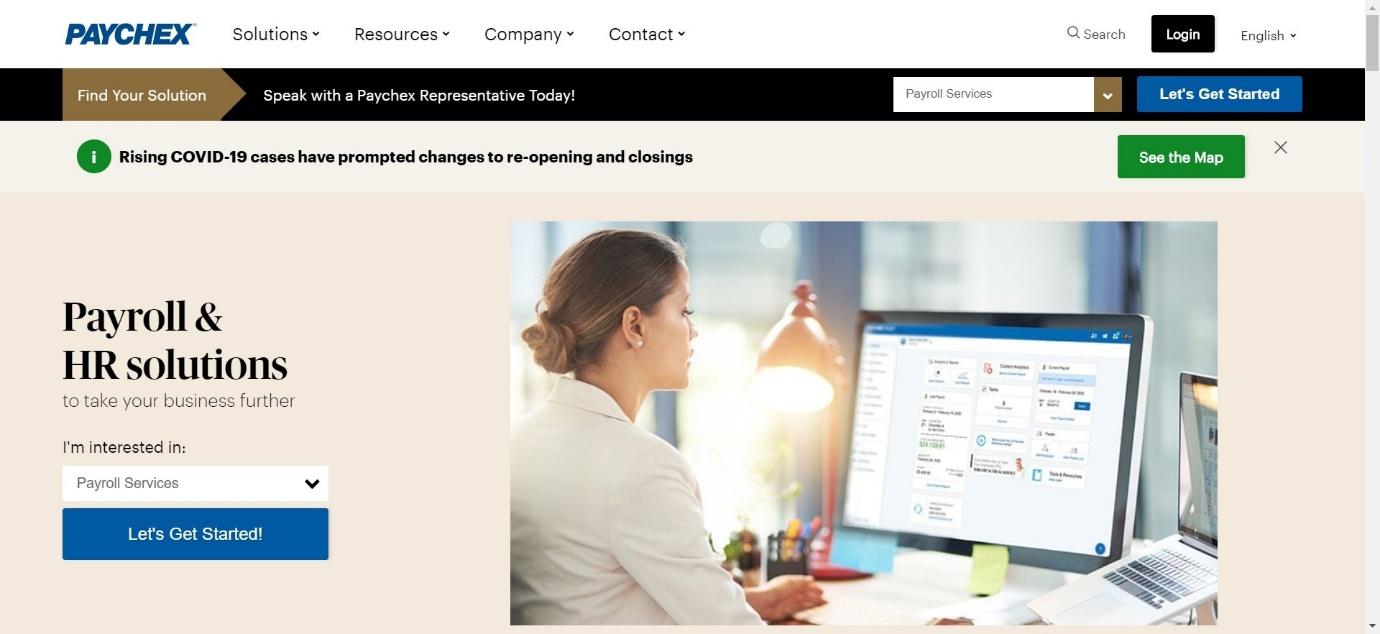 Paychex was launched in 1971, so it has tons of experience when it comes to HR and payroll. They are focused on both small businesses (with less than 50 employees) and larger businesses, with separate features for each. They also offer business insurance management, and they have a small business loan center to assist smaller companies.
Paylocity vs Paychex – the Main Features
Payroll
Paylocity has several tools for payroll management.
Expense management tools allow you to keep on top of expenses easily. Employees can capture receipts using their phones to get approval from a supervisor with a few clicks. This not only saves time but reduces manual entry errors too – and saves the paperwork from piling up.
You can track and organize expenses by type (like travel, meals, etc) and receive status notifications. Being able to approve expenses cuts down the time that your employees have to wait to be reimbursed, which is great.
Paylocity's payroll tax services are pretty great, too. Because they are a Registered Reporting Agent with the IRS (in all 50 states, Puerto Rico, the Virgin Islands, and Guam) they can assist with filing:
940 federal unemployment returns and 941 quarterly returns
Federal and state unemployment tax returns
State and local withholding tax returns
State and local annual reconciliation
All W-2's
1099 MISC forms (employee and employer copies)
Federal returns are filed electronically within 24 hours, and they assume liability, penalty, or interest charge (if they make an error). However, some users have reported that communication with Paylocity in terms of dealing with taxes can be slow and frustrating.
They also offer instant payment. This could be of huge employee benefit for your team. They can access earned wages before their regular payday, without causing you any extra hassle. Paylocity deals with the logistics involved, and it doesn't impact your cash flow as Paylocity sends the money to your employees. Essentially, you get to take care of your employees without harming your business. This is a huge plus point.
They also offer Garnishment Management Services. This means that they can take care of any complicated legal requirements that may be involved with, for example, your employees having to pay child support. Having this taken care of ensures that you won't make any costly mistakes, as penalties for slip-ups can be pretty big.

Workforce Management
Paylocity has time and attendance tools, which are great for keeping on top of your employees' working hours. Employees can clock in and out on a mobile device, on a kiosk tablet, or using a time clock.
They offer some great technology here, including a biometric reader using fingerprint scanning or facial recognition, thermal scanning (to assess employee health – particularly important right now), and a badge reader (which allows your employees to scan their company badges to confirm their ID).
Photo capturing technology allows you an extra bit of security, as it prevents people from being able to clock in as someone else. You can also set up attention prompts, like health and wellness checks or procedural reminders, every time your employees clock in – these can be customized to suit the needs of your business.
Human Resources
When it comes to HR, Paylocity has several features to offer. The main thing to note here is the ESS (Employee Self Service) app. Employees can view paychecks, request time off, clock in and out, update their personal data, collaborate, and interact with each other. It's a really useful system that ties in all the features of the platform but comes into its own in the HR section.
If your employees are taking courses, they can access the Learning Management System training to see course completion status on the go, too.
From an employer standpoint, the compliance tools are great. They help you to keep on top of everything you need to stay compliant, including I-9 Work Authorization, the Affordable Health Care Act, Equal Employment Opportunities, and more.
You will receive a round-up of the latest tax and compliance law updates, which is really helpful. Having this 'back-up' ensures that nothing slips through the cracks to cause you problems later on.
They also offer something called 'HR Edge'. This is a service (for an extra cost) that links you to an HR Edge Account manager, who can answer your questions and provide you with solutions that are specific to the needs of your company.
You'll also get a resource library of articles and guides on healthcare reform, wages, and more. You can train your employees with online training courses in areas like cybersecurity, anti-bullying, and harassment. Plus, they can help you to draft custom handbooks of guidelines for your employees.
Talent
There's a lot of features to look at here, starting with the hiring process. There are a lot of time-saving tools which is great. You can customize job applications and automatically post to online job portals, maintain and track personal data from your potential employees safely, customize your hiring and approval workflows for fast communication with managers and stakeholders, and more.
You can get real-time candidate information, which is really useful for making decisions quickly. Plus, once you've found the right employee, you can offer them a job quickly using letter templates. You can also save potential candidates who didn't quite make the cut for future job opportunities.
In terms of onboarding, there are a lot of time-saving features too. You can have all important documentation – like tax rates, handbooks, contact details, tax withholding forms, direct deposit information, and more – all gathered into one place for your employee to easily access and complete.
When you're welcoming new people into your company, you can include welcome notes from leaders including videos, give them company culture information and policies, team profiles, and more. This is going to help them to feel prepared and welcomed right away.
Performance management is taken care of too, with a variety of features including goal management (employees can set and manage their own goals with managers), set performance reviews, and gain feedback. The feedback is presented in the form of 'journals', which give employees a record of their tasks and accomplishments. They can request feedback from others, too.
Compensation management can be tricky, but Paylocity offers budget management, allowing you to view budget summaries and make sure that they align with organizational goals and policies. At certain levels, employees can view performance and compensation history (for example, managers can check an employees' compensation history if they're considering giving them a raise).
Finally, there's the Learning Management System which we briefly mentioned earlier. This allows your employees to access a range of interesting and career-developing courses, and they can learn and track their progress on the go using the app.
Benefits
Keeping track of employee benefits can be complicated. Paylocity has some features to help here. Employees can set up Health Savings Accounts, Flexible Spending Accounts, Health Reimbursement Arrangements, Premium Only Plans, COBRA coverage, and Transportation Management Accounts.
Running this is a pretty smooth process thanks to the admin analytics and dashboard. Employees can use the Employee Self Service app to view their own plans and payments.
Mobile App
Paylocity has a focus on community and connection, which is great. The Employee Self Service platform and app allows employees to communicate with each other using a messaging platform, and you can make use of other features, including:
Sending messages about important notices and events
Use polls to collect feedback
Enable collaboration on projects without having to use a third-party service
Gather data from responses following announcements and polls to make decisions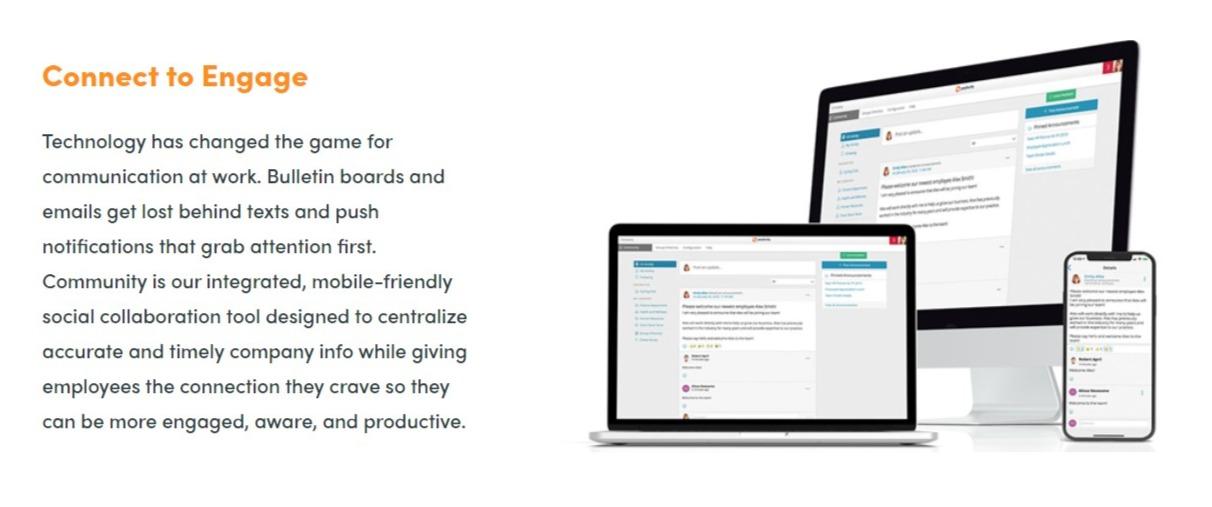 In what we think is a nice touch, Paylocity allows your employees to give each other feedback on projects and give each other awards based on their work – which increases job satisfaction and encourages hard work.
The mobile app ties together everything in the platform, including payroll, time management, benefits, onboarding, and more. It's easy to use with great user reviews.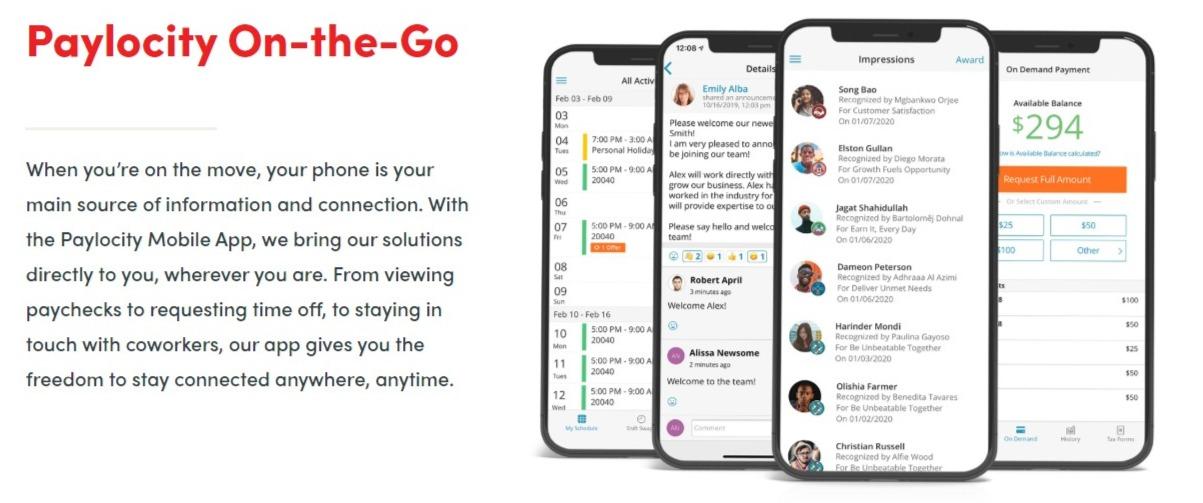 Paychex – the Main Features
Online Payroll Services
Paychex has different payroll system options depending on the needs of your company.

Small Business – 1-49 employees
You can take care of payroll for your small business using their Payroll Online service, or using the mobile app. You can also ask Paychex to take care of payroll for you (for an extra cost). They also calculate, pay, and file federal, state, and local payroll taxes.
Midsize to Enterprise – 50-1000+ employees
If you have a larger company, you can still use Paychex to make your payroll processes a lot simple – they can file taxes in the same way. You will also get:
Online payroll processing
Direct deposit, paper checks, and pay cards
Pay salaried, hourly, and contract workers
HR admin and record-keeping
New-hire reporting to government agencies
Labor poster kit
Garnishment payments
They also have a service called Paychex Flex, a human capital management software that can be configured to meet your company's specific payroll process needs. Staying up to date with tax rates can be a bit confusing, but Paychex Flex automates some of these processes, ensuring that you stay compliant.
Employees can request wages on demand, with up to $500 in advance for each pay period. Again, this is great for your employees, as it allows them to pay their bills, but it won't disrupt your cash flow.
Both payroll company plans include advanced reporting and the employee self-service tool, but more on those shortly.
Time and Attendance
There are a few tools here to help you keep track of your employees' working hours. The mobile app works really well here, as it allows your employees to track their own working hours wherever they are.
There are two options for timekeeping and attendance, which give you slightly different features:
Paychex Flex Time Essentials
Time tracking software
Fast setup (five business days)
Dashboards for managers and employees
Multiple punch-in options
Job costing and labor distribution
Paychex Flex Time
Everything included in Paychex Flex Time Essentials
More punch-in options, including interactive voice response system, keypad, proximity badge, online timesheet, web punch, mobile punch, kiosk solutions, biometric fingerprint scanner, iris recognition technology, and facial recognition technology (using the app)
Time-off management
Geo-location tracking
Geo-fencing (this prevents employees from punching in outside of their designated area)
Drag-and-drop scheduling for timesheets and time off
Advanced scheduling with color-coding and breaks/meals
Shift swapping capabilities
Mileage calculators for expense reimbursements
Additional modules, including leave tracking, employee points tracking, and budgeting
Human Resources
There's a lot to offer here in terms of streamlining processes – you can set up procedures to ensure that everything flows along the right path (for example, employee appraisals – they can follow a pre-defined process to ensure that it works in the same way for each employee). Their software will remind you of birthdays and work anniversaries, which is a small thing, but may help your employees to feel more valued.
You can also ask for more support from a Paychex HR Professional. This is helpful if you need someone else to guide you through any issues with your business when it comes to human resources.
They also offer a Learning Management System, which allows your employees to improve their skills using an online platform. It has a modern interface (using the mobile app), with relevant topics that you can choose to suit the needs of your business. There are two plans for LMS – Essentials and Enhanced – with Enhanced offering a little more customization in terms of creating quizzes, surveys, and more.
We also need to talk about the app.
Recruitment
Paychex offers a lot here, right from the recruitment process. You can cut down on paperwork and tedious admin tasks by using Paychex Flex Hiring, which automates a lot of the processes involved with advertising new jobs. It also benefits potential employees, as it allows them to apply using their phone or computer, and they can log into the system to check the status of their application. You can automatically share your job listings to different platforms, which is great.
They also offer employment screening services – taking care of background checks can be tedious, but Paychex will take care of some of these checks for you, allowing you to view the background of your new employees.
Recruitment is made a little easier with some extra features too, like automatic interview scheduling, and automatic ranking of potential employees.
Benefits
Paychex can help you keep on top of a range of benefits, including:
Group health insurance
Individual health insurance
ACA reporting and ESR services
Retirement services
Benefit accounts
Section 125 plans
Voluntary benefits
Financial wellness
Mobile Apps
The mobile app is great. While Paychex is a complex service with a lot of different options to choose from, the app (Paychex Flex) ties everything together for your employees and management. It ties in onboarding, payroll, human resources, LMS, benefits, and more.

There's also the Paychex Time Kiosk app, which allows your employees to punch in and out using their mobiles.
Extra Features
Paychex offers a few more features, and can help you to manage:
Business insurance
Business loans and finance
Startup services
Paylocity vs Paychex: Paylocity – Knowledge Base and Support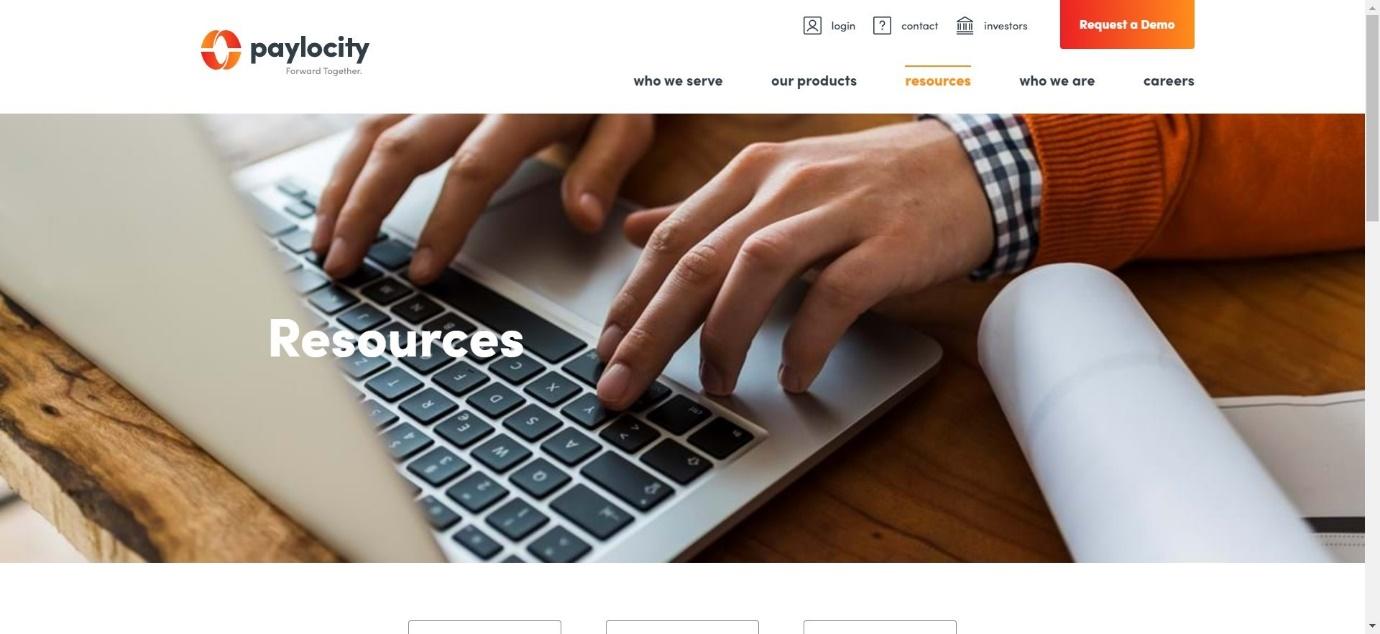 Paylocity has a helpful resource library, with articles on HR, payroll, and employee management. They also offer product training courses, with virtual instructor-led walkthroughs of how to use the platform properly.
In terms of customer service, they have a lot of options, with phone and email support available for employees and administrators. Users report that sometimes customer services can be slow to respond, which is a shame.
Paychex – Knowledge Base and Support
Paychex has a resource library too, with a lot of blog posts and articles on payroll, HR, and more. If you need extra assistance (whether you're an employee or an administrator), you can use their phone support to get help.
Unfortunately, the customer service lets Paychex down too, as users report that they can be slow and frustrating to engage with.
Paylocity vs Paychex Pricing
Paylocity Pricing
It's actually difficult to tell from the Paylocity website itself how much it costs – you have to contact them for a demo to get the ball rolling. We did a bit of digging and found out that it costs from $2 per employee per month, up to $4 per employee per month.
It's also likely that they charge a basic monthly price for using their platform, but without getting a specific quote, it's unclear what this price would be.
You can find out more about their pricing by requesting a demo here.
Pricing for Paychex is also available only on request, so it's hard to compare them. However, other websites suggest that the pricing is structured like this:
$60 per month base price
$4 per month per employee
$90 per month base price
$3 per month per employee
$158 per month base price
$3.65 per month per employee
Price upon request
Pricing may vary depending on your needs, which is why you'll need to contact Paychex to get a specific quote, but this does give us a basic idea of what the costs might be.
Paychex is currently offering 3 months for free – you can find out more by requesting a demo here.
Paylocity – Pros and Cons
Pros
Lots of options for time and attendance
Decent HR management
Good benefits management
Lots of payroll features
Focus on community and engagement with other employees
Employees can withdraw cash early from their paycheck
The mobile app is easy to use
Cons
Customer service isn't great
Communication with the team in charge of dealing with taxes can be frustrating
Paychex – Pros and Cons
Pros
Good time and attendance management
Good HR management
Recruitment and onboarding features are good
Mobile apps are easy to use
There are extra features for larger businesses
Cons
Customer service isn't great
It can be confusing to navigate all the services they have to offer
FAQs About Paylocity vs Paychex
Paylocity vs Paychex: Our Winner Is…
It's tough to choose a winner here! They're both similar in a lot of ways.
We do think Paylocity has a lot of great features. They have a lot of the same features as Paycheck, plus many years of HR and tax experience under their belt. .
Bottom Line Summary: We think that Paychex has the edge here. The Paychex online payroll service has been around longer and scales better for growing organizations (not just small businesses). They also have a small business loan center, which is excellent. If you are a small business, you might want to check that out
Used right, Paylocity can really help to set the tone for your business and would really help to welcome a new employee. But the above reasons, we're going to pick Paychex as our preferred pick of the payroll service providers today, but either would be a great choice if you want to save time and hassle in running your business.
Further Reading on Payroll Software and Payroll Provider Solutions: