Last Updated on May 7, 2022 by DMEditor
Today, it is challenging to run a business without using technology.
It is possible to do it, but you will always be behind your competition and miss out on the technological efficiency these solutions bring to any company. One of the most integral systems for any business is CRM (Customer Relationship Management).
You will come across multiple types of CRM software with varying features, but today, we will break down two of the most popular ones; Zoho and Freshworks to help you decide on one that best fits your business needs.
Main Differences Between Zoho vs Freshworks
The main differences between Zoho vs Freshworks:
Zoho has automated workflow features locked into the Professional plan, whereas Freshworks has this capability across all the tiers.
Zoho allows integration with Zoho and various independent software, whereas Freshworks is limited in integration matters.
Zoho has extensive customization features that allow it to be used in various industries, whereas Freshworks does not allow much customization.
What is CRM Software?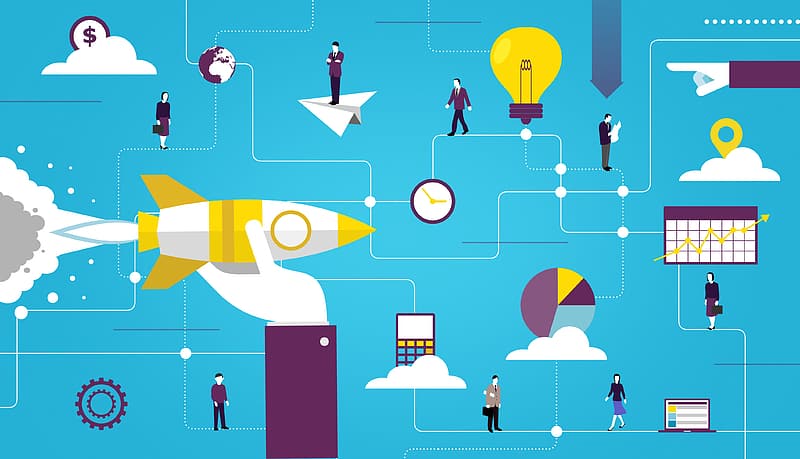 Customer Relationship Management refers to software that helps companies track their interactions with existing and future customers. The main goal of having this system is to get an efficient avenue for the marketing and sales teams to interact with prospects and customers.
A typical CRM software has different modules, and both sales and marketing teams use it differently. Salespeople use it to seek prospects and new customers, communicate with them and see how they respond to these interactions.
For example, a salesperson can get back to where they left off their conversation with a potential customer easily using a CRM software instead of plowing back through their mail to check this.
Why CRM Software?
Most large businesses have CRM software, but the challenge comes in with the small and midsized ones.
These entities think that investing in CRM software is a far cry since they could have the impression that how they handle their limited number of customers works for them. As they say, do not change something until it's broken. But does this mean that you should not improve your operations? I don't think so!
Your business will start growing, especially if you are doing the right things, and here, you will have to implement an organized customer management system. Migration to such systems can be painful if you procrastinated on them for many years and face situations where you have to do it within a short time. Essentially, CRM is vital for all businesses.
Some of the benefits include;
Better informational organization
Improved communication to customers
Better customer retention
Better anticipation of needs
Enhanced data privacy
Ease of customer segmentation
Allows for one to scale your sales processes
Improve administrative processes
Now that we have looked at the benefits a CRM software has to your business, let us dive into the features of Zoho vs. Freshworks and see which one suits you best.
Overview
Zoho CRM is owned by Zoho Corporation, with its headquarters in Chennai, India. It's focused on web-based business tools and information technology solutions, among others. It is one of the most recognized business software solutions providers.
Zoho has a collection of 45 Software-as-a-Service products that help businesses take care of various operations, with the most notable ones being Zoho Office Suite, Zoho Expense, Zoho Invoice, among others. Out of all these products, Zoho CRM is the flagship one from its launch in 2005, and it still stands as one of the best examples of a robust solution at a great price.
Zoho CRM is a comprehensive customer relationship management suite with many features and integrations that make it a popular choice among business owners. Its features let business owners handle essential business tasks such as lead management, contact management, multichannel interactions, and analytics.
Freshworks (formerly Freshsales) was established in 2010 by founders Girish Mathrubootham and Shan Krishnasamy as a user-focused cloud-based customer service software. It was launched in Chennai, India, and received funding on two occasions to help it scale up operations. Over the years, Freshworks increased its customer base, most notably hitting the 30,000 marks in August 2015.
The Freshworks CRM product was launched in June 2017, something that prompted its rebranding to Freshworks in a bid to reflect the extended products on offer.
Freshworks CRM has a collection of products aimed to help small and medium businesses at an affordable price. It is highly automated and has multiple features to enable your company to get the best out of it.
Plans and Pricing
Zoho CRM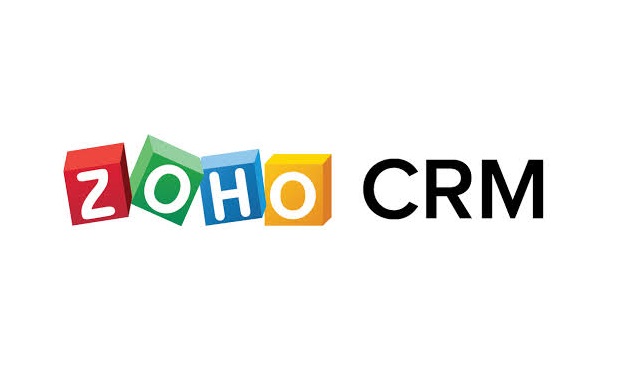 Zoho CRM has a Free edition that allows up to three users. The paid standard tier costs $18 per user per month if billed monthly and $12 per month if billed annually. This is the entry-level plan, and it entails sales forecasting, custom dashboards, a document library, marketing templates, and the option to send broadcast emails. The database is limited to 100,000 records.
The Professional tier costs $30 per user per month if billed monthly and $20 per month if billed annually. This plan includes email integration, social CRM, inventory management, social CRM, workflow automation, role-based security, and unlimited records.
The Enterprise tier costs $45 per user per month when billed monthly and $35 per user per month when billed annually. It adds territory management, custom modules, time-based action, and multiple currencies to the other features. This is the recommended plan for most small and medium businesses.
The Ultimate tier costs $55 per user per month when billed monthly and $45 when billed annually. It includes everything in the Enterprise tier plus email sentiment analytics and advanced customization features. Besides, this tier has a 30-day free trial.
Check out a more comprehensive list of the features offered by Zoho Plans here.
Summary of Zoho CRM Plans
| | | |
| --- | --- | --- |
| Plan | Cost per month per user billed annually | Cost per month per user billed monthly |
| Free | N/A | N/A |
| Standard | $12 | $18 |
| Professional | $20 | $30 |
| Enterprise | $35 | $45 |
| Ultimate | $45 | $55 |
Note that the Free plan is capped at three users.
Freshworks CRM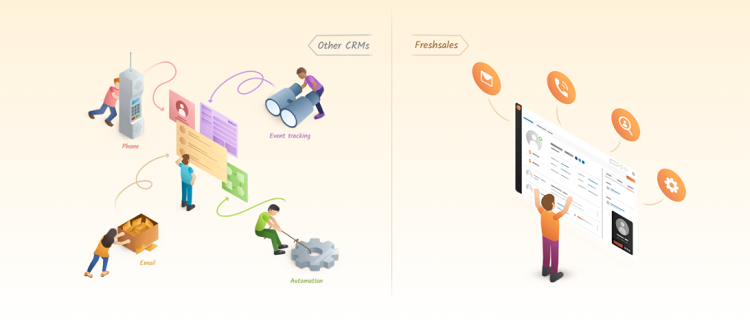 Freshworks CRM has three pricing plans aimed at different business sizes.
The entry-level Growth plan is ideal for small and fast-growing businesses that need an all-in-one CRM that caters to most of their needs. It costs $29 per user per month billed annually. Some of the features of this plan include;
1,000 active contacts
Contact account and deal management
Website tracking
1 custom domain
Predictive contact scoring
Drag and drop journey builder
Visual sales pipeline
Custom reports and dashboards
The next level plan called Pro is suitable for larger teams that want to scale and build efficiency. It goes for $96 per user per month, billed annually. It entails everything in Growth plus;
3,000 active contacts
Lead Gen and Answer Bot
Smart matches
10 custom domains
Territory management
Deal insights
10 multiple sales pipelines
This is the recommended plan for most mid-sized businesses.
The Enterprise plan is built for large companies that need control and customization. It contains everything in Pro plus;
5,000 active contacts
Auto profile enrichment
25 custom domains
Deal teams and audit logs
100 active marketing journeys
Advanced metrics
Dedicated account manager
Key Features of Zoho CRM
User Interface
Zoo has a simple design that is good for productivity. All the critical modules are available on the default home page. Some of the key features available on this page include Open tasks, Today's leads, Amount by stage, and other dynamic widgets. This simple design allows managers to get on top of customer interactions quickly.
The page has a search module to help you get any module you wish to use. This is good looking at the number of features Zoho CRM has in store.
However, all the menu items are ordered according to importance. This way, you will find some critical ones such as Leads, Accounts, Contacts, Activities, Analytics, Products, and Marketplace available at first glance. However, you can always customize this page to have your top ones appear on the home page.
Customer Management
Owing to the multiple modules, Zoho CRM requires you to do a lot of customization upfront before getting a suitable CRM for your needs.
While you can skip this step, it makes it easier to find everything you need at first sight. It is easy to create users, and advanced filters make it simpler to locate them. You can query the CRM based on tasks, dates, notes, and other activities. It also has a timeline to highlight your interaction with customers and upcoming action items.
When using the software for the first time, you will receive tips on setting things up on a slash page. These initial tips will help you create leads, accounts, and add users to the platform based on your preferences.
This CRM has a Page Layout option that lets you handle various products and services under a single CRM account. The Sandbox feature allows you to test custom modules and layouts before implementing them to users.
Conversion Capabilities
The main reason why businesses get CRM software is to help them convert and boost sales. The customer relationship journey can be quite long, and it is hard to be on top of all the important aspects of it without a sound system.
Zoho CRM has a plethora of features aimed to help businesses turn leads into clients, for instance, campaign management, lead capture, lead nurturing, prospecting tools, and lead distribution, among others. All the prospects are converted to contacts when they meet specific qualifications to avoid filling the contact slots.
However, it is still okay to convert leads as contacts if the numbers are still low. Zoho allows you to get a large number of leads from multiple sources through the SalesSignals feature. It lets you monitor various sources such as social networks, chats, and emails to give you real-time notifications when your company name is mentioned.
The notification flow can be overwhelming for small businesses but would be perfect for companies with a proactive campaign and the staff to handle real-time communication requirements.
To improve its processes, Zoho has an additional feature called Zia. This is an AI tool that uses trend analysis to spot any anomalies in the sales processes and give recommendations on the best times to follow up on calls and emails.
Key Features of Freshworks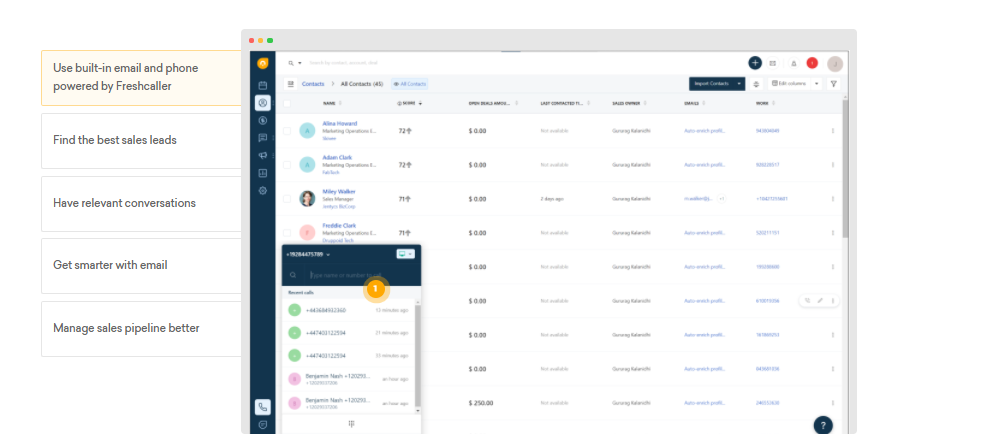 Contact Management and Reporting
One of the main challenges of managing customers is sorting out data and leads. Freshworks is heavy on data sorting thanks to its data deduplication functionality powered by its AI engine. It gives reminders, alerts to help you get on top of your customer contacts and even warn you of deal rotting, i.e., customer contact that is stale and needs action.
When you log into the home page, you will see the lead list with a sample record. On the left side, you will see all the other CRM parts such as deals conversations, calendars, reports, and dashboard, among others.
Freshworks uses a lead as an entry point, which signifies the first point of the CRM workflow. Depending on the threshold set, the lead will eventually turn into contact. Here, the association company information will be populated into their name and help you understand everything about them from the word go.
For individual contacts, the system populates their information from Facebook, Twitter, and LinkedIn, among others. This way, you can see what the contact is interested in and get a good starting point when you talk to them. You can filter leads based on various criteria and a lead score that is awarded for every milestone you get with them.
The Deals part of this CRM is in Kanban style, where you can shift leads to different pipelines based on your progress with them. All this can be customized, and you can include new pipes to help you manage leads based on what is important to you.
AI Assistant
Freshworks employs its Artificial Intelligence assistant called Freddy to leverage historical data and conduct analysis that improves your processes. It gives you insight and predictions that will help you win more deals. It notifies you of areas that have sudden shifts in activity and lets you get on top of them in a timely fashion.
Depending on the activity level, Freddy will tell you if you are close to making a deal or losing a customer and help you identify deals that are worth your attention.
Communication Options
One of the integral parts of customer management is communication, and Freshworks has plenty of features to help with this. It has email templates, call recording, and integrated VOIP calls. The aim is to conduct all your communication on the software for easier tracking and avoid inputting updates manually. The email templates are coupled with tracking metrics that show you the most successful ones.
You can connect any IMAP-compatible email account to Freshworks, for instance, Microsoft Office 365, Zoho Mail, and Gmail, among others.
One of the significant strong points of this CRM is its ability to automate manual tasks. This makes it easy for the software to establish workflows and triggers that alert you if any milestones are achieved.
The Good and Bad
Pros of Zoho
Impressive set of features
Allows for massive customization to meet your needs
Great email marketing tools
Cons of Zoho
Workflow automation limited to the professional plan
ZIA voice assistant is not up to standard
Pros of Freshworks
Simplifies the CRM process in many ways
Impressive workflow automation abilities
Proactive AI assistant
Built-in communication channels
Cons of Freshworks
No reports in the free plan
Hard to establish the best plan for you
No tools for lead generation
FAQs
Question: Is Zoho any good?
Answer: Zoho is one of the best CRM software for small and medium-sized businesses. It has a stellar set of features, coupled with the ease of integration that allows business owners to fit it right into its collection of software and systems. It is affordable, beautifully designed, and will undoubtedly meet the requirements of most businesses today.
Question: What is the difference between Zoho and Zoho One?
Answer: For Zoho CRM plus, you can buy licenses for all the staff members who interact with customers. With Zoho One, you need to purchase licenses for all the employees of your organization.
Question: What are the disadvantages of CRM?
Answer: CRM software is not short of downsides, and two major ones are the cost and resistance from the staff members. The latter is mostly seen if the company culture is not aligned with the change that software will likely bring, something that brings a lot of difficulties with the implementation of the CRM.
Verdict: Zoho or Freshworks CRM?
Both Zoho and Freshworks are top CRM options that can quickly meet the requirements of most business owners. However, they have their shortcomings, and these are what will help us determine the better one.
One major flaw with Zoho is the limited workflow automation capability, which is a huge concern. Freshworks is heavy in this aspect. It gives it a huge advantage looking at how doing work manually can limit your progress and ability to get on top of customer conversations.
Freshworks is not advanced in lead generation, and this limits the extent of your campaigns. However, it is a lightweight and straightforward solution for businesses that need most of the CRM needs to be handled without having to do a lot of data entry.
With all these pros and cons, Freshworks is our pick because it makes work easier for companies who use it. The automation coupled with the robust AI assistant makes it easy to automate contact management, things that are paramount in any business looking to grow quickly.
Note that Freshworks CRM is now called Freshworks CRM
Further Reading: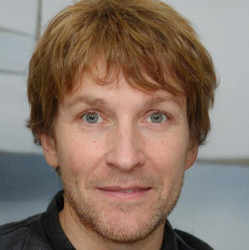 Latest posts by John Hughes
(see all)