Last Updated on April 22, 2023 by Ewen Finser
Running an online shop on a powerful platform like BigCommerce, one of the best features beyond its plug and play interface is the hundreds of integrations at your fingertips.
While integrations can add an extra monthly cost, they can also save you a significant amount of time and increase revenue and boost sales. Choose the right integrations, and they will pay for themselves.
If you aren't using the top BigCommerce apps, you are losing money. It's that simple.
But now the GOOD PART…
I can guarantee AT LEAST ONE of these apps can increase your BigCommerce store revenue if you try it (summary below):
Continue reading for the FULL analysis of the top 12 Best BigCommerce Apps and integrations for 2021…
Omisend positions itself as a platform specializing in eCommerce. It caters to ecommerce businesses of all sizes, from solopreneurs to multinational companies, serving customers across a wide array of industries.
Omnisend comes with a variety of in-built templates that you can use to create personalized emails. That's as well as tons of automation features for sending emails and segmenting your list. On top of that, the platform integrates seamlessly with Facebook Messenger and your SMS marketing campaigns.
Omnisend also comes with features that enable you to create engaging, compelling, and powerful lead generation forms. These work wonders for boosting your lead capture rates. There are loads of different styles forms to choose from, most notably (all of which can be seamlessly blended into the marketing campaigns):
Omnisend Pros

Purpose built for eCommerce email communications
Dozens of conversion boosting email templates and automations available out of the box
Can be less expensive than many top ecommerce email marketing services like Klaviyo
Plenty of third-party integrations, just like Klaviyo
Easier to use, less cluttered UX / UI compared to Klaviyo

Omnisend Cons

Not the right solution if you aren't selling products directly (e.g. not eCommerce)
Less live customer support options
Other BigCommerce email marketing options: For similar functionality with more scalable (and customizable) pricing, check out ActiveCampaign here. OR, to save money starting out (and similar features), check out Drip here.
Further Read: Top Klaviyo Alternatives to consider instead.
If you want a professional storefront without dealing with tedious custom coding, Shogun is the BigCommerce page builder integration for you.
It provides shop owners, marketers, and more the ability to drag and drop elements into any theme.
Shogun has a 10-day free trial, and you get to keep your pages and changes even after uninstalling.

The element library is extensive, covering simple text and buttons to complex embeds like videos, countdown timers, maps, and more.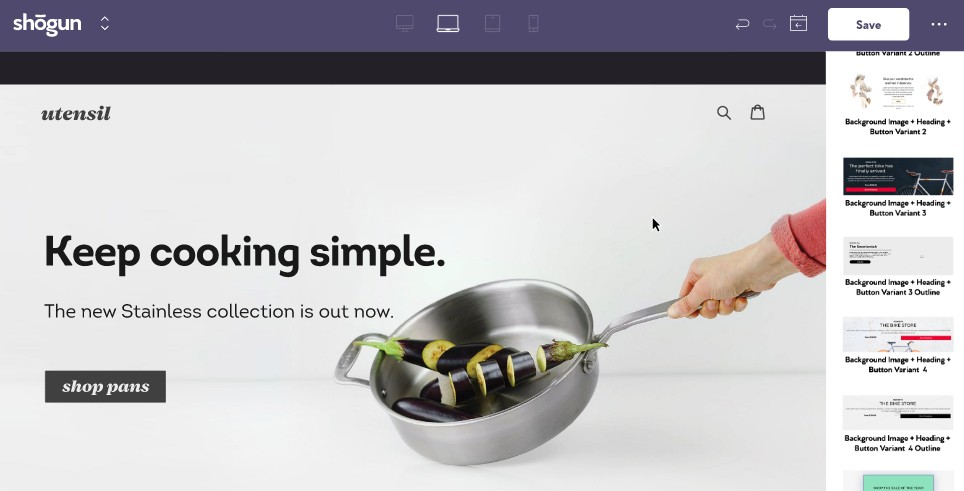 When you use Shogun with BigCommerce, you can also take advantage of title, price, quantity, variant, image, and add to cart button. Automatically import data through Shogun, saving you significant time over the manual entry.
Know how to code? Shogun is great for tech-savvy users too. Create custom drag and drop elements using HTML, JavaScript, and CSS.
Pros
Free trial
Easy to use
Page builder includes previews across devices for mobile responsiveness, etc.
Create custom drag and drop elements within the platform
Responsive customer support
Cons
Monthly tier pricing is not transparent through their website
Pricey if you don't need most of the elements they offer
Justuno is a fast growing third-party app for ecommerce conversion analytics, with a well-built app specifically for the BigCommerce ecosystem.
Whether you are looking to reduce abandoned cart (above and beyond the basic apps), determine leaks in your funnel, or seamlessly connect customers across multiple apps / platforms, Justuno has the solution.
Most importantly, Justuno analyzes all of these opportunities and prioritizes the best places to focus on.
Pros
Easily implement "big data" style analytics for a fraction of the cost in your ecommerce store
Laser target conversion friction points = almost immediate uplifts
Best in class "Commerce AI" to identify opportunities
Seamless integration with Facebook Messenger
Built-in push notification functionality
Advanced customer segmentation for specific insights
Cons
Runner-up substitute: For a great competitor with similar positioning, also consider the Privy app for eCommerce. It's less robust on the analytics side, but a slightly easier learning curve.
Further Read: Justuno vs Privy Compared.
When your BigCommerce store is ready to ramp up sales, a chat app is a key growth lever to pull.
Don't just think of "chat" as a support function. It's also a sales enablement feature.
LiveChat is a customer service software that can be integrated on any website.
One side benefit to implementing LiveChat, is that our stores are now able to collect data on customer friction points, frequently asked questions, and gaps in our marketing funnel!
Companies like IKEA, Adobe, and PayPal use LiveChat to provide a quick and personable customer support experience.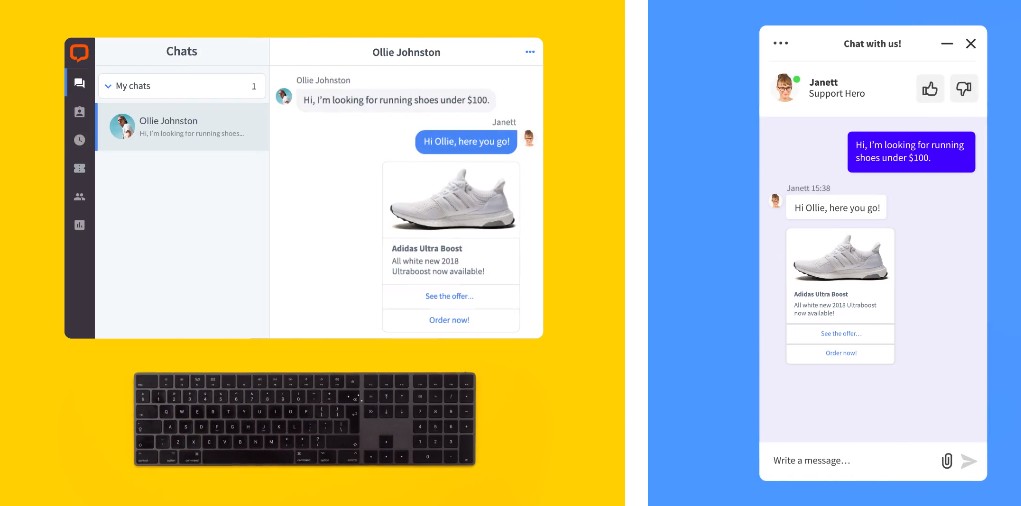 While phone support is still essential for most companies, LiveChat doesn't need telephone lines, tech setup, or elevator music. Customers can use LiveChat while multitasking and share links, images, and videos with ease.
With a free 14-day trial (no credit card required) and an affordable $16 a month Starter plan, adding LiveChat to your customer service line-up is a no brainer.
Pros
Free trial offer

(try it before you commit)
Helpdesk tools
Clean design
Available for iOS, Android, PC, and Mac
Automatic time-out
Cons
Sellbrite (a GoDaddy brand) is an inventory management system that helps you fulfill orders when you list on multiple platforms. Easily list your items on multiple marketplaces without manual entry.
It automatically syncs your inventory no matter which platform you receive a sale on, so you don't oversell. Plus, you can print discounted postage, ship all orders from Sellbrite, and even automatically route orders to Fulfillment by Amazon (FBA).
If you are selling significant volume anywhere outside of just BigCommerce, Sellbrite is a a must see here.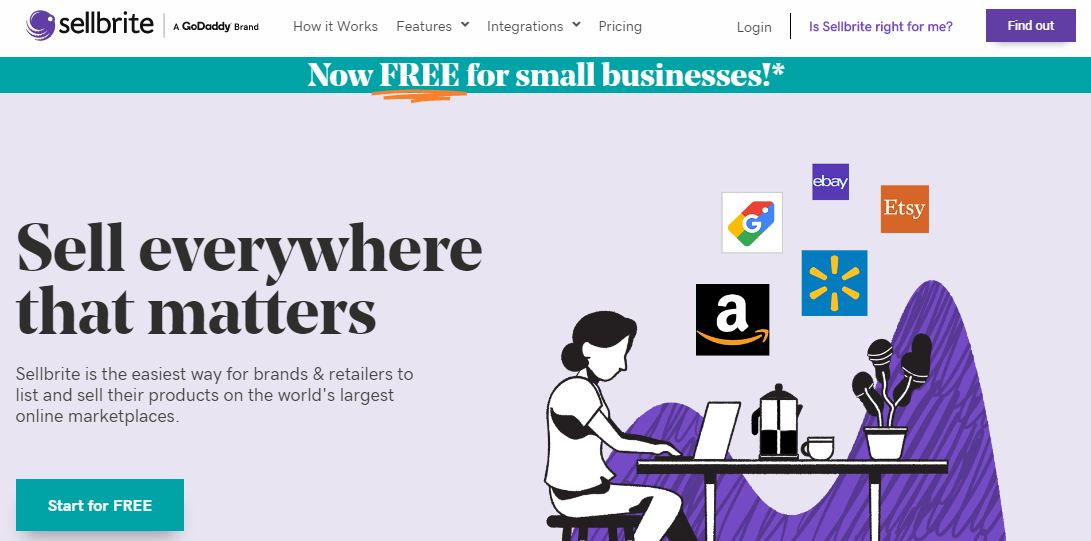 Sellbrite has a forever free plan that provides you with all necessary features (except for Amazon FBA support) and allows up to 30 orders per month.
Upgrade to a paid plan when your business scales: Pro 100 / $29 and 100 orders per month, Pro 500 / $79 and 500 orders per month, and Pro 2K / $179 and 2,000 orders per month.
All paid plans include Amazon FBA support for an additional $19 per month.
Pros
Free trial up to 30 orders

(good to see how it works)
UPDATE: Now FREE for small businesses with 30 orders or less per month, forever.
Ease of use (makes a VERY complicated process, easy)
Responsive support team to help you get things sync'd
Economical (compared to other multi channel inventory management tools)
Integrates with Etsy, eBay, Amazon, Walmart, Shopify, WooCommerce, BigCommerce, Sears, Google Shopping, etc.
Cons
Reporting could be more detailed
GoDaddy brand is a mixed bag overall (is this their core market?)

Runner-up substitute: Also consider Ecomdash for additional features (but a less friendly interface and no fully functional free plan).

Further Read: Sellbrite vs Ecomdash comparison.
With ShipStation, you can easily take control of the shipping process, no matter how many marketplaces you sell from. Generate discounted shipping labels, batch orders, and set actions based on your custom criteria.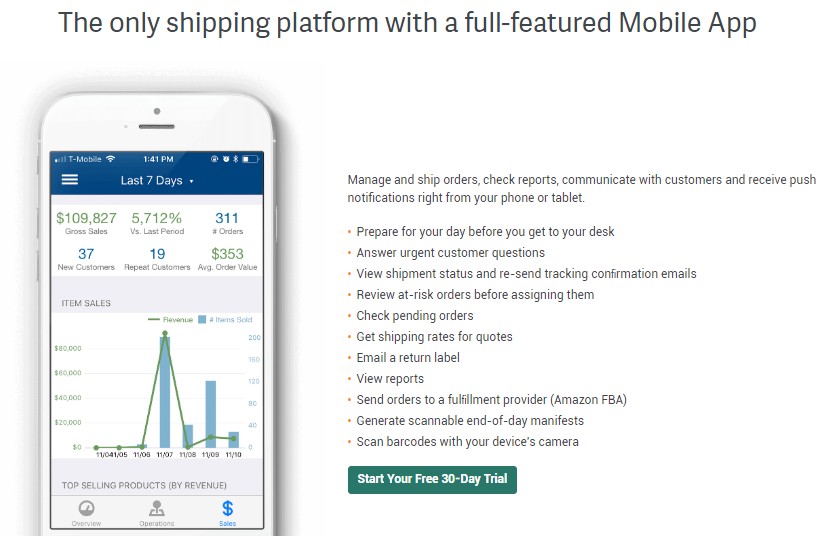 ShipStation also provides branded shipping at no additional cost. This is a great feature to close the gap between your business and shipping partner.
Sync your inventory from a warehouse or remote locations, so you never run out or oversell.
Pros
Free trial (try it out)
Easy to use and setup
Wide range of integrations (including BigCommerce)
Full shipping Automation
Mobile app
Only $5 per month for additional users, regardless of the plan tier
Cons
Printful support over 300,000 sellers dropshipping on-demand printed goods.
BigCommerce users can add Printful to their product arsenal providing customers with company-branded items or original designs.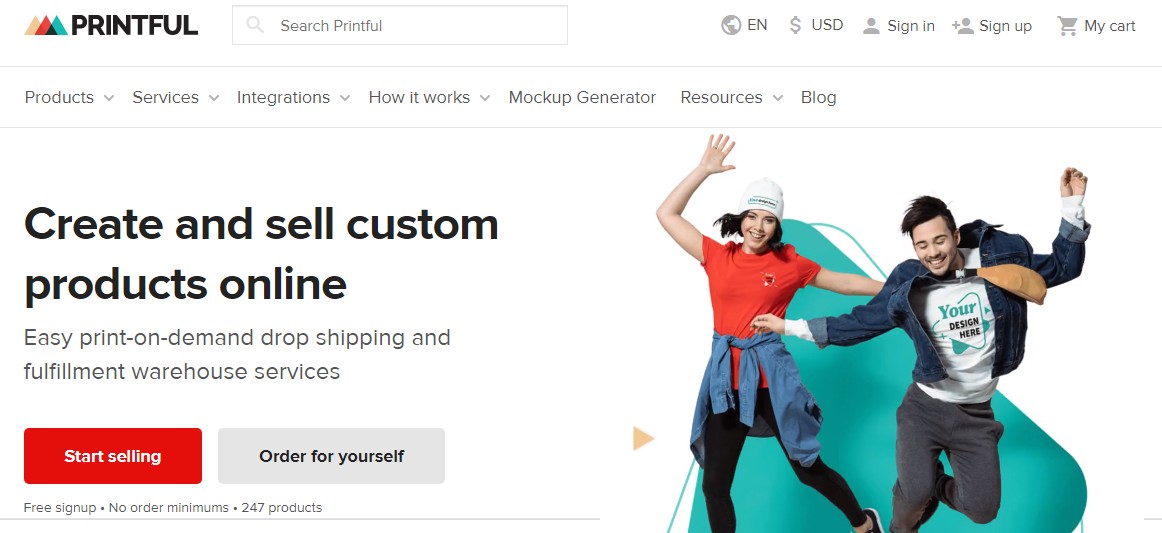 Printful is a favorite among eCommerce sellers for its no minimum purchase. Order as little as one item at a time. There is no inventory to manage and no monthly fees.
Not only does Printful take care of making and shipping the product (on average in 3 days), they also reship products that arrive defective or damaged.
While it's always a risk to use a third-party to make and ship products since you don't get to see each product first-hand, it's a great way to generate passive income.
Plus, Printful offers professionally branded add-on features such as logo stickers or custom packing slips to seamlessly provide your customers with timely products.
Pros
No minimum print requirements
No inventory management on your part
No monthly fees
Items are reshipped if lost or damaged in transit
Professional branding options
Cons
Limited product mockup options
Each product variant has to be created manually

Further Read: Printful Complete Review.

8. FavSEO
When potential customers search for a product to purchase, being on the top of Google can give you a competitive edge.
FavSEO helps you improve your Google standing by giving suggestions on how to optimize your product pages.
A built-in bulk editor helps you make changes to titles and descriptions in one click.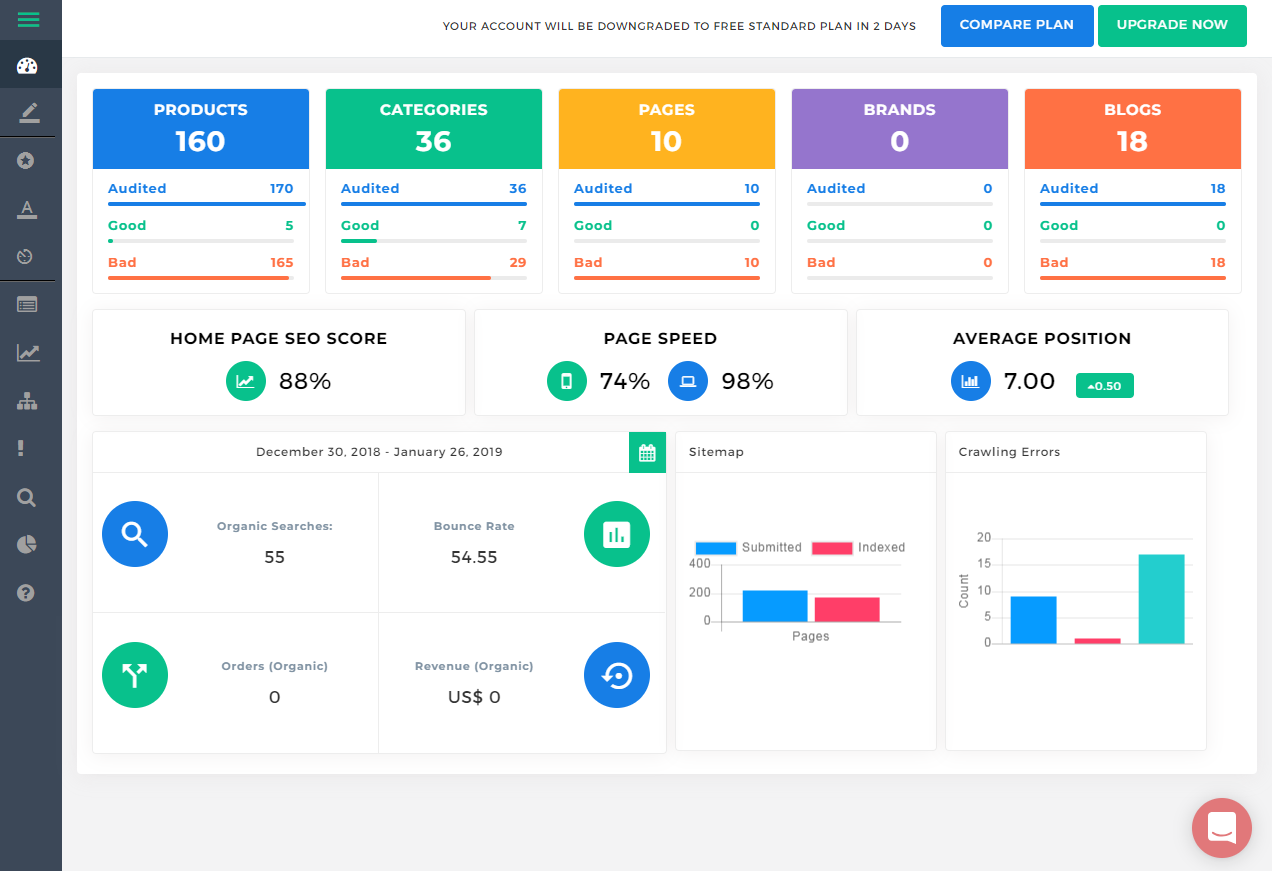 Connect your FavSEO account to Google Webmaster Tools to increase keyword opportunities and track your listing on Google (Google Shopping).
The Standard plan is $799 per month, and the Business plan is $1,299 per month (includes social media and phone support). With only two plans, you will need to decide if FavSEO is right for you.
Pros
Free version
Optimize each product listing that is lacking good SEO
SEO scorecard for your BigCommerce store
Keyword suggestions
Bulk edit meta and alt tags
Live chat support
Google tracking for keyword position
Cons
Backups are highly suggested (of existing title and meta) before using the bulk editor
Syncing issues (from shop to app)
9. Yotpo
Yotpo keeps potential and existing customers engaged by reviews and ratings, loyalty and referrals, and visual marketing. The platform's main goal is to turn more leads into paying customers.
Yotpo integrates with BigCommerce, Facebook, Shopify, WooCommerce, Pinterest, Oracle, Zendesk, MailChimp, and more. When users leave reviews, Yotpo's sends notifications to shop owners so they can respond quickly. Authentic feedback is rewarded with coupons and discounts.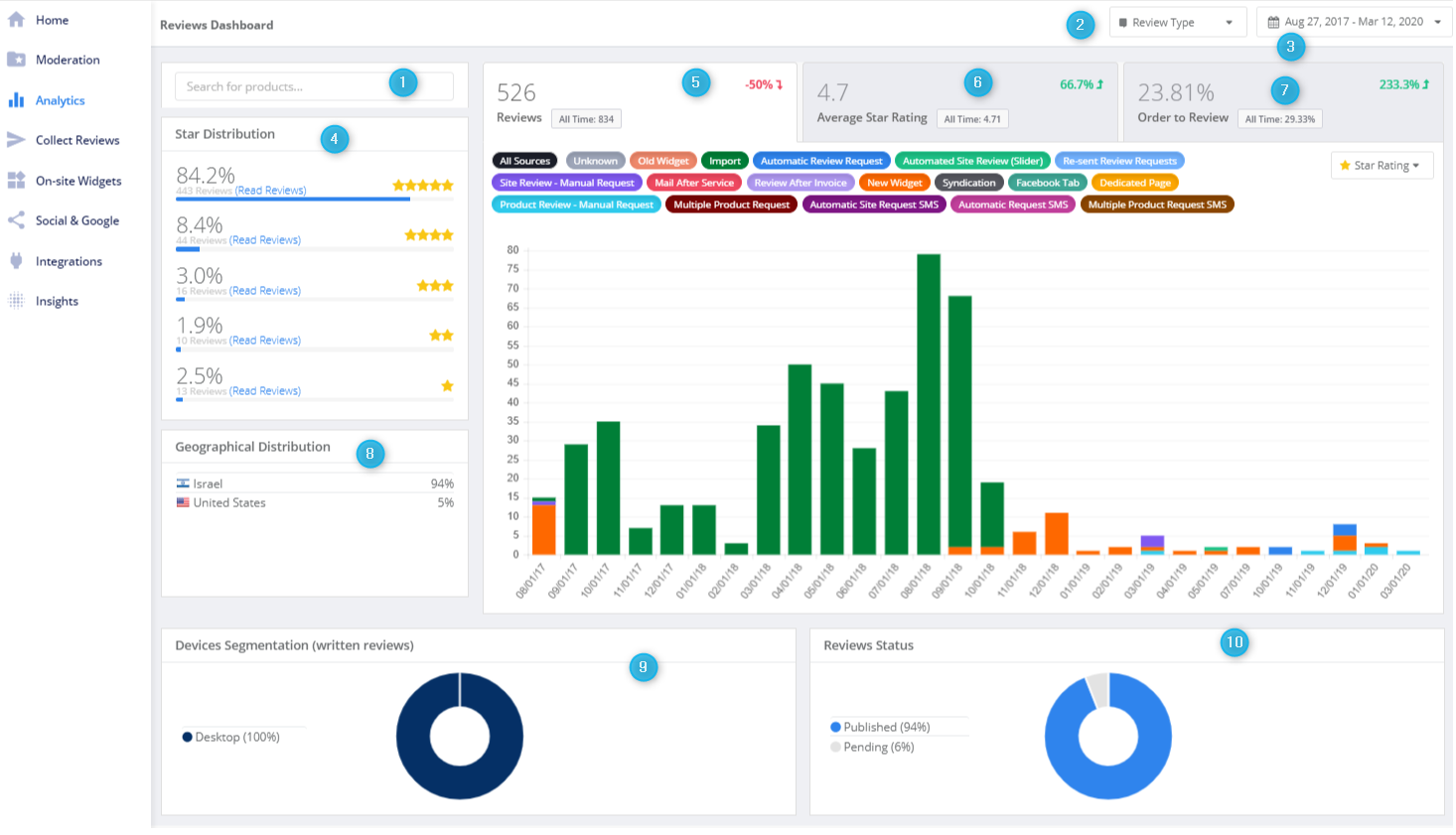 The platform supports 25 languages so you can feel comfortable providing customer support worldwide. The Free plan provides decent features (50 monthly orders, review request emails, on-site widgets, basic customization, and content management and moderation).
Yotpo provides a paid plan that has ala cart features so you can customize your plan and pricing. The platform supports both small and large businesses.
Pros
Works with eCommerce and social media
Real-time reviews notification
Advanced analytics
Easy to use
Cons
Paid account lacks pricing transparency
No customization for social media reviews
Limited API
No 24/7 customer service
10. AfterShip
Once integrated with your online store, AfterShip automatically imports all of your tracking numbers from shipments. You can also manually enter the numbers into the dashboard, but the automatic import works seamlessly and will save you a lot of time daily.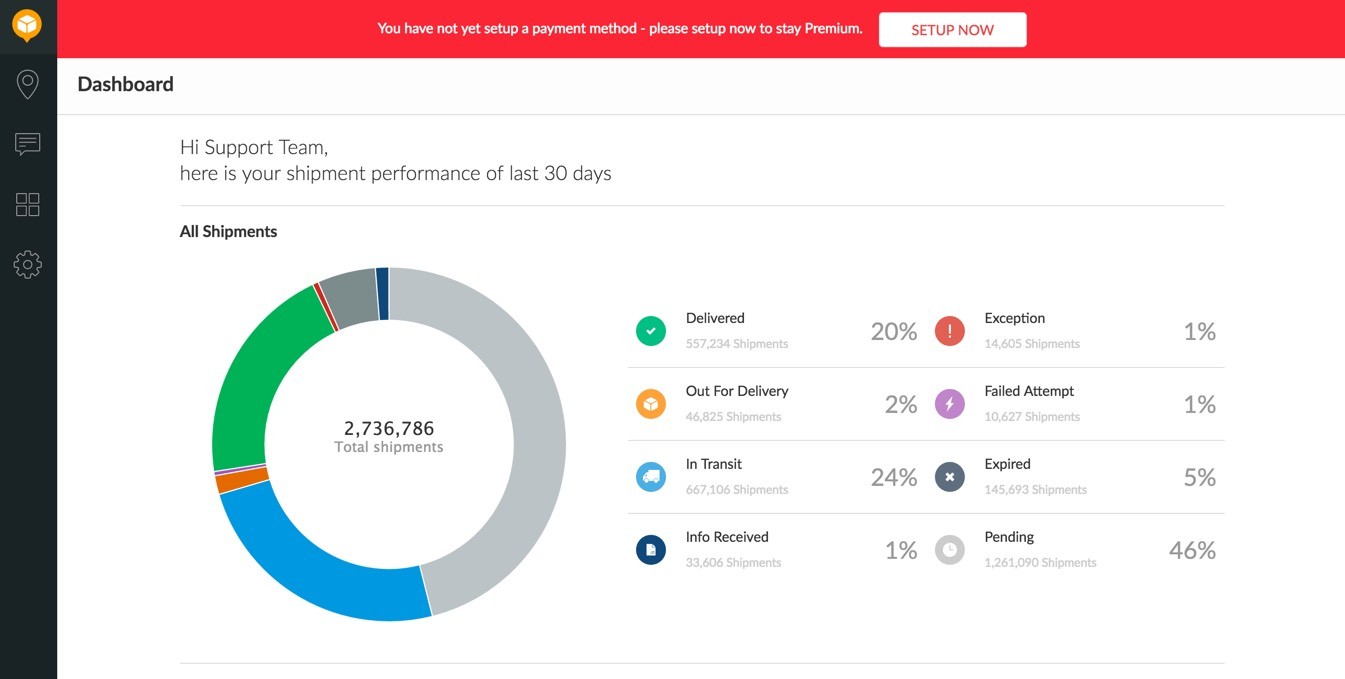 Other customer data, such as buyer phone numbers and email addresses, are also imported. The buyer will receive timely updates from the platform when a shipping update has been recorded.
Use a variety of couriers? AfterShip supports more than 450 global couriers so you can easily track all of your shipments in one place. Small businesses will appreciate the Basic plan that provides support for 100 shipments per month for free. Upgrade to a premium plan (to increase shipments) starting at $15 per month.
Pros
Automatic status updates so you customers always know where their package is
Analytics to help fix shipping delays
Custom tracking pages and tracking buttons
Over 450 shipping partners
Mobile app
Cons
Lacks marketing reports
Occasional glitches regarding tracking numbers
Fomo is a social proof marketing software. It provides a pop-up notification to the services you link it to. For example, it can show website visitors when someone joins your email list, or link it to a payment processor to show potential buyers when a product has been purchased.

When visitors and potential buyers see these pop-ups on your site, it encourages them to take action to increases your conversions and your sales. Use pre-styled templates to quickly start getting your notifications seen.
You can also track and display the number of live visitors on your site. This can help your site gain trust and get users to buy quicker if they think an item will sell out.
The Fomo dashboard provides marketing insights supported by AI to help your business grow quicker (i.e., Changing mobile position to the top would, on average, increase your impressions to click ratio up to 90%).
Pros
Cons
Lacks powerful tracking and reporting
A/B test only on the highest plan
No refunds
Needs more customer support and documentation
12. Smile.io
Smile.io is currently the biggest reward program globally, with over 25,000 different reward programs.
It has over 50 million business users. eCommerce owners find the platform easy to use, fully customizable, and an automated way to reward customers.
The platform offers rewards in the form of points, VIP status, and referral bonuses. The rewards can be collected by writing product reviews, sharing products via social media, and more. By utilizing Smile.io's rewards system, you can easily turn first-time customers into repeat shoppers.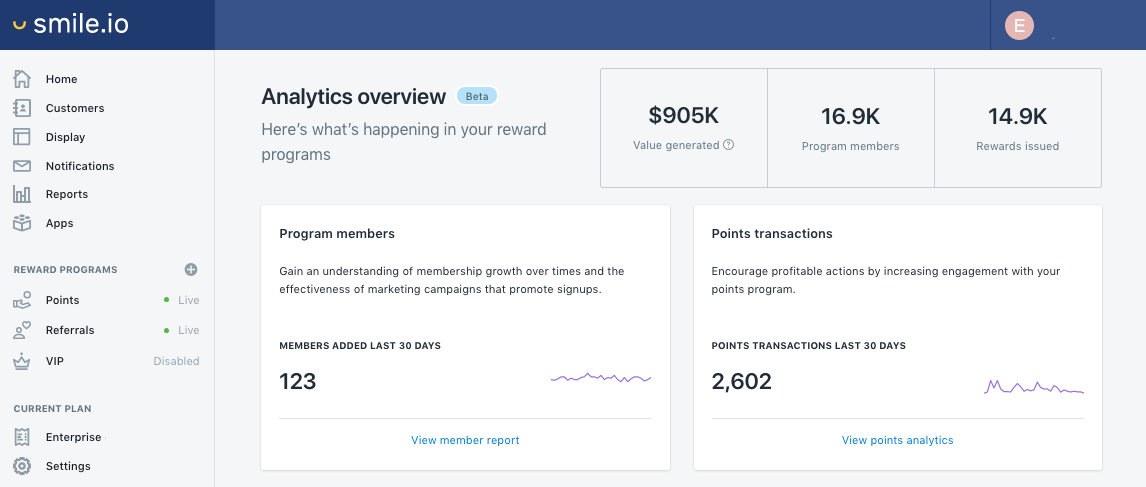 Smile.io has a forever free plan. However, the free plan lacks features such as program branding, VIP program, and Smile integrations. The Starter plan provides a professional look with enough features to get your feet wet.
At just $49 per month, its an affordable option that could easily pay for itself with a few repeat customers. Additional plans include Growth ($199 per month), Pro ($599 per month), and Enterprise (starting at $1,000 per month).
Plus, if you are already running another rewards program and want to switch to Smile.io, they will help you transfer your data, so you don't have to start from scratch. Simply export your existing program members, and you will have the option to import them into Smile.io. The platform offers help from their support team if you run into any snags.
Take advantage of Smile.io's mobile-friendly rewards, so no matter how your customers engage and shop, rewards will follow their every purchase.
Plus, customer nudges are timely reminders that they have rewards to redeem, perfectly placed while customers are already browsing. Smile integrations (paid plans) like Mailchimp, HubSpot, Yotpo, Re:amaze, Stamped, and Privy add value to the platform's growing list of pros.
Pros
Fully customizable customer rewards
Businesses nor customers need to be tech-savvy to use it
Integrates with all major eCommerce platforms (BigCommerce, Shopify, Wix, WooCommerce, etc.)
Builds a relationship with new and existing customers to encourage repeat sales
Email templates
Customer nudges
Mobile-friendly
Cons
The free plan lacks features
13. Affiliatly
Once you have a core sales engine humming, there's no better incremental growth channel than performance marketing (AKA affiliate marketing).
Affiliatly offers management of your affiliate partners. Easily get the word out about your new services or products. All affiliate links are created within the app so you can track which affiliates and products are doing well.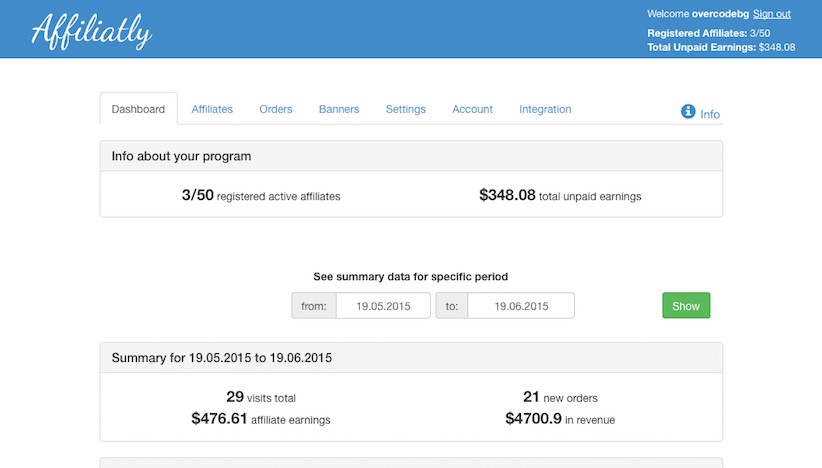 You can even create custom commissions for different products. Affiliatly takes care of your partner payments through PayPal. Take advantage of the pop-up form that notifies people to join your affiliate program if they have a website or blog.
Pros
Automatic pop-up to join the affiliate program
The whole interface is customizable
Reports can be exported
Automatic payments sent through PayPal
Option to pay affiliate with gift cards
Block products from affiliate access
Cons
Customer support is only available through a contact form or social media
Not for large businesses with complicated affiliate systems
Not all eCommerce platforms are supported
BigCommerce App FAQs
Conclusion: The Best BigCommerce Apps for eCommerce
Whether you need help with marketing, affiliates, shipping, SEO, or customer service, BigCommerce has an app integration for you. The integrations you choose will depend on your specific business and customer needs and your overall budget.
Narrow down what your biggest business pinch points are and start with that category. Keep in mind you have to spend money to make money, so don't be afraid of integrations just because of the added cost. Most of the integrations have free trials so you can "try before you buy".
An added feature to your website that you may have put to the side because it was too daunting to maintain alone, could be attainable with the right integration. A worthy integration should be easy to use and setup, affordable, and offer automatic features that save you time and money.
Other Specific BigCommerce App Guides
If you'd like to dive deeper into the BigCommerce applications ecosystem, here are some specific guides we've created: