Last Updated on April 22, 2023 by Ewen Finser
If you want to sell products on Amazon (or on another platform like eBay or Shopify), you need a product research tool – our ASINSpector review may help you figure out if this one is worth your time.
ASINspector is a useful tool with a variety of features. It may help you to find profitable products or even a whole new niche. But is it worth the money?
Keep reading to find out more – we'll be looking at the features it has to offer, as well as the pricing, support, and pros and cons. We'll also check out what everyday users have to say about ASINspector.
The bottom line up front: we like some of the features that ASINSpector has to offer, but we do have a few issues with it, mainly with data accuracy and support. It's a good affordable alternative (one up front payment) to Jungle Scout (see pricing here), just without a lot of the more advanced features (and track record).
Let's start by finding out what ASINspector is, and the basic features it has to offer!
What is ASINspector?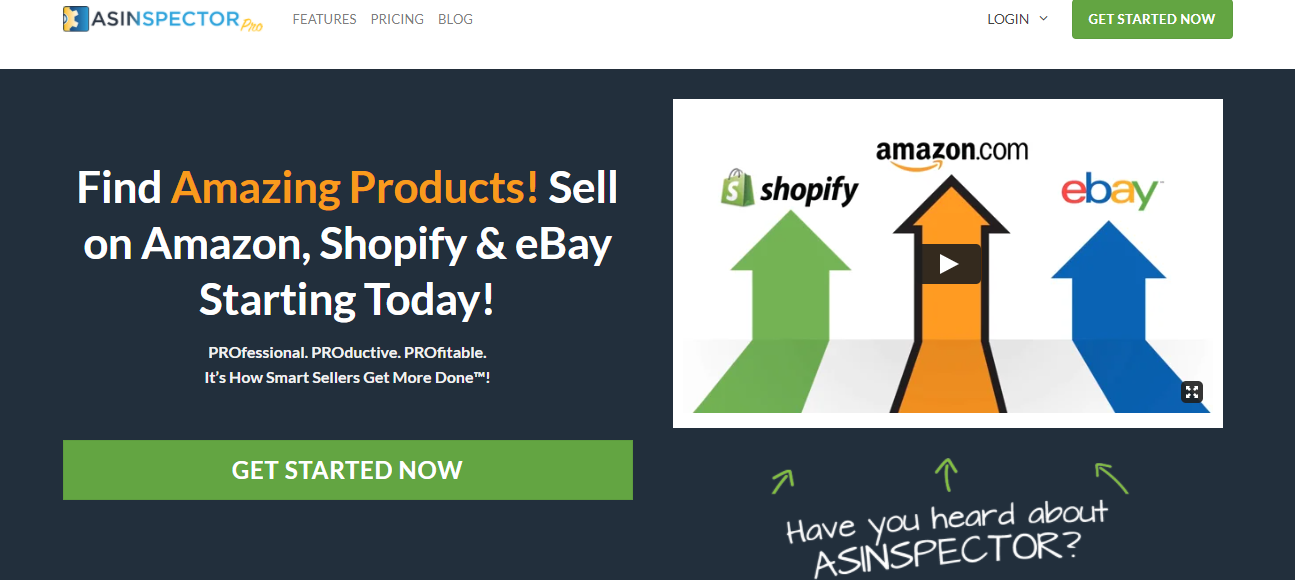 ASINspector is a research tool to help Amazon, Shopify, and eBay sellers to find profitable products. It has many tools to help sellers, including a keyword analyzer, niche research, product listing tool, and a mobile product scanning app.
Paying for ASINspector gives you lifetime access, which means you'll avoid monthly subscription costs.
The Main Features of ASINspector
Let's take a look at the main features of ASINspector.
Data Accuracy
ASINspector isn't considered to be the most accurate product research tool out there. According to an analysis by JungleScout (bear in mind this is a competing product – so it may be worth taking it with a pinch of salt), ASINspector performs the worst in terms of overall errors when compared with other tools on the market.
This doesn't necessarily mean that ASINspector is always going to give you errors when searching – it's just something to consider if you're trying to choose between similar tools.
Ease of Use
ASINspector is very easy to use by installing the Google Chrome extension. It's pretty simple to navigate, although like any platform, will take a bit of practice to make the most of it.
You can alter the search page settings easily, including spacing and font size, and you can easily access Google Trends results for your search query, export the search results, and more by simply clicking the three dots at the bottom of the search screen.

Much of these tools open up in the same tab, saving you having to flick back and forth. For example, clicking on the Google Trends button will quickly bring up the data within the same screen:
Chrome Extension
This is a very useful tool that allows you to browse Amazon as you usually would, whilst viewing in-depth information about each product.
This will give you sales estimates, data from competitive sellers, and projected profits. It's a very useful tool to have, and it's useful if you're a beginner as you don't have to worry about navigating a separate platform.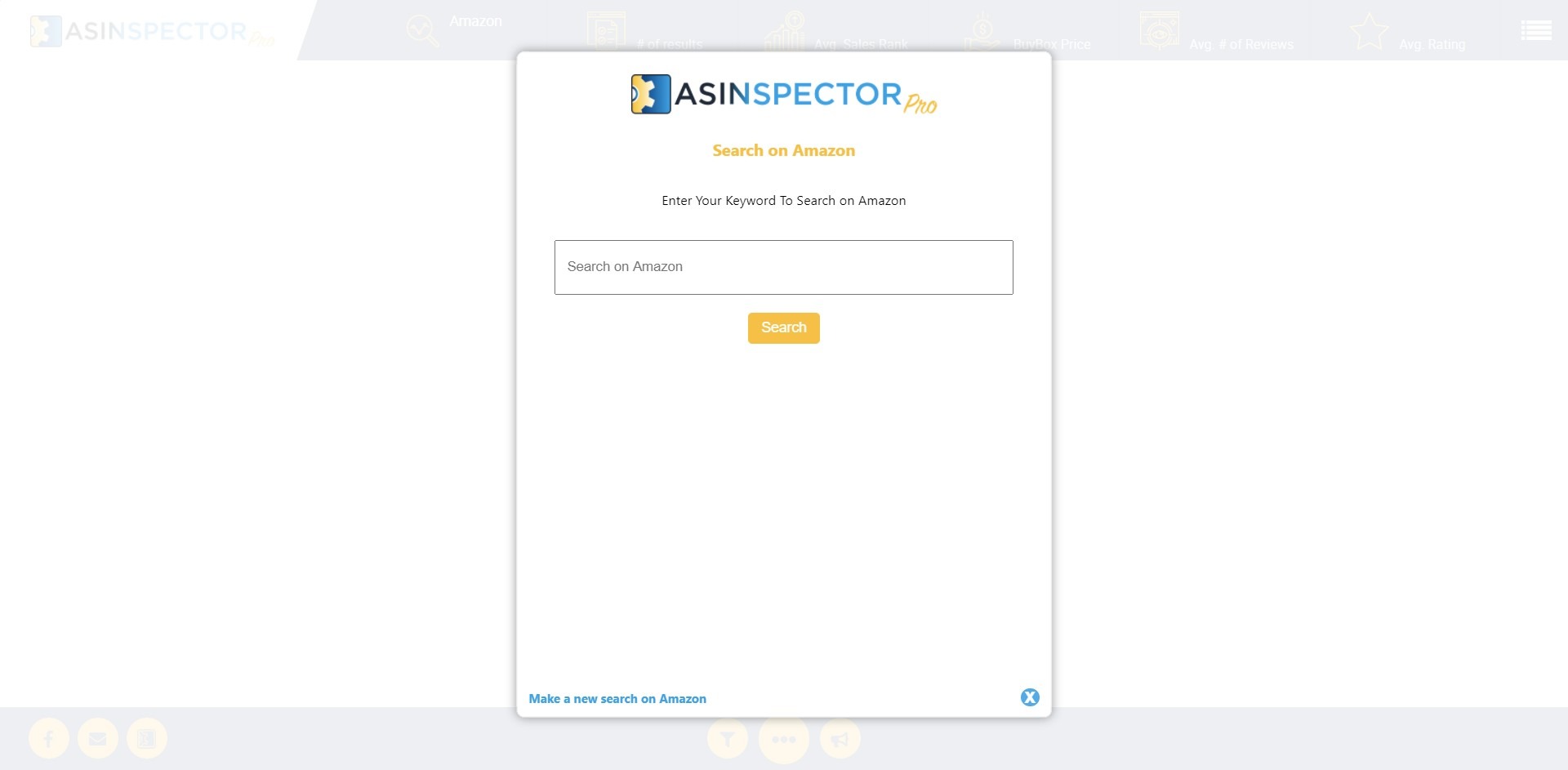 It's very simple to use. Just open up the Chrome extension and type in a search term, and it will bring up a screen like this: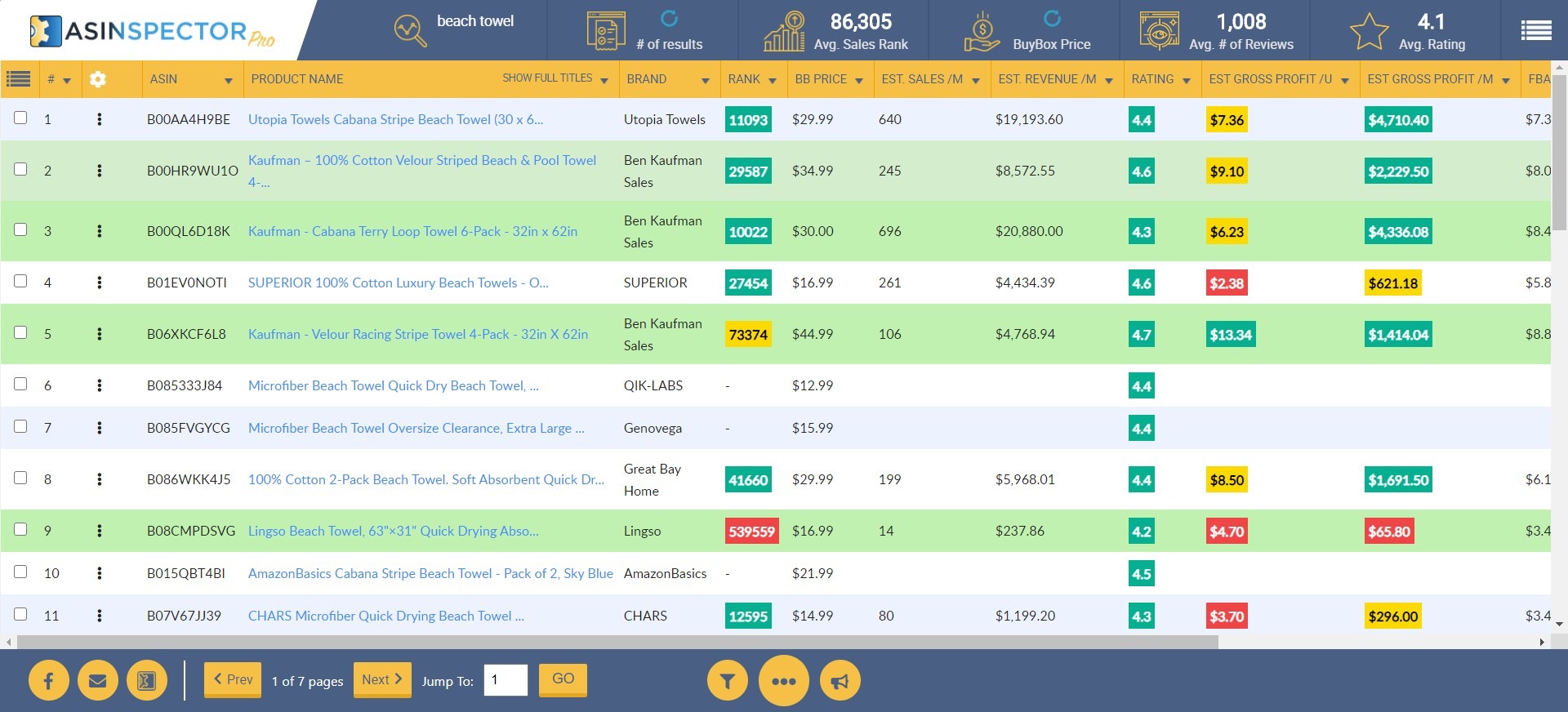 You can sort the results by ASIN, product name, brand, rank, price, estimated sales, estimated revenues, rating, estimated gross profit, FBA fees, Amazon fees, net payout, and number of sellers – so you can really refine your search.
Once you've seen an interesting product, you can click on it to be diverted to Amazon: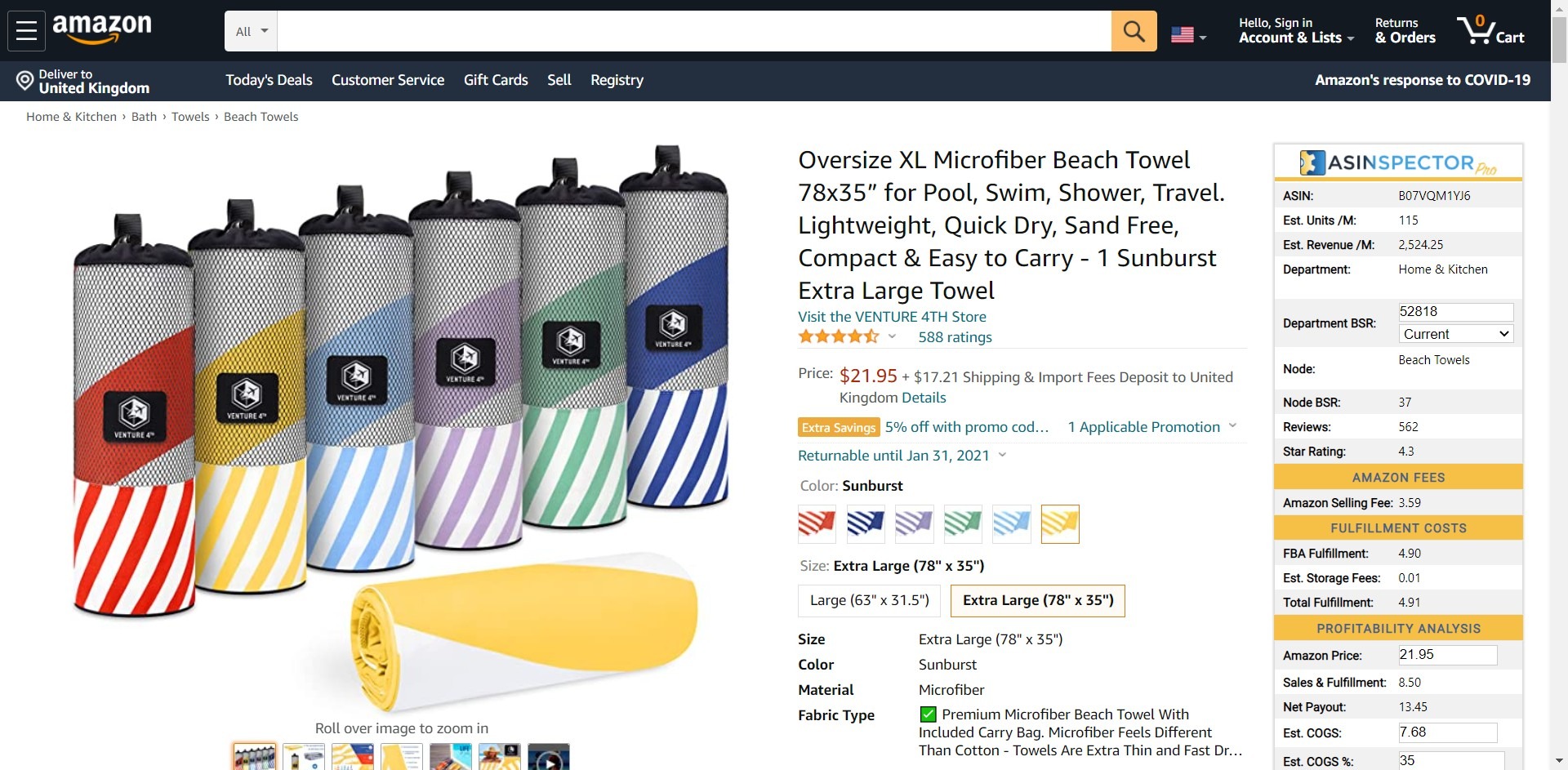 As you can see, the bar along the right is the additional information that ASINspector will give you. As well as the usual product information, you can see more in-depth stats, including their profitability analysis.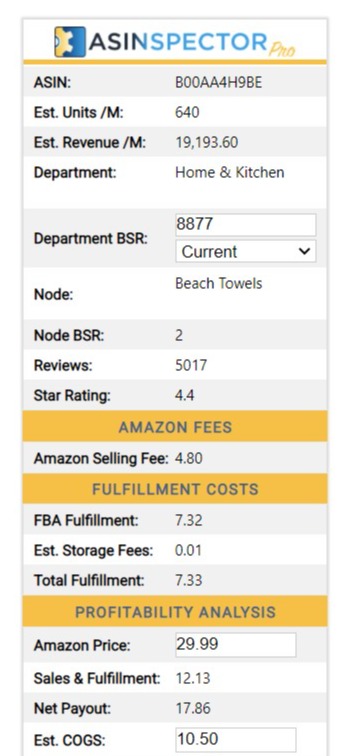 You can also see the remaining inventory on hand for all sellers, as well as finding out the child/variations for each product to see exactly where they are listed.
You can also research data points from listings to see which ones are spending the extra money to promote their products – this should give you an idea about whether it's worth spending extra money on advertising your products.
Best Seller Rankings
The best-seller rankings tool allows you to see which products sell best on Amazon. You can find popular products in every niche, which is a great way to figure out what sells well and where the Amazon seller tiers are. You can also use it to avoid selling products that are already oversaturated.
Niche Research
If you still haven't settled on a niche, ASINspector has a niche research feature tool to help you narrow down your search efforts. You can click on the 'magic light bulb' to allow ASINspector Pro to find niches automatically.
For example, here we've searched for 'face mask' and clicked on the light bulb symbol. ASINspector Pro pulled up a list of ideas for alternative products and search terms related to face masks: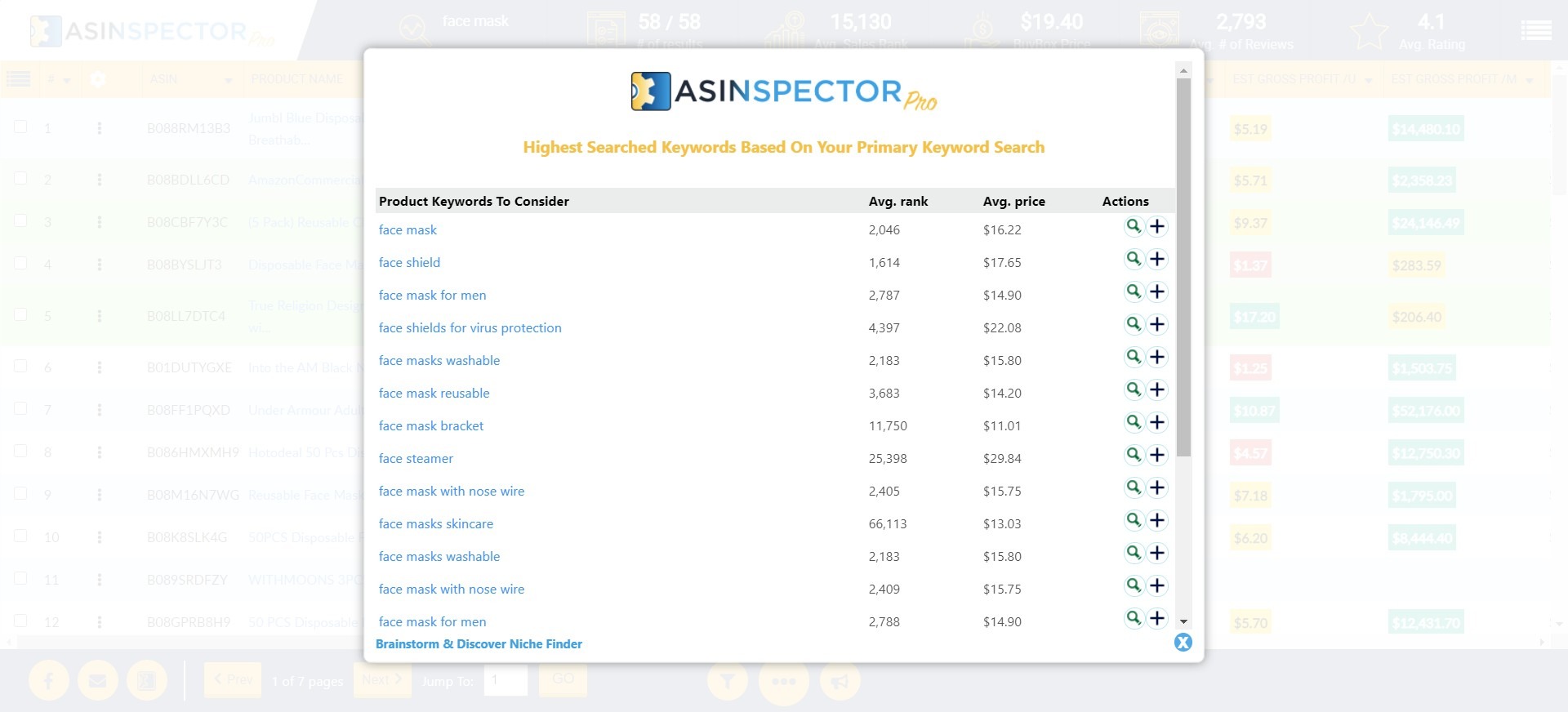 This is useful if you're stuck for ideas, or you like the idea of selling a certain product but are worried the market is oversaturated – this will help you to find something similar.
Intelligent Searching Feature
You can filter your searches by category or column, allowing you to perform some more specific searches. The results are color-coded, based on Cost of Goods – red products won't leave you with enough profit, yellow products will give you a little profit, and green products are projected to be profitable enough to proceed with.
This is a great way to see at a glance which products are worth looking at. For example, you can see here that there are a few green products at the top: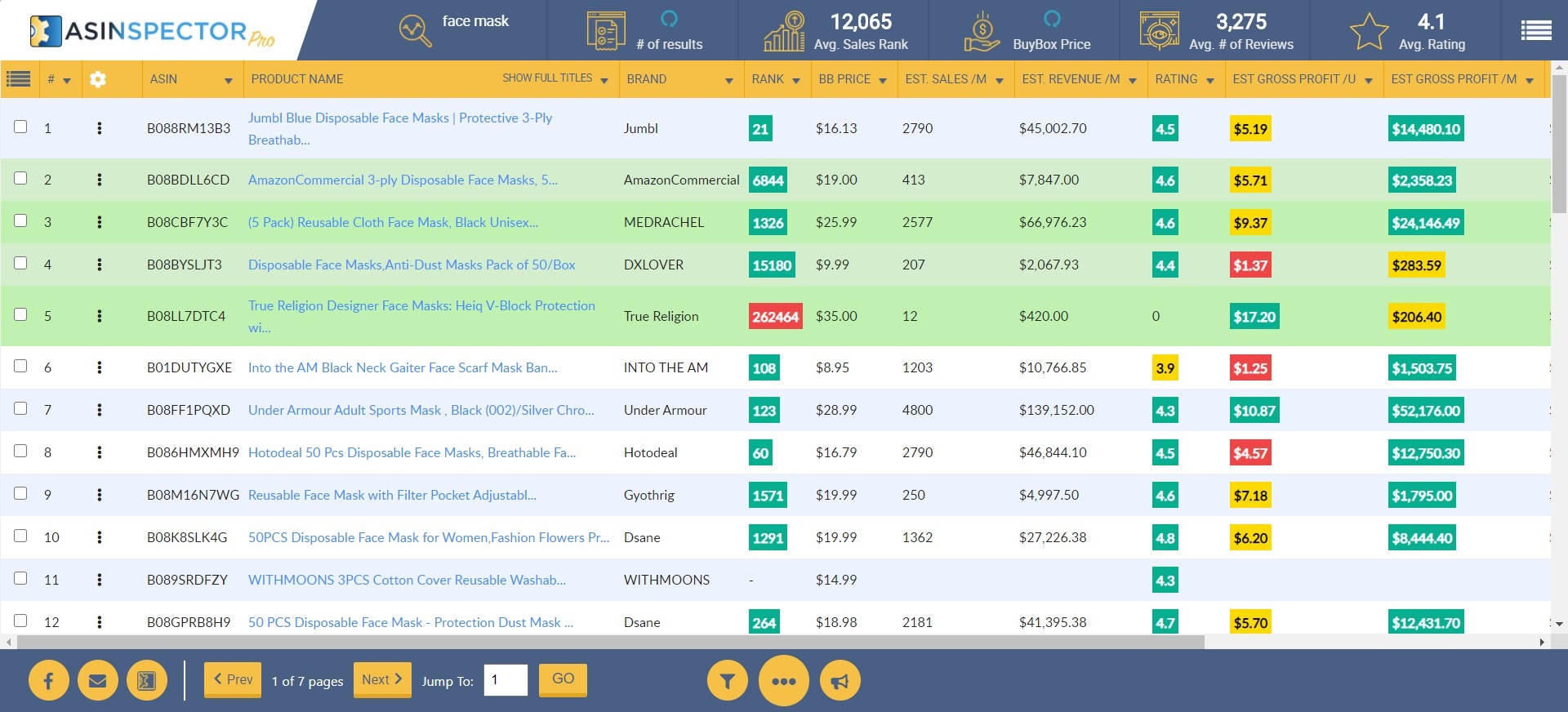 When you click on a product, you can compare prices in other places, like Walmart or eBay.
This is useful to know and will allow you to price your products competitively whilst being able to keep an eye on your profits. You can easily find the same product on different websites by using the ASINspector toolbar on the Amazon product page:

You can also see which products are frequently bought together. If you choose to sell those products too, you may be able to increase your average order value. This could make a big difference to your profits over time. To access this, you can click on this button on the bar on the right-hand side:

This will open up a new tab with a list of products that are frequently bought with your chosen product.
Product Sourcing Feature
ASINspector has a supplier directory, which is useful – you can find trustworthy suppliers in one place. It also provides you with supplier contact details, which is helpful if you want to try to haggle to get a better price.
Profit Calculator
You can easily and quickly calculate NET profit using the ASINspector estimate based on their proprietary product data. This takes into account Amazon fees, fulfillment costs, and price per unit, to calculate the profitability of each product.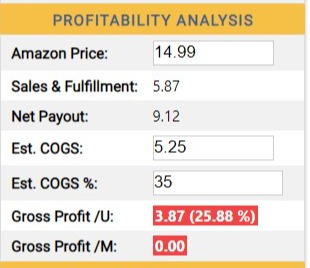 All this is done within the product page, so you can easily see what the profit per item will be (and these are also color-coded, so you can quickly make a judgment about whether a product is worth selling or not).
Listing Assistant
If you go for ASINspector PRO, you'll gain access to the listing builder. This will help you to maximize your chances of conversions by using the right keywords to rank highly in Amazon searches.
Mobile App
ASINspector has a mobile app. This means if you're out and about in everyday life and you see a product, you can scan it to see how viable it would be to sell it online.
ASINspector Pricing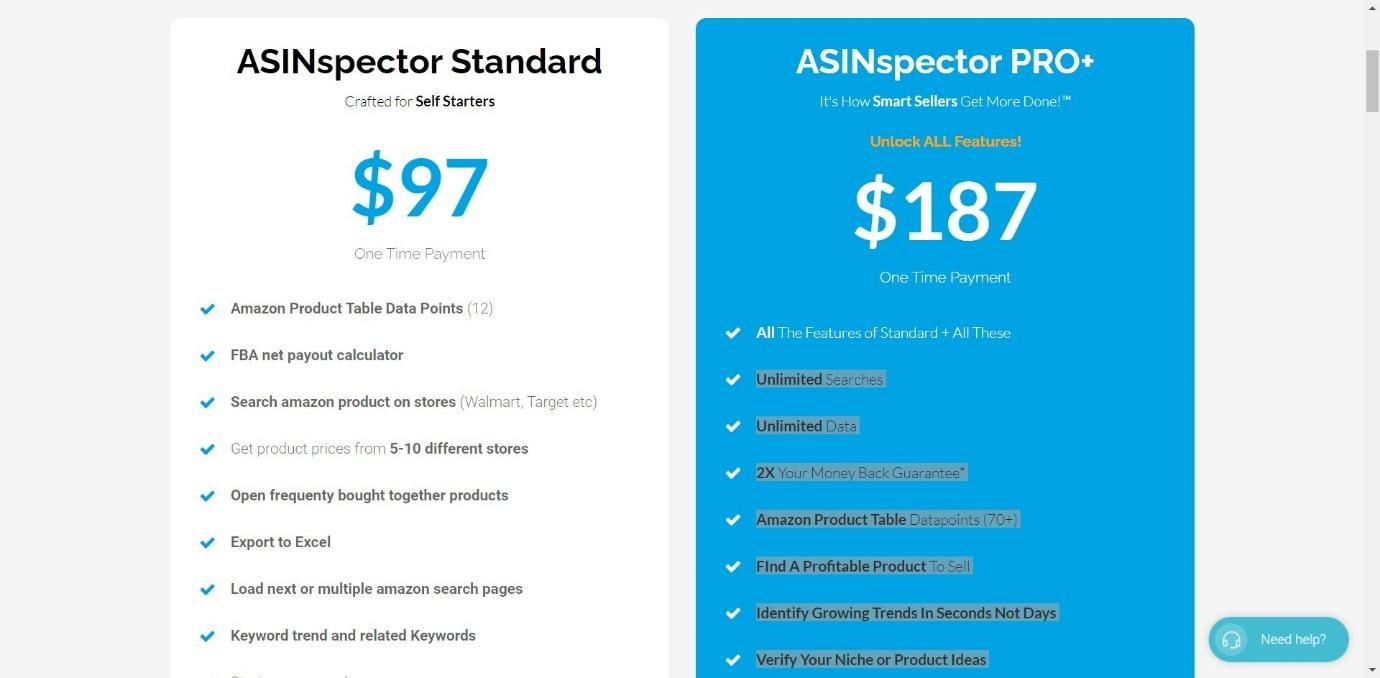 Let's take a look at the pricing plans that ASINspector has to offer.
This is aimed at new sellers and includes:
Amazon Product Table Data Points
FBA Net Payout Calculator
Search Amazon products on other stores (like Walmart and Target)
Get product prices from 5-10 different stores
See frequently bought together products
Export products to Excel
Load next or multiple Amazon search pages
Trending keywords and related keywords
This unlocks all the features ASINSpector has to offer. It includes all of the features in the Starter plan, plus:
Unlimited Searches
Unlimited Data
Amazon Product Table Datapoints
New Product Ideas
Identify growing trends
Verify niche or product ideas
Observe competing sellers
Instant Sales Estimates
Daily Sales Estimates
Monthly Sales Estimates
Review and Rating Tracking
Category and Seller Ranking
Mobile app barcode scanner
Reverse-searching on third party stores
FBA Net Payout Calculator
Save Favorite Products and Searches
Brainstorm and discover new products
Find sponsored ad data
Find 'frequently bought together' products
Bulk export data to Excel
Advanced Filters
ASINSpector doesn't offer a free trial. They do have a money-back guarantee if you don't like the product. You can find out more here.
ASINspector Support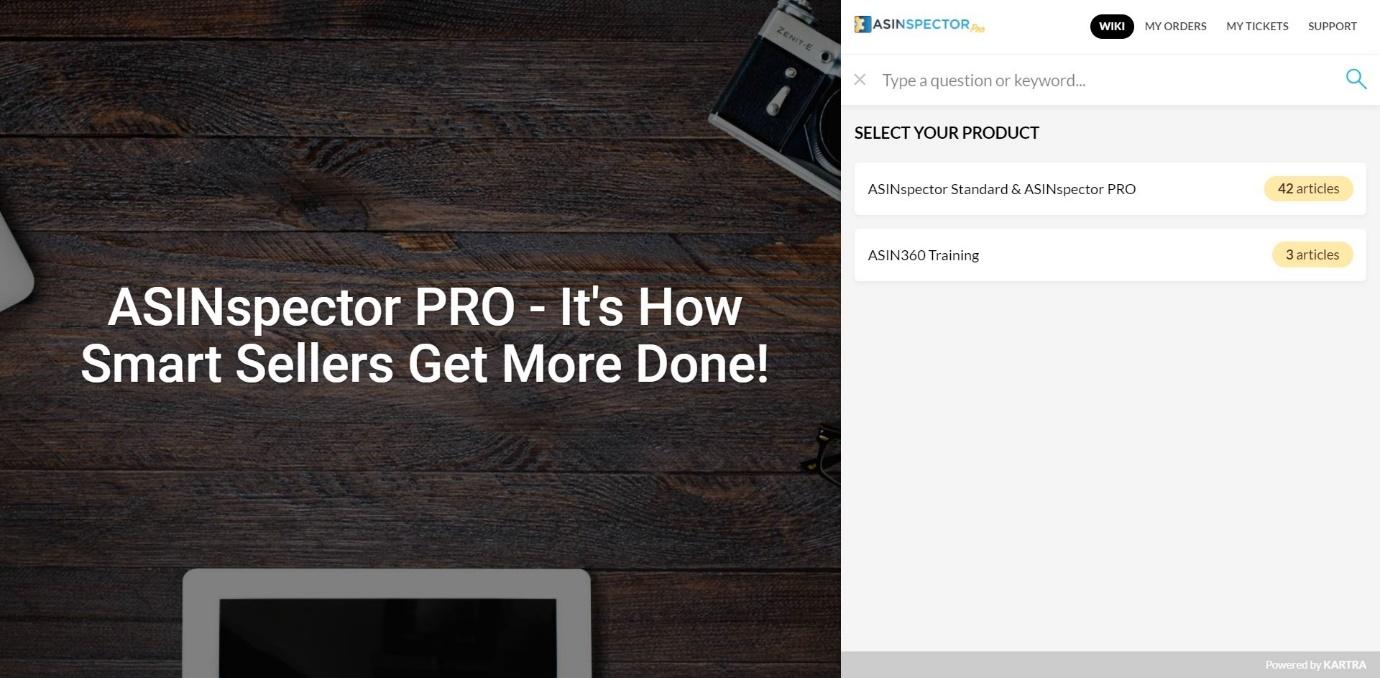 ASINspector has a help center with some common troubleshooting queries. You can also request support using their ticketing system. Other users have said that the customer service team can take a little while to respond to queries, however my experience will tell you otherwise. I received a prompt reply from one of their kind support staff, and even went so far to offer an upgrade at no extra charge. This was in response to a login query I had (not a technical error).
They also have a training program for members: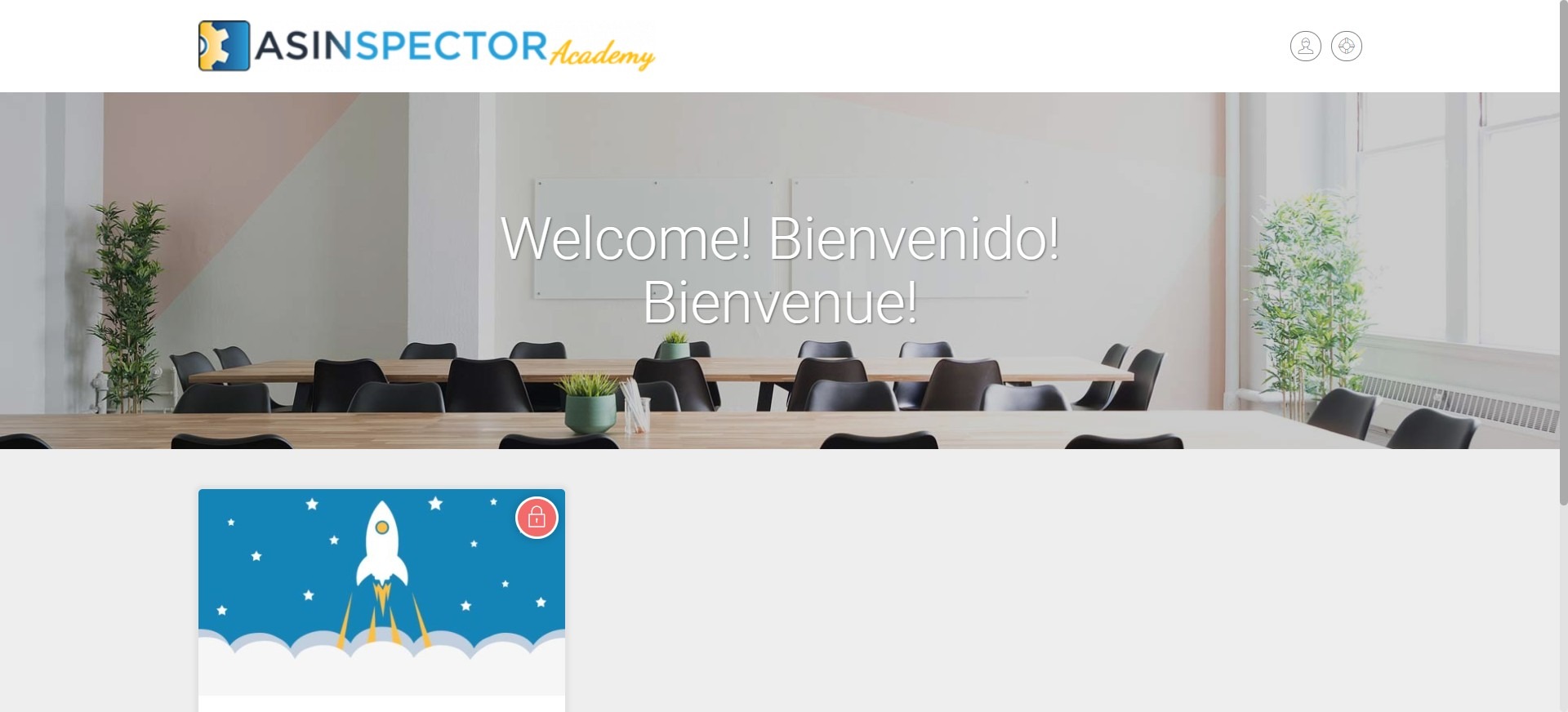 If you do decide to go for ASINspector, we'd recommend going through some of the training to help you get the best results from your searches. You can access the training any time whilst searching by pressing this button: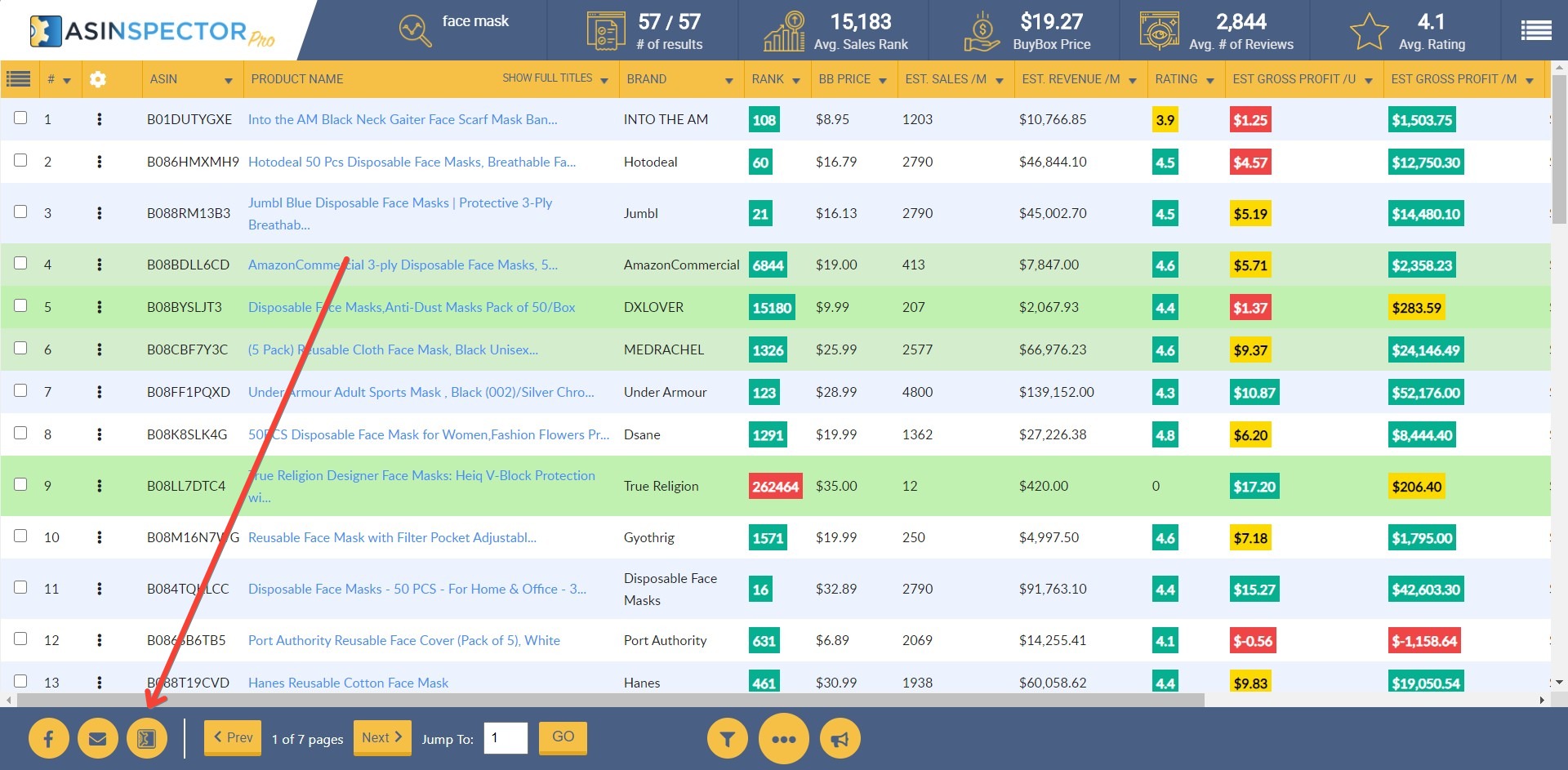 What Do Users Think?
So what do everyday users think of ASINspector?
Many users enjoy the simplicity of the Chrome extension, and how easy it is to draw pricing information from other stores. They also liked the color-coding system which makes profitable products stand out easily.
Some users did point out that the search data was inaccurate compared to other platforms.
Pros and Cons
Let's look at the things we like and dislike about ASINspector.
Pros
A one-time payment gives you lifetime access
The Chrome extension is easy to use and intuitive to navigate
It's simple to compare product prices on other websites
The color-coding system makes it easy to pick out profitable products within your niche
The profit calculator is helpful
The mobile app allows you to scan items as you go
The listing assistant helps you to use keywords to improve product ranking on Amazon
Cons
Search data isn't as accurate as other tools
Customer service can take a while to get back to you
They don't offer a free trial, so you can't 'try before you buy'
FAQs
Here are some of the most commonly asked questions about ASINspector:
Question: Can I use ASINspector on mobile?
Answer: You can access ASINspector on your mobile browser, but the Chrome extension works only on desktop. There is a mobile app, but this is only for scanning products, and won't allow you to perform regular product searches or keyword searches.
Question: Is the product scanning app available on iOS and Android?
Answer: Yes, it's available on both iOS and Android.
Question: Is ASINspector a Scam?
Answer: No – it gives you the product it advertises, so it's not a scam. They also have a money-back guarantee if you don't get on with it, or a double money-back guarantee with the Pro version (this means if you're not 100% happy, they'll double your refund – subject to their terms and conditions).
Question: Can I use ASINspector with different versions of Amazon?
Answer: Yes – it's not just Amazon.com that works with ASINspector, every version of Amazon can work with the Chrome extension.
Question: Are there alternatives I can try?
Answer: There are a few alternatives you can try if you don't want to go for ASINspector:
Jungle Scout – this is a popular Amazon research tool, with great search accuracy and a lot of features, including reverse ASIN searching, sales analytics, product tracking, and more. You can find out more about it in our Jungle Scout vs ASINspector comparison.
Tactical Arbitrage is a very comprehensive Amazon research tool with a lot of interesting features. It has great support and customer service too. You can find out more in our Tactical Arbitrage vs Jungle Scout comparison.
Unicorn Smasher is a free browser extension for Chrome. It allows you to get more in-depth information on Amazon products. It has limitations, but it's worth a try if you're new to selling and on a low budget. Read more about it in our Jungle Scout vs Unicorn Smasher comparison.
Helium 10 is packed with features. It has a bit of a longer learning curve than some of the other Amazon product research tools we've mentioned, but it could be a powerful tool if you want to invest time into it. You can find out more about it in our Helium 10 vs Jungle Scout comparison.
Our Final Thoughts
So – is ASINspector worth the money?
It's a bit of a mixed bag here. There are some tools and features here that are very useful. We really like the listing assistant and keyword analyzer, which can help you to build smarter, more efficient listings that are more likely to rank highly on Amazon searches.
We also like the profit calculator, which can give you a realistic idea of how much money you could stand to make on each product. The niche idea generator is great, too, and the color-coded searches make it a lot easier to weed out products that may not make you money.
Ultimately if you want to find new products, it's going to make it a much simpler process than just going in blind without a research tool.
It's also very simple to use, which is great – it doesn't have as steep of a learning curve as some other similar platforms. You can be an Asinspector guru in much less time!
However, the data accuracy problem is a little troubling. Given that there are other platforms out there that offer better accuracy, we think that the pricing of ASINspector (especially the Pro version) is a little steep.
On the plus side, you gain access to ASINspector forever, so you won't have to worry about monthly subscription costs. On the other hand, you can't try it out before you commit to paying for it, and the large upfront cost may keep you away if you're on a very tight budget.
Whether it's worth paying for it really depends on what you're looking for. We think the tools it has to offer are worth checking out (and could make finding new products a lot easier, potentially saving you lots of time), but it's probably also worth looking at other similar platforms as well before you commit to paying for it. Overall though, we found it to be a useful tool.
Bottom Line Summary: we like some of the features that ASINSpector has to offer, but we do have a few issues with it, mainly with data accuracy and support. It's a good affordable alternative (one up front payment) to Jungle Scout (see pricing here), just without a lot of the more advanced features (and track record).
Have you used ASINspector? We'd love to hear your thoughts and experiences in the comments, or you can let us know about other Amazon product research tools you've used.
Further read: