Last Updated on April 22, 2023 by Ewen Finser
If you're a business owner, you're probably used to rifling through mountains of paperwork. After all, lots of info needs collecting and tracking to keep your business in order – invoices, receipts, contracts, and dates of various kinds…to name a few!
Needless to say, it's easy to lose track.
So, if you've fallen behind on a payment before, didn't get paid on time, or lost important tax documents, you know what a hassle simple bookkeeping mistakes can be.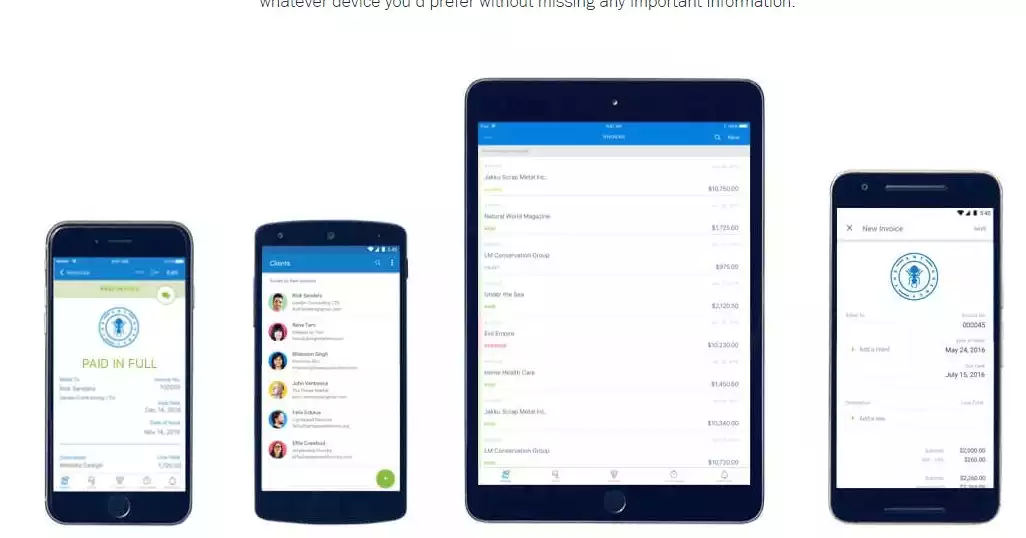 I Personally Prefer Freshbooks
I personally prefer the more user-friendly, feature-rich, and mobile-ready software suite offered by Freshbooks. You get what you pay for and Freshbooks is well worth it, IMO.
Try Freshbooks Free
We earn a commission if you click this link and make a purchase at no additional cost to you.
The solution: Using software that declutters your physical and digital workspace by centralizing all your accounting in one place… so you never lose anything again.
Cue, 17hats, and Freshbooks.
These are two such platforms!
So, in this review, we'll look at 17hats vs Freshbooks to help you determine which tool's better suited for your business needs.
Let's get started!
To give you a broader overview of the two platforms before diving into our in-depth review, here are the key similarities and differences between 17hats and Freshbooks…
Main Differences Between 17hats vs Freshbooks
The main differences between 17hats vs Freshbooks are:
17hats is more of a general organization software, whereas Freshbooks put a heavier focus on invoicing and payments

17hats can be purchased monthly, annually, or for two years – and there are no feature restrictions with its pricing plans, whereas Freshbooks is more of a traditional SaaS, the more you pay, the more features you unlock.

17hats reporting features are more superficial, whereas Freshbooks' invoicing, accounting, and financial reporting features are more in-depth in comparison.

17hats offers online scheduling, email sync, calendar events, and questionnaire functionalities, whereas Freshbooks doesn't offer many of those.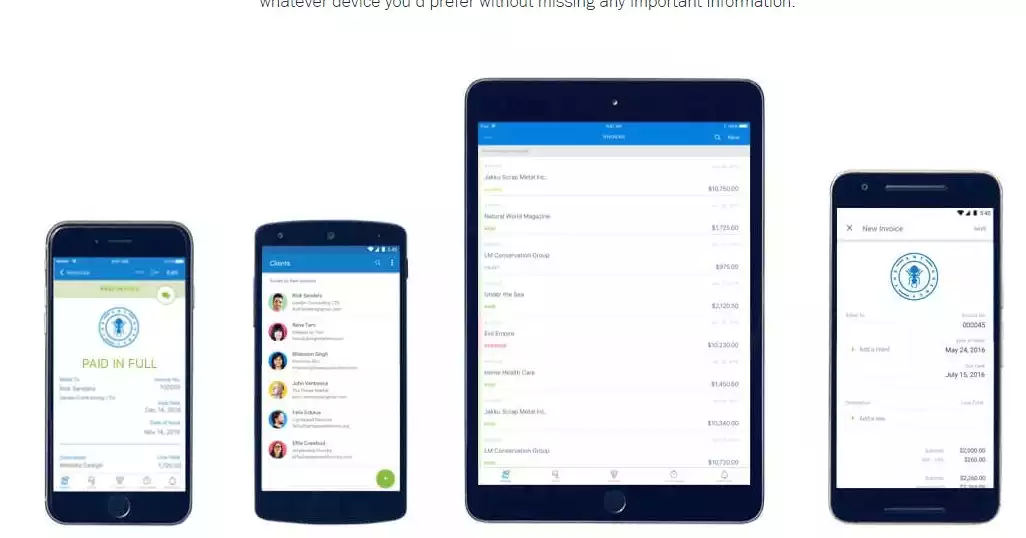 I Personally Prefer Freshbooks
I personally prefer the more user-friendly, feature-rich, and mobile-ready software suite offered by Freshbooks. You get what you pay for and Freshbooks is well worth it, IMO.
Try Freshbooks Free
We earn a commission if you click this link and make a purchase at no additional cost to you.
The Similarities:
Both tools enable you to track time, manage expenses, and list contacts and projects.

You can customize quotes and invoices and quickly get paid online.

Both tools come with a mobile app for Android and iOS.

There's a free trial available with both, but no free plan. Note that Freshbooks' free trial is considerably longer (30 days compared to 17hats' seven days).
About 17hats
17hats was founded by entrepreneurs with big dreams who were soon worn down by the weight of their paperwork. With little time left for what inspired them to go into business, they realized streamlining their admin could be so much simpler.
So, in 2016, 17hats was created with the vision of combining all areas of an organization into one. Now, the provider helps over 20,000 businesses stay organized.
At its core, 17hats empowers you to coordinate all your documents and task lists in one place. You can also neatly file away your contacts, projects, leads, quotes, contracts, and much more. Additionally, the software also boasts time tracking, online scheduling, bookkeeping, to-do list features.
And the best thing? You can manage everything from one dashboard.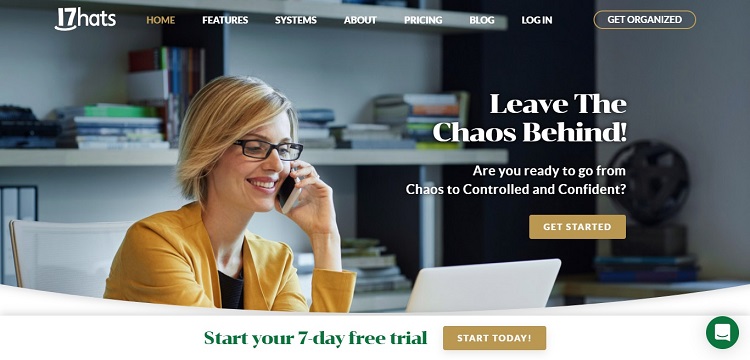 About Freshbooks
Freshbooks came into existence in 2003, when the founder, the owner of a small design agency, accidentally saved over an invoice! He swore never to make the same mistake again, and thus the idea of Freshbooks was born. Now, the tool supports over 24 million users, and over $60 billion invoices have been paid through Freshbooks.
Freshbooks is, first and foremost, an accounting tool. It makes creating, sending, and receiving invoices much more manageable with its one centralized dashboard. You can track your expenses, so you're well prepared by the time any costs or taxes come around.
For store owners, there's also access to inventory management tools. And if you're a service-based business, there's even time tracking features that make billing clients for those tracked hours a breeze!
17hats vs Freshbooks: Features
At first glance, it's clear that 17hats aims to provide more holistic software by facilitating your business's general organization. Most notably, by enabling you to track near-on every kind of document and plan all manner of business tasks using this platform.
Whereas, as we've already alluded to, Freshbooks is more geared towards assisting you with your business's financial aspects.
That said, how do 17hats and Freshbooks compare?
17hats' Core Features
As its name so aptly suggests, 17hats allows you to handle 17 core tasks from its intuitive dashboard:
Contacts

Projects

Leads

Questionnaires

Quotes

Contracts

Invoices

Payments

Bookkeeping

Calendar

To-do items

Time tracking

Workflows

Templates

Email sync

Online scheduling

Client portal
We don't have time to evaluate everything 17hats has to offer, so we're just taking a more detailed look at its essential features.
As we've already mentioned, 17hats consolidates your digital workspace into one easy-to-use Dashboard. Here, all your action items are highlighted, so nothing falls through the cracks. For instance, you can see key calendar events three days ahead and even view the weather forecast for those dates.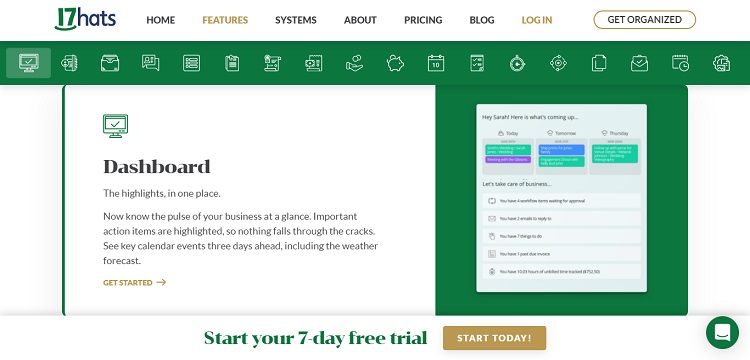 Contacts and Projects
You can list all your clients and projects. Here, you can track their contact info and the core details relating to each client's project.
Each contact entry allows you to input essential documents associated with them, such as contracts, invoices, or questionnaires.
17hats' project management tools help you juggle multiple projects at once, allowing you to keep an eye on the status of any given project. You can toggle between leads, active projects, and archived jobs too!
Leads
If you're interested in lead generation, you can create lead inquiry forms to embed on your website. These enable you to gather information about prospective leads – most notably, their name and email address. Best of all, every time a lead comes in, you get an alert so you can respond instantly.
Questionnaires
You can build customizable online forms. These come in handy for evaluating whether a client's a good fit for your services before committing to taking them on.
You can ask virtually any type of question and provide space for clients to write short or long answers. Or set multiple-choice questions accompanied by checkboxes. The choice is yours!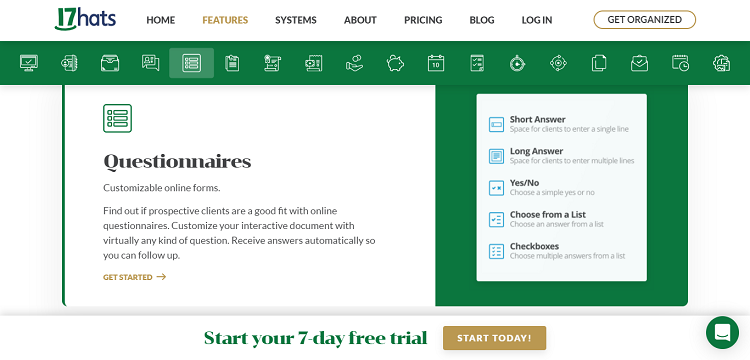 Quotes and Contracts
You can easily customize and save templates for your quotes. Not only that, but you can also send them to clients with contracts and invoices attached for easy booking. Contracts can be e-signed and are fully brandable with your logo.
Invoicing and Payments
You can quickly generate professional-looking invoices that clients pay online. You can integrate with Stripe to accepts major credit cards and e-checks. 17hats also supports Square, PayPal, and Authorize.net.
You can even build invoices based on a previous quote you've sent, based on whatever option your client selected. Plus, you have the option of sending automatic payment reminders should a client forget to pay you.
If you charge a deposit for your products and/or services, these funds are directly sent to your account with no commission.
Bookkeeping
It's effortless to manage your books. All your records are organized in one place, empowering you to be accountant-ready in next-to-no time. You can easily categorize transactions for reference. Plus, with 17hat's intuitive search filters, locating a specific transaction is also incredibly quick.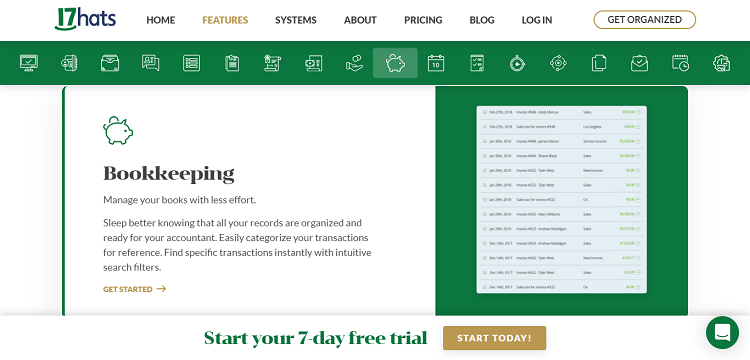 Calendar and Online Scheduling
You can sync your 17hats calendar with Google Calendar and iCal to track your schedule. This makes adding events to your calendar and viewing your schedule while you're on the go a doddle!
Clients can also schedule appointments online. All you need to do is confirm the date or ask the client to reschedule, and 17hats will add this to your calendar for you.
Time Management
17hats lets you create multiple to-do lists (complete with due dates and project milestones) to help you stay organized.
There's also a time tracking feature you can use to calculate the exact number of hours to bill your clients. Best of all, you can convert your hours into invoices with just a click.
Templates and Email
Send professional-looking emails and quotes using 17hats' templates. This helps to ensure the look and feel of your brand remains consistent across your communications. Not only that, but 17hats makes it easy to personalize these interactions with your client's info.
Plus, you can sync 17hats with your email provider. That way, you can access all your client info and email communications from your 17hats dashboard.
Client Portal
Your clients can log into the client portal, where they can accept quotes, sign contracts, and pay invoices. They can even check their job status online, so they won't have to call you up every time they want an update!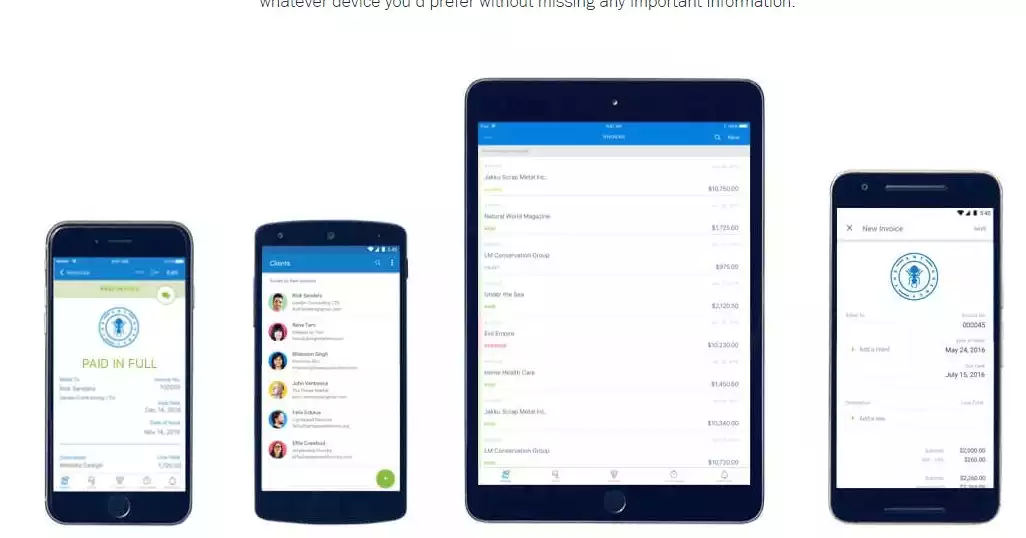 I Personally Prefer Freshbooks
I personally prefer the more user-friendly, feature-rich, and mobile-ready software suite offered by Freshbooks. You get what you pay for and Freshbooks is well worth it, IMO.
Try Freshbooks Free
We earn a commission if you click this link and make a purchase at no additional cost to you.
Freshbooks' Core Features
Now, let's see how Freshbooks' features compare…
Invoicing and Payments
Invoicing is the bread and butter of Freshbooks and where it shines the most. You can create customizable invoices with your chosen logo, colors, and fonts. Plus, it's easy to launch payment reminders and set automatic late fees when a client doesn't pay on time.
You can set recurring invoices and accept credit cards you have on file. You can even add discounts, ask for deposits, and bill for multiple currencies.
Best of all, you can even create multi-language invoices – making Freshbooks a fantastic choice for international business.
Furthermore, it's easy to track and record payments and expenses as a lot of this is handled automatically. And you can issue refunds from your Freshbooks dashboard and create checkout links to share online.
Expenses
Freshbooks makes preserving all your receipts straightforward. You can create tax-friendly categories to organize your receipts better and generate easy-to-read summaries of your expenses.
Freshbooks can track multiple currencies and remembers your commonly used vendors, so logging your costs is even faster.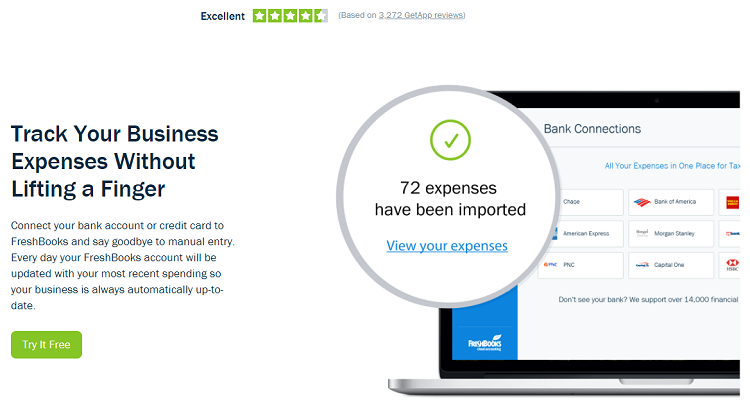 Estimates and Proposals
Create client proposals electronically, so they can quickly sign with e-signatures. Review and accept estimates online, and convert those estimates into invoices with just a few clicks.
You can send these proposals from anywhere using Freshbooks' mobile app.
Time Tracking
Create daily breakdowns of how you and your team are using your time to see how productive you've been and accurately bill clients for the exact hours you've worked for them.
Just hit the play button when you start work, and Freshbooks will begin tracking your time! This is a Chrome extension, and, as such, you can use it alongside popular project management tools like Asana, Basecamp, or Trello.
Best of all, you can track time for specific clients and/or projects.
Project Management
Invite your team to collaborate on projects with you. Draw in employees, contractors, and clients to view everything from one place. You can share files, start project conversations, and organize project due dates and other details.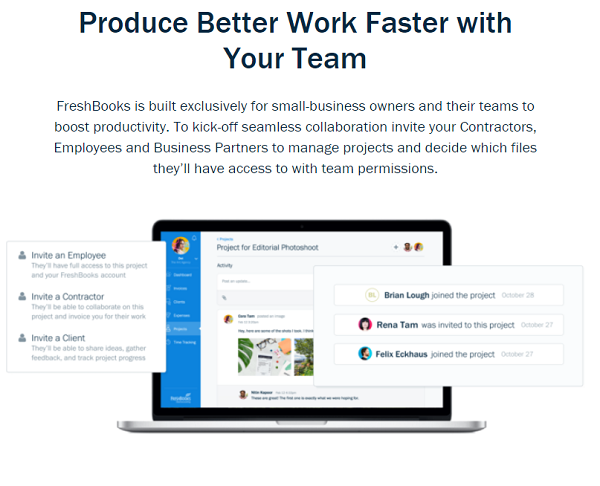 Clients
Manage clients by keeping an up-to-date log of your relationship with each customer. You can edit client entries easily if their details change. Plus, Freshbooks enables you to access your most active clients more efficiently.
Accounting and Reporting
Freshbook allows you to grant your accountant access to your dashboard. That way can they can access and/or generate the necessary financial reports.
These include a general ledger if you're after a complete record of all your financial accounts and transactions. You can also view a profit and loss report showcasing your total income and expenses, a sales tax summary, an expense report, invoice details, balance sheets, bank reconciliation, and the cost of goods sold.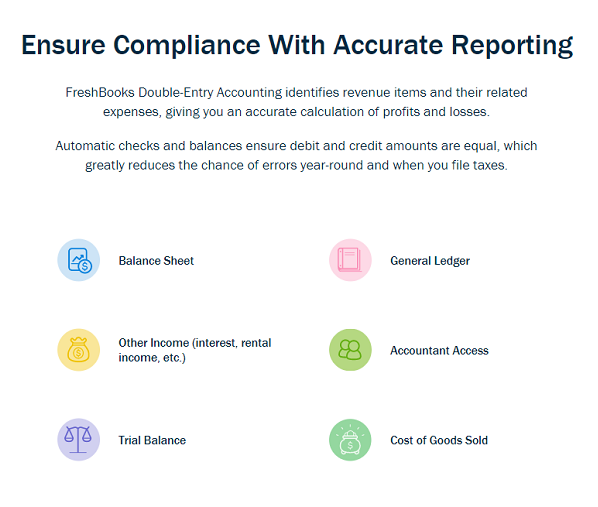 If anything needs editing or adding, you can create journal entries for one-off financial transactions.
17hats vs Freshbooks: Pricing
Now, let's take a look at how much these platforms will set you back…
17hats
17hats keeps its pricing simple.
None of the plans limit your access to 17hats' features – you purchase the full suite from the start. You can either pay monthly, annually or buy a two-year program.
There's also a seven-day free trial and a 30-day money-back guarantee, so you have plenty of time to try the software before committing your hard-earned cash.
The monthly plan costs $45 a month. But, if you pay annually, you'll pay £295 in one go, which equates to $25 a month. And finally, if you want to lock their services down for two full years, you pay £395 at the start (which works out to be just $17 a month).
17hats even allows you to register up to five users on your account for no extra cost. After that, you can add additional users at $5.00 per person per month.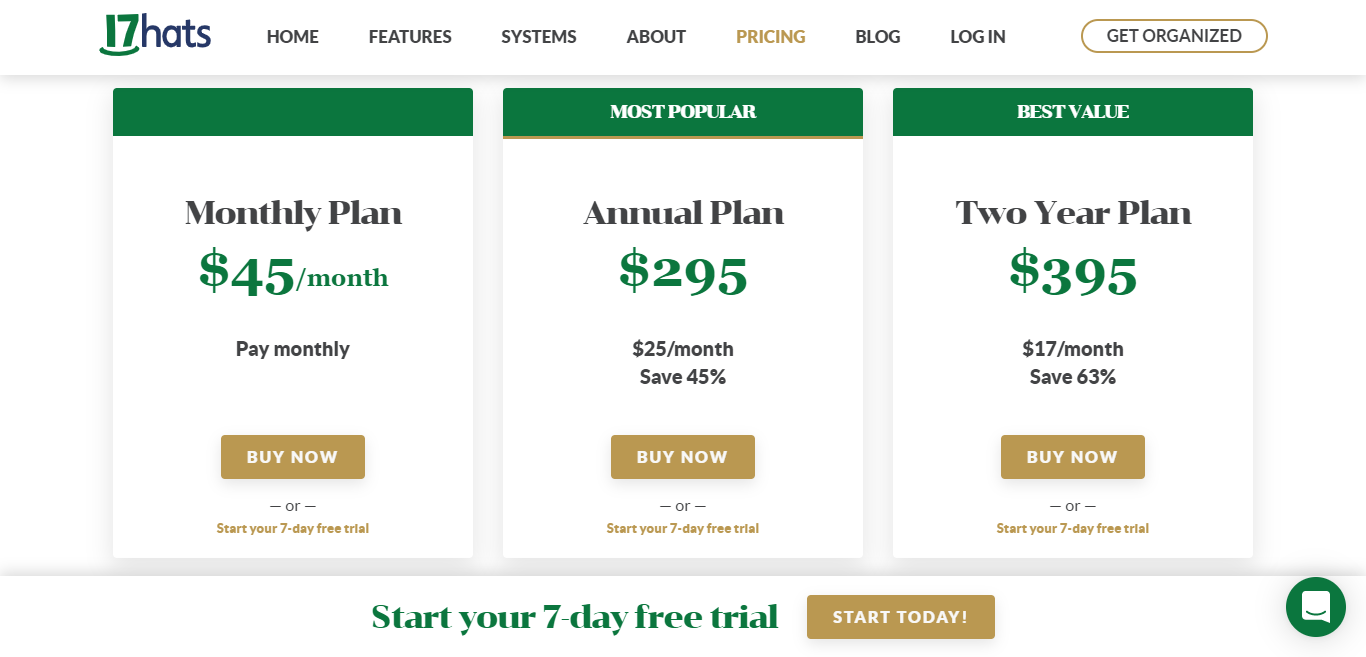 Freshbooks offers three plans, with a custom pricing plan available for businesses with more complex needs. You can pay for these tiers either monthly or annually, whereby with the annual plan, you'll save up to 25%.
Please note: Freshbooks offers a 30-day free trial.
The Lite Plan: $15 a month – You can send unlimited invoices to up to five clients. You can track unlimited expenses, send unlimited estimates, get paid with credit cards and bank transfers, and track sales tax. All of Freshbooks' core features are included, such as payment reminders, budgeting for projects, time tracking, business reports, and more.
The Plus Plan: $25 a month – You can now send unlimited invoices to up to 50 clients, and you can automatically track expenses. You can also send unlimited proposals and estimates and set up recurring billing and client retainers. This plan also permits you to invite your accountant to overview your financial reports. Plus, you can track mileage via the mobile app.
The Premium Plan: $50 a month – This lets you send invoices to up to 500 clients. On top of the previous features, you can also create checkout links, send automatic late payment reminders, and bill late fees.
If you decide on Freshbooks' custom priced plan, you gain more security, support, and payment methods. You'll also access lower transaction rates, be able to charge subscription-based payments, securely store card details, and accept credit cards over the phone. You can also register another two team members, and you'll get the support of a dedicated account manager. Customized onboarding services and data migration also become available.
You can upgrade any of these plans with 'advanced payments' for $20 a month. This allows you to save and charge client credit cards, access subscription-based billing, and enable virtual terminals.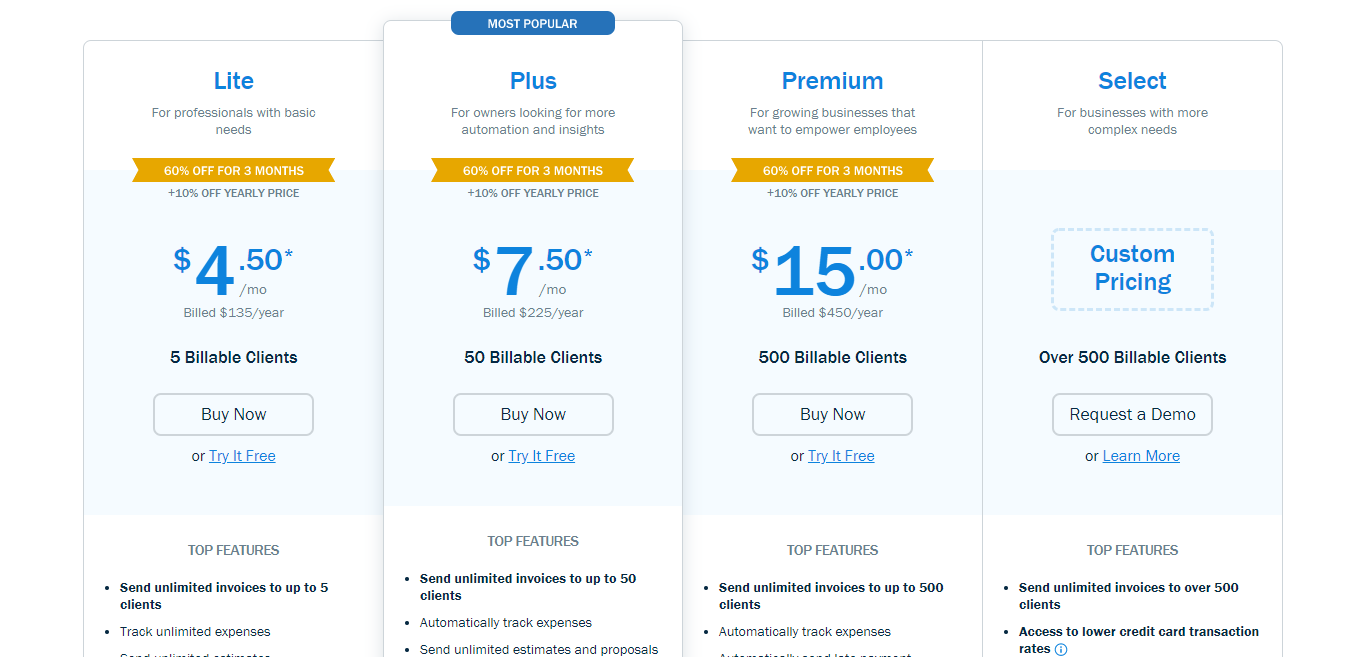 FAQs
We'll now round off this review by answering some of the most frequently asked questions about 17hats and Freshbooks:
Who are 17hats and Freshbooks designed for?
Both tools suit small to medium-sized businesses as well as freelancers.
More specifically, 17hats advertises itself, especially to designers, photographers, developers, attorneys, caterers, event planners, entertainers, consultants, coaches, etc.
Whereas, Freshbooks, with its Gusto integration and custom pricing, also can assist larger businesses.
What support is available with 17hats and Freshbooks?
17hats' support team is entirely in-house. They promise quick support via their live chat and an extensive collection of self-help articles and tutorials.
Freshbooks, on the other hand, offers phone support between 8 am and 8 pm EST. If you're on a custom plan, you'll also gain access to a dedicated account manager. Sel-help support documentation is also available on their website.
Can I add other people to my account?
17hats allow you to register five team members to your account. Additional users cost extra.
Freshbooks lets you grant access to your accountant with its Plus tier. Plus, with a custom priced account, you can add two other team members. Otherwise, each team member costs an additional $10 per person per month.
17hats vs Freshbooks. Which is the Best Accounting Tool for You?
We hope you now have a better insight into 17hats and Freshbooks. Before we leave, let's recap the main takeaways.
Freshbooks specializes in invoicing and payments. It also offers some organization tools. However, it's primarily an accounting tool and can masterfully help you get your cash in order. In that spirit, it provides many detailed reports and tools for managing your payments and expenses.
Its pricing is about industry-standard and would suit small to medium-sized businesses. If you're primarily looking for software to manage your invoices and expenses, Freshbooks is a very decent option for your business.
17hats, on the other hand, isn't as extensive when it comes to invoicing and accounting. It lacks in reports. However, it makes up for this by offering a comprehensive suite of other tools for any small business or freelancer looking to manage their clients and projects.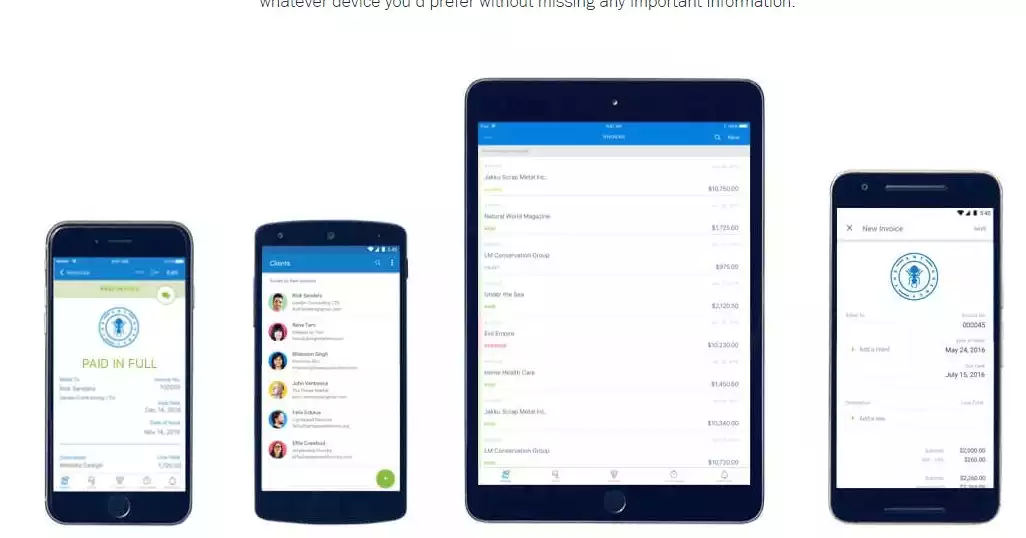 I Personally Prefer Freshbooks
I personally prefer the more user-friendly, feature-rich, and mobile-ready software suite offered by Freshbooks. You get what you pay for and Freshbooks is well worth it, IMO.
Try Freshbooks Free
We earn a commission if you click this link and make a purchase at no additional cost to you.
Most notably, it keeps detailed records of your communications, helps you schedule your time, and nurture prospective clients. However, the best thing about 17hats, and why we might recommend this tool to smaller businesses over Freshbooks, is its value for money.
If you can agree to a two-year plan, you pay only $17 a month for all their features! And this includes four more team members that would cost you an additional $40 a month with Freshbooks. The price is incredibly reasonable for what this tool offers.
So if your invoicing and expenses don't require expert attention, and you want software that helps you with your business's general organization, 17hats is ultimately the more affordable and well-rounded choice.
If you're still on the fence, give both their free trials a go to see which tool you like better.
Have you tried either Freshbooks or 17hats? Please share your experience in the comments below and let us know what you think!
Further Reading on Accounting Tools & Accounting Software: