Last Updated on April 22, 2023 by Ewen Finser
If you are a small business owner, then you know that keeping your finances in order is essential. There are a number of different financial management tools available, but two of the most popular are Zipbooks vs Quickbooks.
When it comes to accounting software, there are a lot of options on the market. If you are looking for a comprehensive solution that can handle all of your bookkeeping and financial needs, then you will want to consider Zipbooks vs Quickbooks.
Both tools have their pros and cons, but which one is right for you? We will take a look at the top features of each tool, as well as who they are best suited for. Finally, we will provide a detailed side-by-side comparison. So, which tool is right for you?
Business owners have a lot of choices to make when it comes to bookkeeping and accounting. In this blog post, we will compare two of the most popular options: Zipbooks vs Quickbooks. Both tools have their pros and cons, but which one is right for you?
We will take a look at the top features of each tool, as well as who they are best suited for. Finally, we will provide a detailed side-by-side comparison. So, which tool is right for you?
Bottom Line Up Front
Overall, when it comes to Zipbooks vs Quickbooks which tool works best for you will depend on the type of business you have. For smaller businesses, solopreneurs, or freelancers, Zipbooks is much better. In comparison, for larger businesses or businesses that are looking to scale, Quickbooks will be better suited.
Main Differences Between Zipbooks vs Quickbooks
The main differences between Zipbooks vs Quickbooks are:
Zipbooks is purely cloud-based, whereas Quickbooks is available in a desktop and cloud version.
Zipbooks is primarily targeting sole proprietors, freelancers, and small businesses, whereas Quickbooks is suitable for small businesses to larger enterprises.
Zipbooks integrates with a few other software types, whereas Quickbooks integrates with many more including popular tools like Amazon Business, PayPal, and Shopify.
What is Zipbooks?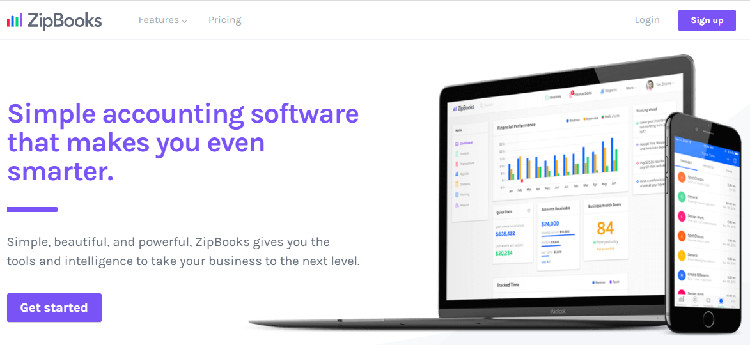 Zipbooks is a free accounting software based in American Fork, Utah, that helps business owners and freelancers keep track of their income, expenses, sales taxes, invoices, bills, and more.
It can be used to manage all aspects of your finances including payroll management as well as financial reporting. The program is a cloud-based accounting and bookkeeping system that allows business owners to process credit cards, send and finance invoices, and more.
What is Quickbooks?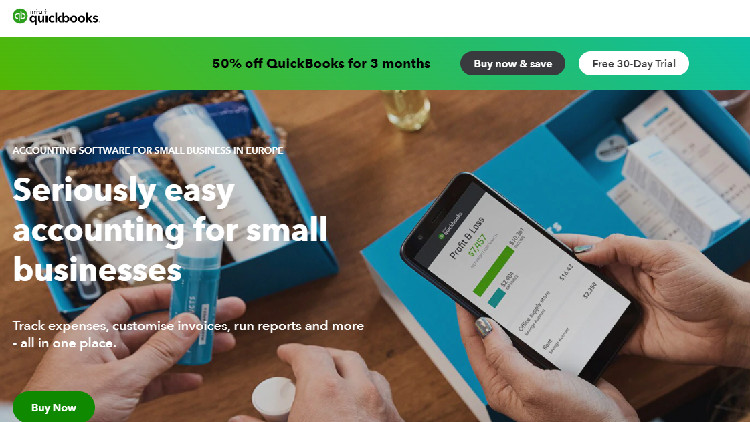 Quickbooks is an accounting software program developed by Intuit. It helps small businesses manage their finances and stay organized with features like invoicing, bill pay, expense tracking, and tax preparation services.
QuickBooks products, which were originally launched in 1983, are designed for small and medium-sized enterprises. Quickbooks is available in a desktop version and as a cloud-based application.
Who is Zipbooks for?
Zipbooks is a great accounting tool for freelancers, sole proprietors, and small businesses. It's also good if you have no experience with accounting or bookkeeping because it has built-in training tools that will help teach you how to use the software.
ZipBooks is a relatively new accounting software program that has been available on the market for approximately four years.
It's best suited for small enterprises, single proprietors, freelancers, and consultants who are looking to start their own companies. ZipBooks is also a good fit for small companies with employees since it now has integration with Gusto Payroll.
The most popular cloud accounting software, QuickBooks Online, is ideal for business owners who need to manage their books from afar. It's also a good choice for firms with limited funds, thanks to its great free plan. Nonetheless, ZipBooks may not be a good fit for those selling items due to the lack of an inventory tracking feature.
Who is Quickbooks for?
Quickbooks is ideal for freelancers and small businesses because it is easy to set up, has a low learning curve, and offers many features.
Small business owners will appreciate the degree of customization available in QuickBooks Online. It has a large range of packages and pricing choices, starting with a self-employed plan and culminating in an Advanced plan that can support up to 25 users.
The program is constantly evolving, with new capabilities and access to more applications added on a regular basis, making it ideal for both small and growing organizations.
Zipbooks Features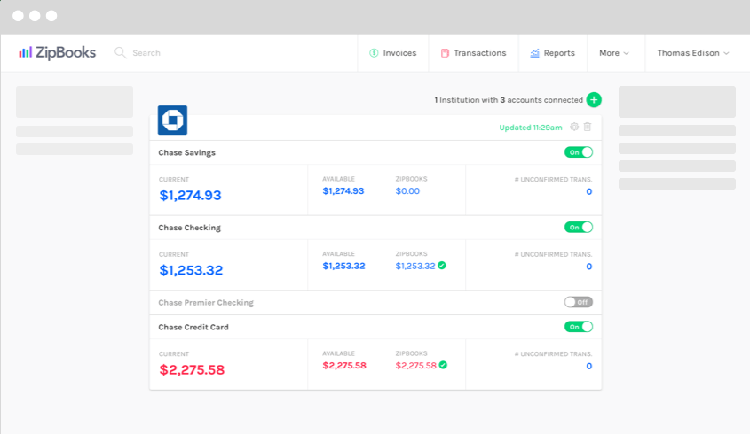 Of course, the features of each of these tools are some of the most important aspects when looking for a type of software. So, what are some of the top features of Zipbooks?
Accounting
The accounting features within Zipbooks mean that you can create unlimited invoices and estimates, manage sales tax rates and generate financial reports. You can keep your business in immaculate condition, with an organized and smart way to track all of your transactions.
It will also provide you priceless feedback on the day-to-day running of the company and even help you remember important (if a little unpleasant) tasks like paying taxes.
Connect Directly to Your Bank Account
Zipbooks allows you to easily link your account directly to your bank account. Simply input all of your information and, once your account is verified, the transactions will all be streamed automatically. This both saves paper and your time, so it's a win-win!
Automatically Categorize your Transactions
Not only will your transactions be easily visible within Zipbooks, but the tool will also automatically organize them into categories for you.
Zipbooks's super computer reads through your data and uses accounting best practices to automatically sort them into a category for you. This means that you'll be able to eliminate some of the more tedious data entry tasks that you have to do.
Accounting Reports
As well as all the cool tasks that you can do within accounting in Zipbooks, the tool will also generate reports that allow you to analyze and utilize your data even further. The easy-to-use features allow you to track your growth, and keep tabs on profit and loss margins.
You'll be able to generate income reports and statements, create a balance sheet to assess your liabilities and assets and create a ledger along with a complete record of business transactions.
Furthermore, you can create a snapshot of a year's payment trends, easily keep track of your taxes via a tax invoices, create a trial balance statement of all the debits and credits in your ledger account, and Zipbook will even give you up-to-date, smart feedback on which of your accounts are growing, and which you might want to be concerned about.
Billing
When it comes to billing features, Zipbooks also excels. It's simple to create and send invoices, with the ability to customize them as you desire. You can also add notes to an invoice for extra clarity, and set up recurring invoices so that you don't have to worry about it month-by-month.
In addition, there is a built-in timer that will help you keep track of the time you've worked on a project and bill your clients accurately. You can also add discounts, taxes, and shipping charges to an invoice with ease.
Process Credit Cards Within the Tool
With the easy ability to handle credit card payments, you'll never have to deal with the hassle of trying to cash a check again.
Zipbooks accepts all major credit cards from 22 different countries around the world. This means that customers can pay you in a way that is convenient for them, and you'll receive the money quickly into your account. You can also accept digital payments from Square or Paypal directly into your account.
Invoices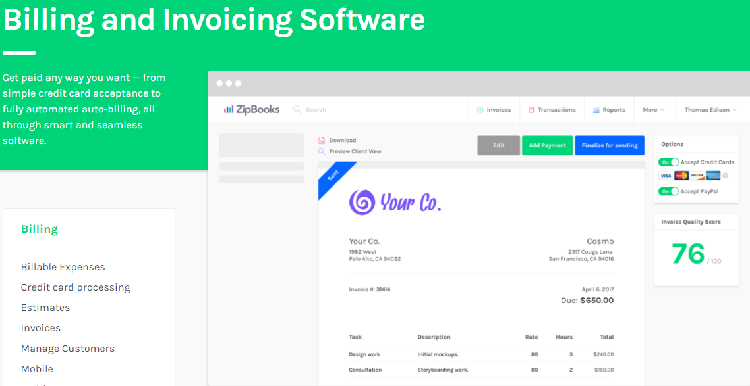 When it comes to invoicing customers, Zipbooks is also pretty great! Their smart method of keeping billing on time means that you'll never have to worry about getting paid again. Simply create and send invoices, then keep track of them all in one place so that nothing falls through the cracks.
You can create regular invoices, recurring billing, or even set up subscriptions for seamless continuous billing that fits both your and your customers' needs. The tool will also automatically send payment reminders for you if a bill is overdue, so your clients (and their money) won't slip away from you!
Plus, the invoices are very well designed, look immaculately professional, and come with a link that allows the customer to easily access the invoice hassle-free.
Lastly, with saved invoices, you can easily create the same invoice over and over again for customers who repeatedly need the same package, and the invoice views feature allows you to easily see when and which invoices have been sent, seen, and, most importantly, paid at a glance.
Scoring Your Business
Zipbooks also has multiple scoring systems which allow you to easily gain intelligence into how your business is doing. The software can help you keep accurate records within your business whilst providing you with handy recommendations along the way.
There are two main scoring systems that Zipbooks offers – a Business health Score and an Invoice Quality Score.
The Businesss score will give you a rating based on your account data that will provide you with detailed information on the hygiene (best practices, high standards, and eliminating sloppy habits), and success (growing and sustaining your business), of your business.
The Invoice Quality score measures how well you execute your invoices, whether that is through how they look, how well they are communicated, and how satisfied the customers are with their invoices. It also takes into account how quickly customers pay them.
This can help boost the speed of invoice payments in the future and even boost how likely customers are to recommend your service.
Expense Management
Zipbooks also offers a range of expense management features that help keep track of all your expenses in one place. You can easily pay employees, pay suppliers or contractors, and purchase equipment all from within the tool. You can manage your billable expenses, immediately create a receipt straight from your phone, split bills, and divide up any expenses you might have.
Not only does this make managing things a lot easier, but Zipbooks also provides reporting tools on all of these features too. So, you can keep your business running seamlessly, and ensure that it is out of the danger zone.
Seamless Mobile Use
Last but not least, Zipbooks also has a really great mobile app which makes using the tool on the go super easy. You can easily create and send invoices, see your account balance and recent transactions, and keep track of all your expenses – no matter where you are in the world.
The app is available for both iPhone and Android users, so you can really keep on top of your business even when you're not at your desk.
Overall, Zipbooks is a great tool for small businesses who want to get their finances in order and manage their expenses easily. The software is easy to use, looks professional, and comes with a load of features that will help you boost your business.
Quickbooks Features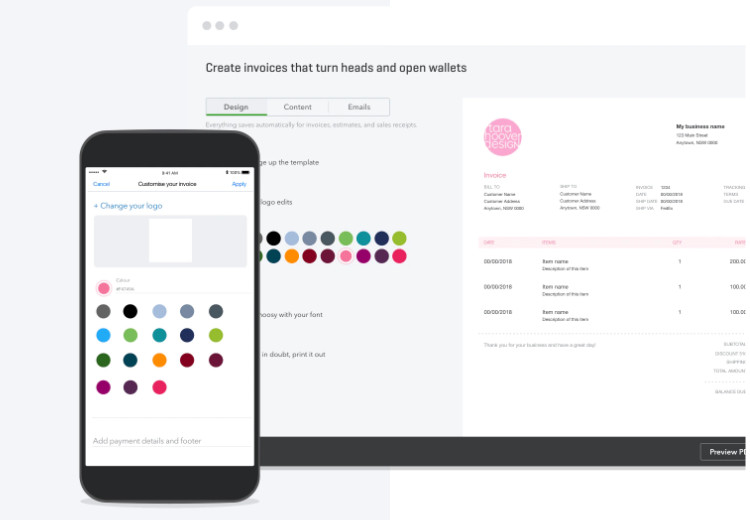 Quickbooks is an accounting tool that has been helping companies manage their business finances for over 20 years. It works by offering a range of features to help you take control of your business's finances and stay on top of all the financial aspects.
It was designed with small businesses in mind but can work well for medium-sized businesses too. So, let's take a look at this accounting behemoth's top features.
Accounting Software
Quickbooks is accounting software that helps you manage your business finances. It does this by offering features such as invoicing, tracking expenses, creating reports, and more. The software claims that it can save you up to 8 hours per month while giving you a very high-level overview of your business.
They also offer a lot of support in terms of tutorials and help articles so that you can easily get started with the tool.
Invoicing
Quickbooks also has very comprehensive invoicing tools. You can send and create invoices from anywhere in the world, both saving time and paperwork. You can also see all of your previous invoices and set up faster payments with remote payments.
You can also track payments in real-time whether this is on your laptop, phone, or tablet, and customize invoices to directly support your business. This is a great feature if you want to make sure that your invoices are reflecting your brand and not just some generic template.
Expenses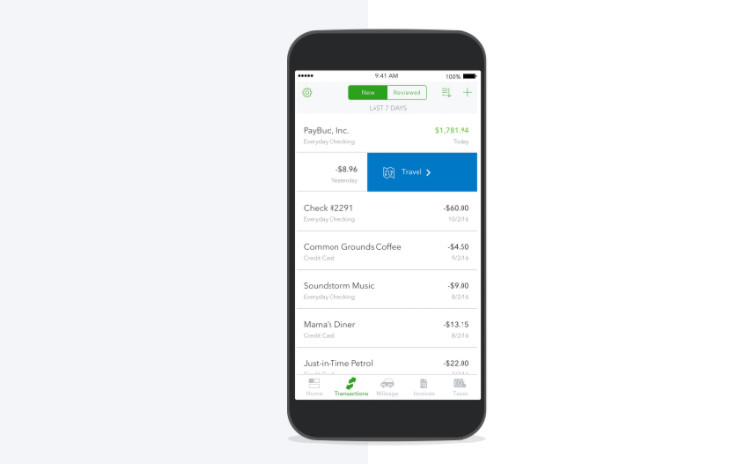 As well as invoicing, you can also easily track our expenses in Quickbooks. The tools allow you to automate all of your expenses, saving you time and, once again, money. You can also wave goodbye to menial data entry, claim back expenses, and even reduce your tax bill!
The tool also allows you to easily collaborate with your accountant from within the app which can save you a lot of time and hassle.
Payroll
Quickbooks also offers a payroll feature that can help you manage your employees' salaries, benefits, and more. You can speed up your payments with direct deposit, pay contractors or freelancers, and make sure that all of your tax deadlines are met each month.
You can automate the entire payroll too, including pension submissions, deductions, and pay runs. Quickbooks allows you to run payroll from anywhere, manage multiple pay schedules, and manage statutory payments.
The tool also helps you keep track of compliance as well, such as HMRC submissions, CIS contractor deductions, and will integrate with all of your accounts. There are also some great features for employees to manage their own payments.
The employee portal allows staff to easily access their payslips, timesheets, and request annual leave, and the tool also allows managers to organize rotas, leave, expenses, and more to keep their employees happy.
Time Tracking
Quickbooks also has a time tracking feature which can help you keep track of your employees' hours worked. You can see an overview of who is working on what, and export the data to Xero or Excel for further analysis.
This is great if you want to make sure that everyone in your business is working their hours correctly, or if you need to know how much money is going into a specific project.
The time tracking features allow employers to easily clock in and out and take breaks in seconds. The scheduling features also allow staff to quickly and easily adjust shift workers' days or change the schedule of workers who are out on the road.
The team management feature also helps to keep everyone in the team on the same page and set boundaries and keep track of projects.
Tax Management
Nobody likes dealing with taxes, however, Quickbooks features make this much easier to manage than many other tools. You can quickly keep track of VAT and construction tax (CIS) in real-time so you know how much to set aside.
You can automate a great deal of your admin, prepare, keep track of, and file VAT immediately, and even get reminders to keep on top of everything.
Cash Flow Features
When it comes to cash flow, Quickbooks offers a number of features that can help you keep on top of your incomings and outgoings, helping you stay profitable. You can see at a glance how much money you have coming in and what bills are due, as well as get alerts when payments are late or overdrawn.
You can easily see a 2-year overview of all your transactions, and see where you stand up to 2 months ahead. This allows you to stay up to date with ease, and make smart business decisions.
Zipbooks vs Quickbooks: Ease of Use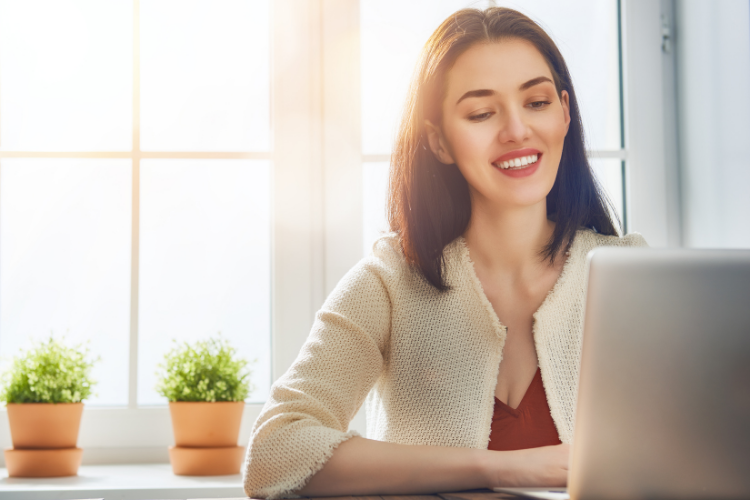 So, now let's talk about ease of use. How easy it is to use each of these tools. Zipbooks, as we have already mentioned, are designed to be super easy to use for anyone- even those with no accounting experience. So, how do each of these tools compare when it comes to easy usage?
The Advantages of Zipbooks
The main screen has a user-friendly interface that includes a dashboard with metrics on the left side, as well as a navigational menu on the left side of the main screen, which also acts as a dashboard.
The installation process is simple and quick, even for first-time users, plus, you can find most of the features you'll need towards the top of the screen.
ZipBooks also keeps track of how far you've gotten through the installation procedure and informs you when it's time to move on. In addition, if you run into problems, you have quick access to chat help from any screen, and a help center full of extra information. Lastly, the timer at the top of the ZipBooks dashboard, which may be started at any moment, is one of their finest features and allows you to easily track your hours.
ZipBooks is definitely more intuitive than other bookkeeping apps, and it's also simple to use. All the functions are conveniently located at the top of the screen and make using Zipbooks very easy, even for first-time users or those who don't have much experience with accounting software tools.
The Advantages of Quickbooks
QuickBooks Online, like ZipBooks, makes it simple to set up a new account. During the installation procedure, you can pick the activities you'll be doing on a regular basis. And there's no need to worry if you miss one or two because you can always add them later.
With Quickbooks Online, you can take advantage of the power and flexibility of QuickBooks while being connected to your bank account. The program's user interface is simple to use, with all navigation conducted from the Dashboard.
The dashboard screen is a little jam-packed and daunting at first, but you can filter what you don't need, leaving it much less crowded. Then, by using the vertical menu on the left-hand side, you can view and easily access all the features, and, by using the icons at the top, you can access the help options and company info.
Winner
The Winner is…ZipBooks!
Both tools are easy to use and set up, however, when it comes to ease of use overall, we think that Zipbook has the edge over Quickbooks.
This is because the main screen of ZipBooks provides you with a user-friendly interface that includes a dashboard with metrics on the left side, as well as a navigational menu on the left side of the main screen, which also acts as a dashboard.
You can find most of the features you'll need towards the top of the screen and the installation process is simple and quick – even for first-time users. So overall, Zipbooks has the edge over Quickbooks.
Zipbooks vs Quickbooks: Customer Support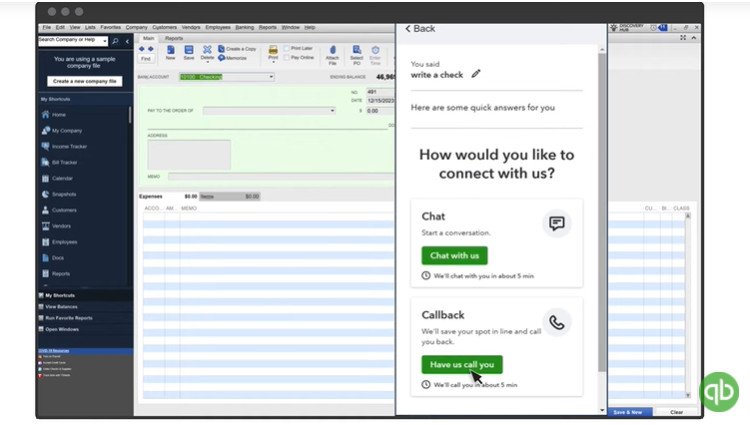 If something goes wrong with your accounting software, the last thing you need is to be running around like a headless chicken trying to get it working again. This is where customer support comes in. How does each of these tools compare when it comes to the quality and availability of their customer support options?
The Advantages of Zipbooks
Unfortunately, customer support is not Zipbooks' strongest suit. While Zipbooks offers a chat option, the support is pretty much restricted to that. You can use the application or the Zipbooks website to get in touch with them.
You can also use their support software to store which includes a comprehensive knowledge base that is completely searchable; however, you must visit the ZipBooks website to access it.
The Advantages of Quickbooks
In complete comparison, Quickbooks offers a range of great customer support options. These options include a chat option, the ability to send an email or use their comprehensive knowledge base.
They also have a handy user community that offers in-product help, and even offers telephone support for those issues that can't be resolved via message.
Winner
The clear winner here is Quickbooks. Quickbooks offers a variety of customer support options, which include telephone support and an in-product help community – something that ZipBooks does not offer. So if you are looking for a tool with great customer support, then Quickbooks is the clear winner.
Zipbooks vs Quickbooks: Integrations
Next, let's look at how seamlessly each of these tools will fit into your existing workflows. How your accounting software integrates with your current workflow can work wonders for the efficiency of your business.
If a tool integrates well with all the other tools you use and requires minimal input from you to do so, then that can be a valuable asset to your business. So, how do Zipbooks and Quickbooks fare?
The Advantages of Zipbooks
First up, Zipbooks, once again, offers limited integration options. It works with PayPal, Square, and Stripe for convenient online payments and also integrates with several popular remote work tools like Google Drive, Google Docs, Slack, and Asana.
Plus, they do have a custom API available so, for those of you who are a little savvy with coding, you can custom-build your own integrations.
For those of you who need to process payroll, you'll be pleased to know that ZipBooks connects with Gusto Payroll. ZipBooks can also be linked to your bank account if you want.
The Advantages of Quickbooks
In comparison, much more extensive integration capabilities are available for QuickBooks Online. The tool integrates with a variety of popular applications, including payment apps like PayPal, Stripe, Square, Vend, CollBox, AR Collect, and many more ACH options.
A few more popular apps that you can connect Quickbooks accounts with are Amazon Business, Gocardless, Shopify, Fathom, Gusto, Method:CRM, Buildtrend, and more.
Winner
Once again, the clear winner for this section is Quickbooks. They offer more integrations than ZipBooks, which means there are more options available to fit into your existing workflow.
Zipbooks vs Quickbooks: Pricing
Of course, one of the most important factors to consider when you're looking for new accounting software is the price. How much are you willing to spend? And, more importantly, how does each of these tools compare when it comes to pricing?
The Advantages of Zipbooks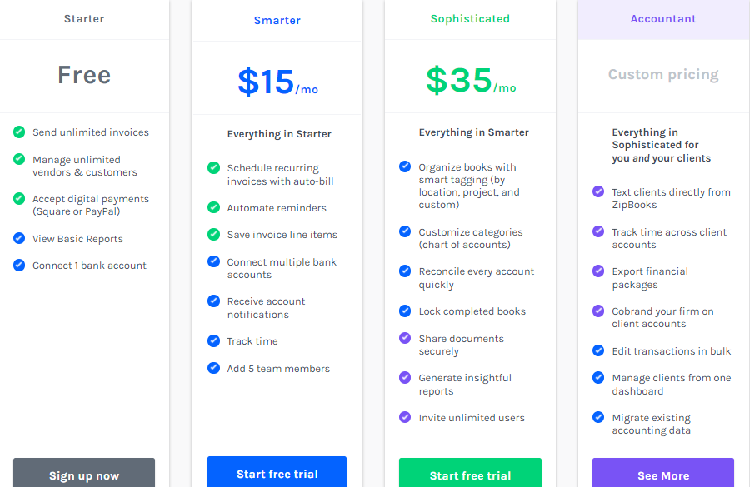 ZipBooks offers both a free plan and three different paid opinions. The free options include unlimited invoices, the ability to manage unlimited vendors and customers, basic reporting, you can connect one bank account, and also accept digital payment via PayPal and Stripe.
Then, there are two set paid options – 'Smarter' and 'Sophisticated'. The Smarter plan includes everything for free, but also throws in automated reminders, the ability to send recurring invoices, and save invoice line items. You can also connect multiple bank accounts as opposed to just one, track time, receive notifications about your account, and add up to 5 additional members to the account.
The Sophisticated plan includes everything in Smarter and adds custom categories, locks completed books, unlimited users on the account, and the ability to organize your books by smart tagging. You can also reconcile every account quickly, and it gives you much more comprehensive reports.
Finally, the last plan Zipbooks offers is their 'Accountant' plan, complete with custom pricing. This offers everything in the Sophisticated package, plus the ability to edit transactions in bulk, text clients directly from Zipbooks, and track time across all your accounts.
You can also export financial packages, manage clients from a client dashboard, and migrate existing account data. There is no direct-payroll option within the tool on any of their plans, however, you can integrate your payroll services through Gusto.
The Advantages of Quickbooks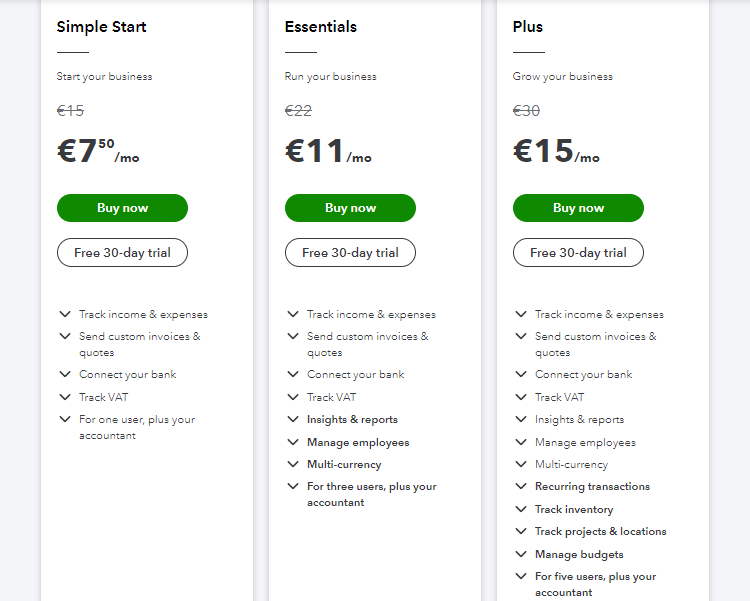 For everyone from a solo freelancer to a thriving small business owner, QuickBooks Online is a scalable software with four different subscription plans. Unlike Zipbooks, they don't offer a free plan, however, they do provide a 50% discount for the first 3 months of using them. They offer three different paid plans: Simple Start, Essentials, Plus, and Advanced.
The Simple Start plan includes the ability to track income and expenses, invoice customers and accept payments, run reports, maximize tax deductions, and track miles. You can also capture and organize receipts, manage cash flow, send estimates, track sales, and sales tax, and manage over 1000 contractors. This plan costs $7.50 per month for 3 months and then $25 per month after.
Next up, the Essentials plan includes everything on the Simple Start, but also includes 3 additional users on your account, the ability to track time as well as miles, and you can also manage and pay your bills directly within Quickbooks.
This costs $15 per month for 3 month and then $50 per month after. The next plan, Plus, includes everything in Essentials plus an additional two users, taking it up to five. You can also track inventory and project profitability. This comes to $24 per month for the first 3 months, then $80 per month after.
Finally, the last plan, Advanced, includes everything on the Plus plan, and also business insights and analytics, the ability to batch invoices and expenses, and customize access by role. You can manage employee expenses, automate processes and tasks, restore company data, have access to exclusive integrations, and get your own dedicated account team.
Like Zipbooks, although you may not be able to conduct payroll from within the tool, it's still possible with QuickBooks Online by purchasing a special add-on.
Winner
When it comes to pricing each of these tools has its own strengths and weaknesses. However, with a comprehensive free plan, a customizable pricing option to suit your individual business, and two sturdy middle options, Zipbooks comes out on top.
This flexible and adaptable pricing structure makes Zipbooks an excellent choice for any business. QuickBooks Online's plans are more expensive and don't offer a free option, but they do include a payroll add-on which Zipbooks does not.
FAQs
Question: Is ZipBooks Compatible with QuickBooks?
Answer: No, ZipBooks is not compatible with QuickBooks. They are both separate tools and are not designed to be used together.
Question: Can You Try Zipbooks for Free?
Answer: Yes, ZipBooks offers a free trial for all of their plans. It offers a good range of features and doesn't have a time limit, so it's great for businesses who want a taste of the tool without having to commit.
Question: Can you Try Quickbooks for Free?
Answer: Yes, Quickbooks does offer a 30-day free trial, but in order to get it, you have to sacrifice your initial introductory discount on the product. This may be a bit of an inconvenience for some businesses.
Question: What is so Great About Zipbooks?
Answer: Zipbooks is a great accounting software for small businesses. It offers features like free invoicing, client management, expense tracking, and automated bookkeeping with an easy-to-use interface that's suitable for both newbies and experienced users alike.
Question: Why is QuickBooks so Popular?
Answer: Quickbooks offers more than just simple accounting functionality. It offers a range of features that enable businesses to manage their expenses, inventory, and payroll all in one place, which is why it has been so popular for many years now.
Question: What is the Difference Between QuickBooks Desktop vs Online?
Answer: Quickbooks Desktop requires installation whereas Quickbooks Online does not require any installation process at all – you can access it from any device with an internet connection.
Additionally, Quickbooks Desktop is only available for Windows users while QuickBooks Online is available for both Windows and Mac users. Finally, Quickbooks Desktop offers more features than its online counterpart but is also more expensive.
Zipbooks vs Quickbooks: Conclusion
When it comes to features, ZipBooks and QuickBooks are fairly evenly matched. The advantages of ZipBooks are the fact that it offers a free plan as well as more customizable pricing options than QuickBooks. If you're a freelancer or small business Zipbooks is ideal.
However, when it comes to growing with your business, Quickbooks Online is the clear winner. With a range of plants that grow with you, the tool can help you scale and keep on top of a rapidly expanding company. Plus, QuickBooks Online is ideal for individuals who sell items since it offers respectable inventory management capabilities.
Therefore, if you are looking for affordable accounting software with a good range of features, Quickbooks would be the best choice.